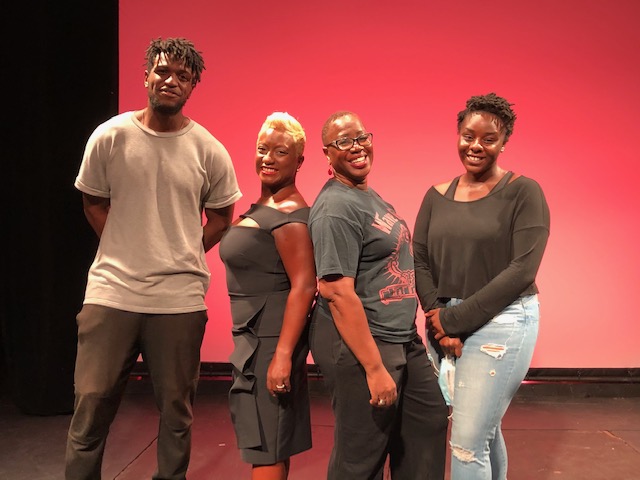 Arts & Culture | Black Lives Matter | COVID-19 | Rev. Odell Montgomery Cooper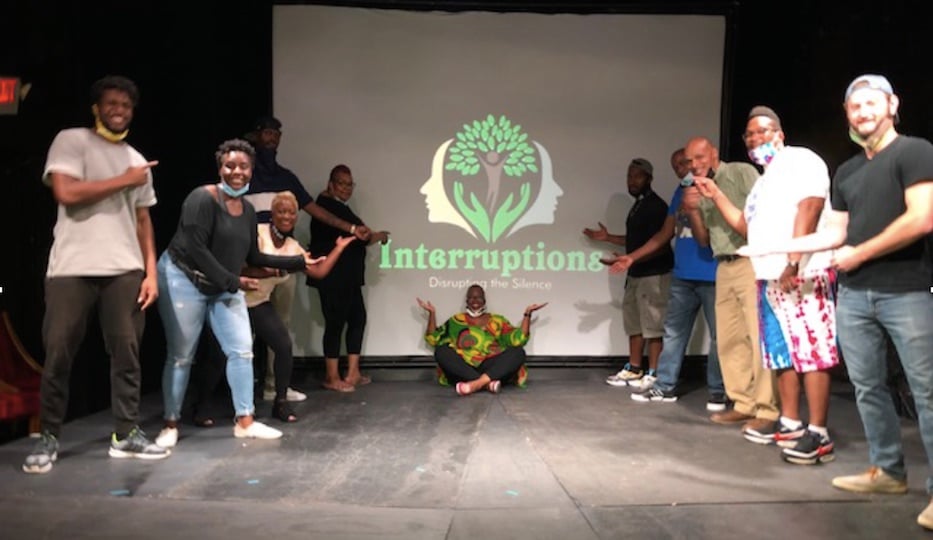 The cast and crew of Interruptions at Bregamos Community Theater in August 2020. Photos courtesy of Rev. Odell Montgomery Cooper, who is pictured at the center.
Rev. Odell Montgomery Cooper turned to the stage when she wanted to share the story of her grief. Now, she's training city residents to open their ears—and their minds—to a community reeling from Covid-19, police brutality, gun violence, and an inequitable public health system.
Cooper is the mind behind "Let's Talk," a new peer-to-peer mentorship program that teaches community members to identify, address, discuss and seek treatment for depression, anxiety, grief, and trauma. The program, which is currently in its pilot stages, is presented in collaboration with Clifford Beers, Dixwell United Church of Christ, and the William Caspar Graustein Memorial Fund among others. It comes out of Cooper's own grief after losing her son Jonathan to gun violence on April 23, 2016.
"I wanted to do something for everyday conversation for people who looked like me," she said in a recent episode of "Arts Respond" on WNHH Community Radio. "It didn't matter what your zip code was, your education—mental health had found us and was knocking on our door. We were deteriorating, and we needed to do something."
The program is a direct product of Cooper's lived experience. Five years ago this Friday, her 25-year-old son Jonathan was shot and killed on Dixwell Avenue while coming home from his cousin's birthday party. As Cooper moved through a thick, unspeakably heavy grief, her colleagues started asking her when she was going to return to work. Friends encouraged her to pray more. Cooper, who has been in ministry for years herself, felt paralyzed.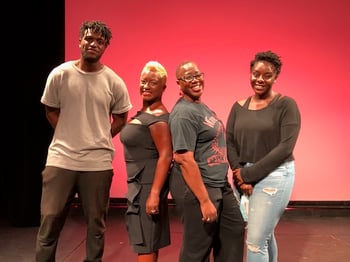 For months, she was unable to speak openly about her grief. The pain of its silence was unbearable, she said; she could feel its heavy weight in her body. On what would have been Jonathan's 26th birthday, she had a brain aneurysm that almost killed her. It was only when she began seeing a counselor did she learn there was a name for what she was going through—post-traumatic stress disorder—and a need to talk about it.
Cooper has since launched Interruptions: Disrupting The Silence, a live performance and podcast series that went virtual last year in the midst of Covid-19. As she prepared to move the series online, she watched the twin pandemics of Covid-19 and white supremacy tear through her community and communities that looked like hers. She saw a rise in gun violence, police brutality, domestic assault and abuse, and substance use disorder that persists a year later. She felt like there was no one to talk to about it.
"It actually became another layer of trauma to me that I did not realize," she said. "And I began getting depressed, and anxiety, and started feeling certain ways that I wasn't used to feeling. So, like everybody else, you get a Zoom license and you start talking to people."
The more people she talked to, the more she realized how much stigma there was around Black mental health and the expectation "that I would be the strong Black woman," she said. After presenting Interruptions via YouTube last summer, she began thinking about how to use the skills she had learned as a script writer, podcast host and speaker to break through silence on a wider level. "Let's Talk," which trains community members to identify mental health triggers and discuss the symptoms of depression, anxiety, grief, and trauma, was the result. She said it is specifically designed for people of color.
The program is currently spread across nine weekly sessions, in which "we talk about faith as the common thread," said Cooper. For her, that pillar was central—she and people she knows have been turning to their faith leaders for years, and sometimes not getting the support that they need. In addition to faith, mentors talk about social justice and advocacy, generational trauma, post-traumatic stress disorder, grief, and what Cooper refers to as "post-traumatic slave syndrome." She sees the last as tied to a white supremacist culture that predated and enabled enslavement, and still exists today.
"We were taught to keep this to yourselves," Cooper said. "We were taught to go back to work. We were taught this, and it's a slave syndrome mentality. Here I am, lying in the ER getting ready to have brain surgery, and I told my daughter, 'Don't forget to go to work and pay my bills.' And that was something that she and I later had to talk about … it's what we pass on, generation to generational trauma."
During the sessions, participants break down each component of the program, and then discuss how to spot, talk about, and provide comfort for those experiencing mental health "interruptions" in their own lives. Cooper, who is writing a book based on the approach, is testing the model with a group of 10 interfaith religious leaders and community members. An advisor on the project, the Rev. Frederick J. Streets said that he sees the peer leadership model as opening new avenues to treatment. As senior pastor at Dixwell Avenue Congregational United Church of Christ, he leads weekly wellness meetings over Zoom.
He said he often references Monica Coleman's book Bipolar Faith, in which she recalls living with undiagnosed bipolar disorder while she was an honors student at Harvard University. She began to uncover her own diagnosis after someone asked her how she was feeling, rather than how she was doing.
"We can do stuff and make the world think we're doing fine," Streets said. "What Odell's program, peer-to-peer, is doing is getting at that question. How are you feeling, and how did you get there, and how are those feelings either helping you or hindering you from living your best life?"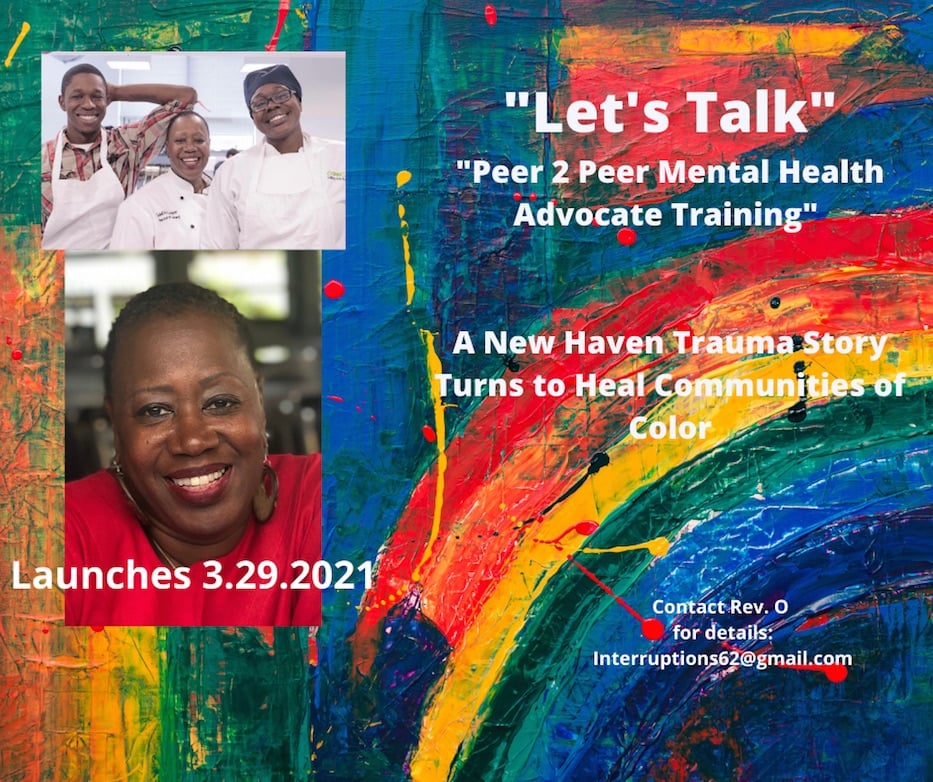 Cooper is quick to say she is not creating the program alone. After her aneurysm, she had to relearn how to read, write, and speak. Peer mentors are a vital part of the program, she said, because her capacity is finite. When she began to think about how she wanted to structure "Let's Talk," she reached out to Alice Forrester, chief executive officer of Clifford Beers. She spoke to David Addams, executive director of the William Caspar Graustein Memorial Fund and a longtime friend and mentor of hers. She worked with Streets. She wrote, rewrote, and edited some more.
Streets said that the program addresses a need in the community that both clinicians and faith leaders have not been responsive to for decades. In 1984, Streets and a Yale psychologist found that a number of Black clergy members in New Haven were referring their parishioners to the Connecticut Mental Health Center (CMHC). CMHC, in return, did not involve Black clergy members in its practice, outreach, or treatment plans.
"There was a disconnect," he said. "That still exists to this day in a general way. There needs to be a greater partnership between the established mental health community of treatment and the religious community. Because they both have something to offer."
Addams praised the program for its focus on Black mental health, particularly in the midst of not one but two pandemics. In the past year, he has limited the amount of news that he consumes. For a while he switched to sports, but said that the pandemic is sometimes as present on the playing field as it is in the evening dispatches.
"The community and the society has been traumatized and needs healing," he said. "Our school systems. Our criminal justice systems. Our healthcare systems have all been traumatized—primarily by capitalism and white supremacy. And there has been very little opportunity to figure out: How do we come from a whole, healing space to fix these problems?"
He added that the peer-to-peer model also feels personal to him, because he's seen the systemic roadblocks to talking about Black mental health in his own life. As a young kid on the South Side of Chicago, "gun violence was an issue, gang violence was an issue," he said. His mother was just a teenager when her father, his grandfather, was killed by gun violence. Her mother had died when she was a child. She didn't talk about it for years, until she found a path to therapy.
"One of the things that has to be addressed is how much the stigma has inhibited men, and especially Black men, from taking advantage of mental health resources," he said. "I think we have to normalize it and we have to say it out loud. I, over the years, have become much more comfortable normalizing that I've been in therapy, that I am in therapy, I've dealt with mental health issues and continue to do so."
Going forward, Cooper said she is hopeful that the program becomes a lifeline in a time that it may be needed most. Recently, she spoke to a minister who told her that they didn't feel equipped to talk about mental health, because they hadn't learned how to do trauma-informed pastoral care. She's trying to change that with this program.
"We have to find the time to pause, or we'll die," she said. "If we don't take time to pause, we will continue to carry the stress, continue to move forward, and it becomes detrimental. Covid has put another layer of stress on us ... we have to pause. And we have to talk about what it is that we're going through, or we're never, ever going to be able to heal."
To listen to the full interview with Rev. Odell Montgomery Cooper, David Addams and Rev. Streets, click on or download the audio above.