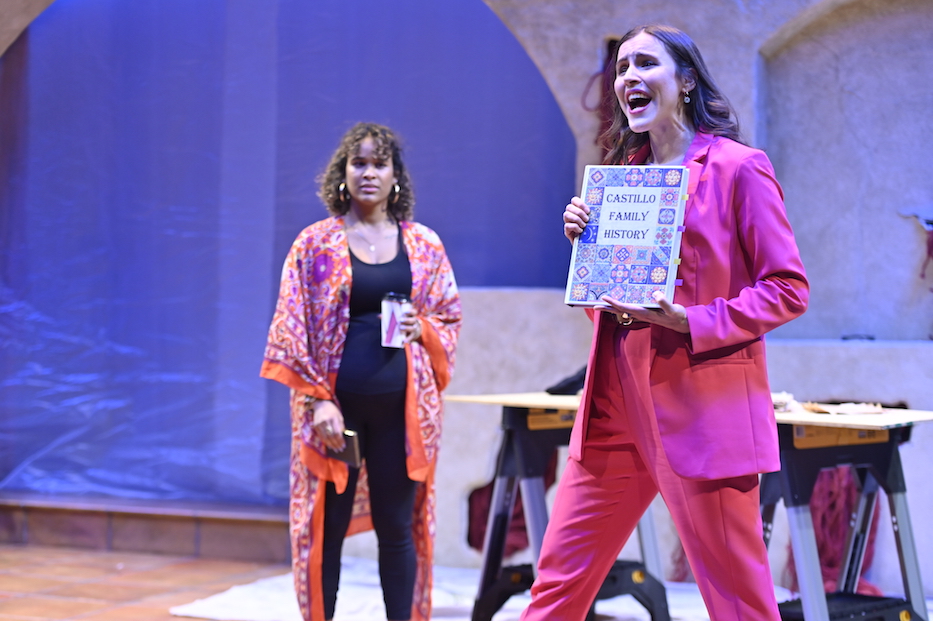 Long Wharf Theatre | Arts & Culture | Theater | Arts & Anti-racism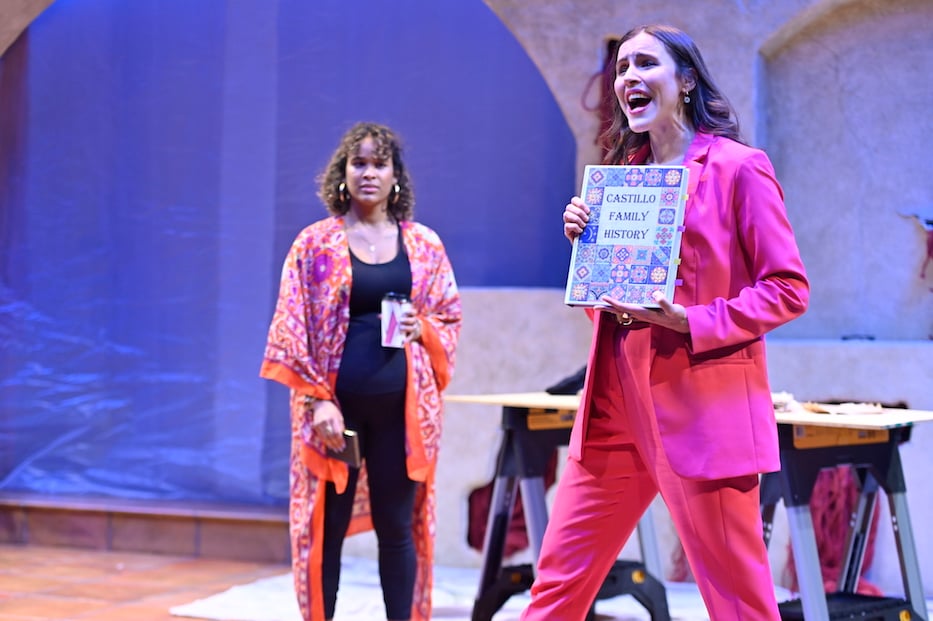 Actors Darilyn Castillo and Marianna McClellan in Dream Hou$e at Long Wharf Theatre. Dream Hou$e is a world premiere co-production with Alliance Theatre and Baltimore Center Stage. Greg Mooney Photos.
Dream Hou$e begins with a house, and the objects that fill it. On its floor is a red-patterned rug, atop of which sit dark-wood, mission-style furniture. Along a back wall is an altar with pictures of several generations of family, a wooden cross, and multiple depictions of the Virgen de Guadalupe. The house is framed by a hand-built adobe archway, which its owners, the Castillo sisters, believe was built by their great-great grandfather.
It is a house that becomes a main character, a literal embodiment of family history. In the next five minutes of the play, pieces of that history will be incrementally stripped away. And again in the next 10 minutes. And the next 20 after that. By the end of the play, all that is left are the house's bones.
By turns achingly tragic, humorous, and shocking, Dream Hou$e runs from March 15 to April 3 at Long Wharf Theatre. Written by Eliana Pipes and directed by Laurie Woolery, it will be one of the final shows at the theater's 222 Sargent Dr. venue before the organization becomes fully itinerant in 2023. Throughout it, Pipes argues that colonialism is an ever-continuing, insidious, and largely invisible process that wraps itself over every aspect of people's lives.
With deeply developed main characters, skillfully designed projections and set, and a clever, poignant script, Pipes compacts the topic of gentrification into a 90-minute production. The show careens to nightmarish heights until it reaches its explosive and devastating conclusion. In part, it is a story based on Pipes' own experience of grief, guilt, and cultural loss, which she writes about in the accompanying playbill. It is a world premiere co-production with Alliance Theatre in Atlanta and Baltimore Center Stage.
Dream Hou$e follows the Castillo sisters, played by the outstanding Julia (Darilyn Castillo) and the excellent Patricia (Renata Eastlick). Their Los Angeles neighborhood of Hilo Villa, where they and their four generations of family grew up, is being gentrified into the anglicized Highville. Unlike their neighbors, who will inevitably be displaced with the rise of rents, the sisters own their property. With the recent death of their mother—and their looming displacement from Hilo Villa—they fear losing connection to their Latinx heritage.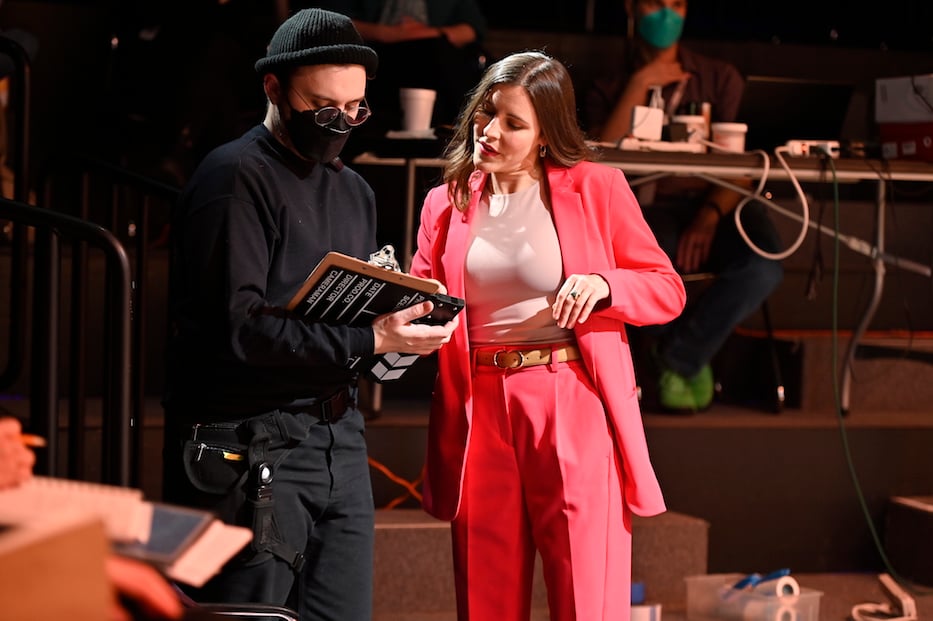 Greg Mooney Photos.
The older sister Patricia signs them up for an HGTV-style show "Flip It and List It." Suddenly, they find themselves surrounded by a TV crew and in the presence of a white TV show host Tessa (Marianna McClellan), whose goal is to renovate the home and sell it for maximum profit. The difference between the full home sale and the cost of renovations—expected to be in the range of $2 million—will go to the sisters.
The Castillo sisters are foils of one another, deeply complex and relatable. Julia is a pregnant social studies teacher desperately searching for her roots. Patricia is an accountant with aspirations for a life filled with country club steaks, yachting excursions, and enough power and status to ensure she won't ever have to replicate the bone-grinding work of her ancestors. The choices Julia and Patricia make are morally ambiguous, so they both stand in the shadows of "right" and "wrong".
Both sisters have made sacrifices. Both want lives of financial security. And in their own ways, both have turned their backs on their community and heritage at one point or another.
"All I'm saying is if Hilo Villa is so valuable now, why should we leave?" beseeches Julia.
"And I'm saying, Highville is only valuable if we leave," Patricia whips back.
From the show's opening, the audience is roped into participation, becoming silent observers of the drama of the Castillo sisters' lives and viewers of the taping and production of "Flip It and List It."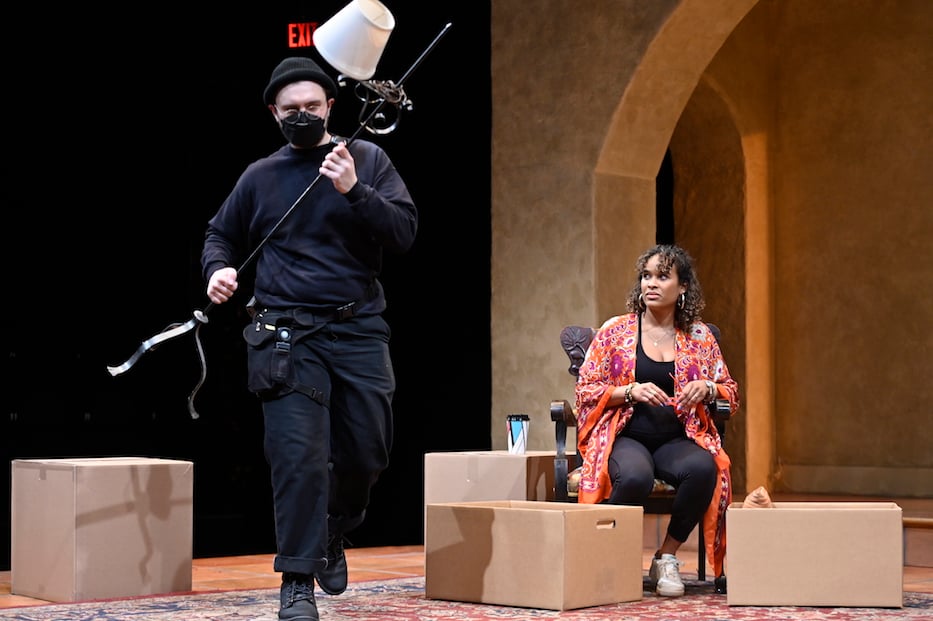 Greg Mooney Photos.
Crowding the stage are the four "Flip It and List It" crew members (Moira O'Sullivan, Ezra Tozian, Kevin Sisounthone, and Andrew Martinez) who are seemingly always present, clad in all black and weighed down by TV production equipment. Their boom mics stretch over the stage and they whisper into their mouthpieces, Tessa's accomplices in breaking down the house. As they move in, a set design from Stephanie Osin Cohen does some of the storytelling, with nods to the sisters' ancestral history and the violence of colonialism that include bright, blood-colored mold and heirlooms embedded in the walls.
In a hot pink suit with matching nude-colored accessories, Tessa projects outward to the audience, speaking directly to its members as if they are watching from the other end of a TV screen.
"The secret is to pretend the camera isn't there but also never forget that the camera is there," she reassures the camera-shy sisters early on in the filming.
Projections flash onto the back wall of the set (a nod to projection designer Mark Holthusen) revealing the show's logo. An animated hammer moves up and down against a background of an architecture blueprint. The score of the TV show rings in the background and the voice breaks out, "Welcome to...Flip It and List It." Throughout the course of the play, the score keeps beat to the drama (credit to sound designer Paul James Prendergast), escalating during tense moments and falling silent during others.
The show seeps into, surrounds, and swallows the brick-and-mortar theater, forcing the audience into participation by their mere presence in the space. Meanwhile, the accouterments of reality TV foist stereotypes onto the sisters, typifying them as selfless daughters, upright citizens, and hyper-ethnic strivers. Pipes suggests, in turn, that the intertwining threads of capitalism and colonialism into our daily lives is inevitable—and moral action, ambiguous.
Amidst the bright lights and fast pace of the TV production are breaks in the fabric of the filming. Without explanation, time appears to stop and Tessa and the TV crew freeze. Left in the middle of the stage, Julia and Patricia remain fully mobile. They use these breaks as opportunities to debate the merits of selling versus staying with an increasing urgency, as the stakes continue to rise. These breaks function as injections of a reality alternative to the one depicted on TV. Pipes and Woolery use the sisters' vantage points to create further depth around the issue, countering their racist depiction on TV and providing commentary on gentrification.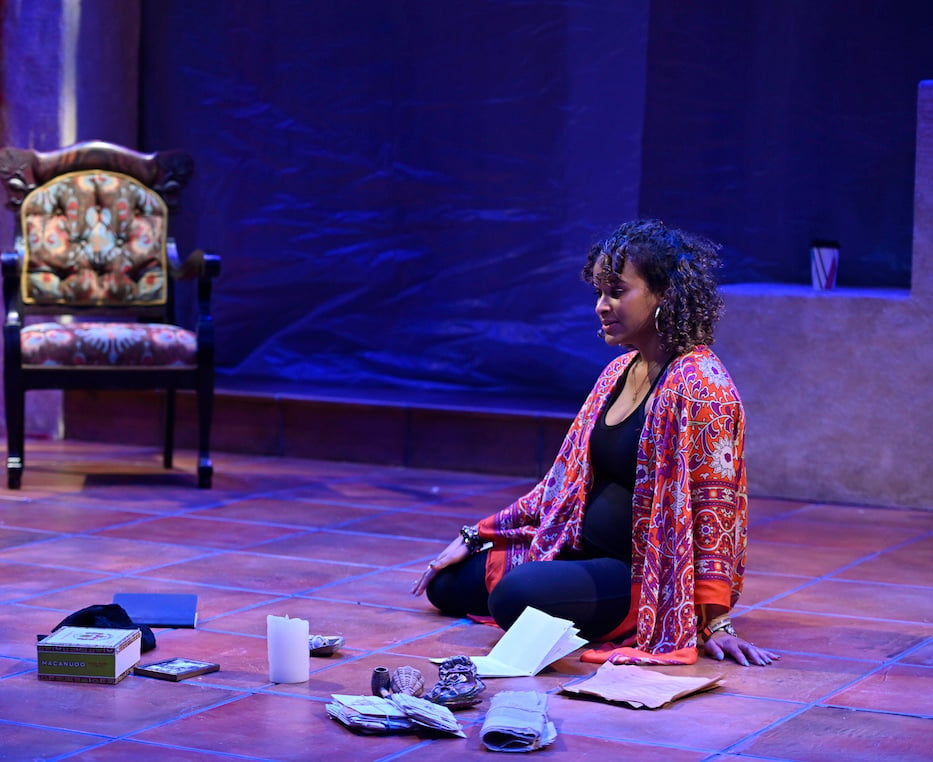 Greg Mooney Photos.
Throughout, McClellan's skillful performance arouses a kind of anguished comedy onstage. As Tessa, she breaks between intimate off-camera host and effervescent on-camera personality. She leans down to reassure, contorting into an empathetic peer who insists that she can relate to the process of leaving a home behind. She purports a knowledge of the culturally specific dilemma the sisters are going through, egging the sisters onward in the process with strategically doled out emotional support.
Then she springs back up, arms and limbs coiling into motion, gesticulating as does a practiced entertainer. Her teeth gleam as her mouth stretches into a smile. It becomes clear that she's part of how colonialism twists itself around every aspect of the two sisters' being, taking over their culture, language, clothing, and bodies. They will not be left alone until everything has been taken, appropriated, and commodified.
She is the unremarked agent of colonialism and the recognizable, bubbly, and affable face of daytime, a fixture in our homes.
Like McClellan, Castillo and Eastlick's time onstage requires a dual performance–and they pull it off. They code-switch during the TV show's taping and in their private conversations, changing up their use and pronunciation of words, moving their bodies differently. If McClellan's performance of dual personality is remarkable for its extremes, that of Castillo and Easlick is remarkable for its subtlety.
There is a distance between the two and as the play continues, they move farther away from each other until they are standing on opposite ends of the stage, literalizing their emotional and ideological rift. Castillo and Eastlick both bring a deep empathy to their portrayals of characters. The two of them also show a propensity for comedy, evident in their quick jabs and impersonations of one another and in longer choreographed sequences.
While the home—and crucial pieces of family history—are extracted and commodified for reality TV—the differences between the sisters reaches a breaking point. And their response, when the walls of their home are gone and the money in hand, is to draw closer together. In a theoretically weighty and entertaining play, this pathos elicited by Castillo and Eastlick is the play's gem—and remains in the air once the theater lights dim.
Dream Hou$e runs at Long Wharf Theatre, 222 Sargent Dr., through April 3. Tickets and more information are available here.