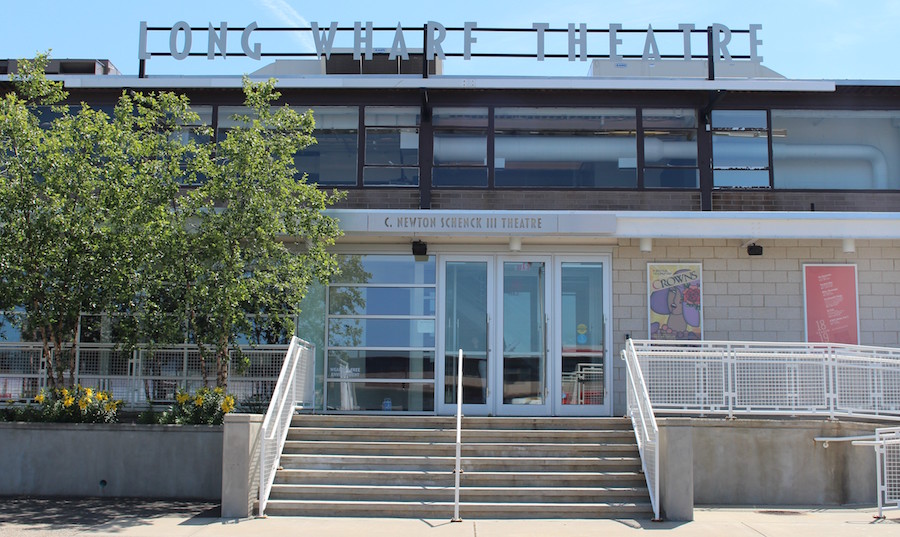 Long Wharf Theatre | Arts & Culture | Theater | Arts & Anti-racism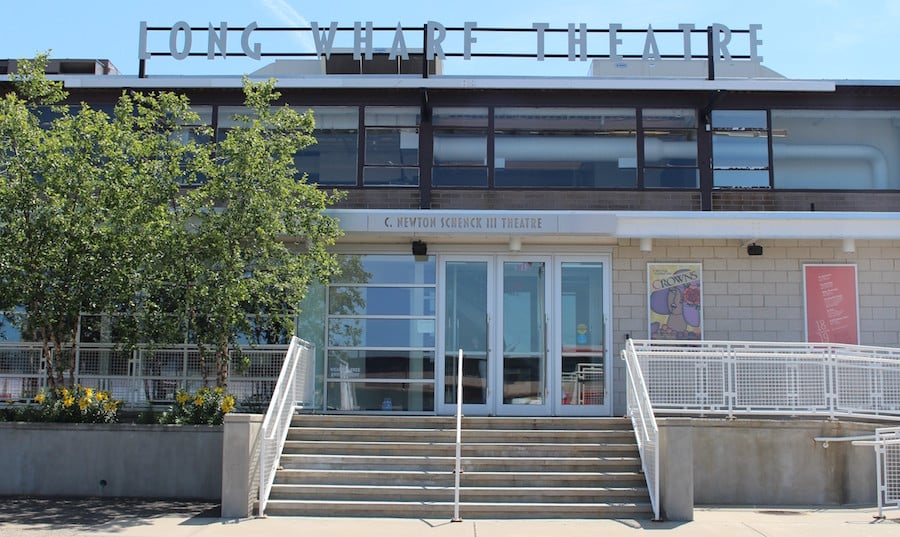 Lucy Gellman File Photo.
Long Wharf Theatre is preparing to leave Long Wharf behind—in an effort to be a regional theater company by, of, for and literally in New Haven. Two years after promising a more community-oriented model and working to survive a global pandemic, it is rolling out plans to live that mission as an itinerant theater company for three to five years.
Board and artistic leadership at the theater, which has been in its 222 Sargent Dr. home since 1965, made that announcement Wednesday morning, first with an article in the New York Times and then in an email to patrons, affiliates and press. The lease ends in June 2022, after the completion of the theater's current season. It plans to restart programming in the community in spring 2023.
Staff were informed of the decision on Tuesday. In interviews with the Arts Paper Tuesday and Wednesday, Long Wharf's directors pitched the planned move as a radical transformation of the theater's relationship with the city it has long called home. It also comes as the theater experiences continued financial uncertainty, and expects to save roughly $500,000 by not continuing to rent the Sargent Drive space. More on that below.
Two spring performances—Elana Pipes' Dream Hou$e and Madhuri Shekar's Queen—will continue as planned in the Sargent Drive space before the end of the season. Dream Hou$e is scheduled to run March 15 through April 3, and Queen will close the season from May 17 to June 5. In addition, the theater is rolling out four public input sessions around its decision, the first of which is scheduled for March 9.
"The pandemic gave a lot of cultural institutions a chance to really pause, to reflect," Artistic Director Jacob Padrón said in a phone call Tuesday night. "This was a moment to rethink a regional theater's relationship to the community. We thought, in order to really manifest that … can we move away from bricks and mortar and can we really celebrate the people making theater?"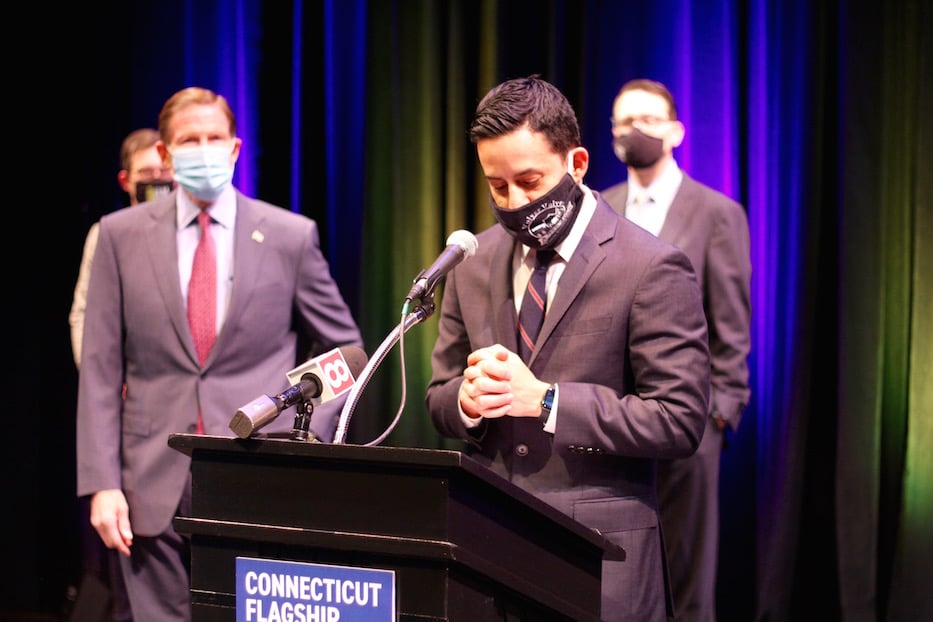 Padrón at a press conference for SVOG funding in January 2021. Lucy Gellman File Photo.
In many ways, Padrón added, the decision is one that feels instinctive for Long Wharf. The building has long been a destination: it isn't especially walkable, and is serviced directly by a single bus line, which comes infrequently at night and stops running just after 10 p.m. For years—well before Padrón's tenure began in spring 2019—the theater talked about moving from Long Wharf's food terminal to a more central location in downtown New Haven. In 2008, it announced plans to move into the 4.5-acre site where the New Haven Veterans Memorial Coliseum stood until 2007, but the plan fell through in 2011 and the theater renewed its Sargent Drive lease.
Then in 2018, the theater proposed expanding to a downtown cabaret-style space on the first floor of the Crown Street Garage, in a consortium with the Shubert Theatre and Albertus Magnus College. That, too, fell through after College Street Music Hall secured the final bid for the space (it later pulled out of plans to work with the city's Parking Authority on the project, and the space has since remained empty). When Padrón came onboard, he and staff prioritized working more intentionally outside of the theater, with local and regional partners that ranged from Collective Consciousness Theatre to NAATCO (National Asian American Theatre Company). Shortly before Covid-19 hit New Haven, those included long-running events in branches of the New Haven Free Public Library and newer initiatives in the cozy exposed brick basement of a downtown gay bar.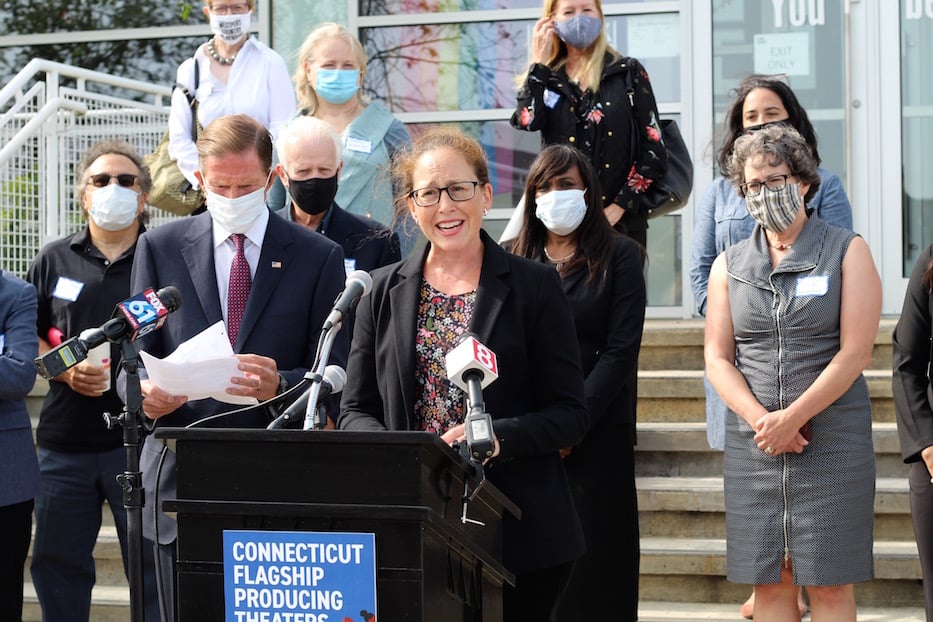 Ingui at a press conference for SVOG funding in September 2020. Lucy Gellman File Photo.
Some of those plans, announced on the eve of lockdown in March 2020, were scuttled by the Covid-19 pandemic. In the past two years, Covid-19 has pushed the theater to pivot with online and outdoor performances, collaborative film projects, new regional partnerships, and a renewed focus on new and developing voices. From a spate of early-quarantine performances on Zoom to this year's return to the stage, it has maintained a focus on opening up its doors to a wider audience, while also keeping its welcome mat out for patrons who have attended for decades.
Tuesday night, Padrón pointed to the theater's artistic congress and ensemble, "The LAB @ LWT" and "Play On My Block" initiative as programs that have paved the way for itinerancy, and will continue as the theater enters this new chapter. In particular, he said that audiences may expect to see more performances like those that grew out of "Play On My Block," which staged Mark "Stew" Stewart and Heidi Rodewald's 2006 Passing Strange outside Clinton Avenue and Lincoln-Bassett Schools last August.
While the itinerant model is virtually unheard of for regional theaters, he added, it is one that has long worked for companies he admires, has learned from, and hopes to emulate. El Teatro Campesino, where he first fell in love with performance, grew out of an itinerant model in the fields of California's Central Valley, where its primary audience was not deep-pocketed, silver-haired patrons but migrant farm workers deprived of fair compensation. He looked to the San Francisco Mime Troupe and several off-Broadway companies that have used itinerancy as a way to remain nimble as the ground beneath them shifts. For him, the model is a way to make Long Wharf more accessible to people who have never seen themselves reflected on its stage or explicitly invited through its doors.
"It was about a community of artists, it was about a community of audiences, and it was about something so much greater than a building," he said of those models. "How do we really center the value of inclusion and equity and justice? By not being tied to a building, it allows us to show up for the city of New Haven."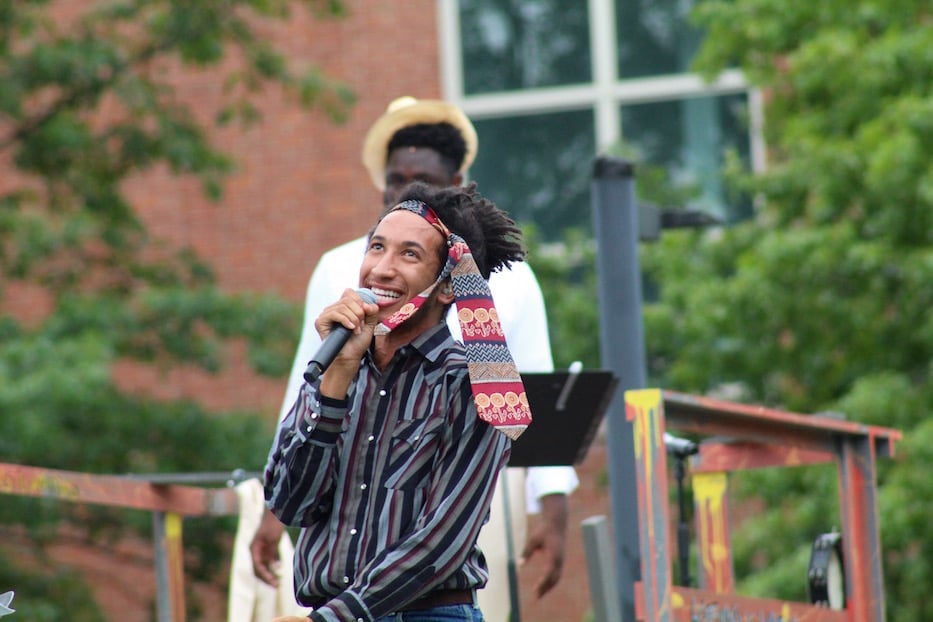 Jordan Maia as the Youth in Passing Strange in August 2021. Shafiq Hicks as Stew is pictured in the background. Lucy Gellman File Photo.
While both he and Managing Director Kit Ingui maintained that the decision aligns primarily with Long Wharf's mission, Ingui also acknowledged that "it would not be being honest to say we were not looking at finances" when making the choice to become itinerant. After Covid-19 halted its 2019-2020 season, the theater ended that fiscal year with an estimated $2 million loss, Ingui said in late 2020. In the first calendar year of the pandemic, Long Wharf's staff of 65 shrunk to 25 over multiple waves of layoffs. In an email Wednesday afternoon, Ingui confirmed that "approximately 30" staff members currently work at the theater. Without the lease, "we think we can reallocate about $500,000 a year" to projects and people, as opposed to space.
It has survived the pandemic, she said, through a mix of state and federal funding that included $551,400 in federal CARES Act funding distributed through the Connecticut Office of the Arts, $207,181 from the the Shuttered Venues Operators Grant (SVOG), a chunk of early 2020 Paycheck Protection Program (PPP) funding and a line item for Connecticut's flagship producing theaters that is written into the state budget each year. That funding allowed Long Wharf to reopen its doors to Lloyd Suh's long-awaited The Chinese Lady last fall.
And yet, she added, "people are still not coming back to the theater in droves." She attributed the drop in attendance to a mix of factors, from patrons' existing fears around Covid-19 to a new "work from home effect" that makes it that much harder to ditch sweatpants and family members at the end of a long work day for a night on the town.
"The American regional theater has to look at how it can be sustainable over the next 10 to 20 years," she said in a phone call Wednesday morning. "How does this nonprofit, in serving its mission, do that in a way that is sustainable?"
When asked whether this means the theater will be downsizing its staff of 30, Ingui said that "we don't know those answers yet. That's why we want time to do this thoughtfully."
If there are layoffs that come out of the decision, she said that the theater plans to give staff as much notice as possible and deliver the news with severance packages. "Our hope is not that it's like, 'Thank you for your service, please leave,'" she said. "And the 'please leave' will come with support."
As the theater moves forward with its decision, it seeks to do so with community input. Beginning on March 9, Long Wharf will host the first of four town hall style public listening sessions meant to be "a jumping off point," Padrón said. At those sessions, two of which are virtual and two of which are in person, Padrón said he welcomes both longtime patrons who may be grieving the loss of a physical space, and potential patrons who have never before attended a performance because they did not feel, for any number of reasons, welcome to do so.
In a press release Wednesday morning (read it here), city Cultural Affairs Director Adriane Jefferson called the decision one that is very much aligned with her own vision for cultural equity, and with the city's newly-introduced Cultural Equity Plan. So did Jon Jory, who co-founded Long Wharf Theatre with Harlen Kleiman in 1965, and a bevy of playwrights and collaborators including Dominique Morriseau, and The Public Theater's Oskar Eustis.
"I am proud that the humble theatre we opened nearly 60 years ago has grown to be a national force where hundreds of the country's top talents have appeared," Jory said. "Innovation is always crucial to first-rate work and this new vision will maintain the theatre's position as a powerful center for creativity and community."
Two virtual sessions are currently scheduled for March 9 and March 24, both from 7 to 8 p.m. A third session is scheduled for Saturday April 2 from 2 to 3 p.m. at the Mitchell Branch of the New Haven Free Public Library. A fourth and final session is set for Thursday, April 7 from 7 to 8 p.m. at Long Wharf's Sargent Drive space. More information is available at the theater's website.
"I really believe that the work of building an inclusive, equitable and boundary-breaking American theater can be some of the most joyful work that we take on as a community," Padrón said in Tuesday night's phone call. "And the fight for justice, the fight for equity, the fight to build an arts and culture community that is deeply inclusive … that is also joyful work. There will be grieving, but I hope, hope, hope that you come on the journey with us. Come be a participant in writing that story with us."