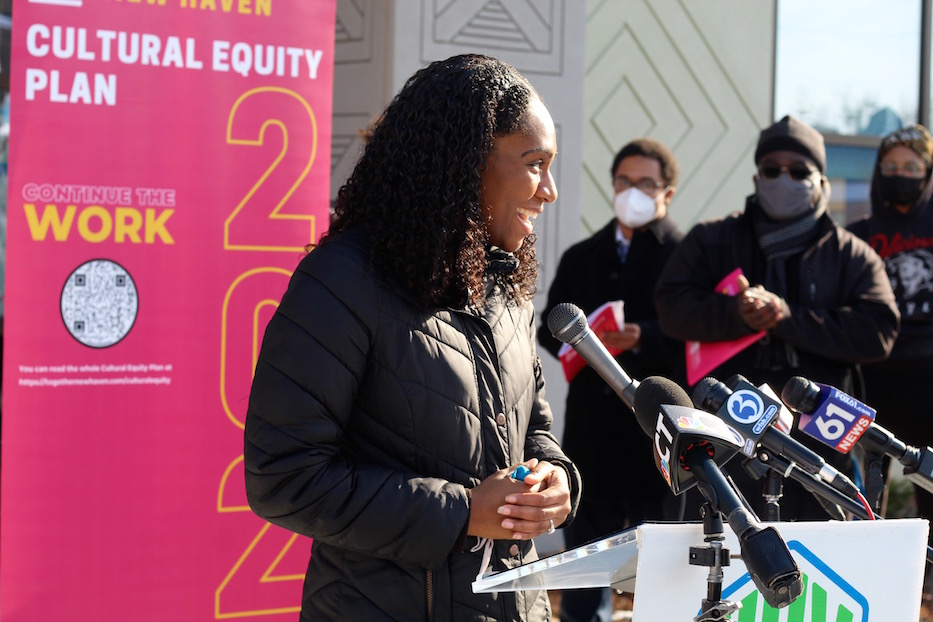 Culture & Community | Dixwell | Politics | Arts & Culture | Elicker Administration | Arts & Anti-racism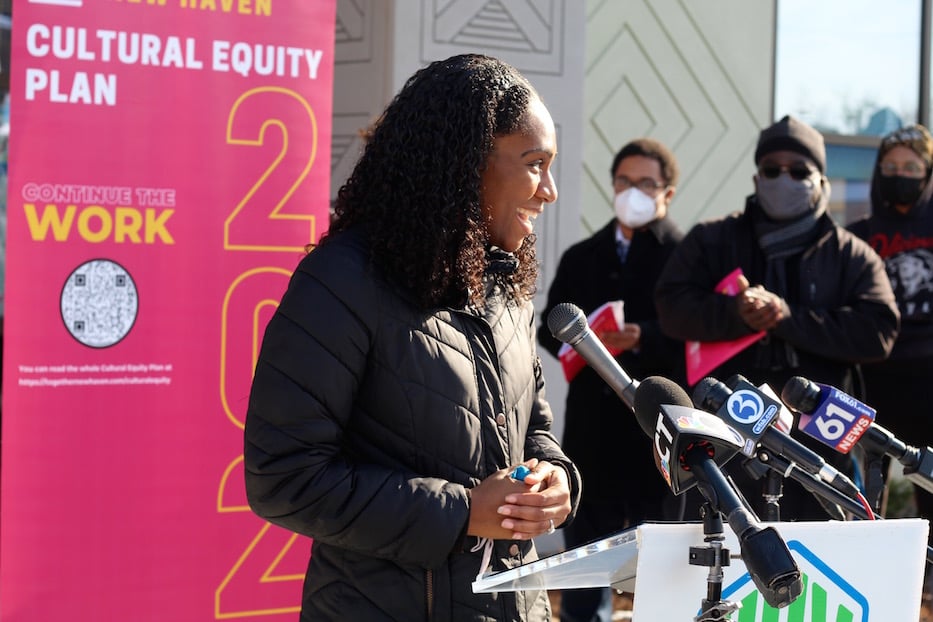 City Cultural Affairs Director Adriane Jefferson, who worked with a 14-person co-creation team and multiple partners on the plan. Lucy Gellman Photos.
New Haven has launched its first-ever municipal Cultural Equity Plan—with calls for the city to confront its own historical systems of oppression, boost events in consistently overlooked neighborhoods, diversify arts workplaces across New Haven, and much more.
Now the work begins.
That message came from city officials, working artists and arts leaders, and members of a 14-person co-creation team Thursday morning, as the city's Department of Arts, Culture and Tourism rolled out New Haven's long-awaited Cultural Equity Plan in front of the Dixwell Community Q House. After almost two years of Zoom meetings, virtual community gatherings and focus groups, it is the first plan of its kind to officially become policy in the state. It was approved by New Haven's Cultural Affairs Commission last year.
"I feel a great deal of accountability moving forward," Cultural Affairs Director Jefferson said as the sun burst over the Q House. "We must insert action. We must insert the recommendations that are in this plan. This document is an evolving document. It means that we are going to continue to be in conversation with the community about what's missing from the plan, about how we can evolve the plan, about how we can expand the plan."
The plan itself comprises 12 "Cultural Equity Action Items" (read them all here) split into the categories "Reckoning with History," "Neighborhood Culture," "Funding and Resources," and "Continued Practices & Accountability." Over two years, it came together as the work of a 14-person co-creation team, with input from New Haven-based consulting firm Civic Impact Lab and New York-based film Hester Street. The latter may be best known for building New York City's cultural plan with input from the community.
It received support from the City of New Haven, the Arts Council of Greater New Haven, the Tremaine Foundation, Connecticut Office of the Arts, and several private donors. In the interest of full transparency, the Arts Paper is an editorially independent affiliate of the Arts Council.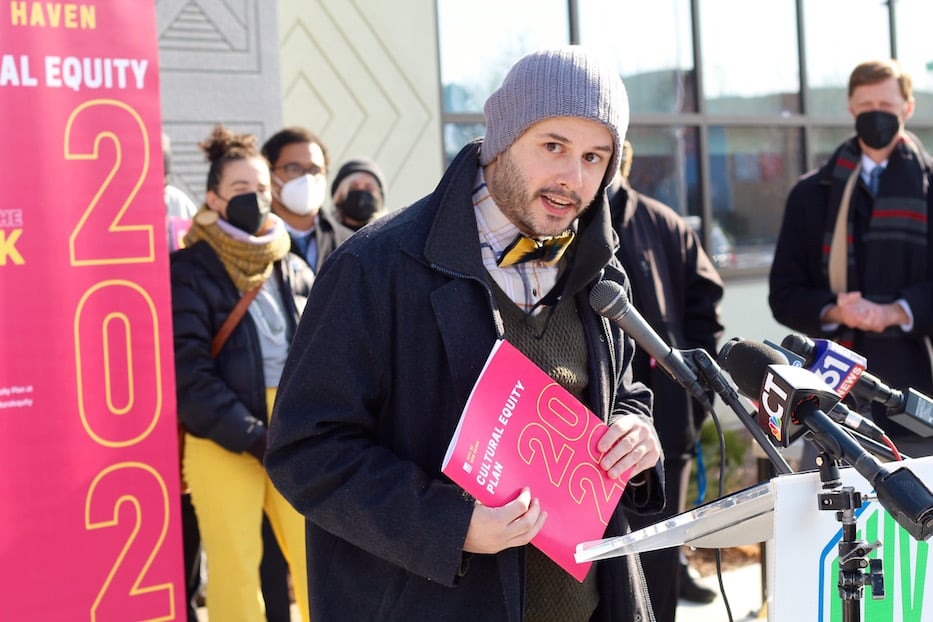 New Haven Pride Center Executive Director Patrick Dunn. "This plan belongs to all of us as the city of New Haven, because this document actually represents every single one of us in every way that we create, we culture, we artistic, and do, and live, and play in New Haven," he said.
In addition to eight months of bi-weekly virtual meetings, members of the co-creation team (all are listed below) hosted two public "imagining" sessions, which brought in over 70 New Haveners, focus groups dedicated to New Haven's Asian American and Pacific Islander (AAPI) and hip-hop communities, and 49 responses to a public survey released last May. In a testament to the need for cultural equity in the city, 56 percent of the survey's respondents are white.
The 12 action items range from gathering community members and city officials to talk about historical systems of oppression to supporting events in historically overlooked, kaleidoscopically diverse neighborhoods to diversifying workplaces, contractors, and institutional board leadership in the dozens of arts nonprofits that populate the city.
They highlight new and sustained support for independent artists and cultural organizers in Black and Brown neighborhoods, a widely expanded definition of arts and culture, and a continued need for increased funding to the New Haven Free Public Library (NHFPL) that was also part of Mayor Justin Elicker's first-term transition report in January 2020.
Among some of the most ambitious action items are a long-term "redistribution plan for wealth and power gained through centuries of exploitation," increased funding for artists in construction and infrastructure projects, and the creation of a citywide "Cultural Equity Accountability Team." The third would expand the Department of Arts, Culture and Tourism to three full-time staff members. It currently consists only of Jefferson and Community Outreach Coordinator Kim Futrell.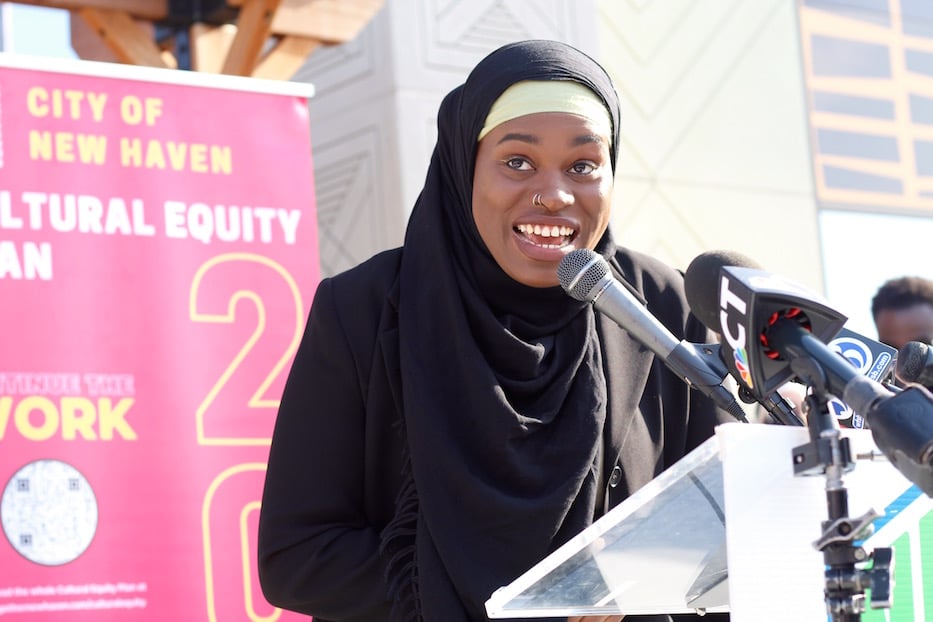 Salwa Abdussabur: "It's time for institutions to start looking at themselves."
Within its proposal for wealth redistribution, the plan looks at how universities, large nonprofits, and private philanthropists have created an imbalance of wealth and power within the city's dense, often economically and racially segregated 18.7 square miles. It names Yale University, whose endowment grew to $42.3 billion during the pandemic, as an institution that has shortchanged city residents who are struggling to make ends meet—and proposes working with the City of New Haven "to get Yale to pay its fair share."
The same action item also calls for new partnerships "with local, grassroots community groups" that reimagine community wealth redistribution, in a model that is closer to mutual aid than current and previous city-led grantmaking programs. In line with that vision, the plan also supports direct funding to artists and creatives in need of financial relief, without the miles of red tape that grant applications or funding restrictions can create.
"It's time for institutions to start looking at themselves," said artist and Black Haven founder Salwa Abdussabur. "Looking deep within their policies … to be agents of community, and change, and love, and what's real."
The plan also proposes dedicating a new position in city government exclusively to cultural equity in the next two years, and paying a team of city residents to facilitate the plan's implementation in the meantime. That same action item—the twelfth, for anyone keeping track—calls for anti-racism trainings for city staff, which have already begun with New Haven's involvement in the Government Alliance on Race and Equity (GARE). In an interview after the press conference, Jefferson said that she'd welcome the position—the city just needs to figure out how to sustainably fund it first.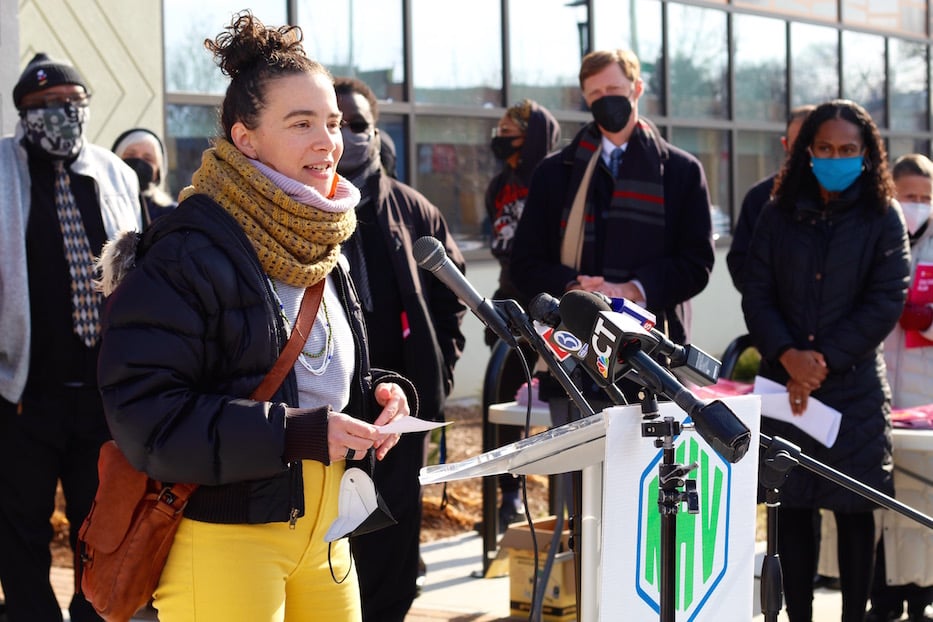 Tagan Engel.
The Cultural Equity Plan's 59 glossy, pink-and-white color coded pages also ask its reader to get involved in the cultural equity planning process themselves. Prompts include resource and power mapping, sketching, and journaling in response to questions such as "How have I supported cultural inequity?" "What values do you bring with you in this work?" and "Journal about what forms of power you hold."
The co-creation team included Abdussabur, public artist and NuSpiral Collective Co-Founder Isaac Bloodworth, Long Wharf Theatre's Hope Chávez, NHFPL Deputy Director Luis Chavez-Brumell, ACLU policy organizer Anderson Curtis, Westville Village Renaissance Alliance Director Lizzy Donius, New Haven Pride Center Executive Director Patrick Dunn, food justice advocate Tagan Engel, musician and educator Paul Bryant Hudson, Yale-China Director of Arts Programs Annie Lin, Ignite The Light Founder and Elm City Lit Fest's Shamain McAllister, Bregamos Community Theater Founder Rafael Ramos, immigration advocate Fatima Rojas, poet, musician, educator and multi-hyphenate artist Puma Simone, and Nest Communications Manager Ratasha Smith, who was formerly at the Community Foundation for Greater Haven and Civic Impact Lab.
"When we talk about arts and culture, it's not just on a stage, and what's in a gallery," Engel said. "We're talking about food and cooking. We're talking about what happens in religious spaces. We're talking about … dining rooms and kitchens, on street corners, on playgrounds, and this group really brings life experience to all of those things."
Thursday, Jefferson said that it builds on the work that the department is already doing. When she began her tenure at the city in February 2020, she could already see a framework for cultural equity in Mayor Justin Elicker's first-term transition report, and had just started discussions around building the plan. Then Covid-19 hit New Haven. In the early stages of the pandemic, the department worked with the Arts Council of Greater New Haven to pilot the Creative Sector Relief Fund. It partnered with the New Haven Health Department for masking and vaccine campaigns and rolled out new grantmaking and public art programs specifically for Black and Brown artists in the community.
It launched the inaugural "Arts for Anti-Racism Toolkit," asking organizations across the city to take an anti-racism pledge with multiple action items, led New Haven's efforts in joining the Government Alliance on Race and Equity (GARE), and spearheaded Entrepreneurship Decoded with Collab New Haven. During that time, Jefferson never gave up on the creation of a plan, she said. It just became a sort of reverse engineering, where some tenets of the plan became best city practice before they were officially policy.
"The Theater of Hunger"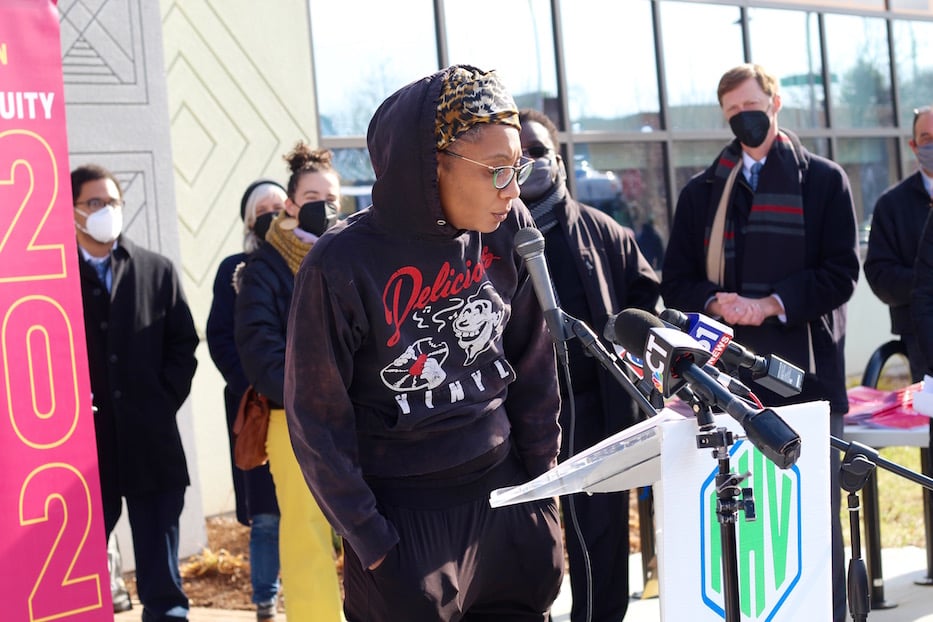 Puma Simone, who is a musician, poet, spoken word artist and educator in the city.
It was New Haven's working artists who gave the most powerful argument for why the Cultural Equity Plan is long overdue on Thursday. Taking the mic as a truck and a 238 bus rumbled past in unison, Puma Simone made a declaration: "I've been a starving artist/Not so much by happenstance/But for remaining in New Haven/When I had the chance to leave."
The crowd was quiet. A few low, knowing mmmms rippled through the group, where the audience had grown to two dozen. "Perhaps I got cold feet/Or I was tempted by love in a picturesque dream," they continued.
The crowd held onto every word. Simone dipped into their personal geography, weaving a love song to a New Haven in which they grew up, a New Haven that was both stripped of and mined for resources by its tax-exempt and overwhelmingly white-led institutions. They looked to Margaret Holloway, a brilliant artist and director that many knew only as "The Shakespeare Lady," who passed away in 2020 of Covid-19. They had sharp-tongued words for the media, the rapacious eyes of which follow every fire, every police chase, every crime scene wrapped in yellow tape.
Simone's refrain—"I want to embody/the theater of hunger"—was a reference to Holloway's thesis at the Yale School of Drama. In 1980, Holloway wrote: "These artists know that there is no separation between the quest toward a theater of hunger and a quest toward a way of life. We continue in this quest."
Forty-two years later, Simone pointed to a city in which the same systems that failed Holloway are still failing artists—particularly those who are not white, not heterosexual, not cisgender, not able-bodied, not English speakers—today. They deftly tied Yale's grip on the city to the erasure of public art in Newhallville and Dixwell, the unsustainable cost of housing, the use of American Rescue Plan dollars to fund law enforcement and the installation of 500 surveillance cameras last month.
The words kept coming, drawing snaps and responses. Simone looked to the time it took the city to rebuild the Dixwell Community Q House, offering New Haven an apology that left their voice ragged at the edges. They wove the decline of the Black Panther Party and ever-rising rents to the city's barring of the Freddy Fixer Parade on the New Haven Green. They begged attendees to listen—which they did.
"So if my words form a black cloud in the sky/I guess that's what I came to be," they read. "Like a flock of crows who set up shop/Drop paint on the streets/Then wait for the rain to leave/My heart is still waiting for space to weep."
Abdussabur, who grew up in Beaver Hills and co-founded Black Haven after the pandemic upended their time in Los Angeles, pointed to the Cultural Equity Plan as a document that can begin to undo decades of oppressive, harmful policy making. That policy, they said, has boxed out Black people, Latinx people, disabled folks, queer people, and others for years. They called the arts a great unifier, adding that they can see the roots of a Black Renaissance that has begun to spread through the city.
"I want New Haven to be a place where I can thrive, and not survive, as an artist," they said. "Where I can be who was meant to be. This art is my purpose. Art is the most authentic form of our human expression. It's the thing that brings us together. It's the thing that ignites our hearts, and it's the thing that ignites change."
Where It Goes From Here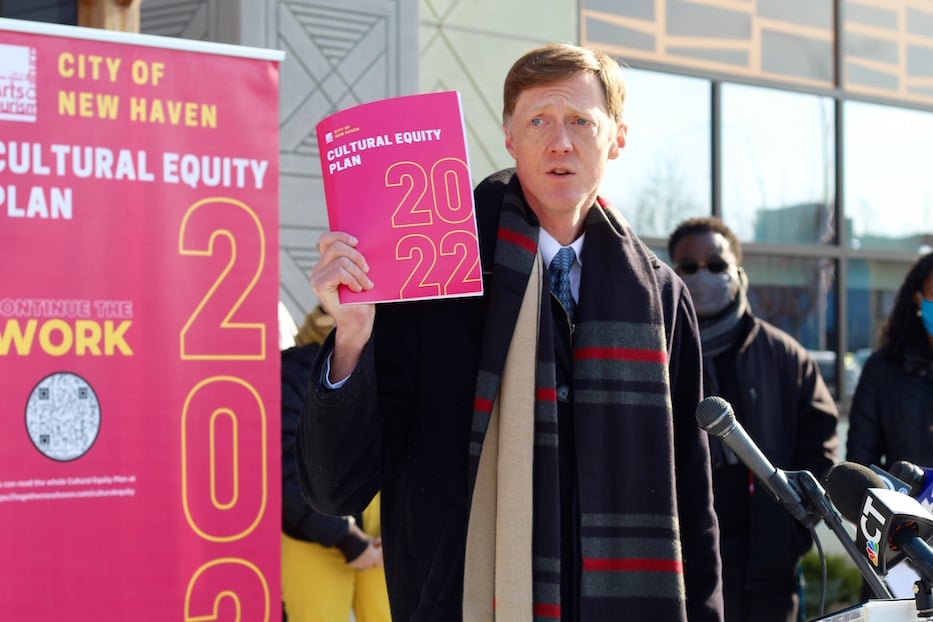 Mayor Justin Elicker: "To me this is about a plan, but more importantly it is about the work that we all need to do to uplift all of our cultures, all of our backgrounds, to share who we are with each other in a meaningful way," he said. "Today is the start of a new page in our chapter that really uplifts our differences and brings us together. So let's move forward in a way that respects each other and is grateful for one another."
Both Jefferson and Mayor Justin Elicker reiterated multiple times Thursday that the Cultural Equity Plan is intended to be a living document, with action items specifically designed to keep city residents, officials, and arts leaders alike on their toes. Even in its early stages, it has gotten some statewide and national attention, from both regional partners across Connecticut and the D.C.-based powerhouse Americans for the Arts.
"The conversation has been: 'How do we make this a plan that does not sit on a shelf in City Hall or in somebody's drawer," Jefferson said in an interview with the Arts Paper after the press conference. "So this plan is intentionally developed to be a plan that's actionable."
To ensure its implementation, Jefferson and members of the co-creation team plan to facilitate a series of community conversations around the plan that she likened to "a cultural equity tour." The conversations, which will focus on a different neighborhood each month, are slated to begin after the city's second annual Unapologetically Radical conference, scheduled for February 19 of this year.
Jefferson said she does not yet know whether the sessions will be virtual or in-person, because the Covid-19 pandemic remains a moving target. She said that she welcomes constructive feedback from the community. This year, the department will also be rolling out a creative workforce initiative, which funds artists and creatives in apprenticeship positions. That $75,000 pilot is funded by a $500,000 grant that the National Endowment of the Arts awarded the Arts Council last year .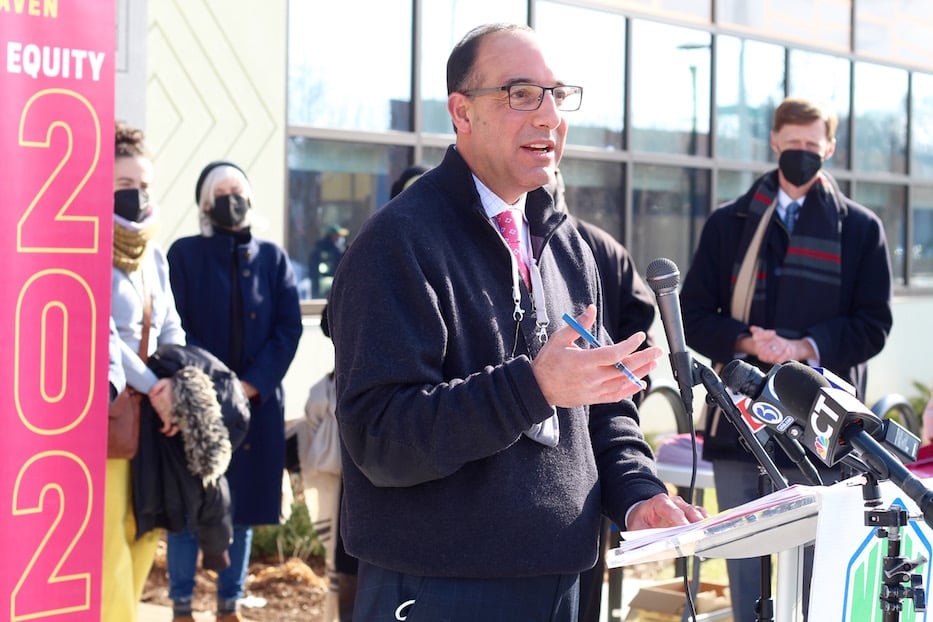 City Economic Development Administrator Mike Piscitelli.
For the second time in two days, Economic Development Administrator Mike Piscitelli announced that the Cultural Equity Plan will receive a slice of the $53 million in American Rescue Plan funding that the city proposed this week. The plan currently falls under a $10 million item for "Wealth Creation & Economic Growth." Piscitelli would not say how much of that chunk is allocated for the plan.
"For many of us who have worked in this space for many many years, at times a plan like this can also be uncomfortable," he said. "It's the opportunity to truly reckon with our history, to go deeper in our neighborhoods, recognize that recovery … is also a time to bounce back better."
Watch the full press conference in the Facebook Live video above. Read the plan here.