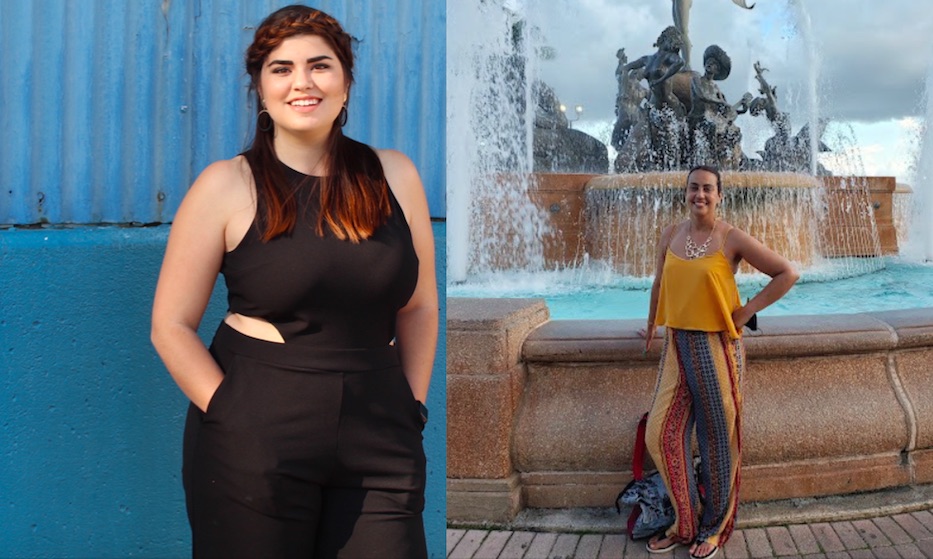 Culture & Community | Politics | Arts & Culture | Elicker Administration | COVID-19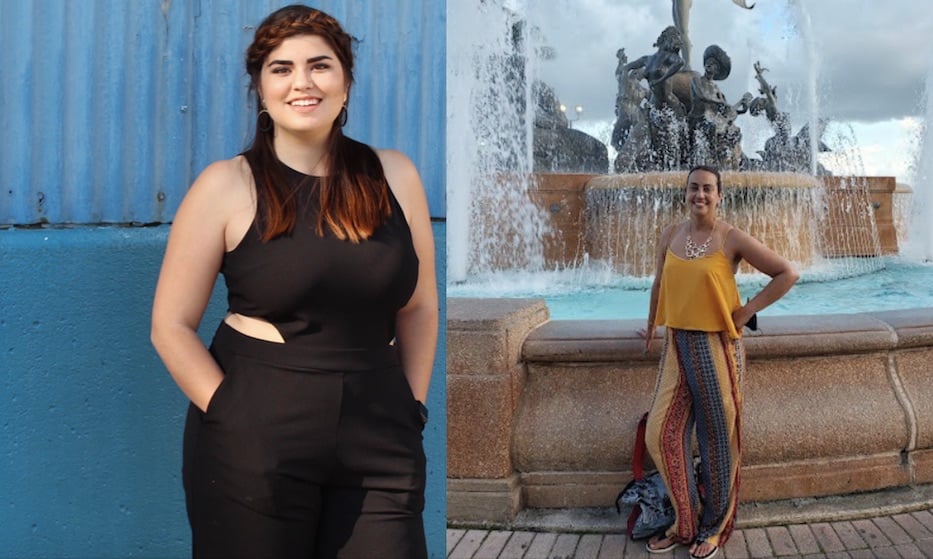 Left: Hope Chávez; Bo Suh Photo. Right: Magaly Cajigas in front of a fountain in San Juan, Puerto Rico; Contributed Photo.
One is a theatermaker who helped shape New Haven's push toward cultural equity. The other is a proud steward of her Puerto Rican heritage, ready to give back to the city that raised her. As they prepare to join a city commission, both represent a more inclusive vision of arts and culture in New Haven.
Last week, New Haveners Hope Chávez and Magaly Cajigas appeared before the Aldermanic Affairs Committee of the New Haven Board of Alders as proposed appointments to the city's Cultural Affairs Commission. The appointments, which received enthusiastic and unanimous support from members of the committee, now move to the full Board of Alders for a vote. That is currently scheduled for Nov. 15 at 6 p.m.
Chávez is currently an artistic producer at Long Wharf Theatre. Cajigas is a development manager at the Community Foundation for Greater New Haven, parent advocate, and an extremely active member of the all-volunteer group Puerto Ricans United, Inc. (PRU). Both stressed the importance of Latina representation in their remarks to the alders. The Cultural Affairs Commission currently skews whiter than the city itself.
"When I came to New Haven, I told myself, 'I want to plant roots here. I want to be deeply invested in this community. And I want to get more active in civil service," Chávez said during a back-and-forth with the committee. "So this is a high priority for me. I'm really eager."
The two come to civic engagement from different backgrounds. Born and raised in Plano, Tex., Chávez moved to the East Coast ten years ago, to study theater at The King's College in New York City. Her freshman year, a professor "helped me realize that producing was for me," she said in a phone call last Thursday night.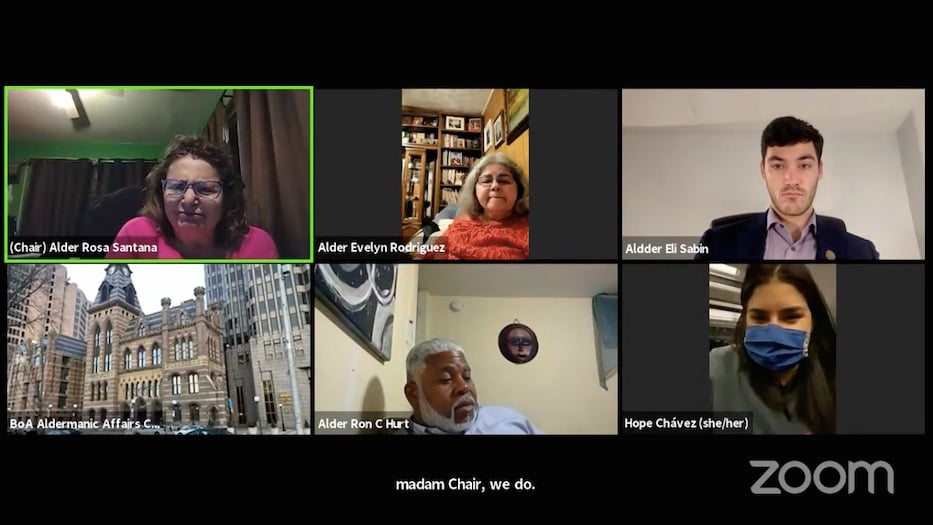 After college, she took a day job in Fintech—financial technology—while freelancing "everywhere I could." She jumped from company to company, building her practice. Five years ago she co-founded Lyra Theater, which staged and supported works by new and emerging artists for two years.
In 2018, Chávez became a programs manager at A.R.T. New York, developing the first-ever sexual harassment training specific to theaters. With Senior Manager of Programs David Shane, she designed and implemented a curriculum, which was written in compliance with New York state law. Using a multi-pronged approach, the program offered micro-grants to theaters that brought in intimacy directors, supported educators, and invited facilitators "who talked about the harm repair process." The two named it "Bodily Autonomy."
As part of Bodily Autonomy, she and Shane also piloted an ombuds program, through which A.R.T. New York paid for trained mediators at fellow theater organizations. The program allowed mediators to do their job more effectively and independently, Chávez explained: when mediators are hired by a theater itself, their first priority is still to the institution, even if that institution has caused harm. When they are paid by an outside party—a fellow organization, for instance—their first priority is to the person or persons who have been harmed.
In fall 2019, Chávez moved to New Haven to produce at Long Wharf Theatre. For the past 18 months, she has helped steer the theater through multiple waves of uncertainty, helping to stage virtual gatherings and productions, an emergent pandemic season, multiple artistic films, an artistic congress last fall, and a return to in-person performance this year. She is often the first and most frequent point of connection between artists and Long Wharf, and has made herself a cultural bridge that extends beyond the theater.
Within two months of March 2020, for instance, she brought Jasmin Agosto's La Sala Femme to Long Wharf via Zoom, holding the space for community. She lives in New Haven's City Point neighborhood, on the lip of the Hill.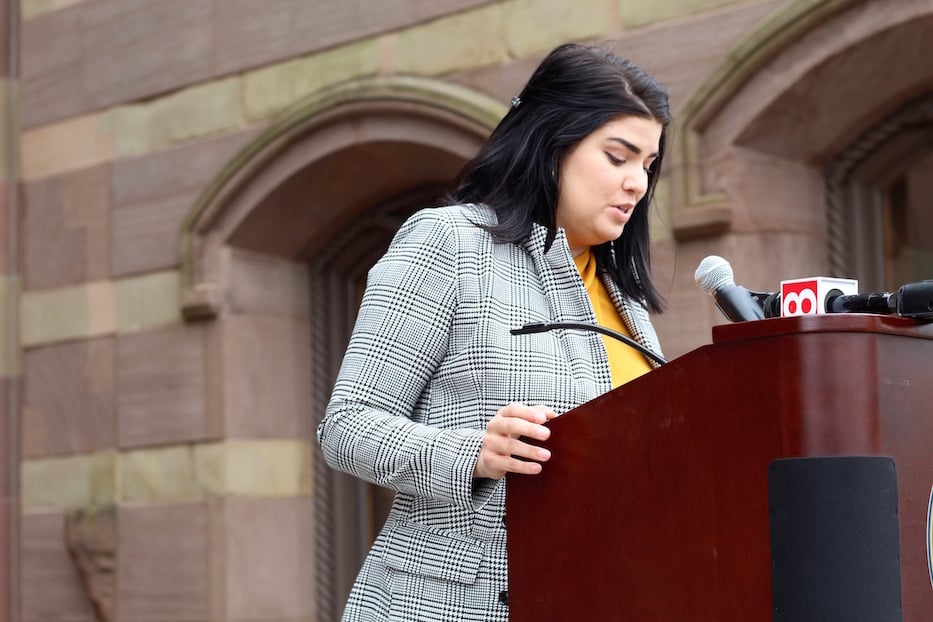 Hope Chávez speaking at a press conference celebrating New Haven's Cultural Equity Plan earlier this year. Lucy Gellman File Photo.
"As a New Havener, I kept telling people during the pandemic that I was grateful because it actually allowed me to drop into community faster," she said in a phone call Thursday. Only months into the job, Chávez learned quickly who the activists, the helpers, the artist-advocates and the mutual aid workers were. She was able to fold that knowledge into the work she was doing at the theater.
Outside of Long Wharf, she has worked closely with Cultural Affairs Director Adriane Jefferson and members of a "Cultural Equity Co-Creation Team" to sculpt and draft the city's inaugural cultural equity plan. From November 2020 to May of this year, the team worked to build and roll a framework for more inclusive programming and funding for the arts in New Haven. She also participated in the city's first "Unapologetically Radical" conference earlier this year.
​​"I'm really interested in being able to offer my experience as a queer Latina woman, and being able to come in and really use the tools and the training that I've had around how to take these values, and these philosophies and ways of seeing the world, and really use them to create systemic change," she told the alders. "Really use them to apply it to process ... the way in which funding processes for the city work for local artists and local arts institutions, and being able to provide my values to the processes that the city has."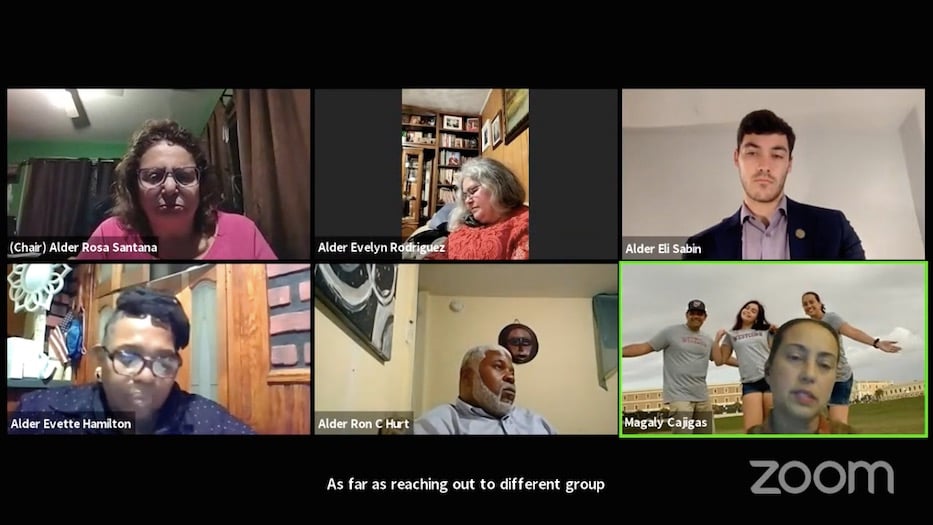 Cajigas, meanwhile, looked to her lifelong experience as a community member, nonprofit leader, fierce parent advocate and cultural champion who has never been afraid to jump in and get her hands dirty. Growing up in New Haven's Hill neighborhood, she turned to the arts as a path to cross-cultural understanding—and never stopped building on that foundation.
She is a proud graduate of all New Haven Public Schools, from the Welch Annex School on Prince Street to Roberto Clemente Middle School to Hill Regional Career High School. As a student at Career, "I was the only Latina on the drill team," she recalled with a laugh as she spoke to the alders. It instilled in her an interest in using the arts to build cultural connections and break through stereotype.
​​"Just my upbringing alone has given me that touch of appreciation for what learning about different cultures can bring to the table," she said. "How they can unite different communities."
As a kid and then as a young adult, she fell in love with the city's cultural festivals, including the Freddy Fixer and Saint Patrick's Day Parades, and annual Día de Muertos parade through Fair Haven. She loved the Puerto Rican Day Parade, which has since blossomed into a day-long festival. Before the pandemic, it brought around 10,000 people to the New Haven Green each year. Last summer, it became a smaller event in Criscuolo Park.
In 1992, Cajigas won Miss Puerto Rico New Haven, and found that it gave her a chance to reconnect with kids in the city's public schools. Using the win as a springboard for education, she went on to run Miss Connecticut Latina United States in 2005. The pageant, which ran through 2010, trained young people in community engagement and leadership. In a 2009 interview at the Latino Expo, she called it "not a beauty pageant, it's a pageant competition with a little bit of a twist."
During and after graduate school in public administration, Cajigas also built a professional career dedicated to community service, working at organizations that included LEAP (Leadership, Education and Athletics in Partnership) New Haven, the Housatonic Community College Foundation, Bridgeport Child Advocacy Coalition (BCAC) and most recently the Community Foundation.
She has aways foregrounded teaching in her approach—a quality she would bring to the commission, she said. As a former board member for Achievement First, she helped host events for both Hispanic Heritage Month and Black History Month. During her board service at Casa Otoñal, she helped implement and grow the center's now-annual celebration of Día de Los Reyes, or Three Kings' Day. Five years ago, she became an integral part of Puerto Ricans United, Inc. (PRU), the organization that brings New Haven a day-long festival each summer, gala each spring, holiday Parranda each winter, and charitable events for the New Haven Hispanic Firefighters Association.
She has also seen the power of the arts through her daughter Alanna, who graduated from Cooperative Arts & Humanities High School in June, and is now studying theater at Western Connecticut State University. While Alanna was studying theater at Co-Op, Cajigas learned about what wasn't being taught in the school's classrooms, she said. Alanna's Puerto Rican history lessons happened almost entirely at home. She'd love to see the commission help change that.
She pointed to New Haven's expanding and kaleidoscopic immigrant communities as a completely untapped cultural resource (it is also one to which little or no city funding has historically gone). As a member of the Cultural Affairs Commission, she said, she would advocate for building partnerships between the New Haven Public Schools and existing arts organizations, including but not limited to ARTE, Inc. and Bregamos Community Theater.
"What I like about arts and culture in New Haven, and what it can bring to a community, is that it can bring peace, it can bring joy, it can unite—which is very important nowadays, because we have a lot of division," she said. "And that's the type of work I'd like to be involved with."
The meeting also included the proposed reappointments of commission members Dave Coon, Francesca Vignola, and Reed Immer, all of whom were selected by the late Andy Wolf during the Harp Administration. During the meeting, Immer said he is especially excited to bring New Haveners together in a more intentional way. He noted that he often sees competition where there could be collaboration, and is interested in the role that the city can play in creating more of the latter.
"I think one of the great potential areas of opportunity in New Haven is to do more connecting of the dots," he said. "There's a lot of great stuff already happening, sometimes it's a little siloed from each other. I think the cultural equity plan that Adriane [Jefferson] has led the development of over the past couple of months is a great resource for common language that folks in all areas of arts and culture in the city can get behind."