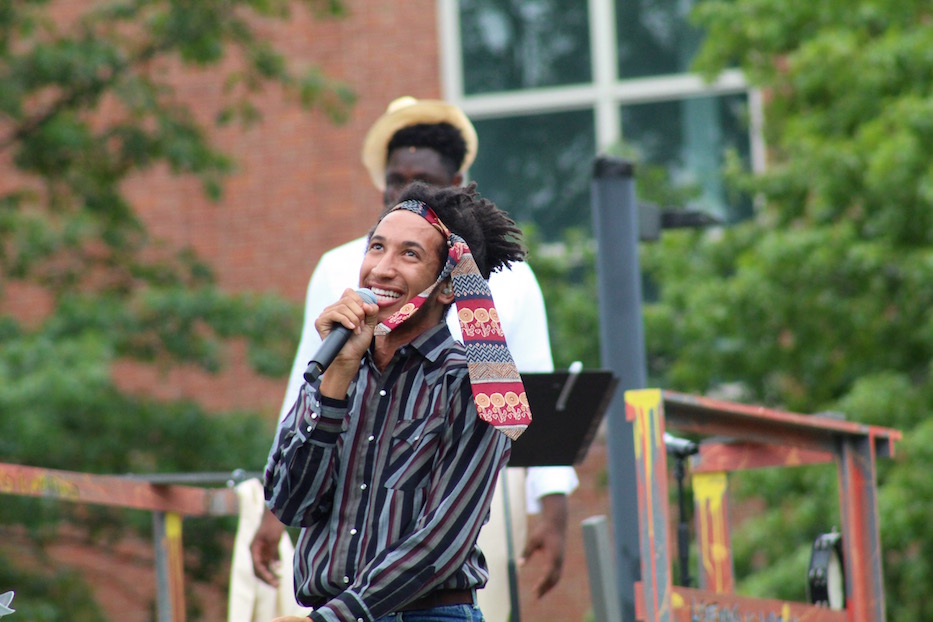 Fair Haven | Long Wharf Theatre | Arts & Culture | Newhallville | Theater | Arts & Anti-racism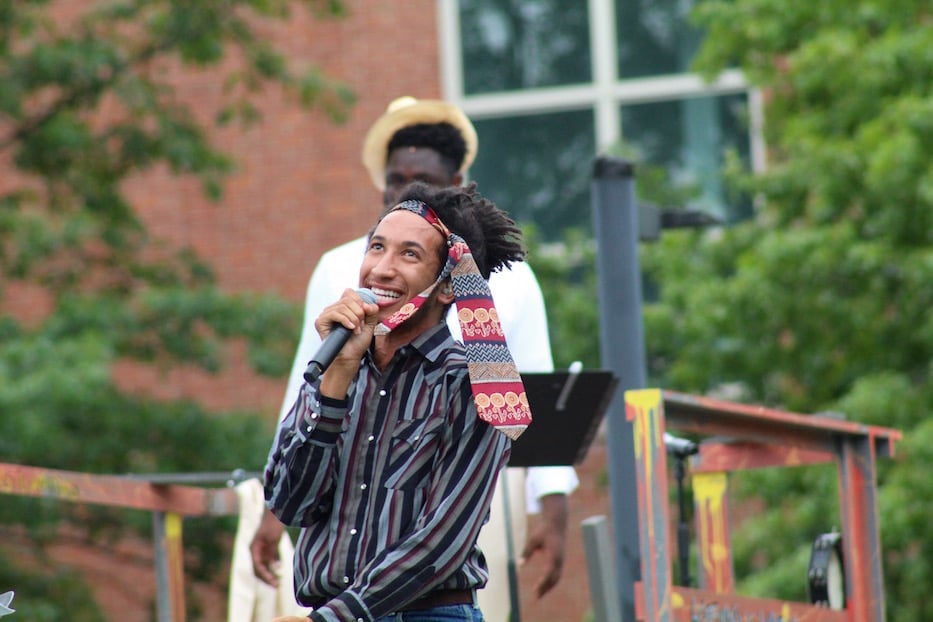 Jordan Maia as the Youth in Passing Strange. Shafiq Hicks as Stew is pictured in the background. Lucy Gellman Photos.
Youth stared out onto the field outside of Lincoln-Bassett School, his eyes huge and bright as a switch flipped on in his brain. He extended his arms, fingers long and rigid. He contorted and then reached toward the grey sky, his body a live wire. Somewhere, the Detroit punk band Death and the musical Cabaret were meeting up and waltzing to synthy electric guitar. A dirt bike, unaware, revved its engine in the distance.
"The key to The Real is finally in my hand!" he proclaimed. "And now your expectations are exiting my veins!"
That was the scene in Newhallville Sunday afternoon, as Long Wharf Theatre brought a meditation on Blackness, found and chosen family, spiritual life and the search for artistic meaning to the neighborhood with a concert reading of Passing Strange, the 2006 coming-of-age musical by Mark "Stew" Stewart and Heidi Rodewald.
The work, which marked the theater's long-awaited return to live performance, arrived at Clinton Avenue School on Saturday and Lincoln-Bassett School on Sunday as part of "Play On My Block," a new initiative meant to get theater into the community. It doubled as the kickoff to Long Wharf's 2021-2022 season, which continues at the theater's Sargent Drive home with Lloyd Suh's The Chinese Lady on Oct. 12. Tickets and more information are available here.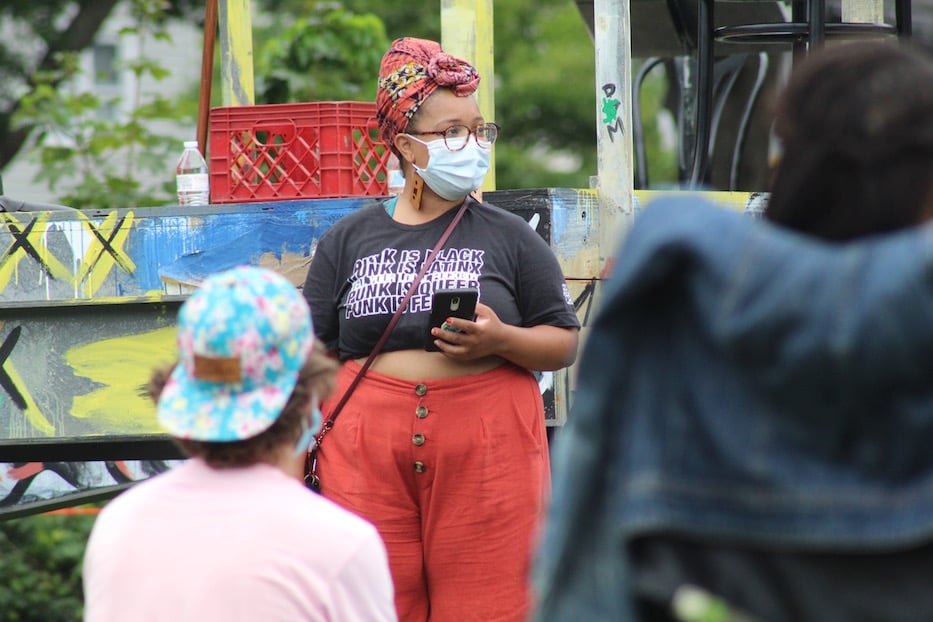 Director Cheyenne Barboza, who is the community partnerships and literary associate at Long Wharf. The set behind her is the work of New Haven artists Marsh and D. Douglas.
"We put our heads together, and we said: Why don't we bring live theater out of the darkness of indoor theaters and the stuffiness of it all sometimes, and bring it out to where we can enjoy it, where we can be communal in spaces," said Director Cheyenne Barboza. "Like [Long Wharf Theatre Artistic Director] Jacob [Padrón] says all the time, there are many stages in our community, and they don't all live indoors."
Set in the 1970s and based on Stew's own journey of self-discovery, Passing Strange follows Youth (Jordan Maia) as he leaves his mother (Thabisa Rich) and middle-class Los Angeles upbringing in search of "The Real," that sweet spot where he can be fully himself as a Black kid from L.A. who likes psychedelics, Zen Buddhism, punk rock, and rock and roll.
It is narrated by a wiser, present-day version of Stew (an electrifying Shafiq Hicks who leaves no hope for the fourth wall) and cast members who shape-shift from church musicians and pastoral leaders to Dutch sex kittens, avant-garde performance artists, and characters ready for their close up in a film from Maurice Pialat or Claude Chabrol. Along the way, Youth trips his way from the City of Angels to Amsterdam and onto Berlin, realizing along the way that "The Real" isn't so real at all—and far more complicated than he once thought.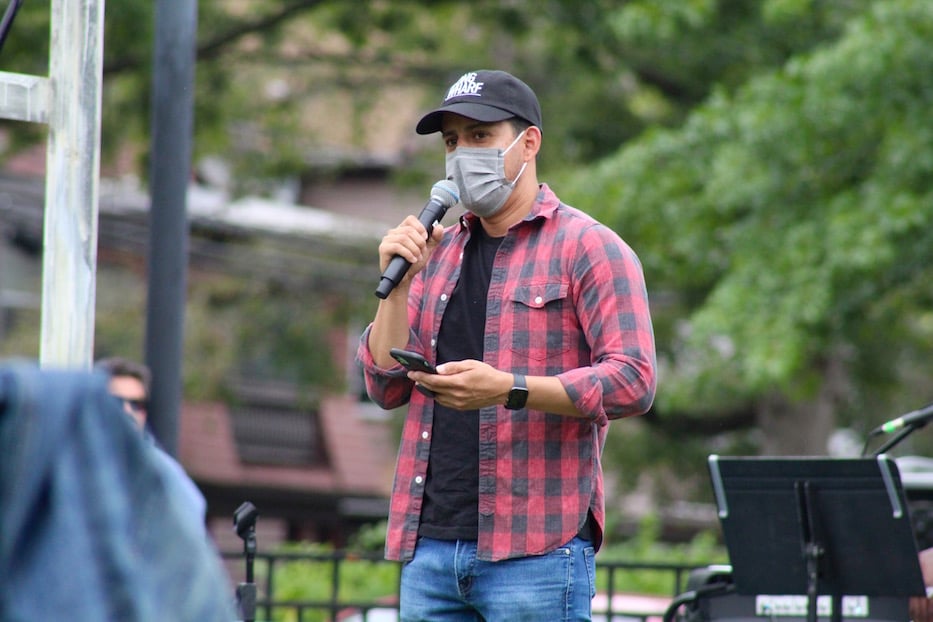 LWT Artistic Director Jacob Padrón. "We wanted to bring art into the community in partnership with all of you, so this just feels like a wonderful manifestation of what we're up to at Long Wharf Theatre," he said before the show.
With a rollicking score and an all-Black cast, the show opens itself to a kind of self-exploration that is, in fact, perfect for a city full of artists navigating a new normal in the second year of a plague. As Hicks took his place at the top of the set Sunday, Music Director Elle Morris began to sway, her shoulders moving from side to side as she lifted her arms and released her hands. It was the 1970s and 2021 all at once, as Stew's history grafted itself onto the city.
In front of her, a band of familiar New Haven faces (Trey Moore on bass; Finn Wiggins-Henry on keys; Clifford Schloss on guitar and Jocelyn Pleasant on drums) hit it, the stage suddenly soaked in thick layers of fuzz and distortion. At the bottom of the set (design by Devario Simmons, who also did costume design), a string of graffiti-esque shapes and black-and-white music keys nearly came to life. In the audience, artists Marsh and D. Douglas watched with delight.
Over two hours, cast members married the show's razor-sharp edges to a telling that was just a little more vulnerable, exploring the very notions of passing—through borders, through Blackness, through time and space and mental states—as both their characters and themselves. As Rich and Maia walked onto the stage, the two transformed the Newhallville field into a middle-class L.A. apartment, circa 1970. Rich sang out a high-pitched supplication for her son to go to church, and lit a spark that would follow Maia halfway around the world.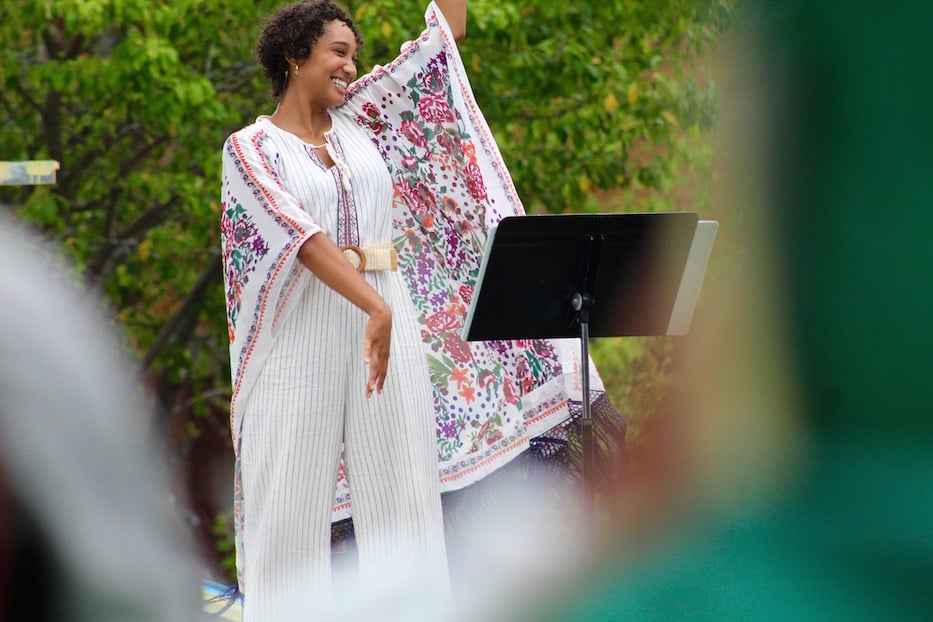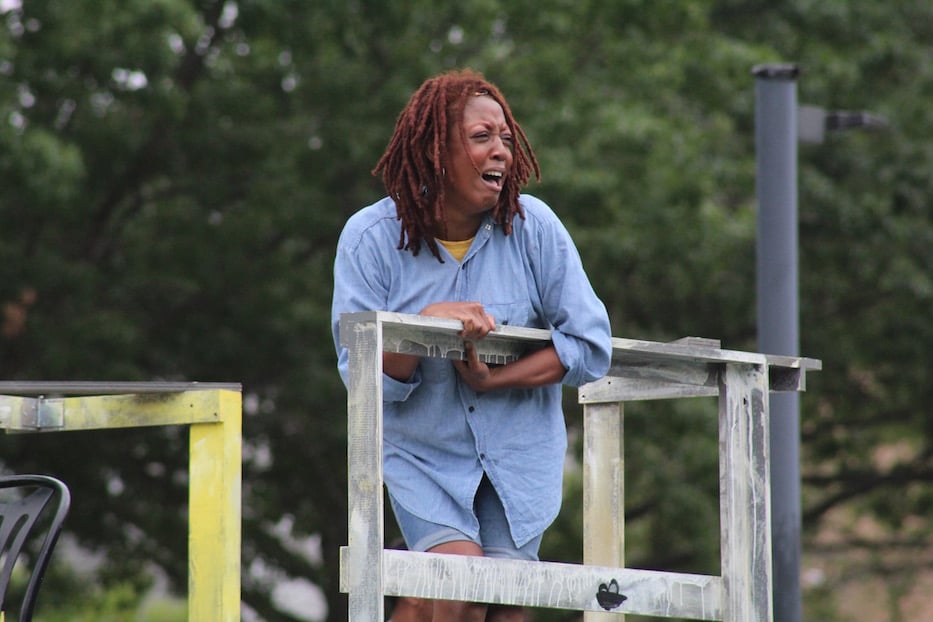 Top: Elayna Garner as Marianna. Bottom: Actor Maal Imani West as a disillusioned adolescent punk rocker in L.A. Like Garner, they played multiple ensemble roles in the show.
In the audience, families spread out across individual pods and leaned in, some in lawn chairs as others stretched out and sat cross-legged on the ground. Actors, in turn, made the story their own, carrying the audience from a Baptist church service in L.A. to a dark, grungy basement nearby to a snow-dusted Berlin and everywhere in between. As the narrator, Hicks lifted them up with explosive, often laughter-flecked vocals and a range that took the audience by the hand and prepared for liftoff.
The stage became a church filled with dazzling L.A. sunshine and a pastor (Keemar Davis) ready to raise rafters with his voice alone. It turned into a sun-soaked flat in Amsterdam, with a perpetual curtain of hash-induced brain fog and half-written songs. Then it was a still-polarized West Berlin, where the streets were filled with burning cars and anti-capitalist performance art.
In the field, audience members let the play transport them to the West Coast, into the air, and over to a Europe that is no longer recognizable. They cheered, screamed and applauded as Davis hit the line "Let me tell you the story of the Apostle Paaa-uuu-l" somewhere between a growl and a wail, but short of a whoop. They began to clap in time with the music as Stew sang Youth's revelation around church music into being.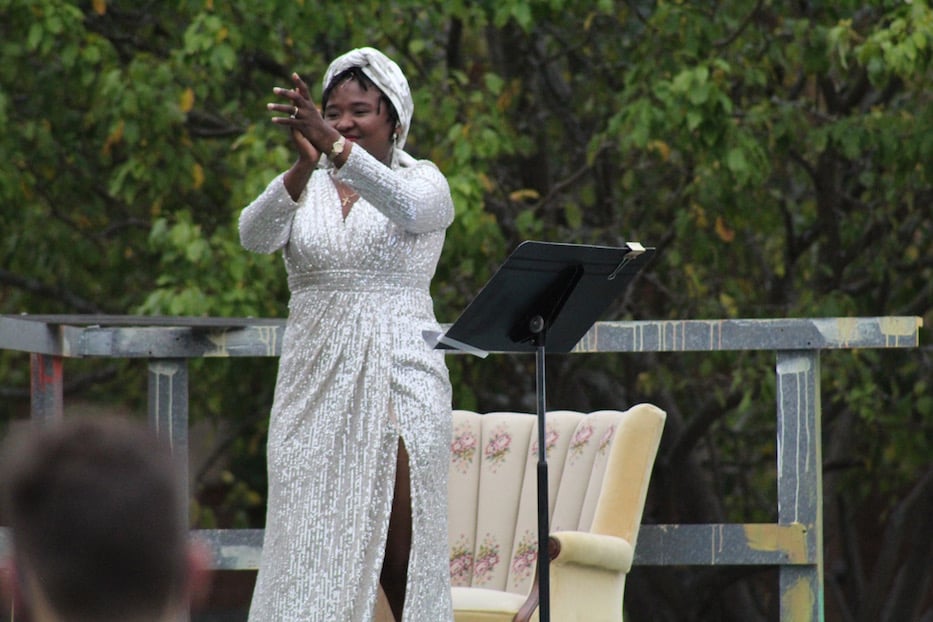 Thabisa Rich as the mother.
They laughed knowingly at Anthony Brown's performance as a risk-taking choral director—"I'm just the vessel," he replied to high praise from one of his arrangements—kept on a very tight leash by his father. Near the back, a little girl in a Frozen mask walked between two pods in time with the bass and a tambourine in Edwina Wiliams' (Elayna Garner) shaking hand.
As they morphed from choir teachers to punk rockers to new friends and lovers in Europe, cast members sprang into propulsive, socially distanced choreography that made it feel less like a staged reading, and much more like a full show on a clean, minimalist set that left room for imagination. In a talkback after the show, choreographer Hanan Hameen said that she thought about using characters' love for and trust in each other (or lack thereof) "as an action—as a way to be, as a way to communicate, as a way to express yourself."
Along the way, actors Maal Imani West and Elayna Garner showed the audience that there was no role too small or strange for them to slip into. West, in particular, hooked and held attendees with their vocal range, soft and soulful enough to plead but fiery enough to keep a whole park at attention. In one particularly moving scene, their character Desi laid bare Youth's own attachment issues and fear of that which is too close to reality. When Maia later belted the words "Am I real now?" audience members could feel it to their bones.
Both they and Garner explored their characters' softest and most outlandish edges, coming away with a lesson on listening and grace that outlasted the show. As the Dutch Marianna, Garner reminded attendees how far a little trust can go as she crooned the song "Keys/It's Alright" and taught Youth "how to wear my body" without shame. In return, Brown mined the script for its sharp, sometimes acidic humor and came away with gold, particularly as the German performance artist Mr. Venus.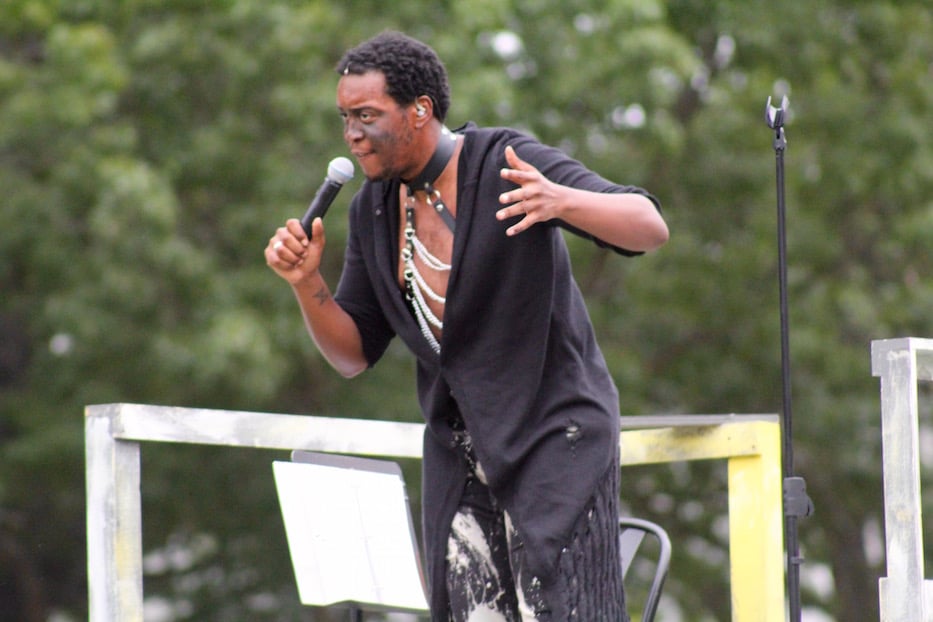 Anthony Brown as Mr. Venus.
If Passing Strange is already inherently meta—it's an artist telling his own story with the bluntness, bite and nostalgia that comes with hindsight—actors added another layer as they returned to live performance, some for the first time in over a year. Passing Strange is Stew's story, but it is also the story of so many artists who have left home to find a place where they can be comfortable in their own skin.
To perform it with an all-Black cast—the convention for the show, but not yet for the American Theatre at large, despite a flood of promises to diversify last year—is to highlight the absurdity of social expectation that is still placed on Black artists, and artists who are members of the global majority more broadly.
That's the story so many cast members are living, Hameen said during a talkback Sunday. Stew understands how to make fun of his younger self, and does so abundantly—but he also ties in the complexity of forced displacement and migration, from enslavement to James Baldwin and Josephine Baker to the prison industrial complex.
In lines like Garner's "When I die, I want to be reincarcerated as a Black man," the audience can trace a line from fetish in the 1970s to appropriation and the theft of Black intellectual property in popular culture that persists still today. Sunday, the city's Newhallville neighborhood became an extra character in the show, from huge gulls who glided over Lincoln-Bassett School to dirt bikes and cars with the windows rolled down and the music turned up.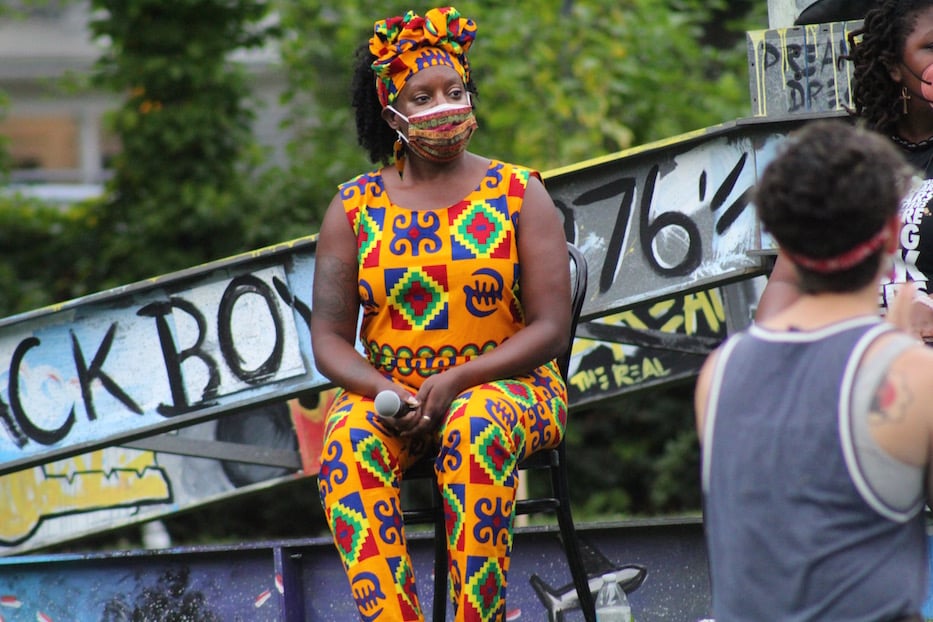 Choreographer Hanan Hameen in a post-performance talkback Sunday.
"There's still flight," Hameen said. "This is the first time I've experienced being in a fully Black cast full of all artists. Cast, creative team—everybody's Black! And this shouldn't be a first for me in 2021. But this story is a real life story that we all live. We have cast members right here that are living this story, that have to leave and go someplace else."
Cast members added that they saw the show as one that allowed them to bring love—for each other, for their craft, and for story—to their first live performance in over a year. Davis thanked the cast for letting him tap into a love of acting after years spent as a vocalist. Morris said that it reminded her of the importance of following her heart. Rich described it as taking a leap into the unknown.
Barboza pointed to what the show can teach its viewers about putting in work to find "The Real" right where they are. In the end, she said, that's what Long Wharf is also trying to do as it moves back into a year of programming.
"Love is a two-way street," she said. "It is communal and it takes effort. Love is a seed that you plant to grow. Love is something that you tend to."
To find out more about Long Wharf Theatre's upcoming season, visit its website.