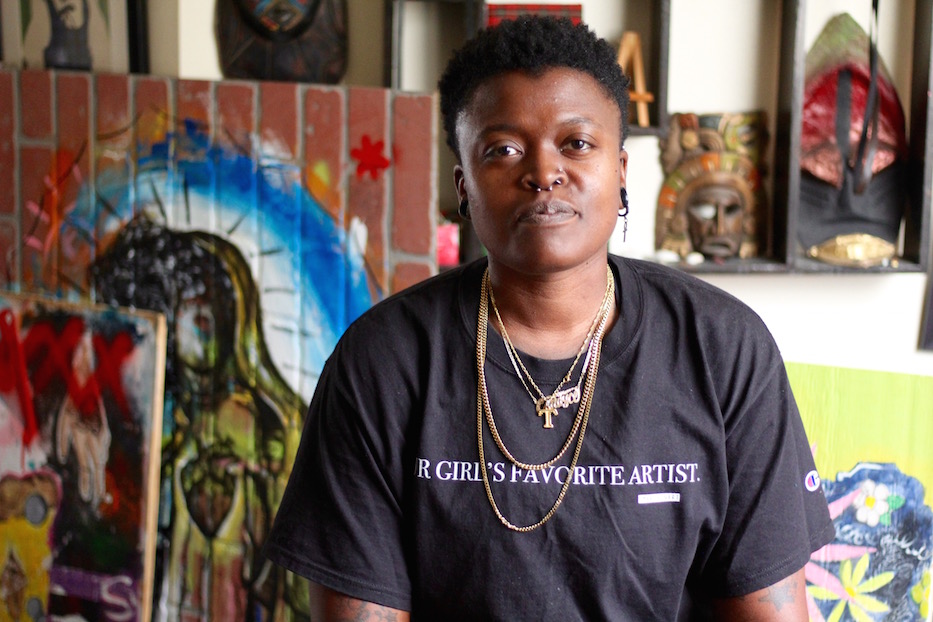 Hamden | Painting | Tattoo | Arts & Culture | New Haven | Visual Arts | Studio Visits | COVID-19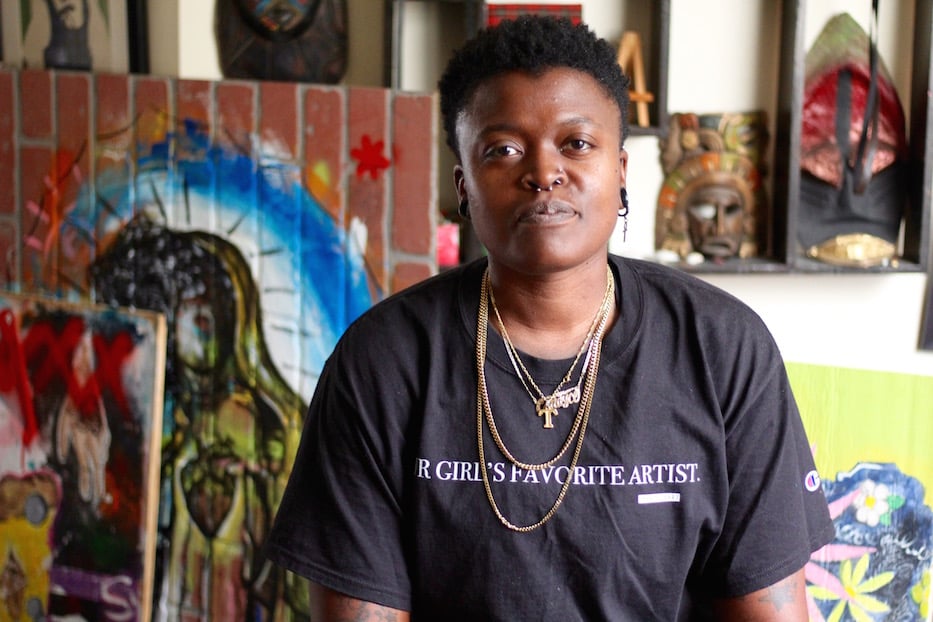 Marsh in her home, which is also her studio, on a recent Monday. Lucy Gellman Photo.
The light in Marsh's studio falls softly, taking its time to spread across the room. It touches small canvases on the desk, faceless figures with yellow and black crowns hovering just over their heads. It highlights a painting of Biggie in vibrant color from the floor, and a tableau of Hey Arnold! characters on the ceiling. It makes a pair of once-tired sneakers, covered in a spray of tie dye, glow in an open frame down the hallway.
The multimedia artist Marsh—a.k.a. Candyce Marsh John of Marshun Art—has turned a Hamden apartment into a sanctuary, incubator, and live-work space as she builds her career in greater New Haven. This year, the painter, illustrator, science nerd and tattoo artist is working on a new coloring book for adults as she grows her visual footprint across the state. In part, it's her way of using an artistic voice that she has been cultivating methodically for years.
"I want to create art across the board," she said in a recent interview at her home, where paintings peek out from every angle. "And whether that is on canvas, on the body, on clothes, whatever it is—all aspects of my life are art, and have been for a while now."
Marsh has an easy laugh, and hands that do some of the talking when they are not reaching for paintbrushes, colored pencils and a digital sketchpad. Born and raised between New Haven's Dwight and Fair Haven neighborhoods, the 33-year-old fell in love with the visual arts as a kid, during her time as a student at East Rock Magnet School. Her childhood art teacher "made sure we did a little bit of everything," a concept she held fast to as she dipped into multimedia practice decades later.
In those years, sports were her first love, but visual arts were her second. While Marsh was a quiet kid—she recalled being told to sit still and mind her manners by her paternal grandmother, who hailed from Trinidad—her head tumbled with ideas. At home, she sketched cartoon characters while she and her siblings watched t.v. together. On the weekends, she started selling her work for 25 cents a piece to family members. After her stepdad noticed "oh, she can draw," the two held contests to see who could draw a given figure better. Her mother's mom, who had moved from the South, gave her a paint kit every year.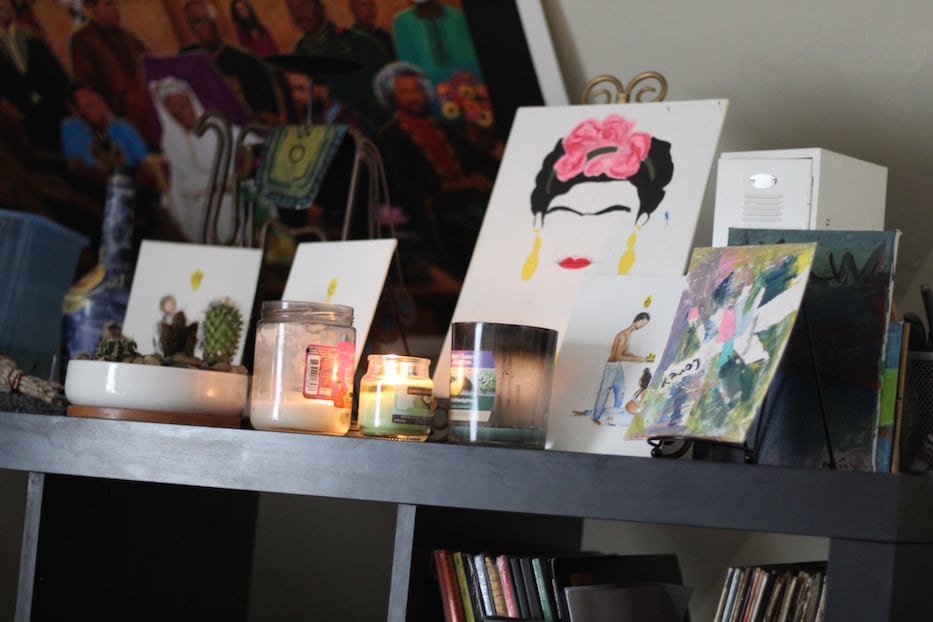 The artist's role models are wide ranging, from Frida Kahlo to Jean-Michel Basquiat to Edward Hopper and Hartford-raised artist Fiyabomb.
By middle school, she had learned to pack a spray can with her sneakers when she went out for the day, so that long summer games of pickup basketball could turn into impromptu graffiti sessions where she learned about negative space, scale and layering in the streets. Inside the classroom, she credited Hyde Leadership School instructor ​​Karen Spear Abbruscato for teaching her the fundamentals of painting and perspective.
Over 15 years after Marsh graduated, Abbruscato said she still thinks of that intense, bright-eyed student in her class, soaking in information on two-point perspective and art history like a sponge.
"She's amazing," Abbruscato said in a phone call Tuesday night. "I didn't get her until her junior year, but she played catchup really quick. She just dove in. I still can picture the work that she did back then. She would learn, and go into as much detail as she could. She didn't believe she was an artist then."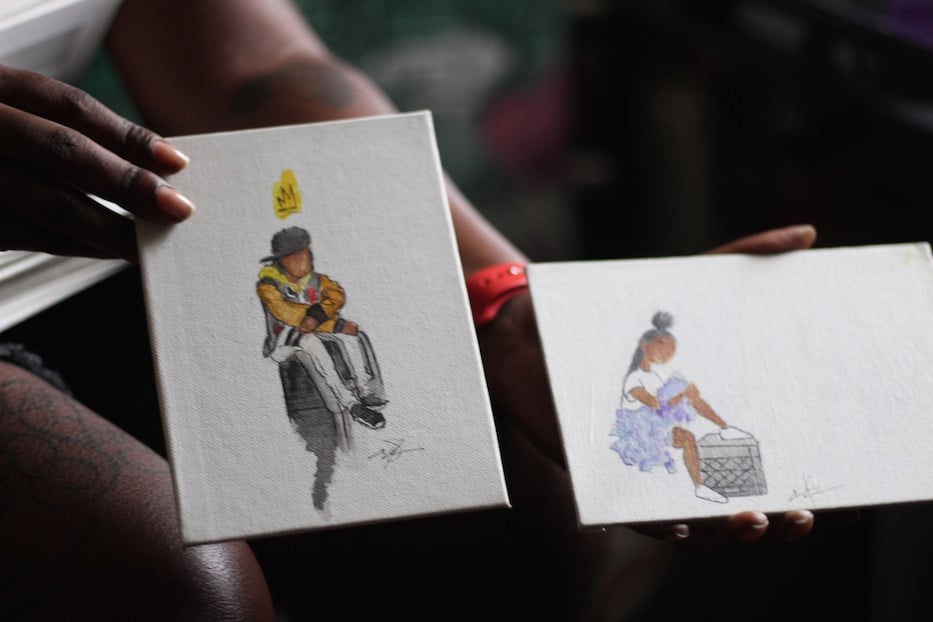 Some of the artist's earliest "Marshun Minis."
For years, in fact, Marsh eschewed the label because she didn't think she lived up to it. After high school, she went to Southern Connecticut State University (SCSU) with plans to study psychology and athletic training and play basketball. Then she dislocated her shoulder during a game her sophomore year. She said she can still remember hearing the crowd gasp in unison from the bleachers.
She took it as a sign and stepped away from school for a year. When she returned to school, it was to study graphic design at Gateway Community College.
"When I went back to school, I was like, I'm gonna do what I want," she said. "And it's art."
Instead of canvas, her first serious medium was wood, which she gravitated towards after she found a pile of discarded floorboards that her landlord had left in an apartment. She praised Gateway Professor Vincent Baldassano, who still teaches at the school, for urging her to expand her practice. From wooden boards—her favorite substrate still today—her art blossomed on canvases and sketch pads. She began to develop a style that later became her best known trademark, with faceless figures rendered in miniature.
​​"We as people have a deeper connection to each other than we really realize," she said of what she now affectionately calls her "Marshun Minis." "We can see each other on another level. What's the point of having a mouth if we're barely saying or speaking our own truth, or speaking the truth about what's happening? I can still acknowledge who you are without us speaking at all.
"Same with the nose," she continued. "I feel like we're barely breathing ... we're just here, and that type of breathing is damaging to the beings who we are. And what are eyes when we rarely see the truth? And so to me, those features don't really matter. I can still capture the essence of the being, the essence of the moment. That is why I create. I want to evoke emotion."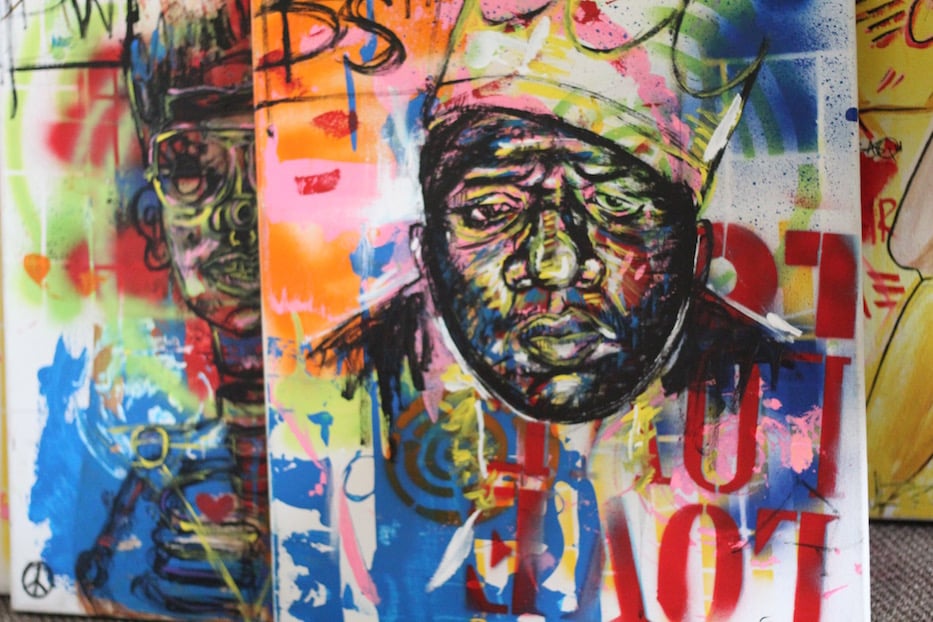 Pieces from her Periodic Table series lean against the wall.
During those years, her art also became a survival skill and coping mechanism. Nine years ago this June, the artist was shot while sitting on her porch in Fair Haven. She moved back in with her mom, and then into an apartment that became her first studio. She started apprenticing at 24 Hour Ink, a Dixwell Avenue tattoo parlor where artist Dave Sevilla took her under her wing. After testing out designs on friends, she developed a signature style, often adding the three-pointed crowns that have become synonymous with her work.
The longer she trained, the more commissions she landed. Her tattoo artistry bloomed from delicate script and small portraits to full sleeves and back designs. Parents and friends started reaching out to her, with requests for delicate miniatures that froze them in time, celebrating pregnancies and new babies, birthdays, dance recitals and sibling love. She now works at Dali Tattoos on Whalley Avenue, where her designs include her minis.
In an early Marshun Mini, a tiny ballerina leans forward, one foot perched on a milk crate as she fixes something at her knee. A tutu in purple tulle is rendered with such lightness that it looks like it may float right off the canvas. Her face is blank, and also not blank, conveying everything that it needs to.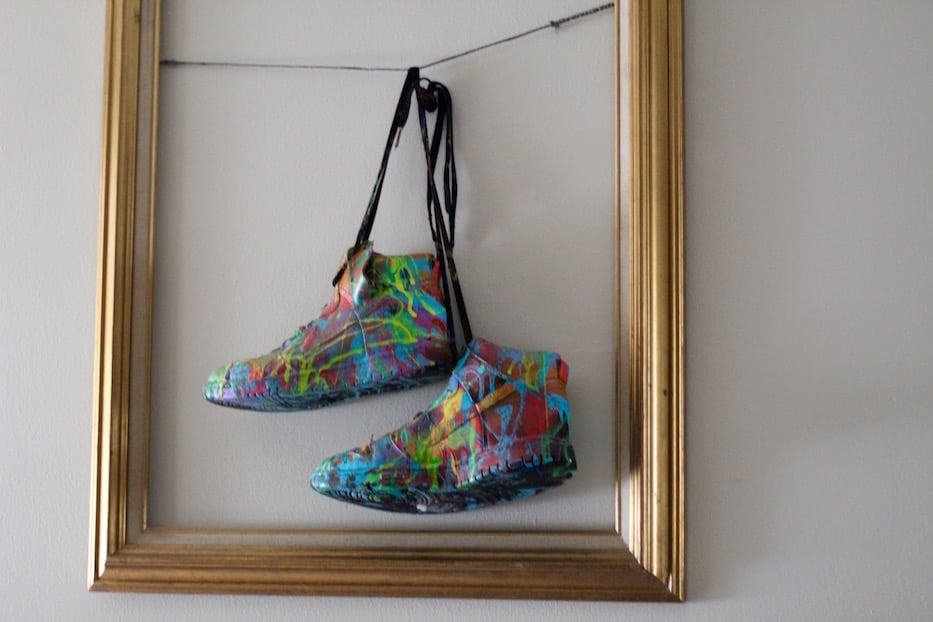 The painted sneakers are also an homage to her late grandmother, she said.
When she wasn't tattooing or making artwork, she added art to clothing, continued to experiment with media and picked up contract teaching jobs, from Ansonia's elementary schools to the New Haven organization Solar Youth. Last year, she was one of three artists to work on a Black Lives Matter Street mural in downtown New Haven.
Sun Queen, the co-founder of Black Lives Matter New Haven, said that she has been thrilled—and humbled—to watch the artist's evolution. For years, Marsh has been her tattoo artist and a collaborator on her Black Girls Are Sunshine initiative. She recently designed a long denim dress for Queen, adorning it with a three-pointed golden crown, portrait of the organizer, and fist raised against a backdrop of pan-African colors. In the image, the words "No Justice No Peace" repeat over and over like a prayer.
"Everything she does is very impressive," Queen wrote Wednesday morning. "She's free spirited and it shows in her work from her designs … she has put so much time and dedication into her work."
"Her colors, values, shapes, textures are refreshing," she added. "Many of Marsh's piece raise consciousness and conversation, and you can tell in her work where she uses art as her protest. She is the type of artist you can give her idea and let her use her creative talents to bring it into life because she's just that earthy, vibrant artist who will create exactly what you want.​​"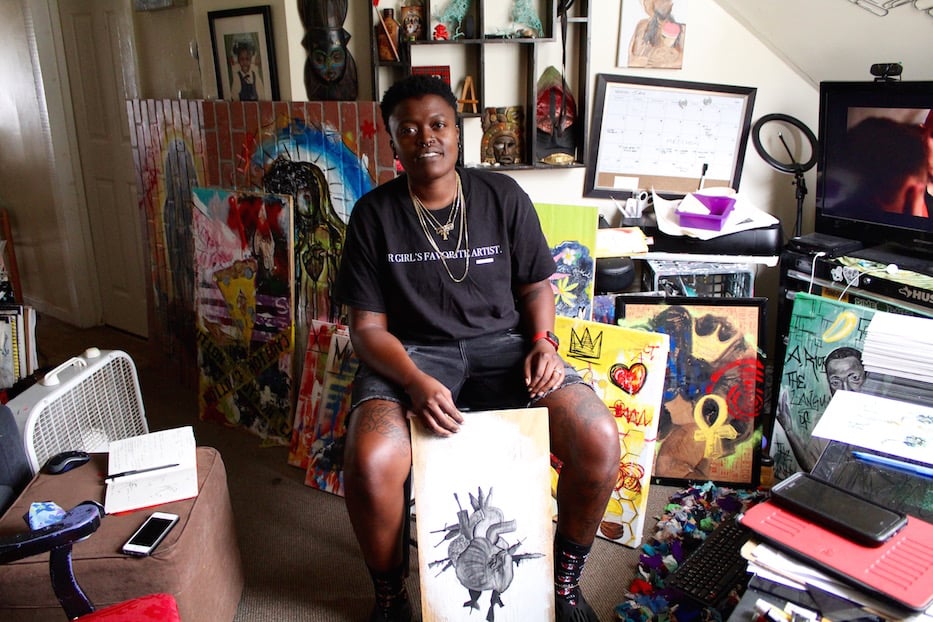 On a recent Monday, her apartment buzzed with that energy. In her work-live space, paintings stretch from wall to wall as a gesture of forward momentum. Last year, she started a series called the Periodic Table, paying homage to Black genius from Biggie Smalls and Tupac Shakur to Marie Van Brittan Brown and Martin Luther King, Jr. In a recent addition, Kobe Bryant reaches upwards, his body in flight. The series may never be finished, she said—because there will always be more figures to add to it.
"I want to create a periodic table of us, Black and Brown people, because we make the world go round," she said.
In September, she plans to release an adult coloring book that pays homage to some of her favorite films, and to hip-hop from the 1980s and 1990s. She is concurrently working on writing and illustrations to her first children's book, inspired by the work she did with children's author Lizzie McKnight a few years ago. The work, titled I Am King, celebrates Black boys. In some ways, it's an expansion of her focus on mindfulness and sensory play for kids.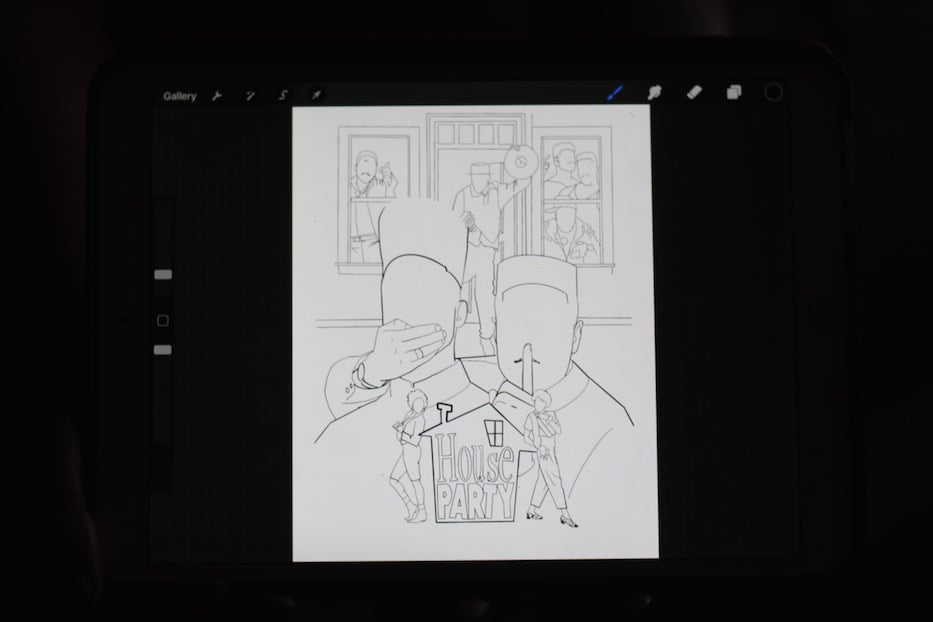 A page from Marsh's forthcoming adult coloring book. Her goal is to have it out by her birthday, which is September 21.
"I want kids to have a healthy, positive outlet—and art can be that," she said. "Art has been very healing for me, and so I want to give that back to everybody. Everybody who is willing to art with me."
As she spoke, she held up a recent portrait by a student of hers who is learning virtually from across the country. In it, a tiny Marsh looks out at the viewer, framed in a stained-glass pattern of prismatic light. She bursts into a smile that shows her teeth. The eyes are wide, bright and trusting. The student has gotten that detail completely right.
"I am a giver," she said. "And if I'm going to give, my gift that I was given is art. So that is what I have to give to the people. I'm here to help everyone be creative because we are art. We all are."
To find out more about Marsh and Marshun Art, check out her website, Instagram, or Facebook.