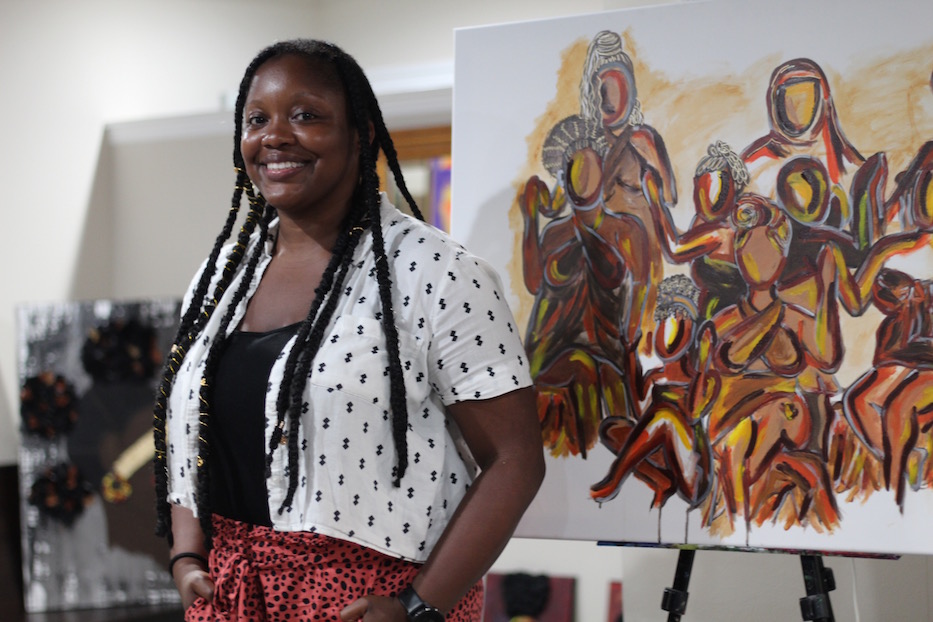 Arts & Culture | Newhallville | Visual Arts | COVID-19 | Arts & Anti-racism | Poetic Haven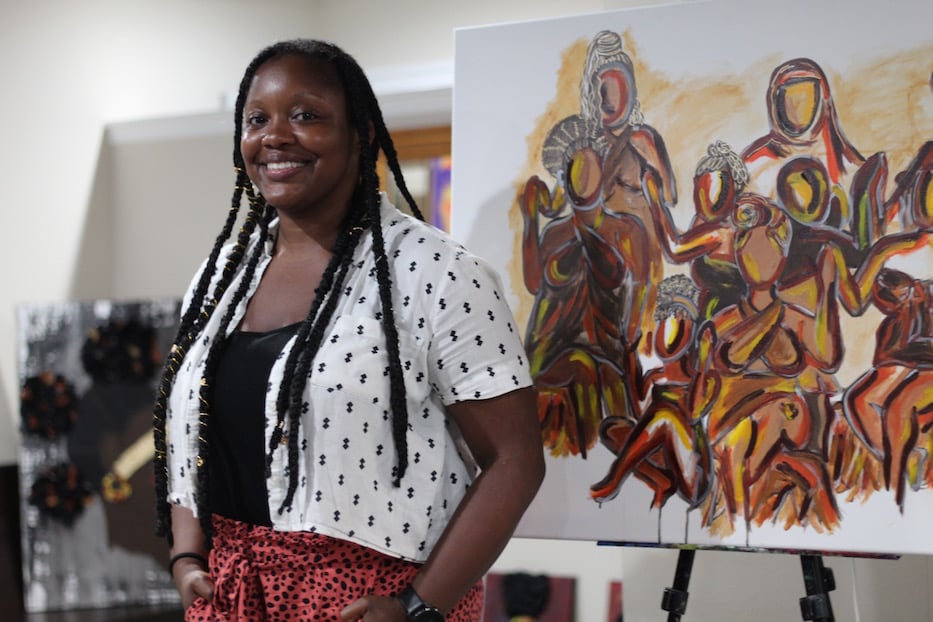 Demeree Douglas, who signs her work as "D. Douglas." The artist, who removed her mask only for the photo, is standing in front of #SistersKeeper; the work in the background is titled #Covered. Lucy Gellman Photos.
The women hold each other, hands resting on braids, heads, hearts, chins and shoulders. Their skin glows in shades of yellow, red and black, terra cotta and mahogany. Their crowns are glorious: long and braided, chopped off and pulled tightly back, twisted and wrapped. A peach-colored light streams in behind them. They are each other's keeper.
Welcome to The Mane Event: Kinks, Coils, & In Between Those Roots, a years-in-the-making hairstory from Hill-based artist Demeree or D. Douglas. The exhibition, which centers and celebrates Black hair, marks the artist's first solo show. It runs at Poetic Haven every weekend this month. The gallery and event space is nestled on Shelton Avenue in the city's Newhallville neighborhood
It feels right on time: this spring saw both the passage of the CROWN (Creating an Open and Respectful World for Natural Hair) Act in Connecticut and a gradual, cautious return to cultural spaces. Masks and tidy pumps of sanitizer are still required in the space.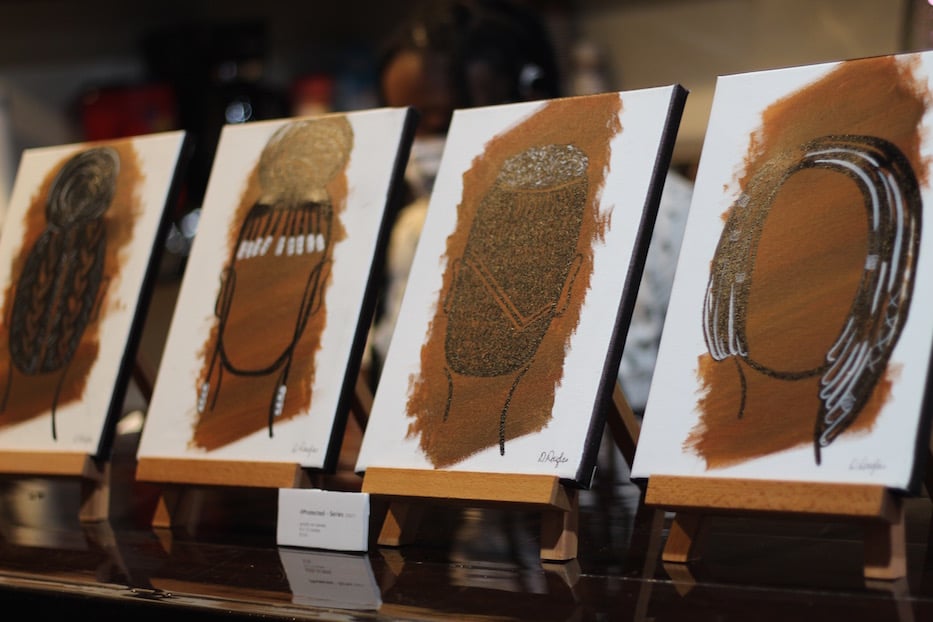 #Protected.
Douglas' work is inspired by her own lived experience. The 32-year-old artist grew up in New Britain, and then left Connecticut to pursue visual art at Temple University in Philadelphia. During her time in the City of Brotherly Love, she fell in love with public art and painting—but wanted to find a niche that was hers alone. She experimented with different artistic styles, seeing if one would stick.
At the same time, she was going on her own hair journey. For over a decade, Douglas used chemical relaxers on her hair. She started as young as 13, and kept doing it because her mother and grandmother also relaxed their hair. Five years ago, she decided to go natural. She transitioned slowly, allowing her roots to grow out. She became her own stylist and spent hours looking up different hairstyles, from tight braids to afro puffs. Something clicked.
"When I was going through that, I was like, hmmmm," she said Saturday, surrounded by dozens of her paintings. "I don't see a lot of things for people that look like me. Why don't I try to imitate life in some way? I decided to replicate my personal life on a canvas."
She started with a single painting, hand-twisting each strand of hair that went onto the piece. As she worked, she questioned whether she wanted to continue with such a time- and labor-intensive process, which took days. But something about the painting, rendered in the cheerful yellow of flowers and sunlight, called her back. She decided to add other styles, including braids and locs.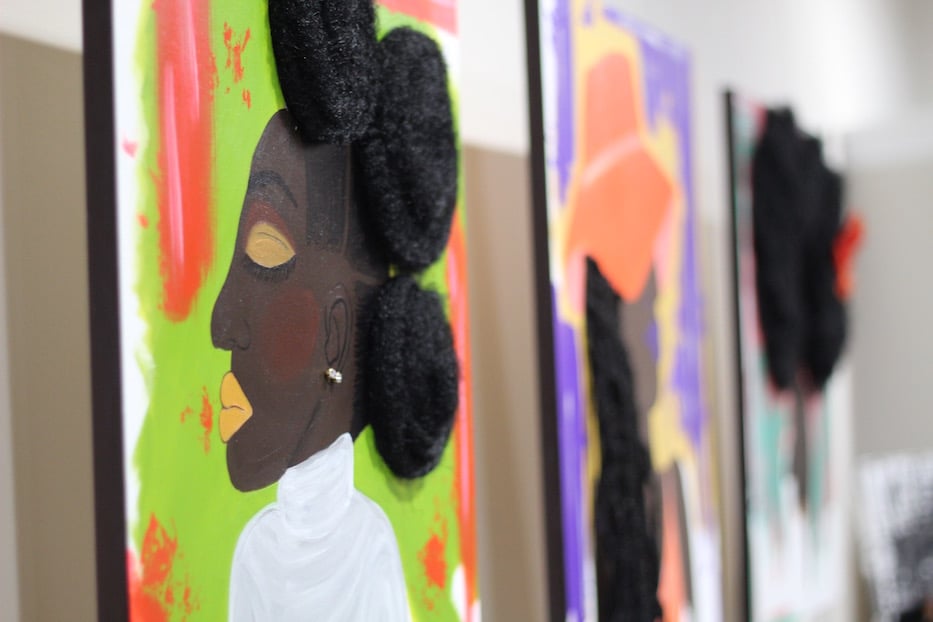 Detail, #Fall. The paintings #Summer and #Spring are in the background.
It was just the beginning, she discovered. Douglas experimented with fabric triangles that doubled as headscarves and big, bright fabric flowers that she could stick behind her characters' ears. She spent hours in the aisles of craft and beauty supply stores, searching for hair, wires, glass, gemstones, beads and cotton balls. A few years ago, she moved back to New Haven, where she lives in the city's Hill neighborhood. When she saw that Poetic Haven was taking women artists for a new summer exhibition series, she jumped at the opportunity.
"This show feels nerve wracking and amazing," she said. "Three years ago, I was in Philadelphia with my first ever art show, period ... I would not even imagine that three years later, I would be having my own solo show. I'm just amazed. Grateful."
Now, Douglas' painting #SistersKeeper greets visitors from the doorway, glowing under warm lights that hang suspended from the ceiling. In the work, women turn toward each other, limbs interlocking. They reach out to each other, palms eager for human touch. Their hairstyles are all different: there is a head scarf, thick braids that swoop past a woman's neck, a greying top knot and a pulled back puff with an exquisite zigzag. Chatter nearly spills from the canvas.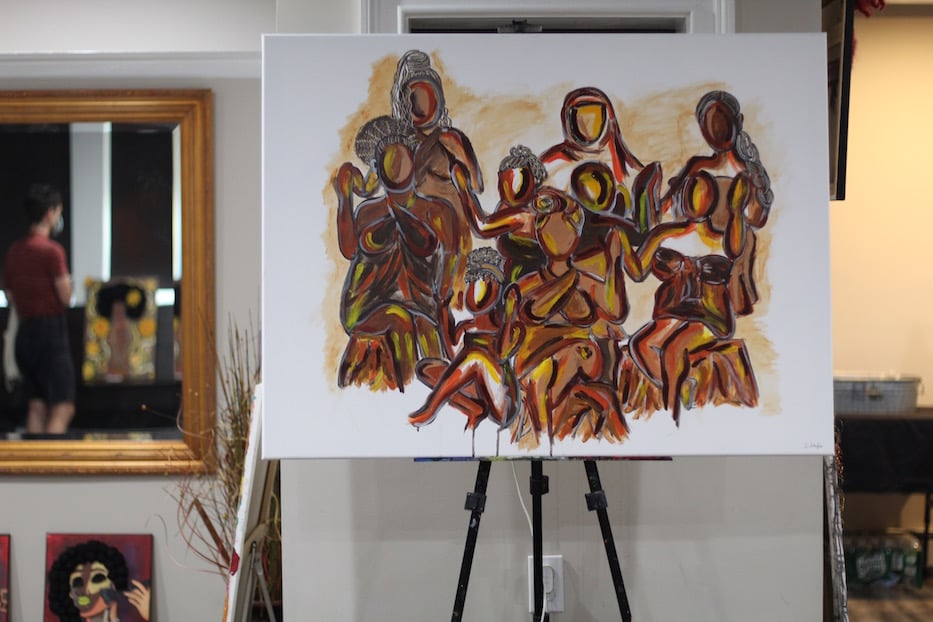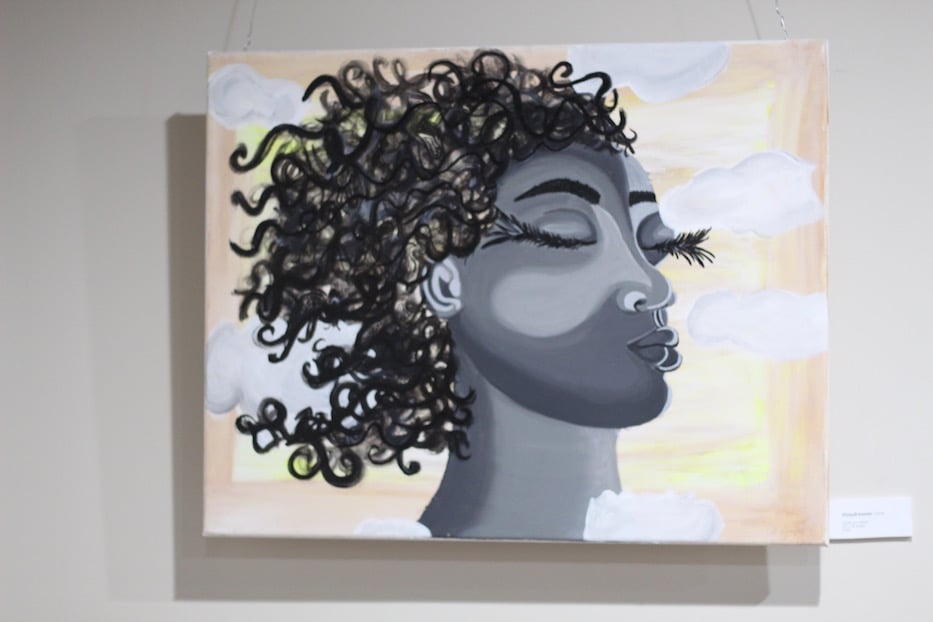 #Daydreamer.
That buoyancy seeps into every corner of the show, where the space is packed with art, but open enough to feel roomy. On the front walls, her 2019 portrait #Daydreamer presses its clay-colored face into the wind, eyes closed. Huge, feathery black lashes explode at the eyelids. Her skin is the striated grey of stone and well-loved pottery wheels. The daydreamer's tightly curled mane is full of light. A viewer feels like they could transport too, if they just look long enough.
Nearby, portraits jump into the sculptural, showing off Douglas' sharp-eyed attention to detail and whimsy. In #PlayPlay, she has birthed a character who is part girl, part butterfly and entirely magic, with a soft face that is deep in thought. A shimmering, sequined strap comes over her right shoulder, asking a viewer to come closer. A bright, batik-printed cloth bow pulls back long, tight curls from her forehead. She feels as though she might take flight at any moment, but has chosen to grace viewers with her presence.
Across the gallery, three portraits named for Fall, Summer and Spring burst into exuberant color. In #Spring, a woman looks out at the viewer, her lips parted in a fiery shade of orange as she rocks a full fro and surveys the room. A red-orange carnation blooms from behind her left ear. Beside her, the main character in #Summer shows off her braids. Because of the way they are installed beside each other, they look like they are speaking quietly in that old, familiar language of friend-love. Beside them, the woman in #Fall seems just slightly more aloof, looking off into the distance. A row of artworks are arranged on the bench before her.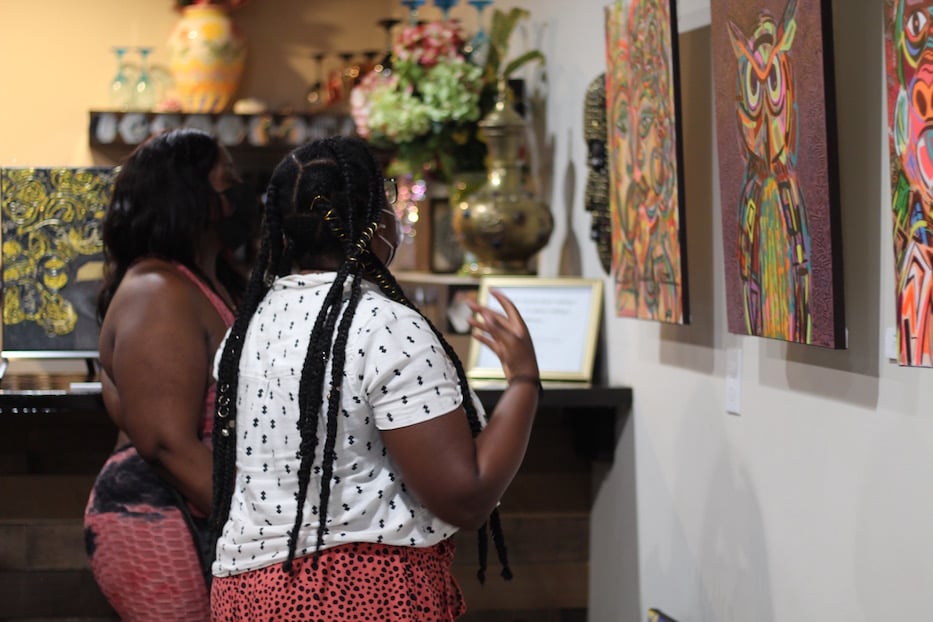 Douglas with viewer Pamela Jiles, who came out for the opening Saturday evening.
While Douglas also experiments with abstraction, her focus on hair has become an educational project for both the artist and her viewers. When she exhibited her pieces in a group show three years ago, Douglas included a fact sheet about the number of states that had passed the CROWN Act, which makes it illegal to discriminate against protected hairstyles such as locs, weaves, afro puffs, and box braids among others. At the time, only California and New York had passed the act.
By the end of 2020, that list had grown to include New Jersey, Colorado, Washington, Virginia and Maryland. This year, Douglas was able to add Connecticut, New Mexico, Delaware and Nebraska. She said she's proud to see the state among the 11 that now recognize the act—and that there's a long way to go. In part-time jobs that support her work as an artist, she has often encountered microaggressions around her hair, including questions from white colleagues about how often she changes her style.
"It raises these discussions that I love having with people," she said. "I wouldn't have them without my art. Without it, people don't know. Or they bypass it. Look at the wrestler who had to cut off his dreadlocks in order to compete in a match. My goal is that with having hair on pieces, a discussion can occur, and it can also be 'normalized' by society."
She paused and raised her fingers for air quotes. "I'm using quotations because it is normal."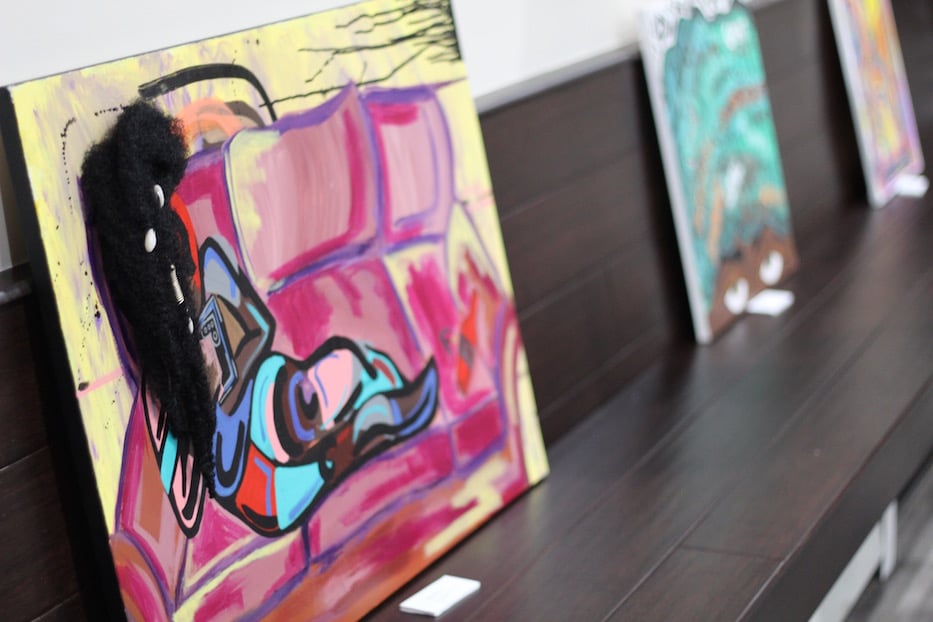 Detail, #ThisIs30.
Her celebration of it comes through in the series #Protected, which pays homage to the labor with which Black women care for their hair so it will not split or break. At the back of Poetic Haven, Douglas has transformed the bar into an extra ledge, where four small canvases glimmer beside a neatly framed bio of the artist. Each depicts a protected hairstyle, alternating between a back-of-scalp and front-facing view.
While their faces remain blank, the four feel like they could be sisters, aunts, mothers, or friends—just like the women who inspire Douglas daily. Since she went natural in 2016, her mother has done the same.
Saturday, viewer Pamela Jiles said the works resonated with her, so much so that she returned them dozens of times before the end of the evening. After spotting the exhibition on Eventbrite, she drove the hour from Oakville to see the show. She said the works spoke to her as a Black woman and a grandmother, particularly as she navigates beauty in a world that still often looks to Eurocentric standards. She is already considering bringing her three-year-old grandson back to Poetic Haven later this month.
"It makes me feel wonderful," she said. "Black women still haven't broken the glass door. It's not easy for Black women, it's not easy for women period. She's saying, look at how beautiful I am. Her world makes me have conflict with myself. It tells a story."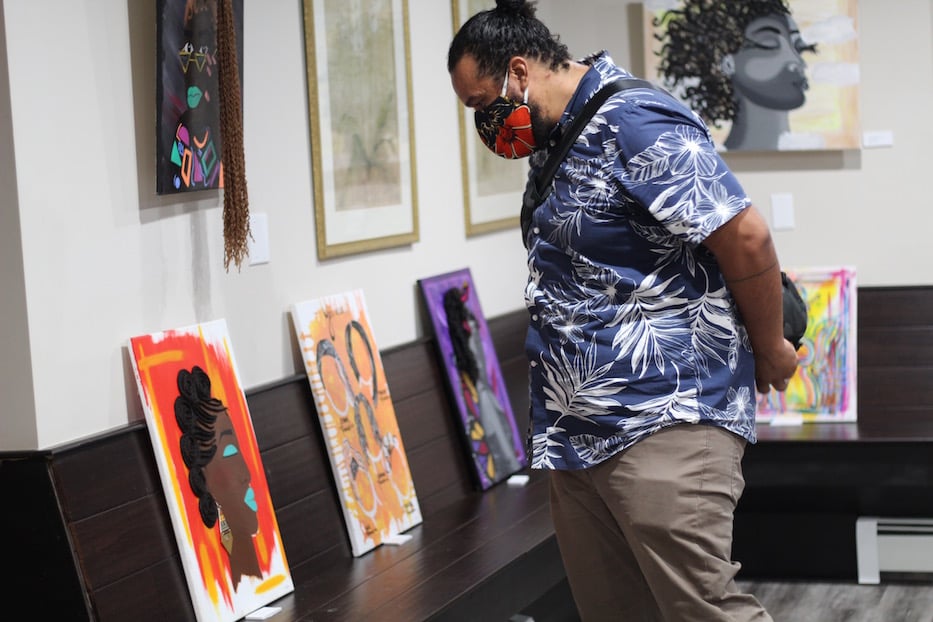 Photographer turned viewer Dominic Woolfrey at Saturday's opening.
Poetic Haven Owner Dr. Petulia Blake said she is excited to have Douglas' work in her space. Earlier year, she put out a call for artists and Douglas wrote back. Blake was thrilled: she is particularly interested in supporting women and artists of color who live and work in the community, but are often overlooked. When she saw a few of Douglas' pieces, Blake "thought they were just beautiful," she said. The two forged a connection from there.
"Their work, their art, their voices are not in the mainstream, and yet their stories are so imperative," she said of local artists in a phone call Sunday afternoon. "I think they have a lot to say not only creatively, but also culturally and socially."
When Douglas walked into Poetic Haven for the first time, Blake noticed that she seemed nervous. She asked the artist to stand in front of one of the space's large mirrors and repeat affirmations to herself. As she did, Blake said, she grew more confident with each phrase. On Saturday, Blake came to cheer her on.
"Artists are the healers of the community," she said. "When people are so sad, distressed, scared, uncertain—we need to rejuvenate the spirit of the community. I think that's really what we are about. I believe that painting and art does that. Just to resurrect joy in the community."
Poetic Haven is located at 381 Shelton Avenue in the city's Newhallville neighborhood. The Mane Event: Kinks, Coils, & In Between Those Roots runs every Friday-Sunday in June from 5-8 p.m. Find D. Douglas on Instagram as @self.taught.styles or at her website.