Culture & Community | Education & Youth | Arts & Culture | Elicker Administration | COVID-19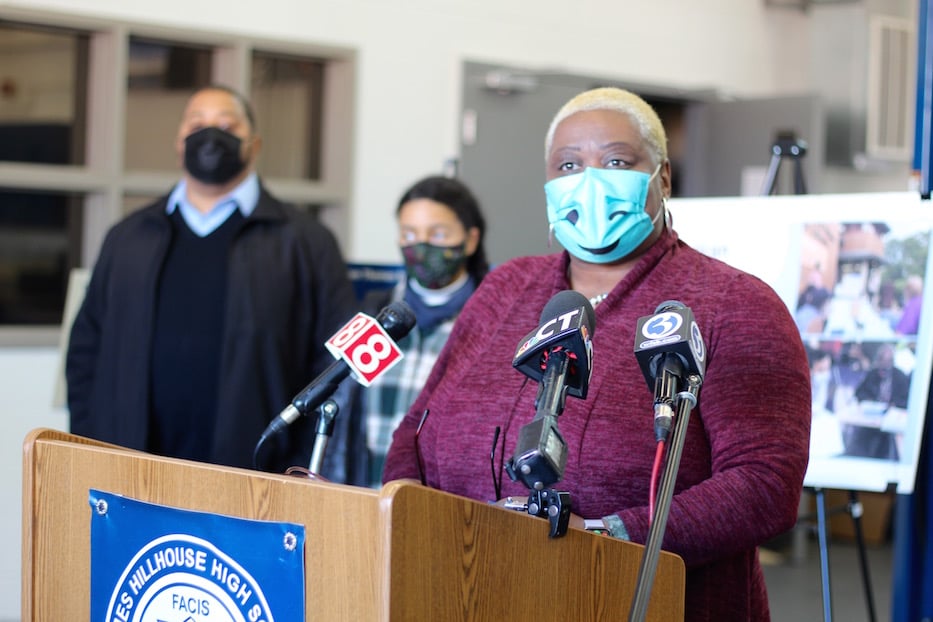 Gwendolyn Busch Williams, director of the city's Youth and Recreation Department (YARD). Lucy Gellman Photos.
Summer and year-round youth employment. Career training and mentorship for grads who are just leaving high school. Drop-in community centers with after-school programming and arts and crafts. And a raft of cultural activities for young people to attend—during a global pandemic that has upended their opportunity to be kids.
Those were a few of the programs that Gwendolyn Busch Williams, director of the city's Youth and Recreation Department (YARD), outlined Wednesday afternoon at a press conference on how the city plans to spend its next $53 million in American Rescue Plan funding. Speaking over the hum of the auto-repair training shop at James Hillhouse High School, she described a multi-pronged strategy focused on building resilience in a time of intense and ongoing need for young people.
"It is extremely important to us that we continue to acknowledge that our young people are being infected by Covid-19 in mass numbers," Busch Williams said. "It is extremely important that as adults, we are here to advocate for them and to protect our young people. Making sure that they make it through this process, this pandemic … It still takes a village to raise our children, and you are part of that village."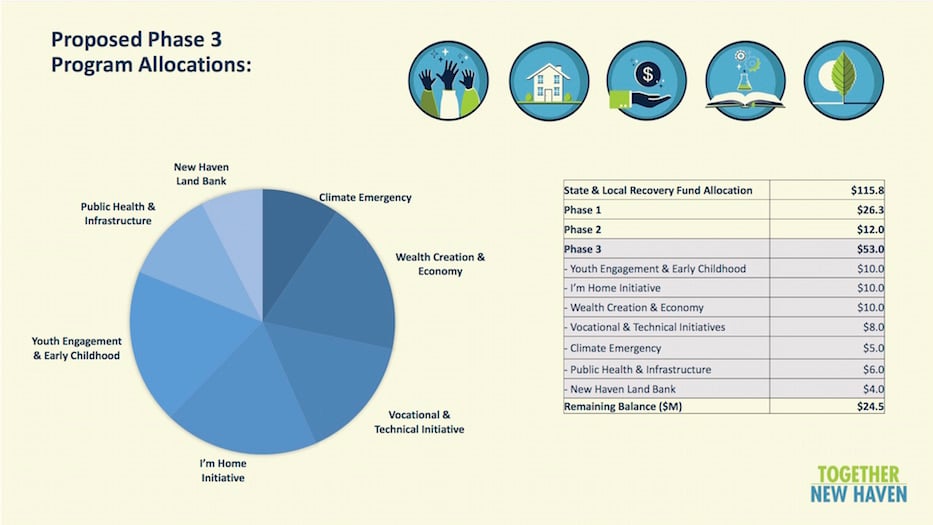 City of New Haven Graphic.
The funding comes from the overall $115.8 million coming to New Haven through the American Rescue Plan Act (ARPA) that President Joe Biden signed last March. Of the $53 million, $10 million is proposed for "Youth Engagement & Early Childhood," a category that includes YARD staffing and programming, early childcare workforce development, and youth centers.
Another $10 million is planned for homeownership initiatives; $10 million for wealth creation and equitable economic development; $10 million for vocational and technical training; $6 million towards public health and infrastructure; $4 million towards a new New Haven Land Bank and $5 million toward carbon reduction and the climate emergency. Click here to read about the full $53 million proposal, which is expected to come before the city's Board of Alders for a public hearing next month.
This is the third tranche of ARPA funding that the city will be bringing to the Board of Alders. Click here and here to learn more about the first $26.3 million, approved by the Board of Alders last year. Click here, here, and here for previous Arts Paper coverage of the city's 2021 Civic Space sessions, which asked city residents what they wanted to see with the money flowing into the city.
"Step by step, we're making progress—but today we made a huge, huge leap forward," said Mayor Justin Elicker. "Today we're presenting a, in many ways once in a lifetime, investment into youth engagement, vocational education, housing affordability, wealth creation and climate resiliency … we believe we're submitting something to the Board of Alders that reflects the hopes and desires of our community, and will have a deep, significant and long-term impact. In particular on those who have been under-resourced for decades."
Building On Existing Programs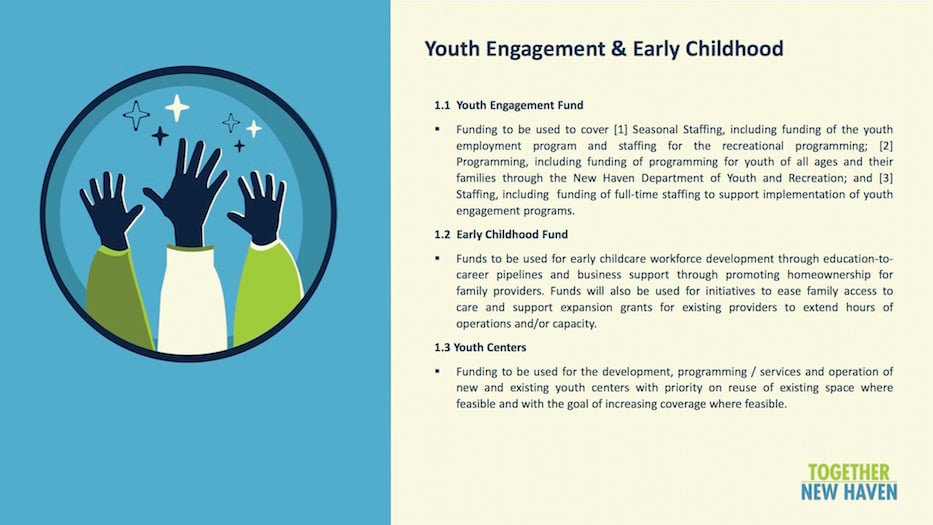 City of New Haven Graphic.
Busch Williams said that the department intends to build on the $1.5 million "Summer Reset" funding that the city rolled out last May. With that initial funding, New Haven's Youth@Work program was able to offer employment to over 700 students who applied. The program provides 30 hours of summer work per week at the minimum wage. The same time it was starting up last summer, youth programming took center stage at a Civic Space session at the New Haven Free Public Library downtown.
It also piloted its "Summer of Fun," which included free day camps and weekly outdoor festivals for young people and their families. It sponsored a Covid-safe, outdoor free summer concert for 8,000 teens at the Westville Music Bowl. With the YARD Youth Connect Program, the department "provided services to our most vulnerable population of at-risk and high-risk young people," Busch Williams said.
"We are making a commitment to continue the services that we have begun for the New Haven youth," she continued. "It is extremely important that we maintain continuity of this program that has been developed."
If passed by the Board of Alders, part of the $10 million will go directly to expanding and maintaining the city's Youth@Work program. Busch Williams explained that as the state's minimum wage rises, it's a struggle for the program to employ as many young people as it would like to—which is where the federal funding comes in. In November, YARD launched a six-month extension of the program for 150 New Haven youth, funded entirely by American Rescue Plan dollars.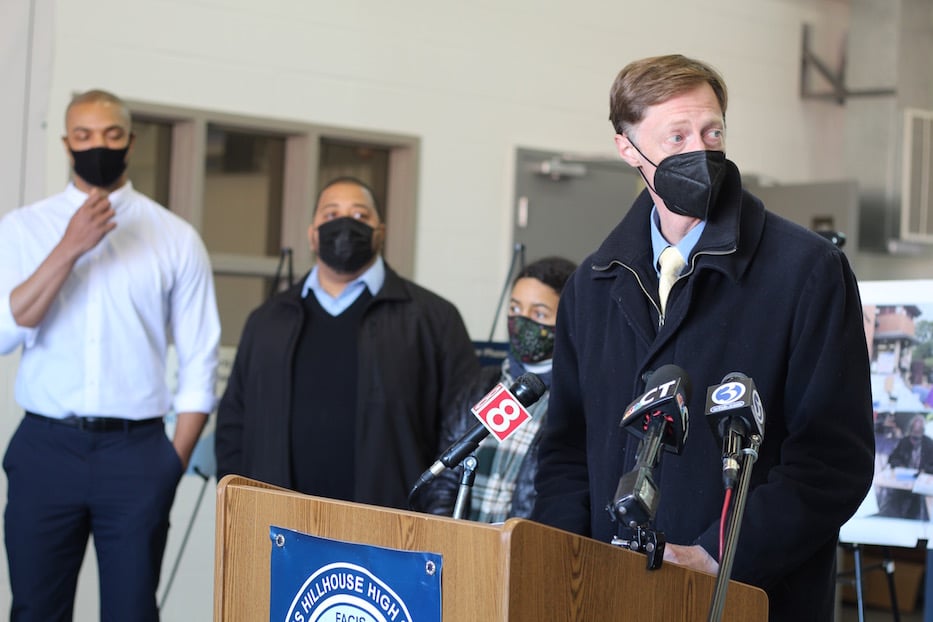 Mayor Justin Elicker: "Step by step, we're making progress—but today we made a huge, huge leap forward."
Those students, who began last November and will work through this May, are now working 10 hours per week at job sites including Yale New Haven Hospital, the New Haven Board of Education's Graphics Department, Elm City Cheer, Inspired Communities, Inc., LEAP, Inc. and over a dozen other organizations. Youth@Work applications for this summer, for which there are 1,500 slots, are now open.
"We want to make sure that we put these dollars into the young person's pockets that can then be circulated all through the community," she said.
Under the $10 million "Youth Engagement & Early Childhood" umbrella, YARD also plans to open new drop-in youth centers as after-school programming remains thin. Busch Williams described them as spaces where youth can seek recreational activities, education help, mental health resources, and arts programming. "It can be just an open field of services for young people that we provide based on their needs," she said.
YARD also plans to pilot its first-ever "counselor in training" program, designed to help teenagers and soon-to-be high school graduates learn basic skills like bookkeeping, answering the phone, calling out on a sick day, resolving on-the-job conflict, and sitting for a job interview.
It also plans to run a "driver's safety" program that subsidizes the cost of an eight-hour driver's education course in Connecticut. Operating a motor vehicle safely and correctly is sometimes cost prohibitive for students, Busch Williams said. The department will be piloting the program to 300 students in the next two months, she said.
Arts & Culture Make The Cut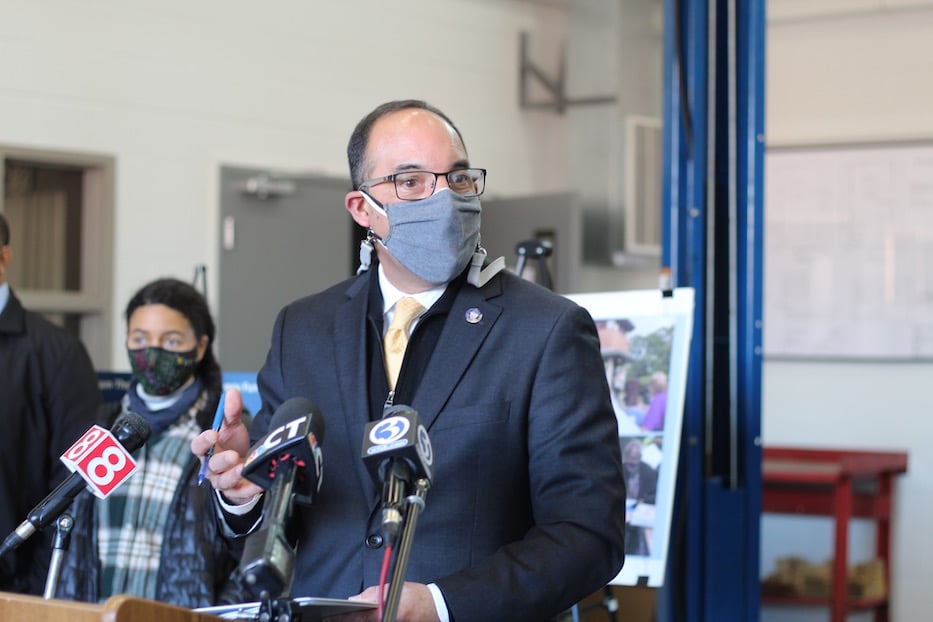 Economic Development Administrator Mike Piscitelli.
As she builds out youth programming, Busch Williams said she is working closely with City Cultural Affairs Director Adriane Jefferson and Outreach Coordinator Kim Futrell to collaborate on projects that are culturally relevant and exciting to New Haven's young people. She praised Jefferson for her focus on young people who have been left out of similar opportunities, particularly kids and teens living in resource-strapped neighborhoods.
During the press conference, City Economic Development Administrator Mike Piscitelli added that a portion of the $10 million allocated to "Wealth Creation & Economy" will directly support the implementation of New Haven's Cultural Equity Plan, which is set to launch Thursday morning. He would not specify how much that funding will be, or how it will be implemented. When pressed for details, both he and Mayor Justin Elicker said that the document is a work in progress.
"From the perspective of recovery, that has a lot to do with supporting the creative class of artists, particularly from Black and Brown communities, but then small business. Bringing those products to market, creating wealth through the art."
To see the City's slide deck on the proposed $53 million plan, click here.