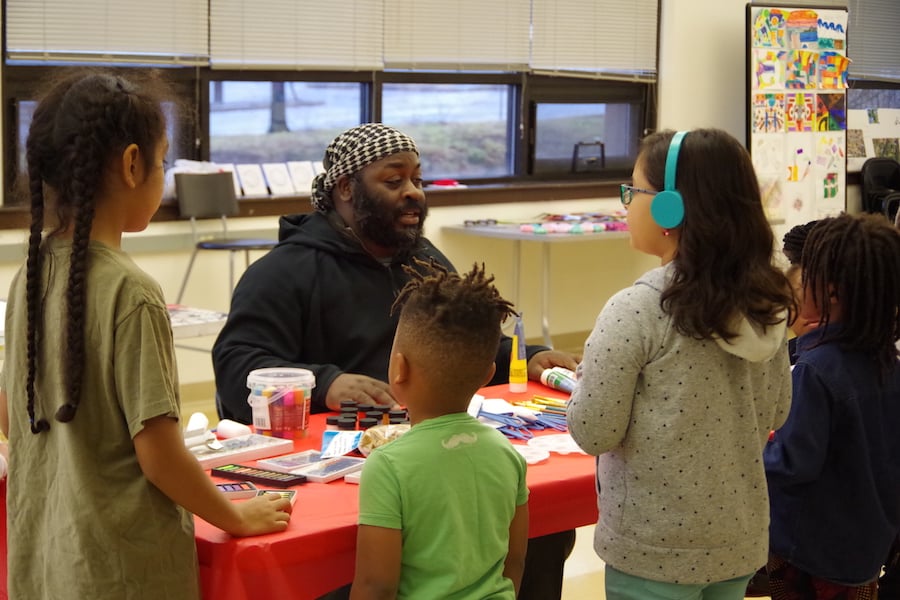 Food Justice | Science Park | Newhallville | Kwanzaa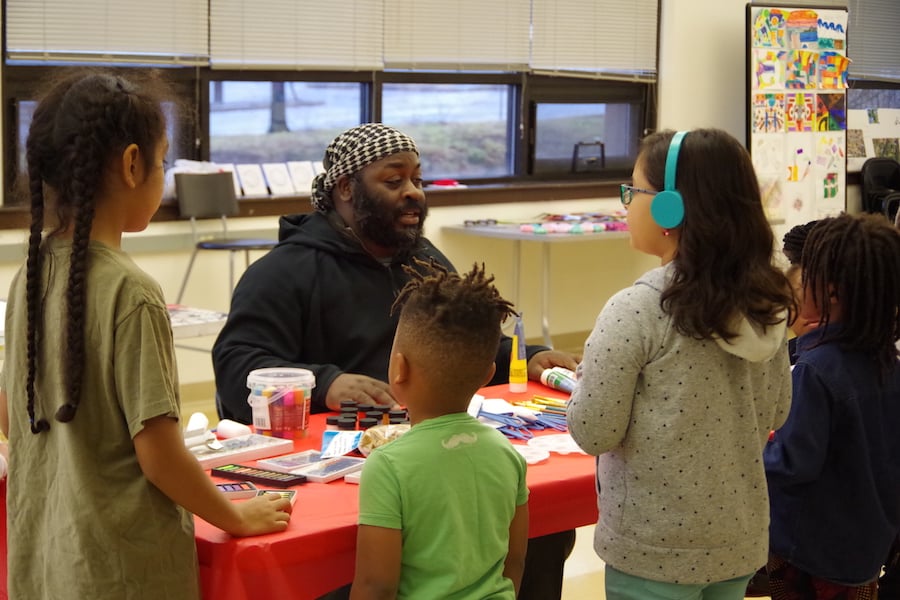 Isa Mujahid, surrounded by pint-sized attendees. Leah Andelsmith Photos.
Three generations of New Haveners trickled into the Connecticut Center for Arts and Technology (ConnCAT) on a dark and rainy afternoon late last month, ready to celebrate Kwanzaa. The children were drawn to a table full of brand new art supplies and their eyes lit up as they helped unwrap the materials. The room really began to brighten as everyone came together for a lesson on unity, self-determination, and all the seven principles of Kwanzaa.
Leading that lesson were Isa Mujahid, founder and organizing director of CTCORE—Organize Now!, and Raven Blake, co-founder and director of Love Fed New Haven. Founded in January 2017, CTCORE is a social justice organization comprised of local chapters that work to dismantle systemic racism in Connecticut. Love Fed works to support food sovereignty by encouraging and supporting low-income home gardeners and providing agricultural education in the community.
The two organizations came together for "A 'Love Fed' Kwanzaa: Celebration and Visioning," part of Love Fed's series of winter classes. Organizers chose the third day of Kwanzaa, which marks the principle of ujima, or collective work and responsibility, and around three dozen attendees came together to create art, partake in a home-cooked lunch, and enjoy each other's company.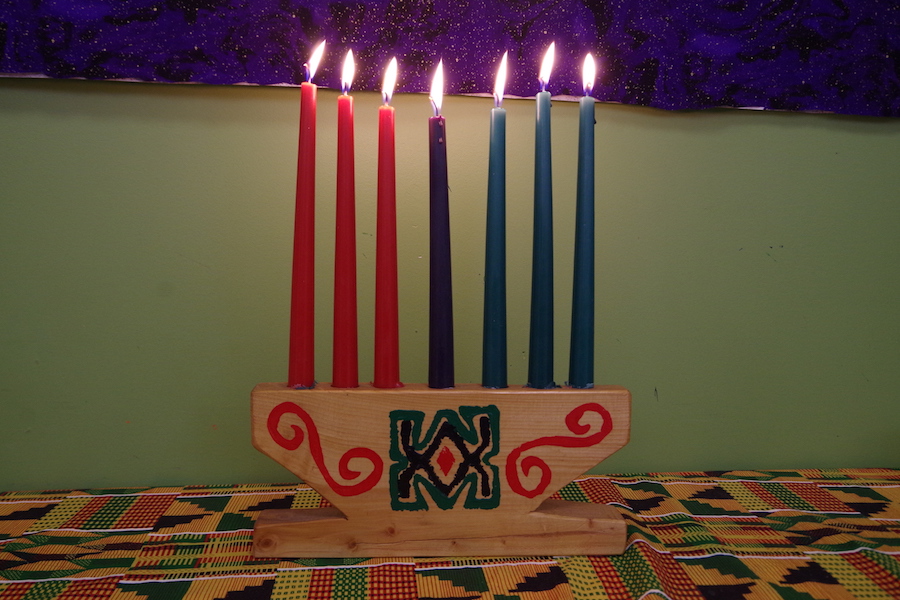 As the children pressed in close and the adults gathered behind them, Mujahid leaned forward to teach.
"Umoja means unity," he said. "Everybody say umoja." A chorus of voices echoed him, trying out the new kiswahili word.
"Unity means coming together," a child suggested.
Blake took over to explain about kujichagulia—the principle that's "the most fun to say" and means self-determination.
"That's like what Michelle Obama did in her book!" said one child, lighting up with the connection.
The group worked through ujima, ujamaa, nia, kuumba, and imani—collective work, cooperative economics, purpose, creativity, and faith—before turning to a cooperative art project. With paints and pastels in hand, each person went to the table marked with the principle they were most drawn to. There, an over-sized canvas awaited, with space for each person to create an image that represented their interpretation of that principle.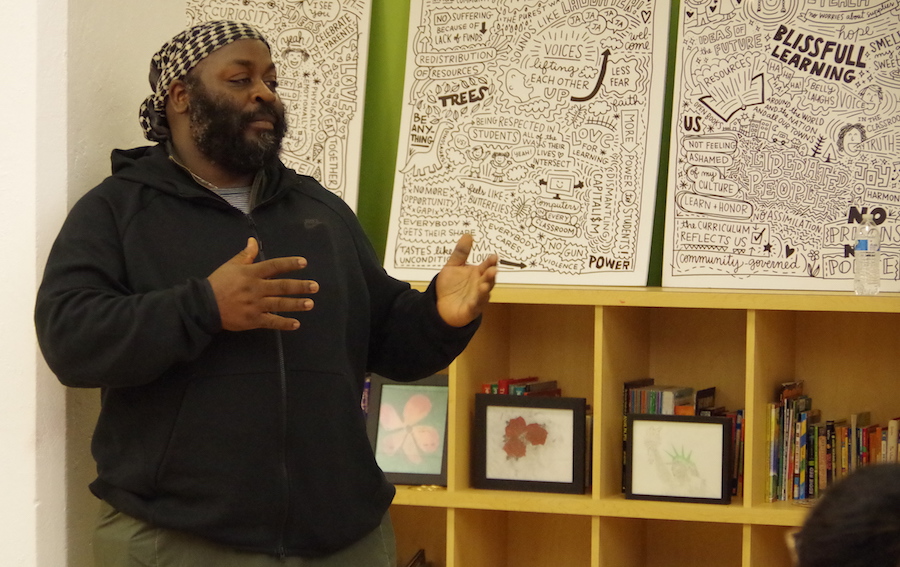 Many attendees were members of CTCORE, or friends of members. Several said they try to celebrate Kwanzaa at home, adding to their traditions piece by piece, year by year, and they appreciated the chance to get together in a family-friendly atmosphere.
One attendee who identified herself only as Ashley said that she celebrates Kwanzaa as a way "to connect with my Blackness." Each year, she tries to make her celebration more intentional. She said that when she started exploring the holiday several years ago, "it felt good to connect with where we came from. It felt pure."
Meanwhile, poet and spoken word artist Salwa Abdussabur dug deep into their painting of a farm on a "cooperative economics" panel.
"We can own land if we join forces, and that land can support community," they said. And besides, "Kwanzaa is lit."
Babies snoozed in strollers while grandparents sat and talked. Some of the children scampered about the room, happy for the chance to play with peers and make new friends, while some joined adults in focusing on the art, lost in the meditative act of manipulating colors. Still others gathered around the spread of food: seasoned rice, a perfectly dressed spinach salad, crisply baked cauliflower, and savory vegetarian meatballs—all lovingly prepared by Blake.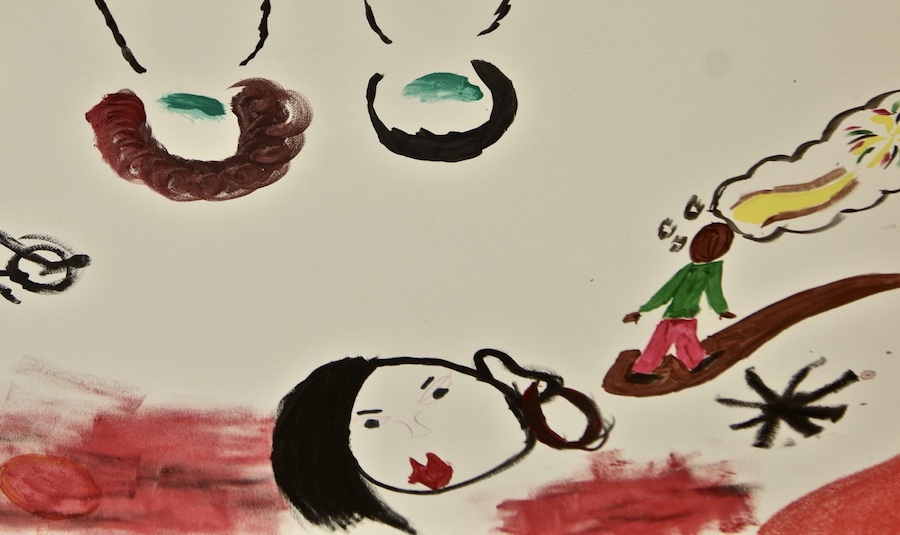 Love Fed Co-Founder and urban farmer Dishaun Harris spun around the room, capturing photos of artwork and attendees. Folks who continued to wander in over the course of the afternoon were folded right into the action. During a quiet moment, Blake sat down to talk about Love Fed's goals during the chilly winter months.
After launching the initiative last year, Love Fed has led several indoor and outdoor activities, including garden days at the Goffe Street Armory and Stetson Branch of the New Haven Free Public Library. She praised ConnCAT as a crucial support for Love Fed in its early stages (Harris also teaches kids about farming using the garden beds that run alongside the building).
"Our first initiative is urban farming and farming education," she said. "But what do we do in the off season? How do we stay active?"
Love Fed's winter class series, which includes cooking workshops and film screenings—is a solution to that challenge. In particular, Blake is looking forward to Love Fed's screening of Soul Food Junkies on Jan. 26. The film examines a fraught relationship with traditional foods that feed the soul but can sicken the body, and Love Fed plans to host a discussion afterwards.
They'll follow that up with a "Cooking with Love Fed: Black Ancestral Foods" on Feb. 9, a workshop exploring alternative food traditions.
"It kind of just feels like hanging out, like cooking in the kitchen of your own home," Blake said of the workshops. "Chatting with friends and getting to know people—how they care about food or what food in their home is like." And each class ends with a family-style meal.
"It's about incorporating herbs into our cooking and knowing which herbs contribute to our health," she added of an upcoming Jan. 12 class that focuses on herbs and food medicine.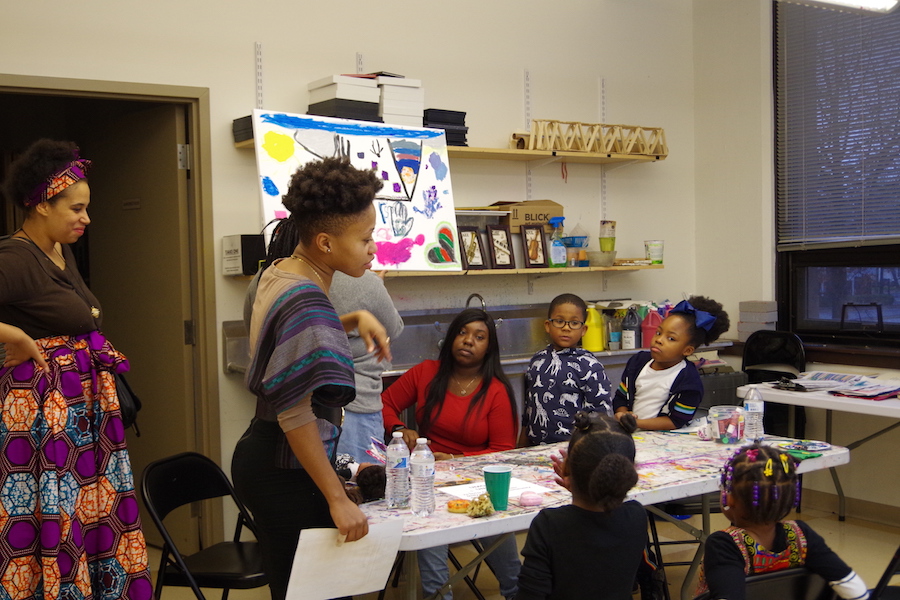 The winter series concludes with a screening of Homecoming, a documentary billed as "the first film to explore the rural roots of African American life."
For Blake, that concept is personal. "I grew up living in the same home as my great grandparents," she said. The garden they planted out back was a centerpiece of their home life.
"I want to bring back that spiring of resilience and self-determination," she continued. "We'd like for people to get to know Love Fed more, to meet us and have a different type of experience—but one that's very authentic and speaks to them."
By the end of the afternoon, the canvases were filling up, and the group gathered around each one to admire the work that was created.
CTCORE training director Camelle Scott-Mujahid painted a garden on the cooperative economics panel. "One way to build economic sustainability is to feed people," she explained, touching on one of Love Fed's core values.
The self-determination canvas was graced with the image of a woman's face, with sharp, focused eyes and bold lips. "It looks like an angry face, but really she's just embracing her feelings," explained the child who created the image.
"Women can do whatever they want when they put their mind to it," she added.
As the canvas for each principle was lifted for view, Blake lit a corresponding candle on the kinara, a wooden candle holder bearing seven candles in green, black and red.
Both Blake and Mujahid said they intend for the canvases to serve as conversational pieces, inspiring Love Fed and CTCORE to carry out the principles of Kwanzaa in their social justice work throughout the year.
"How can these principles manifest in our lives? This collaboration is a great starting point," she said, reflecting on a Kwanzaa celebration that deftly combined unity, creativity, and collective work.
"There's a lot of nia behind this," she added, referring to the Kwanzaa principle of purpose. "It's a catalyst for collective work and community building. It's a chance for our kids to hang out together and for us to make sure we stay connected."