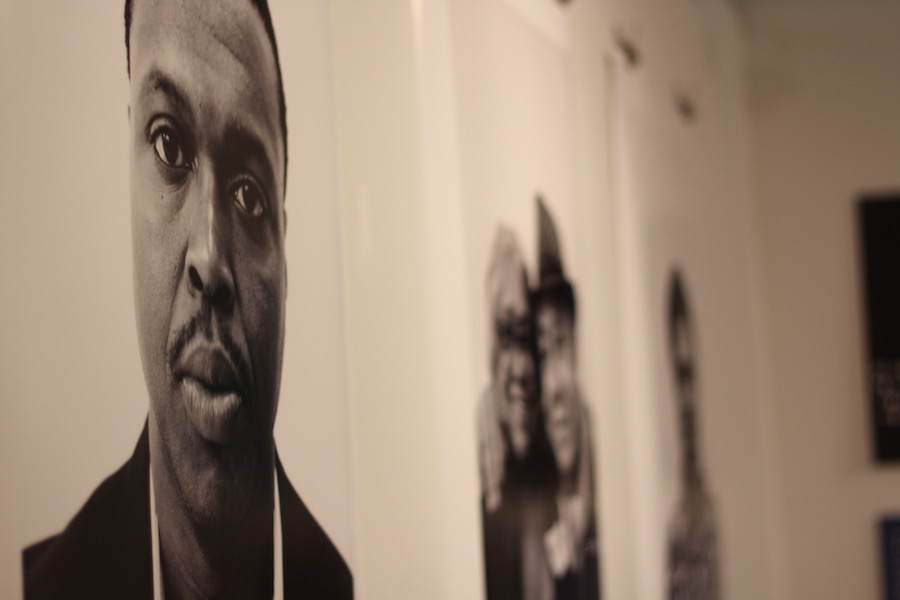 Science Park | Storytelling | Newhallville | Arts, Culture & Community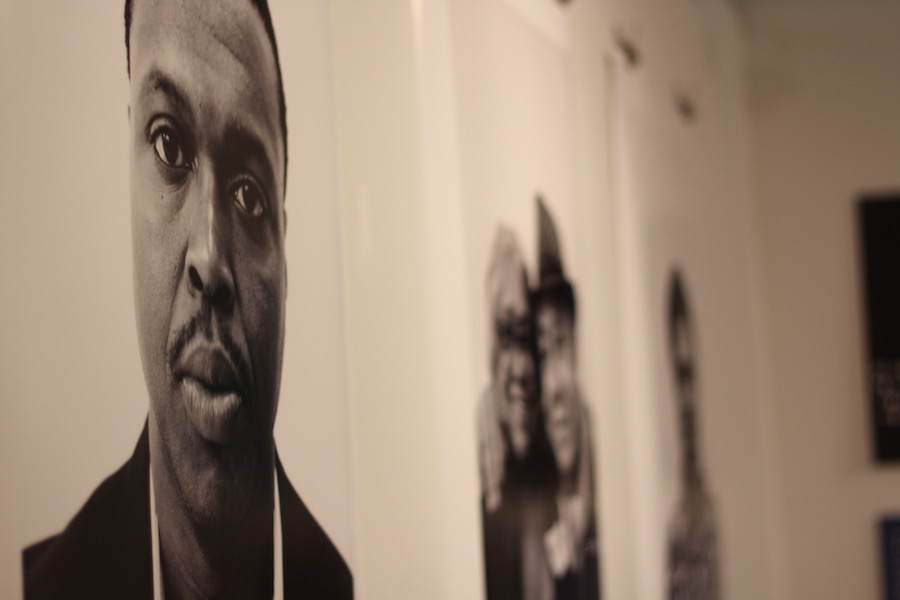 Jamal Jimerson, photographed by Erik "Eaze" Williams with audio from Tagan Engel and audio editing and engineering from Terressa Tate and James Cookson. Lucy Gellman photo of the image in the exhibition.
Even before you know who he is, Jamal Jimerson's whole face stops you. Trusting, with soft, wide open eyes that say "tell me a story. Make it good." His lips are set together, but not unsmiling. His head tilts just a little to the side, a sort of open question. In an accompanying interview, he introduces himself as the founder and executive director of the Minority Inclusion Project, an initiative out of Manchester to put more people of color in leadership positions in the nonprofit sector.
"We really want to hold organizations accountable for doing this work," he says, his voice warm but matter-of-fact. "I have conversations with white board members who are clearly racist."
Jimerson is one of almost 50 people photographed and interviewed in Storyscape, an exhibition and multimedia installation celebrating 25 years of—and thousands of community members impacted by—the William Caspar Graustein Memorial Fund. Curated by Arts and Education Equity Fellows Tagan Engel, Nancy Leonard, Suri Seymour and Hanifa Nayo Washington, the show runs now through Jan. 31 of next year at the Connecticut Center for Arts and Technology (ConnCAT) in New Haven's Science Park/Newhallville neighborhood. An opening reception last Thursday brought out over 150 people to see the work.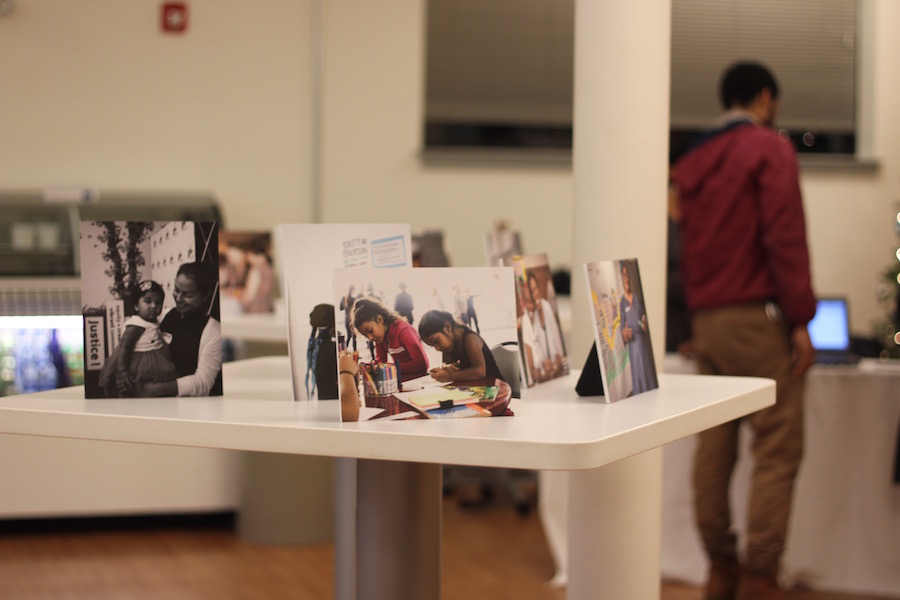 In addition to photo and audio selections, Storyscape includes two films that Washington said will be online in the coming months. The first, a 25th anniversary film titled The Path In about the conception and growth of the WCGMF, is a collaboration between Washington and local filmmaker Travis Carbonella. The second, titled Community on Equity, comes from Enrique LeBron and Suri Seymour.
The exhibition, culled from eight months of story gathering around the state, begins with the fund's longtime mission: inspiring and creating equity in education by facing, discussing, and working to eliminate structural racism through both internal programming and support for neighborhoods, programs, and institutions that are doing that work.
Over six regional events, staff members and fellows at the fund "heard remarkable truth-tellers share powerful stories concerning equity and education, racial and economic equity, liberation work and community building," Washington wrote in an introductory text to the exhibition.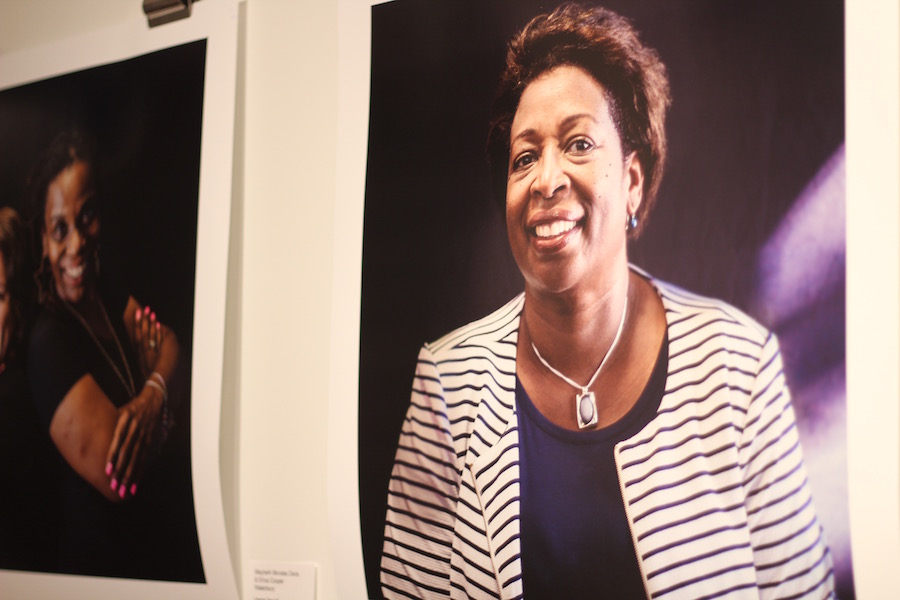 Wendy Tyson-Wood, who ran to represent District 74 in the state House of Representatives this year and in 2016. Photograph by Arvia Walker, with audio production and editing from Tagan Engel and audio engineering from James Cookson. Lucy Gellman Photo.
For two and a half decades, the fund has dedicated itself to looking at how racism manifests itself in everyday life—from public education that is still deeply segregated to lack of childcare options in poor communities to legislation that penalizes poverty—and attacking those causes both directly and indirectly. As those goals have grown, so too have the fund's approaches, leapfrogging from early childhood education initiatives to policy advocacy to its Community Leadership Program and story as an approach to breaking down barriers.
Installed at the second-floor entrance, a bright, punchy timeline by artist and VEO VEO Design Founder and Director Constanza Segovia stretches across one wall, outlining WCGMF's first 25 years of work while it indicates that 25 more are very much on the horizon. In brilliant color, Segovia illustrates WCGMF's mission with careful, thick designs in marker, caught somewhere between a children's book illustration, brainstorming bubble, and the wonderment of doodling until you've realized exactly what the next step of a project is.
On one end of the banner, the WCGMF is marching toward progress, its steady clip captured in the tiny illustrated bodies of children and their parents. Somewhere around the fund's earliest years, a young mother holds her daughter by one outstretched arm while she cradles a baby in the other, her hair fixed in a short bob. Their outfits—neon pinks, oranges and blues—jump out from the background, nearly dancing over data points from the 1990s. Around them, a stack of building blocks and open book lead the way right to a school's front door.
Constanza Segovia's design. Lucy Gellman Photo.
Fast forward, and another mom is marching with her young son toward a library and city hall, her feet literally supported by the fund's discovery initiative, which creates the ground on which she stands. A history spills out before them, leading the way to a more equitable system. And at the other end, a sign asks where the fund might go next, posing the question: "What will it take to end racism and poverty" in bold, angular orange letters.
Around the timeline, the "story" element of Storyscape unfolds in brilliant color and black and white, photographs by La Challe Gillis, Amina Seyal, Arvia Walker and Erik Williams sharing wall space with intimate, immediate excerpts of personal stories. From each wall, radiant Black and Brown faces beam out, tens of stories infused with beauty and pain, trauma and joy. And viewers, faced with too many to take in all at once, are forced to slow down and consider the sheer weight and power of each one.
There are story bearers like Deltra Kroemer, co-founder of My Reflection Matters and a home educator living in Waterbury. In the photograph, Kroemer leans back just slightly, eyes focused on something before her that we can't see. Everything about her is steady: straight spine, mouth slightly open, kente cloth vibrant and rich against the black background. Her arms reach up, cupping her ear and head. A black wrap winds around her scalp, regal as it reaches upwards and stops in a braided, twisted knot.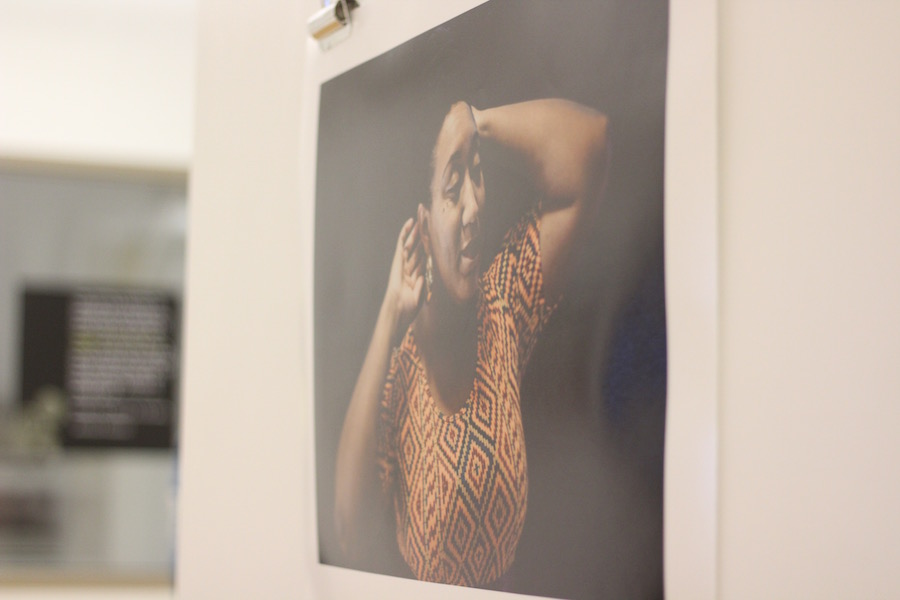 Deltra Kroemer, photographed by Arvia Walker with audio from Tagan Engel and audio editing and engineering from Terressa Tate and James Cookson. Lucy Gellman photo of the image in the exhibition.
In an accompanying interview with Engel, who served as an Equity in Education Fellow with WCGMF, Kroemer explains that she decided to educate her children at home after realizing that it was the best way to include elements of the African-American experience. That started when the family lived in Idaho, where "we did not see ourselves reflected very much." One day, her daughter's preschool teacher asked her to straighten her little girl's hair, because it was ostensibly distracting to the other kids.
The next day, Kroemer recalls on the tape, she sent her daughter to school "rocking the biggest afro puff that I could achieve." It didn't help the situation. Neither did the students who asked why Kroemer was Black, and her daughter was so light-skinned.
So she pulled her daughter out of school—only to learn that public curricula were also whitewashed outside of the classroom too. So she started collecting books that reflected her experience. When she met Chemay Morales-James, another Waterbury mom who was doing the same thing, the two formed a Facebook group that grew into a national movement, coordinated across the internet.
"We discovered that there were lots of Black and Brown educators who were feeling the same way," she says as the interview rolls, punctuated with short bursts of laughter. "I think seeing our group also empowered Black and Brown people who are not home educating, just seeing theirselves in the community, just helped them to know we are there."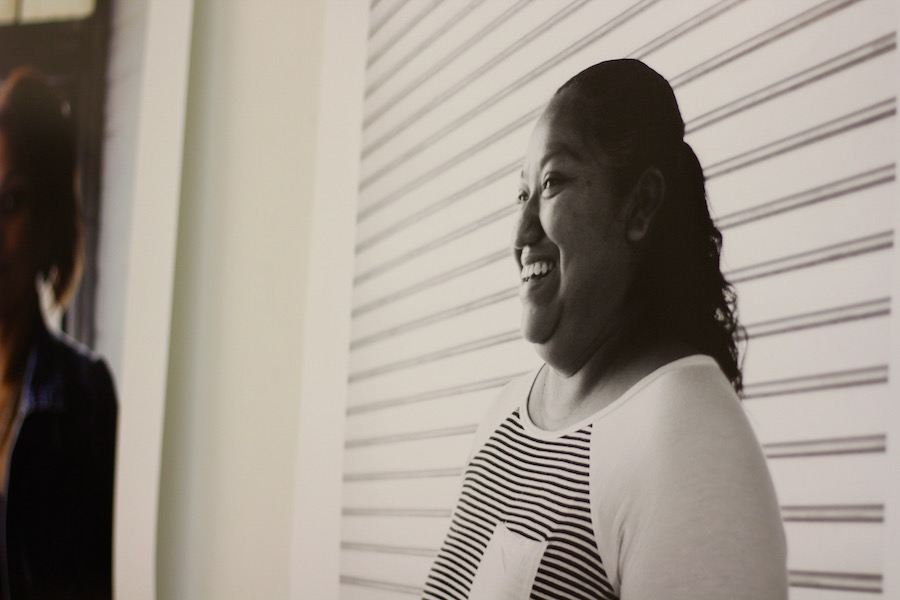 Jacqueline Herrera, photographed by Amina Seyal with audio production from Tagan Engel and editing and engineering from James Cookson. Lucy Gellman photo of the image in the exhibition.
Or Jacqueline Herrera and Jackie Cruz, two Bridgeport mothers photographed by Seyal with a six-minute interview in Spanish (it is also remastered in English on Soundcloud) from Engel. In the photographs, one for each woman, they stand out in front of their homes, stories ready to spill from their lips. Dressed in black and white stripes, Cruz gazes out to her left, a big smile breaking across her face. We can't see what's outside of the frame, but we want to, because we have a feeling it might make us smile too.
Speaking first, Cruz explains that the two started a project called "¡En Nuestro Idioma Por Favor!" ("In Our Language Please"), designed to help Spanish speakers in public schools. Before the program, Cruz saw Spanish speaking parents arrive at schools, and have educators or administrative staff pull them over to security guards and cafeteria workers to translate, because they didn't have the vocabulary.
As a parent, she watched fellow parents feel excluded from what was happening in the district, because they didn't have the language to enter discussions. She also felt excluded from what was happening. In the schools, there were no bilingual secretaries. There were no papers in Spanish. When people called home, they didn't speak Spanish. Kids often struggled with their work. And she had a sense—as did some of the mothers around her—that getting un-lost in translation could help that.
"Now I feel proud of what we've done," she says in the interview, outlining changes that the district has made since the movement started. They include phone calls in Spanish, bilingual forms, and secretaries that can converse in both languages.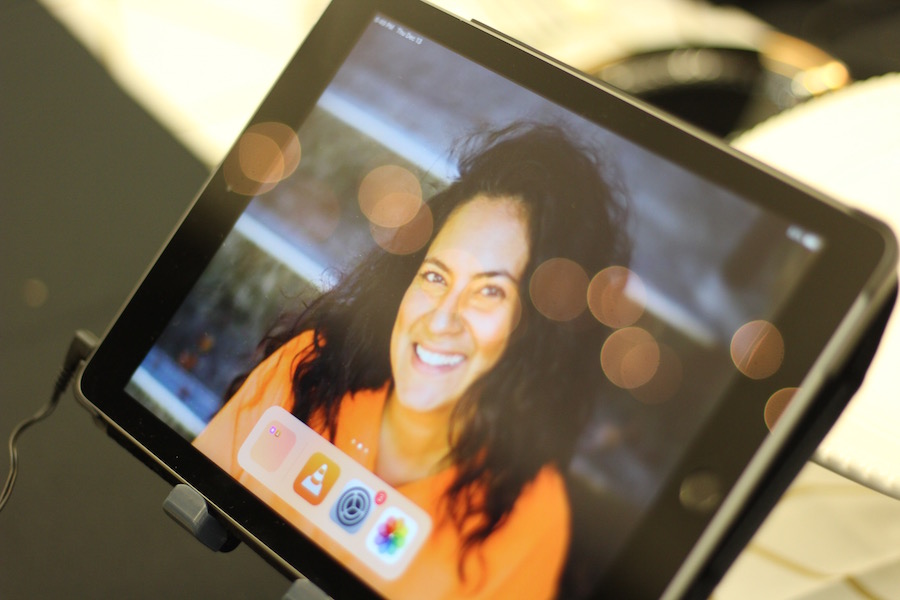 All of the stories pull viewers in like that—at the gut, at the chest, and at the eyes for those who can see the works before them. On opening night, curators had organized a special "listening table" in one of ConnCAT's large project rooms, outfitted with iPads, headphones, and screen-sized pictures of the subjects who were speaking. It beckoned like a communal dining table—where the sustenance came in bite-sized narrative form. While the table came down after opening night, there is a Soundcloud playlist where people can listen to any of the exhibition's stories.
"For me, it was important that we were hearing people's stories in their own words," said Engel as the opening reception wound down. "That we were hearing both these different perspectives and common solutions."
Those solutions, often reached through personal hardship and a community's pain, make every story worth stopping to listen to. Just as the fund has sought to break down barriers through elevating stories that curricula, school administrators, and legislators too often overlook, Storyscape speaks truth to power, fusing personal anecdote and anti-bias, anti-racism work with the still-segregated reality of the greater New Haven area.
The hope, Washington suggested afterward, is that viewers can leave the exhibition with full heads and full hearts, and take that knowledge with them into their own professional and personal spaces. That they can talk about what they've learned with colleagues who may well be struggling with racism, but have never heard of things like anti-racism training. And then, when they're really ready to do the work, they can open their ears and listen.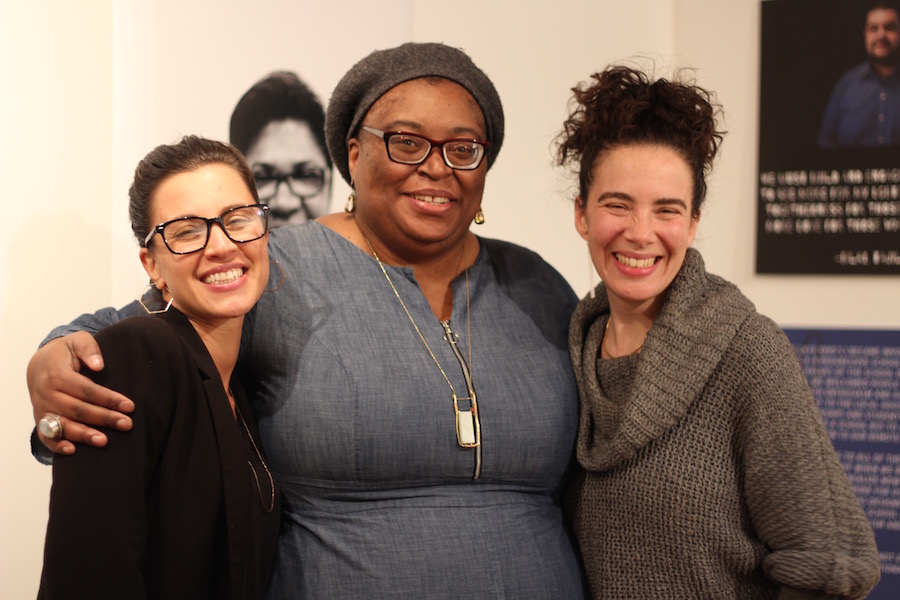 Hanifa Washington (center) with Suri Seymour and Tagan Engel.