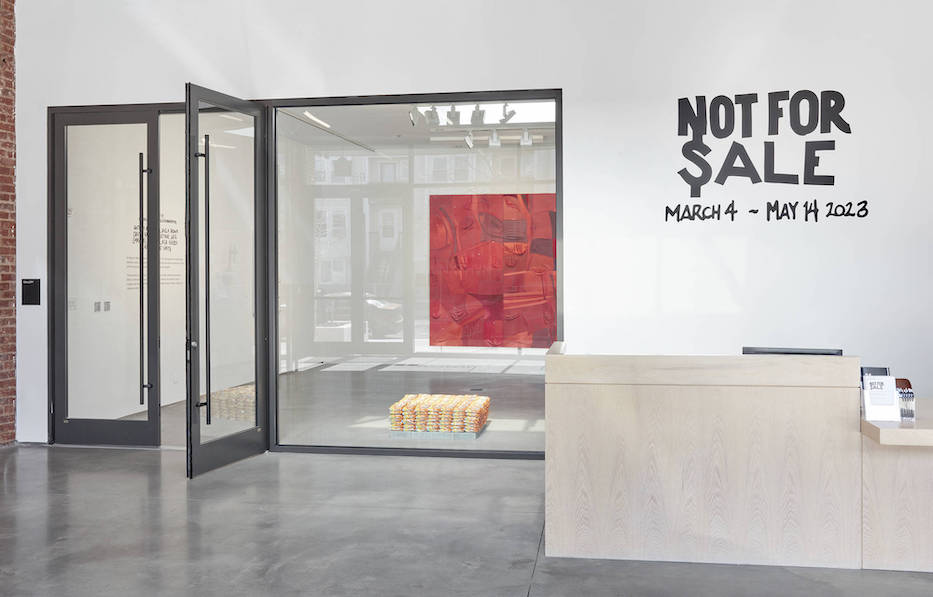 Dixwell | NXTHVN | Arts & Culture | Visual Arts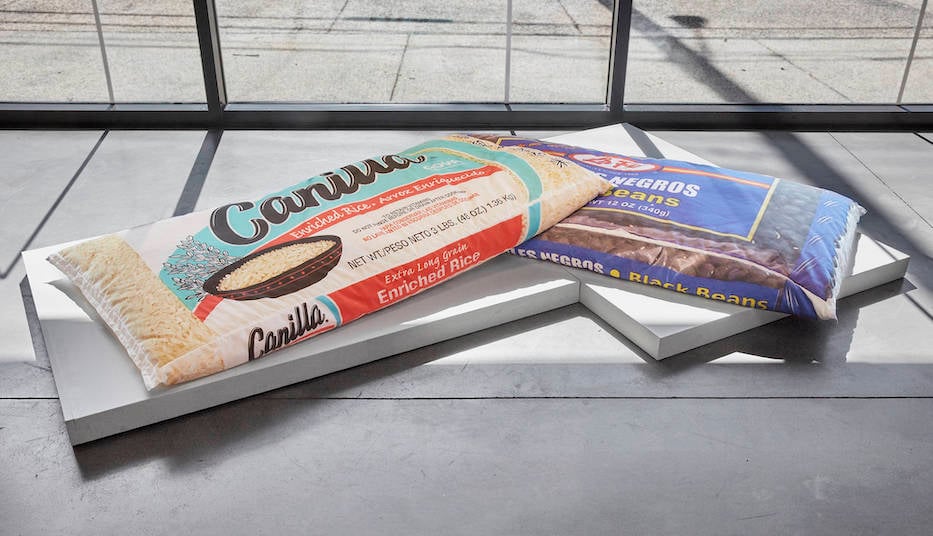 Top: Not For Sale runs through May 14, 2023 at NXTHVN. Pictured are Sable Elyse Smith's Spread (2018) and Anthony Akinbola's Rosa Corsa (2021). Bottom: Lucia Hierro Arroz Blanco and Frijoles Negro (both 2020). Chris Gardner Photos.
Inside NXTHVN's entryway, the product labels for two foods commonly found in the Spanish food aisle of the grocery store have been reproduced on brushed suede. Stuffed with packing peanuts, Arroz Blanco (2020) and Frijoles Negro (2020) by Dominican American multimedia artist Lucia Hierro rest on one irregularly-shaped floor pedestal like two deflated pillows, the white rice overlapping the black beans along one edge.
Hierro brings a Pop Art sensibility to these works, but her soft assemblages part ways with those of someone like Claes Oldenberg, both in the specificity of her references and the sophistication of their construction. Oldenburg reveled in the crudeness of his wonky, large-scale canvas forms (sewn by his wife, Patty Mucha). By contrast, Hierro plucks these cheap products from their everyday origin and enlarges their scale. She elevates their value through her elegant reconstructions.
Hierro's pieces encompass aspects of the artist's identity, drawing attention to the overlap between consumerism and community. The six other artists included in the show Not For Sale examine similar intersecting threads by taking agency of materials found within their orbits. Curated by NXTHVN Curatorial Fellows Cornelia Stokes and Kiara Cristina Ventura, this focused exhibition explores how food packaging, inexpensive jewelry, and personal accessories can attach to perceptions of class and race. Sculpture, mixed media assemblage, and video generated from prosaic materials encode the artworks with visual evidence of the makers' identities.
It runs through May 14 at the 169 Henry St. gallery and incubator. Hours and more information are available here.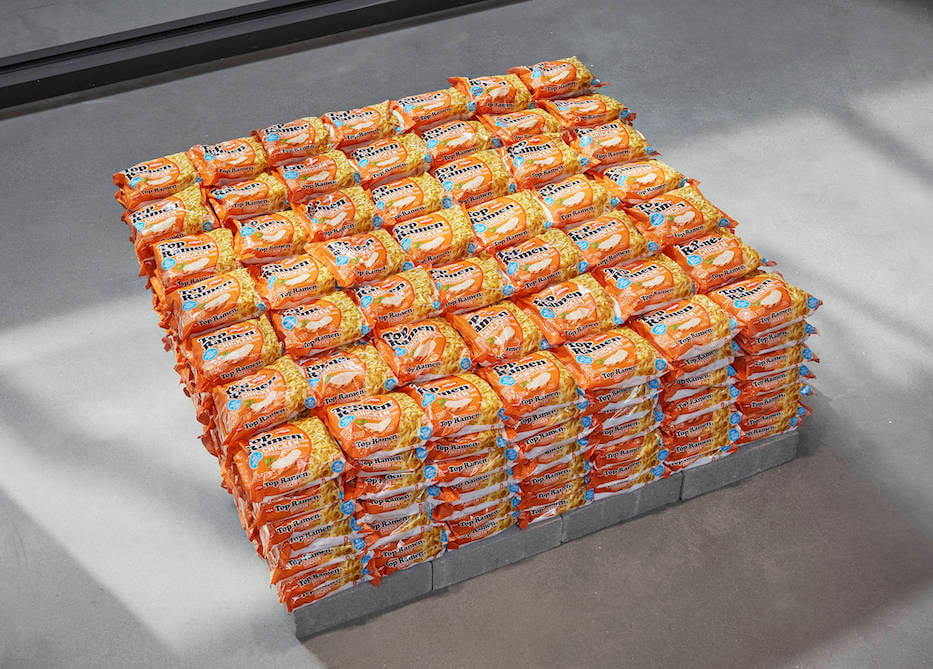 Sable Elyse Smith's Spread (2018). Chris Gardner Photo.
Inside the gallery, a stack of orange ramen packages echoes Hierro's use of affordable foods as source material. While Hierro used labels as a template for her sculptures, Sable Elyse Smith uses the actual foods in Spread (2018). Three-hundred and forty-three packs of Top Ramen chicken-flavored noodles are stacked on top of 32 gray cement bricks across seven rows, seven columns, and seven layers of ramen noodles.
According to the artist, whose works frequently delve into the carceral complex, the orderly mass nods to images that document items confiscated by the police.
Moving from the bodega to the beauty supply shop, two artists probe ideas of aesthetics: who cultivates such conventions and how are they upheld? In LaKela Brown's Composition with Nine Gold Impressions (Large) (2022), stamped forms and casts made from bamboo hoop earrings dot the piece's pristine plaster surface. The casts of the earrings remain white, but the nine forms delicately pressed into the plaster have been painted a soft gold. Technically immaculate, the large wall-hanging work oozes with luxury.
Offsetting the stately aura of Brown's Composition, Anthony Akinbola's Rosa Corsa (2021) is a tapestry of sewn durags—all various shades of brilliant red. In places, Akinbola exposes the small, white "made in China" tags, suggesting the disposable nature of his materials. But as with Composition, Rosa Corsa repackages the polyester fabric as a sleek and slinky surface.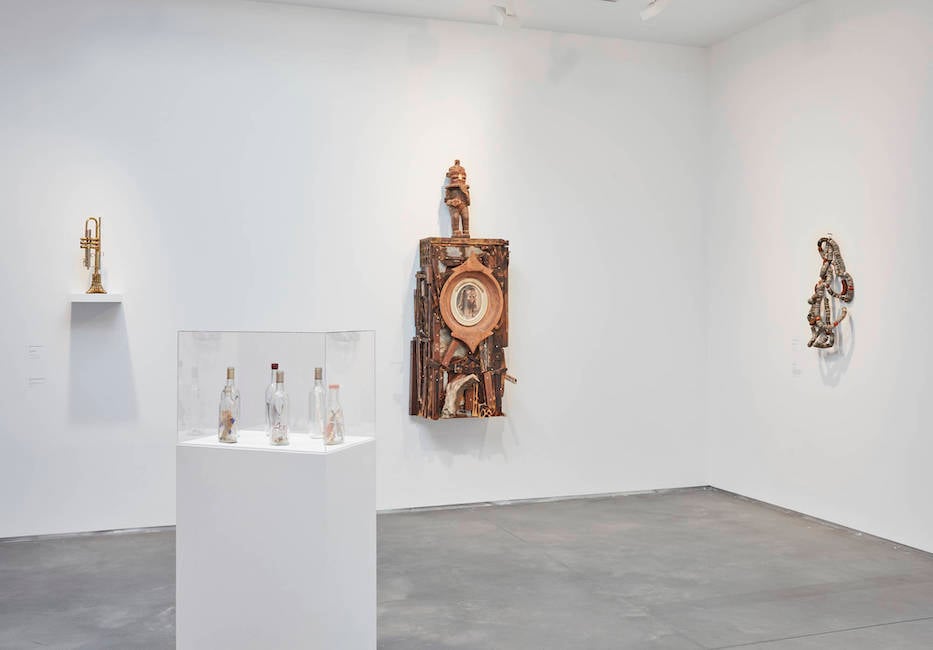 Top, from left: Emmanuel Massillon' Drill Music (2020), David Hammons Untitled (circa 2000), Emmanuel Massillon' Contemplating Existence (2023), and David Hammons Untitled. Chris Gardner Photo.
Across the room, Drill Music (2020) by Emmanuel Massillon mirrors the sheen of Akinbola's assemblage. The horn of a brass trumpet has been outfitted with bullet shells, the title alluding to drills—both musical and military in nature.
Both Massillon's Drill Music and Untitled (circa 1990)—a tangled web made from rusty bottle caps by conceptual artist David Hammons—point to the lure of the music industry and professional sports, both levelers of socioeconomic boundaries within a class-based society.
Untitled's netting and materials recall an earlier work by Hammons called Higher Goals (1986–87). In this well-known public commission, impossibly tall basketball hoops topped towers of telephone poles were encrusted in bottle caps, extending 30 feet off the ground. For Hammons, Higher Goals signified a problem: the artist favored education over sports, which he saw as an unattainable career for most.
The back half of the gallery has been transformed into a viewing room, reserved for the most affecting work in the show: Arthur Jafa's Love is the Message, the Message is Death (2016). While the other artists repurpose goods—items from a beauty or grocery store—Jafa mined clips from YouTube, splicing mostly found footage into a seven-and-a-half-minute video. Working without a script or an agenda, Jafa began adding videos of Black people being assaulted to a file on his computer in 2016.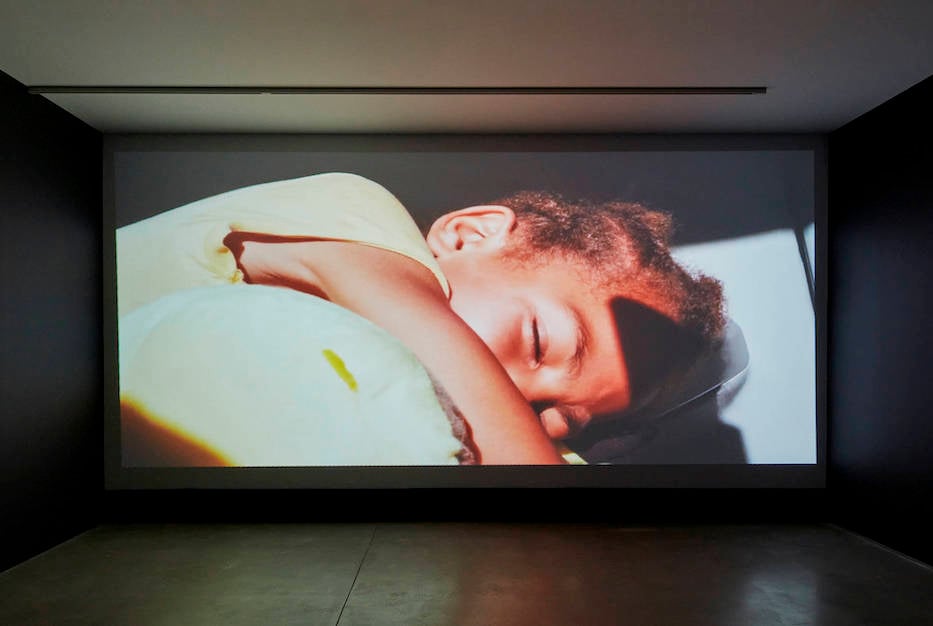 Arthur Jafa,
Love Is The Message, The Message Is Death
(2016).
Chris Gardner Photo.
Kayne West's "Ultralight Beam," released the same year, is the soundtrack for Jafa's montage, lifted without permission (or objection)—years before the recording artist's public antisemitic statements. Fusing rap and Gospel music, the enraptured lyrics share West's struggles with his Christian faith—a message of unreconcilable complexity that matches the alternating waves of cruelty and brilliance in Jafa's short film.
Many figures—such as Martin Luther King Jr., Jimi Hendrix, Barack Obama, and LeBron James—are recognizable. Others are unknown: a mother instructed by a white police officer walks backwards to the car, her young son following behind; several scenes show people dancing; and there are repeated instances of violence. Cops—white, without exception—throw, kick, and punch Black individuals. Throughout Love is the Message, images of a fiery orange sun covered by dark spots fill the screen, perhaps as a provocation about who occupies the center of our universe.
At one point in the video, actress Amandla Stenberg asks, "What would America be like if we loved Black people as much as we love Black culture?"—a question that careers beyond the confines of this exhibition.
In recent weeks, schools around the country have removed Black history from their curricula. And authentic attempts to unravel the systems that have upheld whiteness as the apogee of artistic, economic, social, and political power are widely lagging within an art world more obsessed with optics than equity.
Nevertheless, in Not For Sale, the overarching message is love, forging a possible alignment with the Black feminist and scholar bell hooks: "I believe wholeheartedly that the only way out of domination is love, and the only way into really being able to connect with others, and to know how to be, is to be participating in every aspect of your life as a sacrament of love."
Not For Sale exalts specific cultural touchpoints, like a love letter from the artists to their communities.
Not For Sale runs through May 14, 2023 at NXTHVN.