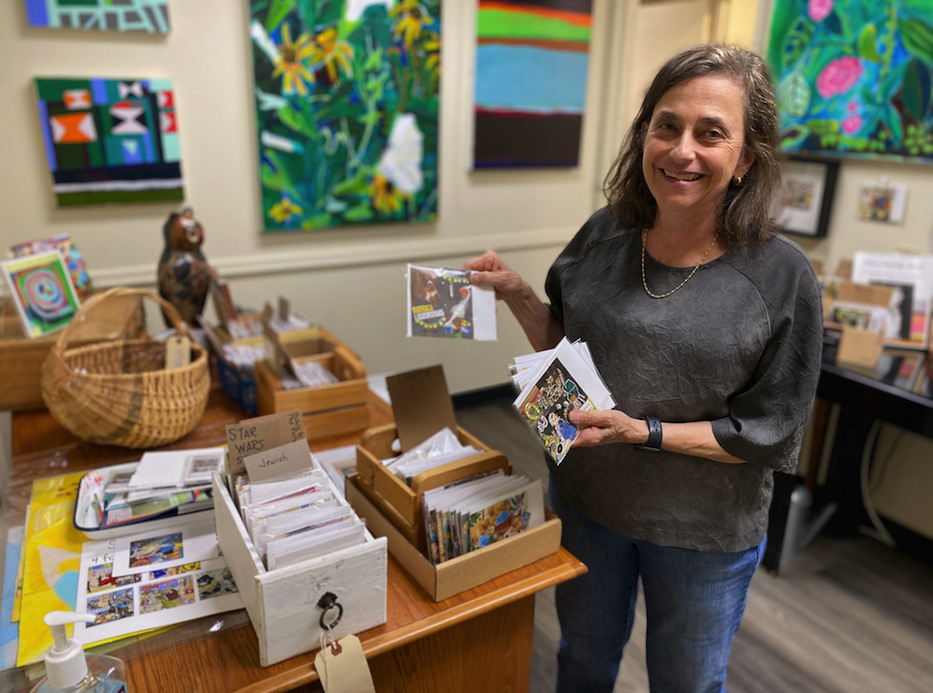 Crafts | Downtown | Painting | Arts & Culture | Visual Arts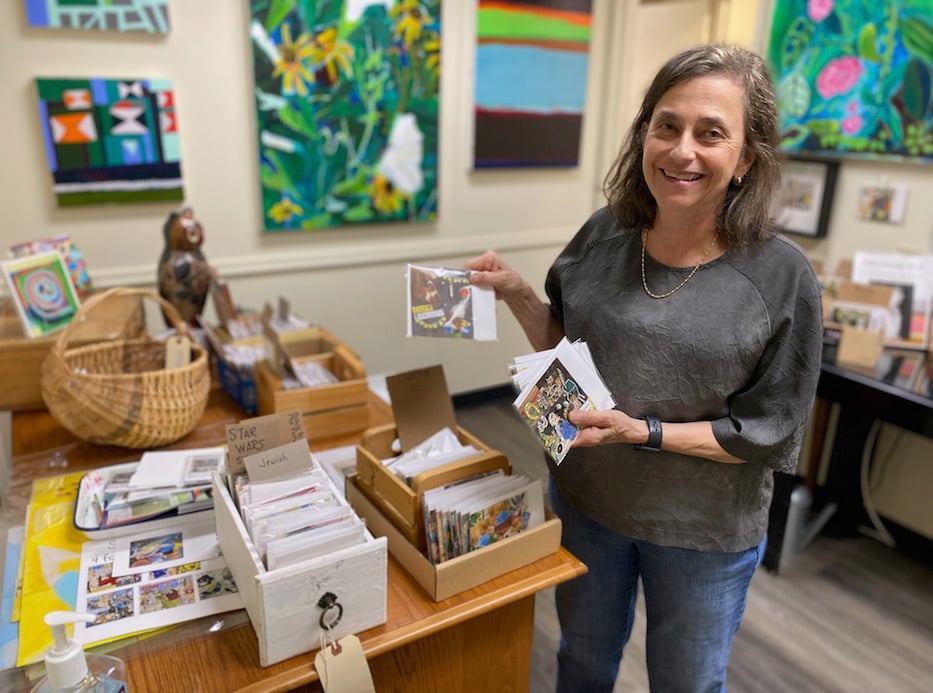 Artist Martha Savage holds up her signature "timecards:" mixed media cards that are often composed to portray larger societal issues such as racial injustice, access to health care, and the Covid-19 pandemic. Raquel Burgess Photos; the second photo is by Martha Savage of her timecards.
In stark contrast to the trim, grey lines of the New Haven Towers in which it resides, Martha Savage's studio greets its visitors with a cacophony of colors. There's a comforting disorderliness, a reflection of the artist's own delight in "finding art in unexpected places."
Savage, who confides that she craves human interaction following the isolation of the pandemic, supplies a brigade of stories that mirrors her artwork. Each one offers a tiny nugget of insight that thread into larger themes of meaning.
Those themes were apparent on a recent visit to her downtown studio, as she spoke about her art as a form of quiet activism before and during the ongoing Covid-19 pandemic. This month, she will have some of her pieces on display as part of Artspace New Haven's Open Source Festival. Her downtown studio is also open weekly; more details at the bottom of this article.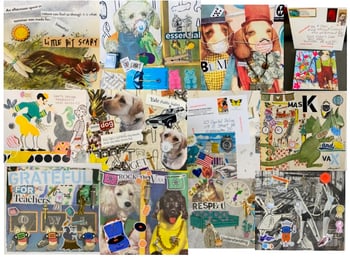 Savage, a former nurse and art teacher, credits her work to a life where social justice was never far from view. Raised between Minneapolis, Florida, and California, Savage spent her middle and early high school years in the American South at the end of the Jim Crow era.
At home, her mother was an artist and her father was a statistics professor who was legally blind. Before taking a job at Yale in the 1970s, he worked for the International Bureau of Weights and Measures and then Stanford University on health topics including the AIDS epidemic and the deleterious health effects of cigarette smoking.
He was also a polio survivor, a piece of family history that Savage sees as tied to her arts advocacy around vaccination and public health. As a young man, her father was stricken with polio in the midst of traveling for his graduate work. He returned to his hometown of Detroit, where his family kept him alive with an iron lung. Years later, Savage recalled sucking on a sugar cube after receiving a polio vaccine.
"So when we're talking about vaccine and disability, it runs very deep," she said.
As a teenager, Savage attended the experimental Stockbridge School in Stockbridge, Mass., founded by a World War II escapee. She also looked to the anti-violence, pro-peace ethos of her generation, then brought those values into her work in healthcare, public art, and education. After moving to New Haven in the 1980s, she led youth programs at Creative Arts Workshop for almost three decades, and later Thomas Edison Middle School in Meriden. She has also worked with Chapel Haven and the Connecticut Department of Children and Families.
Her storytelling method is perhaps best reflected in her signature "timecards:" tiny collages that are composed, fittingly, on the surface of office supply timecards. Her materials include anthropomorphized animals that she cuts out from old children's books, a choice that stems from the lack of non-offensive representations of people of color in these books. She combines these images with tiny board-game-like trinkets and words that are cut out from magazines.
The result is a tiny, usually colorful, and busy collage that often relates to a larger societal issue such as gun violence, access to health care, voting, and the Covid-19 pandemic. Savage said she hopes that the cards will spark discussion, serve as memorable reminders of key messages such as the importance of wearing a mask, or inspire lawmakers, whom she often mails the cards to.
In addition to providing inspiration to viewers to get vaccinated or take public health precautions, Savage's COVID-19 cards also serve as an archive of the emotions and challenges that accompanied various stages of the pandemic. Her first set of pandemic cards emanate feelings of fear and uncertainty, illustrated through her use of a sly fox lurking in a summery meadow.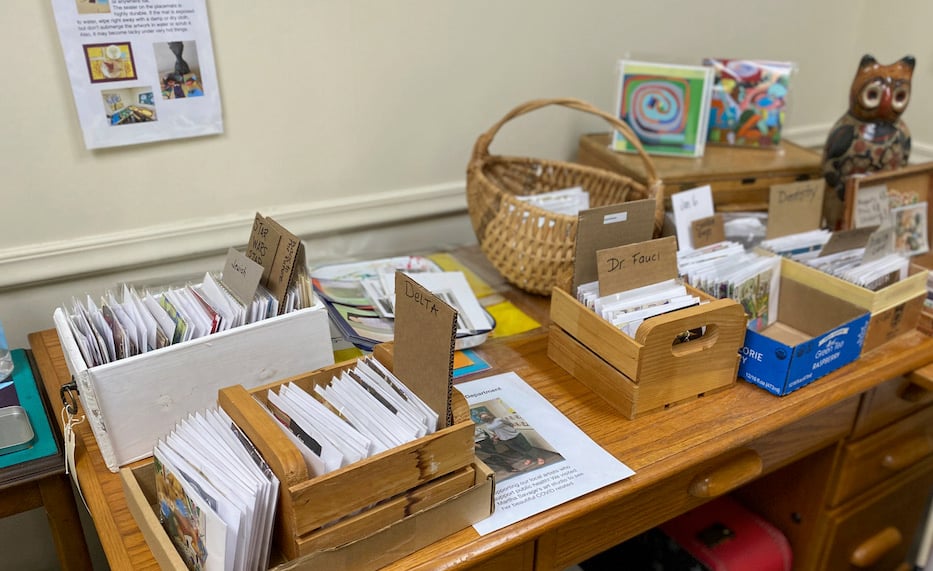 The next cards reflect society's gratitude to essential workers, then the fortitude of the Black Lives Matter movement. Savage said that her art served as way to deal with difficult emotions in real time. She found that "'processing' through the cards was a way to think about and try to understand [Black Lives Matter and the pandemic]."
In a moment that feels long-awaited, a more recent series of cards embody the collective optimism that began to emerge with the initial rollout of the Covid-19 vaccines. Savage uses images of blinged-out dogs and slogans such as "Rock the Vax" to portray vaccination as cool and desirable. She has also taken on voter advocacy, including in the nonpartisan Create the Vote campaign from the Arts Council of Greater New Haven.
She wants the cards to be inclusive of all, she explained, so she will often incorporate symbolism from various cultures into her designs. In a move that is reflective of her overall generosity with her artwork, she gives away many of these cards and derived stickers and coasters during studio visits, on the street, and at Griffin Hospital's mobile vaccination site on the Green.
She's not overly bothered by her inability to discern whether these efforts are making a difference, she said. Her time as an art teacher taught her that an individual's connection with a specific art piece may not show up for many years. It's a process she has only been made privy to by running into former students decades later.
She also isn't interested in quantifiable metrics, she said— the aspirations of an artist are to "make something that has meaning, starts a conversation, represents a belief, brings joy or comfort, and brings about a sense of wellbeing."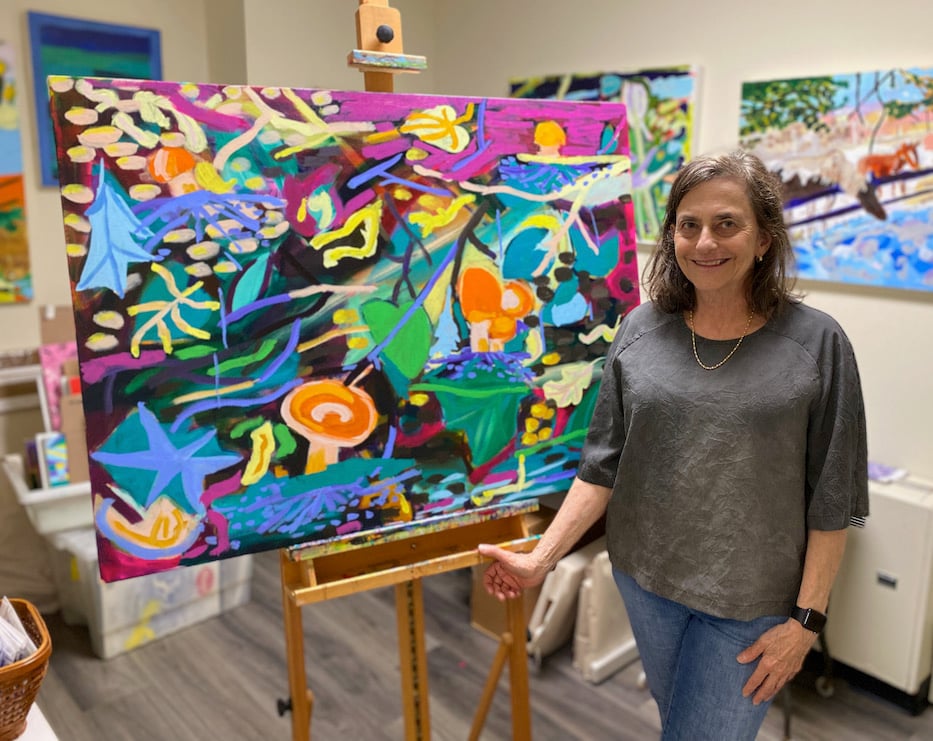 Savage said she believes in the power of art to enhance overall wellbeing, and suggests that art can play an important role in the pursuit of public health.
City Health Director Maritza Bond, who has visited the studio, said she similarly believes that art can play an important role in public health, whether it is through directly educating the public on health matters, or through "[using] art to tell a public health story." She praised Savage's efforts to spread vaccine literacy through her work.
Eighteen months into the pandemic, Savage keeps pushing on with her activism efforts, primarily in the realm of public health. Though disappointed by what she sees as the country's under-appreciation of the arts as a powerful tool for social change, she calls herself a firm believer in the ability of art to influence overall wellbeing, particularly through enhancing the beauty of the environment in which one spends time.
She is particularly proud of work she has done to improve the surroundings of people who are struggling with their health the most, such as the paintings she has on display at the Sloan Kettering Memorial Outpatient building in Manhattan.
As to where she will turn her attention next, Savage continues to document the most recent stages of the Covid-19 pandemic, including the emergence of the Delta variant. She said she may transition to addressing another looming societal issue in the near future: climate change. Wherever she goes next, her artwork is a reminder to her viewers that they can each play a part, big or small, in making the world a better place. Or in her words, "sometimes it's a lot of little actions that can add up."
Martha Savage's studio is open from 3-5 p.m. Wednesday through Friday at 123 York St 1E, New Haven. She will also be participating in the Open Source Festival through Artspace that will be taking place October 16-24, in which her studio will be open from 3-5 pm, Wednesday through Sunday. Savage also has a personal website.