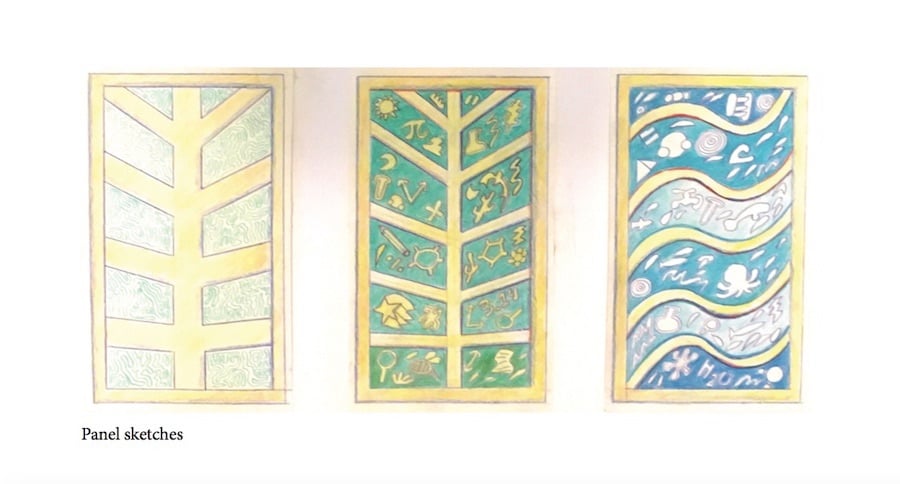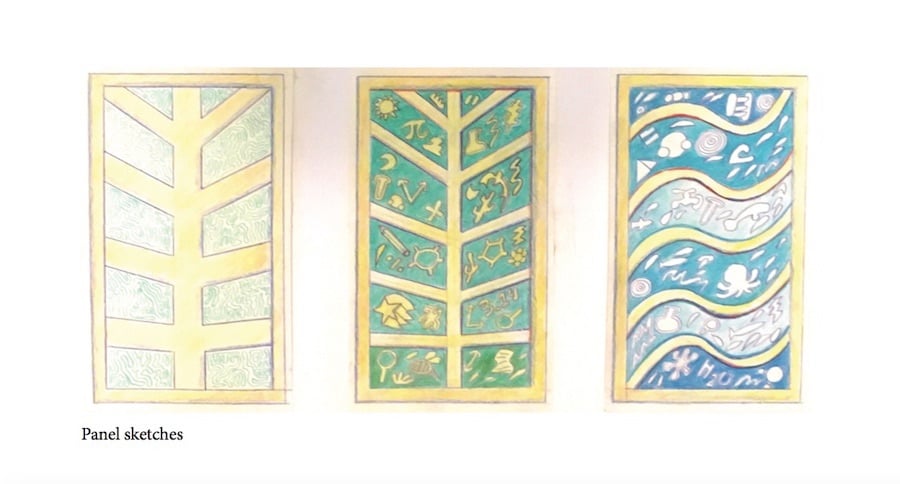 A selection from New Haven artist Noé Jimenez' commission.
The following was submitted by communications specialist Liz Acas and has been edited as a citizen contribution.
Three proposals for artwork for the new Barack H. Obama Magnet University School are now on display at the New Haven Free Public Library.
One of these proposals will become a permanent, site-specific work to be commissioned for the school by the city's Percent for Art program. The public display at Ives Library is one step in the selection process, which began with an open call to artists this spring.
More than 60 artists responded, sending their qualifications to the city's artist registry. From these and previous entrants, a jury selected three artists to advance to the next stage. The city then invited the three finalists to create site-specific proposals for the school. The artist whose proposal is chosen by the jury will be awarded the commission.
There are three proposals. The first is titled "Toy Stories," a sculptural frieze featuring toys and other classic paraphernalia related to childhood and school activities by New York artist Linda Ganjian. Ganjian's work, proposed for two walls of the lobby, consists of five sculptural reliefs cast in white resin. The frieze includes a playful arrangement of objects such as a football, dolls, game pieces, train tracks, dinosaur figurines, and—in honor of the school's namesake—an Obama doll figure.
Ganjian wrote that her proposed sculpture for New Haven "celebrates the objects that children cherish and which help them learn." Her previous work includes a commission for the New York City School Construction Authority and for the city's Metropolitan Transit Authority (MTA) at the A train station on 111th Street in Queens.
Another, titled "Lemon, Mint, Water," is a group of tactile urethane rubber paintings depicting abstracted forms resembling plants and water by New Haven artist Noé Jimenez. Jimenez's work, to be installed in the lobby by the stairwell, would consist of six three-dimensional panels. Each panel contains wood inserts delineating the negative spaces of shapes from nature such as leaves, roots, droplets, and waves.
These spaces would be filled with poured translucent rubber. Suspended within the layers of tinted rubber would be painted and cut paper, wood, and plastic shapes in the form of "specimens of flora and fauna, natural and imaginary." Jimenez proposes hanging the paintings low on the wall so that students can touch them. He has completed private commissions for businesses in New Haven and Bloomfield, Conn., and has shown his work in several states.
The last finalist is titled "Happy World," a group of three colorful relief murals of geometric shapes that draw from the architecture of the building and nearby landscape by New York artist Soonae Tark. Tark proposes three murals for the upper walls of the lobby in bright colors like those of the building's interior finishes.
Some of the forms would be painted directly onto the wall in acrylic and others laser cut from wood or plexiglas. The three-dimensional forms would be mounted in varying distances from the wall to add depth. One of the compositions, set against a light blue background, consists of an angular arrangement of lines evoking West Rock Ridge and circles of varying sizes, placed to create a sense of motion. Her past work includes a glass mosaic mural commissioned by the MTA for the Buhre Avenue 6 train station in the Bronx and a two-story mural for a public school in Queens, N.Y.
Barack H. Obama Magnet University School, now under construction on the campus of Southern Connecticut State University, is expected to open in 2019. The building, which succeeds Strong 21st Century Communications Magnet & Lab School on Orchard Street, will be the first school in New England to be named for former president Obama. The school will serve nearly 500 students in grades pre-K through four.
New Haven was the first city in Connecticut to require that one percent of the city's construction costs for all new and renovated public buildings be allocated for commissioned artwork. Since 1981, the program has commissioned over 30 works of art.
The proposals can be seen during regular library at Ives Library, the downtown main branch of the New Haven Free Public Library, at 133 Elm St., through Oct. 9 at noon. The library is closed Oct. 6 and 8 for Columbus Day.