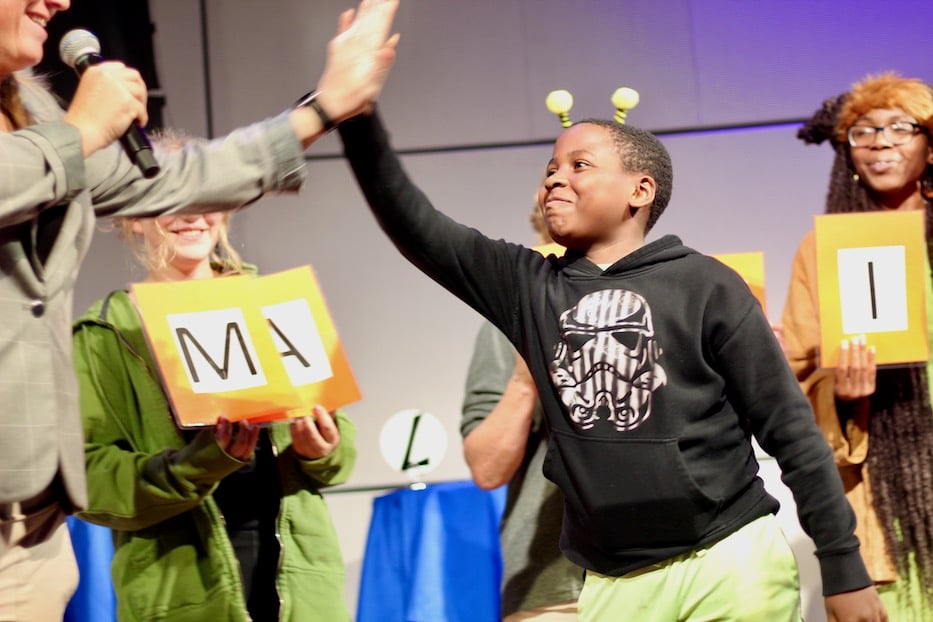 Culture & Community | Arts & Culture | New Haven Reads | Literacy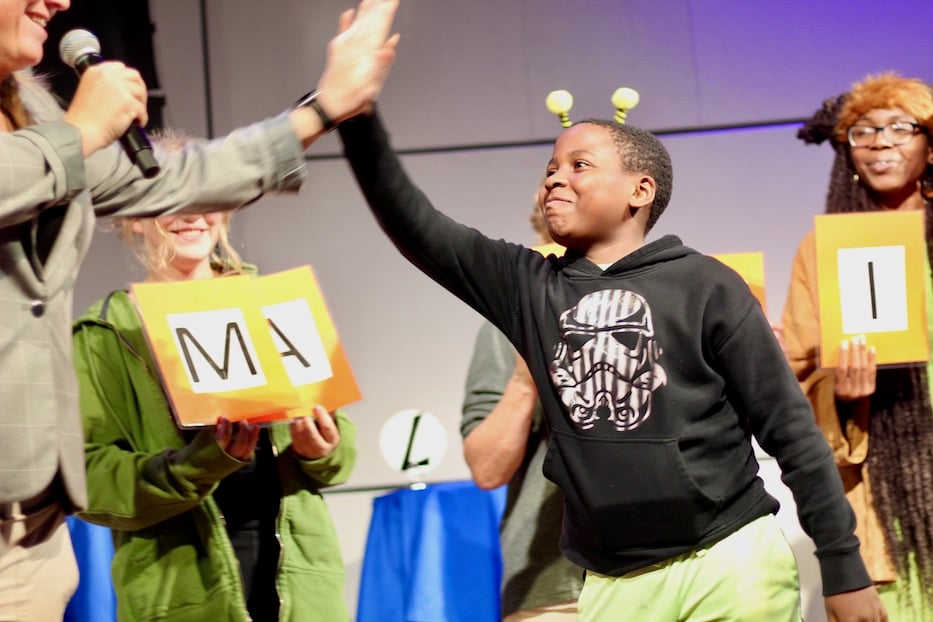 Grant Liam Harris. Lucy Gellman Photos.
Fifth grader Grant Harris was on a roll. In front of him, a line of volunteers rearranged a series of letters into the word M-A-G-I-C-A-L, giggling as the audience jumped in with suggestions. He bounced around the stage, studying the word. In the audience, his mom and dad watched every move with bated breath. Grant raised his arms above his head in a show up victory, as a smile burst across his face.
That infectious joy dominated the 11th annual New Haven Reads Spelling Bee, held last Friday night at the Yale School of Management in New Haven's East Rock neighborhood. A fundraiser for the local literacy nonprofit New Haven Reads, the bee raised over $20,000 for the organization, which in its two decades has tutored over 7,000 students and distributed over 2.6 million books in New Haven. In those 20 years, over 10,000 tutors have passed through its doors.
Over 400 people came out to support the event, which marked the first in-person bee since 2019. The Linguinis, a team of Yale linguistics students, won the bee after petitioning their way back into the final round on a variant spelling of the word "holism."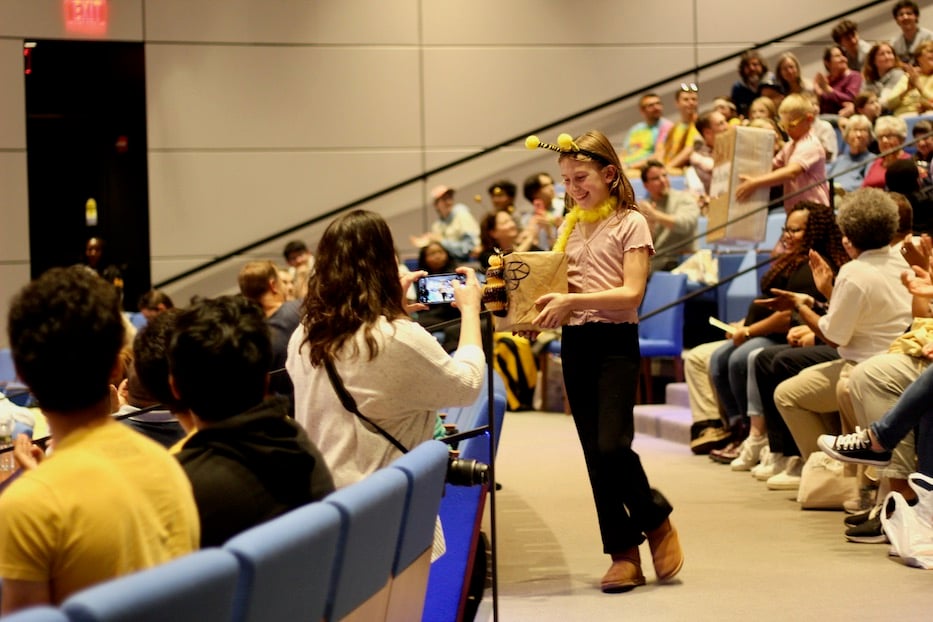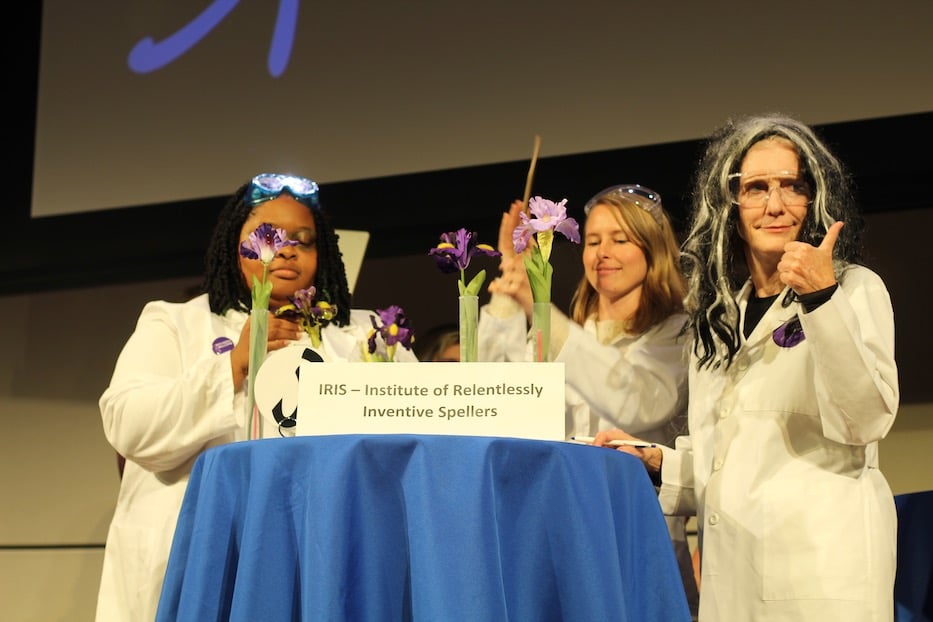 "Each and every one of the kids [that we serve] has dreams of their future," said Executive Director Kirsten Levinsohn as six "swarms" of teams found their seats in the audience. "But they can't do that if they can't read."
She added that the organization is always looking for tutors: there are hundreds of students still on a long and seemingly perennial waitlist, and New Haven is still in the midst of a city-wide literacy crisis.
Even before it began in the building's bright auditorium, the bee buzzed with energy, teams running over last-minute spelling preparations (can you spell "Laryngectomy?" What about "Butteris?") and checking to see that their costumes, all manner of yellow-and-black striped headbands, beekeeper suits, see-through and glittery black wings and Halloweeny witch hats, were ready for the stage.
Winding through the lobby, members of the "Margot Robbees" struck a pose, with costumes culled from Barbie and Suicide Squad. By trays of cheese and crackers, three "Spelling Witches" with high black hats and magic wands tried to find the right tone for a word-perfect night. Nearby, two members of "Beauty and the Bee-sts" slipped their masks over their faces, transforming into woodland characters before taking the stage in the second swarm.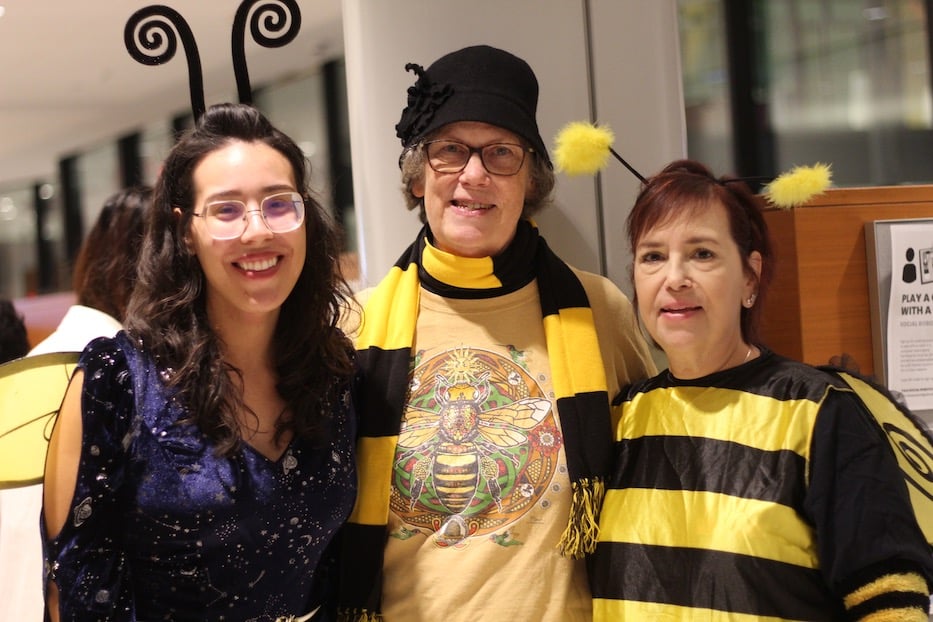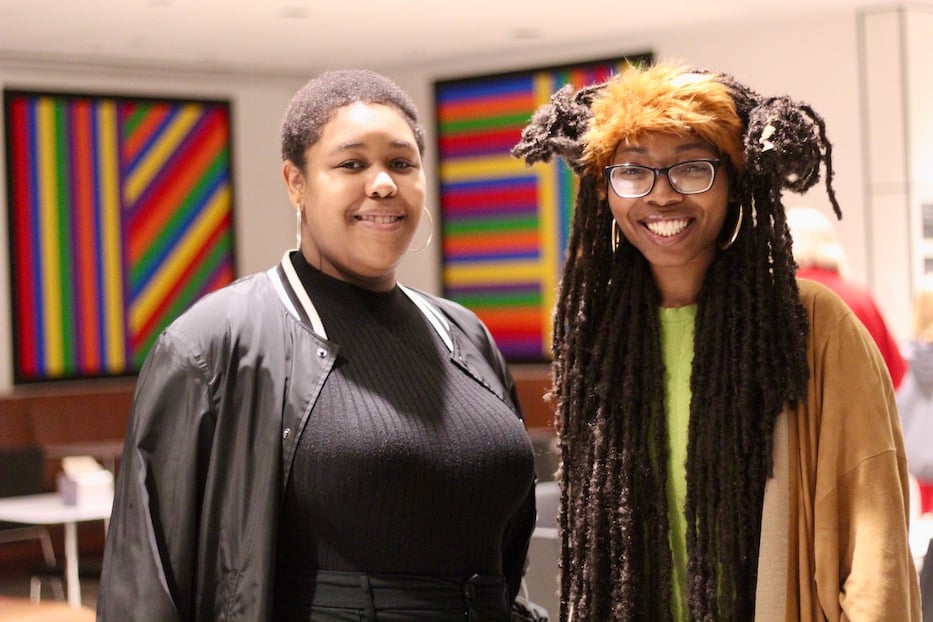 Top: The GNHCC Bee Sharps. Bottom: Friends Lennix and Jaala Welch.
At a table outside the auditorium, friends Kim Stoner, Victoria Inojosa, Pat Carroll and Claudia and David Kingsbury chatted before heading in to compete. All members of the Greater New Haven Community Chorus, three of them had formed the "GNHCC Bee Sharps" to cheer on the work that New Haven Reads does.
"It's important for us to be supportive of the community and we love supporting New Haven Reads," said Stoner, a real-life bee enthusiast who studies how exposure to pesticides affects pollinators.
The spelling bee is close to her heart, she added: she was a competitive speller in her youth, and came close to winning twice in the Shenandoah Valley Spelling Bee when she was a kid. The first time, her brother beat her on the word "kewpie." The second, she missed the spelling of "fuschia" by a few letters. Decades later, she still remembers those words.
Nearby, Science Park Site Director Jaala Welch and her friend Lennix prepared to cheer on their first bee, excited for the shimmering webs of words they were about to hear. A poet in addition to her work in literacy, Welch has long been a self-described "geek about words," with a fierce love for language that she brings with her everywhere she goes. She said she still remembers competing in a fifth grade spelling bee, in which she lost on the word "biscuit."
"I just love learning new words," she said when asked what had brought her out to the bee. Her favorite, currently, is "juxtaposition."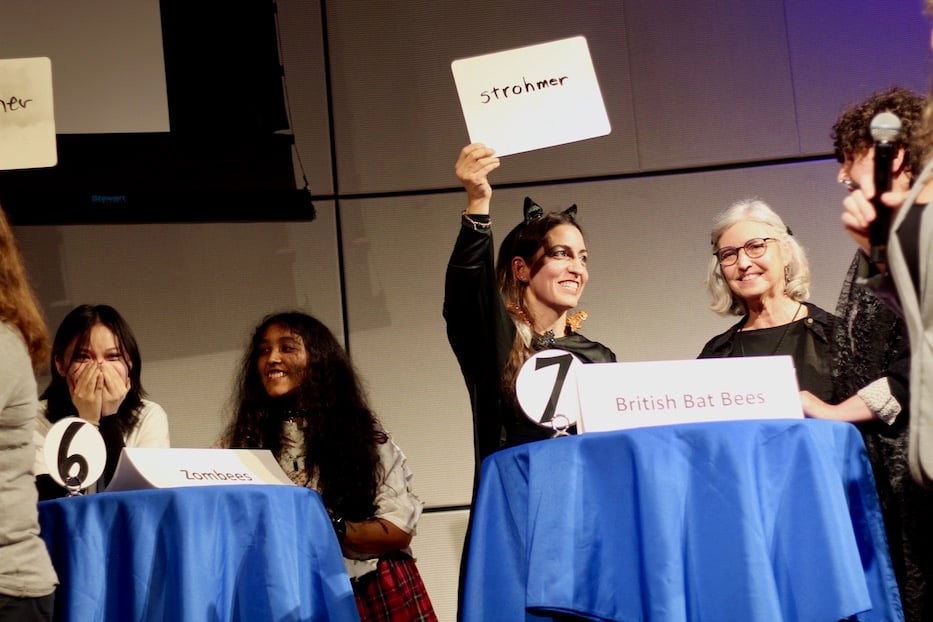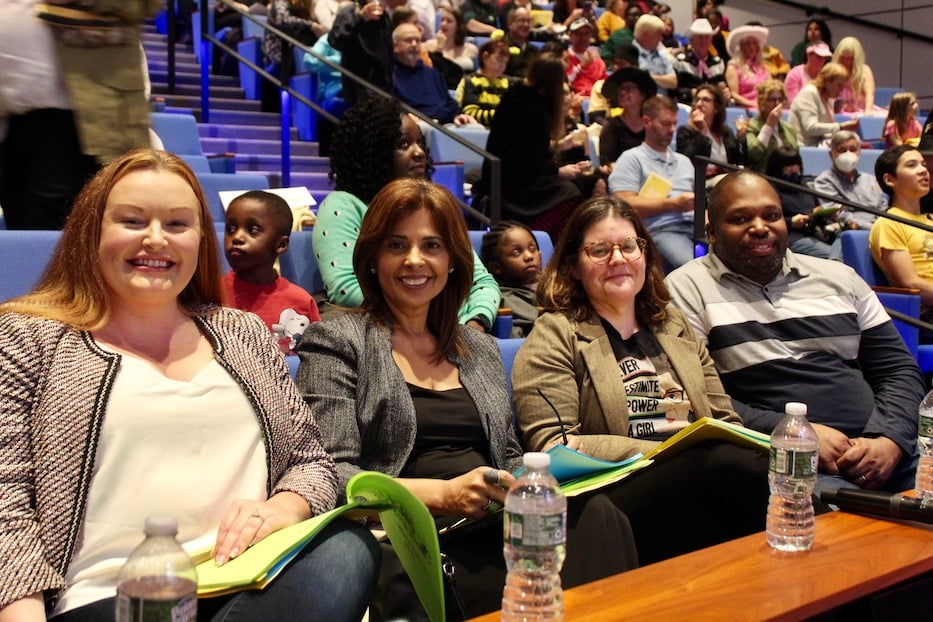 Judges Lauren O'Leary, Madeline Negrón, Maria Bernhey and Gary Winfield.
Inside the auditorium, the air crackled with excitement, attendees finding their seats as bright costumes dotted the room. Just beyond the top row, a clock glowed red with the time, counting down the minutes to 7 p.m. As judges took their seats in the front row, hosts Christine Huber and Ray Andrewsen jumped into action, reading off a list of rules for the night.
"Smile and have fun!" Huber said, and the audience seemed to relax instantly. Toward the stage, staff from Integrated Refugee and Immigrant Services transformed into the "Institute of Relentlessly Inventive Spellers," adjusting white coats and goggles as they arranged a trio of purple lilies in vases. Eyes glimmering, they watched the first swarm take the stage, spellers warming up with the words "Beehive," "Nectar," and "Restaurant."
"Relegate!" proposed Word Guru Barbara Rockenbach, indefatigably chipper as she spoke into the mic. When whiteboards went back up, the audience began to murmur: members of Alvin & The Chipmunks had spelled the word with an "a." It was the first faux pas of the night. Huber approached their table to officially let them know they were out.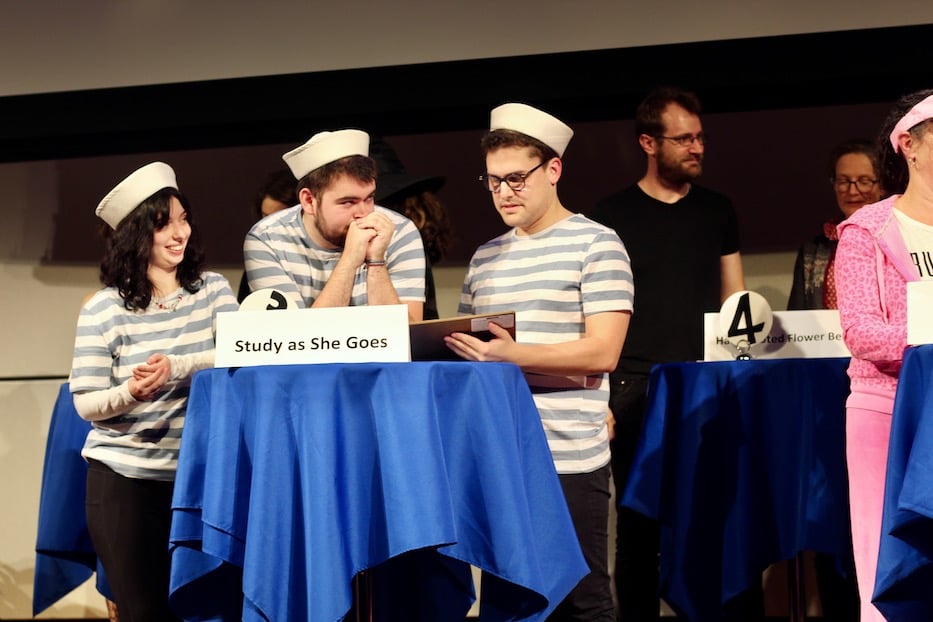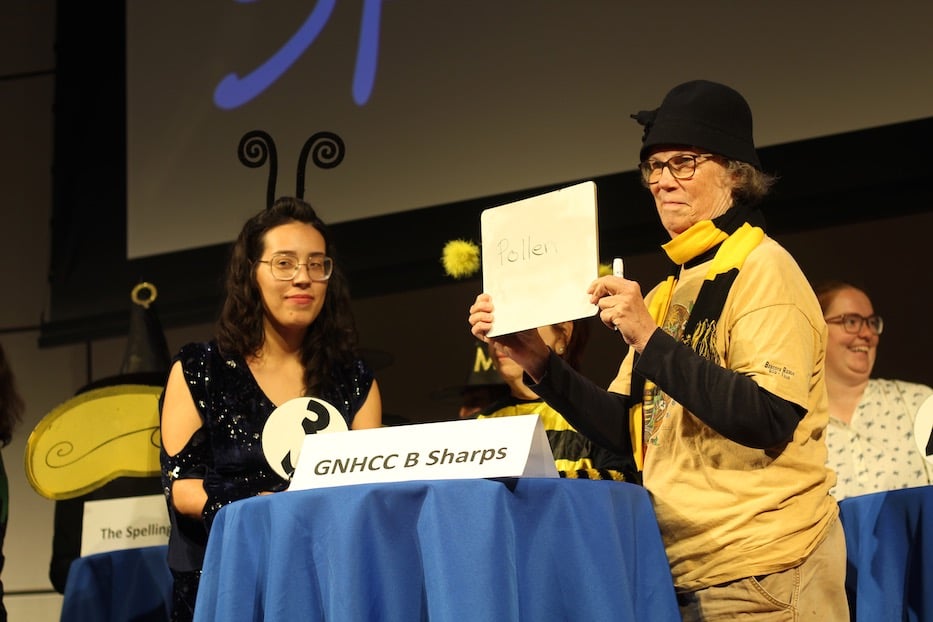 "You just got relegated!" she said. From their seats, all four judges (State Sen. Gary Winfield, NHPS Superintendent Dr. Madeline Negrón, City Librarian Maria Bernhey and Gateway Community College English Professor Lauren O'Leary) began to laugh as they moved on to the word "omnipotent" with one less team competing.
It was the beginning of an evening that was at turns funny, contentious, and jubilantly dorky, with moments that celebrated both young spellers and spellers who were clearly young at heart. Just moments after teams nailed "omnipotent," "demur" took several competitors out. "Foment" may have left teams unscathed, but "Googol" took no mercy. By "Staphylococcus," only two teams in the first swarm were left standing.
"Spell it out!" an attendee yelled down to Rockenbach after teams offered up their whiteboards, including what appeared to be a drawing of a teddy bear. The judges murmured among themselves: no one had gotten it. The swarm moved on to "asceticism," leaving the Bee In Tunes (also representing the Greater New Haven Community Chorus) victorious. The night was still young: there were five swarms to go.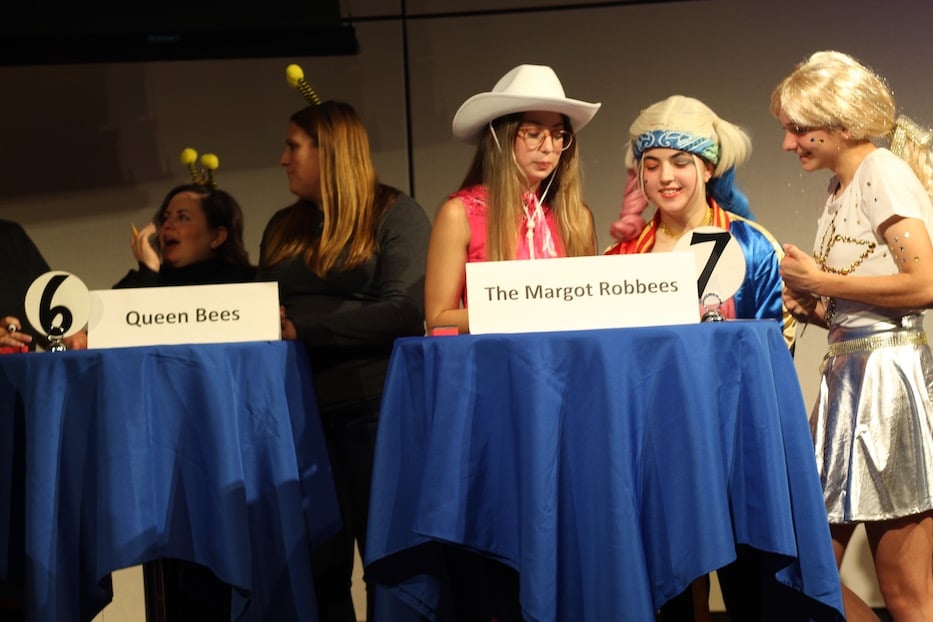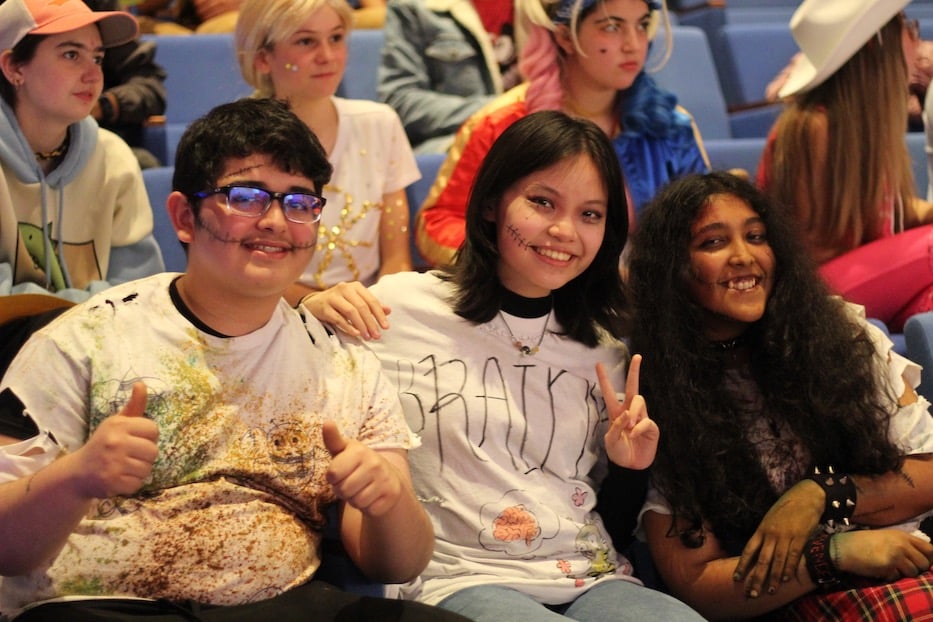 "Zombees" team members Dylan Delgado, Rain Zeng, and Moupriya Mukherjee. All are sophomores at The Hopkins School.
Throughout, spellers tapped into those moments of sheer delight, some channeling their own literary heroes, wordsmithing movie stars, and bygone decades (we see you, tie-dye-clad Hip Bees) on the cusp of Halloween. Taking the stage in swarm three, the "Zombees" dominated with "liquefy," teammates gasping in shock as the word took out every other team in the round (like "wholism," the word later became a point of contention and led to extra competitors in the final round).
Back in their seats, team members said they were thrilled to participate.
All sophomores at the Hopkins School, they admitted that they hadn't expected to move on to the last round. At school, none of them think of spelling of their favorite subject: they were tapped by teachers to compete. Their winning word was fitting, however— liquefying things is ingrained in the zombie lexicon.
"I was so nervous!" said Dylan Delgado, careful not to smudge the waxy black stitches painted onto his face. Rain Zeng added that she was too, a feeling that quickly gave way to excitement when the team got onstage.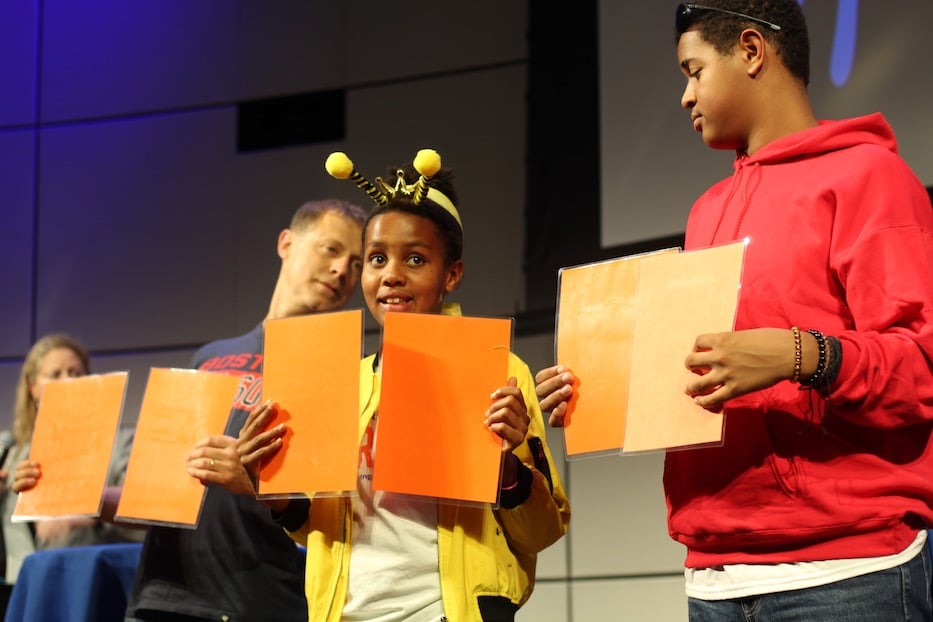 The three also set the stage for participants like Grant, who had come with his family, and ended up participating after hosts announced a "word jumble" that was open to members of the audience. On stage, he soared through words, inviting the audience to help him.
Still riding the high back in his seat—and with a gifted jar of honey in tow—he said he was happy to celebrate words and reading.
"I like spelling words!" he said. "Like, if someone gives me a word, I can usually spell it. Like 'hypothermia.' This feels great. It just feels great."