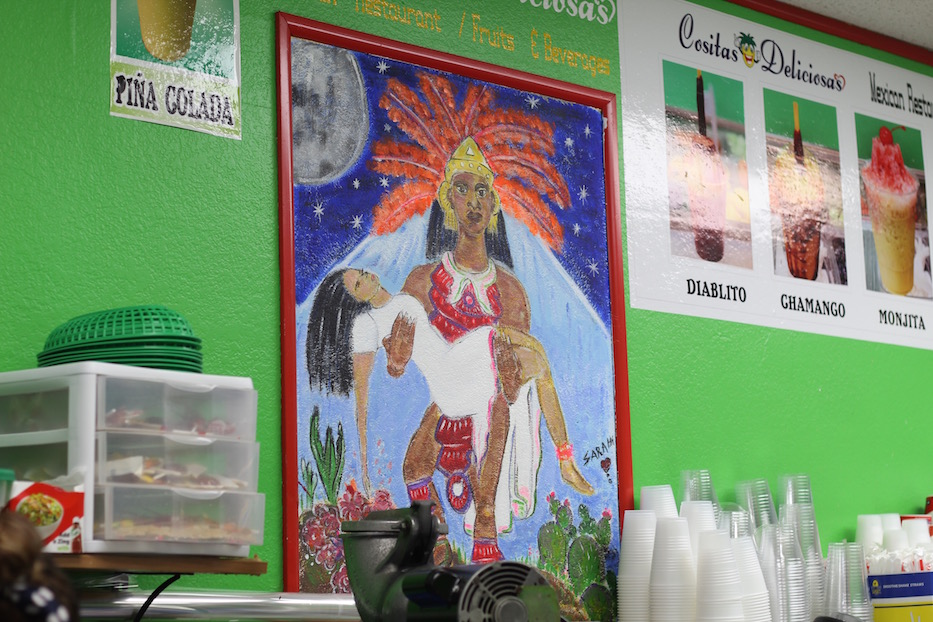 Fair Haven | Public art | Arts & Culture | Visual Arts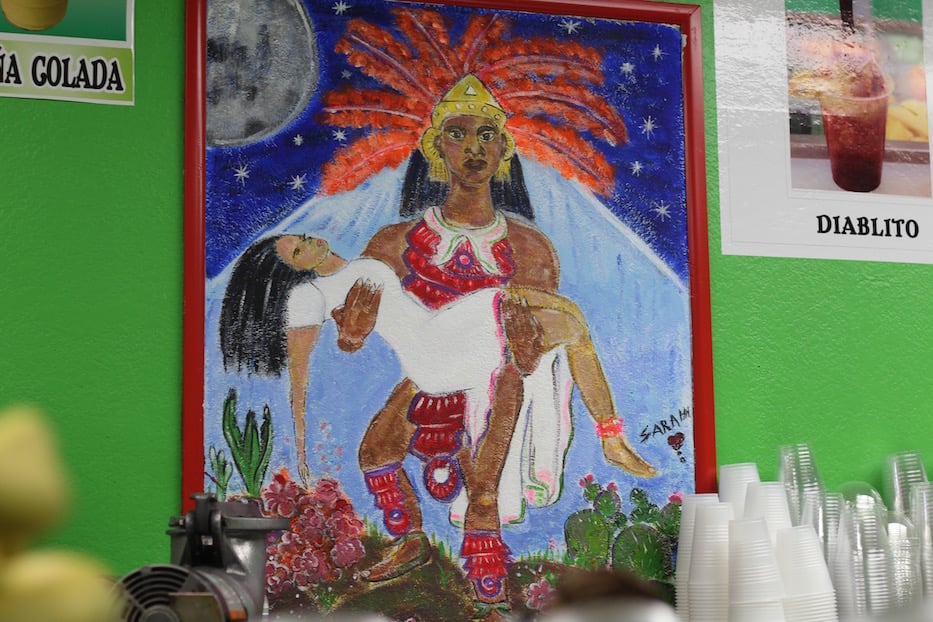 Lucy Gellman Photos.
The warrior Popocatépetl holds Iztaccíhuatl in his arms, eyes locked on the viewer's. His legs bend gently at the knees, feet planted firmly on the ground. Cacti and wildflowers bloom at his ankles. In his hands, Iztaccíhuatl seems so small, her head falling back. Her black hair cascades past her shoulders toward a cluster of blood-red blooms. A volcano rises behind the two, bathed in moonlight.
The centuries-old legend comes to life from Sarahi Zacatelco, a Fair Haven artist who hopes to turn Grand Avenue into the city's next public art corridor one storefront at a time. Earlier this month, she completed a small-scale mural at Cositas Deliciosas, a take out restaurant and juice shop that sits between Fillmore and Poplar Streets on Grand Avenue. The request came from co-owner Cecilia Serrano, who operates the shop with her husband Miguel Xicotencatl.
"There is so much art downtown," Zacatelco said outside the Grand Avenue shop, as motorcycles buzzed by in Saturday afternoon sunshine. "I think they forget about this area. I'm not seeing representation from Latina artists in this city. My goal is to make more art in the neighborhood."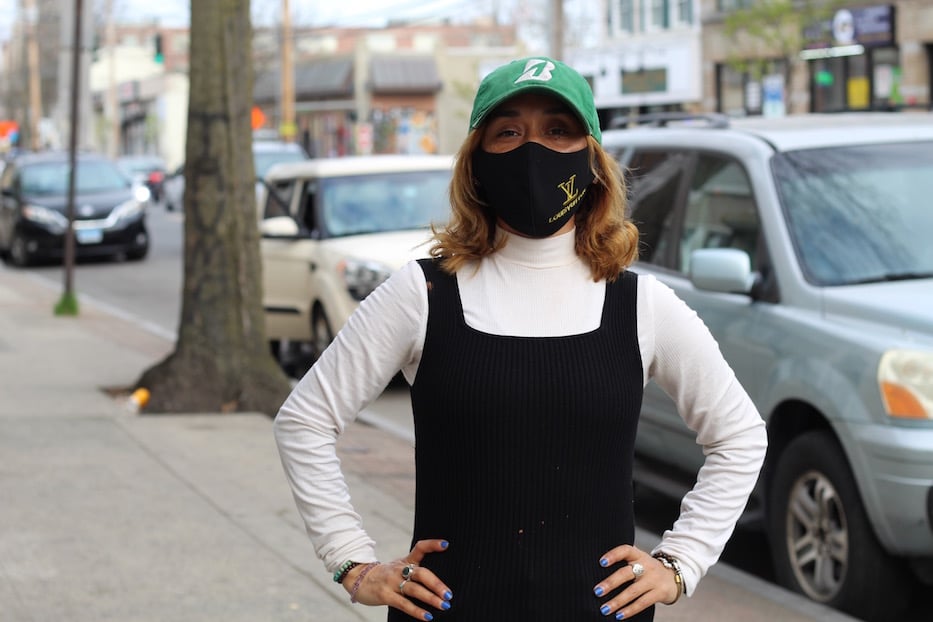 Sarahi Zacatelco: Art is my life.
Zacatelco, who also helms the podcast Mujeres Del Siglo XXI, has been working to gain a foothold in the city's public art scene on and off for years. Raised nearby on James Street, she grew up in the Fair Haven neighborhood when "there were no stores like these," she said. She grew up loving art, nurtured by an Oaxacan grandfather who taught her how to draw on trips back to her mother's native Mexico. She was hooked by the time she was seven or eight years old.
While studying painting and the plastic arts in the Bronx and Spanish Harlem, she was inspired by the sheer volume of large-scale, public work she saw by and for Latinx artists. Growing up in Fair Haven, she knew there were artists in the community—they just weren't tapped by the city for projects. After moving back to New Haven from New York during the pandemic, she wondered why so many of the city's walls were conspicuously bare. Every time she saw a new work go up downtown, she could feel herself getting frustrated.
"I think this neighborhood is getting better and better," she said. In the stretch of Grand Avenue between the Mill and Quinnipiac Rivers, she sees a thriving and largely self-sufficient business district in need of bright, large-scale public art and murals that celebrate the neighborhood's kaleidoscopic community. Sweet, dough-scented bakeries sit shoulder-to-shoulder beside delis, beauty supply stores, barbershops, and markets where fresh papaya, calabaza squash and packets of dried hibiscus are often easy to find. Cositas Deliciosas is one of her favorite spots because of its fresh fruit smoothies.
Last year, she painted a series of benches on Grand Avenue and State Street, including one that sits near the school formerly known as Christopher Columbus Family Academy. She also designed a number of murals at Grand Beauty Supply last year, where Serrano discovered her artwork on a trip inside the store. The two connected earlier this year. Cositas already had one mural, by an artist who travelled back to Mexico before Serrano was able to ask for another. She envisioned more artwork on the walls.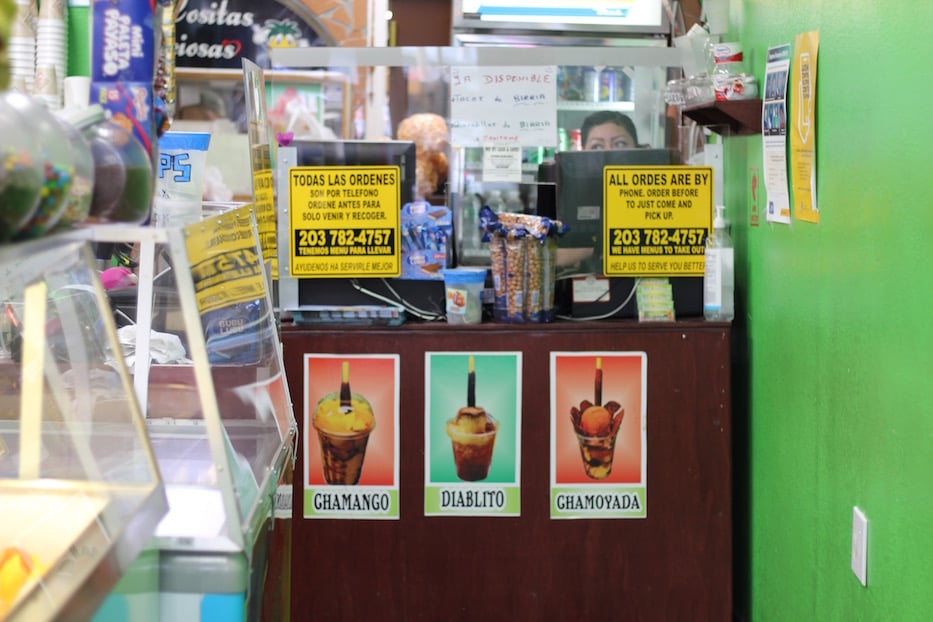 Zacatelco said she chose the scene to pay homage to Mexican culture and storytelling. According to legend, Popocatépetl was a warrior under Iztaccíhuatl's father during the Aztec Empire. Because the two were in love with each other, Iztaccíhuatl's father promised Popocatépetl that the two could marry if he returned from battle unscathed. But during the warrior's time away, a jealous suitor told Iztaccíhuatl that he had died in battle.
When she heard the news, Iztaccíhuatl was so stricken with grief that she died. Some retellings say she cried until her heart gave out; others describe what today might be understood as a hunger strike. After returning from battle to find her dead, Popocatépetl built her a tomb and vowed to watch over her. He never left the spot. The two now tower over the Valley of Mexico as volcanoes. Popocatépetl, whose bursts of smoke and ash mirror the warrior's undying love for his beloved, erupted last year.
"It's like the Mexican Romeo and Juliet," Zacatelco said.
When she was painting, she arrived at the shop at 6 a.m. each day and painted for a few hours, then headed to her own job at Tomatillo restaurant downtown. She finished the work, which now sits high behind glass cases of fruit and ice cream, in a week. In a phone call Monday afternoon, Serrano said she "feels happy with it."
Despite the pandemic, Cositas has been busy. On a recent Saturday, a steady stream of masked customers came through the door, placing orders for cemita sandwiches, fruit salads, green and red tamales, and the shop's signature mangonadas before spilling out on the sunny sidewalk to wait. Inside the shop, the mural stood watch over the whirr of blenders, intermittent ring of the phone and rise and fall of conversation behind the counter.
Zacatelco said that she hopes to install another work at one of the nearby delis over the summer. Going forward, she said that she also wants to see more support for artists from Fair Haven, particularly women.
"Art is my life," she said. "I want people to call me for it. I want better support as a woman entrepreneur."
Cositas Deliciosas is located at 271 Grand Avenue in New Haven. Sarahi Zacatelco is on Facebook and Instagram.