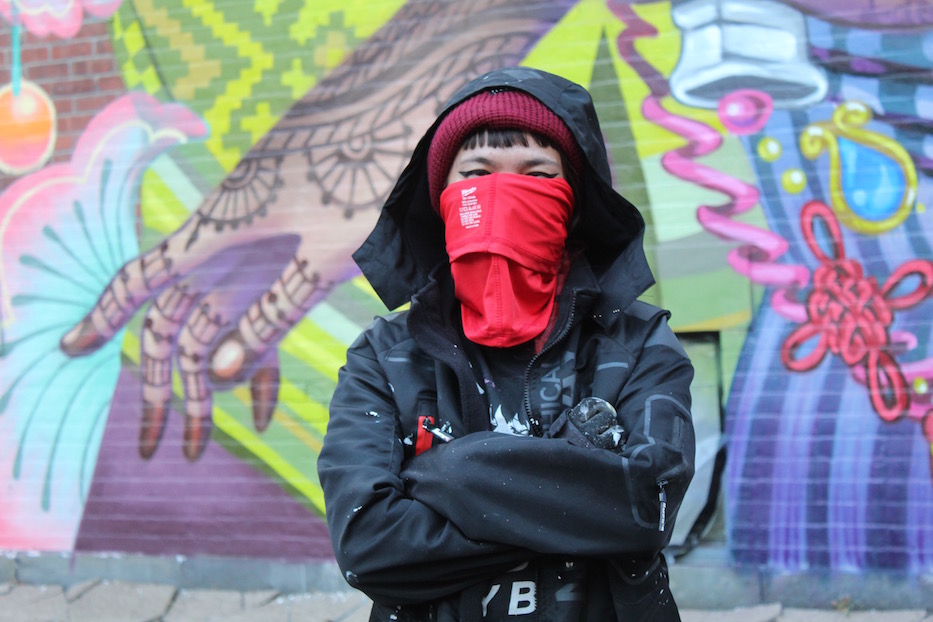 Downtown | Public art | Arts & Culture | Visual Arts | Yale University | AAPI | Yale AACC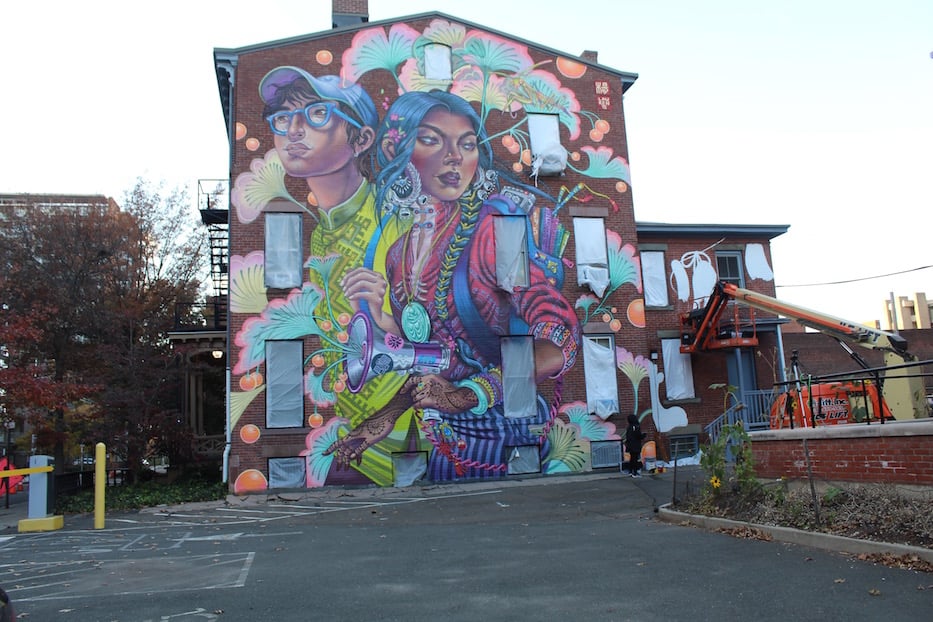 Lauren YoungSmith's mural Finding Home at Yale's Asian American Cultural Center. YoungSmith, who also goes by Lauren YS, is @squid.licker on Instagram. Lucy Gellman Photos.
The two figures are visible from blocks away, rising from the asphalt sprawl of a Crown Street parking lot. One looks toward the street, their eyes wide and focused behind thick blue frames. The other looks back over their shoulder, a long blue-and-gold braid falling over their chest. Just left of center, a purple and white megaphone crackles to life. Turquoise vines and pink-edged ginkgo leaves sprout from its plastic mouth.
Titled Finding Home, the mural has arrived in downtown New Haven courtesy of Lauren YoungSmith, a public artist and freelance illustrator based in Los Angeles. Earlier this month, they completed the work during a three-week residency at the Asian American Cultural Center (AACC) at Yale, which is celebrating its 40th anniversary this fall. YoungSmith said the project was intensely collaborative, with several rounds of input from members of the ​​Asian American Students Alliance (AASA) and the wider AACC community.
"It's a beautiful way to celebrate a birthday for a space," they said on a recent Tuesday, taking a seat on the curb after hours working on a hydraulic lift. "There's so much vibrancy happening on the inside. So now, we can have something on the outside."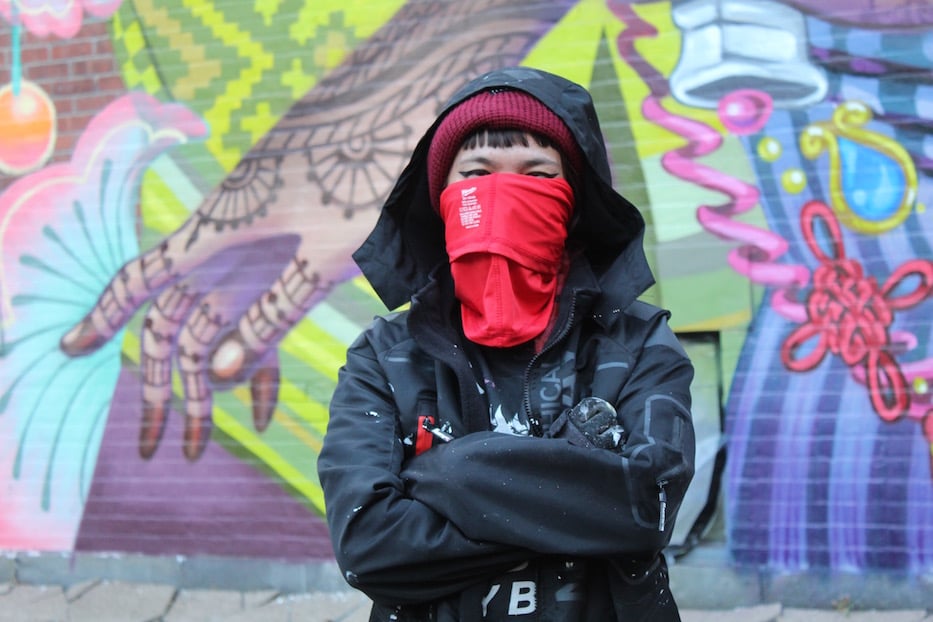 Lauren YoungSmith, who also goes by Lauren YS: "It gets people to recontextualize what they understand about the diaspora."
The work on the mural began earlier this year, when the AACC put out a call for artists and ultimately selected YoungSmith from a group of seven finalists. YoungSmith, who is second generation Chinese-American, dug into the center's mission and history, discovering a place steeped in a culture of leadership, intersectional activism, and fierce advocacy that continues today.
In the 1960s and 70s, students in the then-nascent AASA stood in solidarity with the Black Panthers, ultimately putting their support for Bobby Seale in writing as May Day rocked New Haven. In the 1970s, those students pushed for and ultimately got a center of their own. By 1985, they had started publishing a newsletter, were defending the rights of Asian students at Yale—then fewer than 500—and working to communicate the needs of the student body to university leadership.
YoungSmith wanted to include that history and also look toward the center's next several decades, they said. After submitting an initial design, they listened to students and staff who wanted to see more South and Southeast Asian representation. They folded in direct suggestions one by one, from henna and bangles to dharma knots to Filipino, Mongolian and Nepali fabric designs. The mural's two figures represent "the push to have a more melanated presence on the wall," they said.
One looks forward, toward a bright future, while the other looks back at the past. It's an acknowledgement of the shoulders that current students stand on.
"​​Lauren was open to having community feedback incorporated into the final mural design, which is important given the history and mission of the AACC being a student-centered space," wrote AACC Director and Yale College Assistant Dean Joliana Yee in an email Friday.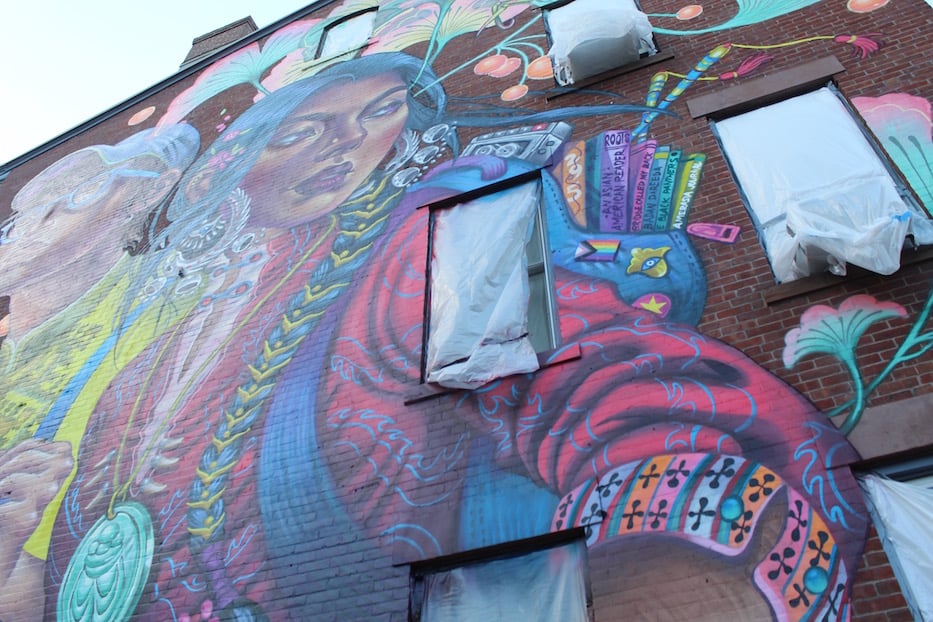 The level of detail includes cicada and praying mantis imagery, garments from Nepal, Pakistan, the Philippines, and Mongolia, and hairstyles that are customary in Pakistani weddings.
In the final mural YoungSmith's sense of close listening is palpable; dozens of student directives have made it into the bright, spray painted work. Looking over Crown Street, one student pulls the blue straps of their backpack and takes a step forward. There's a sense of movement there, as the embroidered green fabric of their Barong tagalog moves along with them.
Next to them, a fellow student holds a megaphone in one henna-painted hand. The other hand pauses gingerly at their side, long fingers extended. Above a stack of bangles, their bright, high-collared dress leads to Mongolian-inspired earrings, shaped like thick crescents. A viewer's eye catches on a backpack bursting with Dandiya sticks, a stack of books, and a tape recorder.
YoungSmith invites a viewer to stay and unpack layers of meaning, from the competitive Raas teams that now populate Yale's campus to the continued weight of protest and oral history. The books are all direct suggestions that YoungSmith received from students, including the AACC's own magazine 295 (its address on Crown Street), Barbara Noda's This Bridge Called My Back, a volume on the Black Panthers and work of Pakistani poet Fahmida Riaz.
Veined gingko leaves and their ripe, peachy-orange berries appear throughout the frame, a nod to both their native China and their ability to thrive in in New Haven and North America. A praying mantis scuttles over a third story window; a cicada appears on a heavy jade pendant. A red and gold chop mark bears the artist's signature in the upper right. In the center of it all, the two figures look like they could be on the way to a protest or rally, or maybe a student meeting at the center.
"It gets people to recontextualize what they understand about the diaspora," YoungSmith said.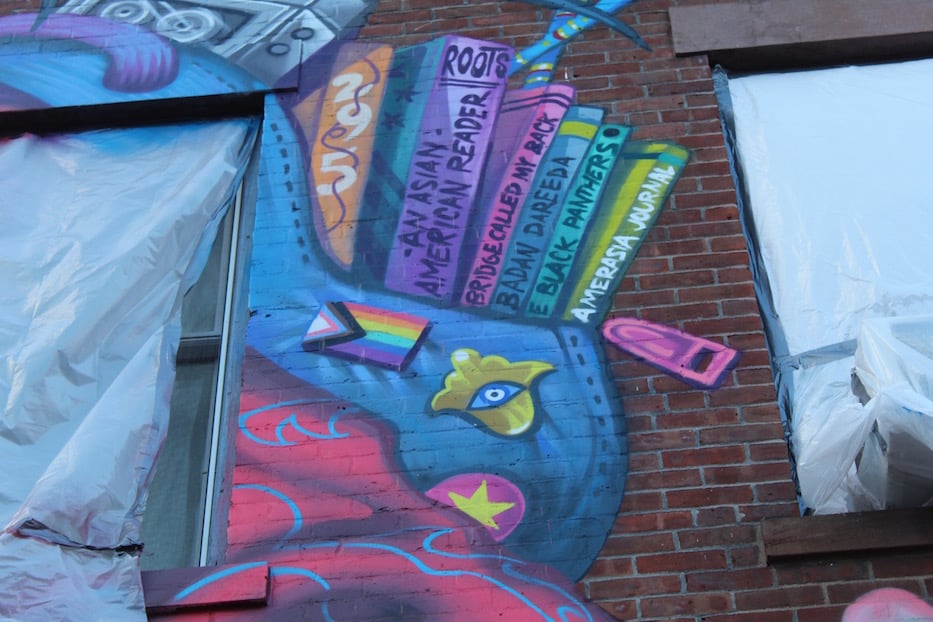 Centuries-old symbols share space with contemporary ones, like Daniel Quasar's 2018 Progress Pride flag.
Noting that Asians and Asian Americans are often "invisibilized and treated as a homogeneous population," Yee called it a "bold representation of the Asian diasporic culture as well as the AACC's 40-year history that we hope serves as a reminder of our historical, present day and future impact."
"Given that the AACC is located on the edge of campus, we hoped that the mural would not only engage the Yale community but also local New Haven community members and visitors who frequent the local establishments on Crown and High streets," she said.
On a recent Tuesday, YoungSmith and artist Louis Amadeus Dain Jensen stood three stories up on a forklift, finishing a final section of the mural before dusk fell around the lot. The last touch—a pair of shoes to the right of the large image—is a nod to the AACC's humble beginnings in small, cramped spaces that were largely out of public view. In the 1970s, students started out of one room in the basement of Durfee Hall. One room then became two in the basement of Bingham Hall. Neither were large enough to hold a growing AASA.
In 1978, the student group appealed to Bart Giamatti, then president of the university, for a center of their own. When Giamatti arrived for a visit to the Bingham Hall basement, he saw that students, faculty and staff had removed their shoes before entering the room. Dozens of pairs of shoes stood between his body and the space.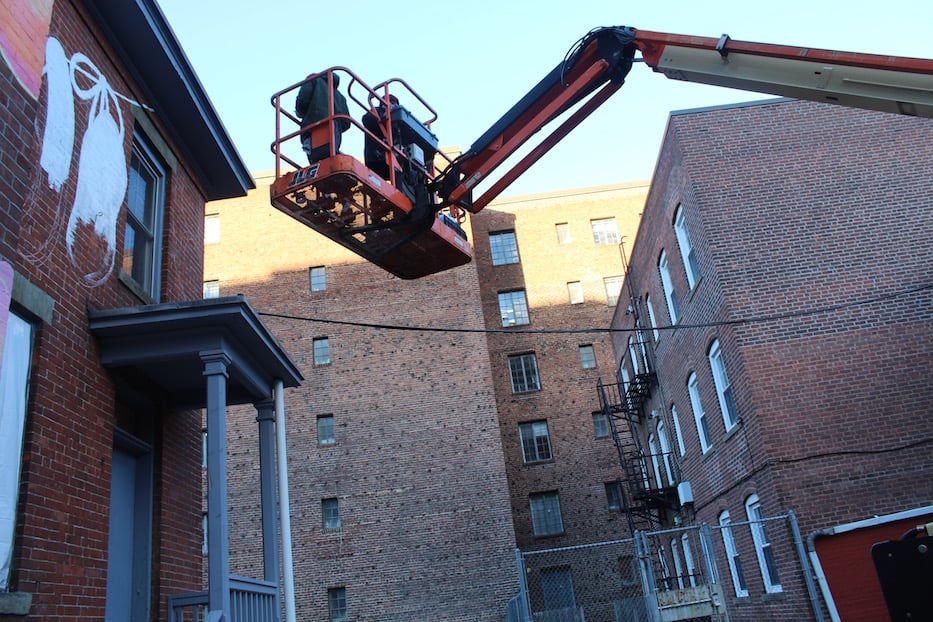 "President Giamatti and his aide could barely make it through the shoes and the people to their seats, and we all had a cordial discussion—he said he'd look into it," alum Grant Din remembered in a reflection published in 2011. "AASA students including Mary Li Hsu and others continued to work to get the center after we graduated in 1979, and we were thrilled to hear about their successful efforts."
For YoungSmith, it is also an homage to their own family. Decades ago, the artist's maternal grandparents immigrated from China to Hawaii, where they helped raise YoungSmith for roughly half the year (the other half was spent in Colorado). Their grandparents "just wanted us to be 'normal,'" YoungSmith said. The artist learned Spanish and went to Stanford to study the arts. They built a career that now spans the globe, building an audience from L.A. to Peru to Iceland.
But when their grandparents passed away a few years ago—their grandfather first, six years ago, and then their grandmother in 2019—YoungSmith clawed through their sorrow and began to fold Chinese mythology and folk art into their large-scale designs. After the pandemic put things temporarily on pause—"I wondered, like, are people going to want murals anymore?" they mused—they returned to public art this year. Before coming to New Haven, they completed six murals in two months.
This year, their work has included a series of murals against Asian and AAPI hate, including a remembrance of the six Asian American women killed in the white supremacist shootings in Atlanta last March, a vivid reminder to protect elders, and a memorial to the victims of the October 1871 mob killing of Chinese people in L.A.. This project, they said, gave them space to take a fresh and broad look at the Asian diaspora.
"I've learned so much about other Asian American experiences," they said. "It's an honor to represent this."
Follow Lauren YoungSmith's work at @squid.licker on Instagram. Yale's Asian American Cultural Center is located at 295 Crown St. in downtown New Haven. Learn more about their work and their history at their website.