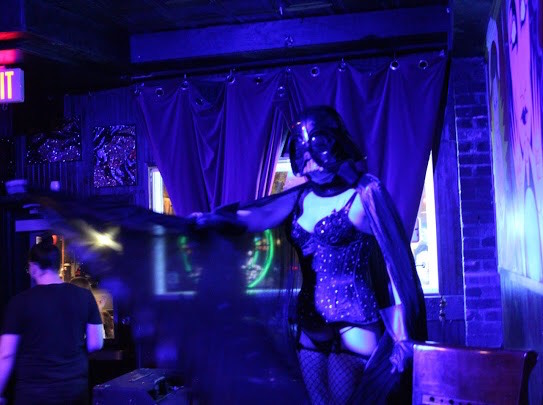 Arts & Culture | Three Sheets New Haven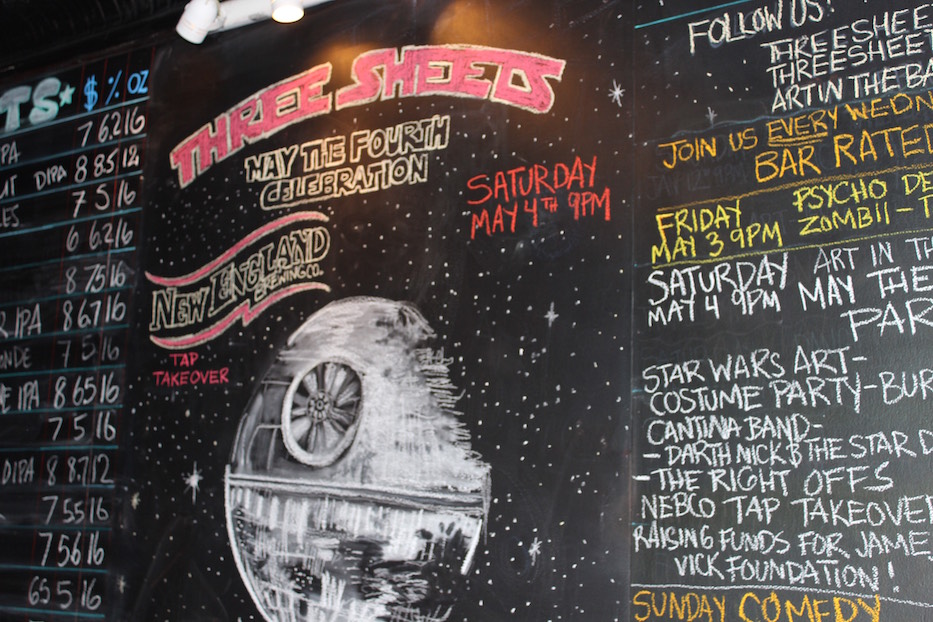 At first, it seemed like any other Saturday night at Three Sheets New Haven. The patio out front was populated with cigarette smokers. Huge plates of fried delights marched out of the kitchen. The walls were adorned with prints and sculptures from local talent—none of which is out of the ordinary for the local watering hole.
Then a man in a Chewbacca costume walked in and ordered a beer.
Chewbacca—who did not disclose his real-life name—was one of a few dozen to come out to "May The Fourth Be With You," a celebration of Star Wars Day curated by Lipgloss Crisis (Sara Scranton) as part of the bar's monthly "Art In The Back Music In The Front" series. The event doubled as a fundraiser for the James Vick Foundation.
In addition to work from local talents Sotorios Fedeli, Eric Mikita, Toast Designs, Michael Cooper, Joe Wilson and Josh Philie, the evening featured several tributes to Star Wars creator George Lucas, whose films have earned him lifetime celebrity status in communities across the globe.
There were several folks who came in costume, including at least one full out Chewbacca. As the evening got underway, he and a friend settled into a corner and together attempted to figure out if he'd be able to drink a beer with his mask still on. No dice, they soon realized. It wasn't long before he was putting it back on, though, as he quickly became a magnet for giddy patrons. They clamored over each other to take a picture with a faraway galaxy's favorite copilot.
Chewbacca was gone within the hour, but he wasn't the only attraction for fans of George Lucas' work.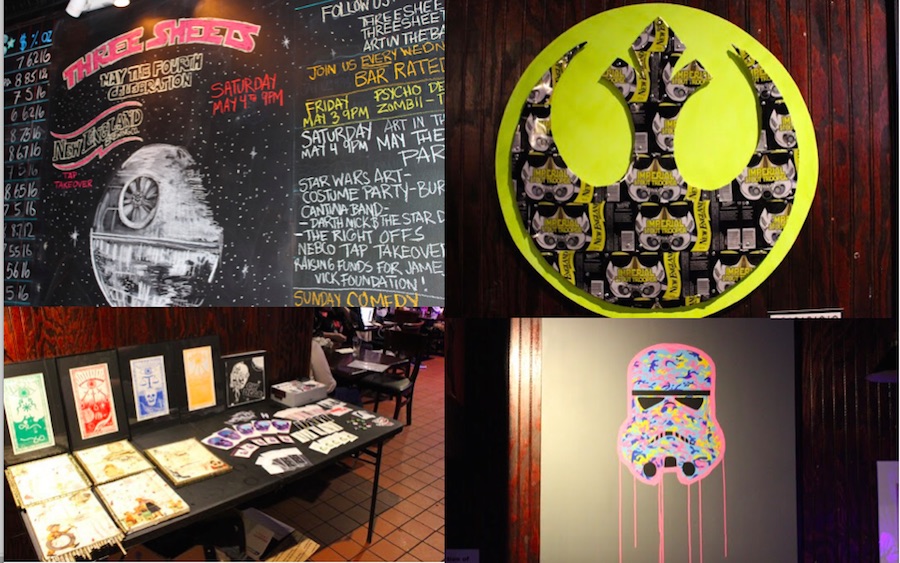 One piece in particular that was a big hit was a sculpture in the shape of the Rebel Alliance insignia made from cans of New England Brewing Company's limited edition Imperial Stout Trooper lager. The sculpture was made by local artist Adam Weimann, who also displayed C-3PO prints and TIE Fighter lapel pins, along with other non-Star Wars-themed art. Weimann said that as a Star Wars fan and a friend of event organizer Sara Scranton, joining the show was a no-brainer.
It wasn't all quiet sips of beer while admiring the work. Scoring the event were two bands that brought wildly different energy to the night. Early in the night was WiRED, a jazz quartet bringing a mix of zippy but mellow jazz standards and a couple of Star Wars classics, like the fan-favorite "Cantina Song" (which was a hit among Three Sheets regulars and Star Wars fans alike).
Following them up was The Right Offs, a three-piece rock trio who filled the space with raucous, thumping energy as the night marched closer closer to May 5th. Between the two performances, the bar was treated to a fierce burlesque performance by none other than Darth Vader.
Some attendees hadn't been aware of the night's festivities, but were transfixed enough to stay for much of the night. New Havener Abby Claire said she'd come to the bar to blow off some steam after work. , but was was pleasantly surprised to find A New Hope being projected onto a wall by the bathrooms. She spoke about the wide range of ages and personalities at the show, likening it to the universal appeal of Star Wars.
"Or maybe we're all just different generations of nerds," she joked.
Moments later, the famous horns of "The Imperial March" started as Darth Vader made her way to the stage. Claire—and this reporter—came to a hush and stood transfixed as Vader began taking off her jacket. When she sauntered off stage, Claire noted that "maybe Star Wars isn't just for nerds after all."
As the night wound down, a man in a Han Solo outfit stood alone. After introducing himself as Tom (he declined to give his last name), he said that he was there "just looking for my Wookie."
It was with great regret that I had to tell him he'd already left.