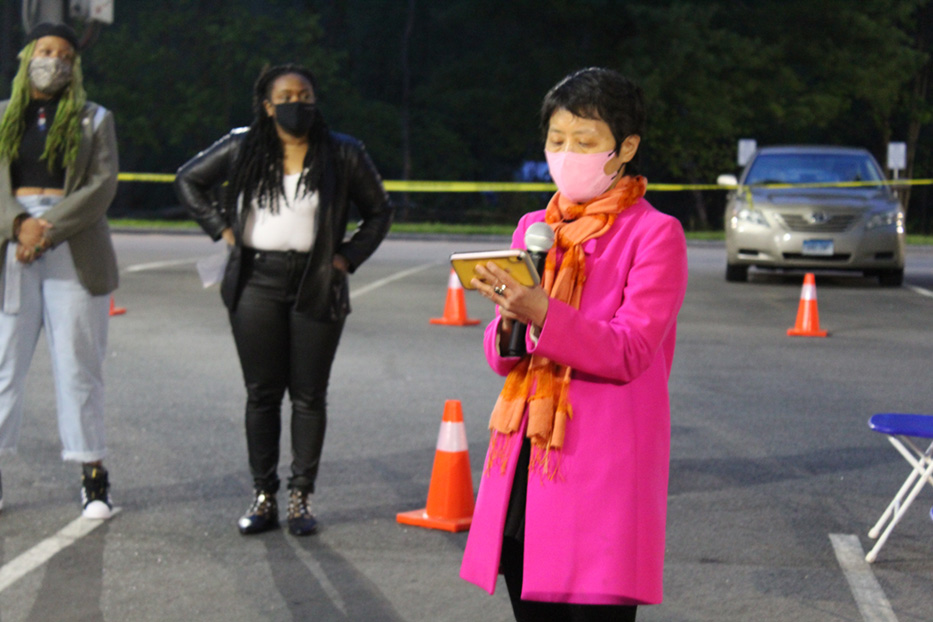 Poetry | Southern Connecticut State University | Black Lives Matter | COVID-19 | Arts & Anti-racism
Hartford-based poet Lynette Johnson performs "Self-Care." Arturo Pineda Photos and videos.
Lynette Johnson stood in-front of an altar filled with candles and pink and purple carnations. Before more than 40 people she recited an untitled poem honoring the lives of Black people lost to police and state-sanctioned violence.
"We have said their names," she read. " The names their mamas gave them, the nicknames their besties called them Bri, Trey, Mike painted each letter of their names in murals, on walls on streets, etch them on picket signs, stitch them on mass, raised them on t-shirts tattooed them on forearm, carve them in tombstones, read them in obituary printed them it headline whispered them in prayer."
Thursday evening, students, faculty, and community members gathered outside of Brownell Hall at Southern Connecticut State University (SCSU) for an open mic in response to the Derek Chauvin verdict earlier this month. Chauvin, a Minneapolis police officer who murdered George Floyd last may, was found guilty of second- and third-degree murder and second-degree manslaughter after he killed Floyd, an unarmed Black man, last year.
The event was sponsored by the Racial and Intersection Justice Group (RIJG), Student Activism Committee, and Black Lives Matter New Haven. Throughout the night, people spoke about a range of topics from systemic racism in health care to the politics of motherhood and a call for white allies to step up in anti-racist work. Many of the speakers responded directly to the Chauvin verdict and the state-sanctioned murders of other Black people through spoken word and prose.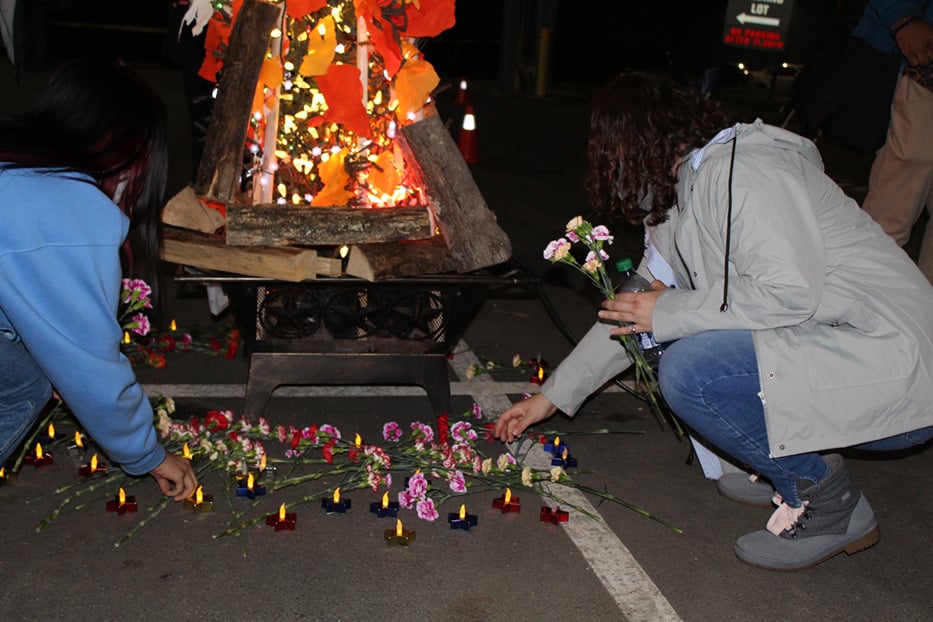 People present chrysanthemums and candle tealights as an offering to George Floyd and the other victims of police state-sanctioned violence.
Cassi Meyerhoffer, an associate professor of sociology at SCSU and one of the organizers of the event, spoke about the need to make space for students in response to the verdict—and to a difficult year marked by Covid-19. Creating these spaces will make the university a more welcoming space for students of color, she said.
"Folks have been holding so much this past year," she said. "We want them to be able to share what is in their hearts," she said. "Regardless of the verdict there is so much work to be done."
Ala Ochumare, a cofounder of BLMNHV and co-emcee, spoke about gathering with friends and organizers after the verdict came down last week. She and most people she knew had expected a non-guilty verdict based on previous trials. She also spoke about the complexity of a guilty verdict as it relates to police abolition.
"I'm very cynical about believing that you know, he wouldn't be found guilty, even though knowing that there was a chance," she said. "It's also now possible for more people to think about, 'What is abolition? What does it mean to defund, divest and reinvest in our community?' How do we get transformative justice, what is transformational justice? How do we heal? How do we make sure that we are actually moving equitably?"
Jonah Cragget performs "Water."
Jonah Craggett, a masters of fine arts student at SCSU, recited a series of poems touching on the transatlantic slave trade and the idea of Black futurity. Specifically, he focused on the idea of Black people in space. In a poem titled "Water," he spoke about a history of the transatlantic slave trade and the mass killing of Black slaves.
"There are an estimated one million black bodies at the bottom of the Atlantic Ocean / the corpses of slaves hugging the sandy reefs / who will retrieve their bones? / It seems like black skin was made for water," he read.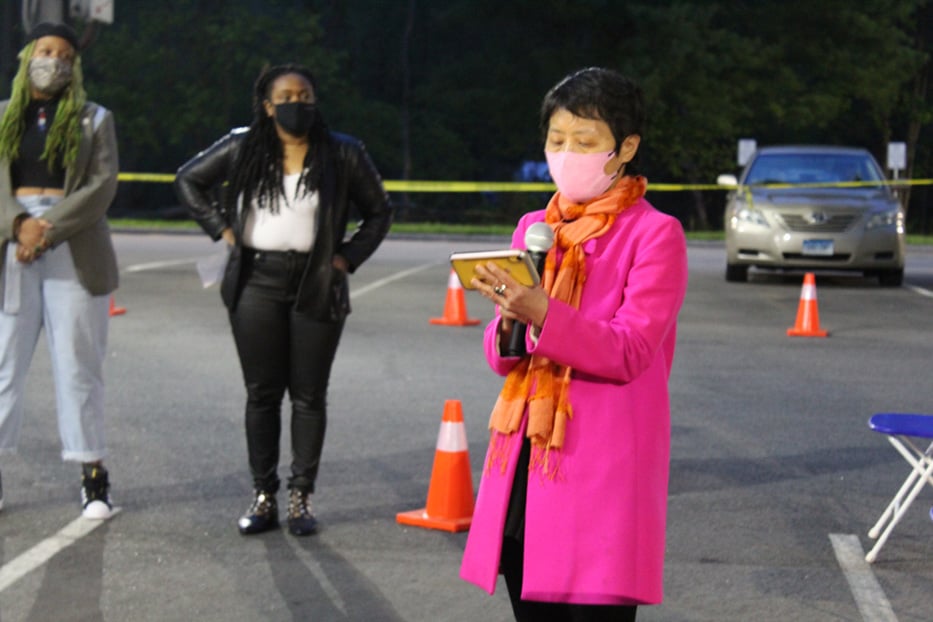 Trisha Lin director of Women's and Gender Studies at SCSU
Throughout the night, faculty and administrators from the university spoke about the need to push the university on its commitment to anti-racist practices and diversity and inclusion. Trisha Lin, director of Women's and Gender Studies at the university , spoke about the need to acknowledge a settler-colonial history that helped not only found SCSU, but also divide marginalized communities. She pointed to the erasure and exclusion of Indigenous people as a foundational evil that still defines university culture.
"Today I stand here refusing, refusing the divide and conquer by the settler colonial machine," she said. " I stand here against anti-Asian, APPI violence ... every single missing and murdered Indigenous women, girls, two-spirit people. I stand against all the settler colonial tactics designed to set us apart and pit us against each other. Justice work is always intersection and interconnected."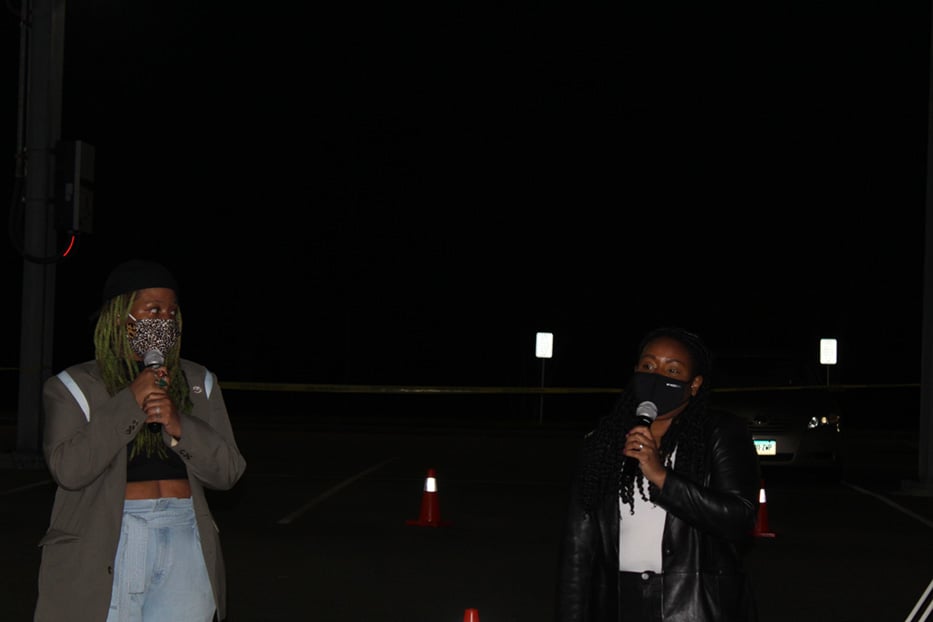 Ala Ochumare and Shioban-Carter David, co-emcees of the events.
Siobhan Carter-David, a professor of history at SCSU and co-emcee, echoed Lin's sentiment by urging the audience to learn about the history of oppression and racism in the country. She offered the 1992 Rodney King Riots in Los Angeles as a historical example of violence against Black communities. She also cited the murder of Ma'Khia Bryant by a Columbus police officer as the most recent example of a young life lost to police violence.
"It's just really painful to think about how little value Black lives have for many Americans," she said. "I know that there are millions of people in this country who don't care about their lives at all," she said. "It is really hurtful to see people hear reports of the death of a young girl who never got the chance to grow."
SCSU senior Andreina Barajas Novoa recited the story of how the health care system failed her mother numerous times, leading her to no longer trust doctors. Her mother visited doctors after she fell from a ladder, injuring her leg. On another occasion, after her C-section scar opened up after 22 years. In both of these cases, she said that her mother's pain was not taken seriously, leading to a delayed diagnosis. She was sent home with no treatment. She and other women of color, in particular Black women, have been failed by the health care system she said.
" I don't understand why people of color cannot be treated as equals," she said. "I can't understand why people believe that we don't experience the same way, the same pain that white people do. I wonder every day how different my mom would have gotten treated if she was a white woman. Would they have finally seen her as human?"
Later in the evening, senior Staché Jones delivered a poem speaking to the police and the brutality of Blackness in America. She does not consider herself a poet, she said, but felt it was necessary to take up the space.
"I will not sit to write the story of your life and unfinished plight with no resolution / I will not make peace with your death/ I will not find comfort in your extermination / I will not bear witness to your hashtag hearse / I will not allow them to extinguish your voice."