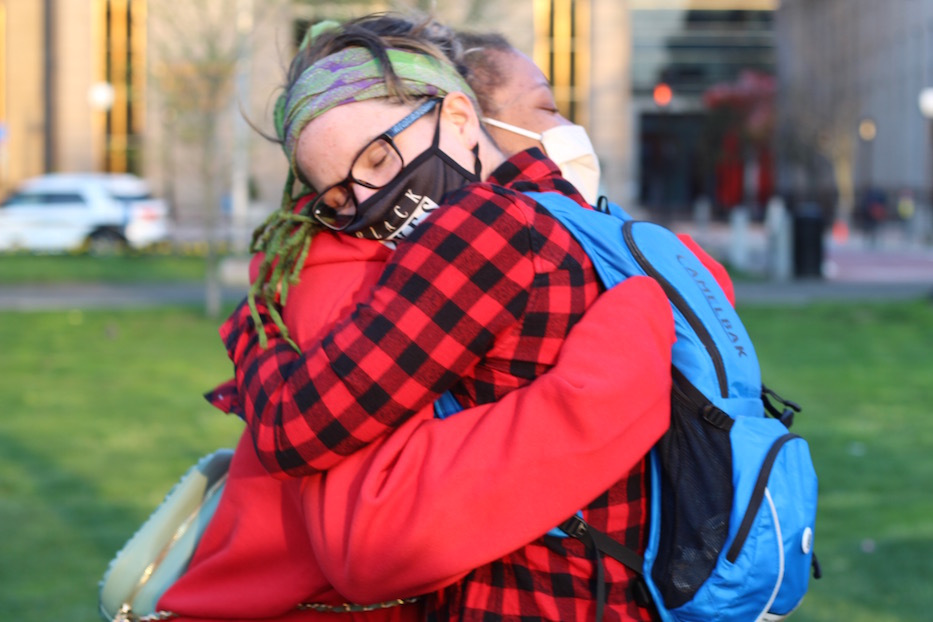 Downtown | Faith & Spirituality | Poetry | Arts & Culture | Black Lives Matter | COVID-19 | Arts & Anti-racism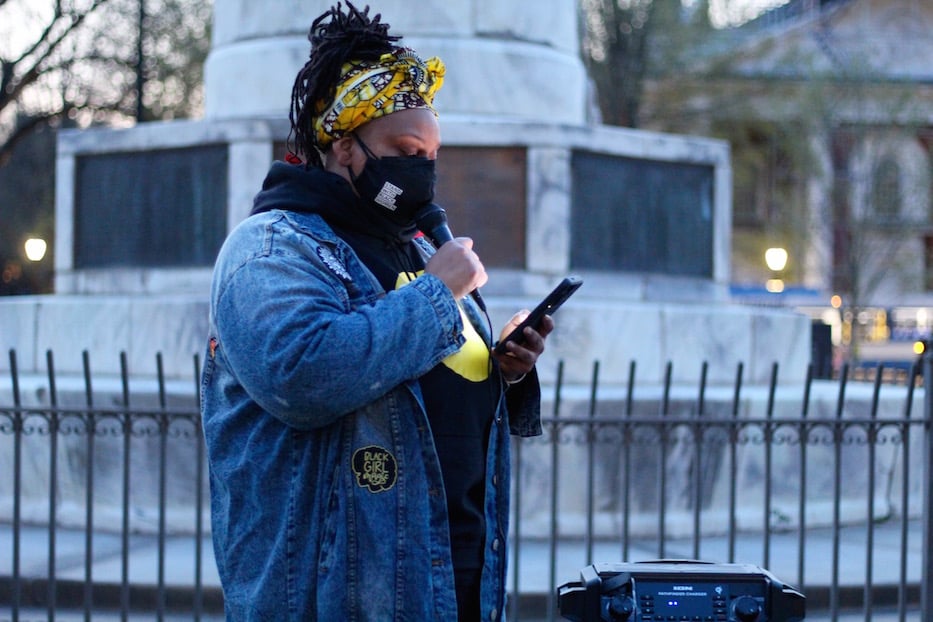 Sun Queen: We deserve to live. Lucy Gellman Photos.
Sun Queen lifted the mic to her mouth, ready to offer a benediction. Behind her, lamps on the New Haven Green glowed yellow-orange. A flag flapped loudly in the wind. Just hours before in Minneapolis, a jury had found Officer Derek Chauvin guilty of three counts of murder. Moments before that verdict was read, an officer shot and killed 16-year-old Ma'Khia Bryant in Columbus, Ohio.
The system is complacent
That's why some of us never make it home
Our communities continue to be devastated
End the war on Black lives
How long? How long will this continue?
Tuesday evening, Queen's poem set the tone for approximately 20 artists, activists, and city residents who gathered on the New Haven Green to celebrate, grieve, process, and honor the life of George Floyd. Through poetry, prayer, and intermittent cries of "Say his name!" and "No justice/No peace!" speakers seized on the moment as a chance to work towards police abolition and push back against white supremacy.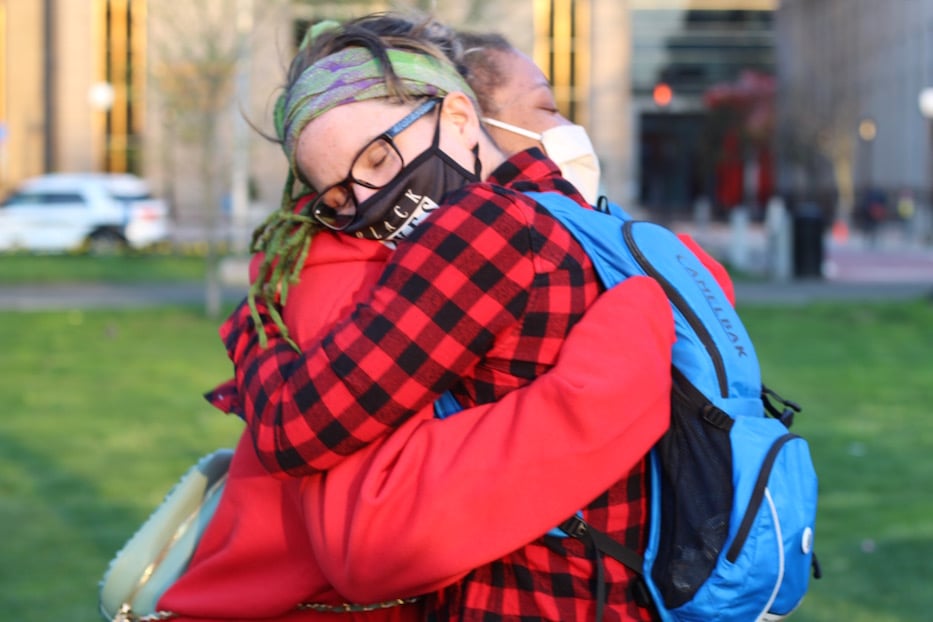 Ala Ochumare and Cassi Meyerhoffer.
"We are still fighting for justice. We are still fighting for peace. We are still fighting," said Sun Queen, who co-founded BLMNHV with Ala Ochumare, Dawnise Traore and Sy Fraiser in 2014. "I really don't know how to feel. Today for me is not what justice looks like. It was a little piece of accountability. We still have so much work to do. The system still has so much work to do."
The event was organized by Black Lives Matter New Haven (BLMNHV) with support from Southern Connecticut State University and several attendees from the Party for Socialism and Liberation. Both Mayor Justin Elicker and Dr. Karen DuBois-Walton, who has declared an exploratory run for mayor, were present early in the evening.
Throughout the event, both Queen and Ochumare said they wanted to focus on creating a space where people could "laugh, cry, air hug, be in community," said Queen. As the two prepared to speak, a person danced slowly to Jonathan Lykes' stripped-down version of "I Love Being Black" just beyond the Green's fountain. Protest chants crackled through the speaker. Queen and Ochumare bobbed around the crowd, checking in with attendees.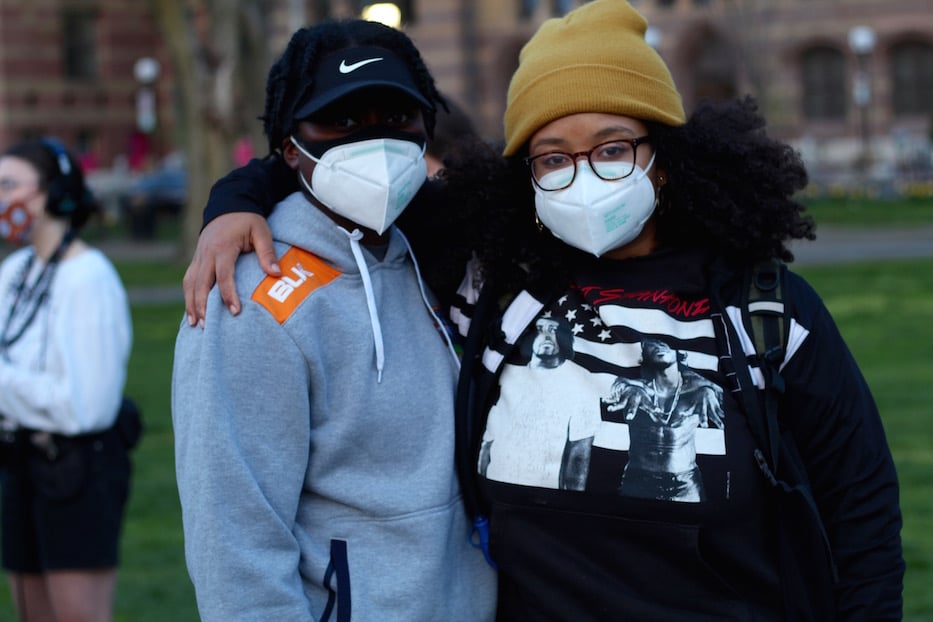 Jasmine Cheyenne (at right), a member of PSL who came with her girlfriend Carolyn, said that she is grateful for the verdict, but "it doesn't condemn the system." "It's not justice. Justice is George Floyd having his life," she said.
Spread out across the grass, several reflected on their own reactions to the days-long trial and verdict, which followed months of protest and outpourings of grief across the city and the country. Since March 29 of this year, over 65 people have been killed by members of law enforcement. Over 40 of them have been Black and Latinx.
Tuesday's gathering also came on the heels of an article published in the New Haven Independent, showing an officer who pulled his gun and his taser on a shoplifter at a Walmart on New Haven's Route 80. He later placed his knee on the man't back, injuring him.
Meredith Benson, who is on BLMNHV's philanthropy committee, came out because the case—like so many that have some before—hit home for her. She is both a Black woman and a Black mother to a 22-year-old son. She has spent the past weeks bracing for a verdict that she wouldn't be able to stomach. Tuesday, she listened with both relief and a weight on her chest.
"My heart is heavy," she said. "It's almost like—it's almost surreal. I don't know how to be. It's like, did this verdict really happen? I'm taking a minute to have some joy about it, but I know there's so much work ahead to do. This is only one case. There are so many others who have not gotten justice, or are trying to get justice. There's cases to come. We're going to be out here, doing this again for Daunte Wright."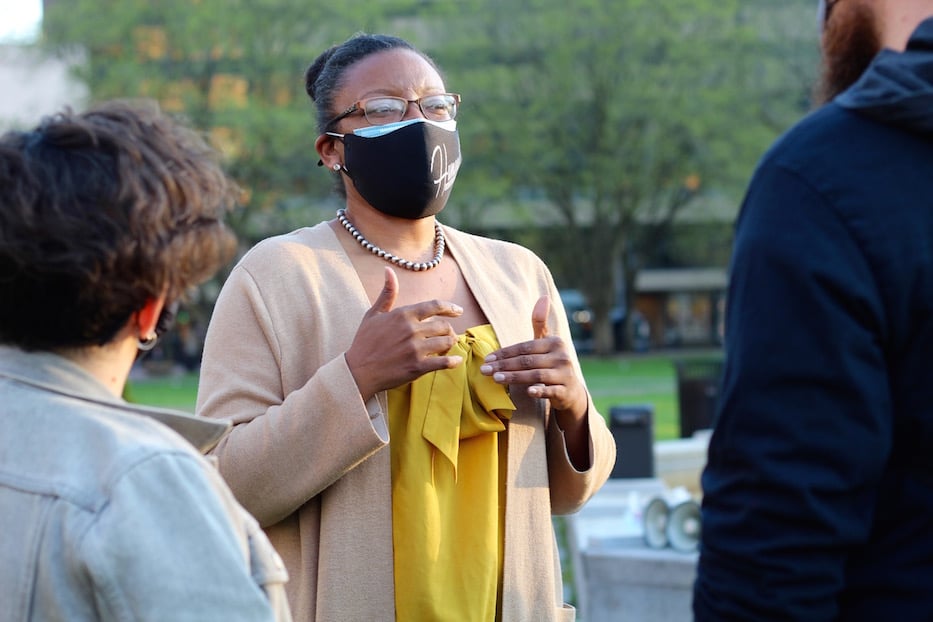 Meredith Benson, talking to Gretchen Raffa and Pastor Jack Davidson.
She also spent Tuesday as she spends many days, she added—fearing for her son's safety. Benson raised her son, Chase, in New Haven's Westville neighborhood. He played football at James Hillhouse High School and accompanied her to community events for years. She's comforted by the thought that neighbors, colleagues, former teachers and police recognize him around the city. For that same reason, she's terrified when she considers moving to another city in Connecticut, let alone another state.
"I feel there's safety in that," she said. "I can't recreate that in Trumbull or Shelton, you know. And in some sense, I feel paralyzed. I feel paralyzed."
DuBois-Walton, whose sons Kaleb and Kevin are 20 and 25 respectively, described Tuesday's news as "a big exhale" that is also part of a longer fight towards justice. Where she feels joy in the guilty verdict, she also knows that it won't bring back—or lessen the pain of losing—hundreds of Black people killed by police. In Daunte Wright's young face, she sees a Black man who could be her own 20-year-old. In the past week, she has called on the city to invest dollars from the American Rescue Plan directly into police accountability measures.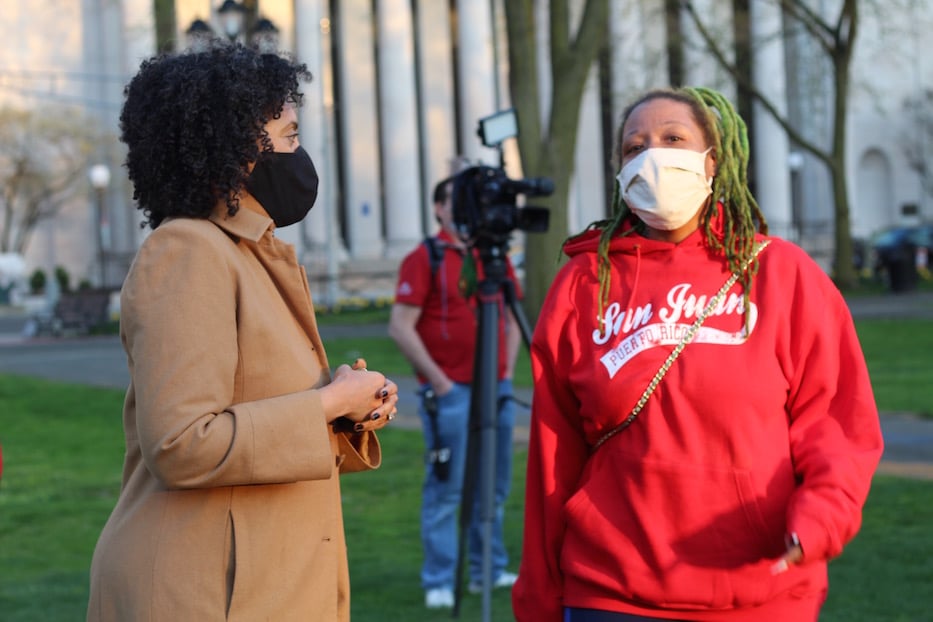 DuBois-Walton and Ala Ochumare.
"I'm relieved, and I'm also very mindful of how much more has to happen," she said. "As a Black woman, as a Black woman married to a Black man, and as a mother to two Black sons, this is all very personal. It's a worry that I have for them every time they leave the house, until I hear their keys back in the door. About how the world is going to treat them as Black men, in a world that is not kind to Black men."
During the event, speakers focused on the tie between policing, incarceration, centuries of racism, and white violence on Black bodies. Often, they directed their comments not only to those in attendance—a hodge-podge of New Haven and Hamden activists that Ochumare referred to as "preaching to the choir"—but also those that might be listening through a livestream or broadcast at home.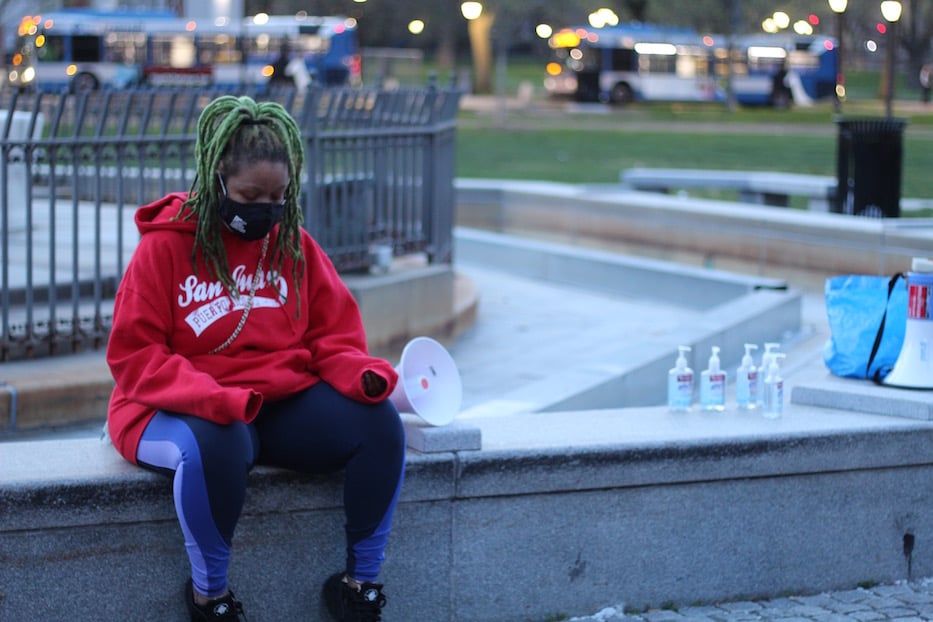 Ochumare during a moment of silence for Floyd's family.
As she spoke, Ochumare said she feels "joyfully indifferent" about the verdict, but cautiously optimistic about the number of new people who have begun to interrogate their own biases and dig into anti-racism work. She extended an invitation to those who may still be debating whether to get involved. The time is past due, she said, pointing to the recent local incident at Walmart and shooting of Bryant on Tuesday afternoon.
"We need to really be working, and getting our transformational justice practices going," she said. "Because we see that there are people who will make the right decision. And we need to grab them and hold them, and really give them the support and community that we have, that y'all provide for us and that we provide for each other."
Throughout the evening, attendees also focused on police abolition rather than reform. Cassi Meyerhoffer, an associate professor of sociology at Southern Connecticut State University, said she found herself getting frustrated during the trial, as the defense painted Chauvin as a flawed cop in a system that was otherwise working. The U.S. Department of Justice has since launched an investigation into the Minneapolis Police.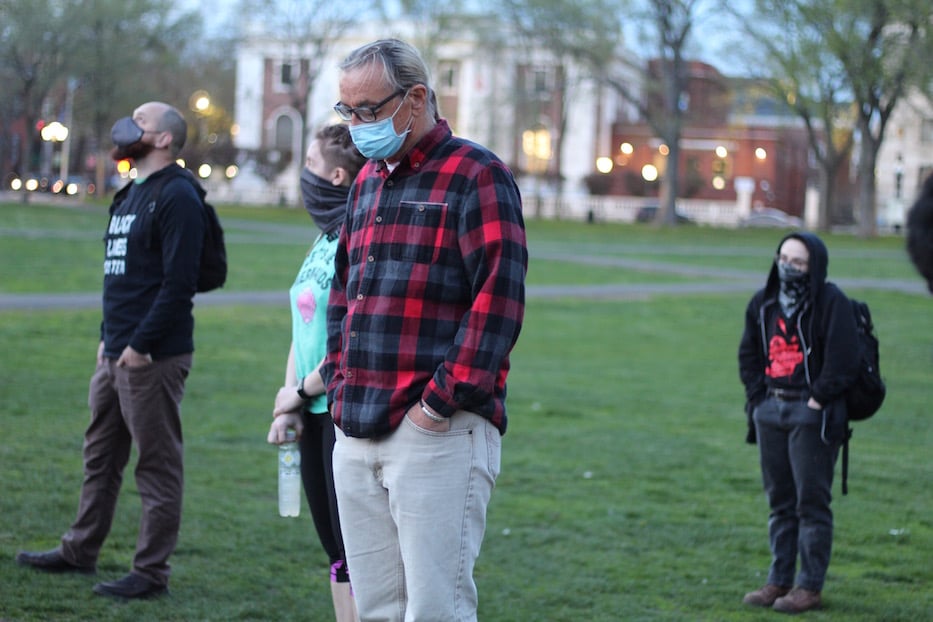 Norm Clement, who rolled in with other members of the Party for Socialism and Liberation, gave a land acknowledgement and denounced white supremacy as the same system that led to the removal of Native people from their land.
"They kept talking about how he's just an individual," she said of the trail. "Like the whole bad apple thing—which doesn't make sense, because one bad apple spoils the bunch. The bunch is spoiled. We have a problem of racism in policing … racism is built into the system of policing. In every police department across this country. And that's the conversation that we need to be having."
The lights turned on around the Green as dusk fell. Ribbons of orange and deep blue streaked the sky. Leading attendees in prayer, Pastor Jack Davidson of Hamden's Spring Glen Church reminded the crowd that he prays to "a Christ who was a brown-skinned refugee, religious minority, who was killed by state-sanctioned violence." He called on his white peers to identify and denounce white supremacy wherever they see it show up—whether it's in Minneapolis or in their own backyard.
He said that the message rings especially true for him this week, which marks the two year anniversary of the shooting of Stephanie Washington and Paul Witherspoon by Hamden Officer Devin Eaton and Yale University Officer Terrance Pollock. Washington, who was injured as officers fired 16 bullets at the couple, has since sued the involved officers. Eaton is on leave from the Hamden Police Department; Pollock was moved to desk duty.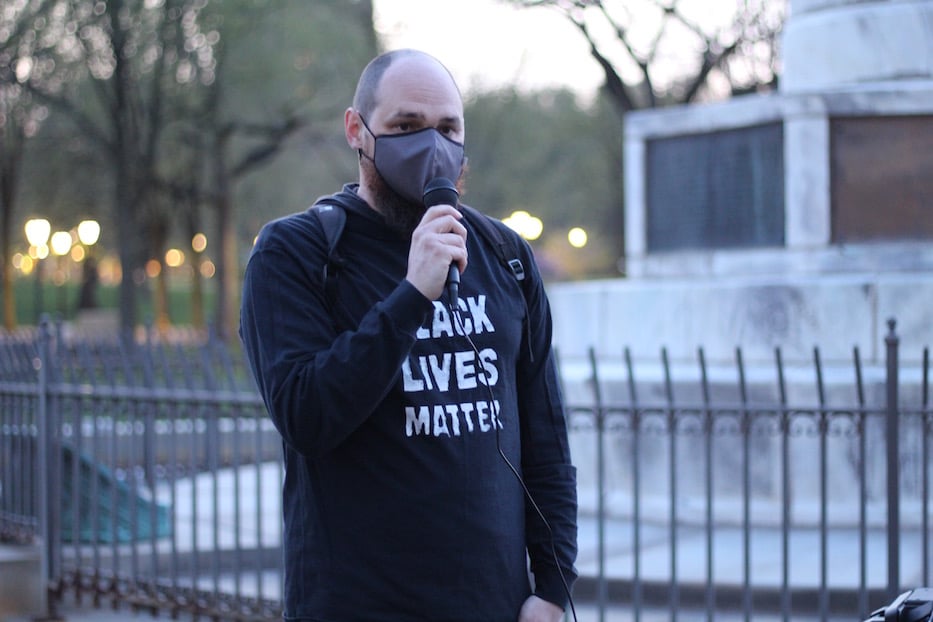 Pastor Jack Davidson: "I pray to a Christ who was a brown-skinned refugee, religious minority, who was killed by state-sanctioned violence."
"We need to believe people of color and believe Black people even when there isn't video evidence," he said. "We need to believe Black and Brown people when they share with us their experiences of racism, even when it is us who have committed the act of racism. We need to push past our white defensiveness, our white fragility, and we need to remember that this isn't just a thing that happens just in Minnesota."
Sun Queen, meanwhile, turned to poetry. As dusk turned to a dark behind her, the temperature fell. During a moment of silence for Floyd's family, a few gulls flew overhead, calling to each other as the wind picked up. There was a siren in the distance. Queen looked up, then scrolled to a poem she wrote while processing news of the trial.
As she read, she deftly threaded a needle from state-sanctioned violence in New Haven, Hamden, and Bridgeport to that in twentieth-century Tulsa and present day Minneapolis and Brooklyn Center. When she folded in a chant of "No justice!" the crowd bellowed back "No peace!"
We deserve to live, she read, and it became a mantra. We deserve to live. We deserve to live.
Black Lives Matter New Haven is collecting donations for its fifth annual spring hygiene drive. Donate at their website here, or at PayPal here. The group's Venmo is @sunqueen19 and their Cashapp is $BLMNHV.