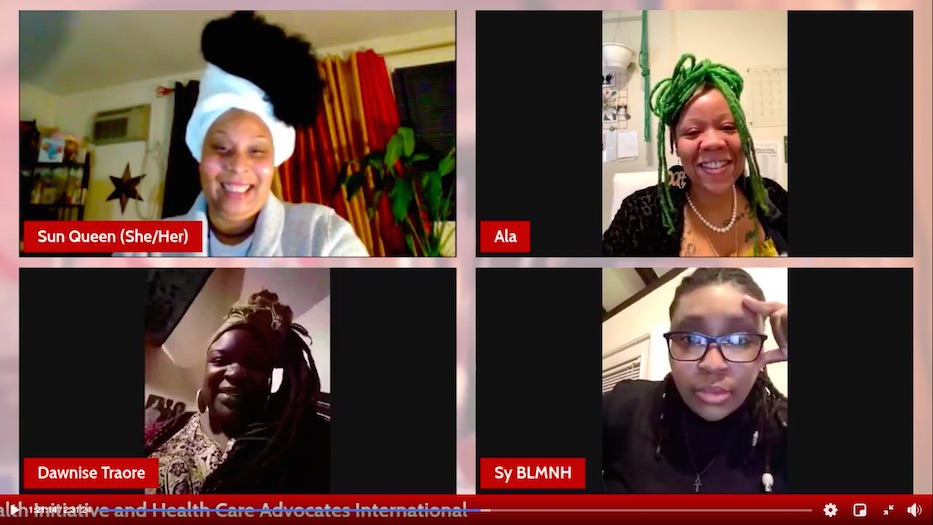 LGBTQ | Arts & Culture | New Haven Pride Center | Black Lives Matter | Life in My Days | Citywide Youth Coalition | COVID-19 | Arts & Anti-racism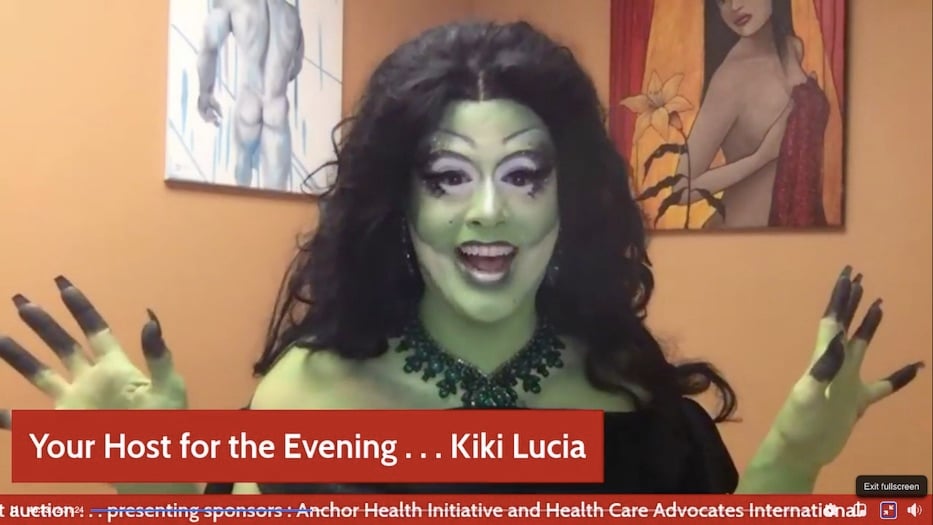 Ms. Kiki Lucia, one of the hosts of Saturday's event. Lucia co-emceed the event with Josh O'Connell, president of the New Haven Pride Center's Board of Directors. Screenshots via Facebook Live.
The drag queens performed masked and socially distanced numbers. The acceptance speeches drew applause, cheers, and whoops of joy through hundreds of screens. And more than once, few eyes in the room remained dry—even though there were many rooms, across many miles.
Saturday marked the New Haven Pride Center's 18th annual Dorothy Awards, moved online due to the Covid-19 pandemic. Billed as the largest LGBTQ+ awards ceremony in Connecticut, the event raised over $40,000 for the center, which has continued to offer support services during the Covid-19 pandemic. Hundreds watched on Facebook Live, Instagram, Twitch, and GiveSmart. A silent auction remains open through Wednesday.
A small watch party and fundraiser unfolded simultaneously at the Chez Est in Hartford, where owner John Pepe donated 100 percent of the night's proceeds to the Pride Center. Fantasia Banquet Facility in North Haven, which has hosted the event in years past, has become an economic casualty of the Covid-19 pandemic.
"The Dorothys, to me, their role is not about making us money," said Patrick Dunn, executive director of the New Haven Pride Center. "They're really there about celebrating the community, and doing it in a way that recognizes the people that may not be an obvious choice to give an award to, and might not be the person that the white, heterosexual community or organizations might honor. We strive to shine light on the work of the incredible work these people do in our state. And because of that, we will always have these awards, because we will never be done honoring people."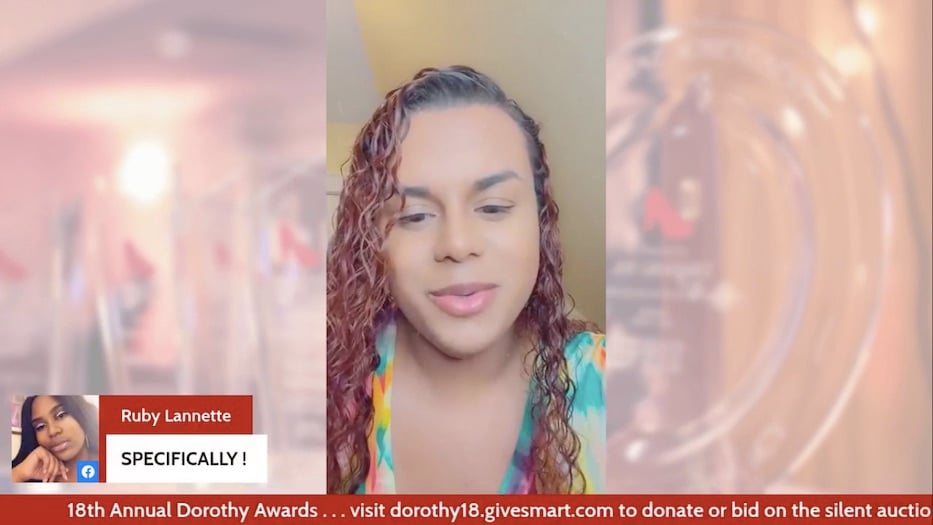 Jahnice Cajigas.
Dunn spent the evening hosting the awards as his drag alter ego Kiki Lucia, dressed in a Frankenstein-meets-Elphaba drag that felt right for a year turned on its head. Awardees included Black Lives Matter New Haven co-founders Ala Ochumare, Sun Queen, Sy Frasier, and Dawnise Traore; Life In My Days Founder Ahmad Abojaradeh; Health Care Advocates International Founder and Executive Director Dr. Gary Blick; and Stamford Board of Representatives member Raven Matherne, who is the first openly transgender elected public official in the state.
The rising star award, given each year to a changemaker who is still at the beginning of their career, went to LGBTQ+ youth organizer and Citywide Youth Coalition member Jahnice Cajigas. As director of organizing for Citywide Youth Coalition (CWYC), Cajigas has helped organize the now-annual Connecticut Black and Brown Queer Camp and led protest efforts across the city, including a rally turned policy discussion in front of the mayor's house last August.
Accepting her award early in the evening, Cajigas spoke about the footsteps in which she follows, including those of trans dynamos Marsha P. Johnson and Sylvia Rivera as well as local activists Ochumare, CWYC Director Addys Castillo, and "artivist" Juancarlos Soto. Over the past several years, Cajigas has become an integral part of the city's activist fabric, from a citywide call to remove cops from schools to a Juneteenth teach-in in East Rock Park last summer.
As a peer mentor, she has worked to grow the Connecticut Black and Brown Queer Camp, which will enter its fourth summer in June. In her work with Citywide Youth Coalition, she helped lead a 5,000 person march to the New Haven Police Department Headquarters last summer, singing songs of protest and freedom the entire way there. She has been a vocal proponent of defunding the police and putting more money into the New Haven Public Schools for guidance counselors and student support.
"The work of the Connecticut Black and Brown Queer Camp is a space that I wish would have been available to me as a young trans woman," she said. "It is a space that specifically centers the needs and wants of Black and Brown LGBTQ youth, and we believe that it's important to center those who are most marginalized in our fight for liberation."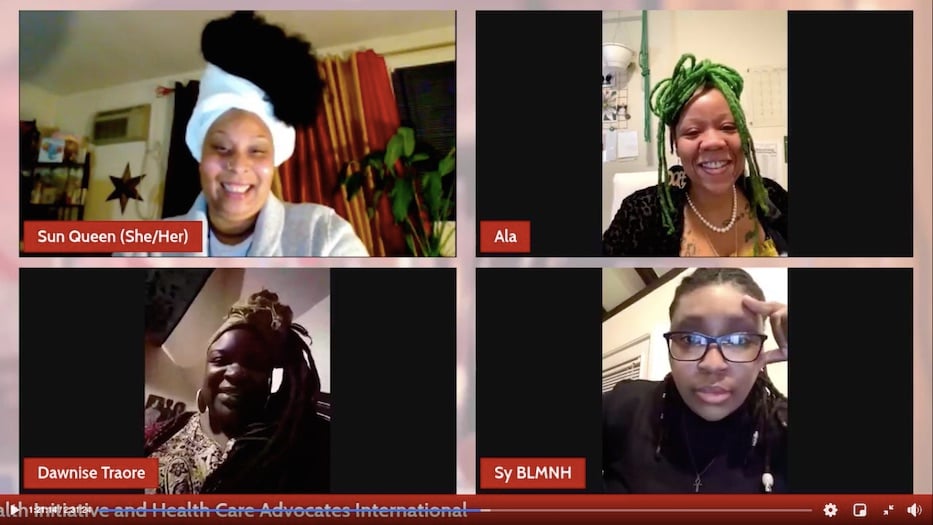 Throughout the night—which marked the one year anniversary of both Connecticut's first Covid-19 shutdowns and the state-sanctioned murder of Breonna Taylor in Louisville—those calls for social justice and activism wove through the ceremony. They seeped into performances by drag queens Rory Roux-Lay, Frizzie Borden, Xiomarie LaBeija and Kiki Lucia and poetry from Versatile Poetique. They wound up in calls for donations and silent auction items. In a pre-show performance, they rested at the edges of Carrie Ashton's voice as she covered Melissa Etheridge from her couch.
When the co-founders of Black Lives Matter New Haven arrived on screen to accept their award, the spirit of activism remained front and center. For the past five and a half years, members have been on both the front lines and in the background, yoking protest with the quiet work of neighborhood advocacy, backpack and winter clothing drives, open mic nights, and public art in chronically under-resourced neighborhoods.
"Society often forgets about people that look like me," Sun Queen said. "Society forgets to celebrate, protect, acknowledge, honor, follow, and listen to Black women. I appreciate and accept this award because the system fails so many people that look like me. That look like us."
As members of the group spoke one by one, they noted that the fight for liberation must be an intersectional one that recognizes both Black and queer lives. Ochumare, a longtime activist who helped lead one of the city's first protests after the murder of George Floyd last summer, urged viewers to fight for both in their daily lives. Like Cajigas, she has also been an active member of Connecticut Black and Brown Queer Camp since its founding in 2018.
"When we started Black Lives Matter, we didn't really know what it was gonna grow into, but we knew it was gonna be exceptional," she said. "And as four queer, Black women, it is imperative for us to be all in. We have a stake in the game when it comes to Black Lives Matter."
Organizers also called in those who they fight for every day. Traore praised the group as lifesaving not just to those who it has touched, but also to her personally. Frasier began by honoring Taylor's memory a year after the 26-year-old was murdered by law enforcement in her own home. She urged attendees to show their support by donating to Black women, and supporting them in their daily lives and practices.
"I work alongside some powerful, strong, Black women, and I will go on record to say that you won't find another group of dope women like us in the state of Connecticut," she said, prompting smiles and a few audible cheers from fellow co-founders.
"The mission isn't over," Traore later added. "The marathon continues."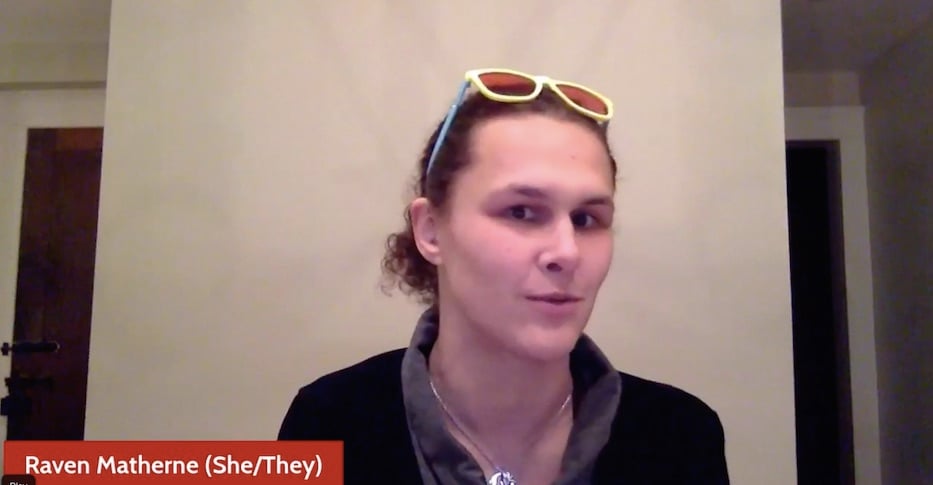 Matherne, who was first elected to the Stamford Board of Representatives in 2017, kept that spirit going as she encouraged attendees to run for public office. Holding back tears, she remembered her first Dorothy Awards as "such an educational experience for me." It was around that time that Matherne, then 29, came out and subsequently lost her job as a professional martial artist. In an act of workplace discrimination, her employer told her that she could continue using he/him pronouns—which went against who she was—or be fired. She was fired.
Without employment, Matherne started doing research on local politics. She used the unexpected "gift of free time" to run a grassroots campaign for office, a seat that she won and has since held by knocking on every door in the district. Saturday, she shouted out the Pride Center's programming, particularly its trans adult support group, as vital to her work and to her survival.
"It lets us have a place that we can go back and shelter ourselves and rebuild our defenses, so that we can go back out and continue to fight this war against a society that is structured in such a way that the every man, and every woman, and every person just generally believes that people like us are something less than human," she said.
As her words echoed across the screen, she challenged viewers to check on the opportunities in their own communities, from city council to finance committee to board of zoning appeals. For her, the request is built on lived experience: people dismissed her as not sufficiently qualified before she ran. She did it anyway, by talking to "literally every neighbor" until she had their votes.
"Our government has atrophied," she said. "So few people are engaged with local government that the smallest, loudest minorities can have big sway. And that is … when the wrong groups get into that, and get a hold of that, they are able to make the lives of people like us miserable. Unlivable. But that works for us too. If you can, run for office."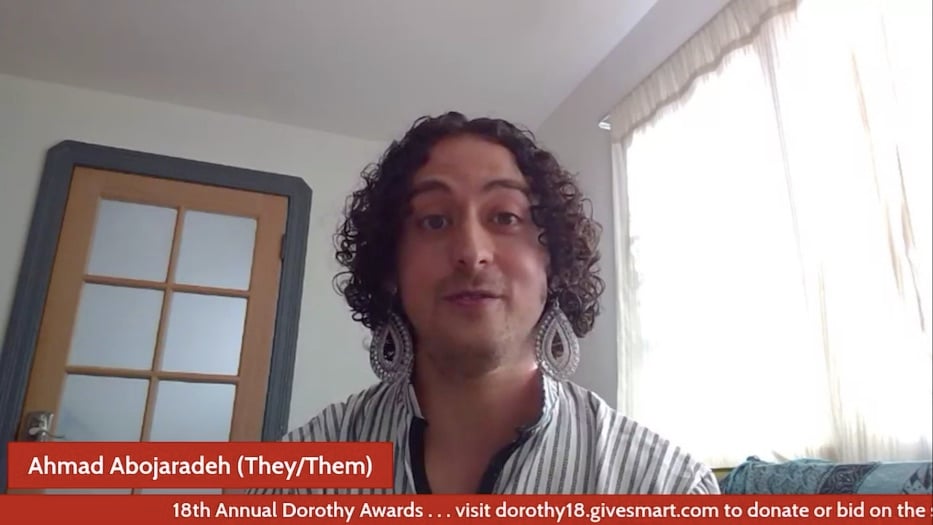 Other awardees focused on the importance of rest and self-care, which organizers often preach but are rarely able to take advantage of themselves. Abojaradeh, who has helped grow statewide mutual aid efforts through Life In My Days and the CT Mutual Aid hub, called on any funders who might be watching to support groups doing mutual aid work. They encouraged listeners—especially those with deep pockets—to fund not only mutual aid, but also rest for the organizers who are on the ground doing that work each day.
"Our communities cannot wait," they said. "We can't wait five, ten, 50 years, until different parts of the systems get it right. Until other parts of systems actually fight for our communities and actually support us in the ways that we deserve and the ways that we need to."
Introduced by former patient and colleague Lenny Courtemanche, Blick pushed attendees to break through silence and stigma that still cast a long shadow over HIV and AIDS. Surrounded by a small watch party in his home, he delivered an acceptance speech as a flush rose to his cheeks. Every so often, cheers exploded behind him, just offscreen.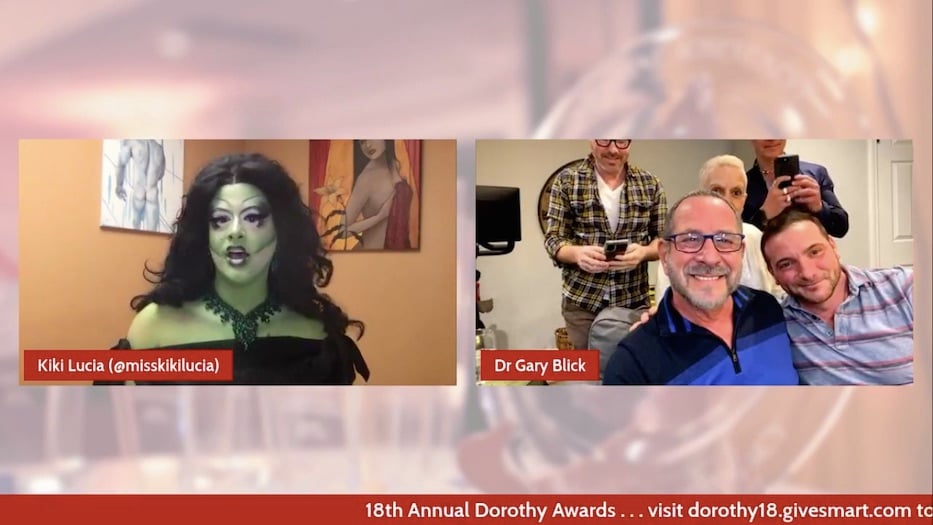 He looked to the testimony of one of his longtime patients, who was diagnosed as HIV positive 32 years ago. At the time, the patient—a straight, cisgender white woman who caught it from a sexual partner—was scared. She didn't understand how it had happened to her. A doctor gave her three to five years to live.
Then she met Blick through a counselor. Within weeks, he introduced her to new forms of HIV treatment and taught her how to manage her diagnosis. Over three decades later, she's happily married and undetectable. Blick said that the key to treating her was the same that he brings to all of his patients: a sense of acceptance.
"Fight, fight, fight," he said. "Stigma and discrimination still exist in the HIV community and the LGBT communities, and everywhere throughout the word. We deal with stigma today with Covid and with everything we do. Doesn't matter who you are, where you are, where you come from, but you have people around you. There are always people around you to love you and support you."
Find out more about the New Haven Pride Center on Facebook, Instagram, Twitter or at its website. Find out more about the annual Dorothy Awards here.