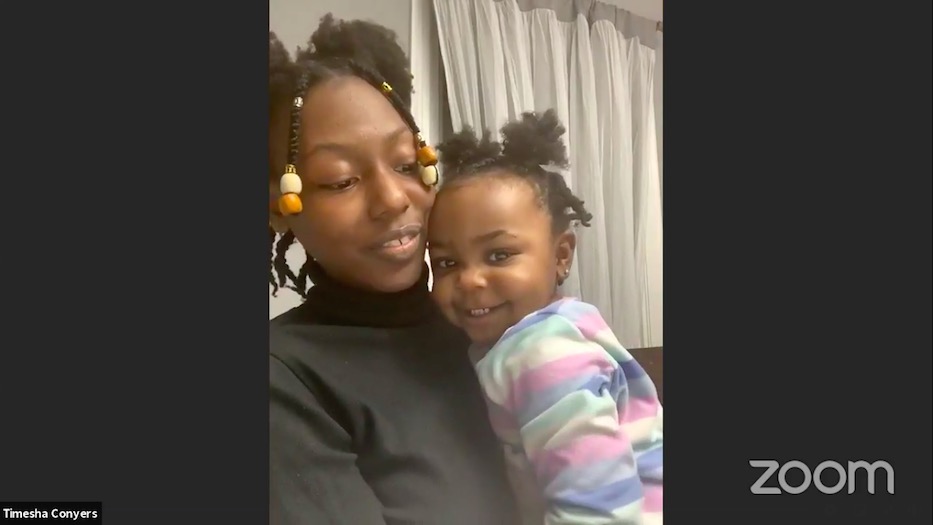 Arts & Culture | Black Lives Matter | Arts & Anti-racism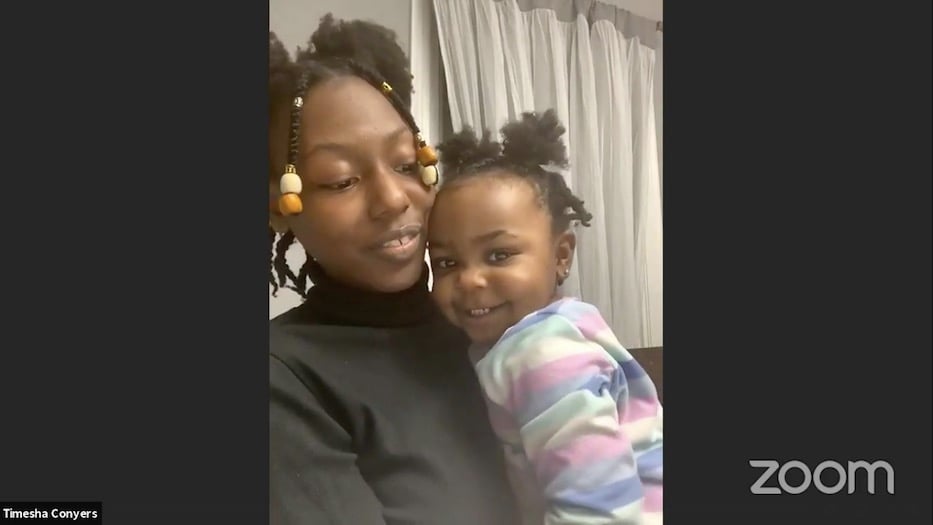 Timesha Conyers was a few lines into her poem when she smiled, reached over, and paused for just a moment. She lifted her daughter onto her lap, the little girl's cheeks glowing in the light as she giggled. She snuggled into Conyer's chest, eyes fixed on the 13 faces smiling back on Zoom.
"My healing paved the way for everything," Conyers read from her forthcoming book Doves, Cranes and Pain. "It was the pain that was hard to look in the face. To find sunshine in the rain. I'm literally the most grateful for the pain, that's why I'm able to share this with you today."
Monday night, she joined fellow artists and supporters of Back Lives Matter New Haven (BLMNHV) via Zoom and Facebook Live for "A Black Joy Experience," an open mic and discussion dedicated to centering Black joy in the midst of Covid-19 and the parallel pandemic of white supremacy. The event doubled as a fundraiser for the group's scholarship fund, which will support two graduates of Riverside Academy later this year. Donate to the fund here.
"Black lives have shaped history. Period," said Sun Queen, who co-founded BLMNHV in 2014 with Ala Ochumare, Dawnise Traore, and Sy Fraiser. "We are courageous, we are inventors, we are artists, we are the original people. And we deserve to be honored, we deserve to be respected. In the words of Fannie Lou Hamer, 'Nobody's free until everybody's free.' So we must continue to celebrate and highlight our past, our present, and create a radical future to ensure that our Black joy is amplified."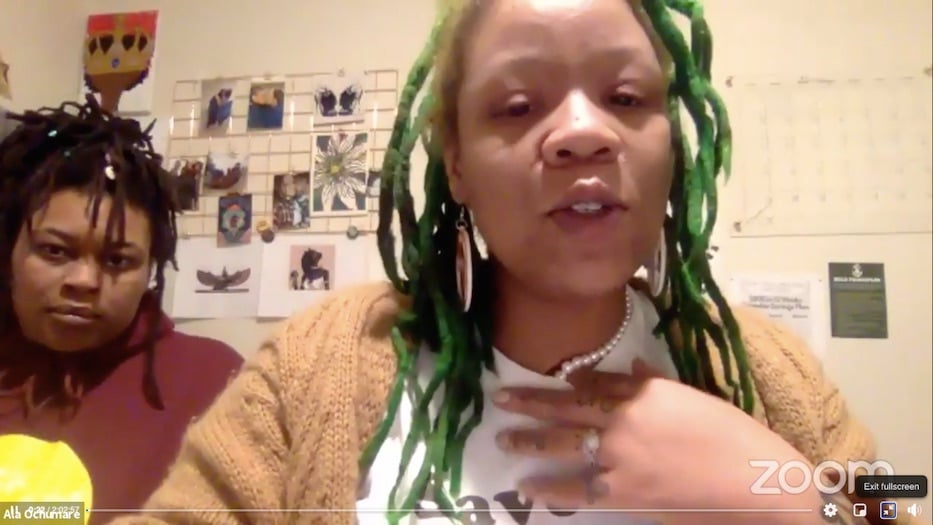 MiAsia Harris and Ala Ochumare. The two, who are engaged, run Black Lives Matter New Haven with Sun Queen, Ashleigh Huckabey, and Sy Frasier.
From those first moments, an ease settled over the space as a soundtrack crackled to life in the background. Ochumare became DJ Ala, with early selections from Jonathan Lykes that made it impossible not to slow-sway into the evening. Organizer Ashleigh Huckabey's mom dropped in, beaming as she gave hellos to the group and then quickly put herself on mute. Artists toasted to each other, raising and filling glasses across the distance. Later in the night, Ochumare's new puppy made an appearance, and an impromptu celebration of fur babies ensued.
Some artists brought original work. An hour before Conyers took the virtual stage, the musician Thabisa unveiled a new recording of her 2015 song "Eyodidi," pulling a live performance up on her computer as she balanced a drink in one hand. As music floated over the frame, the artist appeared before a microphone stand woven with pearls. When the song was over, she explained that "eyodidi" means "one of a kind" in her native Xhosa.
"In the song, I say, rather not be a type because I want to fit in," she said, leaning against a wall in a low-lit room. "I'd rather strive to be one of a kind. And to be that woman, it's not about how you look, it's not about our beautiful hair, or if you have locs, or if you have natural hair, or if you have clip ons or whatever the case will be, what's important is what's underneath the scalp pretty much. Your backbone and what you carry in your heart."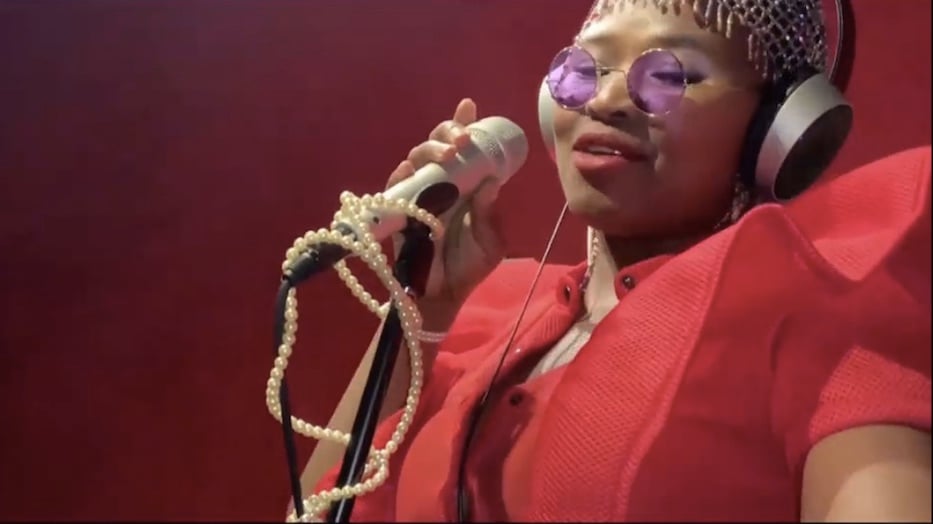 Stepping out from her emcee role, Sun Queen shifted into an excerpt of her poem "Black Girl, Black Woman," her warmth radiating into the digital space. As she read, attendees gave air snaps and wiggled their fingers in silent applause, some filling the chat with fire emojis. Ochumare held up a copy of the poet's 2019 It Happened Within The Sun, the peach horizon line dancing on its cover.
"Black girl, Black woman, understand this," Queen read. "You were made Black because you are powerful/You were made Black without apology/You have a connection to the earth/You are the closest to the sun, Sun/You are magnificent/You are magical/There isn't anything that you would let break you."
The words became a mantra, their rhythm musical as it wove through a network of screens and fiber optic cable and seeped out from Zoom. As Queen read, Huckabey's left arm rose in the background, encased warmly in a pink "Black Girls Are Sunshine" sweatshirt. She snapped her fingers to the words.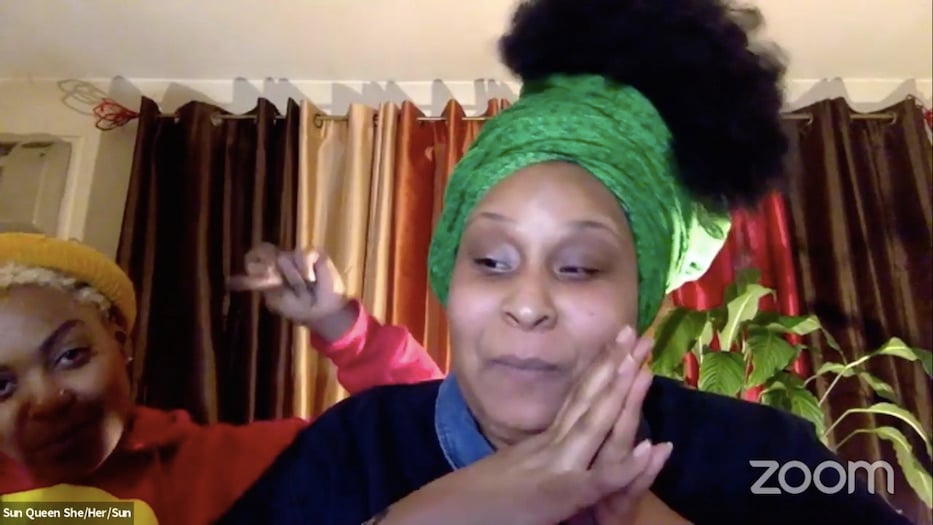 Ashleigh Huckabey and Sun Queen. Sun Queen also designs the "Black Girls Are Sunshine" brand.
"Everything that's thrown in your path will only strengthen you," Queen continued. "You are truth/You are wisdom/You are light! So shine, Black girl/Shine, Black woman/I made you Black because you are art/You are life/No one grinds like you/No one is resilient like you/Black girl/Black woman/You can start a fire and put it out."
Others conjured fellow artists, with words meant to buoy listeners across the miles and rainy, cold Monday night. Huckabey, who is a writer herself, pulled from the words of poet Nikki Giovanni with her "Ego Tripping (there may be a reason why)." Huckabey first discovered the poem when she was in middle school, and her teacher assigned it for a class.
At the time, Huckabey was just 12. Decades later, it has stayed with her. Monday, it was easy to see why:. From the first few lines—I was born in the Congo/I walked to the fertile crescent and built/the sphinx—the poem is a stunning ode to Black innovation and culture. It corrects, in the space of just a page, millennia of whitewashed history. As Huckabey read, a listener could crawl into the corners of her voice and imagine walking alongside Giovanni as she wrote.
"It has as much meaning and significance to me as it did back then," Huckabey said. "As a Black woman, as a Black artist, as an organizer, and also just as being me. A queer, Black woman."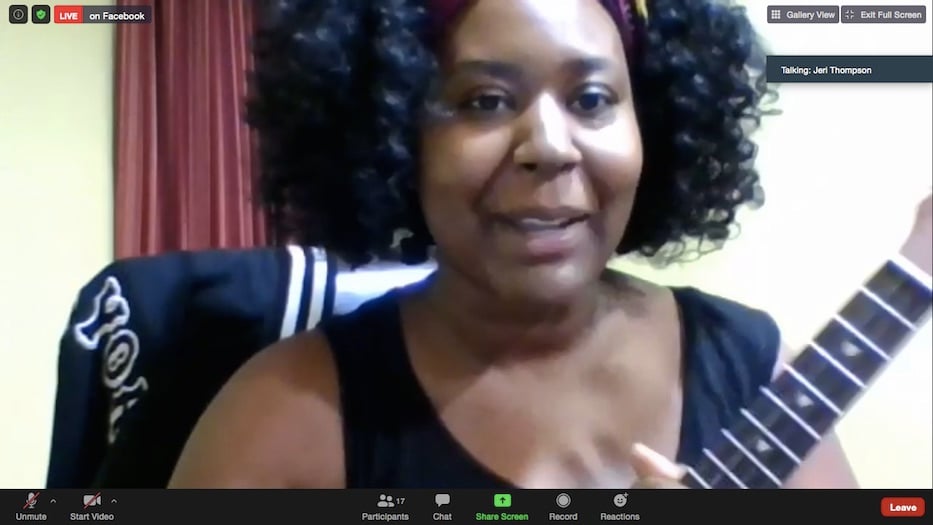 Jeri Thompson lifted her ukelele to perform a stripped-down version of Beyoncé's "Brown Skin Girl," her curls bouncing as she sang. Even in digital space, she made the performance feel intimate, the light bending against her cheeks and eyelids as her voice wound upward. The strings came through, mellow and steel-flecked all at once. Every few lines, Thompson looked right into the camera and smiled, aware of the sweet faces looking back.
"Yeeesss!" said Ochumare afterwards as Thompson dropped her social media channels in the chat. "We just need to play that on every corner on every hood. That was beautiful!"
Making Space For Joy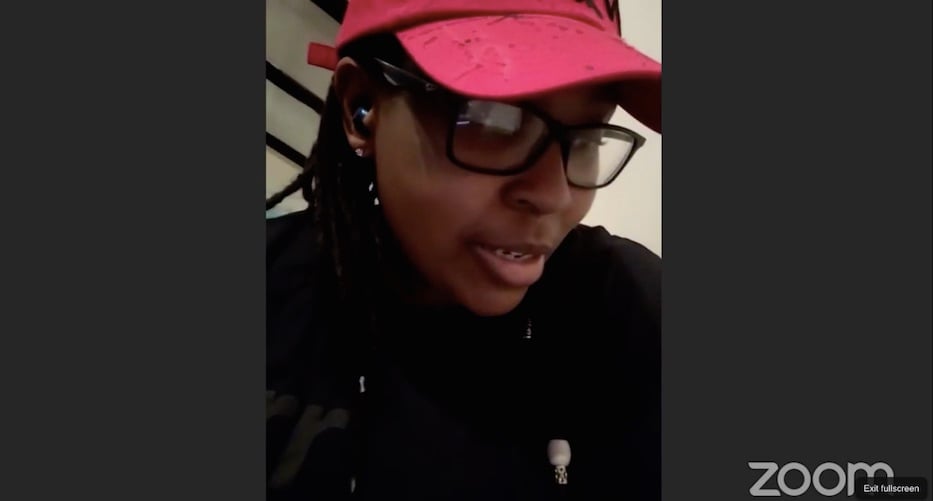 Sy Frasier.
Throughout the night, attendees also took time to discuss finding joy in the depths of the twin pandemics of Covid-19 and white supremacy. Throughout last summer and last fall, members of Black Lives Matter New Haven were often on the front lines of protest, fighting the trauma of police brutality while also mobilizing against a virus that is more likely to infect and kill Black Americans. In the fall, the group collaborated with the city for two public art projects that centered Black voices and Black joy from Newhallville to downtown New Haven.
"We want to be in joy," Ochumare said. "Everyone is not an artist. Everyone is not talented in ways of making music and writing. But we all need to be inspired. And so, what do we all do? How are y'all finding joy in Covid right now?"
Slowly, answers filled the chat. Meditation. Prayer. Therapy. Reading. Rest, which double as a form of resistance. Journaling. Dancing in all forms. Ochumare said that she has allowed herself to nap without guilt and take Sundays off for the first time in years. Huckabey praised the value of Black love, a smile teasing at the edges of her mouth as Queen beamed and turned her head coyly beside her.
"My love language is touch, so I miss the hugs," she added, gesturing to the faces collected before her.
Sun Queen, who often describes herself as a helper, said the past 11 months have been particularly trying for her. Since March of last year, she's been working from home, stuck in a new sort of pandemic reality where she's looking at the same walls each day. She said that it has helped her to still her mind and create, while also finding ways to gather across the distance. She modeled a tea light candle from Ochumare, it's tiny orange flame bobbing at the end of a wick.
"I hope everyone is taking time to take care of themselves, to take care of mind, body, and soul," she said.
Thabisa looked to her family. She described the pandemic as a moment that "almost became suffocating for me, because I'm not used to being still." In the 11 months since schools, concert venues, and music studios closed, she's worked to reimagine what her career looks like. Her husband and two young children are helping her do that work.
"It's a curse and a blessing," she said of the pandemic. "A blessing because now I am still, and now I'm forced to face myself and really mirror in deeper and introspect. And reflect on where I've come from … it's this period for me to grow, to see myself, and learn."
Attendees also noted that joy can be hard to center. Frasier, who is a postal worker, has been working for the entirety of the pandemic. Monday, she said that she feels ready for a vacation. Almost a full year in, mail carriers are doing two and three mail routes per day. Several are sick, with no safety net in place. She said that small joys pull her through: she is grounded by her mother, her nieces, and fellow members of BLMNHV.
"Nothing has really got me through it yet," she said. "I'm just in it."
Marcey Lynn Jones, who has been working as resource coordinator for Ice The Beef, unmuted herself to send Frasier some love. Jones is rarely still: she has spent the last year sewing thousands of masks, doing emergency food distribution, and marching alongside organizers of all ages.
"Just keep in mind that we are with you, every step of the way," she said. "And if you've gotta go through another summer, we're there. We got you. Because I just know that it cannot possibly be easy. Because you are essential essential … we love you."
Donate to Black Lives Matter New Haven at their website here, or at PayPal here. The group's Venmo is @sunqueen19 and their Cashapp is $BLMNHV.