Music | Arts & Culture | Westville | COVID-19 | Arts & Anti-racism
Thabisa at a launch party over Zoom on Sunday. Screenshot from Zoom.
2020 was going to be Thabisa's year of yes. And it was—just not in the way she imagined.
She worked toward an album. She dropped a single. She grieved 2020. She dredged up traumas from her past pushed through them in the midst of a global pandemic.
The artist and performer spoke about that pivot Sunday afternoon, during a launch party and discussion around her new single "Sweet Sorrow." As she works toward her third album from her home in New Haven, she is reflecting on how the past 12 months of writing, recording, activism, and multimedia collaboration have molded her career.
"The year started with dreams, hopes, and some goals," she said in an interview Friday on WNHH Community Radio. "This year was 'my year of yes.' Last year was my 'year of yes,' and I decided to do it again, and continue it as well. What that is, for me, is that I will say yes to pretty much everything, as long as it's not somebody asking me to jump off a bridge. Anything that's going to contribute in my life in terms of growth."
In early 2020, that commitment began by saying yes to in-school concerts and music education programming, performances with Music Haven and Long Wharf Theatre, and burgeoning collaborations with artists Clifford Schloss, Alexis Robbins, Eric Rey, Dylan McDonnell and others. She started a new show on WNHH Community Radio, highlighting artists and organizers across the city. By the end of February, her calendar was buzzing with activity.
Then in March, COVID-19 hit New Haven. She watched as both schools and arts venues shuttered overnight. Months of work disappeared—not just for her, but for peers across the city and the globe. Recording studios closed, with no potential reopening date in sight. She was suddenly homebound with her husband and two young children.
"Like everybody else, I went through stages and phases of feeling stressed, of feeling depressed," she recalled.
And then slowly, she said, she started reimagining what the "year of yes" could mean. Her husband, Charlie Rich, became her at-home stage manager and go-to gear guy. The two set up a recording studio in her attic, and added a microphone to a desk from which she could record her show. In April, she worked with a team from the Westville Village Renaissance Alliance (WVRA) to plan and execute the neighborhood's first virtual Artwalk celebration in 23 years. She turned her sun-soaked front yard into a stage.
Projects started to roll in. Long Wharf Theatre commissioned her to do a song for its first virtual New Haven Play Project, during which she also performed as a storyteller. She filmed a masked, socially distanced performance of her song "Theta Inyani" at Kehler Liddell Gallery in Westville, bringing in collaborators to perform alongside her. She could feel the weight of the song, she said; in her native Xhosa, the lyrics translate to "remember remember, you are the only one who writes your story."
She also said yes more vocally to art as a form of activism. Following the state-sanctioned murder of George Floyd on May 25, the artist attended and performed at protests and rallies in the heart of the city, sometimes shoulder to shoulder with cops. She set a soundtrack to cries of "No Justice/No Peace!," rolling out a mix of Sam Cooke and her own work. In the absence of a microphone, she used a handheld bullhorn.
With stages closed, she performed wherever she was needed, popping up in a thicket of masks at the New Haven Police headquarters and the removal of Christopher Columbus statue from Wooster Square. She headlined at the city's first Black art fair in August, as over 100 people fanned out across Orange Street to listen to her sing. For her, she said, choosing to raise her voice was less of a choice and more of an obligation.
"I think where we are right now, in our lives collectively, we need to demand change for the betterment of everyone," she said. "For the betterment of our communities, and even those who may be in spaces that are comfortable right now—they need to amplify those voices that aren't heard. We need to change the stereotypes. We need to change our mindsets. And we need to work towards solutions that benefit everybody."
"I need to amplify the voices of people that otherwise can't do it for themselves," she later added. "I'm able, and I've got the voice, and I'm gonna use it. So, I'm out there because I'm affected by the politics. I'm affected by what is happening. My children will be affected if we don't do anything about it."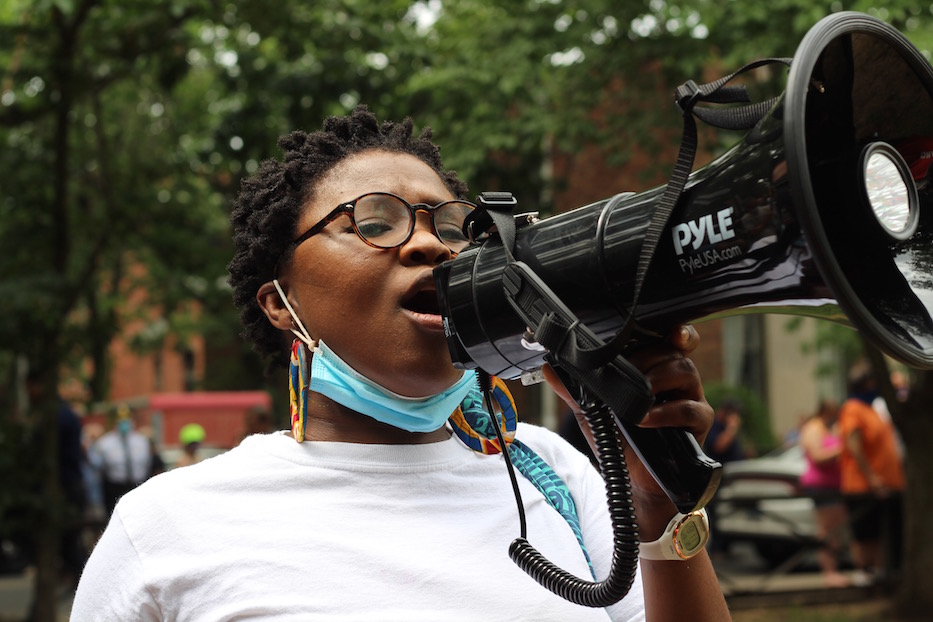 Thabisa singing in Wooster Square earlier this year, during the removal of a statue of Christopher Columbus.
In part, her new single "Sweet Sorrow" also came out of those experiences. This year, the trauma of the present pushed her into the past, she said. She found herself sifting through her personal and musical history. Over the summer, lyrics started coming to her all at once. The specter of a song disturbed her dreams until she slipped out of bed and built a beat on GarageBand. She started writing it, and was done 24 hours later.
In it, the artist revisits her youth and young adulthood in Kwazakhele, a township in Port Elizabeth, South Africa. Sunday, she explained that she was raised there by her grandparents, who urged her to pursue her dreams and her education. Her grandfather worked nearby, at the Cadbury chocolate plant. She learned English through both the township's schools and television, as her grandparents watched the American soap opera "Days Of Our Lives."
While "you don't find a lot of mentors [in Kwazakhele]," there were musical sheroes who sat on her shoulders, including Miriam Makeba and Brenda Fassie ("she gave a little bit of a lapdance to Mandela!" the artist laughed Sunday, delighted by the memory). When she saw women who looked like her making a career out of music—often against great odds—she vowed to do the same. It got her through some very "hard times," including housing insecurity.
While writing and recording "Sweet Sorrow," she wove that history beside the six-syllable Sandskrit phrase Om mani padme hum, meant to bring both herself and listeners into a place of tranquility and quietude. Then she brought in Xhosa, a nod to her roots that bucks the pain and whitewashed expectations of colonialism. She braided in gospel, her vocals lifting up the very sweet chariot that she summoned.
"It came to me, I think, because COVID-19 has us emotionally strained," she said. "I did this beat for the song, and the words just came out of my mouth. I didn't even write the first verses … I just thought, 'I better put this down quickly, and write some of the lyrics down so I don't forget.'"
In the finished track, the strings bring a listener in, wrapping them in tin and echo of guitar before the singer's voice drops. She is mournful, something breaking in her throat even as she pushes forward. As her vocals build and layer, percussion edges in. A drum drops, like a heartbeat that has been there, waiting at the outskirts the whole time.
The backing is propulsive, but her voice is a symphony onto itself. It rumbles and winds upwards. It wails and evens out. It tumbles over itself in a waterfall of sound.
"I needed to forgive myself for a lot of things from my own past," she said as she listened back to the lyrics. "I'm still recovering from my own traumas. I'm still recovering from my own insecurities that I sometimes inflict on myself because of the traumas. And I need to get rid of that. I need to be reborn, spiritually reborn, in many ways."
Sunday, she danced around her living room while listening, encouraging 20 households on Zoom to do the same. From one-inch boxes, listeners added exclamations of support and applause from as close as Edgewood Avenue and as far as the Netherlands and South Africa. The comments box became a map of the people she's worked with, from Best Video Film & Cultural Center to CT Folk to Kehler Liddell Gallery and Cafe Nine.
She took her seat at the end of the song, smiling so broadly into the screen she seemed to be glowing.
"I was moving to the song," she said. "I cannot not not move to this song. This song gives me an energy I cannot describe. It does something for me."
To listen to Thabisa talk about the song on WNHH CommunityRadio, click on the link above.