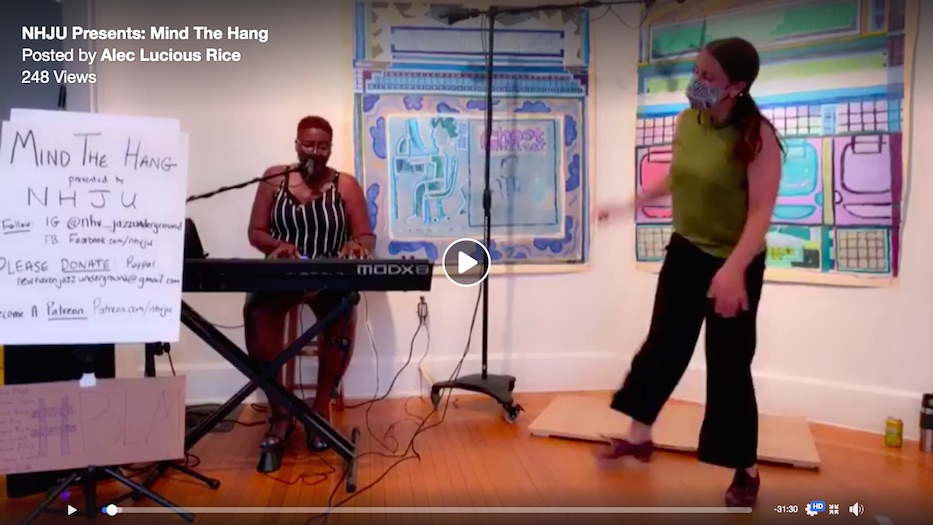 Jazz | Arts & Culture | COVID-19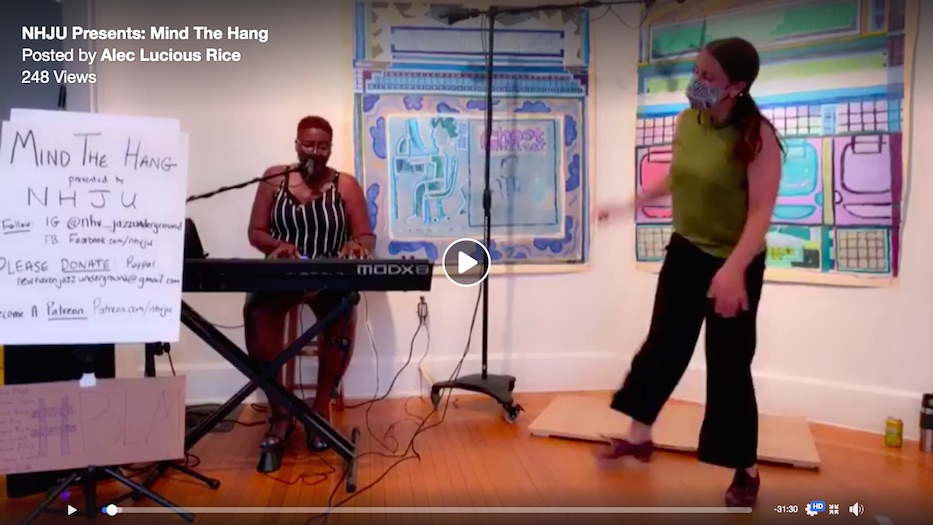 Dee Davis and Alexis Robbins performing at Mind The Hang on July 29. Screenshot from Facebook.
Tip Tap, Tippity-Tap-Tap. The shoes spoke against a wooden board, each word crisp and succinct. Ba bum ba dum, the piano answered. A sense of calm washed over a room in the Ely Center, and flowed onward through dozens of screens. Tap shoes slid once more across wood. Vocals, rising against the piano, assured listeners that It's gonna be alright/I know it's gonna be okay.
That scene unfolded last Wednesday, at the second session of Mind The Hang from the New Haven Jazz Underground (NHJU) and artists Alexis Robbins and Dee Davis. Proceeds from the event, which is streamed live from the Ely Center of Contemporary Art, went to the New Haven Pride Center, which has recently rolled out a weekly food donation program and new virtual programming options.
The brainchild of NHJU President and Founder Nick Di Maria, the program is streamed on both Facebook and Instagram Live from 7-8 p.m. each Wednesday. While the group's Aug. 5 performance was cancelled due to statewide power outages from Hurricane Isaias, Aug. 12 will feature back-to-back performances from Smokescreen and other jazz musicians. Proceeds will go to the Connecticut Food Bank.
"When you're used to having a live audience, being alone but knowing people are watching you is a bizarre feeling," Robbins wrote in an email after the event. "I often gain so much energy from the physical audience and hearing their reactions and seeing their expressions, so having no one there means I need to harness that energy for myself even more. I still get nervous the same way I always do, but not having immediate feedback is a little bizarre. This specific experience was a little different because I was performing with other musicians and there were a few other people in the room as well."
Still, Robbins slid onto the stage—or in this case, a wooden board on the floor—and began tapping Wednesday night, ready for the music that was soon to follow. Work by the artist Noé Jimenez brightened the wall behind her, a sort of invitation. Before Davis came to the piano, Robbins established herself as a kind of one-woman percussion section, in which her body was the instrument. Her style of rhythm tap doesn't just include her feet: by one minute into the night, her knees and arms were airborne, all the way to the tips of her fingers.
Six minutes in, she provided a sort of opening for Davis—tap tap tap tap, performed in two different registers—and the two started to jam. Davis hit the keys, teasing out a melody before leaning into the mic with the hook to Des'ree's "You Gotta Be." Her voice, sweet and winding upward, wrapped the room in a comfortable warmth that had nothing to do with the heat outside. She repeated the lyrics All I know/I know is/love will save the day until they became a mantra.
Normally, New Haven Jazz Underground would be gearing up for its now-annual jazz festival and block party, which sizzles across city venues as the summer winds down. This year, COVID-19 has made gathering inadvisable; vocal and instrumental music carry particularly high risk levels because of how far they spread respiratory droplets. Mind The Hang sessions include musicians who are socially distanced and normally masked (Robbins also wore a mask as she danced). For Di Maria, it's still an effort to give back to the community: previous recipients have included Black Lives Matter New Haven and the Greater New Haven NAACP.
As Davis and Robbins performed, they began to connect, two moving, improvising parts of a larger whole. Davis slid into a deep, silky cover of "Fly Me To The Moon" and Robbins responded instantly, coming off her board to sink and spring into the lyrics. She flew into the air as Davis crooned You are all I worship/ all I long for/and adore!, her feet a fluttering heartbeat. She slowed her feet as Davis sang In other words/Feel my hand and her voice cracked right on time.
By the time Austin Alianiello joined in on sax, the two had relaxed into a routine. Davis slowed the evening down then halted on the keys to make room for a tap solo. Robbins seized the moment: the room became a series of hard taps, some coming so fast they swirled around each other. Davis picked up at the keys, hypnotizing as she sang and also when she played with no vocals at all. She made the sound bigger than the room, letting the keys press at its edges.
Their ease with each other was contagious, as if it had seeped out through a network of cable and screens to the people watching at home. At one point, the two discussed something for just a second, so quietly the audio couldn't pick up what they were saying. Then, instantly, Robbins' movements became near-balletic. Davis flowed into a minimalist, stripped-down cover of Robert Glasper's "Gonna Be Alright," the melody giving the piece away before she ever started on the hook.
When she repeated it—It's gonna be alright/I know it's gonna be okay—it came across as a blessing for the audience, for the musicians, for everyone affected by COVID-19 and the parallel pandemic of racism. True to the spirit of jazz, she added to the lyrics to fit the evening. She addressed viewers at home with wide, bright beams of sunshine in her voice.
"It was a true test to our skills as improvisers, listeners, and performers," Robbins wrote afterward. "For me, it was exhilarating - truly exhilarating to spend an entire hour in a space doing what I love most with incredibly talented musicians who were willing to go on a journey with me."
"This was way more of a collaboration and almost felt like a jam, so certainly very different than performing for a screen from the confines of my apartment," she added. "I look forward to the day we are allowed to perform for live audiences again, but given necessary safety measures this alternative will certainly do for now...as long as we can keep creating and sharing in some way."
To find out more about Mind The Hang, visit the New Haven Jazz Underground on Facebook or follow @nhv_jazzunderground on Instagram. Lucy Gellman contributed reporting.