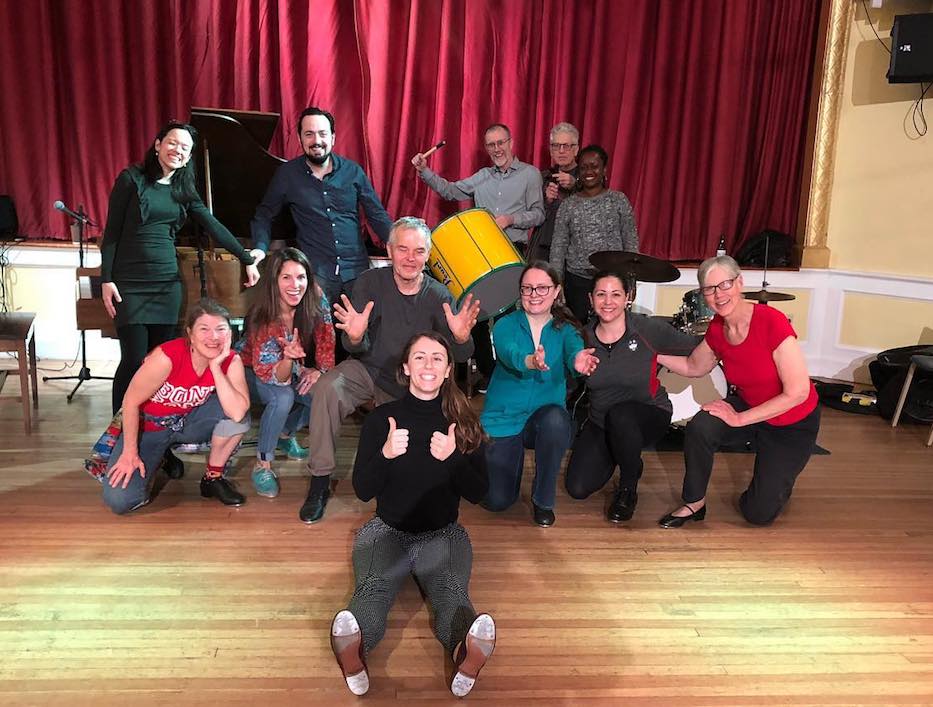 Dance | Hamden | Jazz | Arts & Culture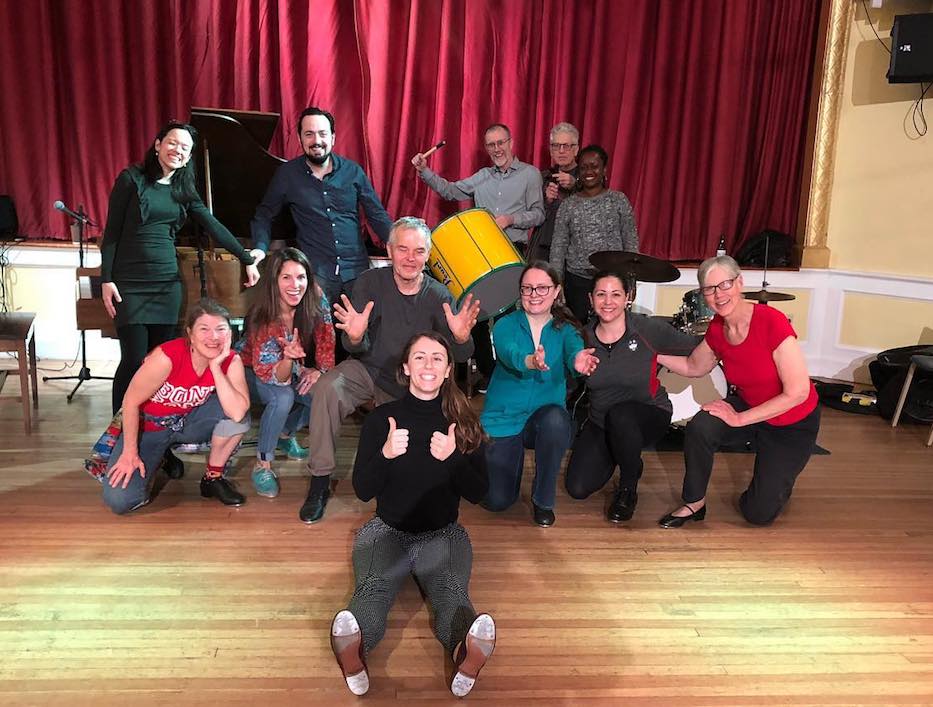 Photo courtesy of Alexis Robbins, who is pictured at the front.
Click, clack, clickity-clack-clack.
The rhythm echoed between a tap shoe and the wooden floor. Then it bounced to another. Attached to the shoes, bodies sprang into motion with twirls, steps, and quick second "en pointes." No words were spoken. They didn't need to be.
Sunday, that was the scene—and resounding sound—as dancer Alexis Robbins held her February "Tap Jam With Live Music" at the Whitneyville Cultural Commons in Hamden. The second of its kind in the space, the event featured musicians Isabella Mendes Lira on vocals and keys, Flavio Lira on bass, and Jocelyn Pleasant on drums.
Robbins said the event was meant to fuse social networking, dancing, and eating potluck-style. People could come and go, sit and listen to the music, eat, watch the tap dancers, and jump into dancing as they felt like it (Robbins is adamant that everyone can and should try tap, but she won't pester).
Throughout the night, a series of jazz improvisations scored jams, percussive information trades and tap warm ups that brought everyone together.
"My main goal is to really make a space for tap dance to happen," said Robbins, who runs the company kamrDANCE and teaches tap lessons in town. "Tap dance in particular is an American art form, an African-American art form, and it's super-related to jazz."
"There's this super, heavy jazz scene here in New Haven, and they don't seem to be connecting to dancers the why that they should be," she continued. "And I'm hoping to open that connection up."
As music floated over the commons, the room began to fill with attendees who had come from different corners of the city, united in their taste for tap. Robbins drew attendees into a circle in the center of the space. Across the circle, there were dancers who had come with tap shoes and those sporting boots and sneakers instead. No matter, Robbins said: tap shoes aren't necessary for rhythm tap.
Robbins waited for chatter to fall to a hush. Then she ran through a few basic steps of tap dance, slow and steady as others followed along.
Foot, clap, foot, clap-clap; heel, toe, clap, clap. Wisps of jazz rose up from the instruments at one side of the room. Attendees tried the steps one by one, getting nods and murmurs of encouragement from their fellow tappers. A few took time to master the steps, a new physical language that sometimes seemed hard to translate.
Holly Gilligan, one of the attendees, said she came to the event ready to move to the music. A transplant dietitian at Yale New Haven Hospital by day, Gilligan has also danced tap for 15 years. She praised the event as giving dancers—seasoned and otherwise—the space and time to move.
"It's so much fun," she said, adding that she came to focus on technique. "Everyone should try it, you normally start off with learning the basics, and you will have such a great time."
As Gilligan worked on honing her skills and "making sure that all my sounds are correct," some attendees came to try tap for the first time. Ciara (she requested that only her first name be used) said she was invited to the event by a friend, and ended up enjoying herself.
"Tap dancing is something that's out of my comfort zone," she said. "I've never done it before. I thought that the warm up was really fun, it was really successful and easy for everybody. It was a great icebreaker, and it helped everybody feel comfortable."
Rolanda Mitchell and Victoria McEvoy have been studying tap with Robbins for close to a year. Last fall, they participated in her "Generations of Rhythm" project at City-Wide Open Studios. Mitchell said she was having fun at the event, which gave her a chance to flex her tap muscles outside of class.
While dance isn't new for her—she learned African dance in college, and became hooked—she was excited to have a space to practice what she's learned in the past year.
"It's new, and it's challenging and fun to watch," she said. "It would be nice if it could reach more younger people, so that they could learn that form of dance."
McEvoy, a clinical instructor at the Yale School of Nursing, started taking tap last year after lusting after the art form for decades. When she was younger, she explained, her family couldn't afford tap lessons. Now that she's older, she's able to take the form on.
"I love the noise of percussion that tap dance gives, I love the high energy that tap dance gives, and for me, it's like therapy when I tap," she said. "I love everything, except maybe the struggle of being a beginner at something and trying to get good at it."
"It's like, I want to be good now, I want to dance now, I want my feet to do what my brain is trying to tell me to do now," she added. "But I can see that I'm making progress and I'm happy with that."
Whitneyville Cultural Commons Co-Director Robert Sheiman said he was excited to host the event—both as a chance for the community to come together and because he has some dance experience of his own. He's been tap dancing since he was in his 20s.
"Depending on what context is used, it's mostly the sound of my shoes hitting the floor, and the feel of finding a rhythm without having to think about it anymore," he said.
He added that he loves the history of tap, which blends together different styles of dance.
"It's about the foot relationship to the earth in sound and rhythm," he said. "You know you can make a lot of music with one thing."
For more information about upcoming events and tap dance lessons, check out kamrDANCE's website, by clicking here.