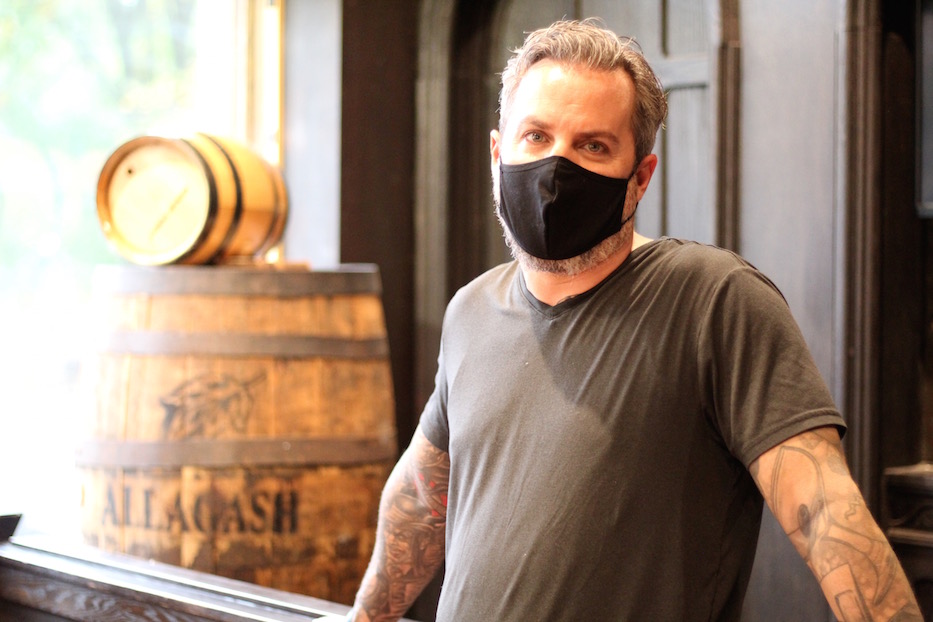 Downtown | Economic Development | Arts & Culture | Culinary Arts | COVID-19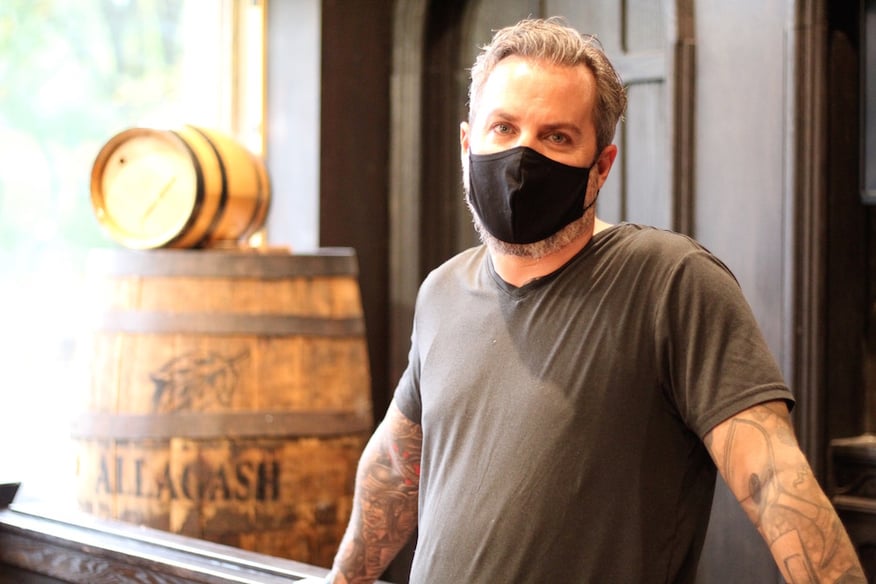 Lucy Gellman Photos.
The bar is where it has always been, but suspended behind a thick layer of plexiglass. Behind it, mixologists work at least six feet apart in black masks and crisp matching aprons. The pours seem slower, more meditative. Get close enough, and the wood smells of gin and bourbon, lemon peel and disinfectant from where it's been wiped down between customers.
That's the new-old look at Ordinary New Haven, where co-owner Tim Cabral has renovated the space to survive during COVID-19. For the past several months, he's been working on building out a bar and back room to adapt to Gov. Ned Lamont's phased economic reopening and the reality of a pandemic that could shut the restaurant industry back down at any time.
The Chapel Street space is currently open at limited capacity from Wednesday through Saturday, with reservations through OpenTable. While bars and nightclubs remain closed, Ordinary's food service means that it can operate as a restaurant that also sells alcohol.
"We're going into our eighth year, and the world is completely upside down," Cabral said in a recent interview, as a few friends walked to the bar and took their masks off. "We're adapting to the times. We're trying to relay that message of safety first and being able to do what we do best."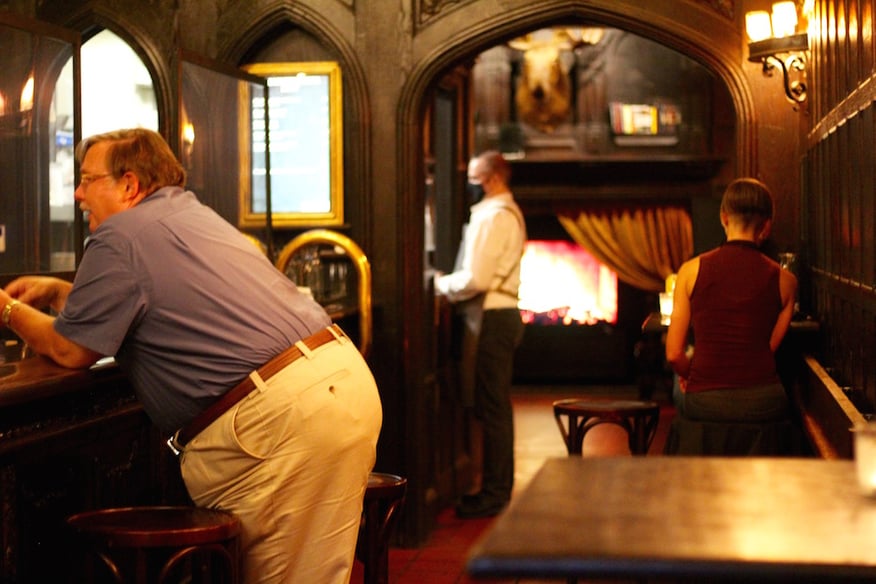 Tim Cabral: "We're going into our eighth year, and the world is completely upside down."
Before he could reopen, Cabral and partners Tom Sobocinski and Mike Farber looked at the bar's floor plan, figuring out what to do with a gathering spot in a world where the act—and rules—of gathering were radically different. The bar now begins in the lobby of the Taft Hotel, where the high, arched tile ceiling glimmers in the right lighting.
In the lobby, a few tables sit for patrons to wait until the bar is ready to receive them. From the Taft, a flight of stairs takes them into Ordinary's wood-paneled inner sanctum, which has been closed to visitors since March. Candles still flicker on the tables, just as they always have. But menus have been replaced with QR codes, and masks are in.
A hand sanitizer dispenser sits at the bottom of stairs, as if it's been waiting for people to return. In the back room, there are now a series of deep, high-backed booths from Restoration Woodwork that Cabral said are meant to both afford privacy and act as an extra safety measure against COVID-19. Nearby, the tiny kitchen looks the same, but has started churning out new dishes including a savory vegetable pie and a black bean burger. Only one chef works in the space at one time.
In the front bar, capacity has gone from a few dozen to just 12, with chairs spaced out to prevent crowding. Patrons exit through a heavy door that spills into a foyer on Chapel Street, where someone once scanned IDs and chatted with patrons at the entrance. It feels quieter than before, with a steady hum of conversation and the clink and rattle of ice in shakers.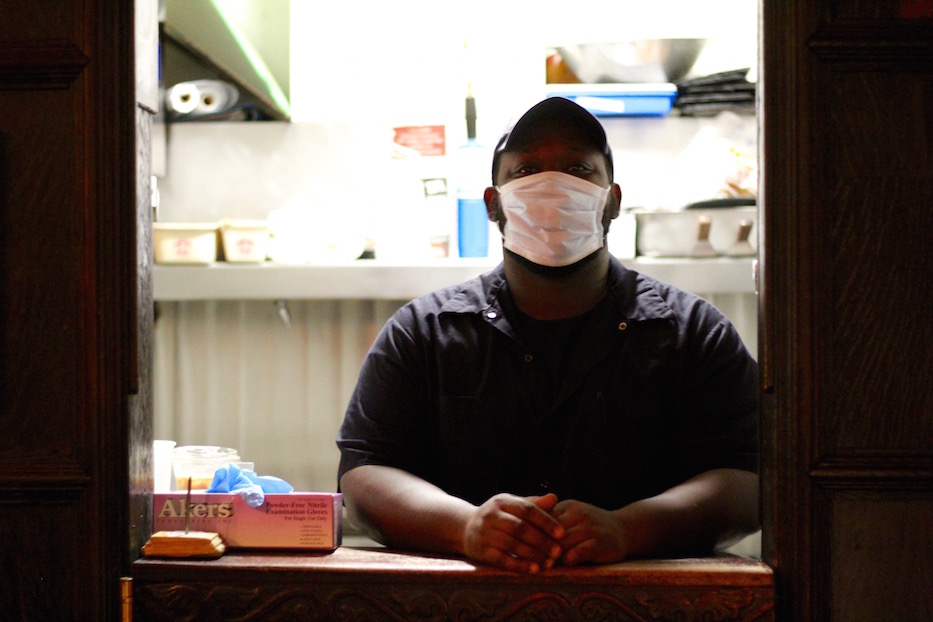 Skylar Melton in the space's tiny kitchen.
Most nights, a bartender stands guard between the front and back rooms, watching for chairs and tables that need to be sanitized. Nearby, the bathrooms are cleaned on schedule. At the bar, mixologists have started experimenting with new drinks that Cabral called slightly more time intensive, including two new monster-movie themed cocktails dubbed the Mothra and Godzilla. The bar plans to do a collaboration with Four Roses Bourbon next month, commemorating a visit to the distillery last October, just months before the world shut down.
Cabral said he is cautiously optimistic: he has seen some familiar faces returning to the bar, and hopes that they keep coming back. He has been able to bring back seven staff members (another two are coming, but not yet comfortable in the space) after furloughing 12 in the spring. While the bar originally received Paycheck Protection Program (PPP) funding, he said that renovations have been entirely out of pocket, in what he hopes will help the space adjust long term to a "new normal."
He's also seen business pick up slowly. For months, the only revenue that came in was from to-go cocktail kits and biweekly food and drink pairings that he held virtually with co-owner Jason Sobocinski. Now, Ordinary is seeing revenue from the space itself. To bring in extra funding, he has continued holding virtual cocktail classes for private parties and a few nonprofits in town, including the Shubert Theater and Massaro Community Farm.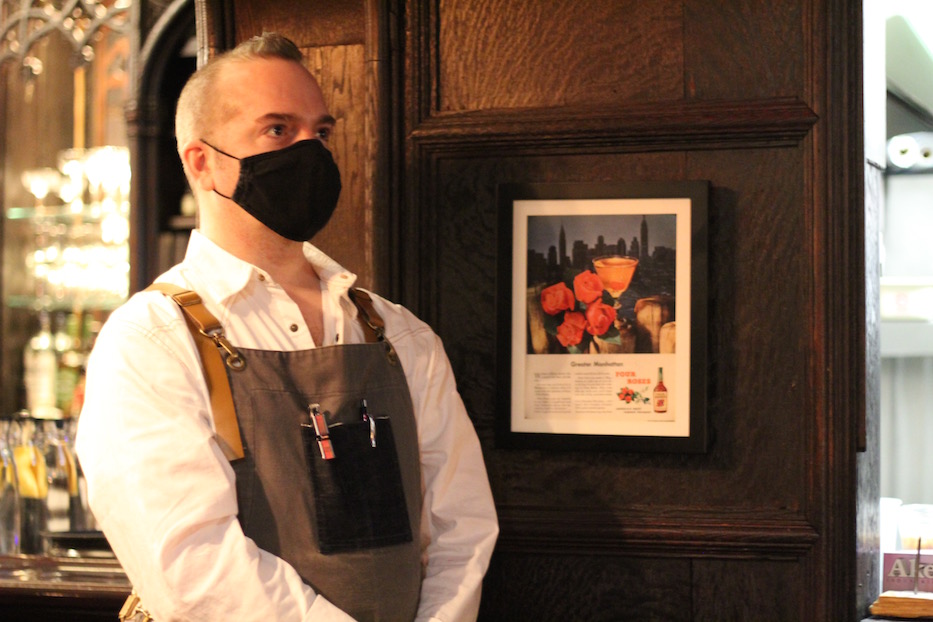 Ben Zemke.
Friday, patrons trickled in, in what mixologist and server Ben Zemke suggested would be a capacity crowd by 6:30 p.m. At the bar, a regular leaned forward and chatted with a bartender who was stirring up his Friday Manhattan, a weekly tradition that he restarted earlier this month. In the kitchen, a masked Skylar Melton was turning out Doodle Burgers. He said he's excited to be back at work after sitting at home for months.
Zemke said he's also excited to be back. He feels as safe as he can, given the fact that COVID-19 isn't over, and the country is bracing for another wave of the virus as cold weather hits. He joked that the job has made him good at enunciating through a mask, to the point that he sometimes feels like a ventriloquist.
"We've always been good with hygiene," he said as a colleague wiped down a bar stool and wide swath of countertop until it gleamed. "I guess I'm getting used to it."
Despite the reopening, Cabral said he often feels like he is holding his breath and waiting for the other shoe to drop. Some days, he peeks onto Chapel Street and finds it bustling with life "like nothing ever happened," the sight of masks bringing him back to the reality of running a business in a pandemic. Others, he goes outside and finds a ghost town. Without Yale in full swing—"Ordinary has never been an undergraduate bar," he said—most of the faces he sees are townies and friends who are coming back out for special occasions. While traffic during the week has been slow, he'd found that people are coming out on the weekends.
He noted that he knows a second lockdown or roll back on capacity could come at any time. Currently, New Haven is still in Phase 3 of Lamont's reopening, despite the fact that cases in the state have continued to rise. Between Friday and Monday, Lamont announced 2,047 new documented COVID-19 cases and 12 new deaths. Those numbers include an increase in New Haven's cases, largely from indoor gatherings. The city's Health Department has also pinpointed shared car rides as potential spreader events.
"There's so many unknowns," Cabral said. "We're seeing the rise in cases, and cold and flu season is starting. It's something that's in our minds all of the time. We feel a responsibility to give people the best time that they can have while keeping them safe. We're still adjusting and still adapting. But a lot of people have come back in, and that's nice."
Ordinary New Haven is open Wednesday and Thursday from 4 to 10 p.m. and Friday and Saturday from 4 p.m. to midnight. Find out more at their website.