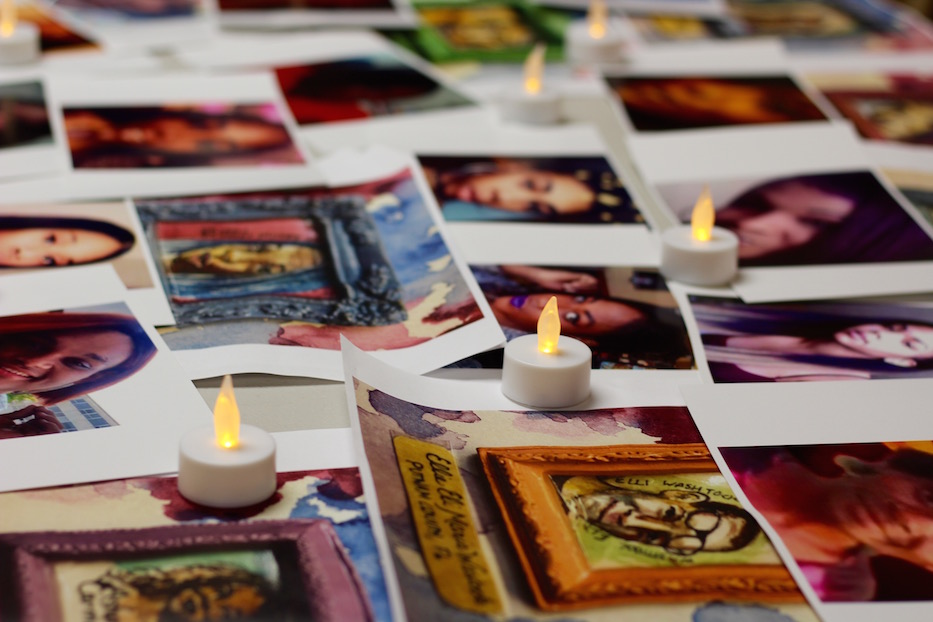 LGBTQ | Radio & Audio | Transgender Awareness Week | WNHH | Trans rights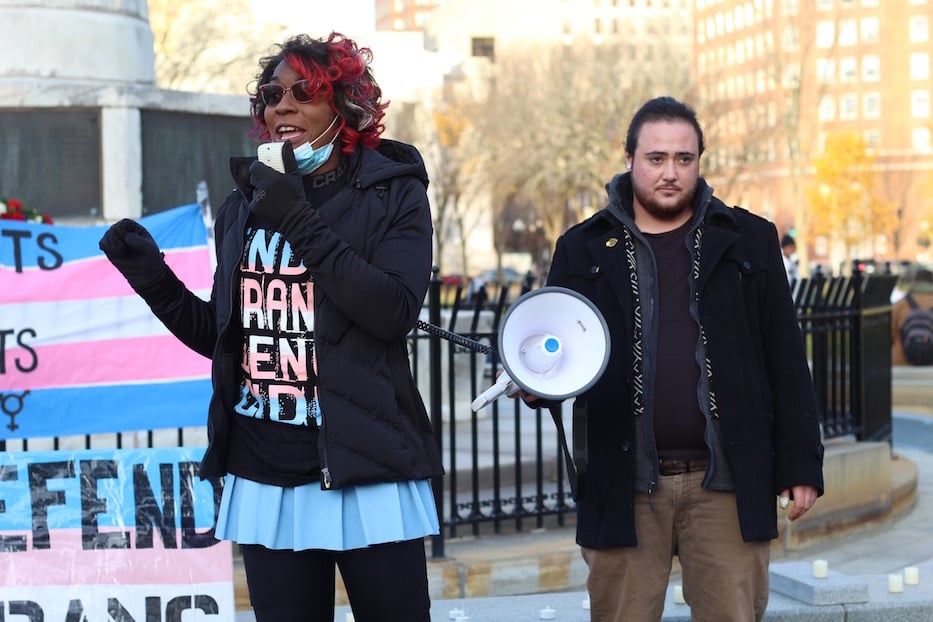 Webb at a TDOR vigil on the New Haven Green last year. Eliot Olson is pictured to her right. Lucy Gellman File Photo.
Karleigh Chardonnay Webb found family at her first Trans Day of Remembrance vigil. Six years later, she's come to see the day as not just a chance to grieve in community, but to resist.
Webb brought that message to a recent episode of "Arts Respond" on WNHH-LP, as she and PeerPride's Kirill Staklo discussed an ongoing effort to bring Trans Day of Remembrance (TDOR) to cities and towns across Connecticut. This year, TDOR falls on Sunday, Nov. 20—the final day of Trans Awareness Week. Vigils are planned in Avon, Danbury, Hartford, Middletown, New Haven, Norwalk, Torrington, Waterbury and Willimantic. Learn more about those here.
New Haven's PeerPride vigil is scheduled for 5 to 6:30 p.m. on the New Haven Green. Separate vigil and altar making will unfold early Sunday afternoon at the New Haven Pride Center, so as not to conflict with the time.
"Let's use this opportunity, even in this sad, somber time—because it is—let's make sure that no one gets left behind," Webb said during the episode. "Let's make sure that we walk away with a spirit of resistance and a spirit of community. Because we're going to need it for what's to come."
Transgender Day of Remembrance began in 1999 to honor Rita Hester, a Black trans woman who was stabbed to death in her Boston apartment in November 1998. Over two decades later, the Human Rights Campaign (HRC) has reported that at least 32 trans people have been murdered in the United States this year, with more deaths that have likely gone unreported.
Eighty-one percent of the people who lost their lives were Black and trans; 85 percent were people of color. Many were victims of housing insecurity, insufficient medical and mental health care, and intimate partner violence.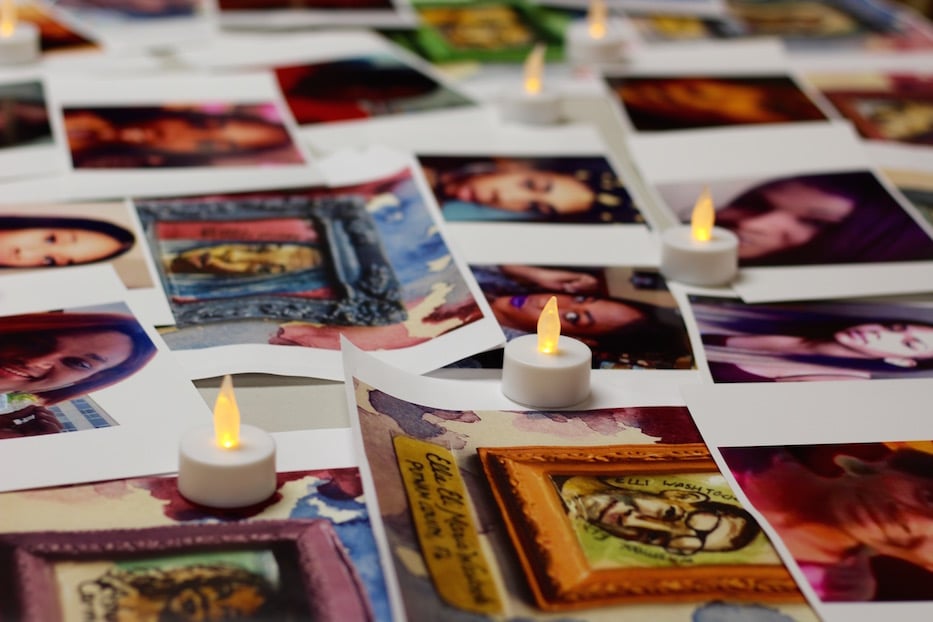 Images from a TDOR observance in 2019. Lucy Gellman File Photo.
In part, that number—which should be zero—is exactly why trans-led affinity spaces are so important, Staklo said. For years, he's been organizing New Haven's TDOR vigil with a constellation of partners, including the Party for Socialism and Liberation, New Haven Pride Center, and Office of LGBTQ Resources at Yale. At some point, he and citywide partners started asking: why not be more collaborative? It led to larger, more cohesive vigils on the steps of New Haven's Federal Courthouse and on the New Haven Green.
Now, that same question applies to TDOR observances across the state, all of which take place the afternoon and evening of Nov. 20. This year, he has found a network of fellow trans organizers, some so new to the work that they are still in high school.
"For all of this who have been organizing this, it's been very moving, because the very act of doing this statewide as a group, especially as a lot of trans people who have never organized anything before ... is just a reminder that we can do the opposite of what people are trying to do to us," Staklo said. "We can come together. We can make something that's by and for trans people. We can connect with each other across the state."
It's also a chance to resist, Webb added. This year alone, the country has seen over 300 bills targeting LGBTQ+ people, and specifically trans and nonbinary youth. In Connecticut, the Alliance Defending Freedom has continued to fight a lawsuit that would ban trans athletes from competing in sports. A far-right, anti-trans super PAC made inroads in the state during the last gubernatorial election cycle. And earlier this fall, gubernatorial candidate Bob Stefanowski proposed a "parental bill of rights" meant to court anti-trans voters before Election Day.
That's a symptom of a much larger systemic issue, both Webb and Staklo said. Connecticut residents who identify as trans (and LGBTQ+ more broadly) are more likely to struggle with housing security, accessible and gender-affirming medical care, stable employment and nondiscrimination in the workplace. According to the 2021 Connecticut LGBTQ+ Community Survey: Needs Assessment Report, four in every 10 LGBTQ+ youth are housing insecure.
It's a reason to reaffirm both the existence of and the support network among trans people, Staklo said. On the most basic level, Sunday is about remembering those who have been taken from the world far too soon. But it's also about building chosen family, and strengthening peer-led solidarity across the state.
"There's a lot of different ways to kill a trans person, and one of the biggest ways is by making us feel like we're alone," he said. "That's what all those bills are doing. That's what every single act of discrimination and violence does—is to try to grind in this idea that we are alone."
"While we can't lose track of the tragedy and the injustice and the constant harm and violence that's done to our community, one of the best ways that we can observe Trans Day of Remembrance is also by remembering the resilience that exists within our community, within the people that are alive right now, who can honor the lives that we lost this year, and can also make the world a better place for one another."
Webb took a moment to remember the late Maia Leonardo, a New Havener who reminded people constantly that "transphobia thrives in isolation." Over a year after Leonardo's death, TDOR is a moment for Webb to reflect, remember, and also resist—particularly as she and her allies brace for the political fight on the horizon. It's one she's ready for because she has her chosen family, she said.
Six years ago this November, it was a TDOR vigil that helped her begin building it. At the time, "the egg had cracked," she said—Webb knew she was trans and had started coming out. Earlier that month, Donald Trump had been elected president, and she felt afraid and angry for what was to come. When she arrived at the vigil, she saw how not alone she was, she said. She met Staklo, who she now considers a comrade and close friend.
"I saw people in community who were as scared as I was, but also people in this community who were willing to say, 'I'm not going to let bigotry take away what's mine. Take away my truth, take away my opportunity to be strong,'" she said. "I've found community to fight back."
"The best way that we can help Floridians, and help Texans, and help Alabamans, and help Arkansans, and help people across the country is we make sure that we get it right here at home here in Connecticut," she added.
To learn more about the work that PeerPride does, visit them on Facebook or at their website. Listen to the full episode above.