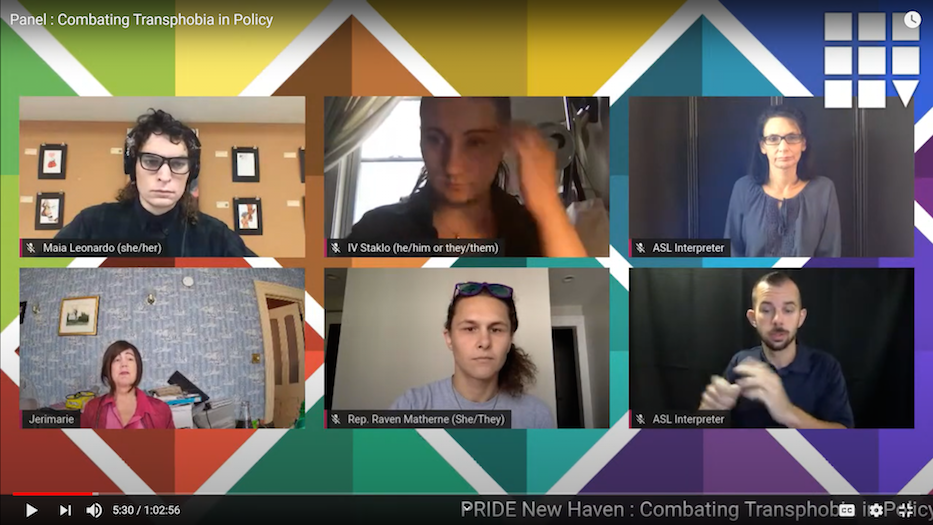 LGBTQ | Pride Month | Arts & Culture | New Haven Pride | COVID-19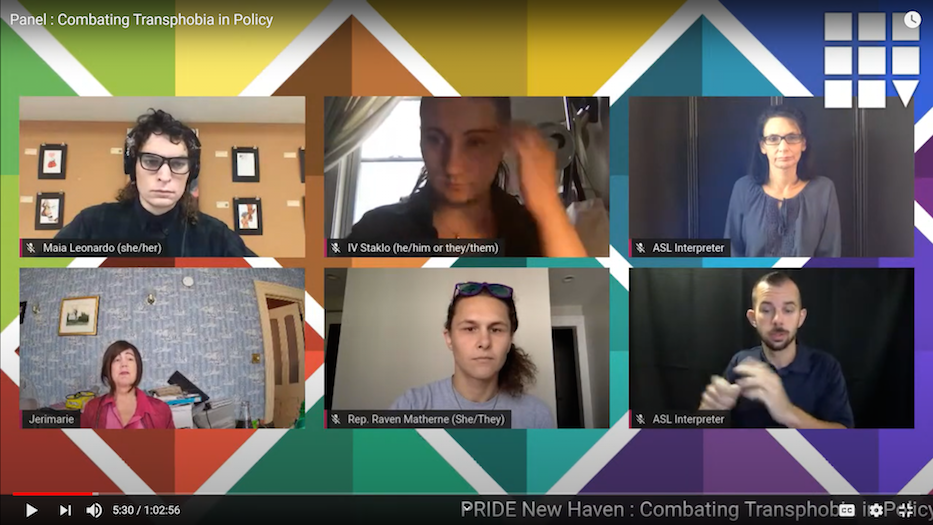 Top Row: Maia Leonardo, who moderated, IV Staklo and an ASL interpreter. Bottom Row: Jerimarie

Liesegang

and

Representative Raven Matherne, as well as a second ASL interpreter.
Stay informed on local and national policy decisions around transgender rights. Pressure state legislators to pay attention to the needs of the LGBTQ+ community. And work to build coalitions of trans advocates and allies, instead of trying to start from the ground up.
This past Thursday, those suggestions were just a few of many that trans activists and organizers discussed as part of this year's virtual PRIDE New Haven. The panel included Trans Lifeline Program Director IV Staklo; Jerimarie Liesegang, founder and former director of CT Transadvocacy Coalition; and Representative Raven Matherne, a member of the Stamford board of representatives. The discussion was streamed on Facebook Live and YouTube.
The discussion came as the New Haven Board of Education braces for a showdown with the federal government over millions of dollars in funding. If New Haven does not agree to ban transgender athletes from their chosen sports team, roughly $6 million over the course of two years will be withheld by the federal government.
The showdown is a continuation of a 2019 lawsuit filed against the Connecticut Interscholastic Athletic Conference's (CIAC) on the grounds that the inclusion of trans athletes violated Title IX through "boys displacing girls in competitive track events in Connecticut." The suit was filed by the Alliance Defending Freedom, a conservative Christian organization that has also filed motions against gay marriage and reproductive choice.
Terry Miller and Andraya Yearwood, the two Black trans athletes mentioned in the lawsuit, responded to the lawsuit stating that Black girls have historically been excluded from sports and their bodies policed. Earlier this month, two-time olympic gold medalist Caster Semenya lost an appeal against regulations requiring women with high testosterone to take medication to compete internationally.
The threat to withhold federal funding arrived months after the Trump administration removed nondiscrimination protections for LGBTQ people for health care and health insurance in June. The same nondiscrimination protections had been extended to transgender people under the Obama administration in 2016. The reversal ruling meant that health care providers can deny treatment to transgender and/or queer patients.
As a result of many of these recent practices, Matherene explained, healthcare and access to health continue to be some of the most pressing issues in the transgender community. Even access to healthcare isn't sufficient, as healthcare providers can often lack the necessary training and resources to provide competent treatment.
"We are seeing a lack of access to competent healthcare," she said. "The reality is that most doctors aren't up to speed or educated on what trans people are and what they're going through. Trying to get our medical resources up to speed on LGBTQ matter is of the utmost importance."
Liesegang added that the struggle for competent healthcare has been ongoing battle since her involvement with trans and queer advocacy in the 80s and 90s. She believes healthcare policy should also regulate and protect trans people who seek out homeless, crisis, and domestic abuse shelters. She emphasized the need for policy to guarantee long term change not depending on staff or training.
"We can do training but once the staff turns over, all that training is [for] naught, " she said. "We need policies that cover the trans community how it wants to be covered."
Staklo pointed out that while there are nondiscrimination laws in place, it does not eradicate workplace discrimination. In May 2011, former Connecticut Gov. Dannel Malloy signed "An Act Concerning Discrimination." The bill extended non-discrimination protections to transgender residents in employment, housing, education, and public accommodation. Staklo said that despite Connecticut being five years ahead of the national bill and presenting as a liberal state, they were still the target of work place discrimination.
Liesegang and Staklo both emphasized the history of trans and queer movements in obtaining legal rights and protection. A key part of the movement is understanding where the power for change resides, said Staklo.
"There isn't a backlash because suddenly some benevolent politicians decided to hand us our rights even though there are people out there who do want to do the right thing," they said. "The reason why we were able to win the victories that we won is because thousands and thousands of people over the years mobilized in the streets and really lit a fire under people and really said we're not backing down."
Liesegang recounted their own experience of marching in the streets and the importance of coalition building in growing these movements. They served on the Connecticut chapter of the National Organization for Women (NOW) and Connecticut Women's Education Legal Fund (CWELF).
"You can look around a bunch of each room with a lot of people and say help me with my problems, " they said. "But everybody in that room has issues."
They criticized single-issue coalitions like Love Makes a Family (LMF) for not establishing relationships with other communities. The organization founded in 1999, officially disbanded in 2009 after having obtained equal marriage and adoption rights. Liesegang criticized the group for disbanding and not joining other queer coalitions.
Staklo echoed coalition building by encouraging queer and trans leadership to be present in all organizations, even if they are not explicitly centered around the queer and trans community. Furthermore, these groups should be led by the very same people they aim to help, meaning trans leadership in trans organizations. They praised Black Lives Matter for being an exemplary model of queer and trans leadership.
Coalition building is not without risks, members of the panel noted. Becoming highly visible in the community can lead to job loss and discrimination. After Matherne came out as trans, she lost her career as a professional martial artist.
"I was incredibly lucky to be able to run office and be able to do that successfully," she said. "But that's not a normal trans story. You come out of the closet and you lose everything."
A 2019 study by the Williams institute found that bisexual and transgender people had a poverty rate of approximately 30 percent. In comparison, the straight cisgender community reported a poverty rate of nearly half at 16 percent.
Due to a lack of economic stability, trans people often find themselves engaging in the underground economy explained Staklo. Many trans people engage in sex work or drug dealing out of necessity. Staklo does not believe the government should regulate these practices. Instead, they argued that the government should decriminalize sex work and other currently illicit practices.
Matherne and Staklo believe a new economic system needs to be implemented to change the material conditions for not only trans people but marginalized communities at large. A change in economic conditions leads to a better mental health outcome, explained Staklo.
"As somebody who works in mental health and sees how much mental health is tied to people's material conditions," they said. "That's what I always go back to is we need to change our material conditions and we need to change our basic constitutional rights."
Matherne added that an economic change has to come in tandem with a shift in societal views. She cited Connecticut as a state that has made great strides in protecting trans athletes and should be a model for other states in the nation. In comparison, Idaho legislators tried to ban trans athletes from participating in their chosen sport last month. A federal judge overturned the decision within the same month.
Societal views also extend to everyday acts that uphold cisgender, patriarchal systems through transphobia, said Staklo. The lack of gender neutral bathrooms in the workplace or gender reveal parties are examples of transphobia in the day to day.
"Simple things like that that people do not consider to be serious issues are all part and parcel of the same systemic," they said. "Why are you focusing on these minor things when there are trans people that are being literally attacked in the streets? Like no, this is all part of the same culture, right?"
In the seven weeks between now and the general election in November, Matherne encouraged citizens to call their local legislators to put pressure on them to protect trans and queer rights. Calling representatives it not necessary about convincing them to change the entirety of their work. It's about applying pressure as a voting block.
"Tell them that you support queer rights," she said. "It is going to make them far less likely to show up to anything that's going to be taking down your rights. They're not going to want to show their face 'cause they're afraid they'll lose your vote."