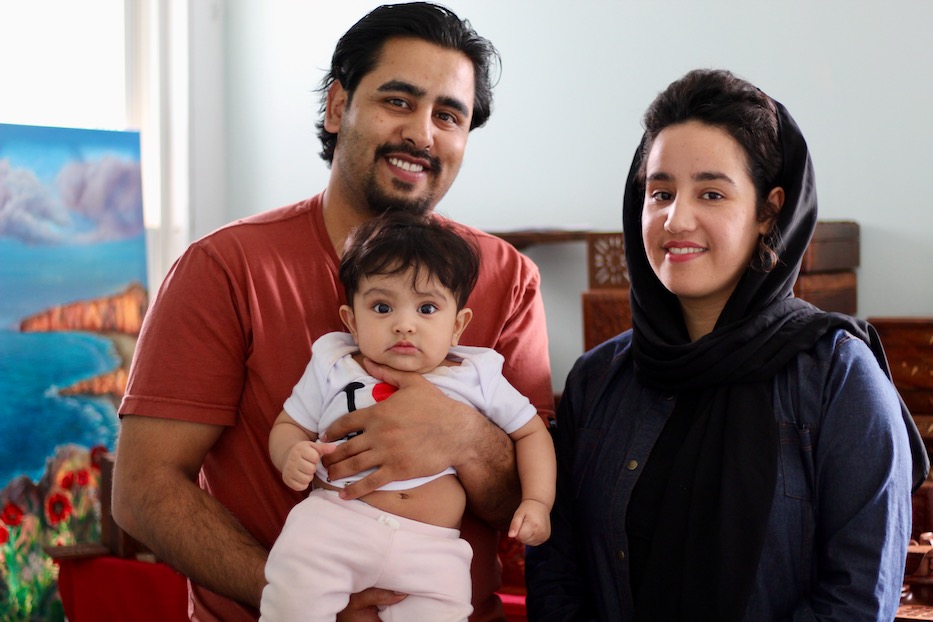 Branford | Culture & Community | Integrated Refugee & Immigrant Services (IRIS) | Painting | Arts & Culture | Visual Arts | Arts & Anti-racism | Woodworking | Helping Families Settle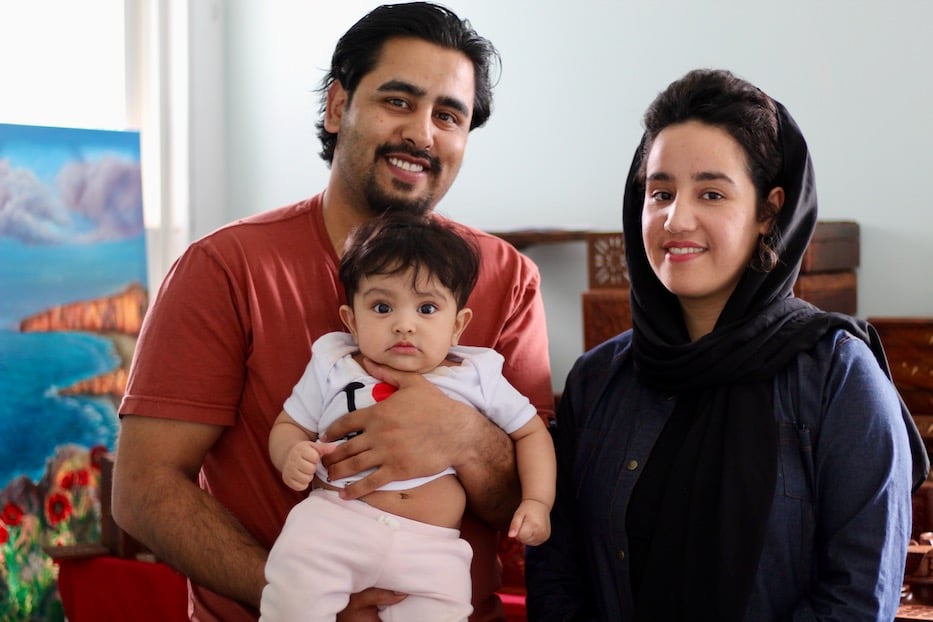 Mosa Sadat and Laila Mohammadi with their daughter, Lea. Lucy Gellman Photos.
The landscape is a portrait of home, everything vivid and alive. Beside a flowing river, grass springs up in thick tufts, the blades glowing as they turn toward the sun. Fir trees and redbuds dot the landscape, with bursts of pink and white that ask a viewer to come in closer. In the distance, thick fog rolls in over the mountains. It feels both a world away and close enough to touch.
The painting comes from artist Laila Mohammadi, an Afghan refugee who now lives in Branford with her husband, Mosa Sadat, and their infant daughter, Lea. After fleeing Afghanistan as the Taliban took Kabul in August 2021, the two have built a life in Branford, where both practice art as they juggle work and life with a young child.
They have found support from Integrated Refugee & Immigrant Services (IRIS) and Helping Families Settle, a program that grew out of the U.S. government's Welcome Corps initiative two years ago. Read more about that program here and here.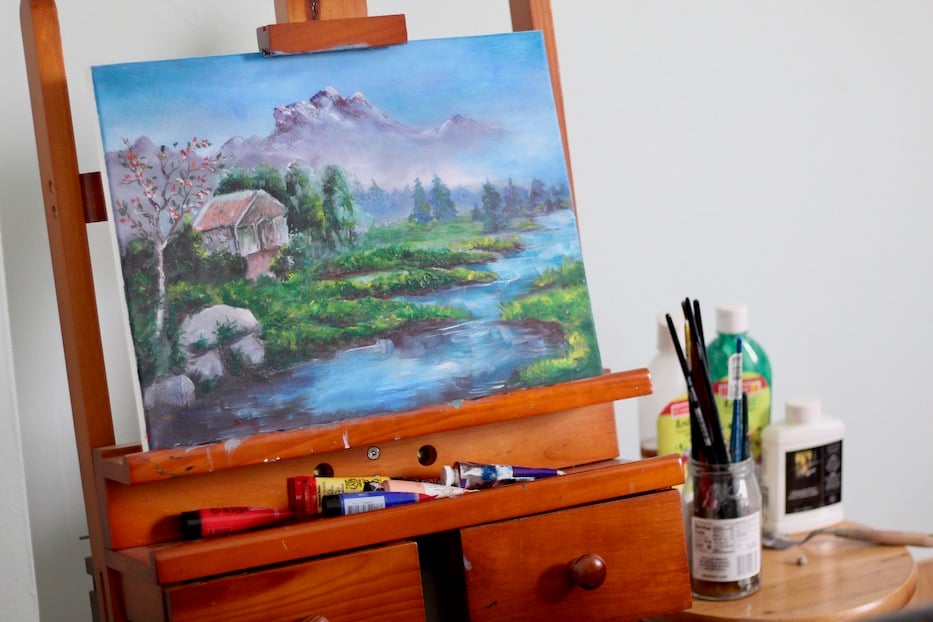 "Me and Mosa, when we left the country, we didn't know our future," Mohammadi said in a recent interview at her Branford home, as Lea played on the carpet. "We didn't know when or where we were going, or what we were going to be faced with."
Their journey from Afghanistan to small-town Connecticut spanned multiple countries and lasted months, often woven with uncertainty. But it began decades before 2021, when both Mohammadi and Sadat were growing up in an Afghanistan that is unrecognizable to them today.
Born and raised in Kabul, Sadat began woodworking when he was 14, learning first from his father and then from other artisans. He was particularly drawn to Nuristani carving, a form of woodworking that originated in Afghanistan's eastern, mountainous Nuristan province.
"I just loved working with wood," he remembered as sunlight streamed through the living room window, and Lea found a patch of it to linger in. As a teenager, he became a member of Turquoise Mountain, a global collective of artists that works to teach and restore traditional, training-intensive crafting practices that are often in danger of cultural erasure.
He credited his father, a tailor in Kabul, with encouraging him to study and grow his career—which ultimately became his path out of the country.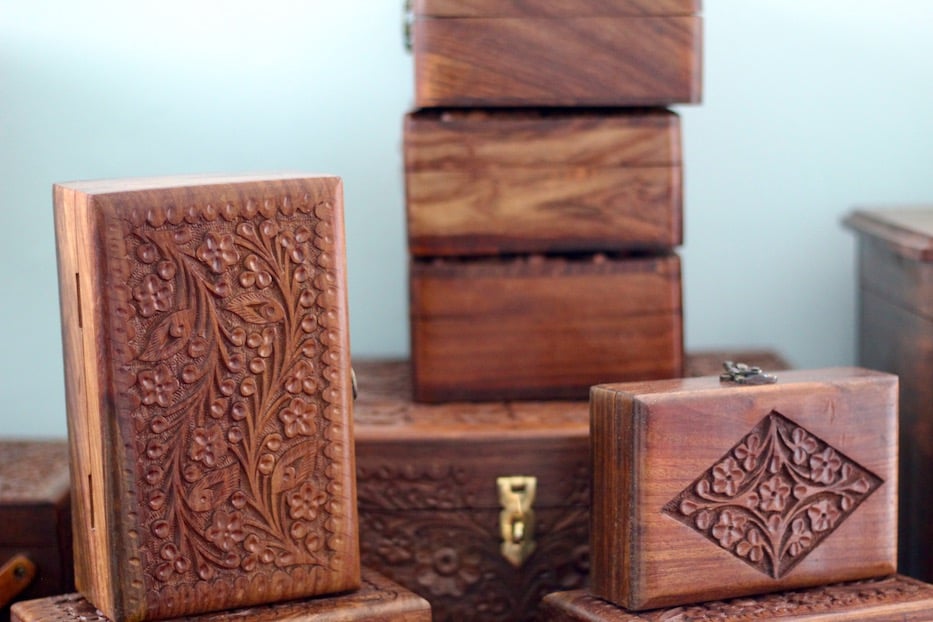 Mosa Sadat, who now sells his work through Instagram and craft fairs, began working with Turquoise Mountain when he was just a teenager.
As he honed his craft, Sadat learned to build whole worlds in wood: delicate chess sets with pawns in thick trousers and tunics, small chests covered in elegant leaf-and-berry designs, intricate wooden tabletops and boxes with brightly painted scenes on the inside. In 2012, he began working in a small Kabul-based woodshop called Golden Wood, where he exhibited his work at the U.S. and German Embassies in Kabul.
Meanwhile, Mohammadi was also navigating her way through Afghanistan's capital city, in pursuit of an education that would ultimately help other women and girls. Raised by a teacher in Iran, she was excited to learn, she remembered, and hungry for new information. By 2015, she was finishing her bachelor's degree in computer science at Kabul University, where the Taliban has since 2021 barred women from studying.
At some point, their work in the city brought them together. During the day, Mohammadi worked in a high school as a painting and handwriting teacher, with studies that often took her into the late hours of the night. After graduating, she began teaching coding and computer programming to girls.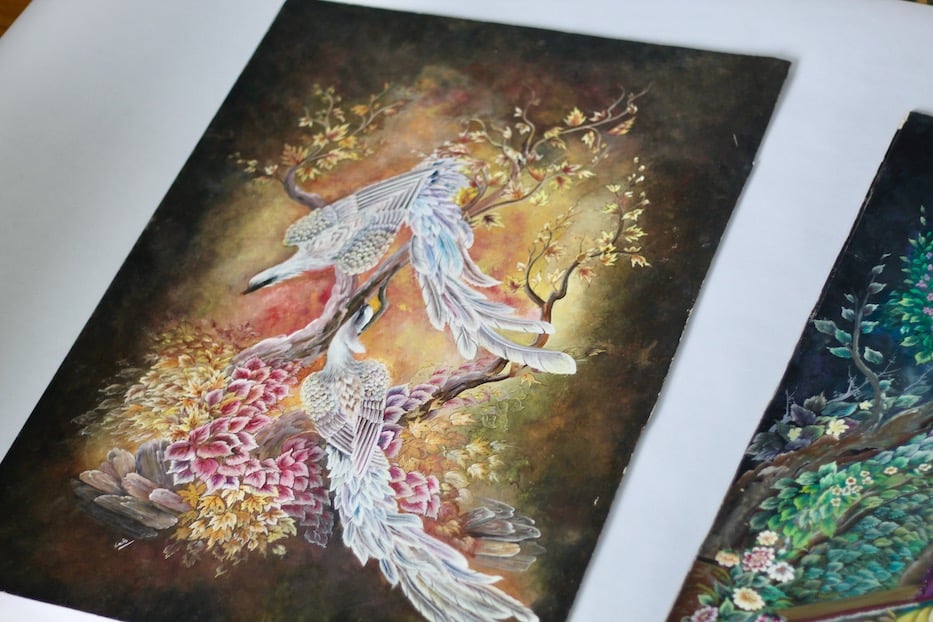 Laila Mohammadi, who is a self-taught painter. In Afghanistan, she taught painting and handwriting, and later computer programming and digital literacy, to girls.
Even then, she said, there was a precariousness to women's education in Kabul, including explosion blasts that would interrupt lessons near the school where she taught. But it was nothing like what she sees now, or hears from women who are still in the country.
"So many children were there," she said. "Everything was great—they were so smart. Now they have to stay home forever."
For close to six years, the two worked on building a life together in Kabul, in which artmaking was a constant, strong and steady heartbeat to everything they did. While Sadat was and is often credited for his work with Turquoise Mountain, Mohammadi is also a talented painter herself, with detailed, sometimes labyrinthine scenes drawn entirely from her imagination.
In one of her canvases, for instance, a woman plays the oud beneath a fragrant, flowering tree, blossoms opening around as she sends music into the night. A fawn rests its head gently in her lap, a candle and inkwell in front of her, and it feels for a moment like the whole world is at peace. In another, birds gather among the branches, their long white tail feathers fanned out in a sort of dance.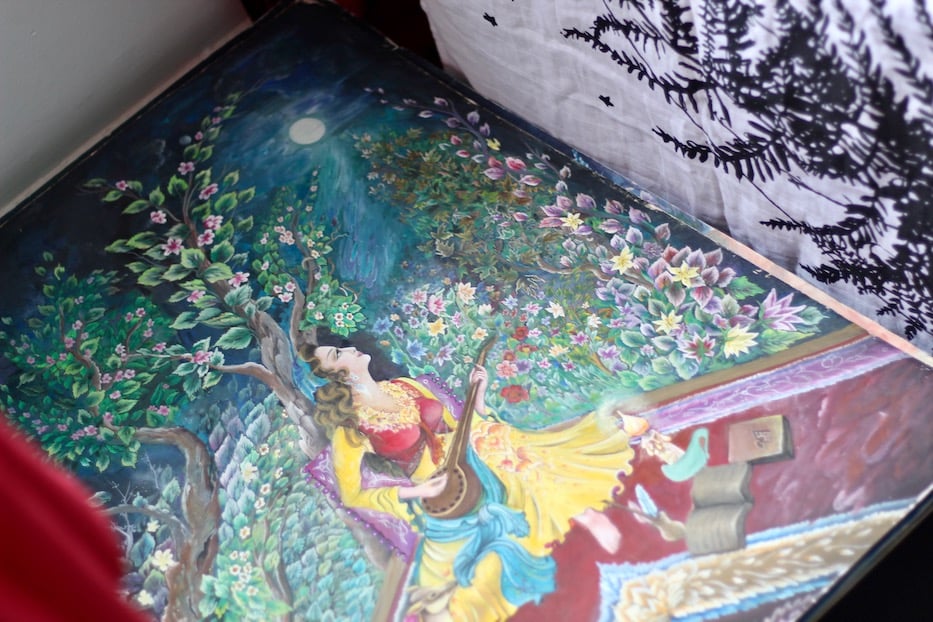 The two were still living in Kabul when reports of government upheaval reached Afghanistan's capital city in summer 2021, and they began to wonder what their future might look like. That August—almost exactly two years ago—they received notice from Turquoise Mountain to be prepared to leave home with few belongings. It was a message that ultimately went out to 11 of the collective's artisans and their families.
That call came on August 24, less than 10 days after the Taliban had first moved into the city. A car to the Qatari Embassy became a plane out of the country, and then a short stay in a refugee camp in Qatar. Little did they know then, Mohammadi said, they were only at the beginning of a long and exhausting journey.
From Qatar, the two spent close to three months in Macedonia, then returned to Qatar, this time to a refugee camp in Doha run by the U.S. Army. It was there, living in a shipping container, that Mohammadi realized she was pregnant, so sick during her first trimester that she could barely touch food for three months.
Her art, meanwhile, became a coping mechanism. Mohammadi offered to teach painting classes to kids in the camp, because it "made me feel better" in a world turned completely on its head, she said. It still does. That the canvases and paintings on thick paper tell that story in real time is not a surprise: she was able to exhibit her work while awaiting news about where her next stop would be.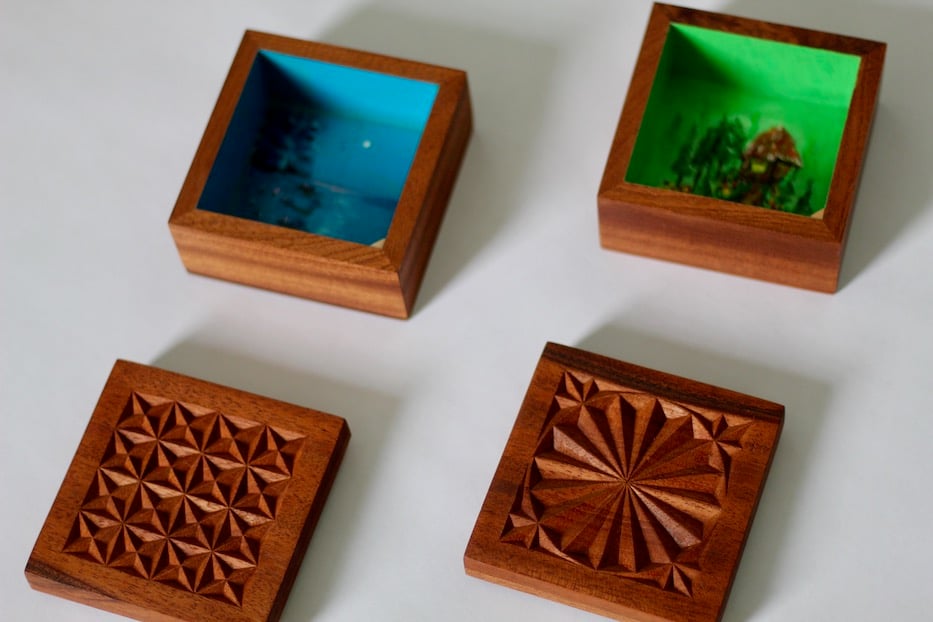 It was only early last year that they finally received the news that they would be coming to the U.S. At the end of March, the couple arrived in Virginia Beach, a stop on their journey to Connecticut. In New Haven, Branford resident Laura Noe was waiting for them, ready to welcome them to their new home.
Laughing, both Mohammadi and Sadat remembered her tiny car, which ultimately required multiple trips to shepherd their belongings to Branford.
While they now live closer to the center of town, their first apartment was in the area's Short Beach neighborhood. Mohammadi remembered getting into the car, and asking if they would have to move again in a few days or weeks. Noe shook her head. They were home, she assured them.
"She said 'Yes, you can stay here for as long as you want,'" Mohammadi recalled with a smile.
Noe, who described the Welcome Corps as "volunteering on steroids," said she was inspired to get involved after a number of personal experiences, including her own cancer diagnosis and treatment in late 2020, and years watching her brother experience chronic housing insecurity and homelessness. Working with fellow Welcome Corps volunteers reminded her of both how generous people could be, and how threadbare the country's social safety net sometimes is.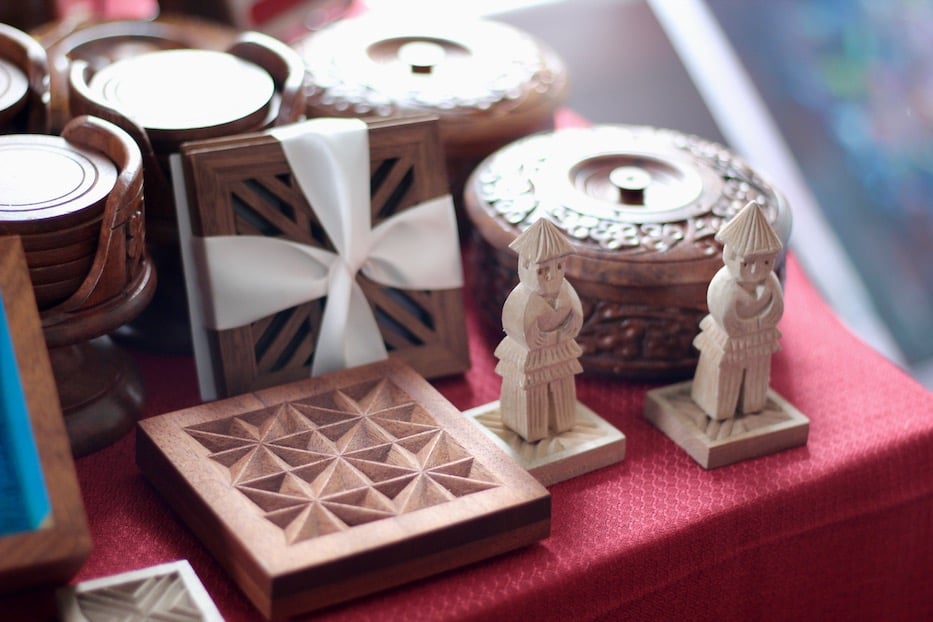 "We need to come together and help people," she said in a recent phone interview, remembering a trip the three took to New York City last July, when Mohammadi was eight months pregnant and still insisted on sightseeing in the sweltering weather. "And Laila and Mosa—we were all in love with them on day one. I feel such deep affection and respect for their courage and their humility."
Branford, meanwhile, posed its own challenges; it still does. While members of Helping Families Settle raised an initial $48,000 for Sadat and Mohammadi, Noe and fellow volunteers soon found that costs, particularly housing, food and supplies for a new baby added up (the group hosted a baby shower shortly before Lea was born for the couple to help defray costs).
While Connecticut's cities have a bus system that refugees often rely on—imperfections and all—there was also almost no public transportation that went out to Branford and could ferry them to nearby grocery and supply stores. Noe praised volunteers who showed up to take the couple on food runs and to doctor's appointments (she has personally dedicated hundreds of hours, and practices what she preaches), but expressed frustration that there isn't a more comprehensive public transportation system.
For instance—Short Beach to downtown New Haven often requires two buses (and depending on the time of day, sometimes four, followed by walking) or a train followed by a bus, sometimes running over an hour. One of those buses, the line 204, runs only once an hour during most of the day, and stops before the late evening. By comparison, it's a 13-minute drive. It would be months before Sadat qualified for a driver's license, and close to a year before the two were able to get their first car, a Toyota Corolla.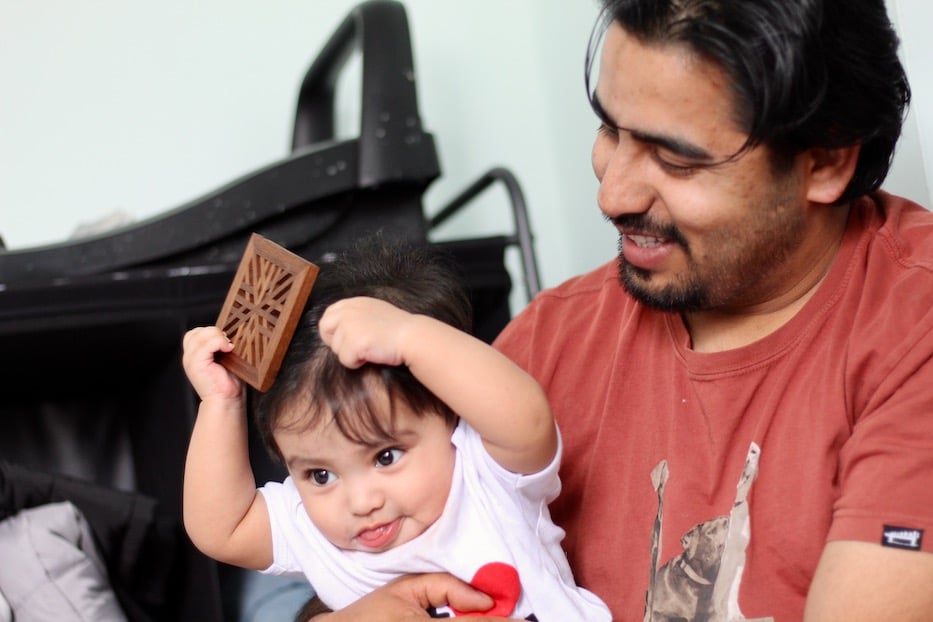 Initially, translation was also an issue for the couple: the two speak Dari at home, but were effectively cut off from other large groups of resettled Afghan refugees, including in West Haven and in New Haven's Edgewood neighborhood. Mohammadi said that she never learned about resources like Havenly or Sanctuary Kitchen, and wouldn't have initially been able to pursue them with the new baby.
Working feels like a necessity, she added: "Branford is so expensive," especially with a small child. While Sadat picked up work with Branford-based construction company MN Reale and later Ford of Branford, a single income felt (and feels) hard, she said. Currently, she watches Lea at home, but would like to pursue work that puts her background in computer science to use. She added that she is grateful to be in a country where Lea can go to school.
As they navigate a new country, both she and Sadat have turned to their artwork as a way to move forward in a world that still doesn't make sense. Mohammadi's sister and two young nieces are still in Iran, which they feel is safer than Afghanistan for women and girls. Sadat's sister has five children, four of whom are girls who are no longer allowed to go to school. Their mothers are both still in Afghanistan.
None of them, Mohammadi said, have the right paperwork to come to the U.S. When they speak on the phone, they fear for family members' safety.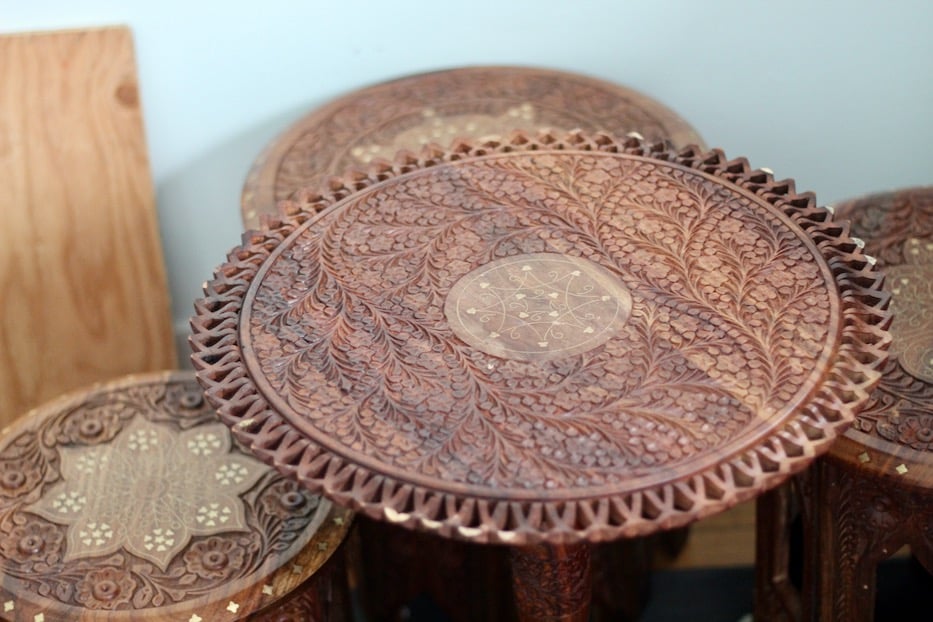 "Everything is good here, even it's nice, but we need our family," Mohammadi said, her voice breaking. "The babies [her nieces, who are three and five] are so used to me and Mosa. They say, 'Mom, I want to go to my aunt.'"
When she's painting, "I feel better," she added. "I can forget everything."
In a room they have turned into a shared studio, a visitor can see that love for craft unfold in real time over nearly every square inch of the space. In one corner, an easel waits for Mohammadi's gentle hands, with half-squeezed tubes of paint neatly arranged just beneath it and half a dozen brushes in a repurposed mason jar. Across the room, finished canvases wait quietly for visitors, ready to tell dozens of stories in delicate paint.
On a table behind them, illuminated by natural light, dozens of carvings wait for new homes. There are tabletops carved with sprays of leaves and eight-pointed stars, their edges blooming outward; boxes with starbursts and symbols specific to the Nuristan region.
As he spoke, Sadat held up a number of chess pieces, all of them carefully rendered through a method of chip carving, and none larger than his thumb. Eventually, he said, he would like to have a proper studio space and sell on Etsy. He currently markets his work as ML_Wood through Instagram, an appeared at the Branford Festival with a tent last month.
"I want to support the artists still living and working in Afghanistan," said Sadat in Dari as Mohammadi translated. "To show their art here. They have so much nice art that still is hidden. There are still artists doing that work every day."
Follow and support Sadat's work on Instagram here. To contact him about purchasing a work, email mosa.darwesh007@gmail.com.