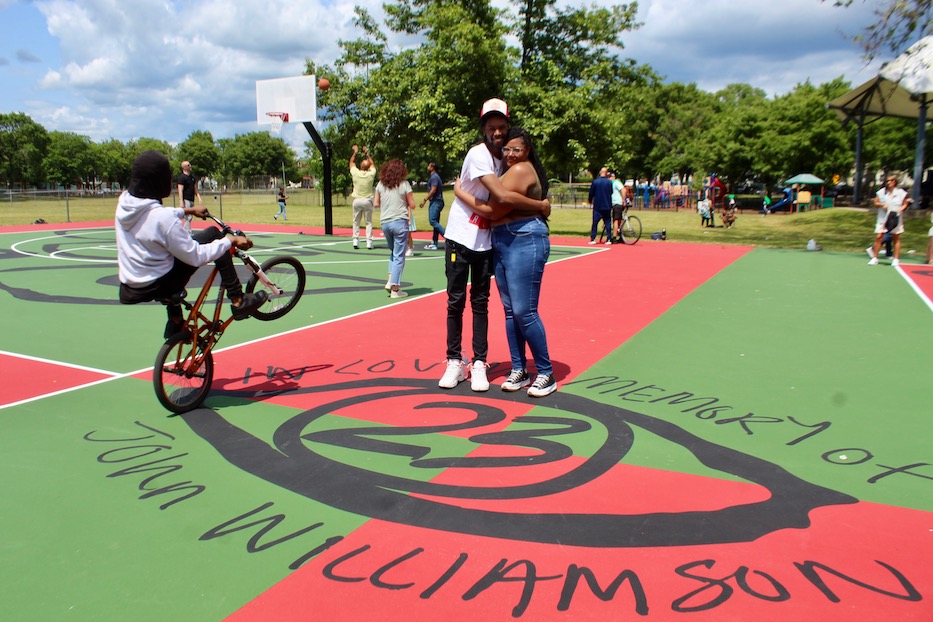 Culture & Community | Dixwell | NXTHVN | Public art | Arts & Culture | Basketball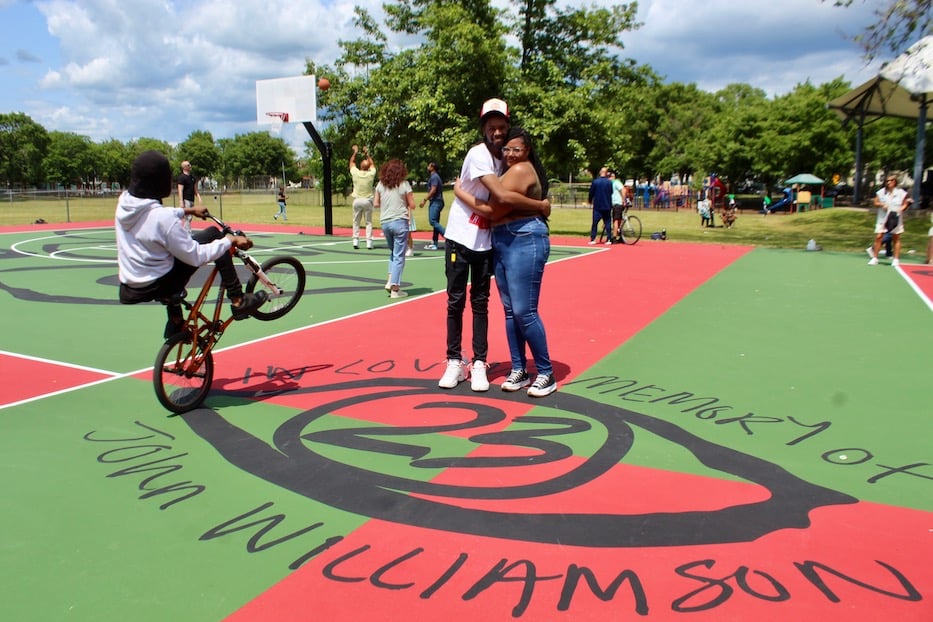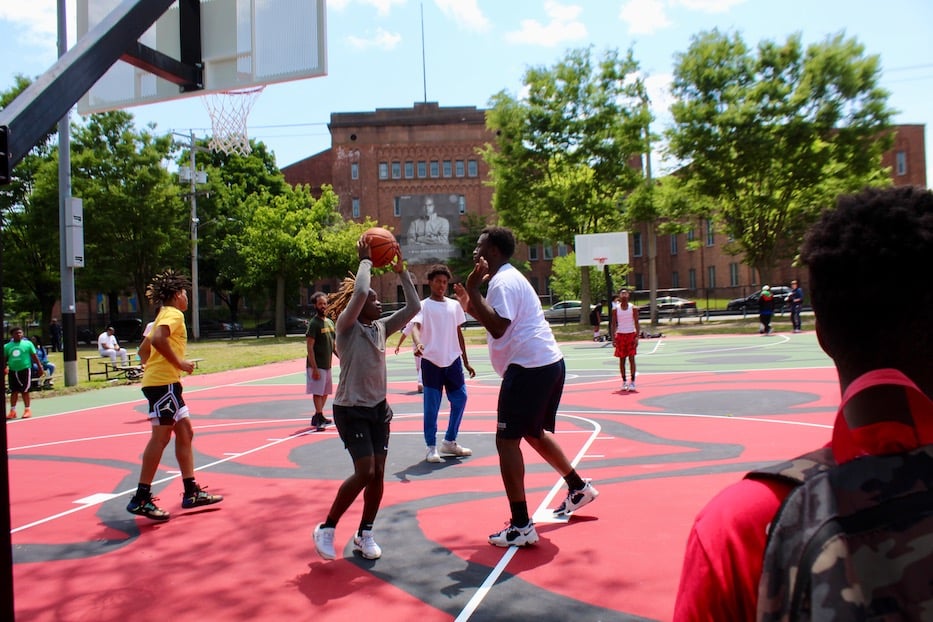 Top: Cousins Jazmine and Nijonn Williamson. Bottom: Games unfolded all afternoon. Lucy Gellman Photos.
On the Goffe Street basketball courts, summer was in full swing. Mike Downing called out the start of a game, and kids spread out in a flurry of red and green shirts around him, eyes on the hoops above as the ground vibrated with color below. Beneath a tent nearby, chef Brandi Marshall served up chicken nuggets and ice cold bottles of water as family members caught up behind her.
A public art project, miniature basketball tournament, and Williamson family reunion came to DeGale Field Saturday, as NXTHVN and Common Practice cut the ribbon on the long-awaited, refurbished Goffe Street basketball courts with an afternoon of recreation, food, and pumping music that kept the party going for over four hours.
At its core was a chance to properly honor "Super" John Williamson, a son of New Haven who grew up in the Ashmun Street Projects, attended Wilbur Cross High School, and went on to play for the American Basketball Association (ABA) and National Basketball Association (NBA). Throughout the afternoon, kids from the Boys & Girls Club of Greater New Haven played on the court, completely in the zone.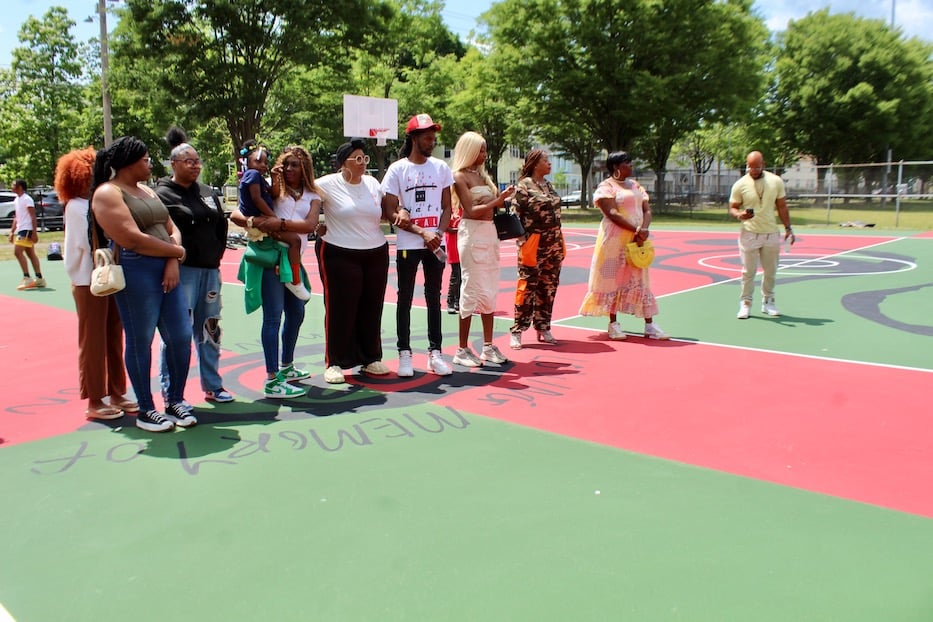 Members of the Williamson Family.
"It feels amazing," said Williamson's daughter, Shareebah Williamson, who with her sister Kali has spearheaded efforts to properly honor her dad on the court since last year. "This is all I ever wanted—to keep my dad's name alive, it's really an honor and a blessing. We can see my dad's legacy living on. This is history that he elevated right here, on this court."
The courts come from a year-long collaboration between NXTHVN and Common Practice, an initiative that probes the intersection of public art and basketball. Designed by the artist Tschabalala Self, they feature alternating blocks of red and green, with a repeating eyeball motif in black.
At the center of the court, the number "23"—Williamson's number with the New York (and later New Jersey) Nets, which was retired after he left the team—hovers inside the sclera and iris of a single eyeball, right where the pupil would otherwise be. The words In Loving Memory of John Williamson wrap around it.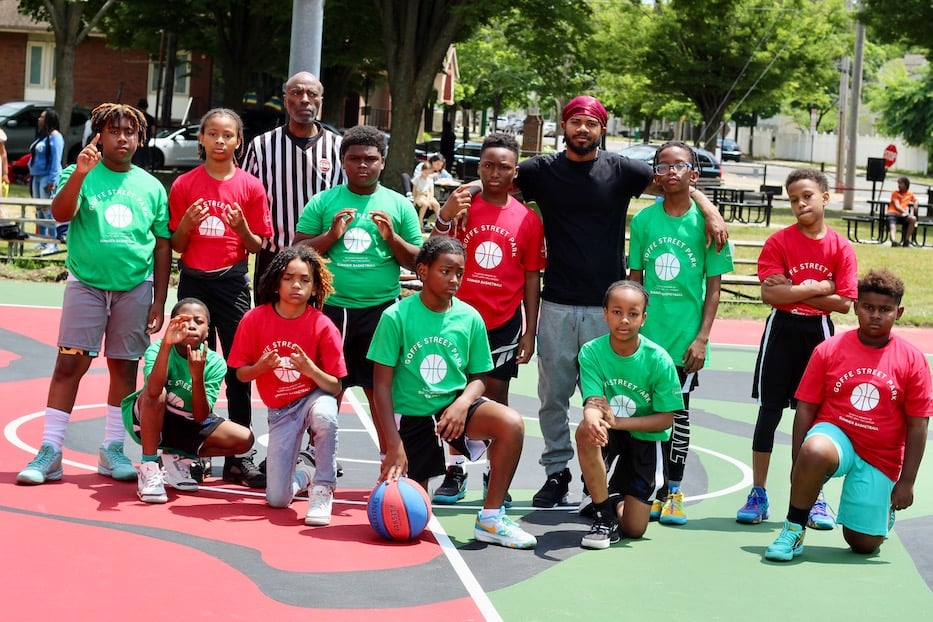 Kids from the Boys & Girls Club of Greater New Haven came to play. NXTHVN and Common Practice's John Dennis said he was excited to partner with fellow community organizations and hoped that NXTHVN could grow that work going forward.
Saturday, that legacy came alive for hours, as members of the Williamson family gathered to celebrate the finished design, catch up with each other, and play some ball in a superstar's honor. Among them were siblings, first and second cousins, children, and grandchildren, all of whom grew up hearing stories and reading family-preserved news clippings of Williamson, and often pursued the sport in his memory.
Kristen Bowser, who grew up in Baldwin, Louisiana and played basketball competitively for Louisiana State University, was one of those grandchildren. As a kid, Bowser spent her summers coming to New Haven, where she heard "all the stories" about Williamson's life and career from her aunts and uncles. The courts are where she learned to play under the hot New Haven sun.
"I love the game, it's just in me," she said. When she heard about the project from Shareebah, she was excited to return to New Haven, and play on the courts after years away. "It's something positive for the youth."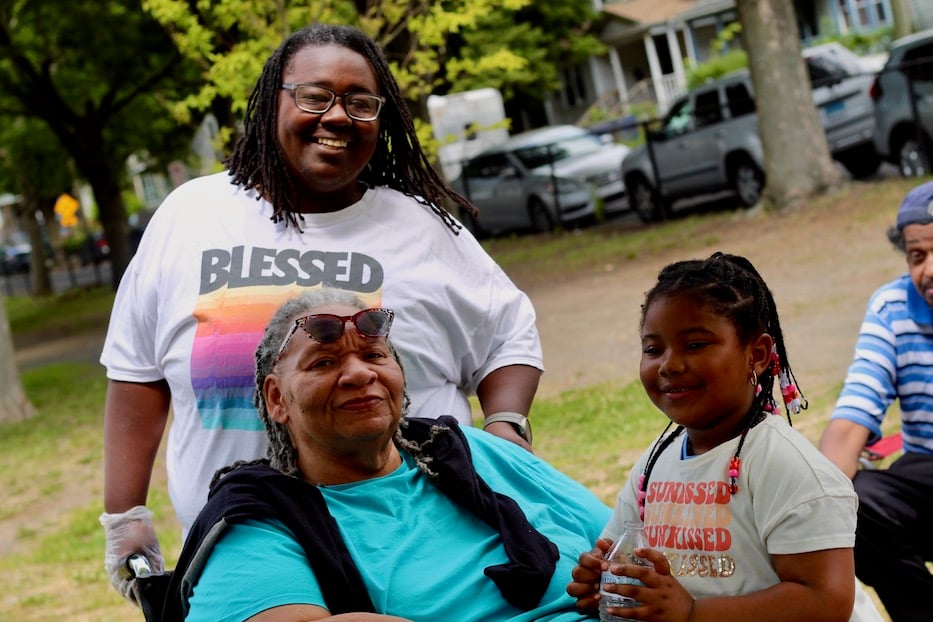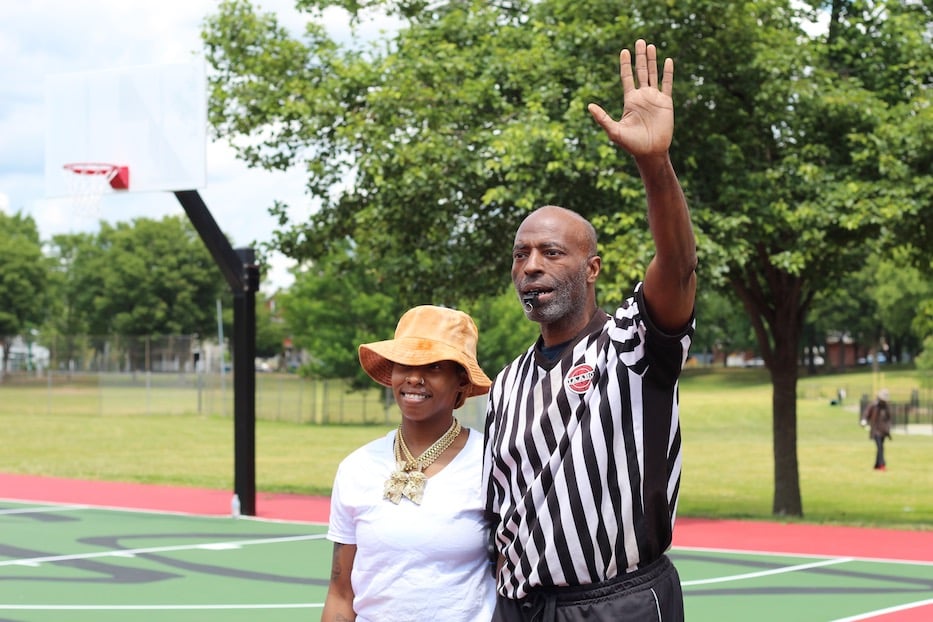 Top: Brandi Marshall, Brenda Miller and Dallas Robinson. Bottom: Bottom: Kristen Bowser and Tyrone Grant.
As he watched teens sprint across one side of the court and kids take over the other, referee Tyrone Grant remembered being a kid on the court, and having Williamson toss the ball to him. He went on to help form New Haven's community basketball leagues, in which he has been a referee for 33 years.
He added that he is hopeful people will better remember Williamson for the footprint he left on New Haven. Raised with 10 brothers and sisters in the Ashmun Street Projects, Williamson grew up going to Bethel AME Church, which sits just half a block away from DeGale Field on Goffe Street. While studying at Wilbur Cross, he helped lead the team to the Connecticut state championships three years in a row.
When he graduated, he soared on to college basketball, and then to the ABA and NBA. In the NBA, he set records that took years to break. When he retired from the NBA at 30, he moved back to New Haven, and worked with young people as a juvenile corrections officer. He died in 1996, when he was only 44 years old. His children, who were teenagers at the time, have kept his stories alive.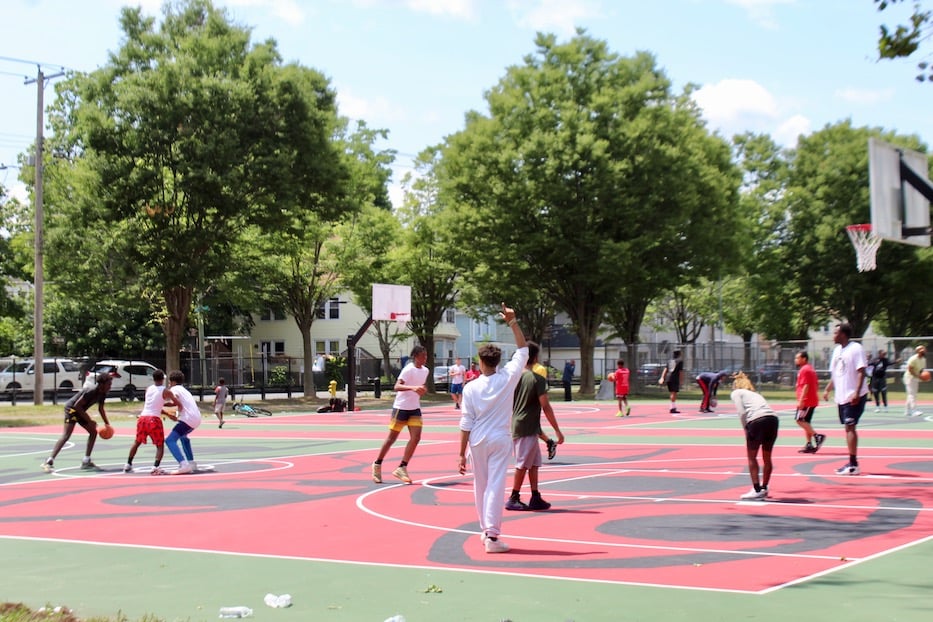 Saturday, it appeared as though honoring him was indeed the order of the day, from long-overdue family conversations and tear-flecked speeches to an ice cream truck that pulled up just as the sun became overbearing. As multiple balls rang out across the fresh court, there was the sense that Williamson was there, beaming down on well-refereed games and cousins who hadn't seen each other in months, sometimes longer.
Beneath the tent, Williamson's cousin Brenda Miller said she was elated to see the day take shape. Raised in Ohio, Miller moved to New Haven when she was 22, and described Williamson as more "like a brother to me" than a cousin. For years, she worked with the city to coordinate New Haven's Midnight Basketball league. To pay tribute to Williamson seems overdue, she said, pointing to how deeply Ohioans celebrate Lebron James' Akron-based roots.
"It's nice that someone did that for John," she said. "That's what they needed. Our kids need something to do."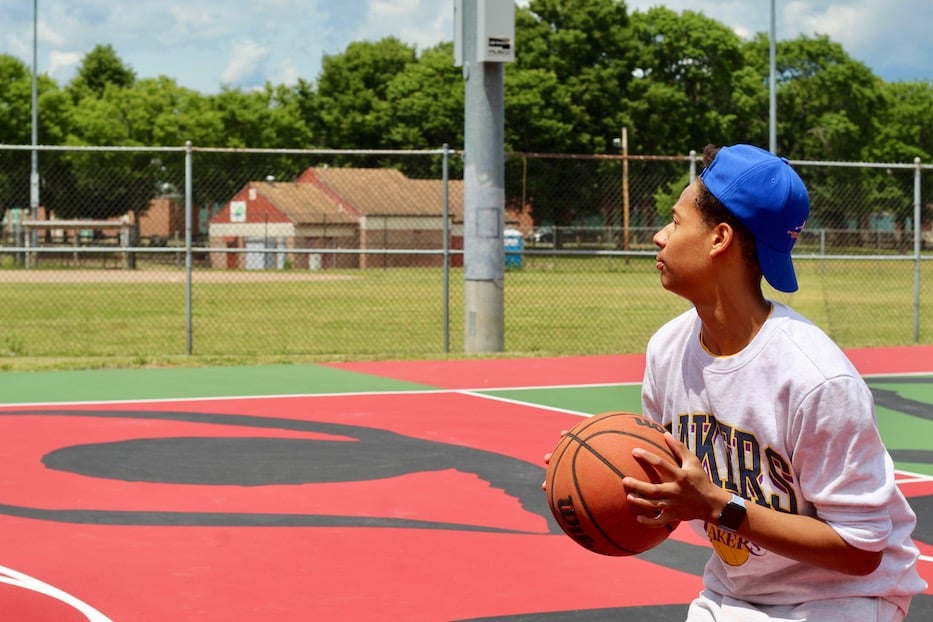 Nearby, cousins Jazmine, Imoni and Nijonn Williamson took a minute to absorb the breadth and brightness of the design, which is rendered in Pan-African colors that seem to vibrate in the sunlight. Nijonn, who grew up playing on "every court in the city," said he was excited to return to Goffe Street and honor his grandfather's legacy. Jazmine, now an audience development coordinator for Long Wharf Theatre, said that she knew her grandfather would be excited to see the family together, ringing in the day as one joyful, cacophonous unit.
Back on the court, Achievement First Amistad Academy sixth grader Dagone Him said that knowing Williamson's story "makes me feel like I could do the same." Currently, basketball is his life—if he's not in school or on the court, then he's at home, watching the game. His favorite team is the Los Angeles Lakers, "because they just dominate."
When he hears the stories of Williamson playing on the same court that he's now learning on, it motivates him to do better.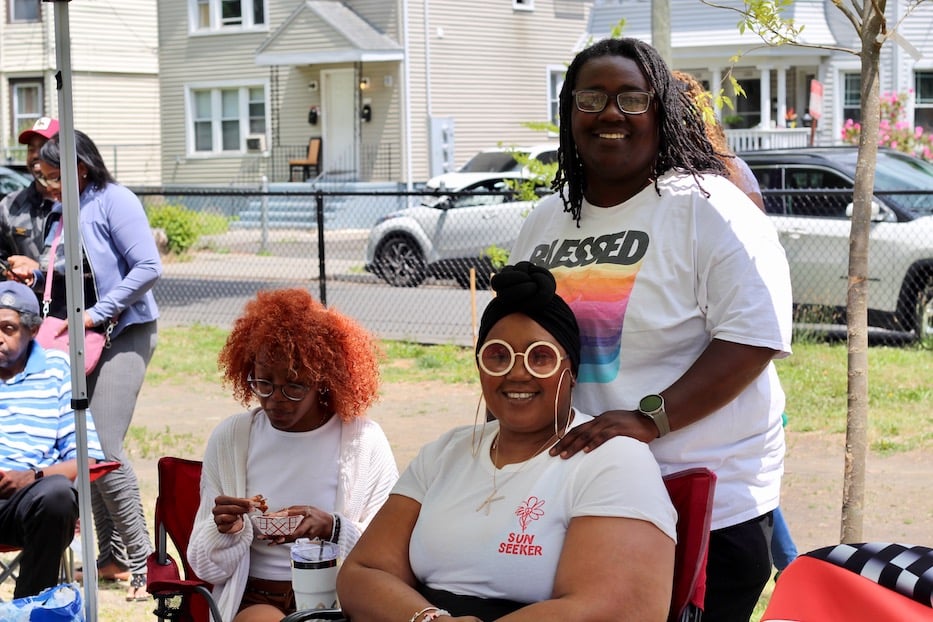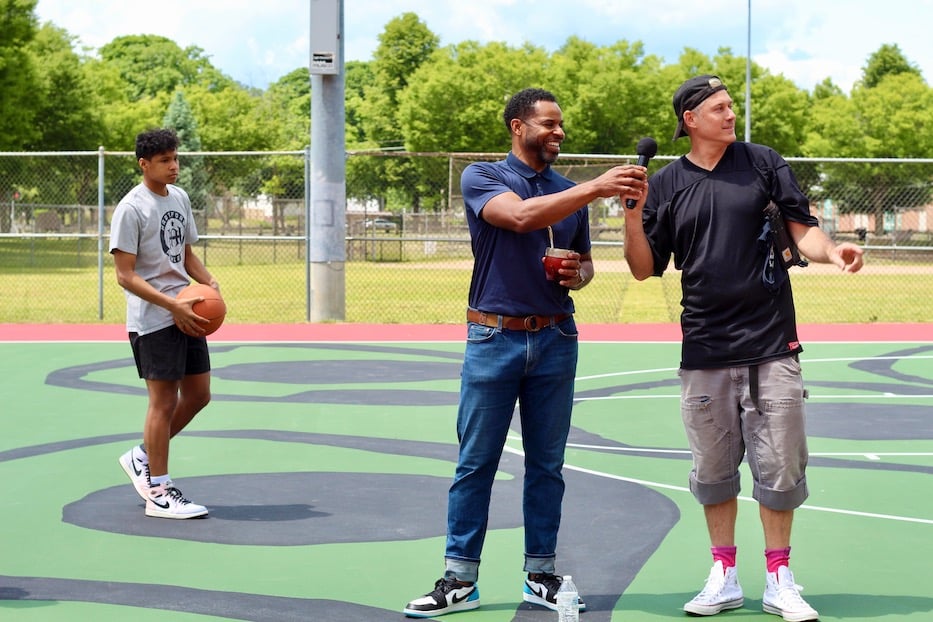 Top: Brandi Marshall and Kali Williamson. Bottom: NXTHVN Co-Founder Jason Price and Common Practice and NXTHVN's John Dennis.
John Dennis, creative director at NXTHVN and the co-editor of Common Practice: Basketball & Contemporary Art, said that the court is the first of four Common Practice plans to unveil this summer. He praised both the Williamson family and NXTHVN Founders Titus Kaphar and Jason Price for both trusting in and advocating for the project.
Since a community meeting at NXTHVN last year, he has worked very closely with sisters Kali and Shareebah Williamson, as well as City Landscape Architect Katherine Jacobs.
"It feels like one of our first successes in a community activation in something that exists outside of the [169 Henry St.] building," he said. "There were a lot of places where this could have gone wrong. Ultimately, love won the day."
Saturday, Kali Williamson praised Dennis for working closely with the family to bring the vision to fruition. Since speaking almost a full year ago at NXTHVN, she and Shareebah have welcomed him into their homes, and become part of a documentary project that he is working on with Common Practice. Across the street, the family has lent NXTHVN Williamson's number 23 jersey, where it hangs, framed, behind glass.
"I just wanted to keep my dad alive," she said, adding that she is working towards an annual basketball league and Father's Day tournament in her father's honor. "I told JD that what he did for our family is literally priceless."
The collaboration is funded by Project Backboard, which in 2021 received a $500,000 grant from Five Star Basketball to resurface and design between 10 and 12 basketball courts across the country. This year, Dennis said that the Goffe Street Courts kick off a summer of ribbon cuttings on four courts, the other three of which are in New York City.