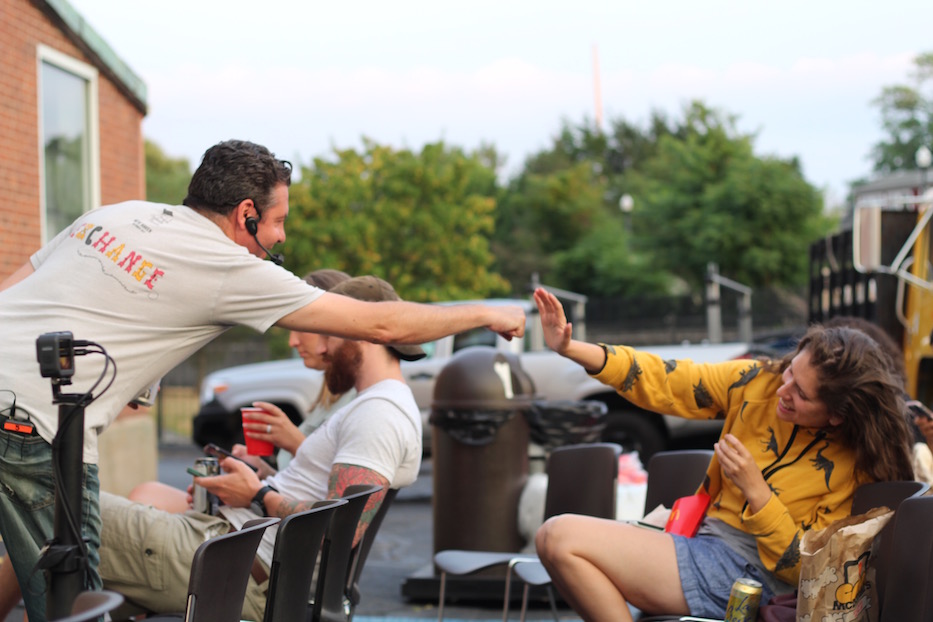 Arts & Culture | Theater | Westville | Comedy | West Rock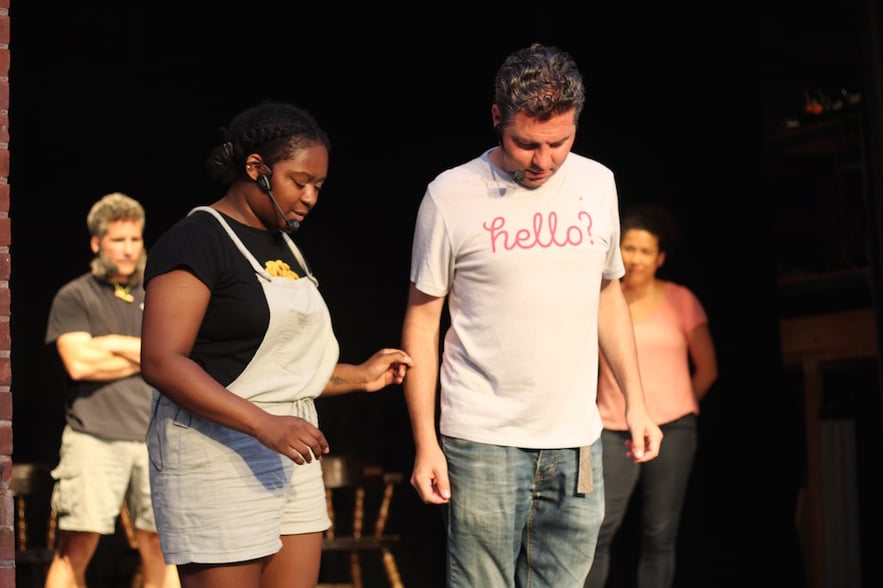 Frankie Douglass and Lou Mangini. Lucy Gellman Photos.
Lou Mangini was on a thin strip of road somewhere in the U.K. Beside him, an officer peppered him with questions. How fast had he been going? Where was he headed? Had he had anything to drink? A few giggles floated through the air, mingling with the scents of hops and summer sweat. As Mangini pressed a finger to his nose, the officer beside him pushed it a step further.
"I don't carry a gun because this is not America," she declared in a thick, laid-on Cockney accent. Laughter, deeper this time and cut with something bitter, rose into the darkening sky.
Humor became a welcome tonic on a recent Saturday night, as the Regicides turned their ​446A Blake St. headquarters into an outdoor stage for the third time this summer, and the second in a single week. For the group, a comedy and improv offshoot of A Broken Umbrella Theatre Company, it marks the latest chapter in a years-long journey of finding the laugh lines in a world turned completely on its head.
They are, as improv actors who live by the rule of "yes and," perhaps uniquely suited to do so. The Regicides return to performance Tuesday August 9 at 9 p.m. and again on Saturday August 20 at 8 p.m. at 446A Blake St. Admission is pay what you can.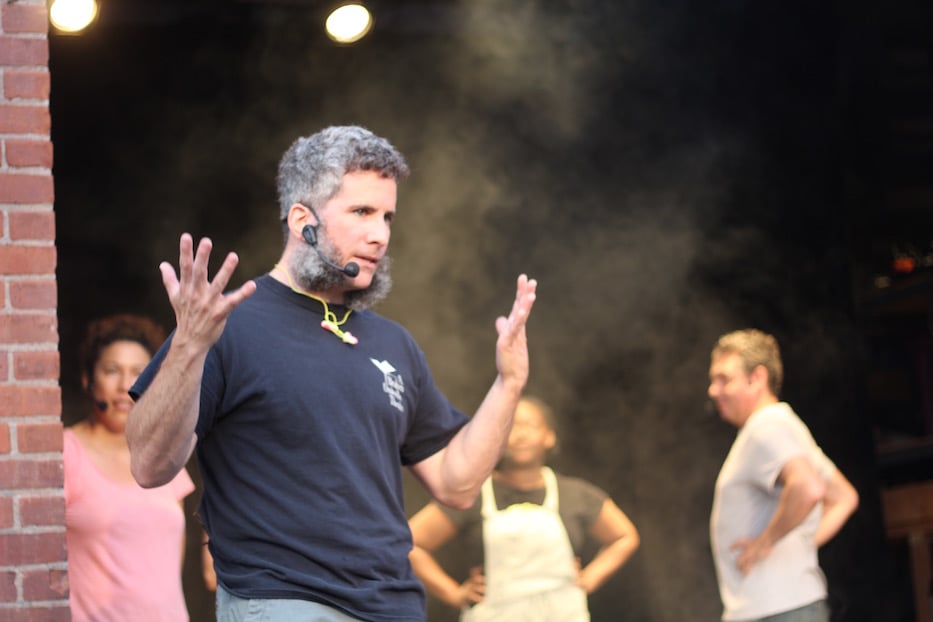 "It's so satisfying," said Matthew Gaffney. Lucy Gellman Photo.
"It's so satisfying," said Matthew Gaffney, a senior head carpenter at the David Geffen School of Drama who has been with the group since its inception. "It's so much different and so much better having that energy, being in the same room with people, being in the same room or right next to the audience and having that immediate response."
On stage, those lessons in improv—to trust your partner, to temporarily forget that no is an option, to give in to the sheer absurdity of living—became a guide to making it through not just the evening, but also 2022. Early in the evening, Gaffney asked audience members to come up with a number of relationships between characters, pairs of whom would switch on cue.
Within seconds, Regicides members transformed into a paleontologist and her very-stoned assistant and an obstetrician and her clueless student. Frankie Douglass and Mangini came to the front of the stage. The word hello, scrawled across Mangini's t-shirt, felt like an invitation. Gaffney asked attendees to shout out their relationship to each other.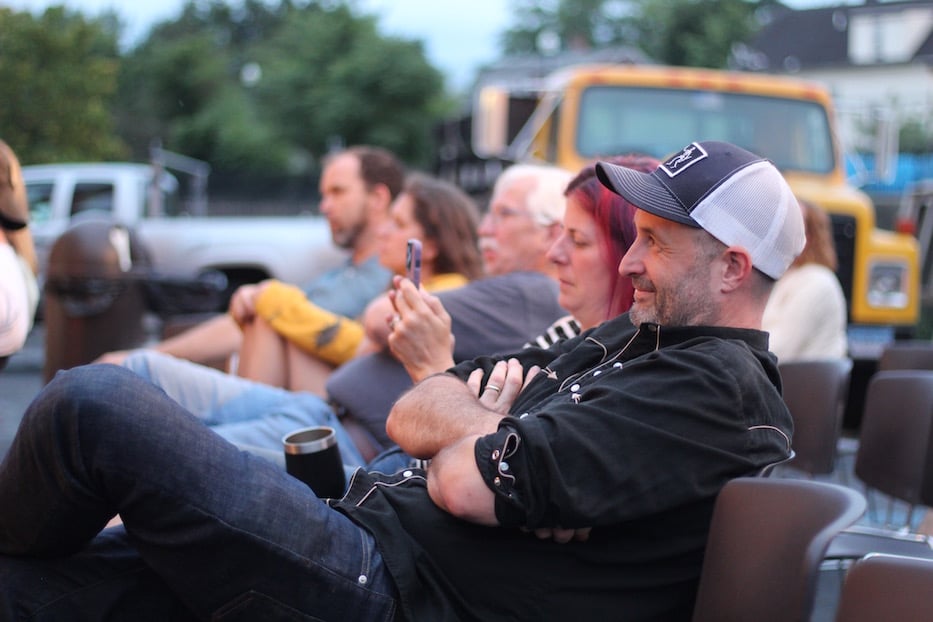 Steve Cebik and his wife, Kate.
"A cop and a speeding driver!" Steve Cebik yelled from the second row. Douglass—who is 20 percent times more likely than her white counterparts to get pulled over by the police because she is Black— gave the audience a long, wide-eyed look that said Are you kidding me? For a moment, she looked as though she was going to protest. Then she puffed her chest out and traveled hundreds of miles overseas with the help of a British accent.
"How fast were you driving?" she asked Mangini as he got out of an invisible car and tried to walk in a line. Tiptoeing close to the fourth wall, Douglass noted that the situation was unlikely to escalate because—unlike her colleagues in the U.S.—she wasn't carrying a firearm.
"Biscuits fast!" he responded, and waves of laughter rose off the audience. A bell sounded, calling the scene, and suddenly Jes Mack was on stage with Andrew Elliott, trying to point out the parts of a vagina without getting too close to an invisible patient.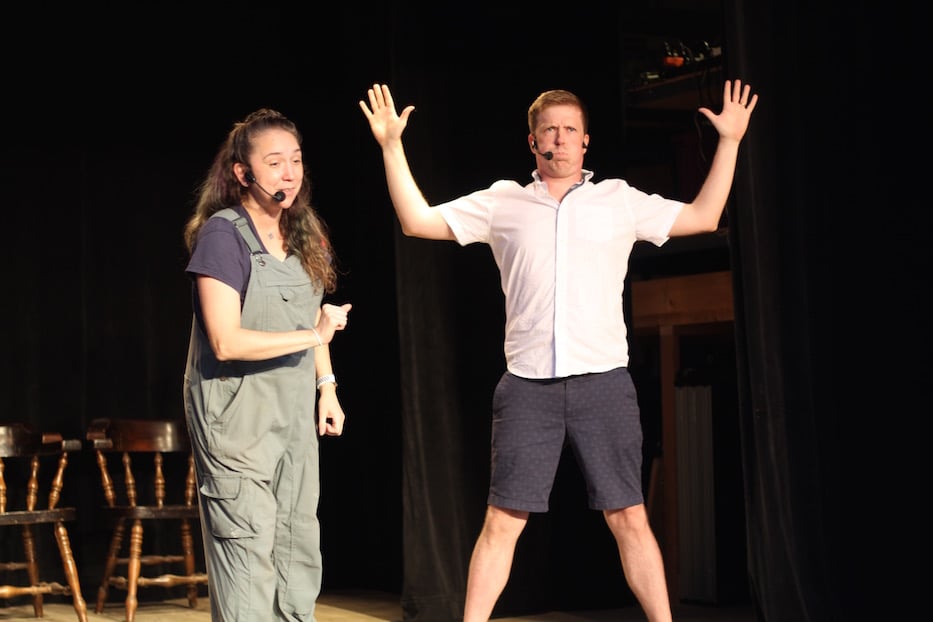 Jes Mack and Andrew Elliott. Lucy Gellman Photos.
Even in the empty space to which she gestured, an attendee could imagine a body there, legs sky-high in the stirrups. For some in the audience, the scenario—the fumbling doctor, the stammering student, the sense that this all would have been better if left to a nurse midwife—may have seemed so familiar it was funny.
Mack mined the scene for comedy, finding the dark, biting humor in a country where reproductive decision-making has fallen to four people who will never get unexpectedly pregnant, and one whose reproductive years are behind her. At her command, Elliott threw his hands up. He looked young and alarmed, that deer in the headlights kind of glance, which drew a number of deep belly laughs from the audience.
Mack gestured to different parts of an invisible vagina. She halted around the clitoris.
"That's gonna be something for you to work on in your free time," she said. More laughter. The bell rang again.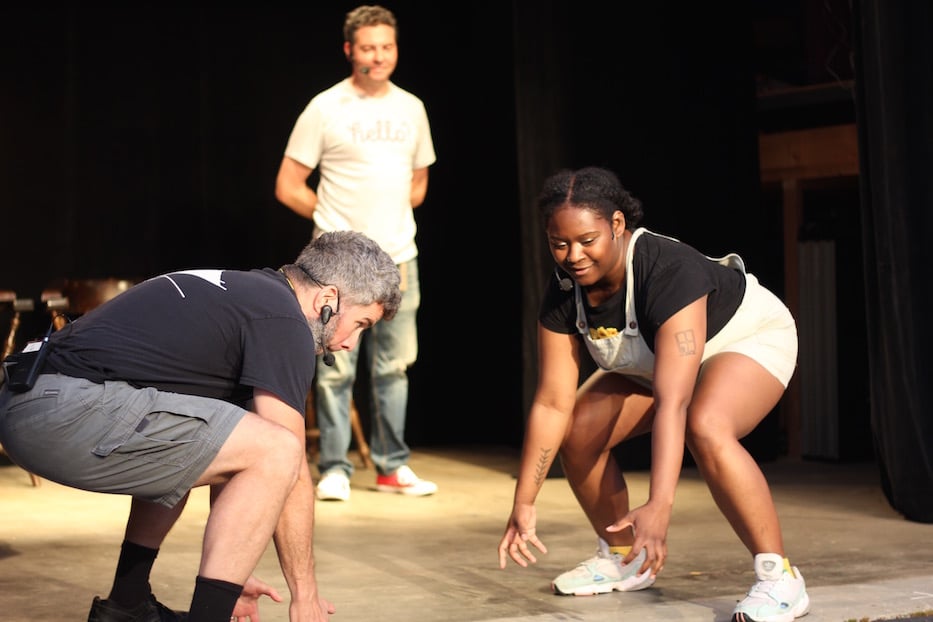 Matthew Gaffney and Frankie Douglass. Lucy Gellman Photos.
The Regicides kept that momentum going during an inevitable-seeming in-car scenario ("Remember, let me ask about the will," said Gaffney to Elliott, making them a squirmingly relatable father and son pair), and game of "One-Three-Five," in which characters had to stick to one, three and five word answers—while also pretending they were at the senior prom (cue some deliberately, extra-awkward dad dancing).
It was still there as actors built up different scenes, adding more bodies in each scenario, and then let them fall away. At first, Gaffney sat alone on stage, telling a story in a rich Irish brogue for which his thick, furry and graying mutton chops seemed particularly well suited. As characters entered, the scene shifted: suddenly Douglass was a toddler who had murdered her mother, misplaced the body, and just wanted a hug.
It shifted again, and Mack was a deep-voiced drama teacher at NYU's Tisch School of the Arts, trying to command attention from a group of students who brought too much drama to drama class.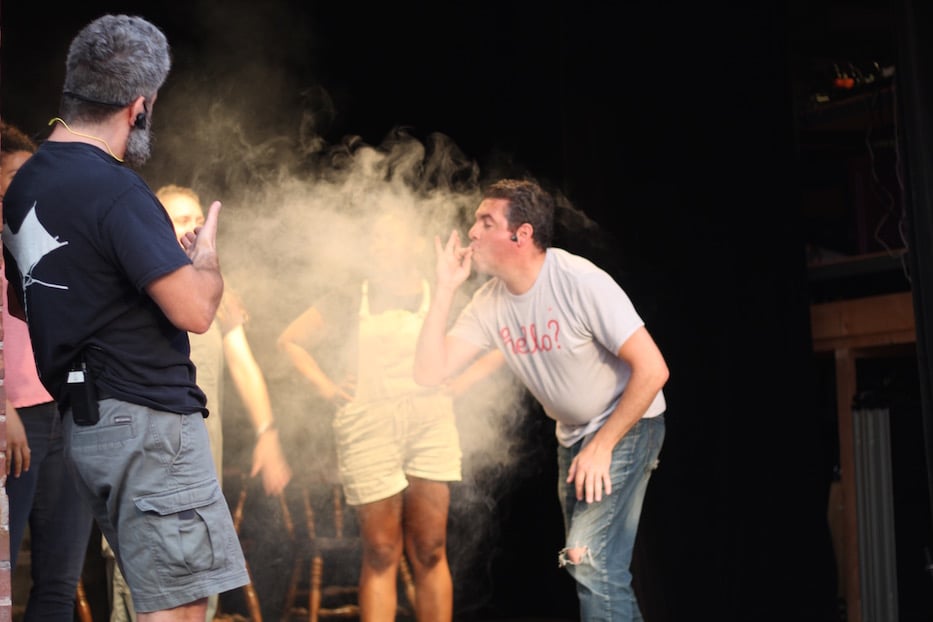 Lou Mangini with a well-placed weed joke. Lucy Gellman Photos.
No topic was too sacred or too taboo: wayward Mozart, Covid-19 conspiracy theories, diabolical children, weed humor, and send ups of M.F.A. programs all made the cut. As actors entered and exited the stage like clockwork, they showed how nimble they've become as a group performing together. Carolyn Chan, who joined in the thick of the pandemic, later said that she values the group for giving her a place to be consistently silly.
"As an adult, it's my chance to play," said Chan, who moved to New Haven during the pandemic, and now works as an internist at Yale New Haven Hospital. "Adulting is so serious, and here I can like, make funny voices and do funny movements and people aren't harsh and judgement."
It primed the audience for the final performance of the night, in which the ensemble was tasked with telling a story—inspired by Kate Bush's "Running Up That Hill," because why not—in multiple genres. As they laid out a storyline, a whole universe unfolded in front of them. The stage morphed into a college campus, with two roommates (Carolyn Chan and Jes Mack) at the center of the action. The night before, the audience learned, there had been a crazy party in someone's dorm room. Someone had stolen a keg. They were there to figure out the rest.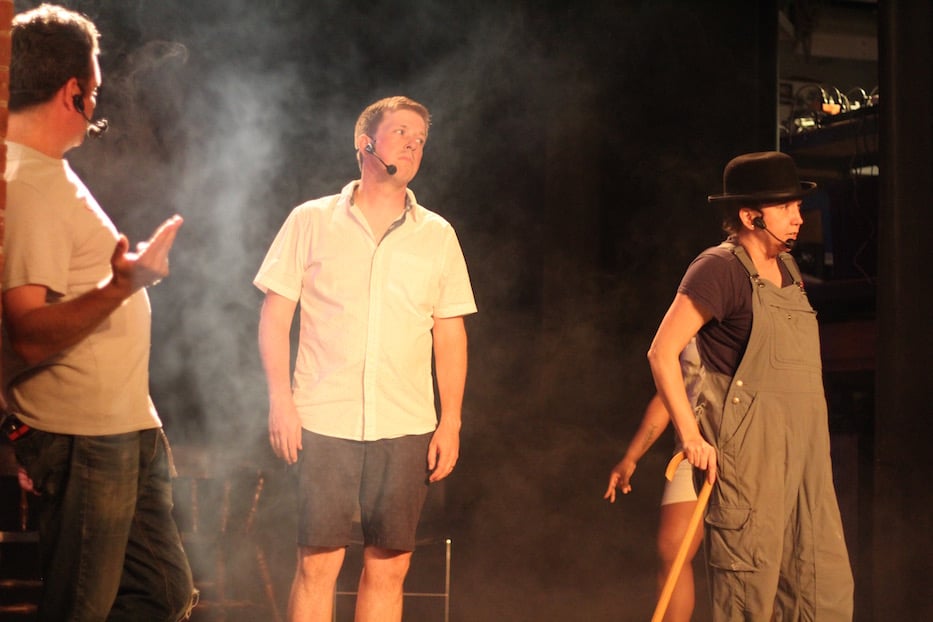 Andrew Elliott and Jes Mack. Lucy Gellman Photos.
The magic, attendees soon learned, rested in the constant pivoting of literary forms. Maybe the story could unfold like a novel, Gaffney said—but what would it look like as an educational program on PBS? Or a mini-play acted out with Muppets that the group happened to have off stage? Or a whodunit with high-stakes extracurricular party drama at center stage.
Close to the end, Gaffney asked for a film noir, and a smoke machine hummed and sputtered to life from the left side of the stage. Mack walked out with a top hat and a cane, comical in her olive-colored canvas overalls. She began to speak in a slow Russian accent. The audience dissolved into cacophonous, unharmonized laughter that must have sounded to those on stage at least a little like music.
"It's Such A Feedback Loop"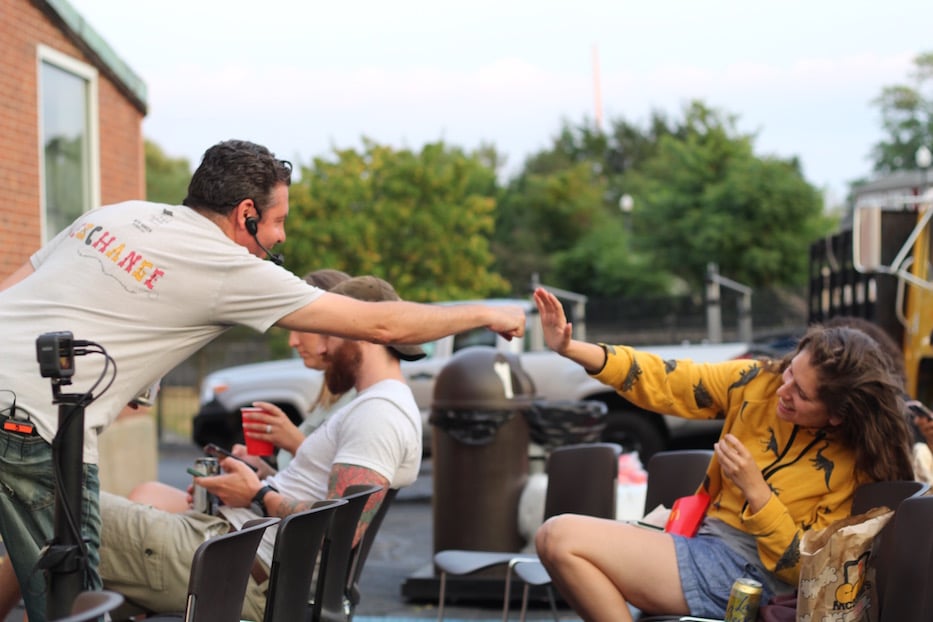 Mangini greets an early attendee. Lucy Gellman Photos.
The group, which turned seven at Westville Artwalk in May of this year, has become a case study in tight-knit community and adaptation. Prior to March 2020, the Regicides rehearsed in person every few weeks, occasionally welcoming new members into the ensemble. When the world shut down two years ago, those rehearsals moved online; so did a few performances and raucous appearance at Artwalk 2021 that unfolded over Zoom.
In some ways, Gaffney said, Zoom was great: attendees who never felt empowered to shout out prompts or ideas in the audience suddenly found that they could use the chat. It reminded the actors to listen to each other in new and different ways. But it wasn't the same as being in person, he added. When it became safe to do so, members returned cautiously to rehearsal, then to performance. This summer, they added long-requested Saturday performances.
Now, he and members don't take a moment of their time together for granted. Rehearsal keeps them fresh, he said—and it helps them understand and probe their relationships with each other.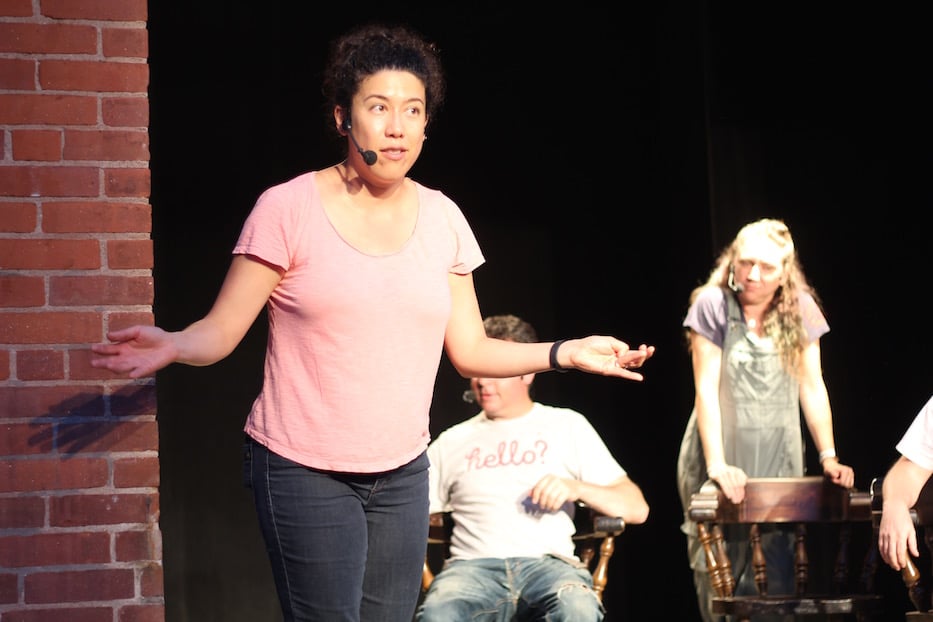 Carolyn Chan, who joined after moving to New Haven in 2020. Lucy Gellman Photo.
"It's an outlet for me," Gaffney said. "It's a way to deal with some of the things that are going on in the world, and in my life, and just to laugh. Having that camaraderie, and playing, and fun with the people around you ... it's very satisfying when you can get into almost a hive mindset."
"I think that it's therapy in some ways," Mack chimed in. She added that the form's "power of yes and" has a kind of healing power for her as she navigates life and work in a never-not-upturned world.
It also makes a person remember that laughter, in a world that is literally on fire, may be the best way to make it through. Improv is more balm than band-aid: it tackles very real world anxieties by facing them head on, and then adds silly scenarios to remind an audience that play will be possible even in the apocalypse.
Saturday, that sounded like thinly-veiled innuendo that came fast and furious (Mangini is a master of the deprecatory sex joke), real anxieties about mortality that turned into laugh lines, and a college party that became a game of Clue, wrapped in at least five literary genres.
Audience members aren't the only ones who feel that heart-bursting power of laughter, added Frankie Douglass. A graduate of Cooperative Arts & Humanities High School and Johnson & Wales University, Douglass joined the Regicides in 2019 after returning to New Haven and realizing how much she missed theater. For her, the process of laughing—and making people laugh—is part of healing.
"Hearing laughter is like—it's such a feedback loop where you just like, I love hearing just a funny, or a really joyful laugh," she said. "It just makes you happy. Like, I'll start laughing."
The Regicides return to the stage with two shows this month, both at their 446A Blake Street outdoor stage. The first takes place Tuesday August 9 (Primary Day, so vote before coming) at 9 p.m. The second takes place Saturday August 20 at 8 p.m.