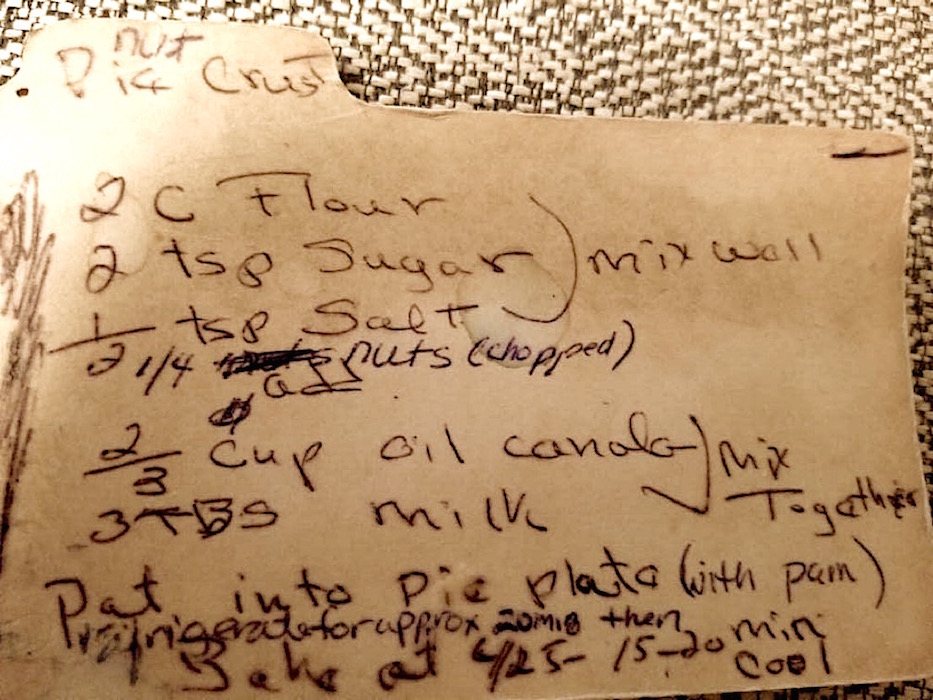 Arts & Culture | Culinary Arts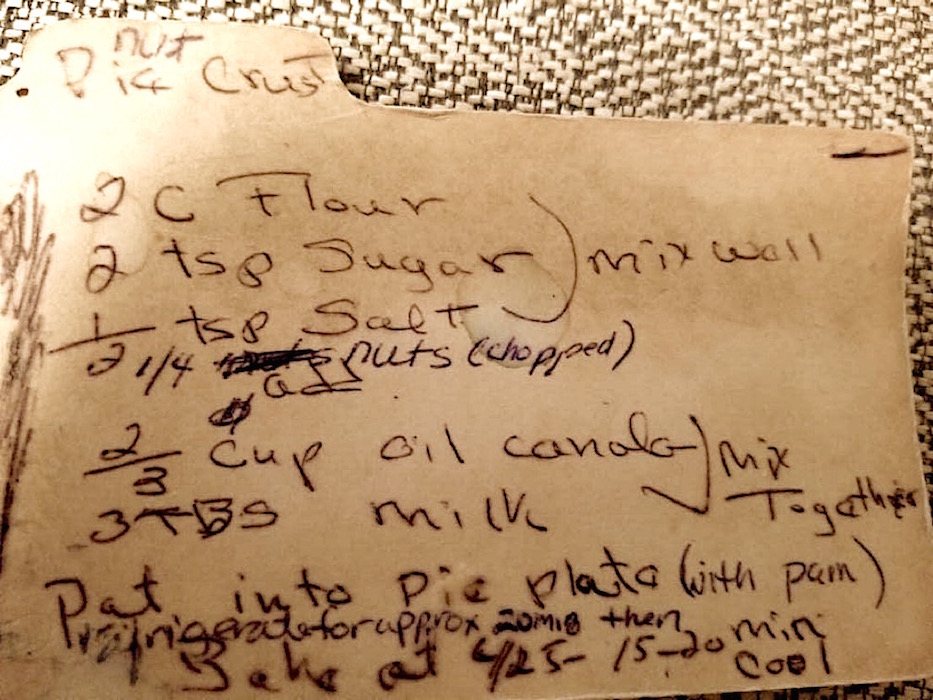 Photo contributed by JoAnn Moran.
The following was submitted as a citizen contribution by Lots Of Fish Director JoAnn Moran, in memory of her mother, Ida Rose Moran.
Ida Rose Moran made the best chocolate cream pie. She had the best stories. She encouraged her children to follow their dreams—including when it meant drawing on walls and sidewalks. When I was a child she called always called me "her little artist." I never lost the title.
Moran (née Verdolini) passed away on Nov. 30, 2020 at the age of 94. She was the last surviving child of the late Vincenzo and Sophia Verdolini, and she was my loving mother. With her parents and eight siblings, she helped create Meriden's Verdolini's Restaurant, a beloved pizza spot that shuttered after a flood in 1992.
Ida grew up during the Great Depression, on the original Verdolini homestead on Westfield Road. Born in Meriden on Jan. 28, 1926, she graduated from Meriden High School in 1944. Her childhood was one of adventures: all of the Verdolini children were given chores, including picking grapes and making wine (including, allegedly, during the Prohibition era!). Only after they were done were they allowed to scurry off with neighborhood friends.
Growing up, my mother regaled her children with stories of swimming in Baldwin's Pond and frolicking in the hills of what is now Giuffrida Park. We loved her recollections of sleuthing and penny-pinching, and idyllic tales of Meriden's downtown during its historic and bustling Silver City era.
Ida was proud of her Italian heritage and her family's restaurant. In 1931, her father's coal-fired, brick-oven pizza drew blocks-long waiting lines that rivaled a then-nascent Frank Pepe Pizzeria in New Haven's Wooster Square neighborhood. Vincenzo was an apprentice baker at the Vatican before emigrating to the U.S. to start a bakery that became a pizzeria. Ida, like all the children, many of their spouses, and their children, helped throw, bake, or serve the legendary Verdolini Pizza. Her sister Mary remained the beloved mainstay of the restaurant until it closed.
Following her marriage to John (Jack) Moran in 1946, Ida left work at Verdolini's and her hometown to settle in Southington. There, the two raised their four children, James, Janice, Joyce, and JoAnn (me). "Mr Moran," as my mother referred to my father, preferred that she not work outside the home. Twenty years into the marriage she decided to get a job in secret.
After her first attempt was foiled, she used her family ties to work incognito at Meriden's Cabin Restaurant. In her 35 years of service there, she became a beloved fixture of the place. In her semi-retirement, she continued to work at The Aqua Turf Club in Plainville until she was 90.
"Ida was one of the hardest working women I ever met," wrote Cabin Restaurant owner Tony Paguni following her death. "She was loyal to her friends and to her workplace. I remember her working from morning to late night when asked to or needed. She had a work ethic that was admirable. My family will always be indebted to her for her contribution to the success of our business. May her family and friends be consoled by the many wonderful memories of her life."
Known for her thrift and frugality, my mother made use of every drop in her cooking and baking. Her dishes were became the stuff of myths in her family and her extended family of friends. Her famous pepper relish, slow-cooked Italian sauce, and Pasta i Fagioli remain seemingly unreproducible. Her desserts had a fanbase that attracted people to gatherings they normally would not attend. These included an apple pie and chocolate pie topped with whipped cream that became legendary. During her life, I heard many friends and friends of friends proclaim her confections as "the best I ever tasted."
She spent many of her days cooking. At home, the fridge always had pies and full pots on their way to someone. If it was your birthday, if you were having a gathering, if you were sick, if you needed to impress someone, or if you just asked her to, she'd whip up an unforgettable dish. Many will remember my mother for her cooking; many more will remember her as a very kind and generous person.
She was also an exceptional athlete. As a youth, she earned several awards at swimming and diving competitions at Baldwin's Pond. She continued later in life to win trophies in both golf and bowling, and bowled multiple 300 games. She was a huge fan of the Boston Celtics, UConn women's basketball, and the Boston Red Sox. Among her favorite moments were sitting atop Fenway's Green Monster, and taking her photograph with UConn basketball coach Geno Auriemma.
Ida is survived by her son, James and wife Cheryl of Ann Arbor, Mich.; her daughter, Janice Berube and husband Russell of South Kingstown, Rhode Island; and her daughter JoAnn Moran of New Haven, Conn. That list also includes her grandchildren Reagan (Dana) Berube of Pittsburgh, Penn.; Nicole (Michael) Sweeney, Sudbury, Mass.; Aaron Moran of Draper, Utah; Justin (Rebecca) French, Southington, Conn.; Jules Larson (Paige Taylor) of New Haven; Chelsea French of Boston Mass. Also great-grandchildren Colin and Avery Berube of Southington, Conn.; Nathan and Jacob Sweeny of Sudbury Mass.; Erin Rogers of Southington, Conn.; Isabella Larson of New Haven; and goddaughter Nancy Leary, along with numerous nieces and nephews.
She was predeceased by her daughters Joyce (Moran) French, Mary Ann Moran (newborn) and grandson Tyler French and by her three brothers and their spouses, Lee (Minnie) Barbagli, Victor (Enis) Verdolini, and Mario (Loraine) Verdolini and four sisters and their spouses Mary (John) Mazzarella, Carol (Edward) Schipritt, Rose (Henry) Ramini, Louise (Louis) Forcier.
Ida cherished many friends throughout her life. She was very close to Kay White and Dianne Bird. Myrna Barbagli, niece, joined Ida's friends and coworkers at the Cabin: Jan Fortier, Jane Cichon, and Ann Marie Tomasetti. Jane said " We were a family, we had great fun on trips together, they were the best times in my life" that often included Ida's niece Myrna Barbagli.
Due to restrictions, the family plans to celebrate Ida's life at a later date. In lieu of flowers, donations can be sent to St. Jude Children's Hospital. For online condolences click here.