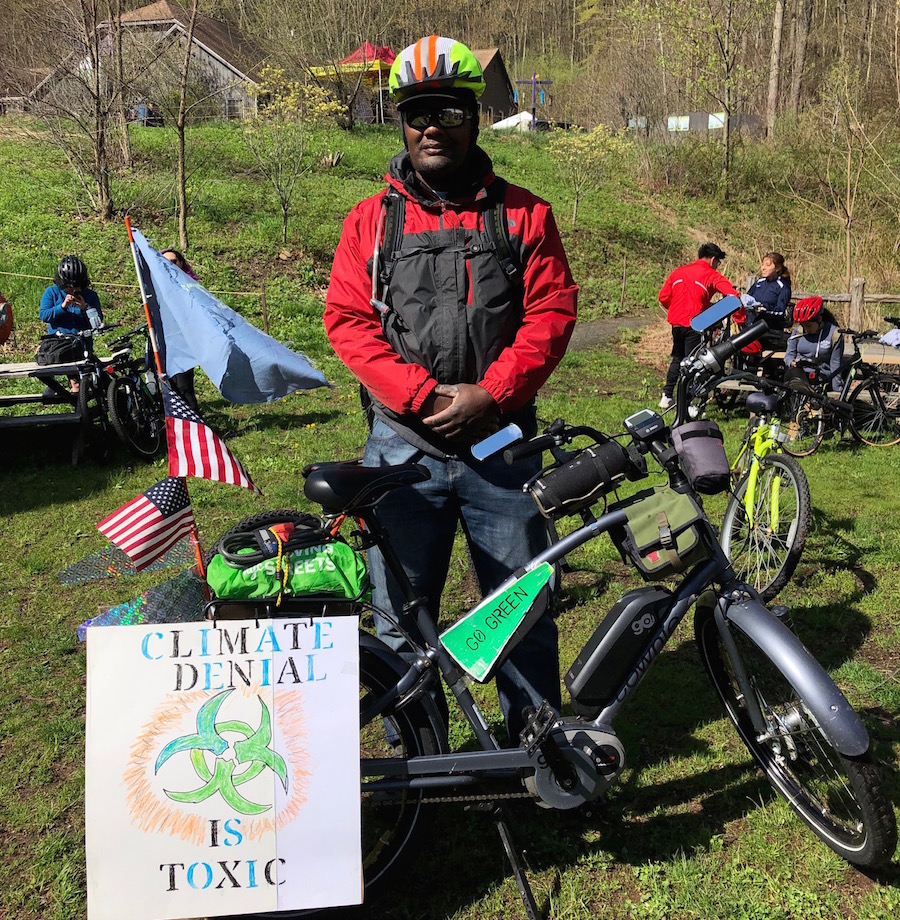 Culture & Community | Youth Arts Journalism Initiative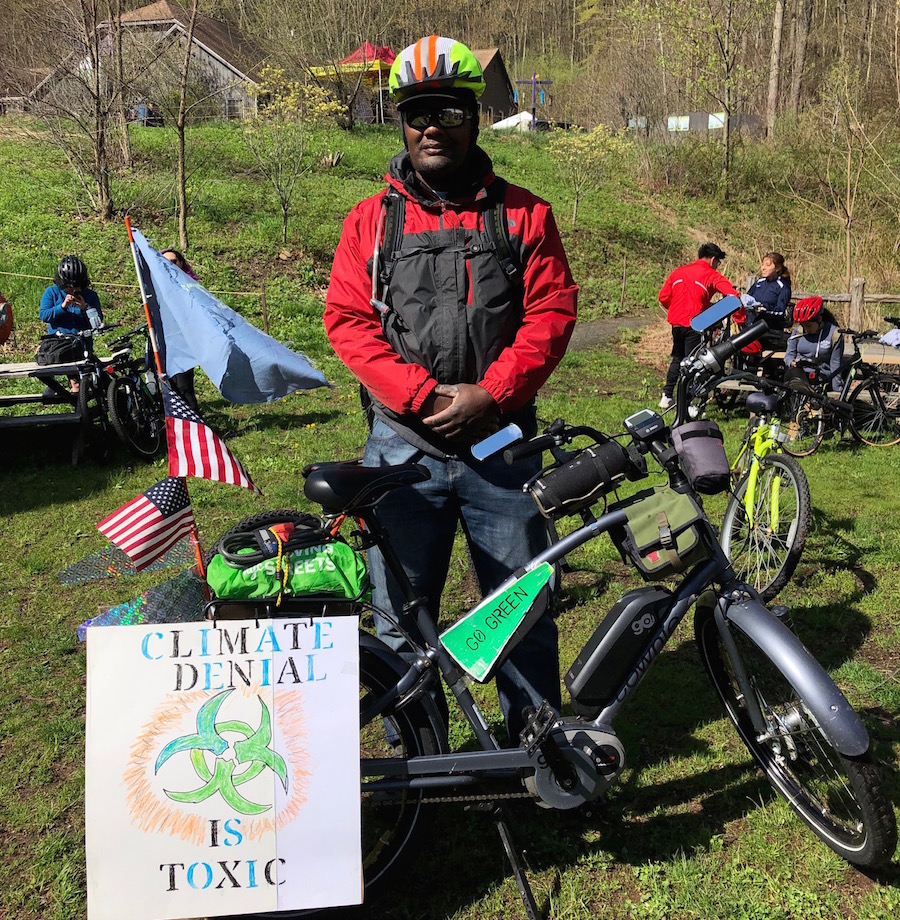 David Joyner before the race. Caleb Crumlish Photos.
David Joyner was quite a sight, standing by his bicycle decorated with signs and banners proclaiming slogans like "Climate Denial is Toxic." And last weekend, for the sixth year in a row, he found himself surrounded by thousands of New Haveners who felt the same way.
Saturday, Joyner was one of over 1200 riders who came out to the 11th annual Rock to Rock Earth Day Ride, raising money in support of environmental awareness as they biked from Common Ground High School into greater New Haven, and over to East Rock. Bikers raised a little over $230,000 in support of climate activism; fundraising pages from the race will stay open through Sunday May 5.
The majority of riders chose the five-mile family ride, setting off at 11 a.m. and taking a quick break in Scantlebury Park, before finally ending at East Rock Park. Other riders went on rides that stretched out across 12 miles, 20 miles, 40 miles, and even a full metric century for the most advanced of bicyclists.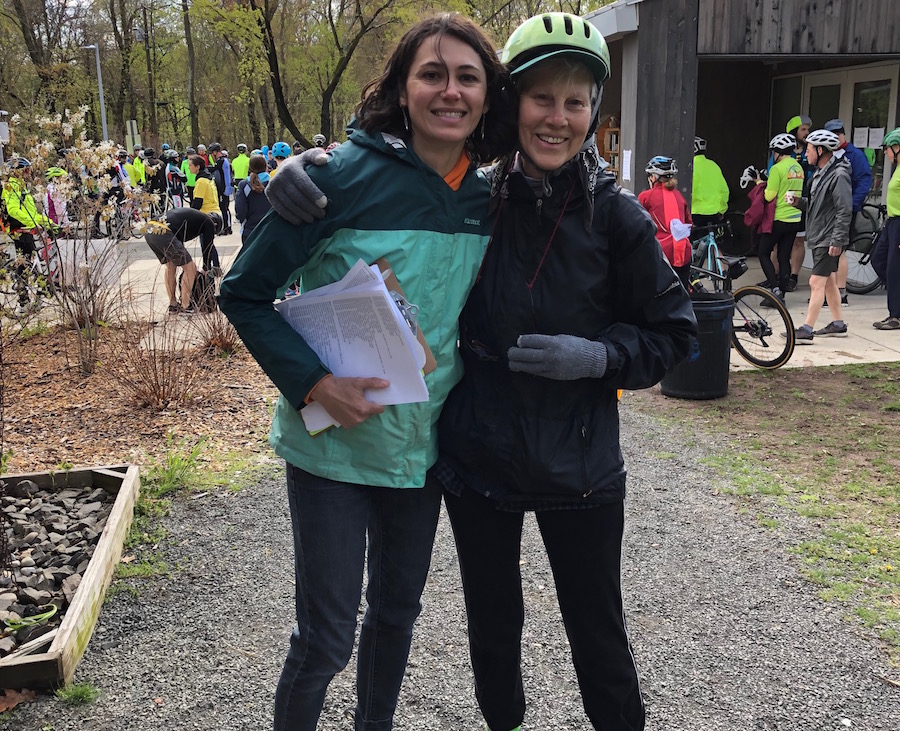 Anna Ruth Pickett and Melinda Tuhus.
For Rock to Rock organizer Anna Ruth Pickett, the event is more than just a couple of rides each year. In addition to money raised by the riders, a number of related fundraisers and events all occur at around the same time, run by the same 29 organizations that sponsor the Earth Day ride.
"It's almost like a season of Rock to Rock," she said on Saturday. "The ride itself is just a day of service."
Though this year's ride was unusually "hectic," Pickett added that the ride isn't normally as tough to organize as one would expect—and that seeing all the new and returning riders makes any effort worth it. "In general, it's one of my favorite things to do."
Dave Berescik was one of the skilled riders who came to do the metric century ride. Dressed in high-end biking gear, he introduced himself as a bicyclist from out of town.
"I ride mostly in Fairfield," said Berescik. "I don't do a lot of mountain biking, so Rock to Rock is a nice change of pace."
He had come with a small group of friends who have been riding together for almost 10 years now. He said he likes the ride because it "has a little bit of everything—first a lot of steep, climbing sections; then a path that becomes flatter, rolling."
When asked about why he enjoyed Rock to Rock, he mentioned that he was glad that it was going to a good cause. "I see garbage in the road while I'm riding all the time… it's upsetting how lazy people can be. I'm glad to see people trying to help."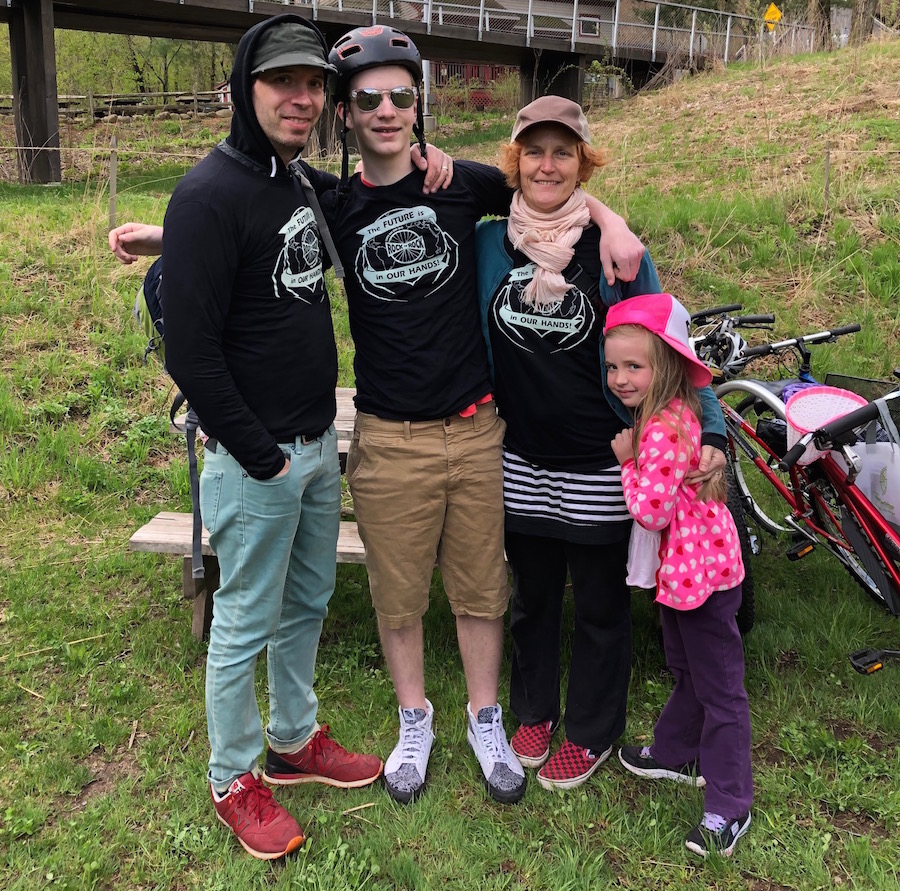 Some of the faces at Common Ground High School that morning included Jeff Mueller and Kerri Sancomb and their children Leo and Juniper Mueller (pictured above). They were doing the ride for their second year, and mentioned that they had raised almost $600 in support of the program.
While members of the family classify themselves as casual riders—little Juniper rides a tag along bike–they enjoyed the Rock to Rock ride as "a nice way to spend a morning with others on bikes."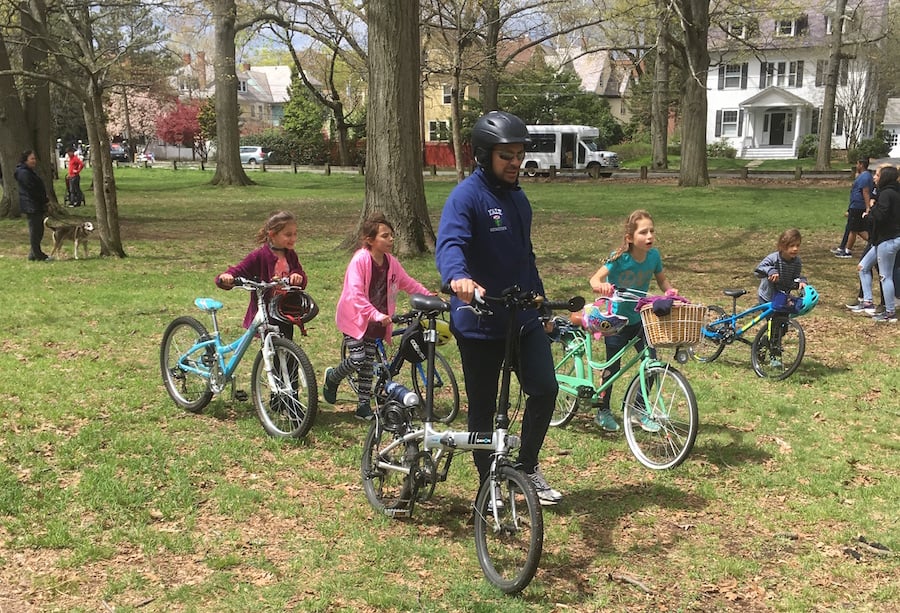 At East Rock Park, after the ride was completed, Kiara Matos and Alice Hadler were hanging together. Both women had ridden as part of a team from New Haven Farms, humorously named the Red Beet Riders. Eleven-year veterans of the ride, they both praised Rock to Rock as a "great community event."
That was also true for Joyner, whose decorated bike whizzed through the streets all morning. After six years working with Rock to Rock and three riding in the race, he said he's glad to see the uptick in participants in recent years. For him, it's a long-awaited sign that environmental awareness seems to be spreading.
"Rock to Rock gets better every year," he said, "and I hope it keeps getting better."
This piece comes to the Arts Paper through the second annual Youth Arts Journalism Initiative (YAJI), a program of the Arts Council of Greater New Haven and the New Haven Free Public Library. Over eight weeks this spring, ten New Haven Public Schools (NHPS) students will be working with Arts Paper Editor Lucy Gellman and YAJI Program Assistant Melanie Espinal to produce four articles, for each of which they are compensated. Read more about the program here.