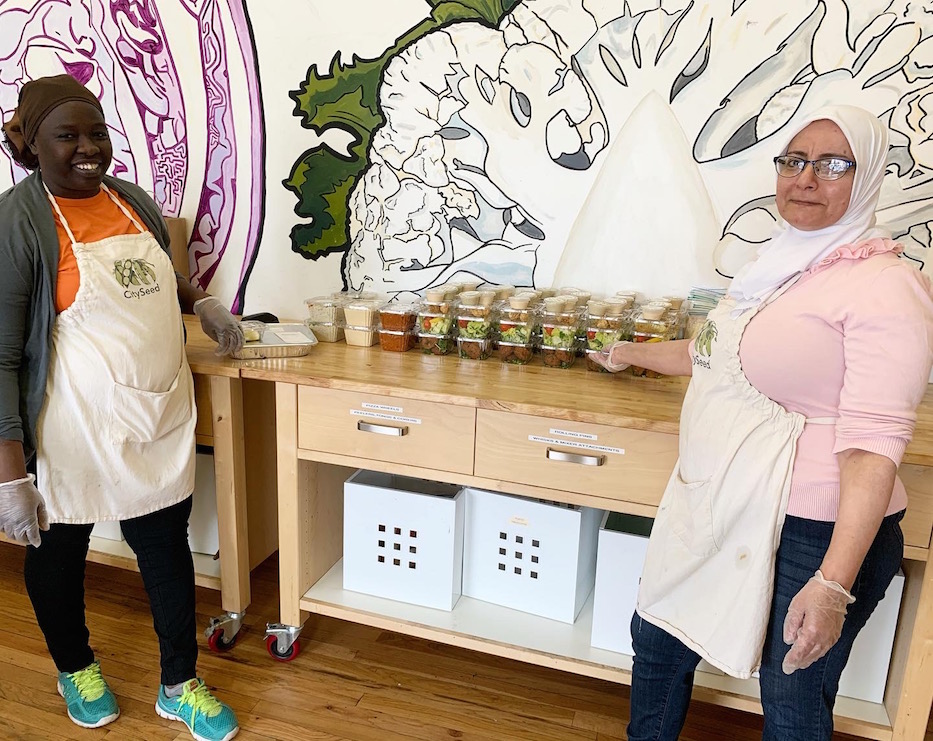 Sanctuary Kitchen | Arts & Culture | Culinary Arts | COVID-19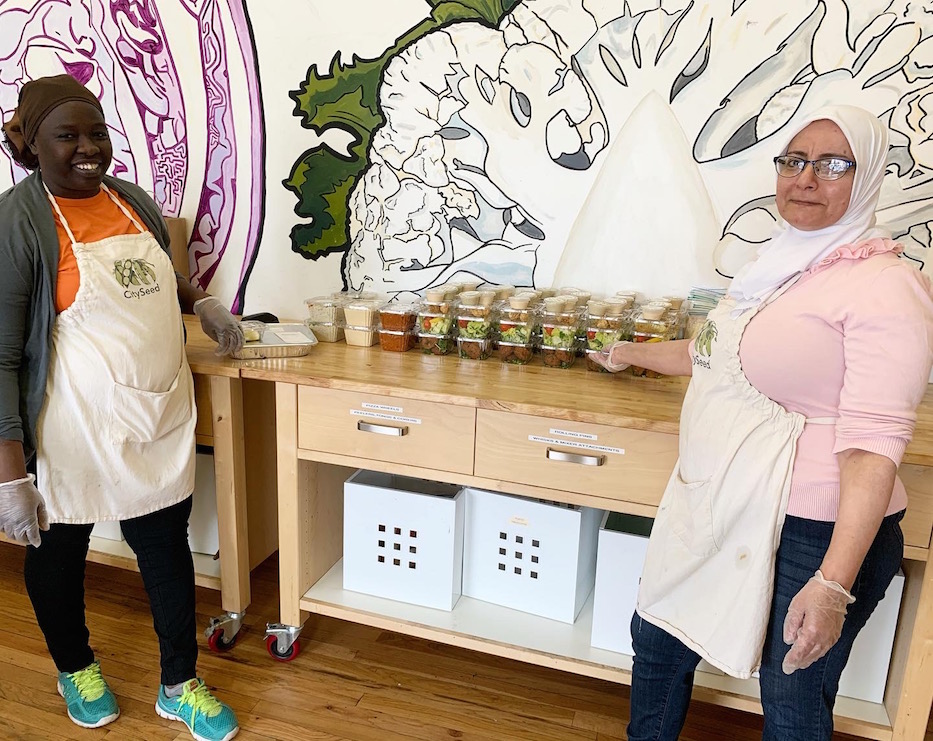 Chefs Azhar and Mona earlier this year. The staff has since transitioned to wearing masks. Sumiya Kahn Photo.
Azhar Ahmed has a new routine on Wednesdays. Before she ever gets to the door of CitySeed on Grand Avenue, she is thinking about masking up, changing gloves, and disinfecting surfaces too many times to count. All to transform chopped herbs, onions and chickpeas into falafel that will feed dozens of people around the city—and help her pay rent.
Ahmed is one of several chefs at Sanctuary Kitchen, an initiative of CitySeed to give refugee chefs a culinary platform and sense of steady income in a city that has become their adopted home. In the midst of the COVID-19 pandemic, the organization has transitioned to biweekly curbside pick up and virtual supper clubs in lieu of in-person gathering. For many of the chefs, it has also become a financial lifeline.
"It's a difficult time for us," Ahmed said in a phone call Wednesday. "We worry. Every time we go out to shop, the price of food seems different. We are trying to make it. We don't know what's going to happen tomorrow."
For the chefs and the staff at CitySeed, COVID-19 has transformed how the organization does its work. In March, the kitchen quickly pivoted to a new curbside pick-up system and implemented new regulations from both ServSafe and the Centers for Disease Control and Prevention (CDC). With biweekly pickup, it launched a virtual supper club that takes place each Friday. The group will also be working with the International Festival of Arts & Ideas for a virtual cooking class in early June.
Kitchen Programs Manager Sumiya Khan explained that the transition has meant that CitySeed and Sanctuary Kitchen can keep its doors open—with reduced hours and a new formula for how it plans to allocate funds.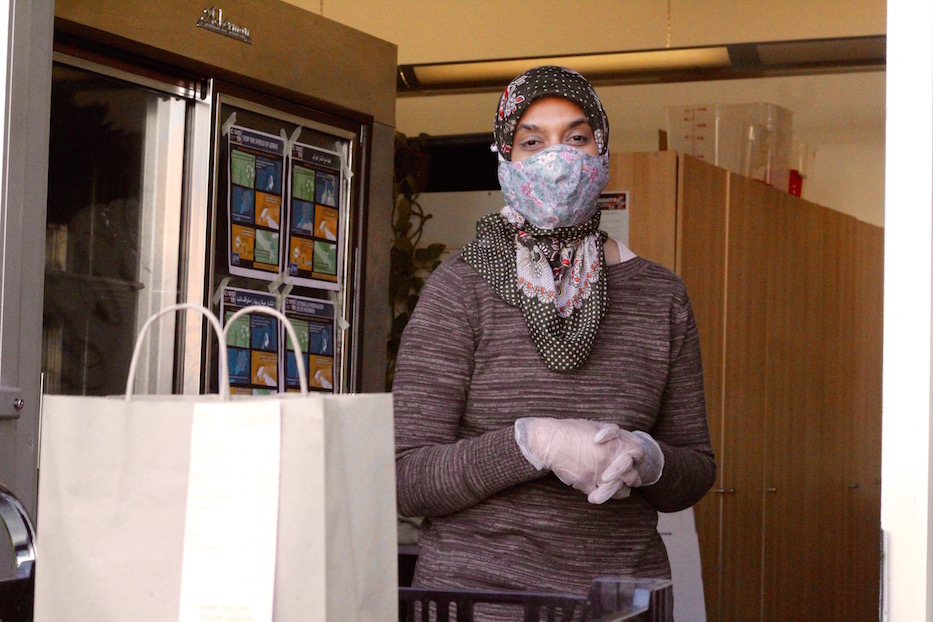 Sumiya Khan on a recent Wednesday. Lucy Gellman Photo.
She detailed what that looks like in action: constant hand washing and disinfecting, sterile gloves, chefs and staff who wear masks and have hand sanitizer at the ready. The kitchen, which was already tidy and tightly run, has become a careful and regimented ballet against an invisible and lethal enemy. The change has translated to a loss in revenue: despite $24,950 raised during the Great Give, CitySeed still needs emergency funds to keep running.
"It has completely changed the way we operate, from the way we shop for ingredients, scheduling the chefs, the food preparation, chef training, and customer relations," Khan wrote in an email. "The basis of our work is coming together as a community— we continue to see this from community and customer support, but unfortunately the relationship building between the community and Sanctuary Kitchen refugee and immigrant chefs has been disrupted."
Without contact, the program has had to cancel in-person events and catering, as well as weekly sales of food at CitySeed's outdoor farmer's market. In its place, customers can order food online, from Syrian hummus and Afghan dumplings to aromatic Iraqi rice pudding with saffron and cinnamon. Recently, Sanctuary Kitchen's chef Abir also prepared over 100 meals for healthcare workers with Frontline Foods.
Khan, who has helped grow the program since its birth in 2017, noted that this time has been challenging for another reason: COVID-19 creates a specific kind of scarcity that may feel both familiar and traumatic to many of the chefs. While navigating distance learning with their children, supporting spouses who are suddenly without work, and facing varying levels of food insecurity themselves, they have watched the world shut down around them.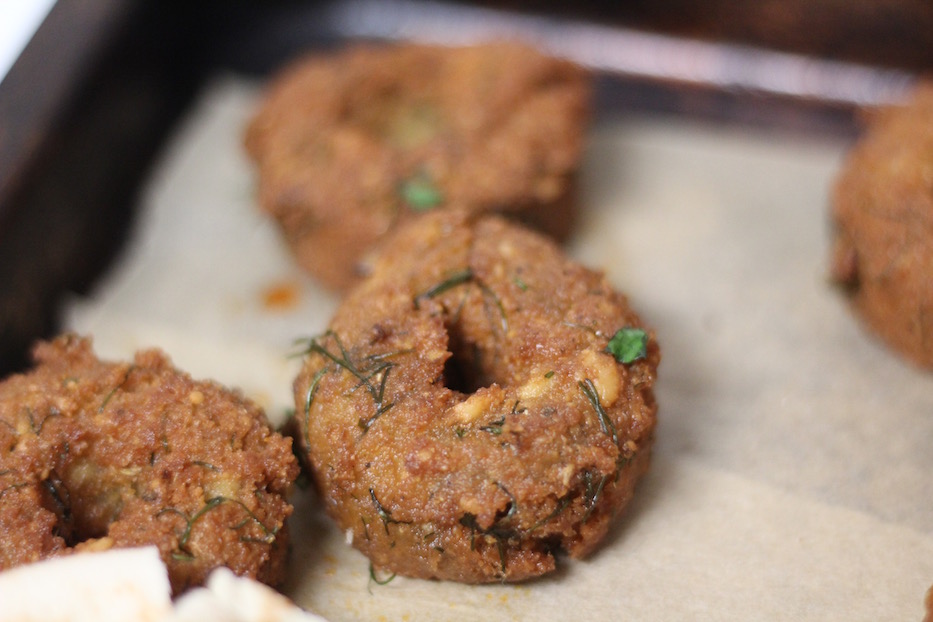 The Sudanese falafel that Azhar Ahmed whips up each week.
"Like everyone else, the chefs are managing to the best of their abilities considering the circumstances," she wrote. "It has not been easy, but is familiar to some who have experienced lock-downs, restrictions on movement, and limited access to basic resources, education, healthcare and sanitation in the countries they were forced to flee."
"You can imagine that this situation can be triggering past traumas," she added. "However, we have seen time and time again that these women are resilient and strong. For those who are able, they appreciate having the work and income to support their families."
That has been true for chefs like Ahmed, who is now balancing Sanctuary Kitchen with two kids who are always at home and a husband whose hours have been cut back some weeks, and eliminated entirely in others. Ahmed arrived in New Haven from South Sudan five years ago, after years of persecution in Sudan's Nuba Mountains and time as a refugee in Egypt.
She said Sanctuary Kitchen has gone towards rent and other essentials during the pandemic.For her, the program's benefit is twofold: it provides a reliable source of income and also connects her with both new and longtime New Haveners, some of whom have never tried Sudanese food. She's grateful for the other chefs she still gets to see, even as they practice social distancing in the kitchen.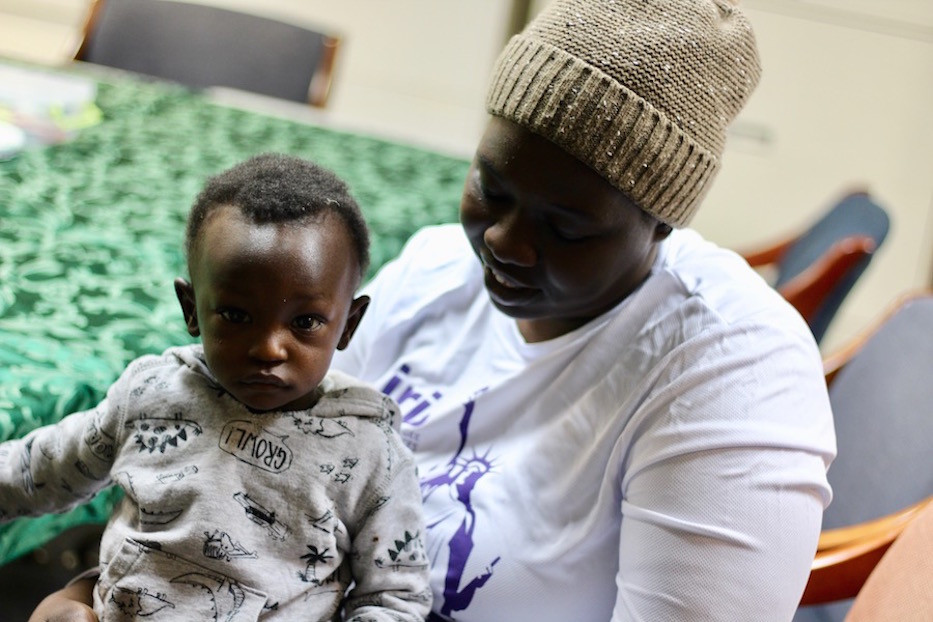 Azhar Ahmed last year, with her youngest child Kutti. Lucy Gellman File Photo.
"I want people to know that we are a beautiful group, and we make different food, with different tastes," she said. "I'm the only Sudanese chef. Most of my food is not familiar to American people, because they do not have Sudanese restaurants. I feel like I am so happy to show something different."
Aminah, a Syrian chef who asked that only her first name be used, said that cooking has made the difference between making rent payments and falling behind. Before the pandemic, she was also running a catering company that had her cooking three to four days a week. Now, business has come to a halt.
COVID-19 has been a frightening time for her and her family: she is four months pregnant, and both her husband and daughters have asthma. She worries that if they get coronavirus, they will get really sick. Because of the pandemic, her husband's schedule as a security guard has been reduced to just two days a week. Her three kids are suddenly home all the time, doing distance learning.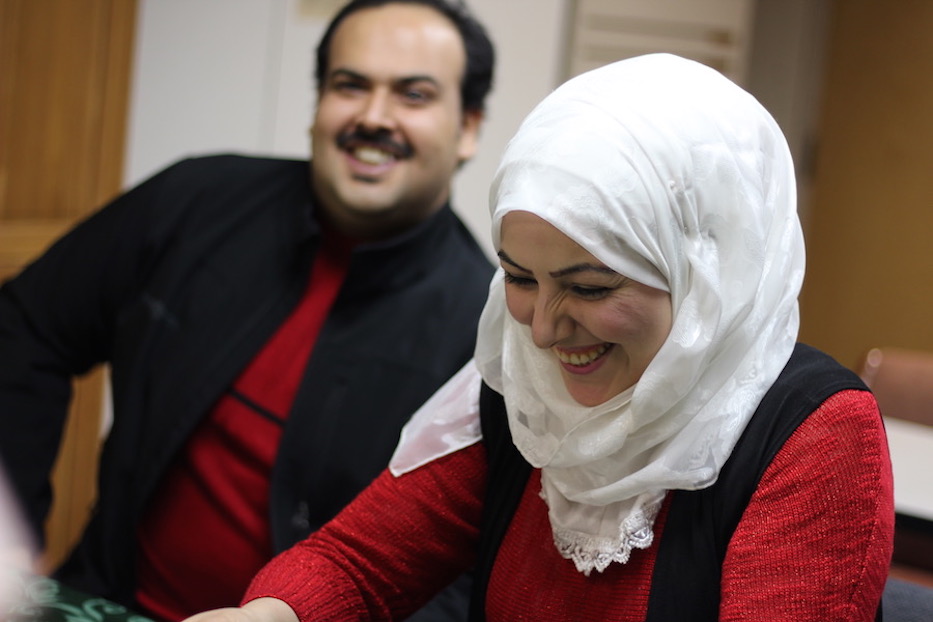 Aminah photographed last year, at IRIS. Her husband, Issa, is in the background. Lucy Gellman File Photo.
"It's not easy," she said. "Coronavirus, it's scary. But you don't have a choice. The landlord, he can't wait for the money and the bills. And I am never late on the rent."
Sometimes, she said, the family doesn't have enough money for food after their rent is paid. She praised the program's mission, noting that it lets her be part of a business that is culturally acceptable to her and to her family while meeting financial needs. She added that she's grateful for the friends she's made—from New Haven, Afghanistan, Sudan, and Iraq.
"They are very patient," she said of Khan and outgoing CitySeed Director Amelia Reese Masterson. "They support women like me to have their own businesses. They are teaching me to have my own business. This makes me feel like we're not alone—that we can communicate with people."
To find out more about Sanctuary Kitchen, visit their website. In addition to biweekly pickup, which must be preordered, the program is offering a virtual class on June 6.