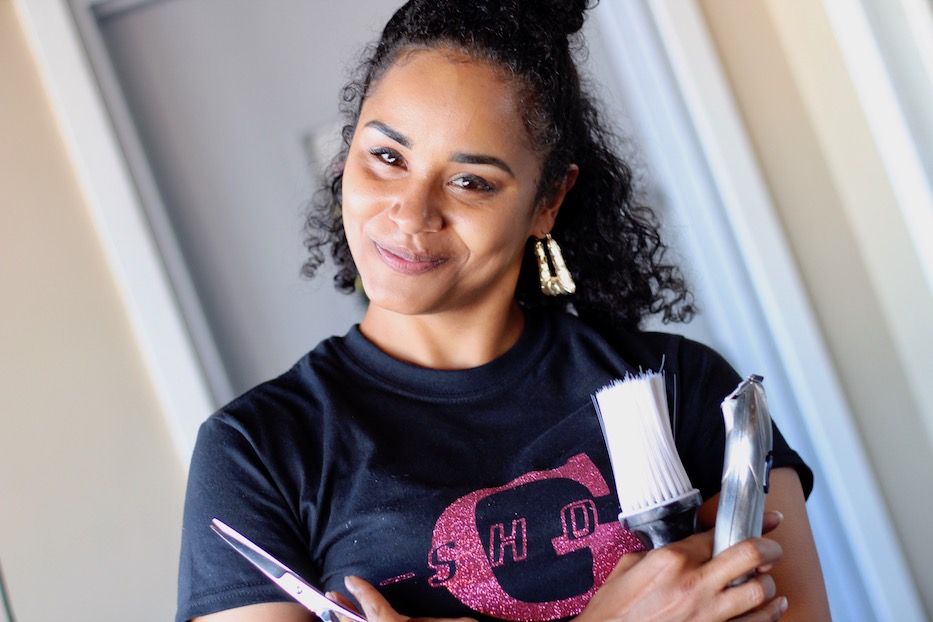 Long Wharf | Arts, Culture & Community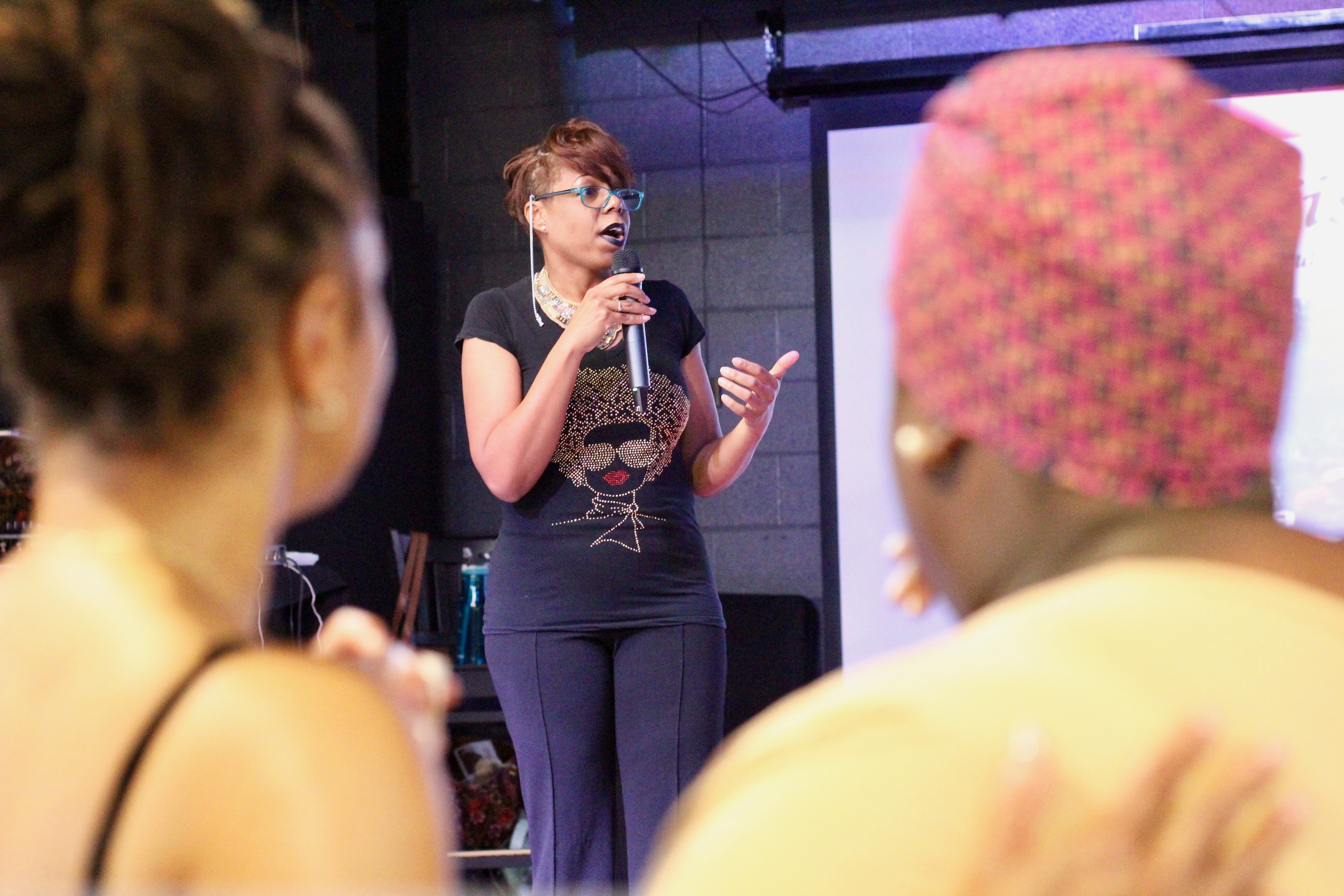 Trichologist Donyelle McBride. Lucy Gellman Photos.
Trichologist Donyelle McBride was taking it to church. Already, she had cautioned congregants not to cut, burn, or defile the temple. She had spun worlds into being, explaining the difference between acidic and alkaline, inner stress and outer balding. Her words soaked the room.
"Hair grows from the inside out!" she preached. A room of women, all sporting different hairstyles, repeated the mantra passionately.
Sunday afternoon, McBride was one of several speakers, vendors and awardees at the second annual Free Your Scalp Day, a celebration of "beauty, self-love and creativity" held at Terminal 110 off Sargent Drive in New Haven. Organized by New Havener Krystal Harris, the event doubled as a fundraiser for Sister's Journey, a Hamden-based nonprofit dedicated to educating, advocating for, and supporting women of color experiencing breast cancer.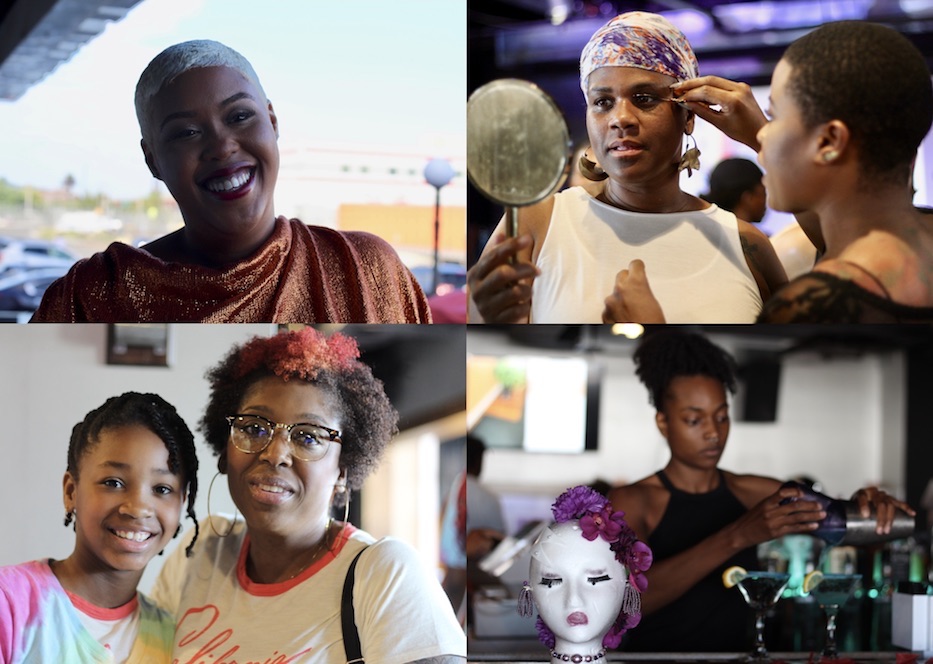 Clockwise from top: Krystal Harris, Kezezra Sakuhai and Winter Carson, one of the many styles around Terminal 110, Fallon Williams and her mom Laticia Hyman.
"We thought it would be nice to have a festival," said Harris, a professional hair stylist who also writes for The Cut Life and Sheen Magazine. "To celebrate women of color, celebrating the freedom that you can find, and just truly embracing yourself."
Free Your Scalp Day started last year, when Harris worked on an eponymous documentary in New Haven and Brooklyn and wanted to share the work with other women in her orbit.
Hair was something, she discovered, that women wanted to open up about. Team members talked to women who had experienced changes in hair growth during pregnancy. They learned about the correlation between hypertension meds and thinning hair.
Women opened up about how they'd unintentionally damaged their own hair "because they were chasing a trend, opposed to chasing the healthiness of their hair, the healthiness of themselves," Harris said. The young stylist, who had grown up changing her hair styles frequently, found it all intensely relatable.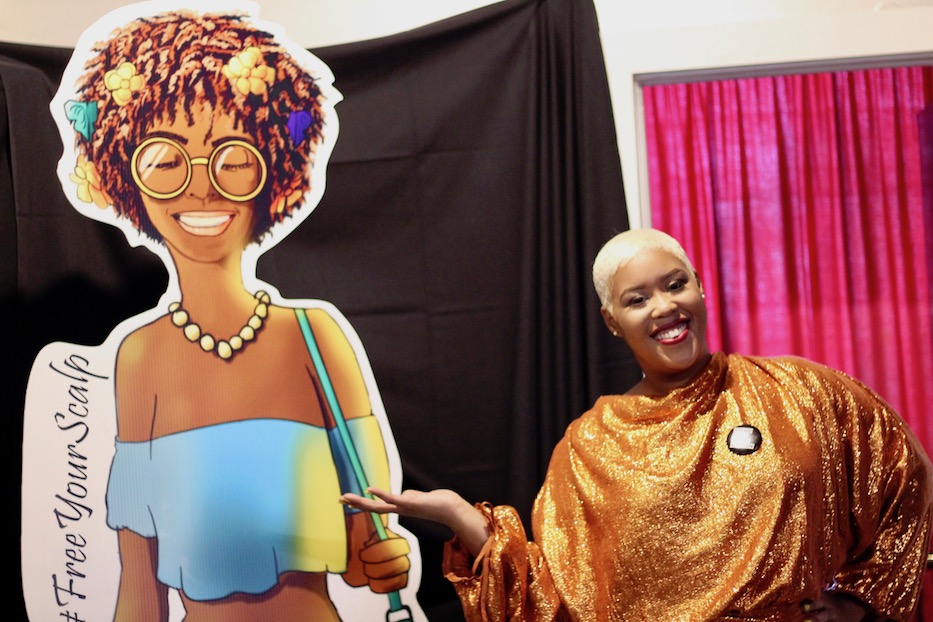 Harris beside Free: "Hair has always been self-expression to me, more than anything."
"Hair has always been self-expression to me, more than anything," she said. "Definitely in the black community, hair is so important. Like, we do so much to prepare our hair. It's almost like a badge of honor when you have a nice hairstyle on. But I wanted to take it deeper than that, because hair is external. What I tell my clients is, if you are stressed, it will show up in your hair. So we want to heal the inside, and then talk about the outside."
Inside Terminal 110, vendors brought that vision to life with education and live barbering stations, jewelry and merch, hair and beauty products, a photo booth, information from Sister's Journey, and bustling bar and table for Planned Parenthood of Southern New England where attendees could pick up shirts reading "Stand With Black Women."
As music from DJ Dana Cobbs coasted over the room, members of #ThaTeam Podcast cut in every so often to emcee, welcoming speakers up to the stage and cheering on Sister's Journey for its work over more than two decades. Closer to the end of the ceremony, Harris awarded the celebration's second ever "Healing Through Hair Award" to Transformerz Barbershop, which has extended its mission to free community gatherings, public haircuts and free haircuts for the homeless and more.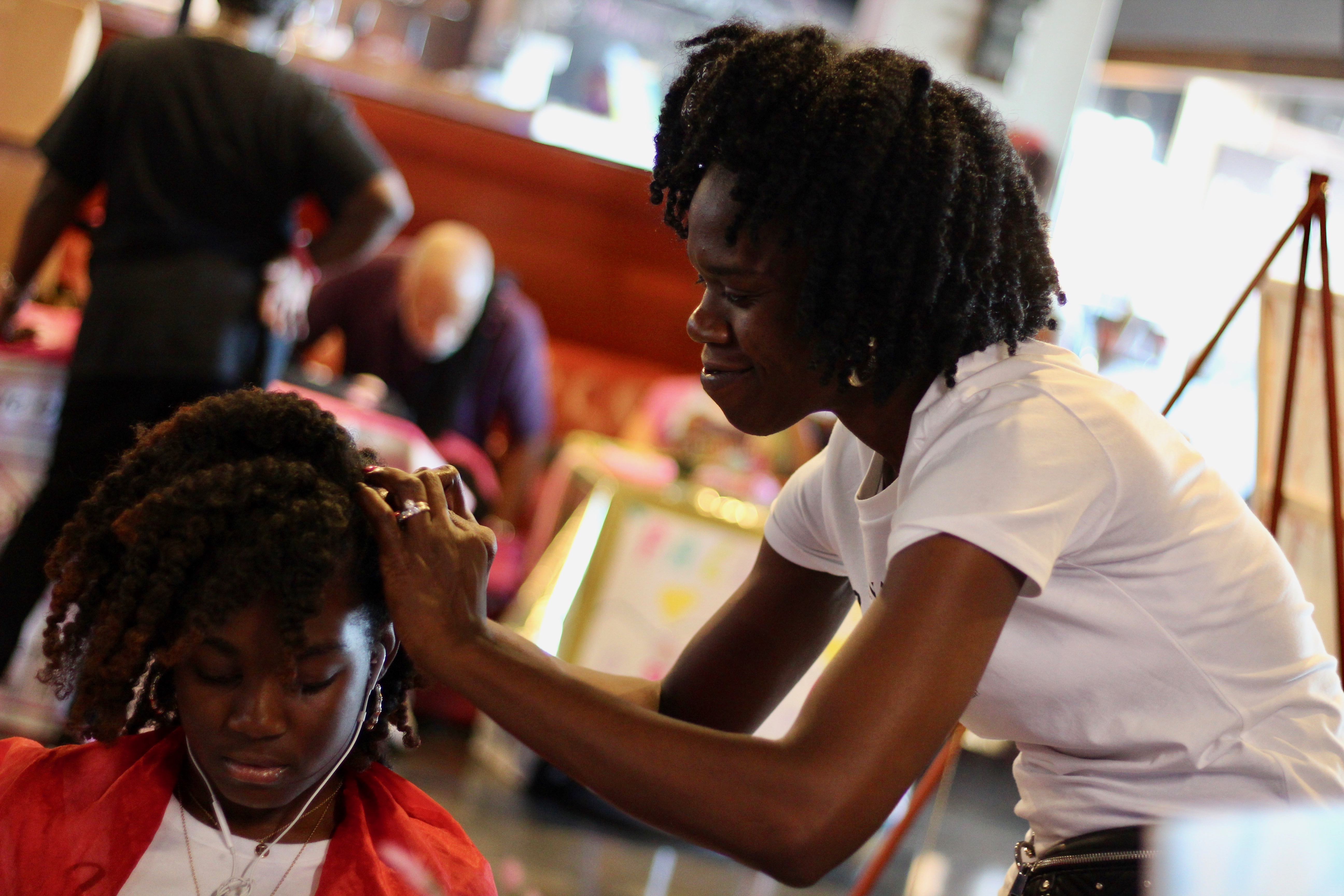 Top: Artists Roshane

Stephenson

and Jennifer Jackson. Bottom: Rootuals Founder Mecca Davis and her daughter Ava.
Just a few feet from Free Your Scalp's mascot—a cardboard cutout also named Free, with caramel-colored curls and easy expression—Rootuals Founder Mecca Davis stood over her daughter Ava, carefully working in the all-natural oils that make her product. Soft scents rose from the table even as she stepped away for a moment to talk.
Davis hasn't always been conversant in the language of hair. For 13 years, she worked as a senior client services associate at Morgan Stanley, tending to matters that rarely broached one's scalp and roots. But when Ava developed a pediatric skin condition as a little girl, Davis noticed that the treatment the doctor recommended dried out her scalp. When nothing seemed to work, she realized she'd have to make her own concoction.
The formula took six years to perfect and grow into a business. Now, Davis has a local client base of around 10, and national client base of around 50, with customers who place orders from as far away as Texas. She said she wouldn't want to be doing anything else—because she's helping other women and girls of color nurse their scalps back to health.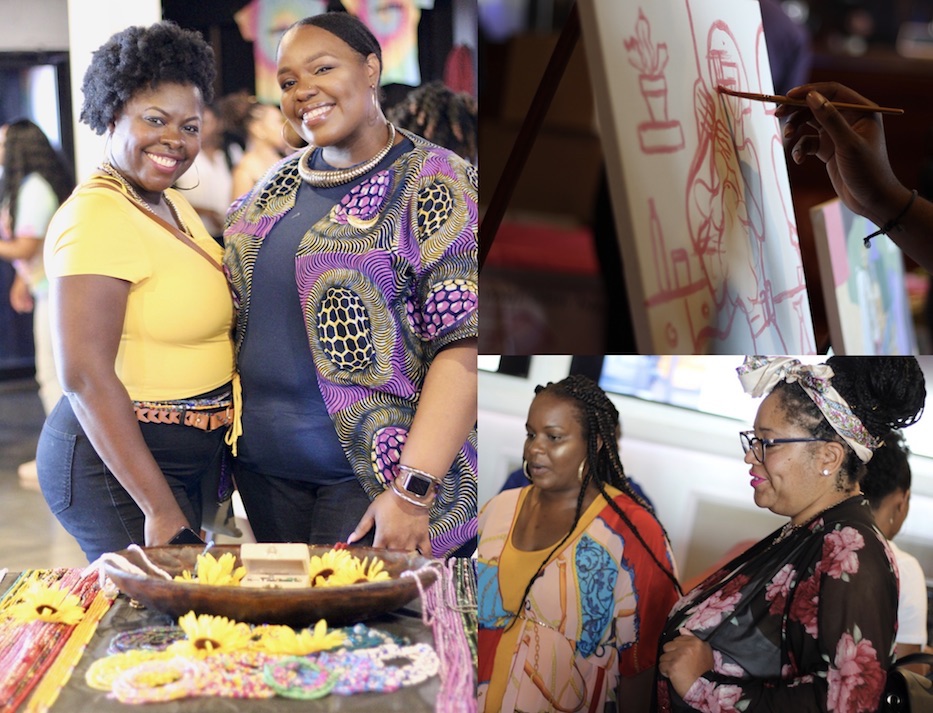 Clockwise: Antoinette Cameron and her sister Torya Smith, live painting and attendees at the event.
One table over, New Havener Antoinette Cameron and her sister Torya Smith walked attendees through Treasure Beads, a local business that sells body-positive African waist beads for women and girls. Several years ago, Cameron said she first became interested in the beads when she married her husband, who is Guinean, and saw her sister-in-law wearing the beads.
Then a few years ago, her sister saw her wearing the beads and asked what they were, and if her sister would make her a string. Treasure Beads was born as Cameron found herself fashioning handmade lengths for the women in her life.
"Wearing them helps us remember to love our bodies through all the phases of life and that we shouldn't wait to have the ideal body to admire it," reads a mission statement for the beads. "Love yourself now."
"I absolutely love the idea of this," Cameron said, looking around as new faces streamed through the door.
So did attendee Sara Okereke, who works as a substance abuse counselor in an adult male prison. As someone who is constantly checking in on others, she said that she sees events like Free Your Scalp Day as self-care.
"I feel like this is a positive event for women of all different ages," she said. "It's like a nice, relaxing event."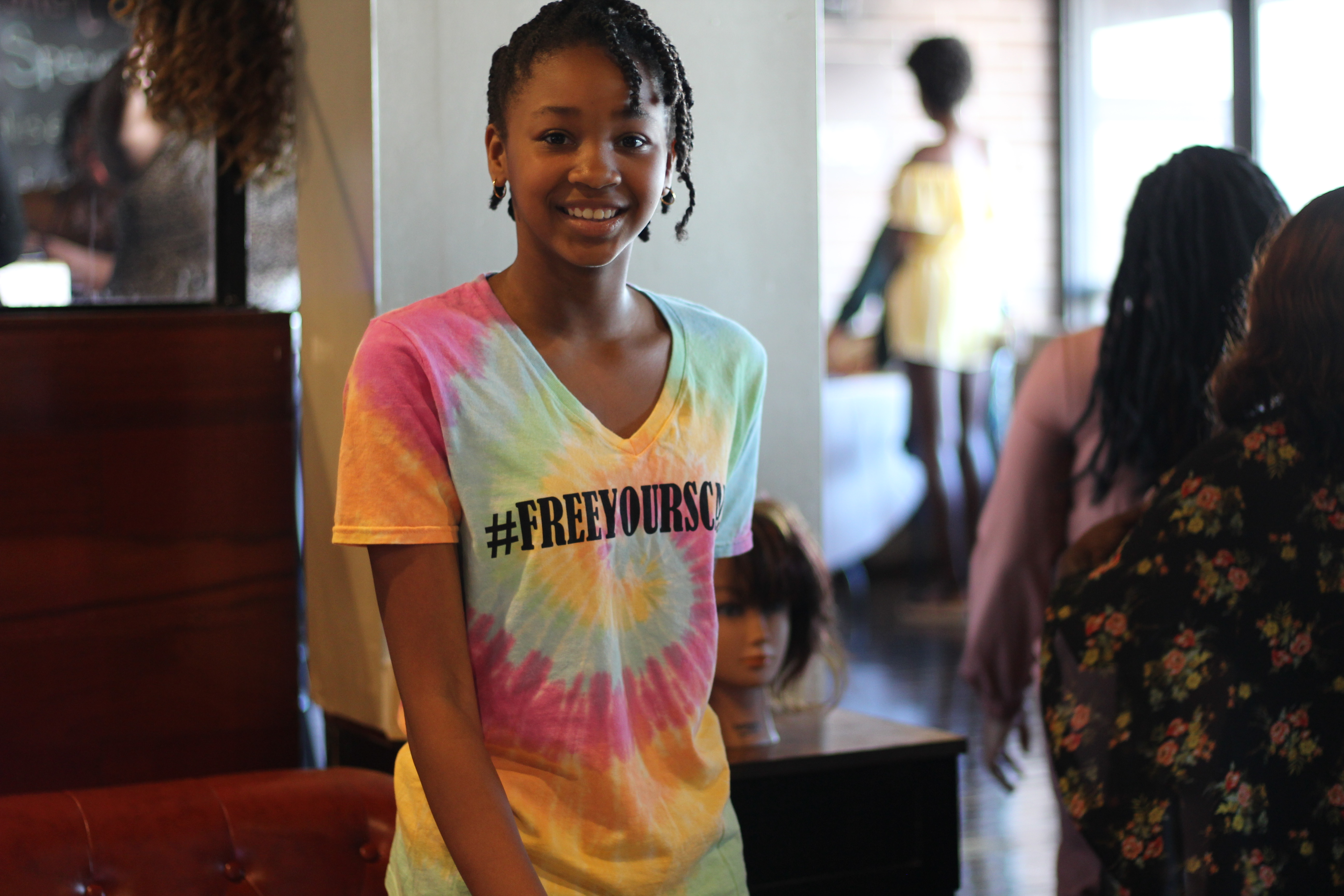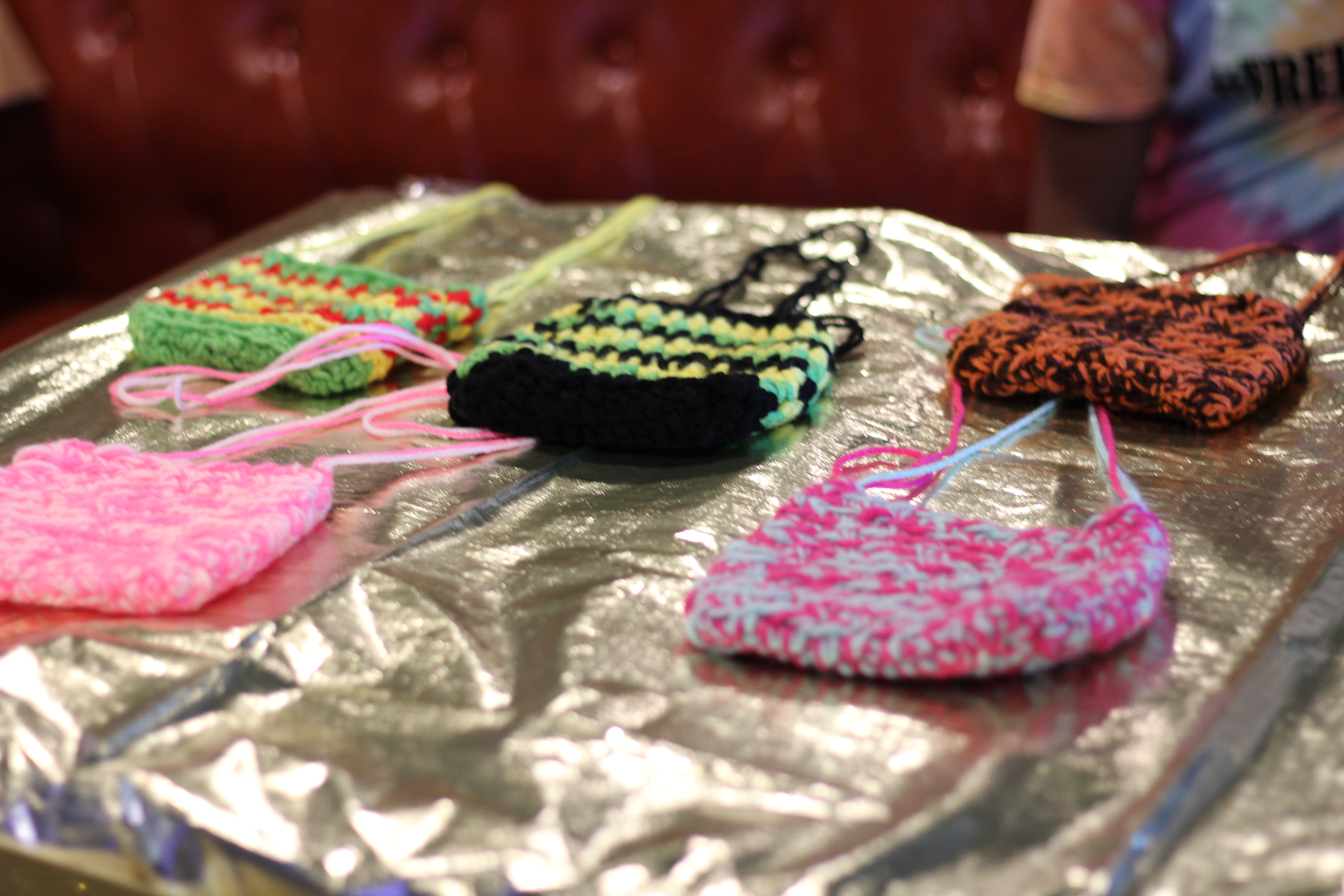 "When I'm older, I'm deciding between entrepreneur, engineer, or doctor. I think about what it would be like to be an entrepreneur. Maybe I'll do all three."
Other vendors expanded that health and beauty approach, hopping from fashion to self-care and back. Winter Carson, founder and director of Blush Beauty Studio, demoed an eye cream while trading beauty advice with Paulette Brooks and Kezezra Sakuhai of Authentic Beauty and Body Salon in New Haven's Westville neighborhood.
Further into the room, 11-year-old Fallon Williams showed off her small, soft pocketbooks, knitted from bright yarn and laid out in neat rows for attendees to inspect. A student at Barnard Environmental Studies Magnet School, she began making the pocketbooks last year, when she realized she had "a lot of stuff" that she needed to carry with her, and nowhere to put it.
She found a YouTube tutorial and tried it out. Soon, the craft had doubled as an opportunity for her to flex an entrepreneurial muscle.
"When I'm older, I'm deciding between entrepreneur, engineer, or doctor," she said. "I think about what it would be like to be an entrepreneur. Maybe I'll do all three."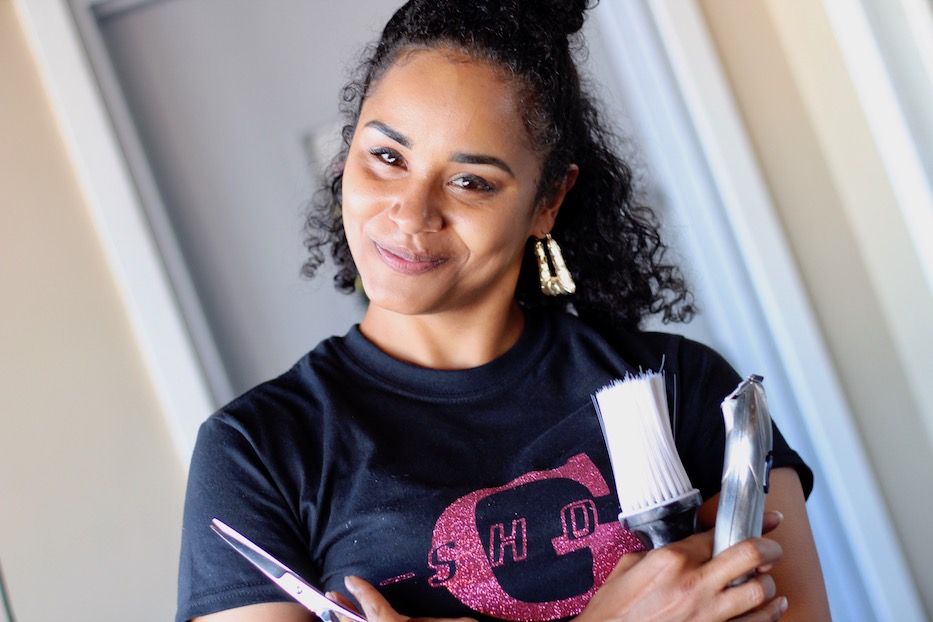 Beside her, she found an older entrepreneur to look up to. Growing up in New Haven, Rachel Graziano cut her teeth barbering on her own hair and then her mother's, working to keep it neat after cancer stole most of it. As a kid, Graziano had met Harris through dance classes in New Haven. The two stayed in touch, watching as each went into hair styling. So when Harris asked her to come, she didn't think twice. With Sister's Journey in the room, she said she thought of it as an homage to her mom as well.
"This is amazing, because it shows me that there are other women out there who want this," she said, adding that she found the message of healing from the inside out especially moving.
That mentorship and conversation was one of the hopes for the afternoon, said Harris. When she put out a call for vendors, part of the vision was a circle of women who could lift each other up by just being in the same room together—and raise awareness around breast cancer in communities of color. The event also gave Sister's Journey to spread the word about its 21st annual Pink Tea, scheduled for Oct. 26 at Mohegan Sun.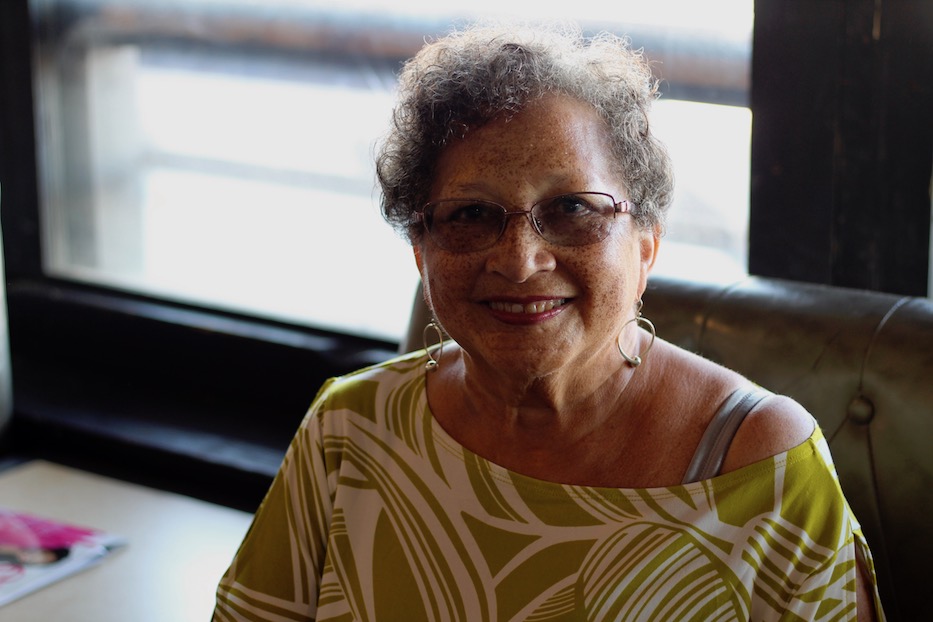 "I think it's wonderful," said Jacqueline Randolph, a longtime member of Sister's Journey who is also a 19-year breast cancer survivor. "We need funding in order to do the things that we have to do."
In the future, Harris said that her goal is to bring the festival downtown to the New Haven Green, where passers-by are more likely to roll in. But for now, she's happy where it is, with attendance and growth from vendors that has exploded in the past year. For her, she said, that interest reflects a clear need in the community that isn't being reflected anywhere else.
"That's the bigger point of this movement," she said. "It is ridiculous to think that people have to wear their hair a certain way to be accepted. We have to love ourselves, because sometimes other people don't love us just how we are naturally. And we have to figure out ways together so we can get to a point where everybody can feel free."