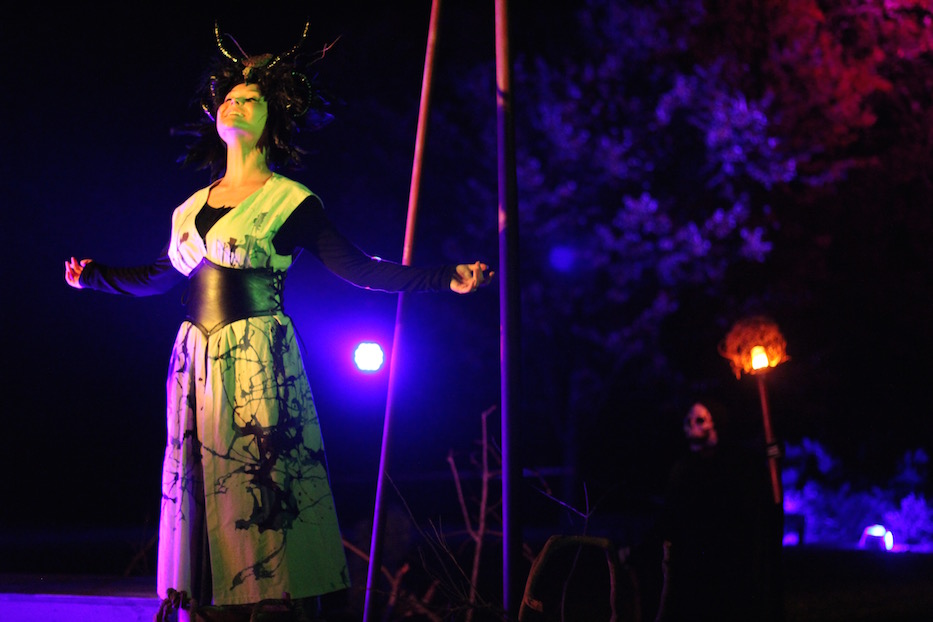 East Rock | Edgerton Park | Elm Shakespeare Company | Halloween | Arts & Culture | Theater
René Thornton, Jr. as the Apparition. Lucy Gellman Photos.
René Thornton, Jr. was no longer himself but a freakish apparition, pulled from the witchiest depths of the earth. A thick, patterned cloak fell around his shoulders, stretching as if it were made of spider web. A woodland crown sprouted from his skull. From his hands, long, heavy fingernails caught in the low purple light. Surely, there was an eye of newt somewhere in the mix.
He gave a ghoulish laugh that floated through Edgerton Park. As he raised his cloaked arms, it signalled the full rebirth of Shakespeare in New Haven.
So begins Elm Shakespeare Company's Taste Of Fear II, a terrifying tour of William Shakespeare's goriest and most gut-wrenching works just in time for Halloween. This week, six performances are scheduled in Edgerton Park between Friday, Saturday, and Sunday. Tickets and more information are available here; Elm Shakespeare recommends the performance for audiences eight years and up.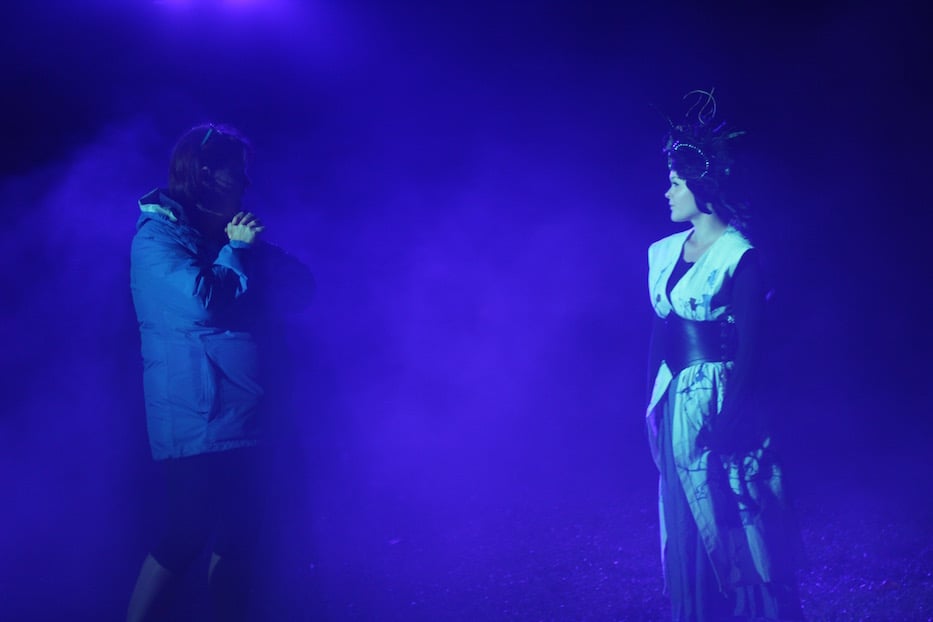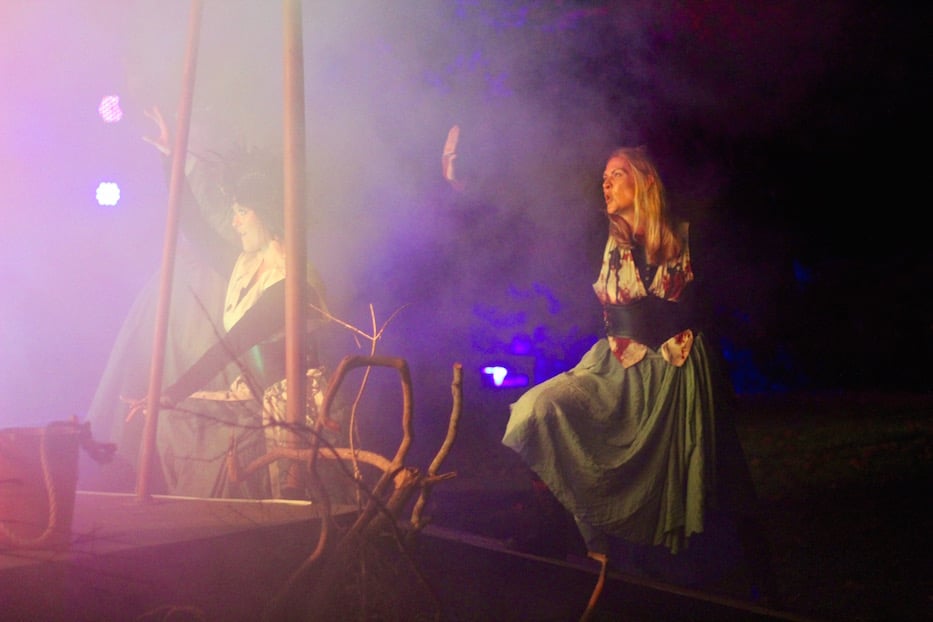 Top: Director Rebecca Goodheart with Brianna Bauch. Bottom: Bauch and Shannon Parks as the witches.
For Elm's Artistic Director Rebecca Goodheart, it marks a return to directing for the first time in two years. While she and staff have steered the organization bravely through a pandemic (read more about that work here) she was not able to gather with professional, unionized actors until this fall. When she did, she hit the ground running.
"Honestly, it was like coming alive again," she said Monday night, as a damp, cool air rolled over the park. "You think you know this thing that's so deep in your bones, but then you get in a room with actors and the language … It's remembering what you do. It's remembering who you are."
A year after Elm Shakespeare's teen troupe piloted A Taste of Fear with a masked, small crowd, Goodheart has combined some of the Bard's spookiest and most gruesome hits for a second performance that feels spacious. There is Macbeth, whose wife's cunning and blind ambition may be the most terrifying part of the 1606 script. There is Hamlet, with a spectral sighting that hits as the audience creeps slowly toward midnight. And of course there is Titus Andronicus, maybe the darling of the dark arts.
That's just the tip of the iceberg. Spirits and ostensible necromancers unearth themselves from the yellowed pages of history. Actors jump between Hamlet and Henry III like it's no big deal. At some point, severed heads and fresh blood creep in, and the audience wonders if they've been there all along.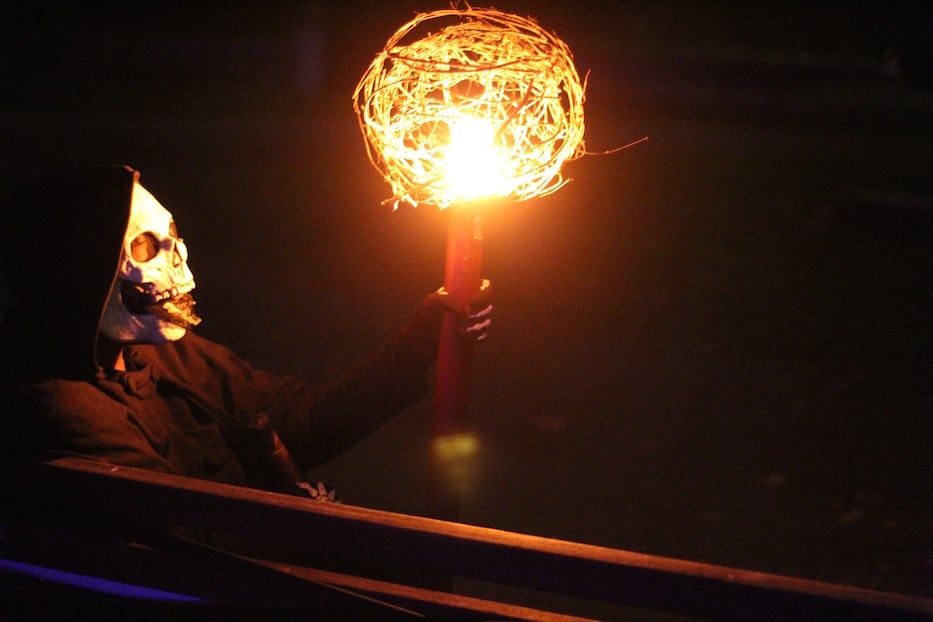 Is it a haunting, or is it Gracy Brown-Kierstead? You'll never know.
This year, the scale of the production has changed, transporting the audience through brightly lit hoops, belching cauldrons, enchanted trees, fog machines and blue, pink and purple lighting that make ghosts feel real. The magic is owing to an adept crew, who have transformed the park into another universe from a few covered tents.
At a tech rehearsal Monday, actors scurried around the park in costume as Lighting Designer Jamie Burnett turned a wide, tree-lined patch of grass into something straight from the mouth of the underworld. At the center, smoke rolled in thick white gusts from a huge pit, turning wispy in the night air. Three witches stood on its periphery, waiting for a cue. A skeletal figure reclined on a park bench nearby, holding up a lantern surrounded by thorns. Across the grass, a large hoop glowed butter yellow for a moment, and then switched back off.
The temperature dropped, wind picking up before a late night rain. From somewhere, Goodheart gave a cue. The witches scrambled atop the cauldron and began to pace. They spoke in thick French accents, the words flying from the set. Jeff Raab became almost elven as he swooped in and out of focus. Shannon Parks had something new enter her ribcage, her hips and shoulders loose as she conjured the spirit world. Brianna Bauch threw her head back, and let her cheeks shine with green light. They watched the center of their set piece with wide, expectant eyes.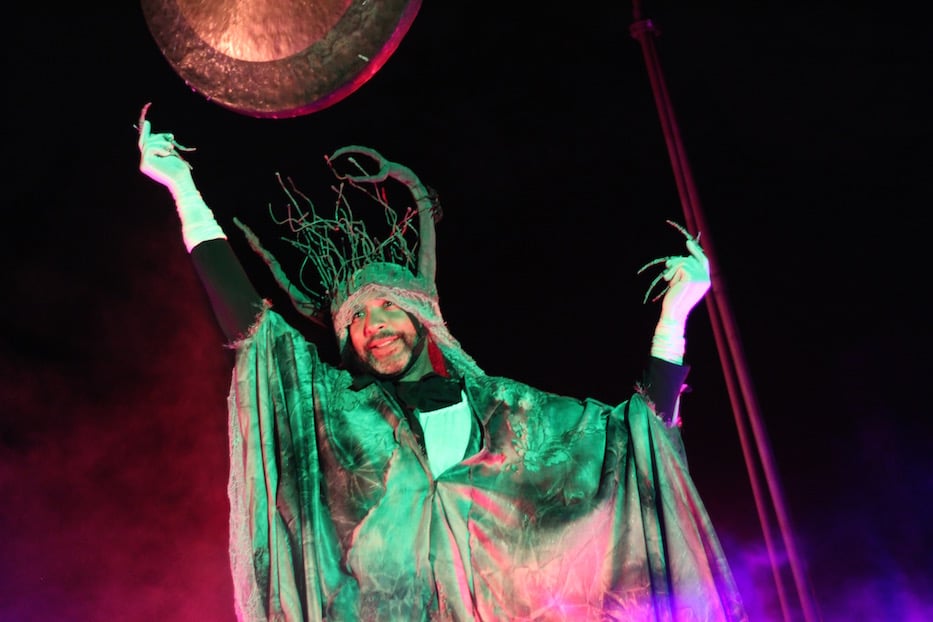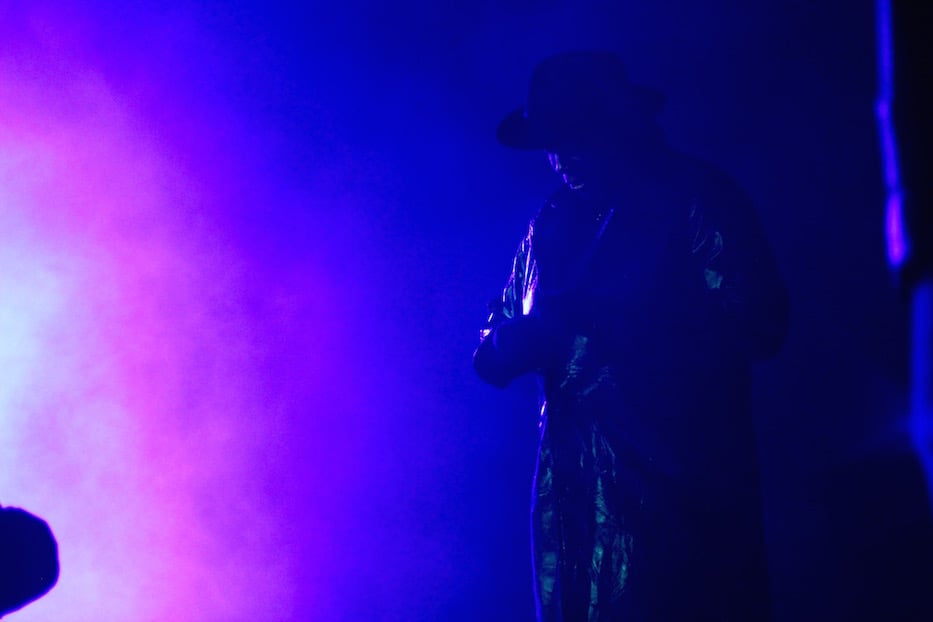 Top: René Thornton, Jr. as the Apparition. Bottom: Gracy Brown-Kierstead as Marcus Andronicus.
Thornton-as-Apparition emerged slowly, as if his body had been pulled up through layers of magma, dirt and sediment. He threw out his arms, casting long shadows across the grass. His hands and heavy, claw-like nails never stopped moving, reaching slowly toward a gong suspended above his head.
"Welcome to all Hallow's Eve night, and scenes of Shakespeare, full of fright!" he cried over the grass. "We shall raise such artificial sprites, as by the strengths of their illusion shall draw you on to your confusion."
While he later joked that the performance "is not for the faint of heart"—and it's probably best to leave your littlest monsters at home this weekend—it is also a reminder of how twisted and yet tortuously elegant Shakespeare can be. Fans of the sheer gore in Titus—one Globe Theatre run of which became famous for fainting audience members—need not worry: there is plenty of gristle in this 90-minute show.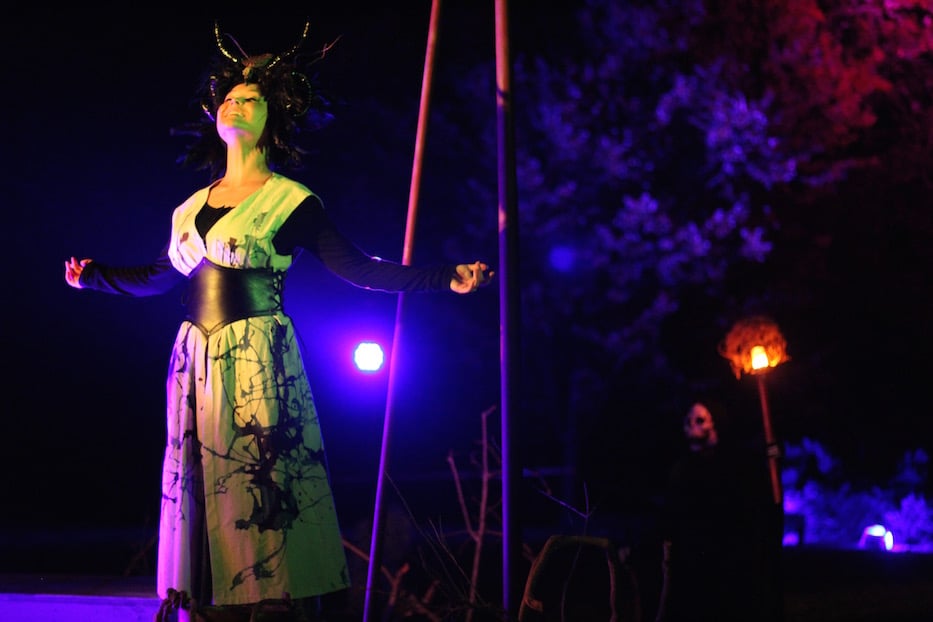 Bauch as one of the witches. Costume design by Rebecca Welles.
But Goodheart has also leaned into Shakespeare's sense of psychological horror, a choice that feels right on time in a year beset by misinformation, a literal plague, and the spectre of something nefarious on the horizon. Macbeth isn't chilling simply because of its bloodshed—although there is plenty of it—it's a case study in the lengths to which people will go for perceived power and status. The Tempest is mind-bending and creepy in its othering of Ariel and florid love song to colonialism and dominion. Richard III has a ghost to human ratio that leaves no doubt that the afterlife is a fierce and uneasy thing.
In the park, Goodheart and an incredibly nimble cast and crew bring it to life. Witches cackle and scheme, and suddenly New Haven feels foreign. When the ghost of Hamlet's father (Lisa Wolpe) appears in chainmail beside two night watchmen, it becomes impossible not to feel that something is indeed rotten in the state of Denmark. As a suave Marcus Andronicus (Gracy Brown-Kierstead) saunters in later in the show, it's as if he carries the fate of the whole world (and for a moment, the audience) with him.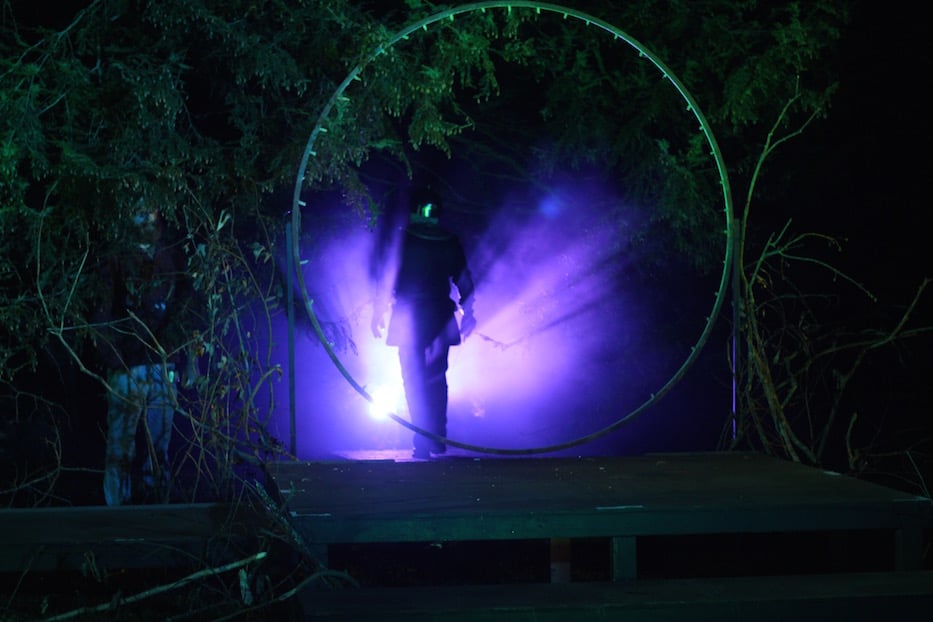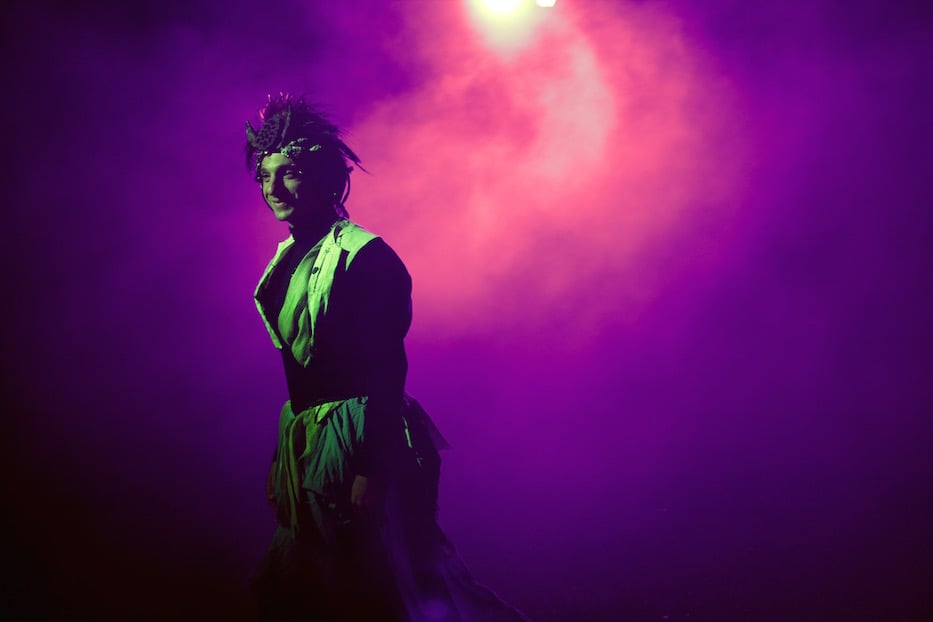 Top: Lisa Wolpe as the ghost of Hamlet's father. Bottom: Jeff Raab.
Monday, many of the actors said that the performance felt like a homecoming. In March 2020, all of them watched work disappear overnight, in what may be the most sudden and unsettling intermission they have seen during their lifetimes. While Thornton, Jr. returned to work five months ago, others are stepping back into theater for the first time in 18 months.
Parks, who plays a witch, Lord Bolingbroke, and Lady Macbeth, is getting back to Shakespeare after almost two years away. She called it doubly special because she has known Goodheart for over 20 years, and worked with her during her time at the Maryland Shakespeare Festival.
"It's pretty fantastic to be back to work," she said. "It's also very disorienting. It's an adjustment."
Brianna Bauch, who grew up in Danbury, called it a full circle sort of moment. Several years ago, she first met Goodheart during her time as a student at Southern Connecticut State University. She has acted with Elm Shakespeare several times since, including in summer productions of Love's Labours Lost and A Midsummer Night's Dream.
In fall 2019, she became a member of the Actor's Equity Association. It was a dream that she had worked toward for years, she recalled—and then the pandemic hit. Those dreams went on hold. Over a year and a half later, she said she's grateful to be back—and can't imagine a better setting. While she is mainly a musical theater actor, she called Shakespere "gorgeous," even when the content is grotesque.
"I think it also reminded me of how lucky we are that this is our job, and to not take it for granted," she said. "Because, like, at least for myself—my soul just comes to life when I'm onstage. This has been a really cool experience just to remind myself what I was born to do."
A Taste of Fear II runs Friday Oct. 29 through Sunday Oct. 31 in Edgerton Park. Tickets and more information are available here