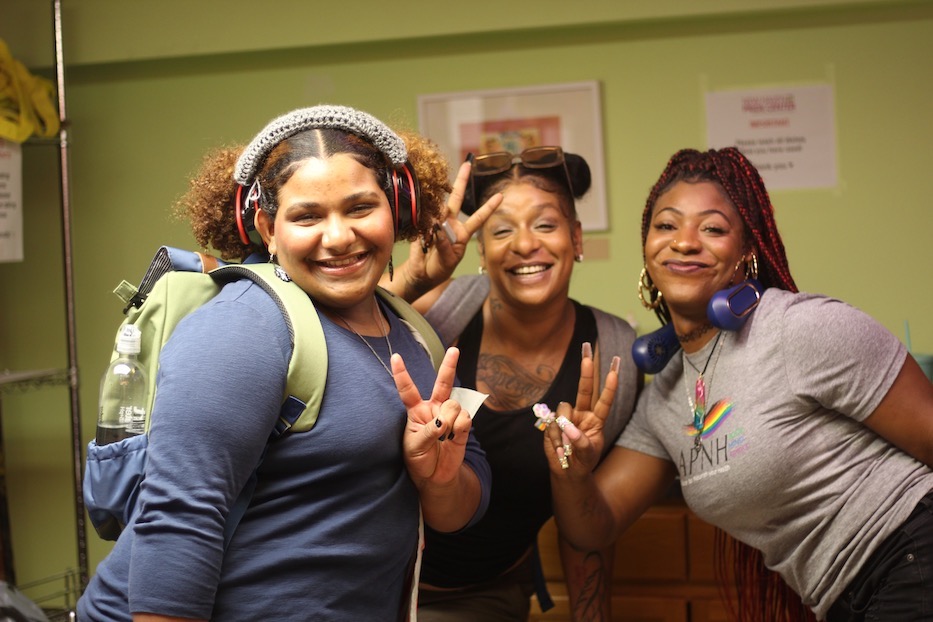 Culture & Community | LGBTQ | Arts & Culture | New Haven Pride Center | Arts & Anti-racism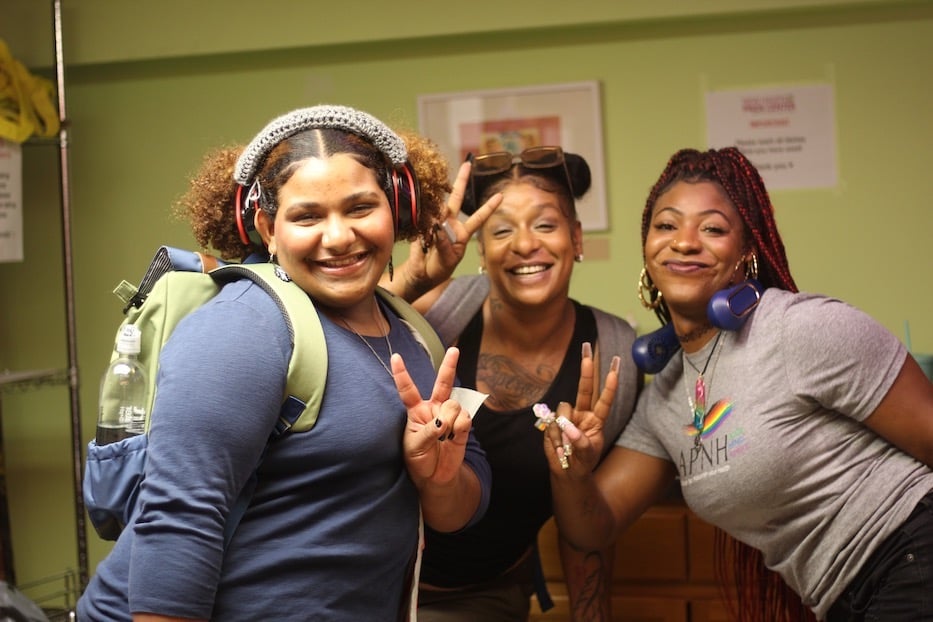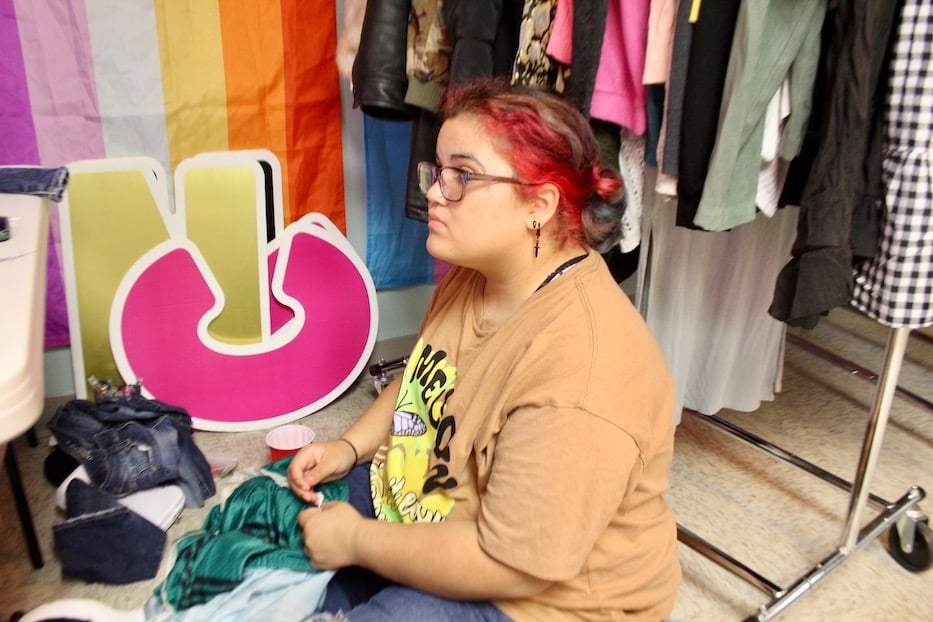 Top: Hazel and Esperanza Rivera and Tiny. Bottom: Onyx at work. Lucy Gellman Photos.
Seated cross-legged on the floor of the New Haven Pride Center, Onyx squinted at the ceiling, holding up a needle that glinted in the light. A pleated, polka-dotted green and black skirt laid across their knees, ribbon-thin lace neatly pinned to the center. Putting it gingerly to fabric, they began to stitch, sometimes humming to the pop music that floated through the background. It wasn't close to done, but already they were imagining wearing it to school with a t-shirt and some sneakers to match.
Sunday afternoon, sewing circles, impromptu book discussions, and tie-tying, nail-painting and binder-wearing demonstrations all unfolded at the New Haven Pride Center, as the organization hosted its inaugural back-to-school "Shopping Spree" for over two dozen LGBTQ+ youth from across the state. All afternoon, students cycled through the center's 84 Orange St. offices to pick up free gender- and size-affirming clothes, sleek compression binders, cologne, nail polish, books, and school supplies.
The event, which was organized by Youth Services Coordinator Ta'LannaMonique "T'Mo" Lawson-Dickerson and Communications Coordinator Laura Boccadoro, received support from the New Haven Free Public Library, North Haven Pride, and the inclusive undergarment brand Lola Olivia. In just over four hours, the space served dozens of young people, some of whom came from as far as Putnam and Wolcott.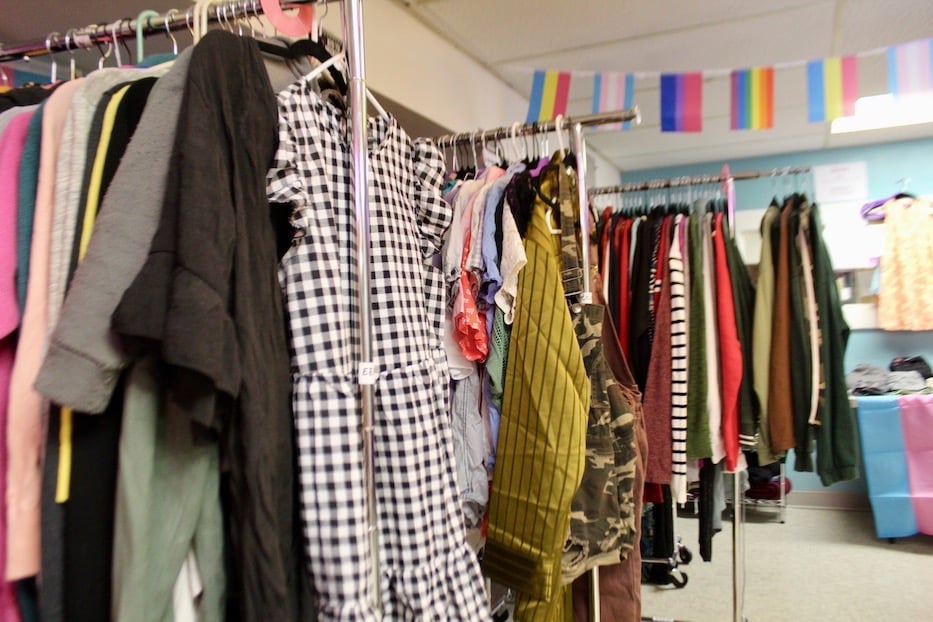 "Honestly, when I think back to school, there's not really safe back-to-school shopping," said Lawson-Dickerson, who is a mom and has had discussions with her own children about the fashion choices that make them feel most comfortable in their own skin. "I wanted to make sure there were alternatives for young folks. This is a gender-affirming space and event."
Around her, the Center's basement offices had been transformed into a simultaneous clothing swap, bookstore, makerspace, and brunch bar, with a station dedicated to gender-affirming accouterments like binders, ties, padded bras placed next to a fully-stocked food pantry. Along one wall, three racks of pants, sweaters, skirts and dresses waited for attendees in a burst of color, with cable knits and eye-catching checkered t-shirts alongside fluttery frocks made for Connecticut's September heat.
Over three hours, it seemed that someone was always floating in between the racks, lifting up a new piece of clothing to see if it worked for them. Toby, a junior at Amity High School who asked to give only his first name, praised the Center for holding an event designed around making people feel welcome, just as they are. Most of the time, he said, that's not his experience of high school at all. Saturday, he'd attended the Center's first "LGBTQ+ Kickback" of the fall, and loved it.
"I'm going to go to everything [at the NHPC] I can," he said.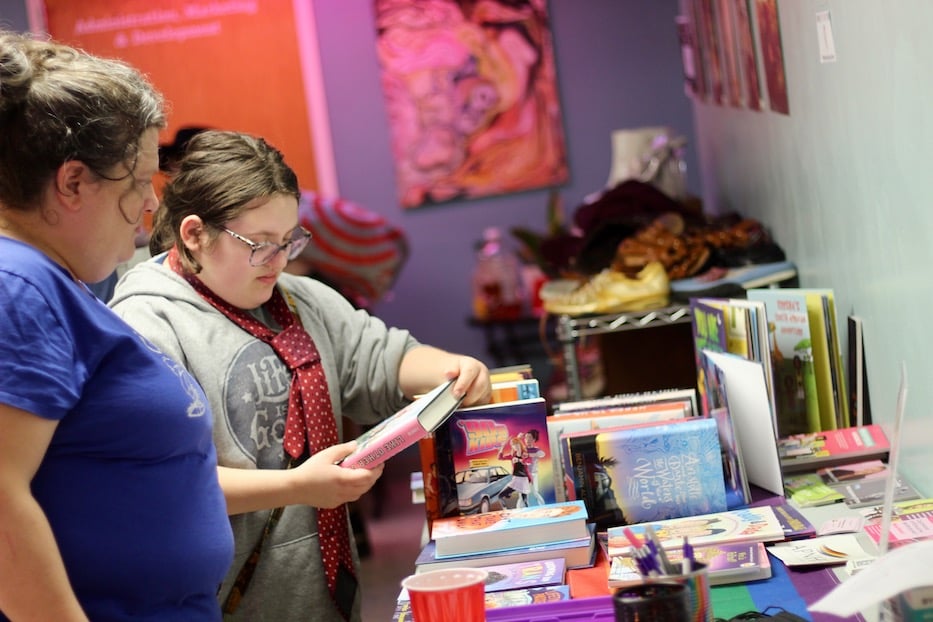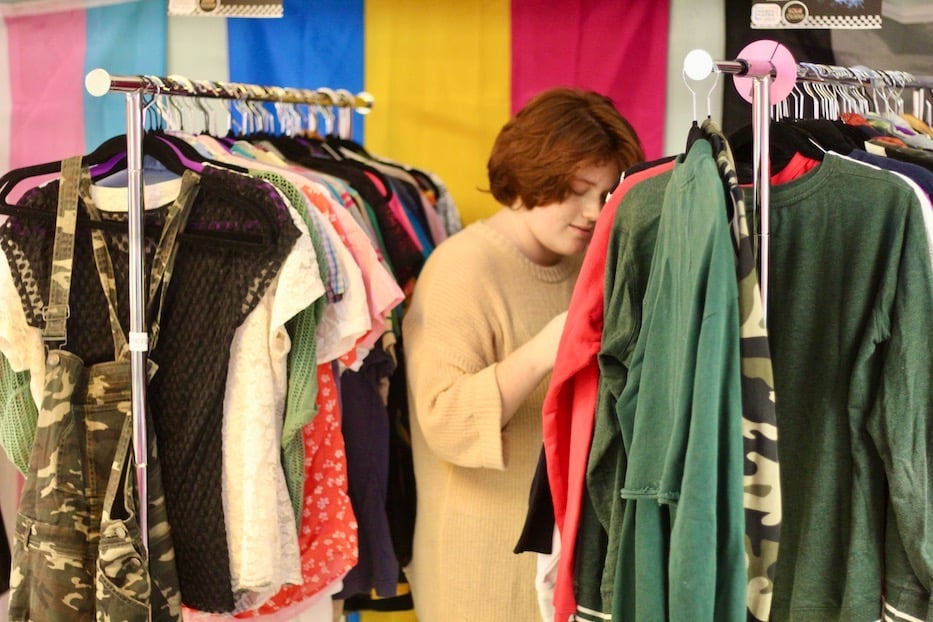 Top: Katin, a sophomore in high school, and their mom Stephanie. Bottom: Toby.
At a nearby table, four attendees worked quietly on adjusting hemlines, threading needles, and decorating swatches of fabric with glitter, markers and paint. At one end, 29-year-old Quinn Jannetty carefully coaxed a piece of navy thread through the eye of a sewing needle, and handed it to Onyx. They later joked that queer people are often crafty because they've had to be, pivoting as a matter of survival.
For months, Jannetty has been a peer mentor with the Pride Center, a largely remote position that complements their work as a peer support specialist for the state. In online meetings, they've been able to work closely with Onyx, who just started their junior year at a new high school, and is still figuring out what being nonbinary means to them.
"Growing up, I didn't get to see adult versions of myself," Jannetty said. As they got older, "I wanted to be that grown up version that wanted to see. I think there's so much pressure on young folks [who come out]—they're told it's just a phase."
Instead of that model, Jannetty said, they want young people to feel completely comfortable in their bodies. For them, that means not only seeking gender-affirming care, but also finding gender-affirming clothing, from oversized garments to graphic and statement tees that let people know exactly where they stand. They know firsthand that it can sometimes be a challenge, they said—and now know to look for trans-owned brands and artists like Both&, Transfigure Print Co., and Meg Emiko Lee.
"I like the in-between," they said. "In that in-between space, there's so much room for expansion."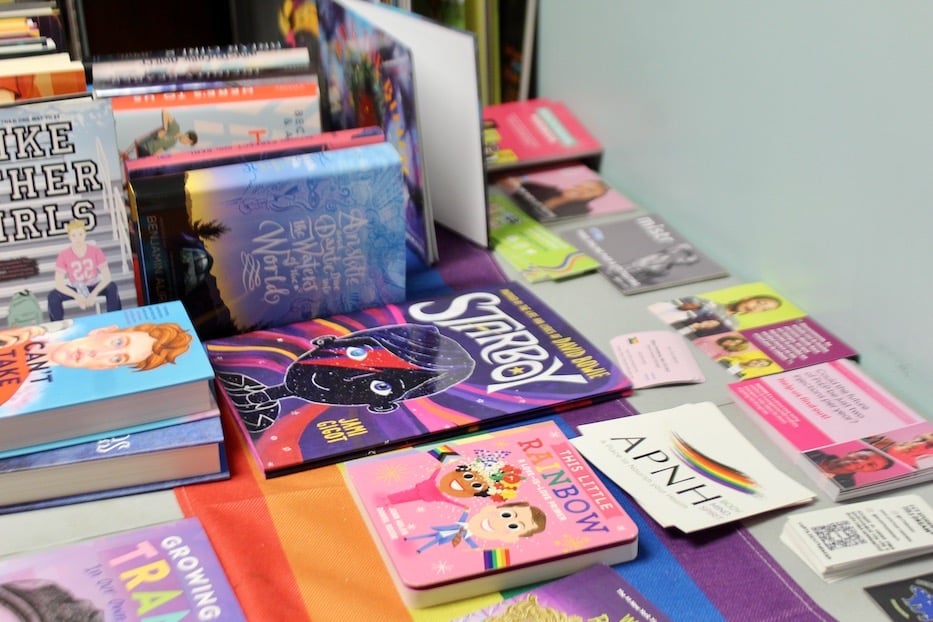 Beside them, Onyx sat working quietly, methodically planning out a white lace addition that could wrap around a vibrant green-and-black skirt. A high school junior in Putnam, they said that they were grateful for the chance to find clothing that fit their style, which bends toward oversized clothing. They added that they like the chance to show up rocking a more femme style one day, a more stereotypically "masculine" style the next, and an androgynous style the day after that.
Across the room, fast friends Zane and Orion looked over shiny spandex Lola Olivia binders, waiting for an afternoon workshop on how to properly wear and style them. For Orion, a visual arts student at Gateway Community College, it could not have come at a better time—in high school, he injured himself wearing a chest binder that was a size too small, because no one taught him about sizing. He didn't realize that it wasn't supposed to be that tight, he said, until something was painful and noticeably wrong with his ribcage.
"I like that I'm able to get binders," chimed in Zane, who outgrew several of theirs recently. As they chatted, they rocked a pink-and-blue cap, the bands mirroring several small Trans Pride flags strung up across the ceiling. This year, it's one less thing they have to think about while navigating high school classes in Wolcott, dreaming about a career as a forensic scientist.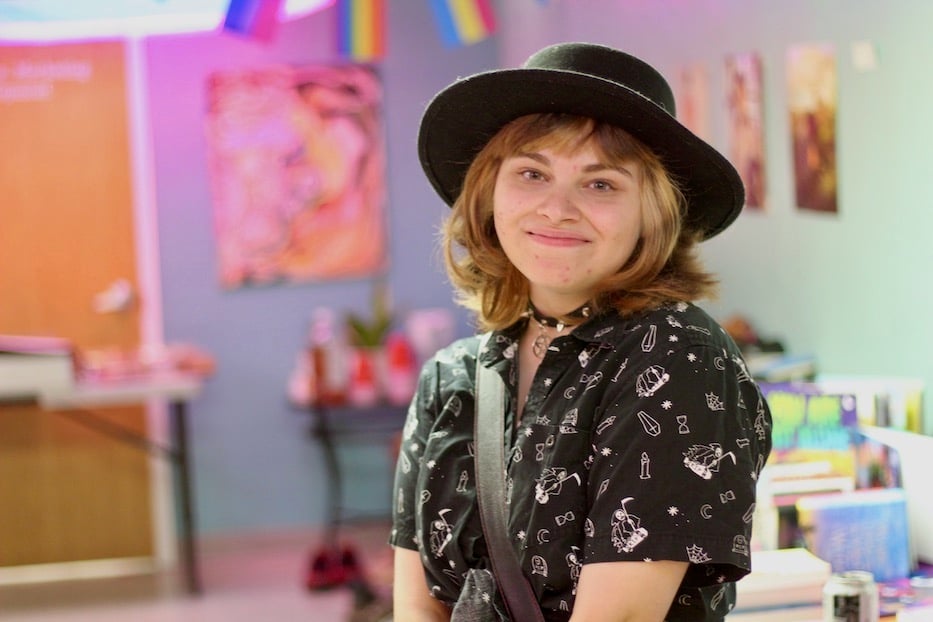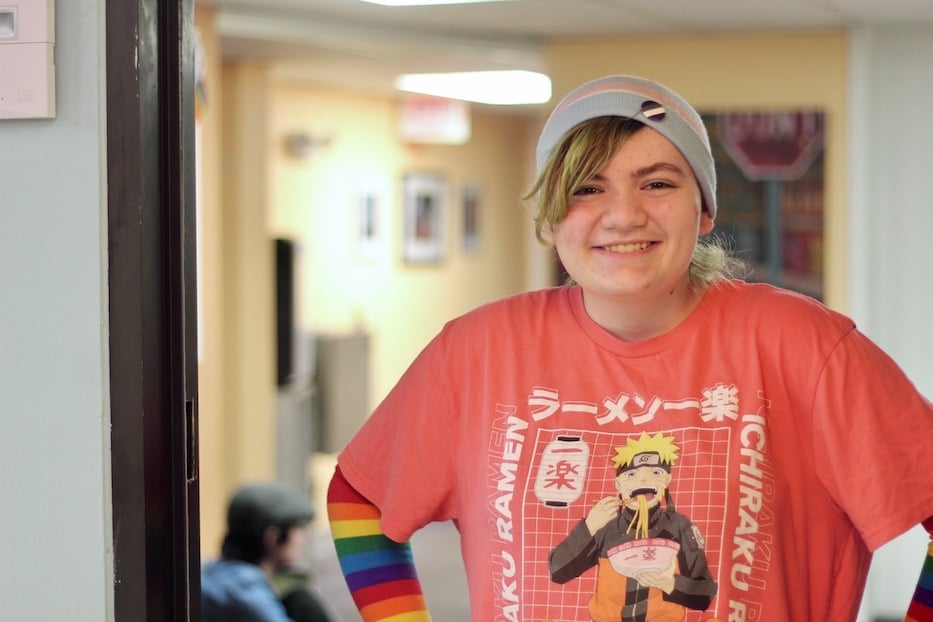 Top: Orion. Bottom: Zane.
Picking up a shiny white binder to bring home, they made their way to a free book station, with children's and young adult titles that ranged from Who Is: RuPaul? and This Little Rainbow to Like Other Girls.
Out in the hallway, two friends took a seat on the floor, half-whispering as they debated the merits of platform boots and a pair of gently used heels. In the Center's library one room over, mom Karen Boccadoro found a spot next to a bookshelf, and lifted up a blue-and-white patterned tie. A few feet away, Milford-based nurse practitioner Chris Miniter walked another attendee through the perfect Windsor knot. Lawson-Dickerson slipped into the room and found a spot between the two.
"You have to make sure that the skinny side is really short," started Boccadoro, whose daughter Laura is the Center's communications coordinator and a co-producer of Pride New Haven. "You spin it around, one time, and then again—"
Growing up in Allentown, Penn., Boccadoro learned to tie a tie when she enrolled in Brownies for the first time, and the uniform included a pressed brown dress and tidy orange tie. It was her dad, Larry, who taught her. Now, she sees it as a simple thing she can do to pass the skill on.
"I do not … " Lawson-Dickerson inspected her tie. "It's too long."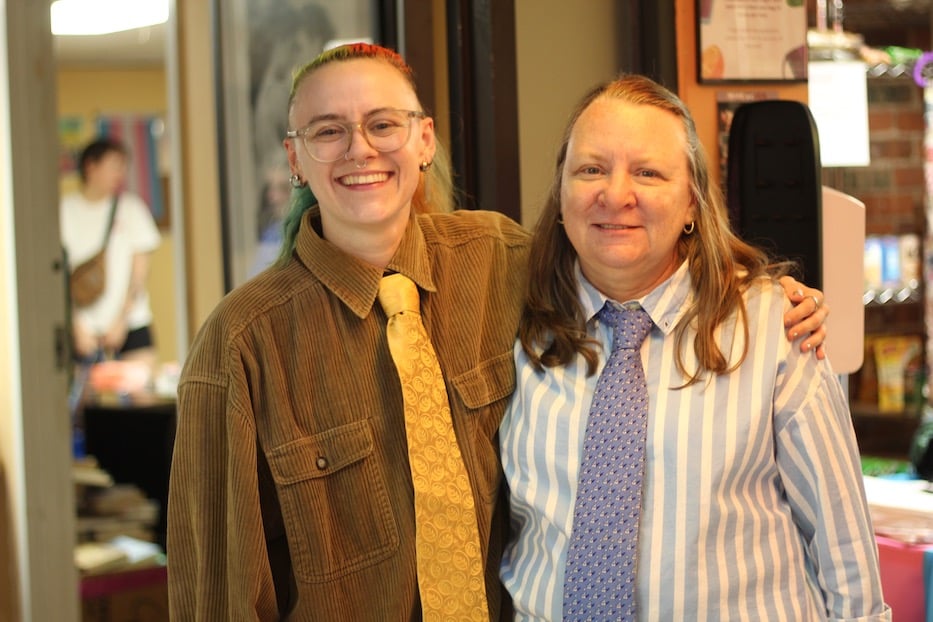 New Haven Pride Center Communications Coordinator Laura Boccadoro and her mom, Karen.
"It's gotta be shorter than that!" Boccadoro said, patiently untying her tie and beginning the process again. She walked Lawson-Dickerson through each step, sizing up a black tie that stood out against her checkered green button-down. This time, it looked a little closer to even.
"I'm gonna get it eventually!" Lawson-Dickerson said, bursting into a smile.
As she bounced from the demo back to the main room, Lawson-Dickerson was quick to add that none of the back-to-school weekend happened in a silo. Earlier this year, Mitchell Branch Children's Librarian Sarah Quigley reached out to the Center to see how she could get involved in the organization's work. A year ago, she and her partner, J Wren Pennington, moved to Connecticut from Austin, Tex., where they both worked in the schools.
When the two moved, Quigley was a children's librarian in an elementary school ("that's where my heart is," she said with a smile) and Pennington was a library technology coordinator in the same district. The two adored their work and their students—but realized that Texas was becoming an increasingly unsafe place for them, and for many of the LGBTQ+ people that they loved.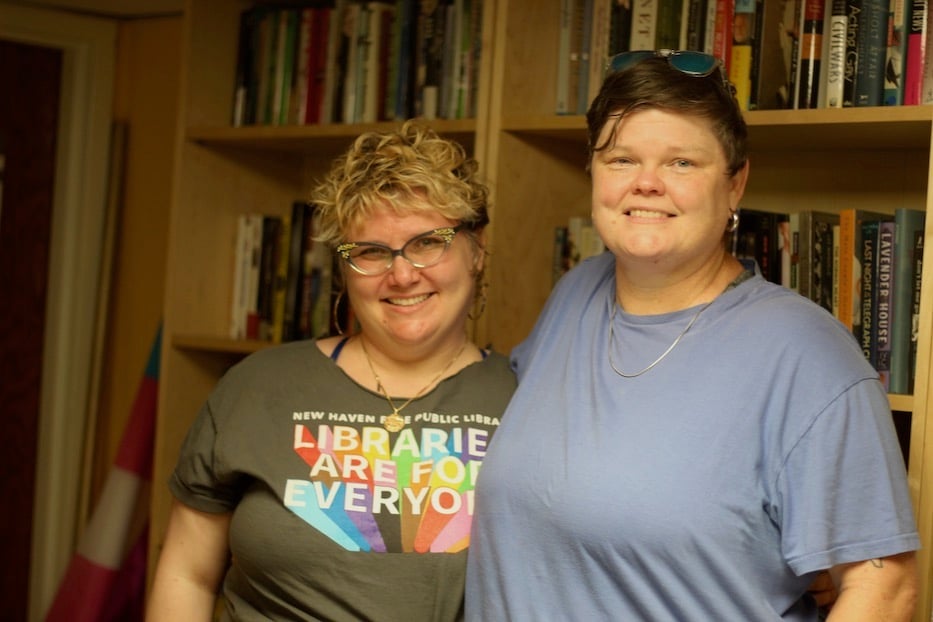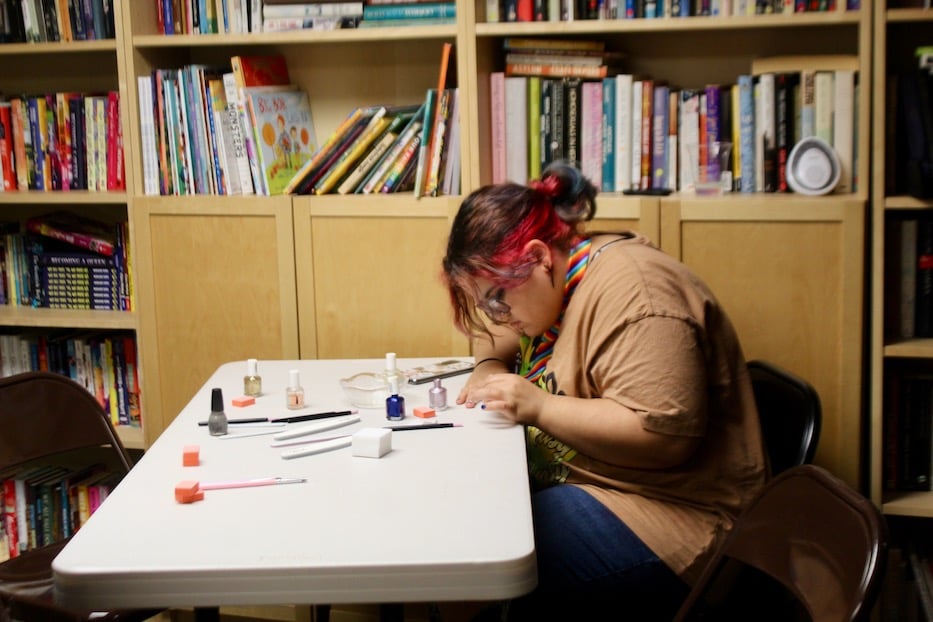 Top: Sarah Quigley, who is a children's librarian at the Mitchell Branch Library in Westville, and J Wren Pennington. Both described supporting the New Haven Pride Center as a no-brainer. Bottom: Onyx at a nail painting demo later in the day.
As the state veered towards a ban on gender-affirming care for minors, Quigley worried for a trans stepchild she had from a previous marriage. Both she and J Wren, who is nonbinary, could see the devastating effect that a growing anti-LGBTQ culture was having and would have on members of their community, and particularly "a huge trans community" that had made J Wren feel at home. Roughly a year ago, they made the difficult decision to leave the state.
In Austin, it was Quigley's mission "to create a space where every kid feels safe and seen," she said. So when she began interviewing for positions in Connecticut libraries, she always made a point to ask what those institutions were doing to support LGBTQ+ youth. It was in New Haven, during an interview with Stetson Branch Manager Diane Brown, that she realized the city's library system would be exactly the right fit for her.
"Just seeing the joy on her face!" Quigley remembered with a smile. Since then, she said she's received immense support from Mitchell Branch Manager Marian Huggins and City Librarian Maria Bernhey to do inclusive programming that also engages with people and organizations in the community. "Having the space and the support has just been incredible," she said.
Part of that, she added, is growing the NHFPL's relationship with the Pride Center. After that first phone call with Boccadoro, she met with Lawson-Dickerson, the two bouncing "tons of ideas" off of each other. In particular, she's jazzed about the potential for an LGBTQ+ book club and iteration of the Pride Center's youth LGBTQ+ kickback at the Mitchell Branch Library.
"It's about letting kids know that libraries can be a safe space for queer youth," she said.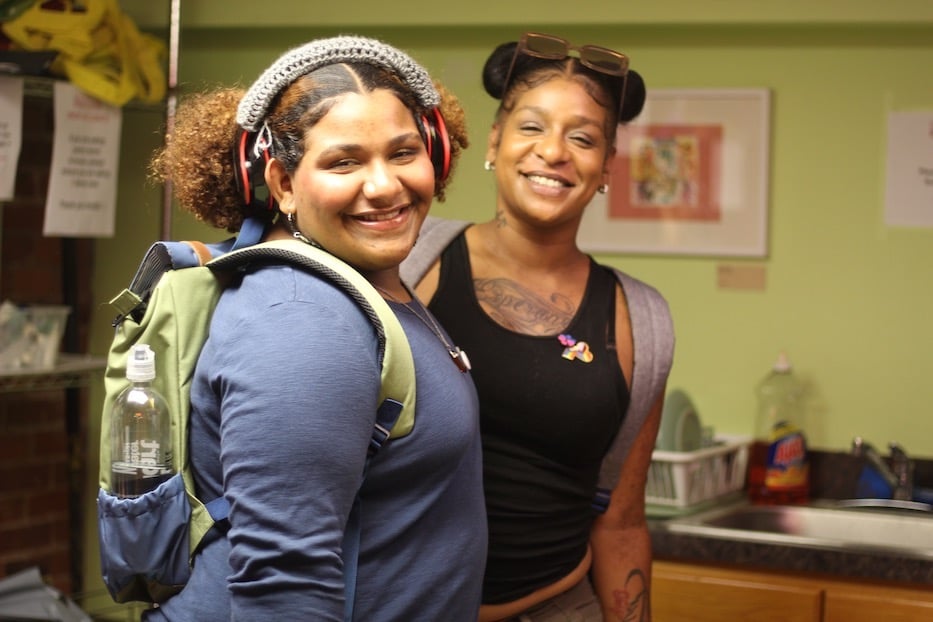 Back in the center's main space, mom-and-daughter Esperanza and Hazel Rivera looked over bras and binders, comparing nail painting and care tips with Tiny (she asked to give only her first name) from A Place To Nourish Your Health. Hazel, who just began her sophomore year at Cooperative Arts & Humanities High School, said events like the drive make it easier for her to transition, a process that she began last year.
While her teachers have been good about using the correct pronouns and asking when they aren't sure—it was arts educator Janie Alexander who mentioned the Center's programming to Hazel initially—she said that high school still feels like a difficult place to transition.
"It's just like, we still don't have a lot of places to be who we want to be," she said, motioning to a new copy of Alice Oseman's Heartstopper that she had picked up on the next table. "To come and have a space to be comfortable is amazing."
Learn more about the New Haven Pride Center here.