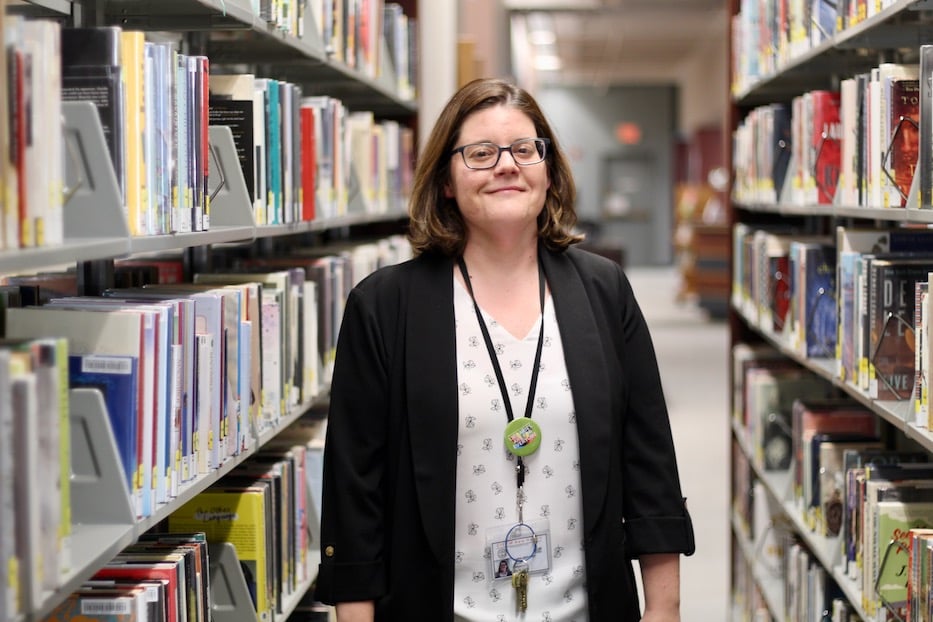 Culture & Community | Arts & Culture | New Haven Free Public Library | Elicker Administration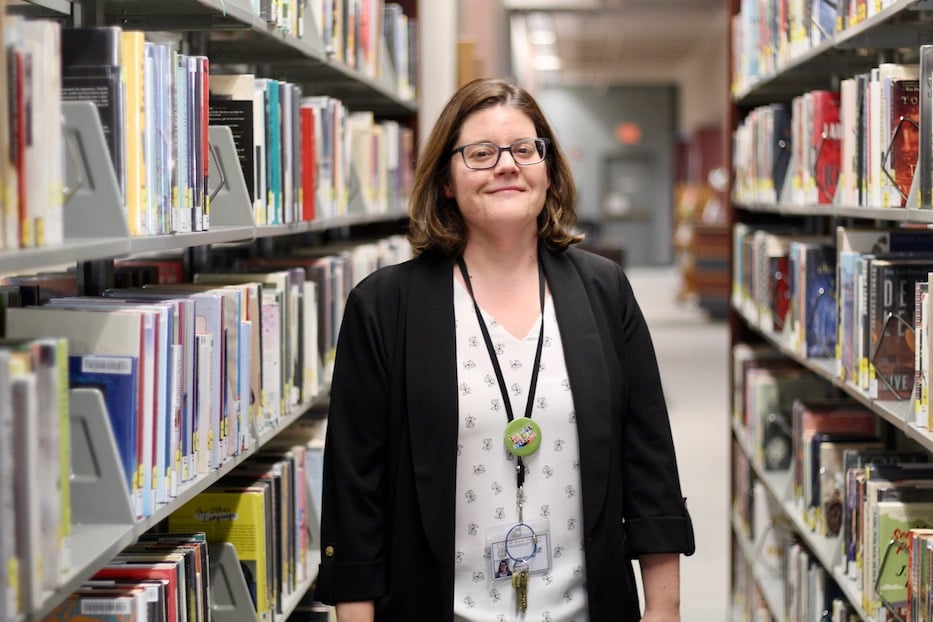 Maria Bernhey, who begins her tenure as City Librarian on July 1. Lucy Gellman Photo.
Even before she could write her name, Maria Bernhey was falling in love with public libraries. Now, she has the chance to lead one into its next chapter.
That's the latest news at the New Haven Free Public Library (NHFPL), which Wednesday morning announced Bernhey as New Haven's newest City Librarian. Currently the library's Public Services Administrator, she takes over from Acting City Librarian Maureen Sullivan, who began her tenure last June after the death of beloved City Librarian John Jessen.
Bernhey officially begins her new role on July 1 of this year. As she takes the helm, a fierce care for libraries and librarians—and belief that they are the great equalizers—is embedded in her approach. This summer, she is entering the position with an eye toward digital equity, early literacy initiatives, citywide advocacy, and the NHFPL's next strategic plan.
"I'm really just looking forward to this next chapter," she said in an interview Thursday afternoon at the library's main Ives Branch on Elm Street. "We have a great community. We have a great staff, and we're so excited for what's ahead."
In many ways, her appointment is decades in the making. As a kid in Sheepshead Bay, Brooklyn, Bernhey grew up going to the public library with her maternal grandmother and cousins, surrounded by both books and a big Italian family who believed in their power. When she was five, she spent the entire summer practicing her handwriting, so that she could get her own library card. In her family, "it was a rite of passage," she said.
It was first through that grandmother, and years later through her colleagues at the New York Public Library, that she saw librarians for the deep community connectors they are. If her grandmother met a new neighbor, particularly a newcomer to this country, she suggested the library. If she heard that someone was looking for new information, she suggested the library.
Sheepshead Bay was a diverse and polyphonic community, and Bernhey understood the library as part of the neighborhood's fabric. In fact, her grandmother was such a champion of the space that "you would think she worked there," Bernhey remembered with a smile. Maybe it was also in her blood: Bernhey's paternal grandmother, who died when she was eight, was a librarian for Nabisco. By the time her family made the move to Carmel, New York, libraries were a fixture of her young life.
"We're like the physical 411," she said Thursday, as afternoon light poured through her office window. "On the phone, you might get put on hold. At a library you can walk in and have somebody who will do that research for you."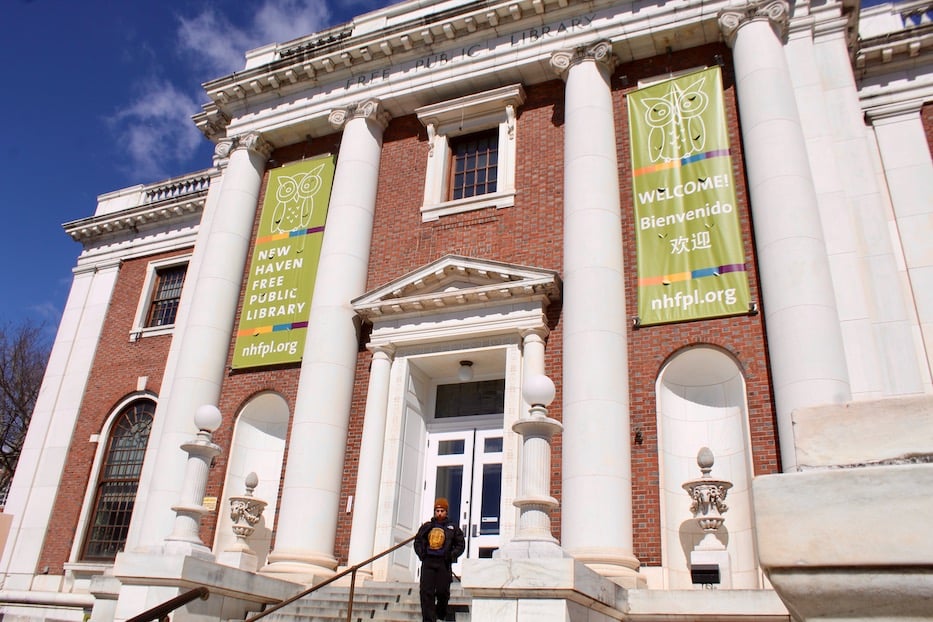 The main branch of the NHFPL, photographed earlier this year. Lucy Gellman File Photo.
In college at Hofstra University, Bernhey's love for information led her to study history, which sparked an interest in archives and preservation. For a time, she said, she assumed that she'd work in that field for which she ultimately pursued a certificate and a graduate degree in library science. Then in the middle of graduate school at Queens College, City University of New York (CUNY), an advisor's sudden death led to an internship at the Coney Island Museum.
The museum was not far from where her grandmother had grown up, and she delighted in finding records and photographs that the two could share, and her grandmother could tell her stories about. It pushed her toward working with the public, which she has since done in libraries for almost a decade.
Prior to her time at the NHFPL, Bernhey spent seven years at the New York Public Library (NYPL) as both a staff librarian and branch manager, positions that required a mix of educational programming, community trust building, and advocacy work. During her tenure, she managed initiatives in early childhood literacy, built and implemented new free programs, and taught workshops on NYPL resources that educators and city officials alike might otherwise not be familiar with.
She also learned how to work closely with municipal, state, and federal legislators and citywide partners, which will likely serve her well in her new role. For years, NHFPL administrators, board members, and supporters have fought to get to one percent of the city's general fund budget, which this year comes in at $662.7 million. While she is thankful for the city's boost in library funding this year, particularly the creation of a new children's librarian position at the Wilson Branch Library, Bernhey identified that one percent figure as one the library needs to get to.
"I am incredibly grateful to the alders and the city for all their support," she said. She's grateful to patrons who show up too, as they did in droves when Mayor Justin Elicker proposed shutting down the Mitchell Branch two years ago. And yet, "We really need to advocate for ourselves."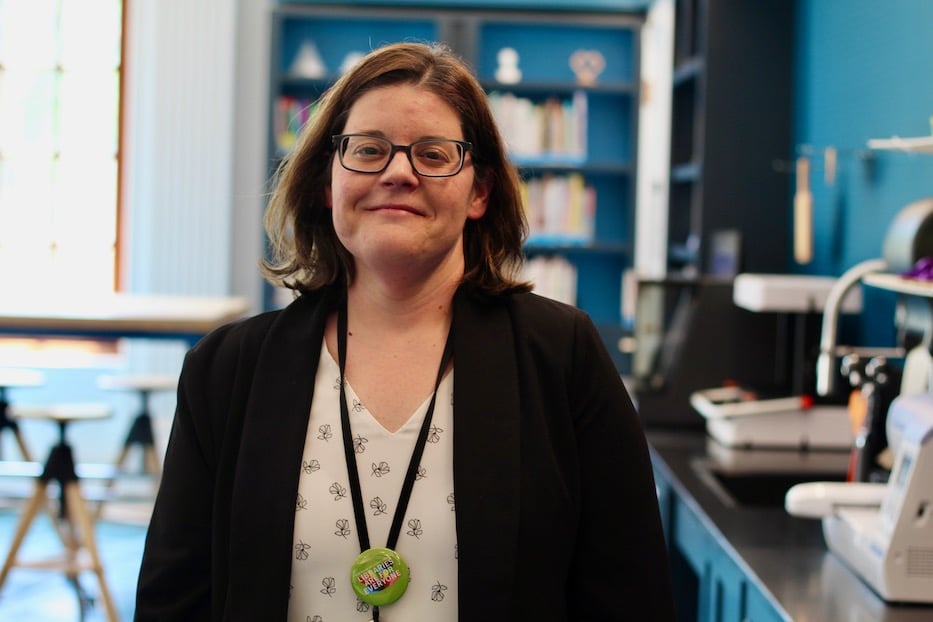 Lucy Gellman Photo.
Currently, the NHFPL accounts for $5,089,556 or roughly .77 of the city's general fund budget. Thursday, Bernhey pointed to the fact that several of Connecticut's comparably sized cities already allocate one percent or more of the city budget to their public libraries. In Hartford's Fiscal Year 2024 budget, for instance, the library comprises roughly 1.5 percent. In Bridgeport's, the number also squeaks in at just over one percent.
As she starts the position this summer, her priorities are also geared towards taking care of both patrons and staff. The NHFPL last wrote a five year strategic plan in 2018, meaning that the organization is overdue for a new one. In the past, that has entailed both data collection and interpretation and both large- and smaller scale discussions (read more about the 2018 process here). "It gives us a chance to evaluate community needs," she said—and to figure out where the library most urgently needs to expand support and services.
Part of her work will also be focused on digital equity, or the belief that digital literacy and reliable access to the internet is a fundamental human right and a basic but often unmet need. While that may take many forms, she expects it to include computer classes, from how to use Microsoft Word to email literacy and building a resume and cover letter for a digital job application. She also pointed to the potential expansion of the library's free Chromebook and WiFi Hotspot checkout services.
Bernhey and colleagues at the NHFPL are also focused on early childhood literacy, particularly as New Haven scrambles to address a citywide reading crisis among its public school students. In addition to READy for the Grade, an annual summer literacy program to fight the "summer slide" in partnership with the NewAlliance Foundation, the library is kicking off a free summer learning program during the week of June 5, with celebrations at all five branches and materials designed for readers of multiple ages and skill levels.
She's also a big booster of the city. When Bernhey first landed a job at the New Haven Free Public Library last year, "it felt like home," she said. As the public services administrator, she wears multiple hats, from supervising the library's satellite branches in Dixwell, The Hill, Westville and Fair Haven to growing youth programming and community engagement work.
In the past three months, she has been a steady and constant presence at budget hearings and public workshops, as well as a public face of library partnerships in the city alongside Sullivan and Deputy Director Luis Chavez-Brumell.
Although New Haven is a small city, she said, it reminds her of New York, where the needs of patrons may range from job training and workforce development to youth programming and literacy to just needing a place to cool down in the summer heat. While she currently lives in Seymour with her wife, Andrea Franco, and their sweet beagle Winnie, the three plan to relocate to New Haven during the summer months.
"It feels so good," she said of the new position, adding that it hasn't quite sunk in yet. "I really love my colleagues here … When you work with a group of individuals like that, I just feel like there are so many places you can take the library."
NHFPL Board President Lauren Anderson, who has been a fierce and steadfast advocate of the library for years, said she is excited for Bernhey to begin her new role.
"It is a joy to announce Maria Bernhey's appointment as the New Haven Free Public Library's new City Librarian," she said in a press release Wednesday. "Since joining the NHFPL, Maria has distinguished herself as a leader among her peers, has developed exceptionally strong rapport with staff at all levels, and has forged partnerships that deepen the Library's commitments to equity and diversity through internal and external programming."
"This is an exciting moment in our Library's history and an important time for public libraries nationwide. We all look forward to supporting Maria and her colleagues as they lead our beloved, award-winning NHFPL into its bright future as a model for what a library can do and be for its community."
Learn more about the New Haven Free Public Library at its website.