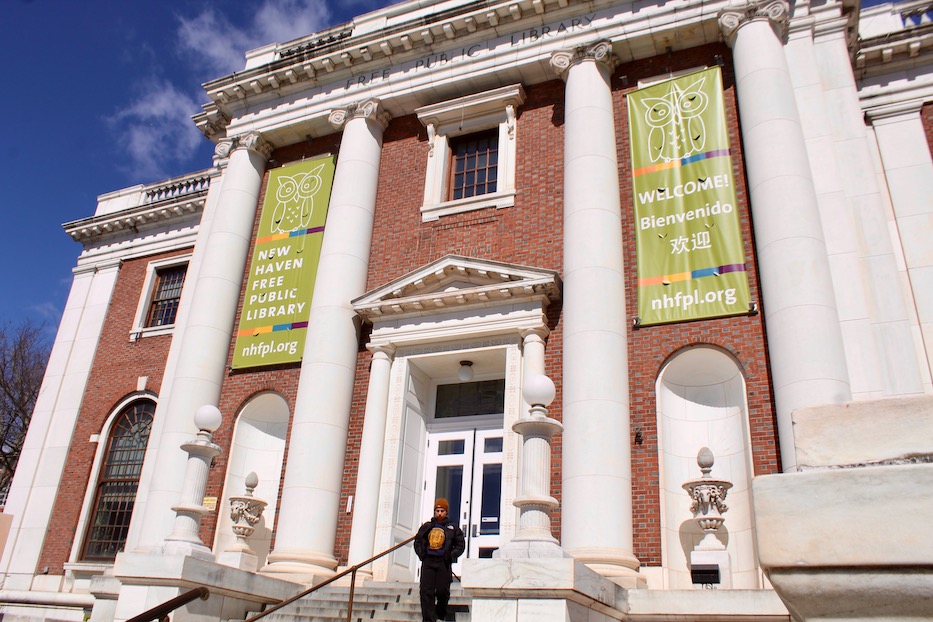 Culture & Community | Arts & Culture | New Haven Free Public Library | Arts & Anti-racism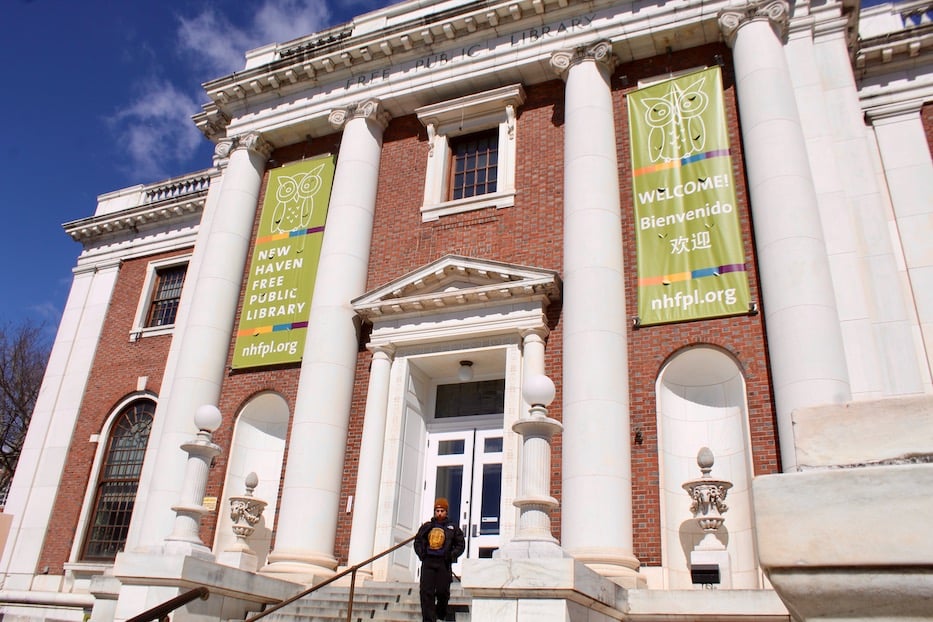 Lucy Gellman Photo.
Will a proposed move of the New Haven Free Public Library from the city Chief Administrator's Office to the Community Services Administration give the institution the support it needs, or further test an already stretched-staff? Will the city increase funds for Sunday hours, or leave employees in the lurch? What about a union contract that expired almost two years ago?
And is a $21,000 pay bump enough to bring in the right candidate for the city's top librarian?
New Haven Free Public Library board, staff, and leadership are asking those questions this month, as they enter city budget season with significant changes proposed by Mayor Justin Elicker for the institution. In addition to a departmental shift within city government, they are eyeing an overdue increase to the city librarian's salary, and asking for fairer compensation for employees. The last is tied to ongoing union negotiations for contracts that expired in June 2020.
"It is a transition that if it goes forward, we will make it work," said Interim City Librarian Maureen Sullivan in a Zoom call last Thursday morning, accompanied by board members Lauren Anderson and Andrew Giering. "But had I been consulted prior to making this change, I would have made the case to align us with education or with economic development."
The move from CAO to CSA, according to city officials, is meant to align the library with a city department that can more robustly support it.
The Chief Administrator's Office (CAO), under the direction of Regina Rush-Kittle, currently supervises Engineering, Emergency Management, Fire, Human Resources, Police, Public Safety Communication, and Parks and Public Works as well as the library.
The Community Services Administration (CSA), under the leadership of Dr. Mehul Dalal, is responsible for Elderly Services, Youth & Recreation, Financial Empowerment Center, Office of Housing & Homelessness, Health, and the city's Food Systems Policy Division. Both Dalal and Mayor Justin Elicker said they see the proposed library move as one that will more fully integrate city services into the work that the library is doing.
"The proposal to realign libraries into the Community Services Administration, I think, is a very important opportunity to think about those possibilities," said Dalal in a budget press conference earlier this month, pointing to a social worker who began at the Ives Main Branch in late 2021. "Really, this is an opportunity to plan, coordinate, as department heads together, to identify those add-on opportunities that will benefit the residents overall."
Monday afternoon, Elicker pointed to the library's role as a gathering space and service hub that provides much more than books and digital resources. In the past several decades, the library's five branches have grown into art galleries, warming and cooling centers, spaces for professional development, innovation labs, the de facto homes of city startups, pop-up tax offices and even vaccine and booster clinics. All five branches have free and accessible meeting space, an increasing need in public libraries across the country, said Sullivan.
The proposed shift comes amidst a backdrop of pending union negotiations, stretched staff, and a hiring cycle for a permanent, full-time city librarian that closes next month. They also come soon after Mayor Elicker formally introduced his proposed $662.7 million general fund budget for Fiscal Year 2023-24 (FY24), which now goes to the Board of Alders for review and which would take effect on July 1.
In other words, Sullivan said, the timing for budget discussions could not be more critical.
For over a year, the library has been losing staff who are able to make significantly more money elsewhere in the state. Part-time library aides, which are non-union positions, make $15 per hour in New Haven—around three to nine dollars less than they would at other Connecticut libraries. The starting union salary for a librarian in the city is $51,648—between $10,000 and $20,000 less than a similar job would pay in surrounding towns and cities.
Of two librarians Sullivan has talked to in the last three weeks, both have cited salary concerns as a reason they are leaving New Haven. One, who is heading to a higher salary in Hamden this week, will leave the Fair Haven Branch without a children's librarian, and with only three staff members. Another, an adult services librarian at the Ives Main Branch, is going to the Hartford Public Library.
Many of those positions fall under bargaining agreements that expired in June 2020. Within the NHFPL system, two unions (Local 3144, the city's managers union, and Local 844, the city's clerical and technical workers union) are still in contract negotiations with the city.
"It's an ongoing process," Elicker said during a budget press conference in early March. "As we work through those, I think everyone can anticipate some percentage salary increase, but we're still talking with both of those unions to determine what the overall negotiations will … where they will land."
"We are making progress," he added Monday afternoon. "I am optimistic that we will arrive at a final contract that all parties will be pleased with, which compensates our hard-working library staff appropriately, provides increased library access and services for our residents, and that strengthens our library system as a whole."
In the same Zoom call Thursday, Anderson called those departures an unquantifiable loss for not just the library, but also the city and its residents. It's not just the time and resources that go into the process of replacing someone, she said—it's the lack of consistent institutional knowledge and services.
"We know that it's not just a money issue," she said. "People who have worked in the library for a long time, and worked with families and in neighborhoods, carry with them a whole bunch of institutional knowledge, but also knowledge of community cultural wealth in that space where they work."
"And we lose that, as a system and as a city, when people go elsewhere simply to get the kind of salary that all of us would argue is a moral responsibility of our own city to pay to them."
The mayor's FY24 budget also proposes a significant increase to the city librarian's salary as New Haven searches for a permanent, full-time candidate to fill that position (the application closes April 2; read the full description here). After years of a salary stalled at $110,725, the city nudged it up to $124,000 when Sullivan began her tenure, and has now set it at a proposed $145,000.
Pausing before she answered, Sullivan said that she is grateful for the increase, but "it really doesn't" feel competitive to her. "I'm worried about the search," she said. Last year, she came on board after the death of City Librarian John Jessen, who also spoke openly about the alarming frequency of staff departures during his tenure.
"This position of city librarian offers such rich opportunities with a kind of leader that we want to attract," Sullivan said, noting how loved each of the library's five branches are. "We have a staff that continues to work for the salary and benefits that they have because the work drives them. They're so committed to doing that work. And I just find it really challenging that we potentially are going to have difficulty with the salary being what it is."
"I don't think the city librarian's salary should be a dollar less than the police chief's salary, the fire chief's salary, or the superintendent of schools' salary," Giering said. "The library is just as important as the police department, the fire department, and the board of education."
Anderson and Giering added that advocates are still focused on making the library 1 percent of the city's general fund, a proposal that multiple city librarians have called for in the past decade, and that appeared in Mayor Justin Elicker's 2020 transition team report. If that were the case, the library would have a budget of $6,627,000. It currently has a budget of $5,089,556, per the mayor's total appropriation by agency.
When he looks at similarly sized Connecticut cities, that's already the case. The Hartford Public Library, for instance, accounted for 1.45 percent of the city's general fund in the last fiscal year budget. In Stamford, the library is 1.42 percent of the city's latest budget projections for 2023-24.
"We will keep to that continued drumbeat," Anderson said. "That's been a figure that's been talked about for a long time in the city. And we're like, literally watching the organizational churn of attrition due to salaries that just aren't competitive."
To read more stories about the New Haven Free Public Library, including its impact on the community, click here. A number of budget workshops and public hearings are scheduled from March through May, starting on March 16 in the Aldermanic Chambers at New Haven City Hall. For a full schedule, click here. To submit budget testimony via email, send it to publictestimony@newhavenct.gov.