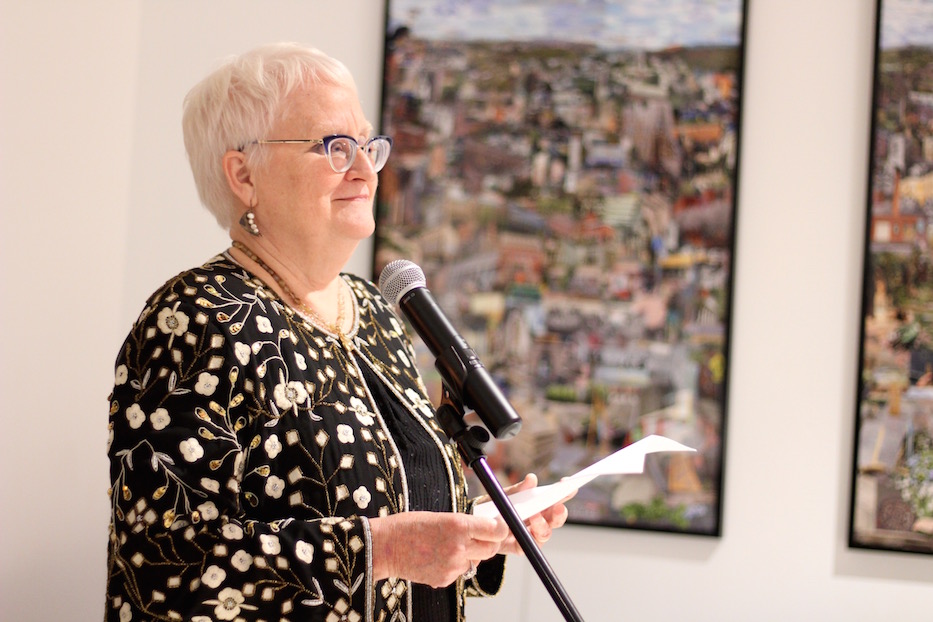 Downtown | New Haven Free Public Library | Arts, Culture & Community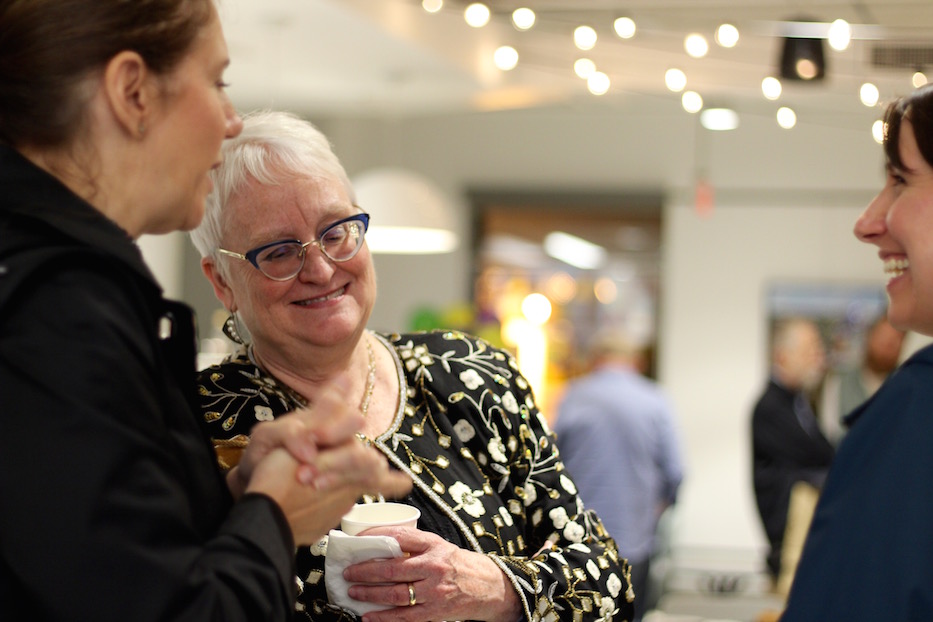 A champion of open access, citywide readership, and need-based programming has left her perch at the New Haven Free Public Library—but not without an adieu fit for a novel.
Mountains of praise, loud applause and a few tears marked Martha Brogan's departure from the NHFPL Wednesday night, in a testament to her five-year tenure as New Haven's eighth city librarian, and the first woman to hold the position. Close to 100 people attended the goodbye party, held at Orchid Café on the Green at the library's downtown Ives branch. Her official last day is Thursday, Oct. 31.
"A library should be a force, not an institution" she said Wednesday, quoting former City Librarian Meredith Bloss before adding her own words. "And I have come to appreciate fully what this means. Now I envision public libraries as a movement. They are people who share a sense of purpose, and who together create change."
Brogan, who has called New Haven her home since the 1990s, came to the NHFPL in August of 2014, the first woman to serve as city librarian in the institution's 133-year history. At the time, her library background was largely academic, including eight-year stints at both Yale University and the University of Pennsylvania. During those years, she and her husband also raised two sons in Westville, then figured out how to make their life work as she commuted between New Haven and Philadelphia.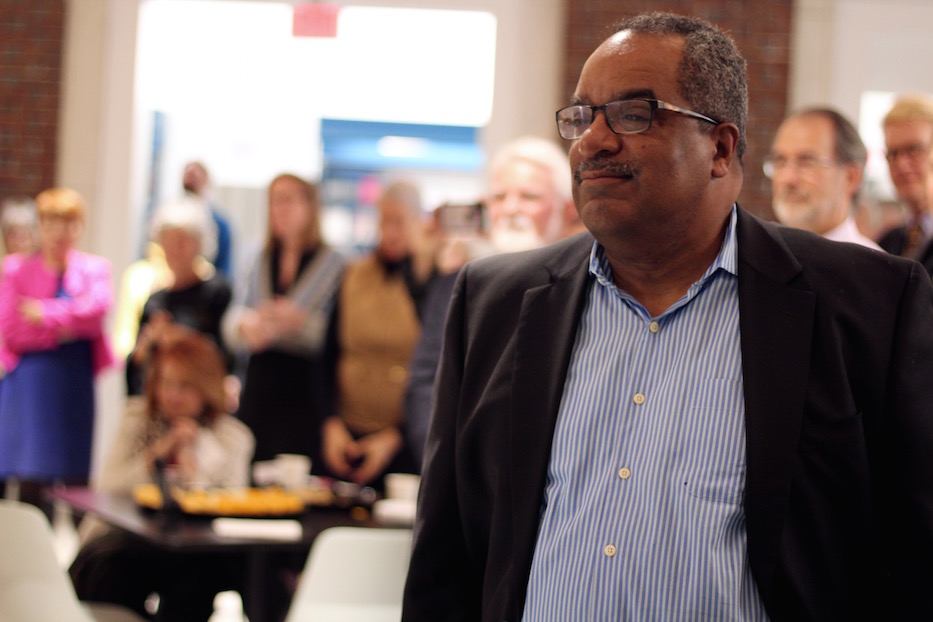 ConnCORP President Paul McCraven at the event. The library welcomed Orchid Café on the Green, a project of ConnCORP, earlier this year.
When the position for city librarian came up in 2014, "I applied on a whim," knowing that there was fairly little overlap between public and academic libraries. When she landed the job, she jumped in headfirst.
Since stepping into the position five years ago, Brogan has championed the library as a civically engaged space, working to ensure that all of its five branches serve the neighborhoods in which they are located. From the very beginning, she advocated publicly for more staff, better hours and a higher library budget, including the creation of four new, full-time positions in 2015. In 2016, she fought to direct 1 percent of the city's general fund on libraries—and won.
With library staff and board members, she has overseen the development of a thriving teen center, art gallery, library stage, and learning lab all located in the basement of the downtown branch, celebrated branch birthdays and milestones, and grown institutional partnerships with Liberty Community Services, NewAlliance Foundation, Long Wharf Theatre among others.
Working with Deputy Director John Jessen and all of the library's branch managers, she has worked to ensure that the library is meeting community needs, from books in Spanish and Pashto in the Hill to skateboarding and chess lessons in Dixwell. Since 2017 she has been working with the NHFPL Foundation to raise $2 million for the new Stetson Branch Library in a renovated Q House, an amount for which they only have $250,000 to go. The following summer, she helped the library launch "Ives Squared," a techie innovations commons in the heart of downtown.
And this year, she watched as the library scored the 2019 National Medal for Museum and Library Service—the nation's highest honor of its kind.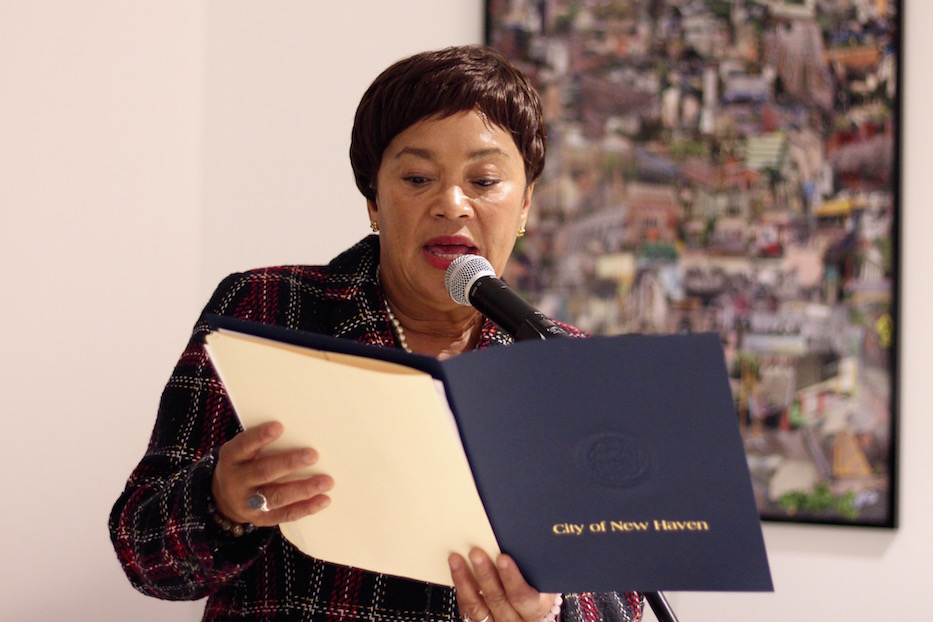 "Martha, you've earned a little time off," said Mayor Toni Harp to laughs, presenting Brogan with a proclamation from the city. "You've earned a lighter schedule, and you've earned the heartfelt, sincere gratitude of a community enriched by the library system you nurtured, led, and improved through your position. New Haven is forever better for your efforts."
"You are a phenomenal leader and we will miss you forever," she added to applause.
Others lauded her for long, sometimes grueling hours and dogged perseverance in growing the library's footprint for the benefit of the New Haven community. Noting that Stetson's campaign has raised over $1.7 million (an announcement that itself drew cheers), NHFPL Foundation Chair Elsie Chapman thanked her for steadfast support that has come with patience and persistence. NHFPL Board President Shana Schneider praised her as a community connector and leader committed to professional development and community growth.
"She's an advocate for the diverse community that uses the library, and to help people understand a library's role is more than just lending books," she said. "It is where we all can gather, to share all kinds of information."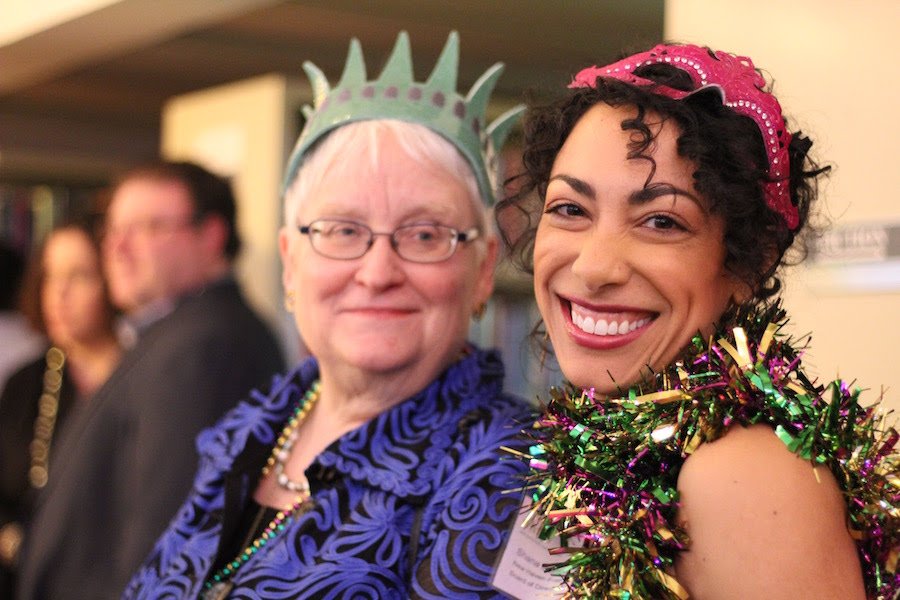 Martha Brogan and Shana Schneider at Mardi Gras earlier this year. The next celebration is scheduled for Feb. 25 2020 downtown. Lucy Gellman File Photo.
When it came time for her remarks, Brogan made a move that has defined her tenure at the library: she took a step back, and praised the commitment of library staff, board and NHFPL Foundation members, members of the public and her family. She thanked New Haveners for belonging to library book clubs, volunteering at the library, using printed and digital resources —and just coming through the doors.
"Without the dedicated daily commitment of an outstanding full-time and part-time staff, our doors would not open to the public," she said, adding that she is especially grateful for her administrative team. "But the staff is more than a physical presence. They embody the values the library upholds. And they bring their joy in sharing knowledge, opening minds and hearts to new opportunities."
"In these rather dark and divisive times, public libraries are a beacon of hope," she added. "Open to everyone with no questions asked. Free. I invite you to join the public library movement, and to rededicate yourselves to upholding its democratic values."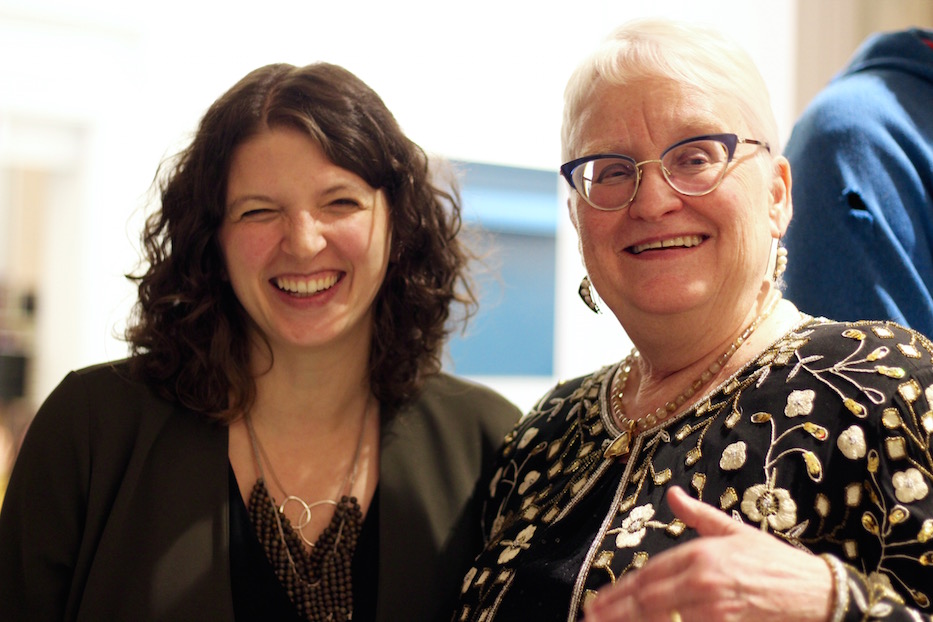 Public Services Administrator, Adult Learning, Partnerships, and Communications Ashley Sklar and Brogan.
In her retirement, Brogan said she plans to spend more time with her family, including her husband, sons, daughters-in-law and two young grandchildren in New Haven and Philadelphia. She recalled nights that her husband weathered her long hours (these have included at least one Mardi Gras celebration on his leap year birthday) because he knew how much she loved the library.
Deputy Director John Jessen will serve as interim director as the board conducts its search. They are working with the search firm Bradbury Miller Associates, with which they worked in 2014 when Brogan was hired. The job posting opened in September and closes Nov. 10; Schneider said the goal is to make an offer to a candidate in mid-December.
"Thank you," Brogan said as the night wound down, "from the bottom of my heart."