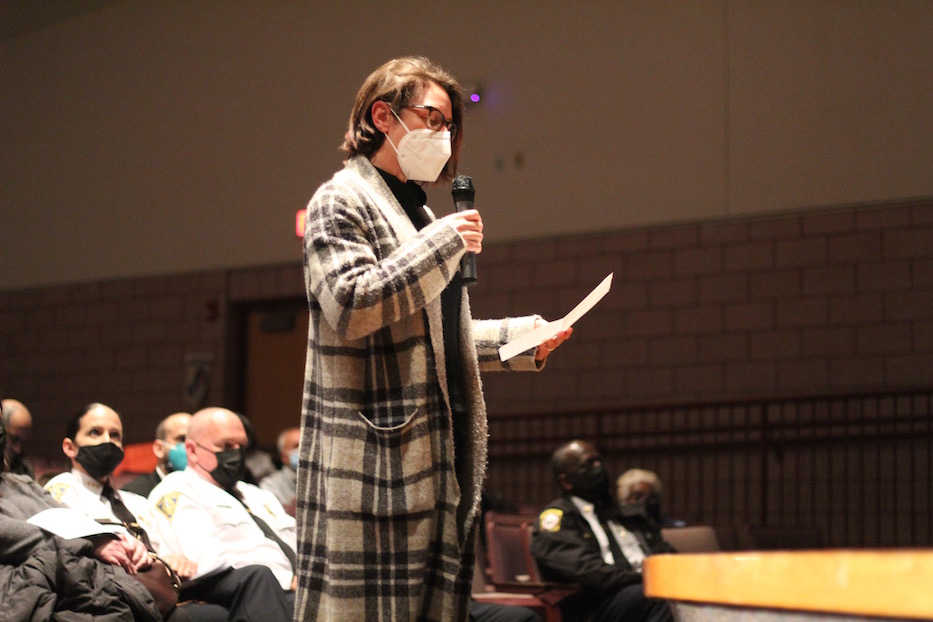 New Haven Free Public Library | The Hill | Elicker Administration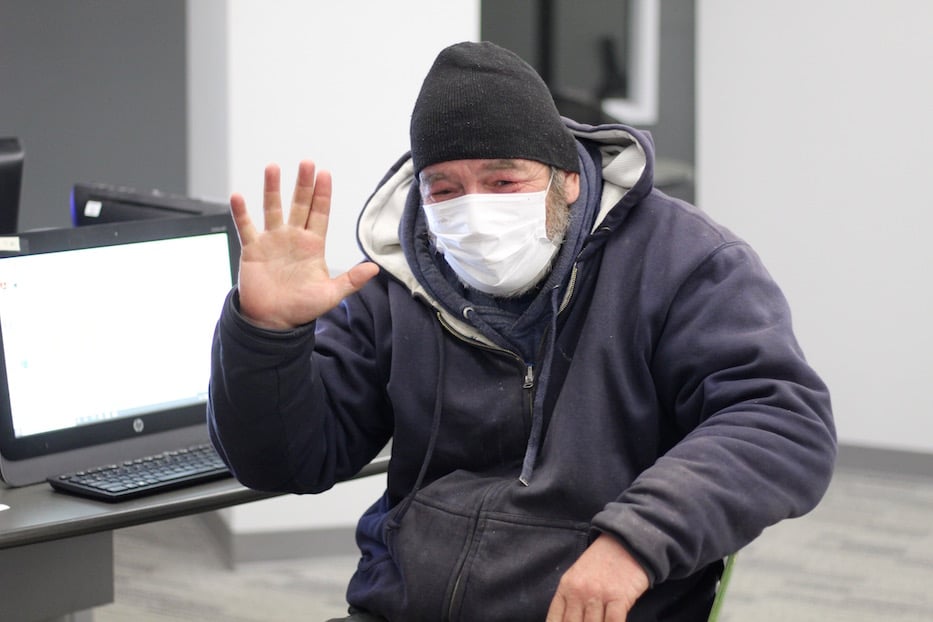 James DuPont, who relies on the NHFPL. He called expanded Sunday hours "the best thing in the world." Lucy Gellman Photos.
If the New Haven Free Public Library were open on Sunday afternoons, James DuPont already knows he'd be there. When he heard that the mayor had folded longer hours into this year's proposed city budget, he proclaimed it "the best thing in the world."
Wednesday night, DuPont sang the library's praises at its downtown branch on Elm Street, where he is a regular among the stacks and in the downstairs technology center. At the same time, library supporters backed a proposed $100,000 increase to the organization in a public hearing on the city budget at Hill Regional Career High School. In both instances, the importance of increased access took center stage.
This year, Mayor Justin Elicker's $633 million proposed city budget includes extended hours for all five branches of the New Haven Free Public Library, including a $100,000 increase to open branches on Sunday afternoons (the item is written as a nebulous provision for increased part-time library aides). Currently, all five branches are closed on Sundays; branches in Dixwell, the Hill, Fair Haven and Westville are also closed on Fridays. Read the full proposed budget here.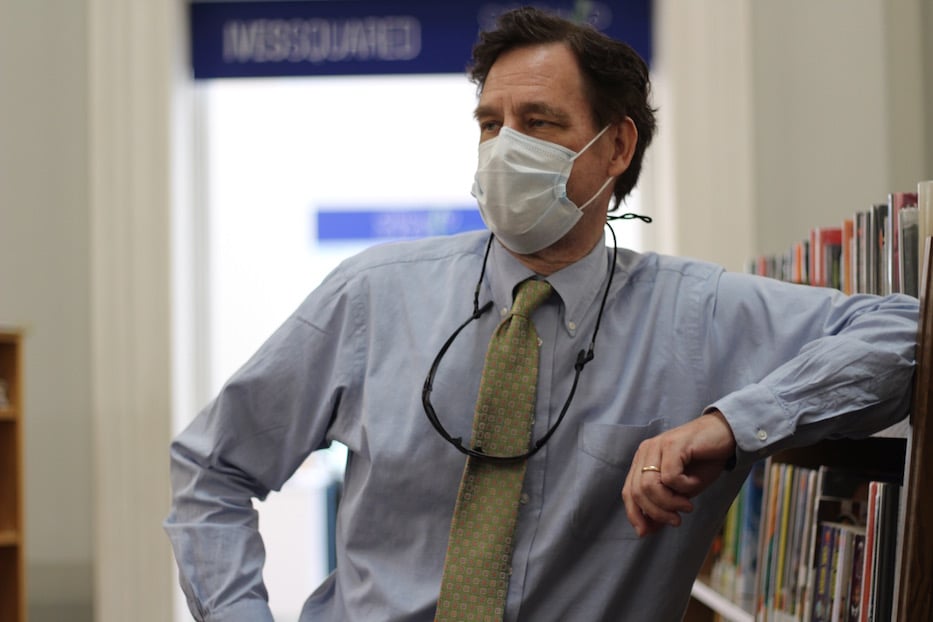 City Librarian John Jessen in 2020, when the library reopened for curbside pickup. Lucy Gellman File Photo.
While the fiscal change is relatively small—a proposed $4,499,928 to the library overall, as opposed to the $4,019,849 that was adopted in the 2021-2022 fiscal year—library staff and leadership see the shift as a significant one. In a phone call Thursday afternoon, City Librarian John Jessen called Sunday hours "kind of a game changer in New Haven," especially for those only able to access the library on Sundays, and those who may be looking for Sunday programming for themselves and their families.
"I really want the community to realize that this is their public library," he said. He added that for all five branches to be open seven days of the week, the change in city funding would have to be much more significant than a $100,000 increase. For that type of shift, he said the library would need to be funded at one percent of the city's general fund, for which New Haveners, former city librarians, and champions of the organization have asked for years.
Sunday hours are still exciting news for DuPont, who began using the NHFPL when "the lord brought me to New Haven" 20 years ago. Born and raised in Bridgeport, DuPont grew up loving libraries and the books snugly packed within them. During his childhood, his dad frequently checked books out from the Bridgeport Public Library, so that their home was always filled with something to read. It instilled in DuPont a lifelong love of literature that he still carries with him today.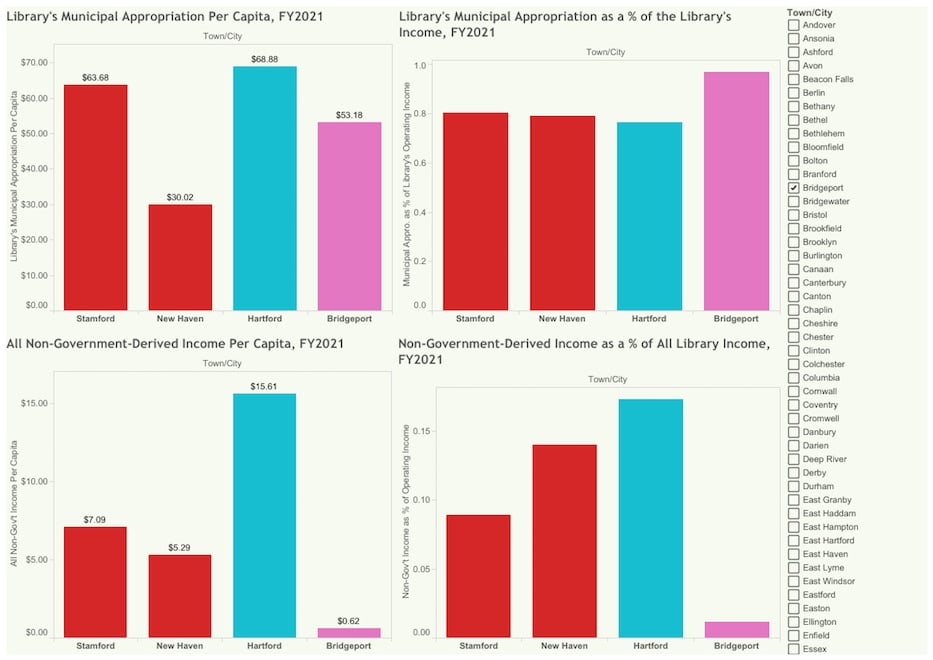 Libguides.
"Anything you put in front of me, I'll read it," he said. Years later, he still relishes the peace that he gets each time he slips into a book, and is able to travel through its pages. As one of thousands of New Haveners facing housing insecurity, he relies on the library as a warming and cooling center, job resource, tech hub, learning incubator, and safe haven nearly every day. Except Sundays—when all five branches are closed.
"It would mean everything in the world to me," he said of Sunday hours as he finished an article on cybersecurity, and signed off of a computer for the night. "I just love the library. I can't think of anything better."
For him, extended hours mean a safe place to go every day of the week. He pointed to the fact that university libraries—including the one just down the street at Yale—are open into the wee hours of the morning seven days a week. The public library closes early in the evening, doesn't open until 10 a.m., and is closed Sundays. In the proposed city budget, the library estimates that extended hours, paired with the newly reopened Stetson Branch on Dixwell Avenue, will result in 350,000 visits and 10,000 new library card registrations in the next fiscal year.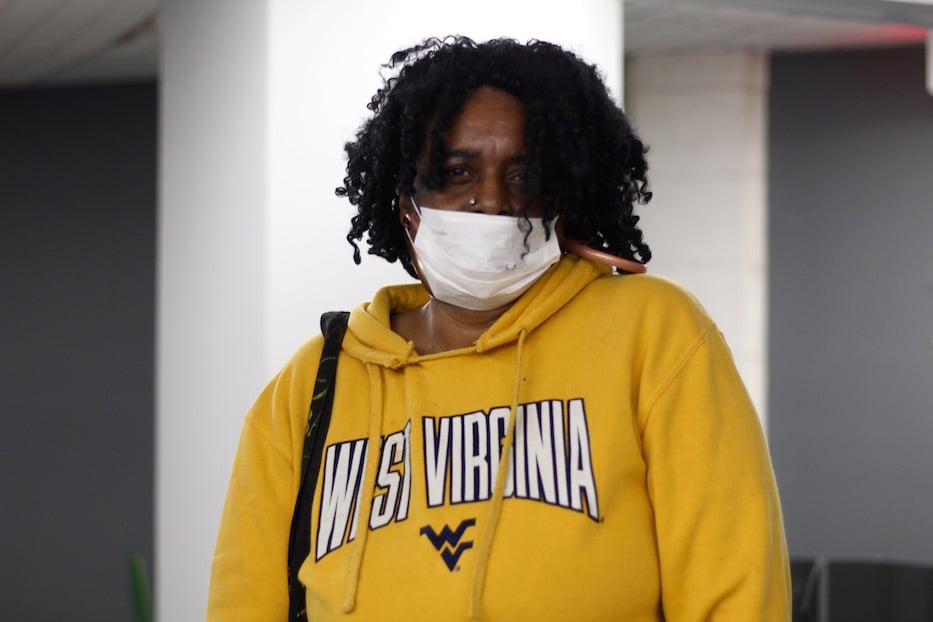 Terri: All for it.
Nearby, Terri (she did not wish to give her last name) was also packing up for the night, with one final trip to the printer before she headed home. When she heard that the mayor's proposed budget included expanded Sunday afternoon hours, she declared that "I'm all for it!" without missing a beat. Born in North Carolina and raised in New Haven, she's been using the library for the past 23 years. She said that she sees extended hours as a chance "to research and study in peace."
As DuPont and other patrons wrapped up at Ives for the night, two library champions made the same case just blocks away at Hill Regional Career High School, where the second of three public hearings on the city budget was underway. From a stage engulfed in shadow, members of the New Haven Board of Alders' Finance Committee squinted, stared, leaned in to listen, and tried to troubleshoot the hearing.
Alder Adam Marchand, who chairs the committee, modeled holding the microphone in front of his mask " like a rock star," and for a moment it felt like alders might burst spontaneously into song. City fiscal analyst Donald Hayden ran frantically from the stage back to the audience with the mic. A lone speaker crackled and popped at the front of the room.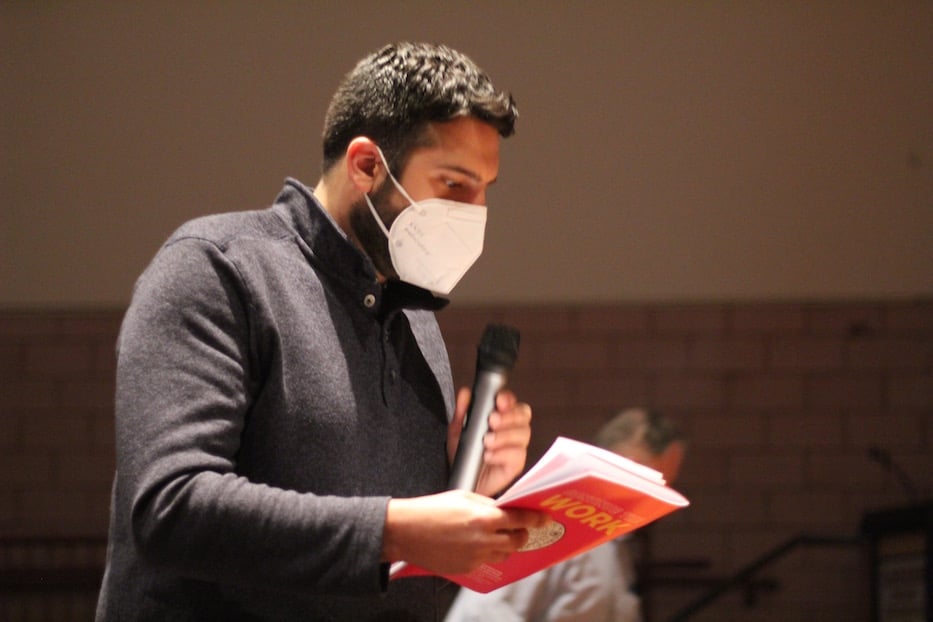 Andrew Giering: "The library, with its many cultural and educational offerings, is a powerful force for social and economic mobility."
Andrew Giering, who sits on the library's board of directors, urged members of the finance committee to pass the $100,000 increase to the library. He referenced Elicker's 2020 transition report, in which members of a mayoral transition team advocated strongly for increased funding to the library and a fine-free model that the NHFPL has since adopted. A bright pink copy of the city's nascent Cultural Equity Plan peeked out from beneath one hand as he spoke.
He also advocated for a one percent allocation of the city's general fund to the New Haven Free Public Library, a suggestion that Jessen, former City Librarian Martha Brogan, members of Elicker's transition team and members of the general public have all advocated for many times over without success. Currently, the City of New Haven spends less on its public library system—the only one in the state to have received the highest national recognition possible—than other large municipalities in the state.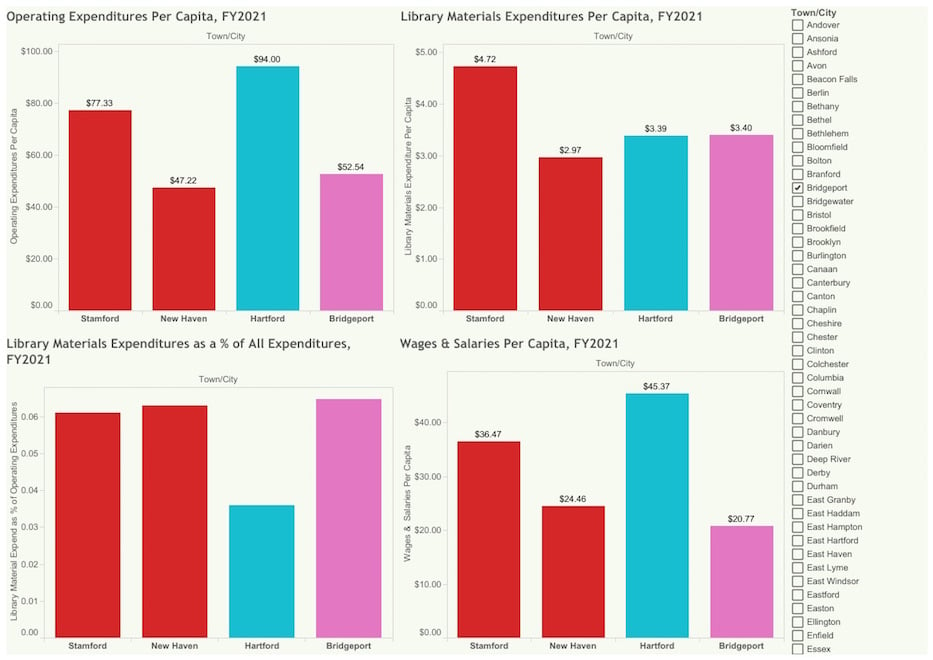 Libguides.
In its 2022-2023 proposed operating budget, the City of Stamford has allocated $9,280,800 for the Ferguson Library. In Hartford, Mayor Luke Bronan's proposed budget recommends $8,460,590 for the library. Last year, Bridgeport funded its library at $5,046,587. Jessen currently makes $110,725, less than city librarians in the other three largest cities in the state (New Haven slid from Connecticut's second to its third largest municipality in the last census).
Thursday, he said that the library is "losing people all the time," because staff members realize that they could be doing the same job one town over, and making $20,000 more per year.
"One of the greatest challenges before us is to address the segregation of New Haven residents by race, wealth and class throughout our city in order to uplift the humanity of all people," Giering said Wednesday. "The library, with its many cultural and educational offerings, is a powerful force for social and economic mobility, and can help individuals thrive and get ahead despite our segregated reality."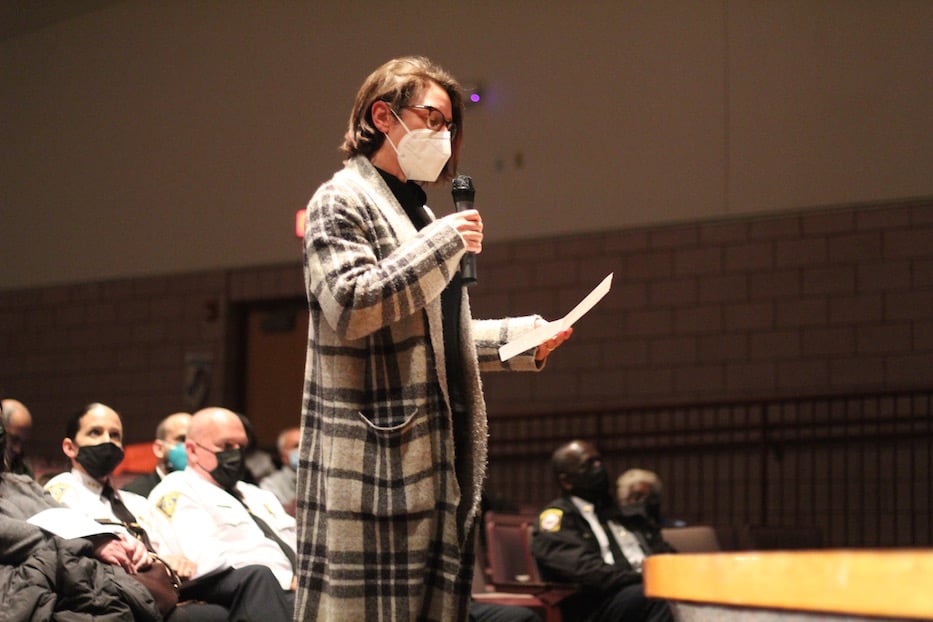 Lauren Anderson at Wednesday's hearing.
Lauren Anderson, chair of the New Haven Free Public Library Foundation, also pushed for the $100,000 increase to the library, as well as the proposed move of a "​​Library Technology Supervisor" from the city's special fund to its general fund. She recalled standing in the new Stetson Branch Library last Saturday, surrounded by an intergenerational crowd of jazz lovers, bibliophiles, and young artists.
For her, it encapsulated the spirit of the library system, where visitors can find not just books (although there are tens of thousands of them), but also all-ages literacy initiatives, culturally specific celebrations, programs for new immigrants and refugees, free tax prep, job training and tech resources, and how-to programming for entrepreneurs, artists and budding small business owners. During the pandemic, branches also transformed into public health hubs, with vaccination and booster shot clinics across multiple sites.
And yet, she said, the library needs more help from the city. The organization's latest community needs assessment revealed "that library hours were the number one barrier to library usage," Anderson said. The library is currently open 40 hours per week, versus a statewide average of 46. She called the addition of Sunday afternoon hours "nothing short of transformative for our city."
"I know none of these decisions are easy, and yet I hope we can agree that the NHFPL is a particularly special resource," she said. "And like all of you, is one that represents and serves residents citywide in a multitude of ways."
The third and final hearing on the city budget is scheduled for 6 p.m. on Thursday, April 21 at James Hillhouse High School. New Haveners can submit their written testimony to publictestimony@newhavenct.gov at any point during the budget process. Deliberations begin directly after that hearing.