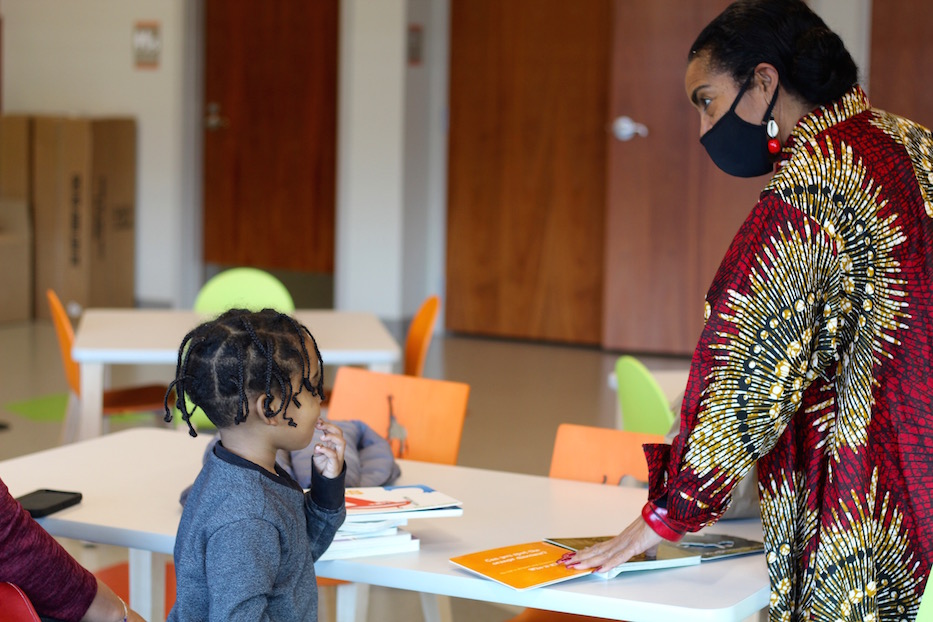 Culture & Community | Arts & Culture | New Haven Free Public Library | Community Heroes | Arts & Anti-racism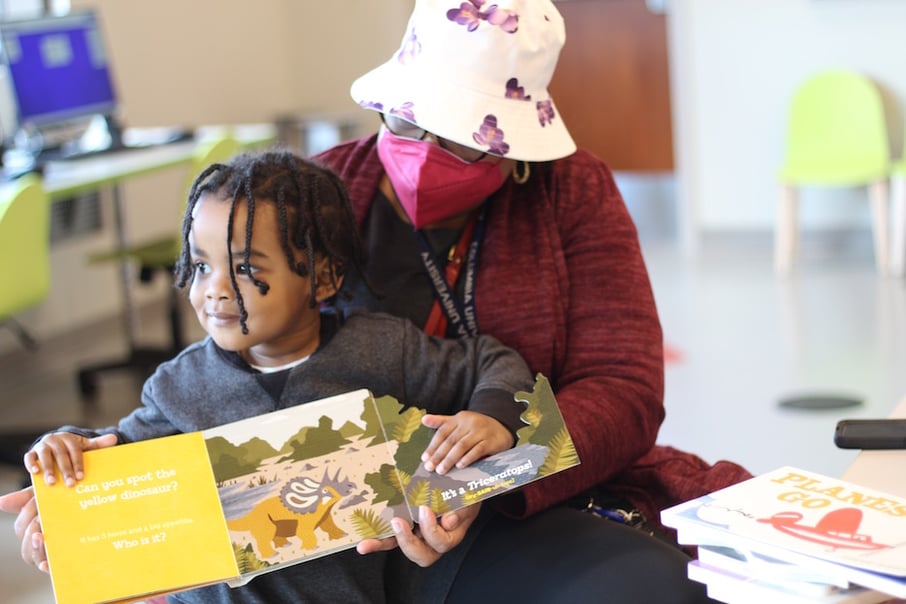 Two-year-old Tanner Carberry and his grandmother, Dr. Belinda Carberry. Lucy Gellman Photos.
Two-year-old Tanner Carberry was parsing out the difference between a T-Rex, a Stegosaurus, and a Triceratops when Stetson Branch Manager Diane Brown made her way over to the table to get in on the action. A stack of books including Pride Colors, Planes Go, and Marvel's illustrated Black Panther soaked in a patch of sunlight, waiting for Tanner's attention. The dinosaurs had all of it.
"You read this?!" Brown said, running a ruby-tipped fingernail over the Triceratops' yellow and gray head plate. Tanner nodded, a smile teasing at the edges of his mouth. Brown put out a fist and watched as he gave the gentlest bump in return.
Carberry and his grandmother, Dr. Belinda Carberry, were two of the first visitors to the new, two-story Stetson Branch Library Monday, as it opened its large front doors as an anchor of the Dixwell Avenue Q House. After years of anticipation, the space is officially open and ready for use. Brown said branch staff will hold an opening celebration June 4, as part of a larger festival outside the Q House.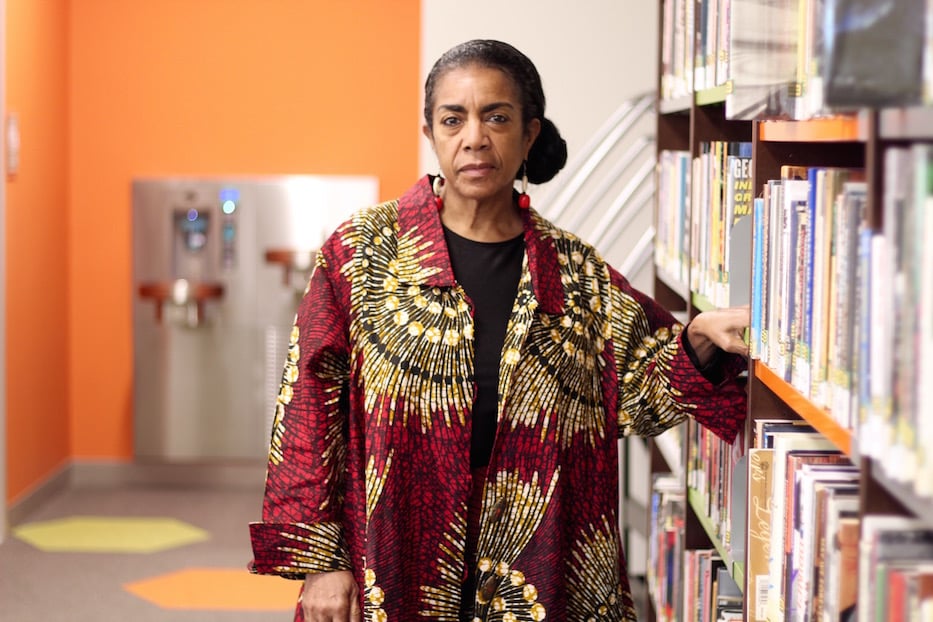 Brown: "It's been a labor of love, but I would do this all again."
At 13,000 square feet, it replaces the library's old Dixwell Plaza home across the street with a first-floor kids zone, teen and adult areas, classrooms, a maker space, sun-drenched reading alcove, and 22,000-book collection dedicated to literature of the African Diaspora. It is the fourth building that the branch has occupied in over a century, including spots at 213 Division Street in 1917, Dixwell and Thompson Streets in 1922, and 197 Dixwell Ave. from 1968 to 2022.
"I'm a little tired but I'm happy," Brown said during a momentary pause Monday, looking around an office that is still waiting for wall art. "I feel relieved. We finally got it opened to the public. It's been a labor of love, but I would do this all again."
She estimated that the move has been at least seven years, if not a full decade, in the making. Around 2015, then-newly-appointed City Librarian Martha Brogan made sure Brown was in on discussions with Mayor Toni Harp and city staff about moving Stetson to the in-the-works Q House. Two years later, the New Haven Free Public Library Foundation announced a $2 million campaign for the library's new home. For years, Brown worked with Brogan on everything from the library's layout, furniture, computer and tech equipment and paint colors to the collection inside. She watched as architect Regina Winter's soaring vision came to life, breathing new vitality into the Dixwell neighborhood as Kenneth Boroson Architects brought it to fruition.
"I was very fortunate that I was at the table all along," she said. When Brogan retired in 2019, Brown caught new City Librarian John Jessen up to speed. After Covid-19 hit New Haven in March 2020, Brown saw the library through a transition to curbside pickup and printing help while doing an extensive "weeding" of its collection. Books that were too old to make the move went to schools, community centers, and after-school programs. Inside the old building, she and Young Minds and Family Learning Librarian Phillip Modeen hustled to thin the collection, and then ordered close to 16,000 new books.
Meanwhile, she worked with Jessen to hire new staff members for Stetson, including library technical assistants Shayla Foreman and Erica Cruz, and library aide ​​Mercedes MacAlpine. Monday, they buzzed around the building, bouncing from the open shelves to the circulation desk at the front.
While some of the library's technical needs are still in flux, Brown said, Stetson is very much ready for use. Books line the shelves, beckoning brightly from nearly every corner of the two-story space. Just feet beyond the front doors and foyer downstairs, rows and rows of children's titles wait for tiny and young adult hands. Among popular reads like Big Nate and Marawa Ibrahim's The Girl Guide, Brown has included deep nods to Black history, from illustrated books on Mae Jemison, Nina Simone, and Misty Copeland to an elementary school primer to DJ Kool Herc and the birth of hip-hop.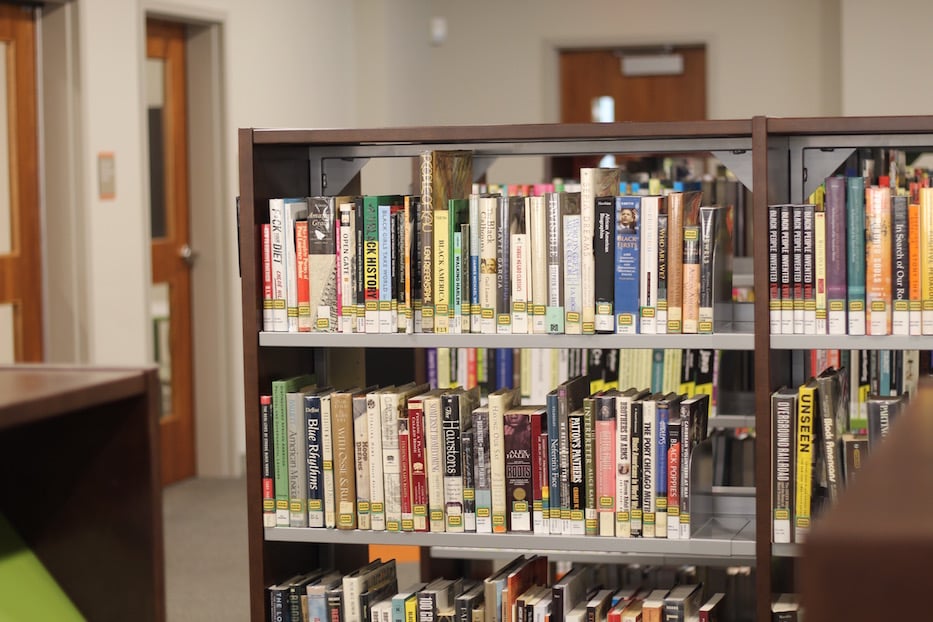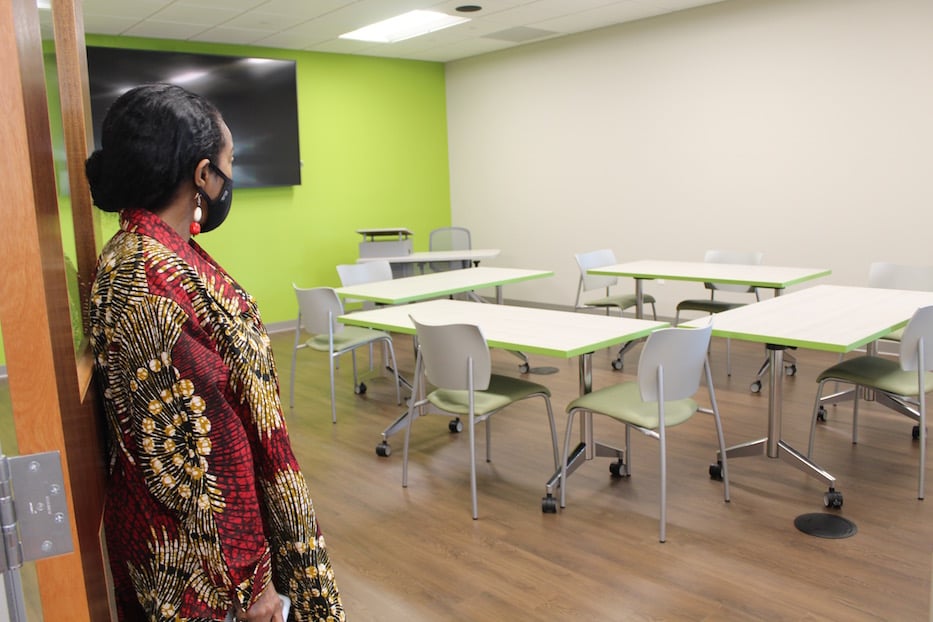 Upstairs, a 22,000-book collection dedicated to the African Diaspora meets classrooms, a maker space, and computer and reading areas.
Above them, posters announce "inspiring moments" in Black History, from the 2008 election of President Barack Obama to a 1960 sit-in at a lunch counter in Greensboro, North Carolina that became a catalyst in the civil rights movement. Some, like the U.S. Supreme Court's ruling in Brown v. Board of Education, don't feel so far removed from Dixwell Avenue: it was New Haven native Constance Baker Motley who filed the initial complaint in the case. Before she was a student at Fisk University, she was arguing for her community's needs at the old Q House.
Among the early afternoon click of keyboards and occasional woosh of the front doors, Belinda Carberry and her two-year-old grandson Tanner settled among pint-sized chairs and tables in the children's computer lab and reading room. After trying out a computer game designed around counting, they moved to a row of tables, their backs flat on laser cutouts of giraffes and elephants. Tanner gravitated toward a board book on dinosaurs. Two thick pages in, a Triceratops raised its horns to the sky on the banks of a river. A red-scaled Stegosaurus lumbered through a thicket of bright foliage, stopping to inspect the huge, striped green leaves.
Tanner closed the book, added it to a stack, then jogged over to shelves of board and picture books arranged just feet off the ground. He picked up a copy of Useni Eugene Perkins' Hey Black Child before setting it back down and returning to the dinosaurs. From the lowered bookshelf, dozens of illustrated, wide-eyed Black faces stared back.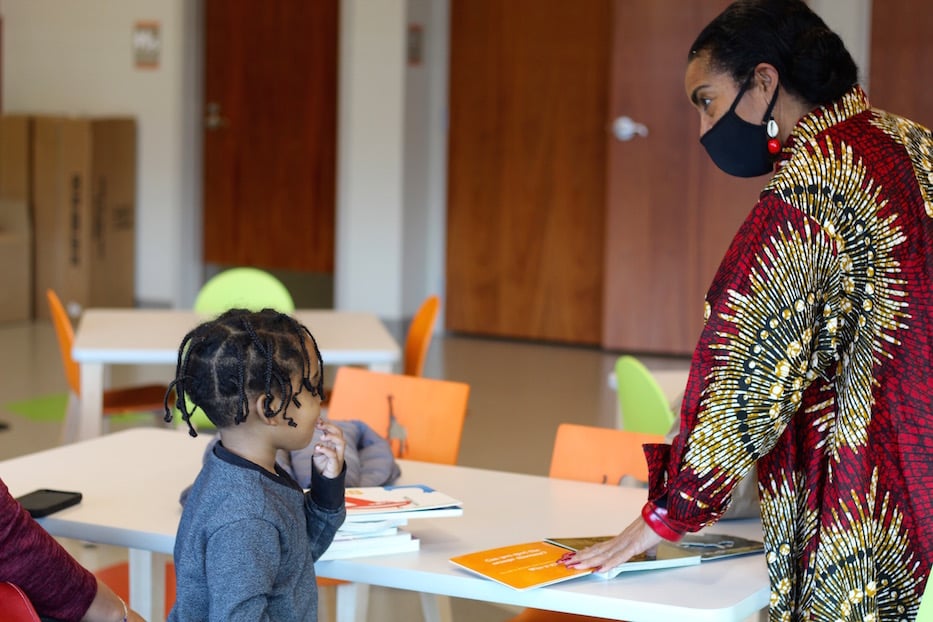 Beside him, his grandmother delighted in the finished library. Now a retired educator, Carberry spent four decades in the New Haven Public Schools system, where she taught English, Drama and Journalism classes at James Hillhouse High School and the now-shuttered Polly T. McCabe Center. As a principal at Wexler-Grant, she sent her students to Stetson for reading and research projects. She also got to know Brown as a member of Phi Delta Kappa, an educational sorority that would hold monthly meetings in the library.
Long before that, she was a girl in East Baltimore, where a branch of the Enoch Pratt Free Library became "our safe haven" for her and her family members. It was there at four or five years old that she discovered her love for words—a love that ultimately launched her to education ("I wanted to be a writer," but she ended up studying English instead, she joked). While she now lives in Hamden, she returns to Stetson with her small grandsons because it is a safe haven of sorts.
"It's a wonderful place for people to come and explore the world," she said, pointing to how quickly books can transport their young readers from Dixwell Avenue to other centuries and countries. "And it's peaceful here during the day."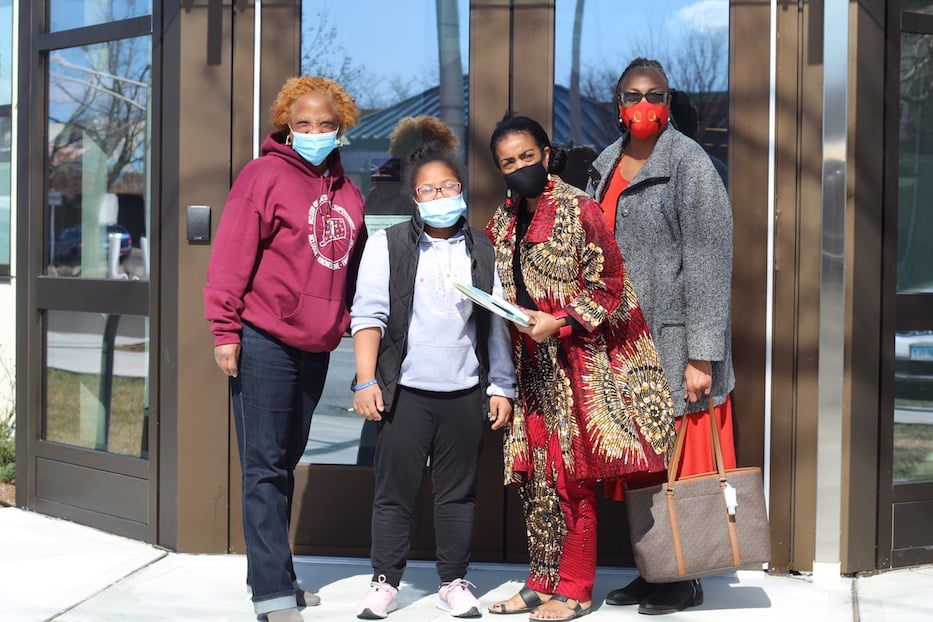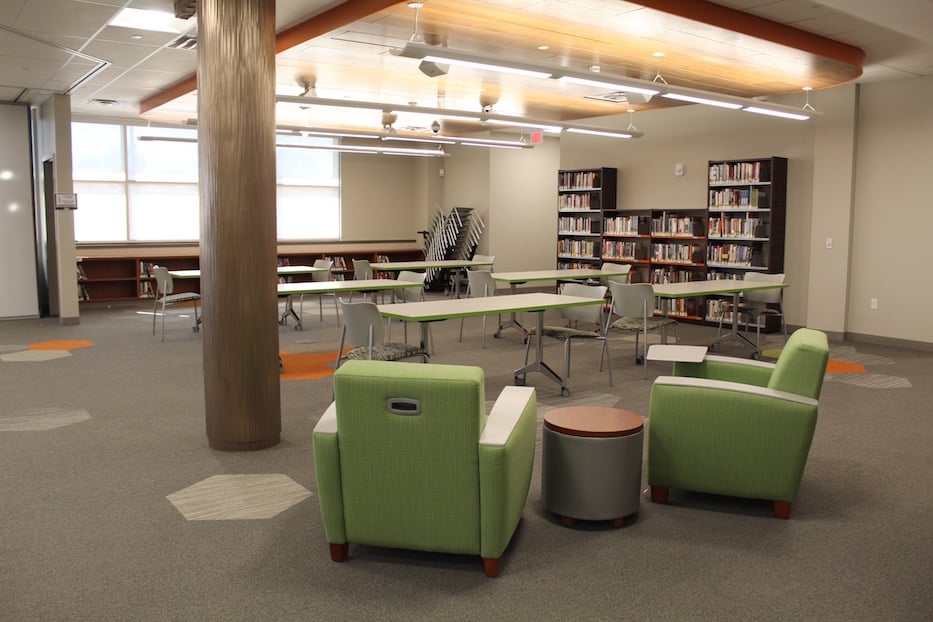 Top: Lisa Stevenson, her daughter Leah Stevenson, Stetson Branch Manager Diane Brown, and Cassandra Lang. Bottom: Reading space on the second floor.
Just minutes later, Brown fielded another visitor outside the front door. Gently passing her a stack of new books for the collection, lifelong New Havener Lisa Stevenson told Brown that March 21 was World Down Syndrome Day, an annual milestone that she celebrates with her now 14-year-old daughter Leah. As a longtime fan of Stetson and a board member at the Down Syndrome Association of Connecticut, Stevenson "wanted these books in the heart of the city, and that's the library," she said.
The day is personal to her: Leah was diagnosed with Down Syndrome as a baby. She's now an eighth grader at Celentano Biotech, Health and Medical Magnet School, with a smile that radiates all the way to her eyes beneath a mouthwash-blue medical mask. For years, Stevenson attended a support group at the old Stetson Branch across the street. It helped her become the mom she is, from annual awareness campaigns to the affirmations she and Leah say each morning ("I am smart/I am beautiful/There's nothing I can't do!"). To walk into the new building felt like coming full circle, she said.
"It's all about awareness," she said as Brown deposited the copies of Sonia Sotomayor's Just Ask! and Heather Avis' Different--A Great Thing to Be! on the front circulation desk, and sent the group off for a tour with Modeen. "That's what I want."
Erica Cruz: The library is a safe space for the community.
Upstairs, Cruz knelt between stacks, rearranging a row of biographies. Born and raised in New Haven, she spent her summers at the Ives Branch downtown, delighting in the hundreds of titles that could transport her anywhere in the world with the turn of a page. During her time as a student at High School in the Community, a media specialist fed her love for libraries. She held onto it while studying business administration at Southern Connecticut State University, including time working as an aide in the teen center at the Ives branch. She called working at Stetson—a job she started just three weeks ago—a full-circle kind of moment.
"It [the library] was just a safe space," she said. "It's beautiful to see this."
In every direction, a mix of books and new technology waited for readers of all ages. To Cruz' left stood a brand-new maker space, still smelling of clean, fresh wood as sewing machines, podcasting mics and a 3D printer waited patiently for teenagers to put them to use. To her right, a bay of computers peeked out beyond a long, creamy wall that will soon host work by the photographer Carl Van Vechten. Yards away, shelves of the African Diaspora collection stretched out, Rhianna's watchful eyes perched over the top.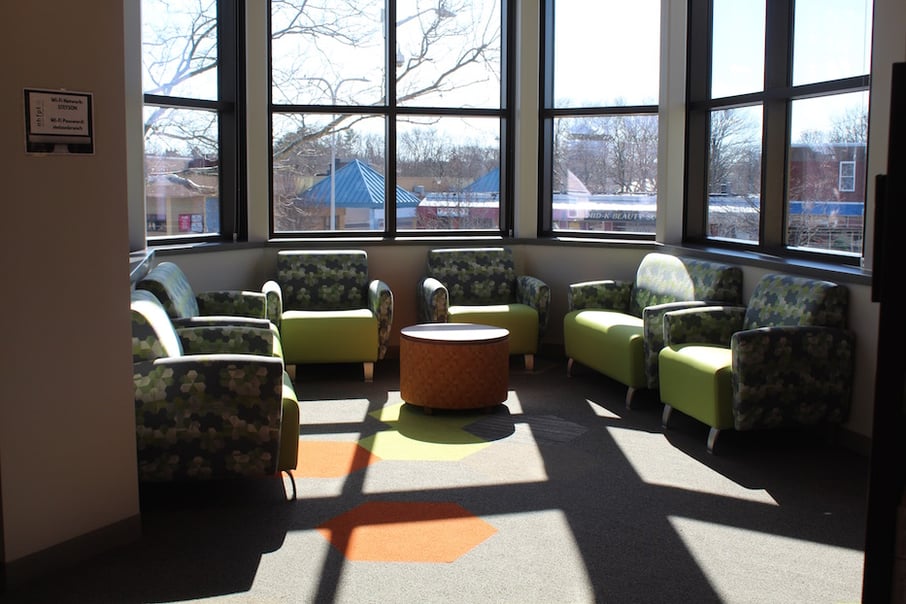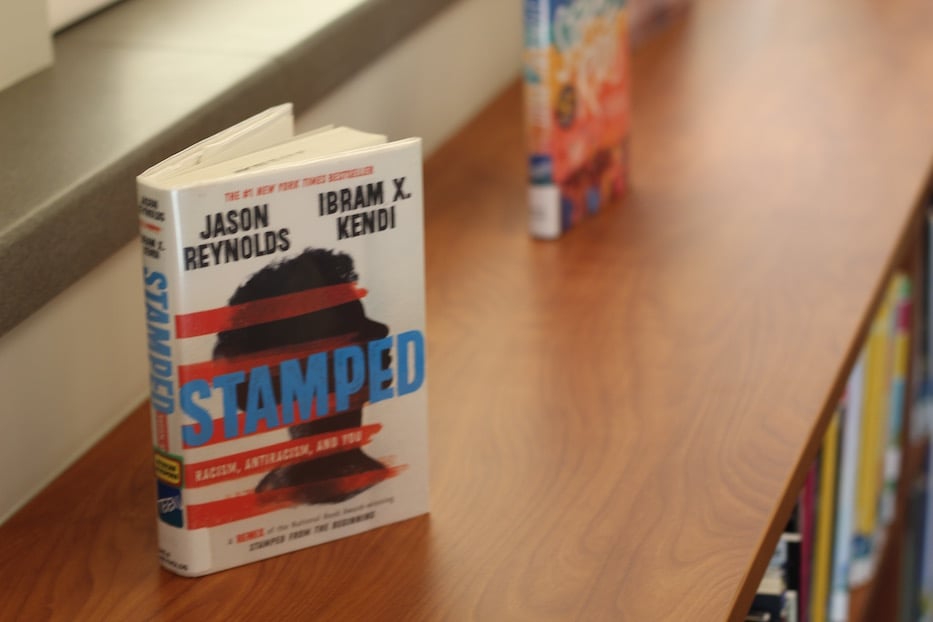 The second floor includes a sunny reading alcove that looks out onto Dixwell Avenue.
Back downstairs in a staff kitchen, Brown was just getting to her lunch. It was past 3 p.m. A bouquet of creamsicle-colored roses sat beside her, brightening the room. Even in the flurry of activity, they seemed to quietly remind passers-by of everything that the building held, and the work Brown had done to get it open.
While Stetson is now open, she said that the library is adding programming gradually in an attempt to remain Covid-cautious. A longtime collaboration with the Shubert Theatre continues this Saturday, with performances from youth in the Monk Jazz and STEAM Collective. Brown is also building partnerships with Albertus Magnus College, the Beinecke Rare Book & Manuscript Library, Juan Castillo and the Walter Luckett Foundation, and musician Manny James his educational incubator Creative Hearts, Inc.
In part, she said, it's why she loves being a branch manager—and wouldn't want to do anything other job in the whole library system. She remembered a few weeks ago, when Stetson hosted a small group visit with composer Joel Thompson in the library. Modeen read from Ezra Jack Keats' The Snowy Day, a canonical children's book from which Thompson has written an opera. As Modeen read, Thompson played excerpts of the score. When a little boy hugged her leg at the end of the program, Brown cried.
"I'm with the community," she said. "If I were to be anything other than what I am now, I wouldn't be part of the community in the same way. I like being part of the village. This is where I'm supposed to be."