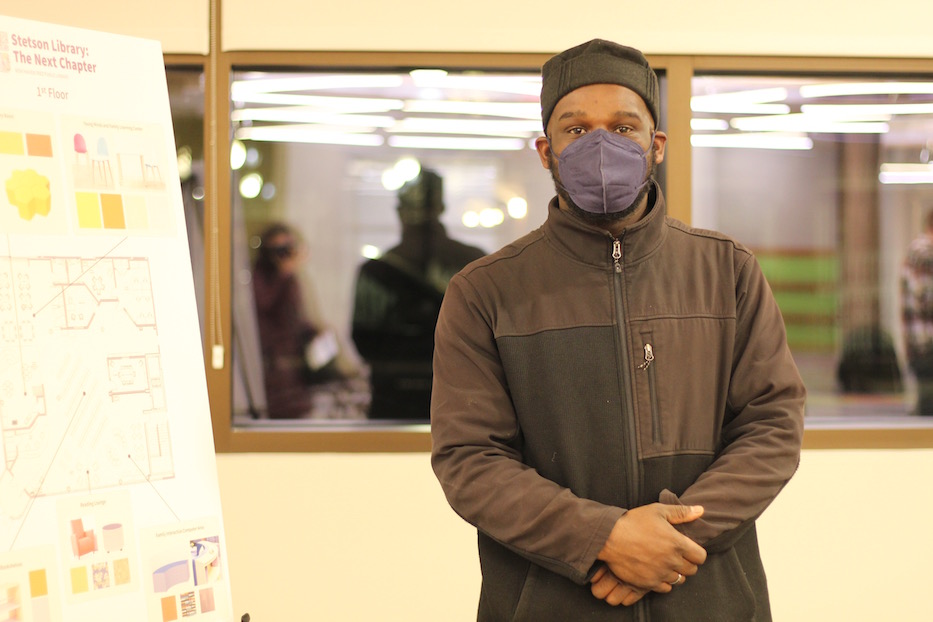 Culture & Community | Dixwell | Arts & Culture | New Haven Free Public Library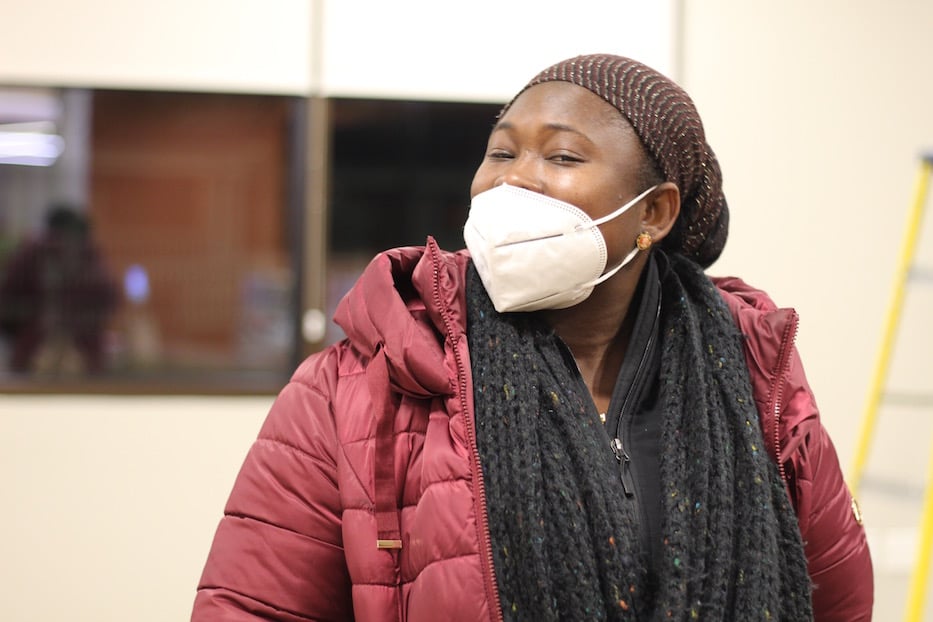 Salamata Shardow, whose sons love Stetson. Lucy Gellman Photos.
Salamata Shardow stood wide-eyed on the first floor of Stetson Library, taking a mental note of where the stacks, laptop stations, and children's reading nook would soon be. Outside on Dixwell Avenue, traffic wooshed by in the early evening darkness. Inside, she was already making plans for her two sons to see the space. After 19 months away from Stetson Library, she can't wait to get them inside.
Wednesday night, a would-have-been holiday story hour transformed into an intimate open house at the new Stetson Branch Library, which anchors one end of the Dixwell Community Q House. Instead of kids, it was adults who showed up, eager to learn more about Stetson's transformation and opening date. Branch Manager Diane Brown said she is hopeful for February of 2022.
"We just wanted to do something for the community, to let the community see the space," said Young Minds Librarian Phillip Modeen, who with Brown has helped guide Stetson through pandemic closures, virtual and limited in-person programming, and curbside pickup in the past two years. "It's so exciting to have the community back."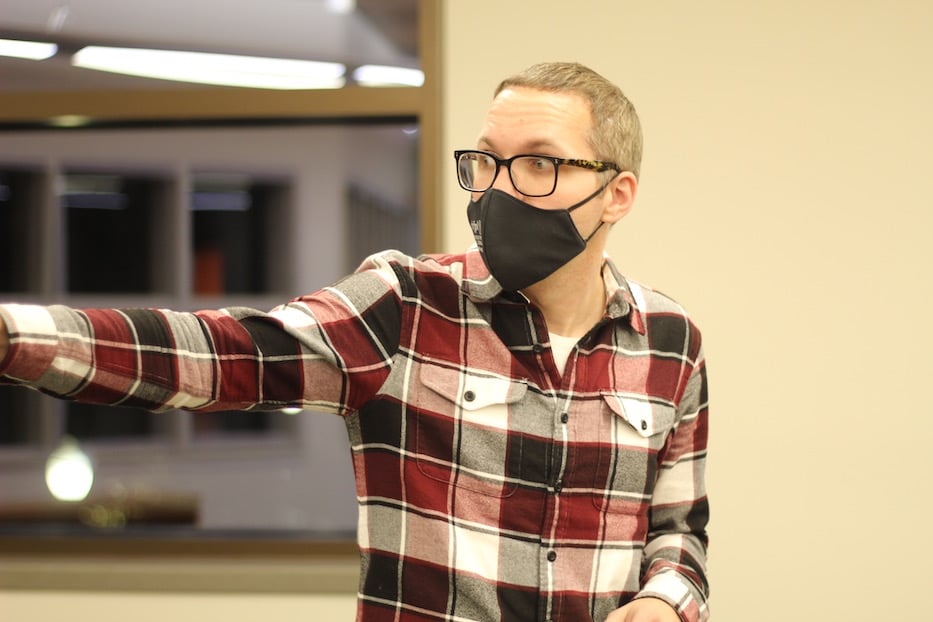 Young Minds Librarian Phillip Modeen.
Originally, library staff designed the evening as a story hour for kids, complete with treat bags and props. Beyond a half-circle of chairs, copies of Janet Lawler's ​​Tyrannoclaus and Monica Greenfield's Waiting for Christmas waited eagerly for young readers to arrive. But the library was quiet. The low hum of a vacuum sounded from somewhere deep in the Q House. Modeen chatted cheerfully with Library Aide Markice Waters and Teen Librarian Brooke Jones.
Just as librarians started checking their phones for the time, New Havener Sabir Abdussabur appeared at the front door. As he entered, he looked around at the empty space, his eyes gleaming above a thick blue face mask. In a sense, he was home.
Before he ever gained local celebrity as the Masked Maniac, Abdussabur was a kid growing up in Beaver Hills, where Stetson became his branch library (his dad is newly-minted Alder Shafiq Abdussabur, his mom, Mubarakah Ibrahim, is an author, small business owner, and fitness coach, and his siblings include New Haven musician Salwa Abdussabur). Whatever brought him into the space—sometimes it was with his dad, who taught a youth mentorship program called Seeds of Rabat; sometimes it was for youth programming—turned it into one of his most frequent hangouts.
When Stetson closed its doors last year, he watched Brown brave the virtual pivot, and gradually add outdoor concerts, artist talks, community collaborations, and a multi-week summer festival to keep kids and families engaged. He saw a space where Brown, In the midst of a pandemic, doubled down on its role as a hub for the community.
"I think the library represented for a long time what the Q House should have been," he said. "Even now, she [Brown] is still making programming work … it's a community center."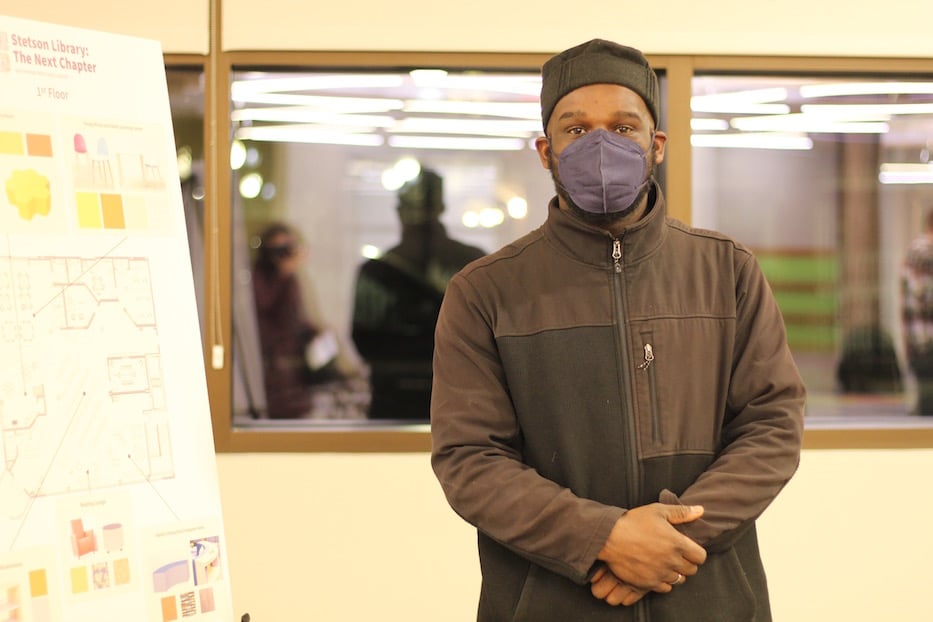 Sabir Abdussabur: "This is a space to uplift you, not to tear you down."
So when he saw a notice on social media that the branch would be open for just an hour Wednesday, "I was like, you know what, let me come down here and see the space," he said. While Abdussabur now lives in Hamden, he works just up Dixwell Avenue from the Q House as an assistant imam at the Abdul-Majid Karim Hasan Islamic Center.
During the pandemic, he also started teaching classes through the American Learning Institute of Muslims. He said that he'd like to partner with the library to teach, and ultimately extend that work to tutoring in math and science.
"My mission, aside from making sure the youth continue to have a voice, is to get the Muslim community more involved, to kind of be like, 'We are all here for the same thing,'" he said. "This is a safe space, this is a space for the community. This is a space to uplift you, not to tear you down."
Following Modeen, he walked through what will soon be a reading area for young people, then on to the second floor. He studied the blank white wall where Katro Storm plans to paint a mural of an African sunset. As he and Modeen walked past a lime-green wall and large screen modem for youth programming, he peppered their smalltalk with questions.
Abdussabur said he noticed that when Ives Squared reopened after renovations, the library started charging for room rental downtown. It shut people out. Was Stetson planning on doing that?
"Oh no," Modeen said. On an earlier visit with members of the New Haven Alumnae Chapter of Delta Sigma Theta Sorority, Inc., Brown outlined the number of community groups she is already working on bringing into the space.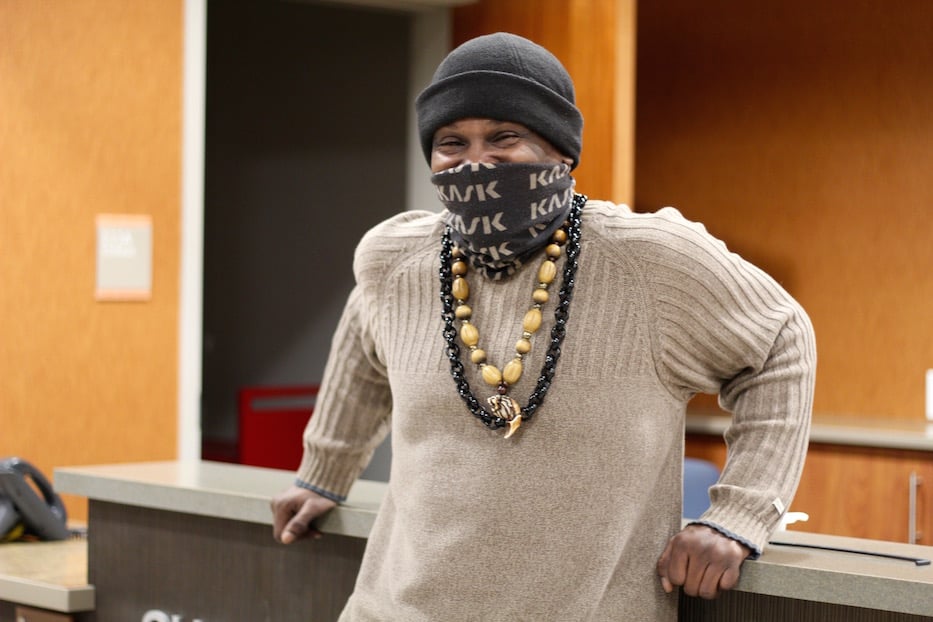 Markice Waters, who grew up and still lives in Dixwell.
Downstairs, Shardow stopped by on her way home from Gateway Community College, where she is juggling psychology classes with full-time work as a medical support assistant. Years ago, she started going to the library when her sons, now 8 and 10, were just toddlers. Before Covid-19 hit Connecticut last March, she stopped by the library with them every day on their way home from school. They live in the neighborhood, and Stetson began their home away from home.
They would often stay for an hour, reading books and jumping into the library's programming. Online programs aren't the same, she said. For the past year and a half, she's felt that absence in her life.
"Oh my god, it's torture!" she said of Stetson's closure. She rarely uses the curbside pickup option. "The library—it's like a second home to raise kids. To educate my kids. We need these programs, and it's really exciting to have something to look forward to. I like having this in the neighborhood."
That's true for employees of the library too. Modeen, who joined Stetson full-time in 2016, has spent almost two years reading stories to a screen. He misses the youngsters in his "Stay and Play" group, who now trail their parents and give him a masked hello when they drop by for curbside pickup. Kids who were barely walking in March 2020 have grown full inches taller.
Markice Waters, who grew up and still lives in the Dixwell neighborhood, started coming to Stetson when he was still a student at James Hillhouse High School. In 2009, he worked with artist Katro Storm on a tribute to living local heroes that still adorns the front of the old building. Brown, who has a particular knack nurturing careers, found a job for him.
In over a decade working as a library aide, he's seen kids grow into teenagers, some who have enough poise to take on the world. The pandemic has been hard in that respect, he said: he loves interacting with patrons in person and watching them grow up. He jokes with members of his family that he doesn't need kids of his own, because he works with so many at Stetson.
He remembered one young girl who hid beneath a bay of computers and started to cry when he told her that her computer time was up. She's now a student in high school. He's ready for the doors to reopen on the new space early next year, so that she and other patrons can come back in and make it their own.
"I'm very excited," he said.
To learn more about the New Haven Free Public Library, visit their website.