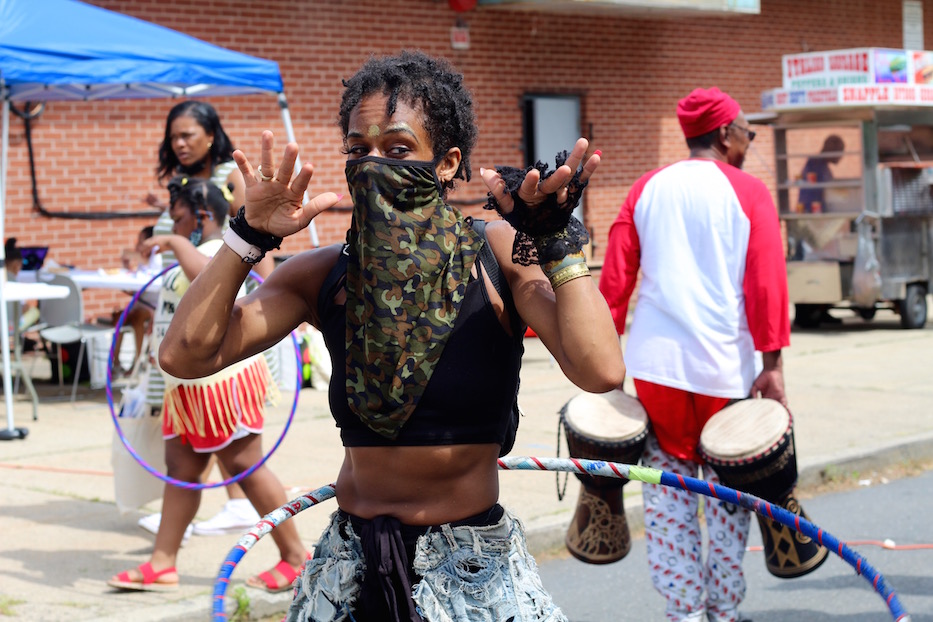 Dixwell | Arts & Culture | New Haven Free Public Library | COVID-19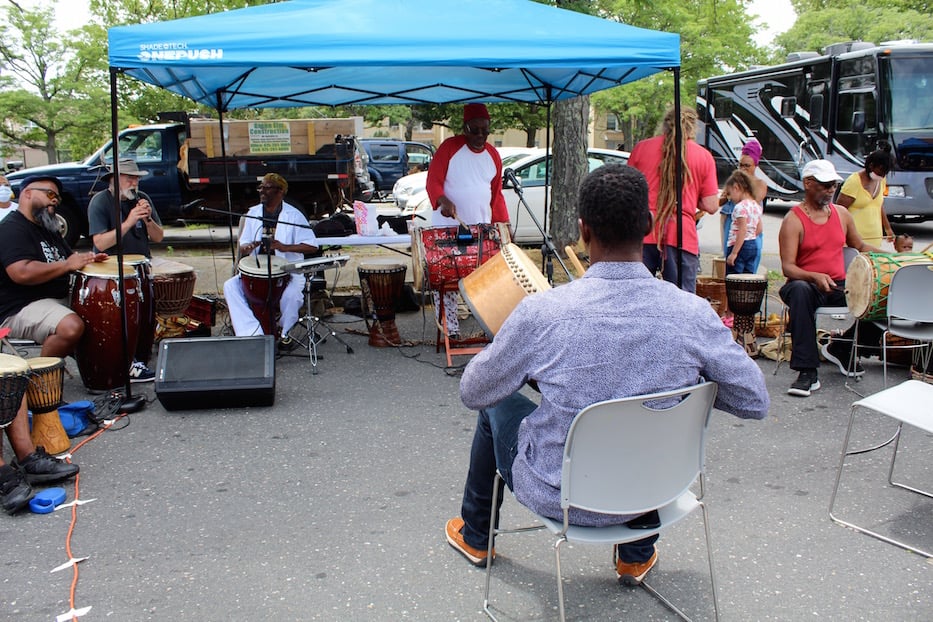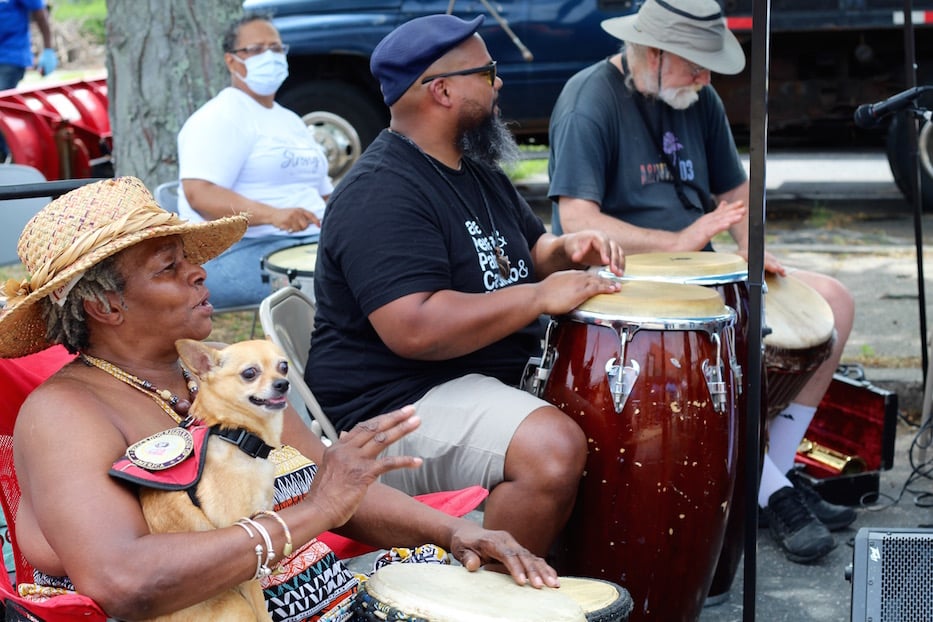 Top: The drum circle, which included lessons for kids and their families. Bottom: Elaine Peters and Eric Rey were among Saturday's performers. Lucy Gellman Photos.
Michael Mills and Brian Jawara Gray pounded out a heartbeat, deep and resonant as it rang over the parking lot. A chorus of drums sang back almost immediately. A few feet away, Diamond Tree slipped a silver-striped hula hoop over her wrist and began to move to the sound. She closed her eyes and rolled her shoulders in the sun.
Saturday, Dixwell Plaza came alive for Stetson On The Street, a summertime series meant to keep the neighborhood engaged as Stetson Branch Library prepares for its move to the Dixwell Community Q House in August. At the most recent session, Stetson Branch Manager Diane Brown announced an evolving partnership with the Connecticut Center for Arts & Technology (ConnCAT), which will be spreading its footprint in the Dixwell neighborhood this year.
"We're all so close in the village," she said. "We just wanted something to celebrate and bring the community together. Today is called Ujima for collective responsibility. We're all in the same village—it makes sense for people to start treating us as partners that are trying to provide services in the community."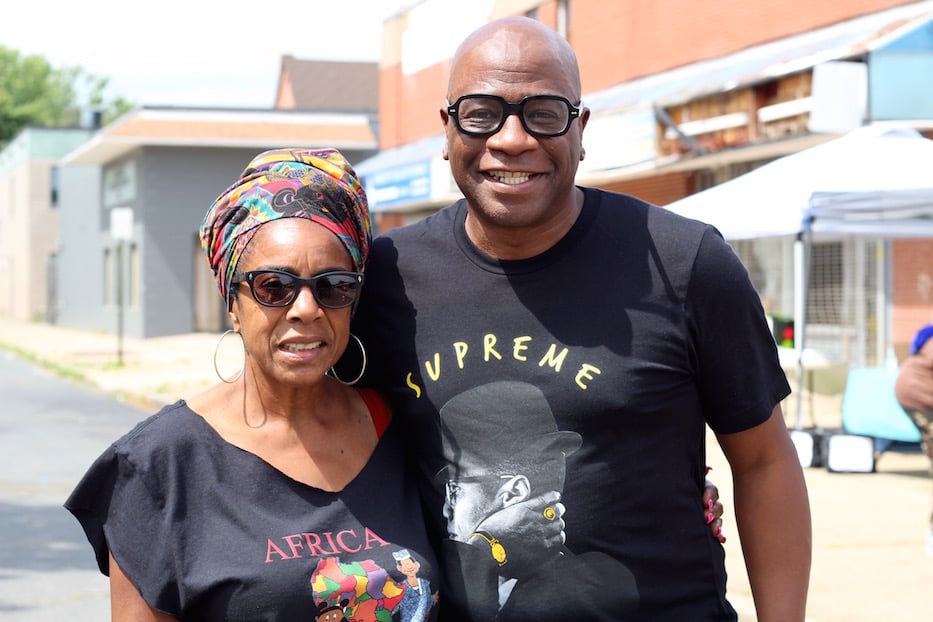 Stetson Branch Manager Diane Brown and ConnCORP President and CEO Erik Clemons.
For Brown, the partnership felt natural. Over the past few years, she has watched ConnCAT grow its presence in the community and been impressed with its work. She said she likes collaborating with ConnCAT President and CEO Genevive Walker, just as she did with founding president Erik Clemons, who is now the president and CEO of the ConnCAT subsidiary ConnCORP. As the library prepares for its new home across the street, she envisions a space for programming within the library.
It also comes as both Stetson and ConnCAT expand. In the past several years, ConnCORP has been buying up properties that comprise the commercial strip off Dixwell Avenue in which the library is currently housed. Last January, ConnCORP announced its plans to rebuild Dixwell Plaza as a mecca for Black business development, job training, and entrepreneurship. In the time since, that vision has moved forward with the sale of multiple buildings.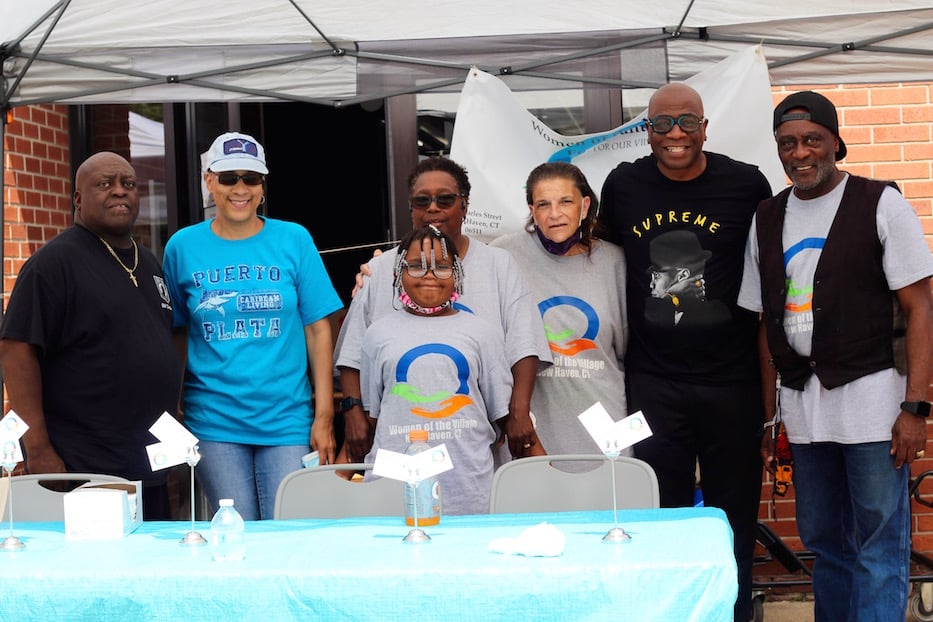 Dennis Wright, Crystal Gooding, Sharon Stevens, Erik Clemons, and Fred Christmas.
"I think it feels like a very natural fit," Clemons said Saturday, as he soaked in the sun. "ConnCAT is becoming a robust part of the Dixwell story. I believe it will pay a huge dividend for the community, writ large. This is about true transformation of the human soul."
Saturday, neighbors came out to dance, drum, and learn about local resources. At a table on the far edge of the parking lot, representatives from the Community Alliance for Research and Engagement (CARE) and Women Of The Village talked to attendees about the resources they wanted to see in the community, from pedestrian safety to jobs and higher food security. By 2 p.m., Women Of The Village had given away 50 bags of fresh meat and produce, with several more to spare before the event was over.
Andrea Mastracchio, who leads the group, said that she thinks of the work as part of a neighborhood-wide ecosystem. In the past 16 months, she's seen food insecurity spike in a community that was already chronically under-resourced. Every Tuesday, the group holds a food pantry at the Dixwell community substation.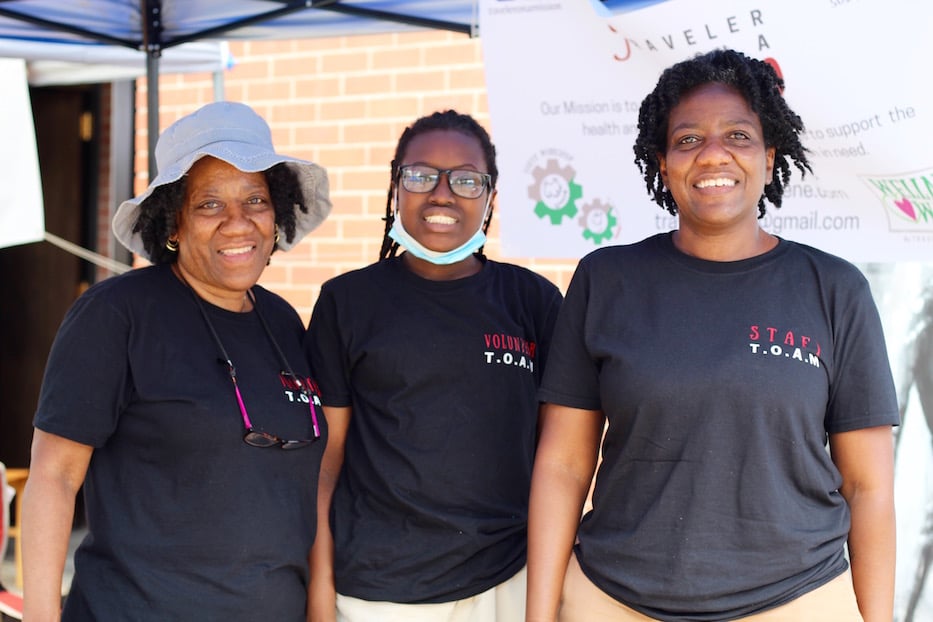 Shelley Henry. Maya Gamble, and Tanaya Henry.
In addition to fresh food, the pantry offers freshly-cut flowers and prepared foods that culinary partners contribute from across the city. Some people come specifically for the flowers, said Mastracchio. She's happy that the group is able to provide that spot of brightness in the week.
"It's a community," she said. "We know people by their first names. Our food pantry is like a family."
One tent over, Shelley and Tanaya Henry of Traveler On A Mission handed out bags with soap, hygiene products and coloring pages for kids. Two years ago, the mother-daughter team started the organization as a way to spread wellness and care in the community at no cost. In addition to hygiene drives and annual donations, the two teach hygiene workshops to young people between the ages of five and 16. In a recent one, youth learned to make their own soap.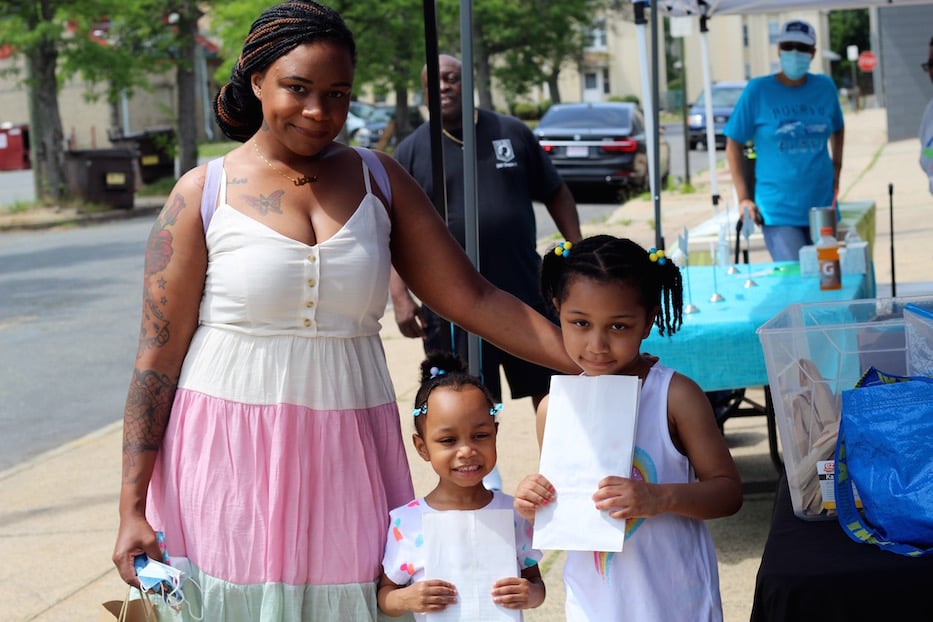 Chanelle Goldson with her two daughters, 3-year-old Brooke and 4-year-old Brielle.
In the midst of Covid-19, Tanaya said that work has taken on an additional weight. She and her mom have been working to make sure they are both providing basic necessities like soap, socks and hygiene products, and also that they are spreading the gospel around Covid-19 precautions, including hand washing and maintaining social distance.
"We want to let the community know we're here," Tanaya said, rearranging rows of clean cotton socks. A small "wellness wagon" peeked out from behind her, filled with supplies.
There representing the annual Freddy Fixer Parade, Chanelle Goldson stopped by to learn about the group with her two daughters, 4-year-old Brielle and 3-year-old Brooke. As the two approached the table, Shelley was ready with coloring books and colorful packets of crayons. They smiled and looked over the designs, waiting to fill them in.
"It's nice to connect with the community," Goldson said. "We're getting out and able to bond with one another" after months of quiet and pandemic-enforced isolation.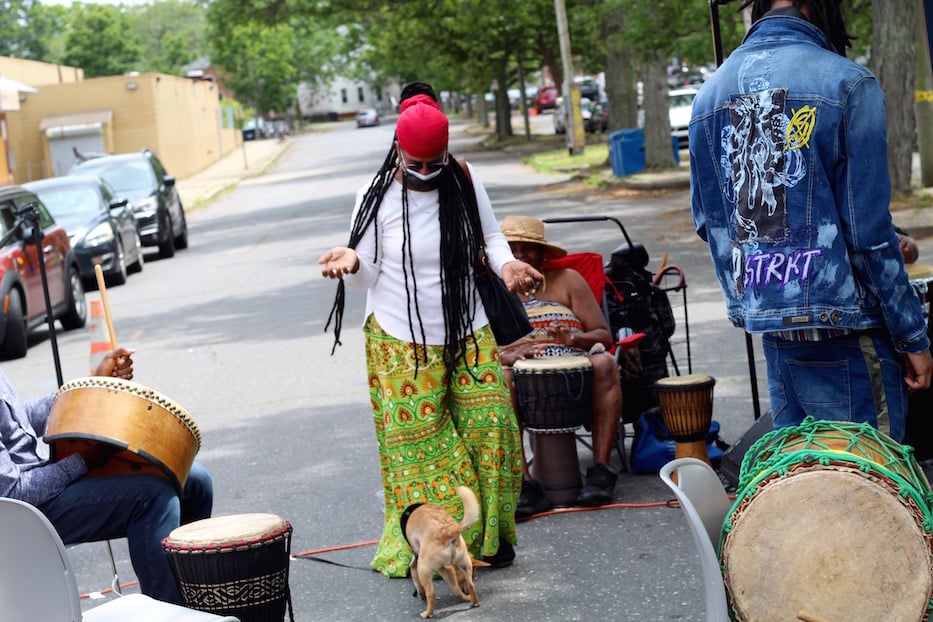 Iman Hameen dancing with Coconut, Elaine Peters' dog.
Across the parking lot, the smell of something grilled floated up from a food cart, and rose to meet the throaty calls of the drums and percussion beneath a tent. No sooner had Mills and Gray started to play with Billy Fischer, Elaine Peters, Eric Rey and others than a crowd gathered around them, moths to a flame. Families tested out small hand drums, cabasas and claves with their young musicians. Brown later said that she was delighted: she and Mills grew up together, and he "is like a brother to me."
There was a brief pause at the drumming tent as Brown made an announcement. Artist Iman Hameen, who has long been a champion of the library, had stopped by—and it was her birthday. Drummers slipped seamlessly into a cover of Stevie Wonder's "Happy Birthday," sound exploding from every corner of the tent. Ha-a-ppy birthday to youuuuu sang Mills, his voice rising over the drum. Hameen lifted her hands and danced.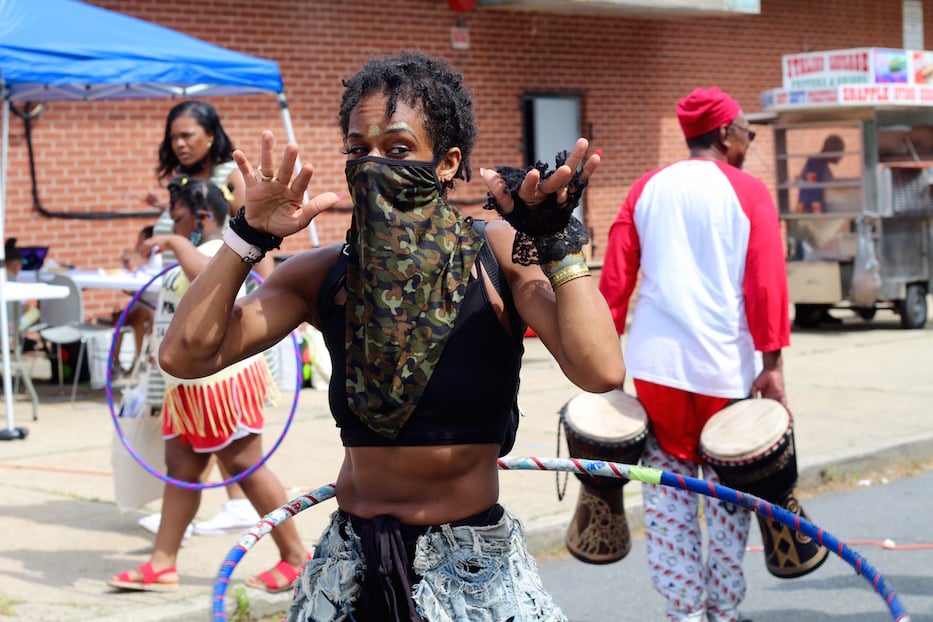 Nearby, Hood Hula instructor Diamond Tree let the rhythm travel from her toes through her legs, hips, torso, arms, neck and head. She moved her arms to the beat, smiling beneath a camouflage gaiter fitted on her neck. Her eyes shimmered with thick, glimmering gold eyeshadow.
Around her, a circle of pint-sized hula hoopers practiced their moves. Suddenly, one student got the hang of it, the hoop suspended at her waist. She squealed in delight.
"Give her room!" Tree instructed gently, not missing a beat. "If somebody's hooping, you gotta give 'em room!"
Raised in the city's Newhallville neighborhood, Tree learned about Stetson a few years ago, when she started attending martial arts classes at the Dynamic University Shadow Dojo a few doors down from the library.
She and Brown connected instantly, and she became part of the library's robust rotation of after-school and weekend programs. While she has since moved closer to Goffe Street, she still returns to lead pancake breakfasts in Newhallville each week. It felt right to teach at Stetson, she said. With the library closed because of its upcoming move, she was thrilled when Brown asked her to teach outdoor classes.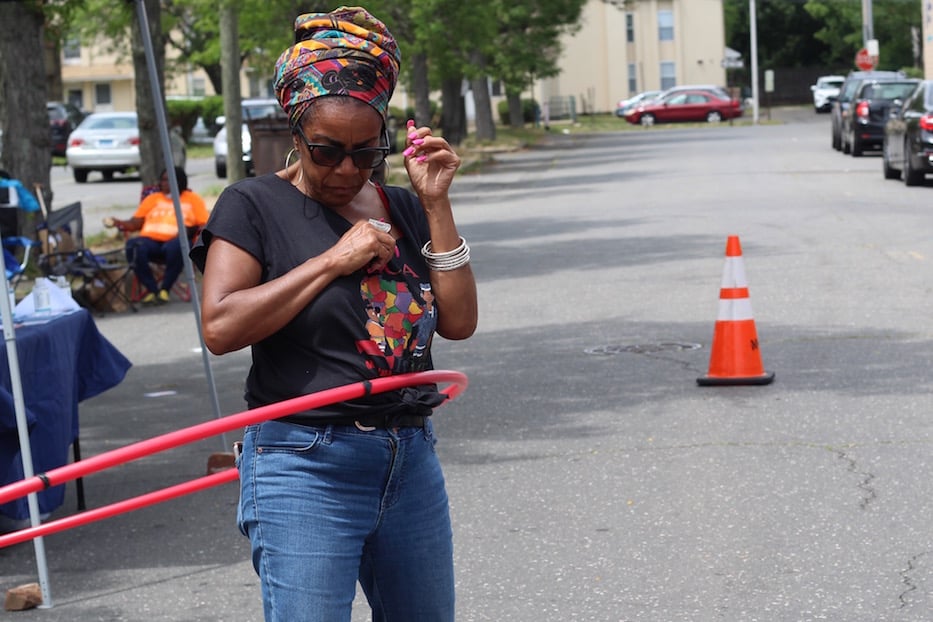 Brown rocking a hula hoop.
Her goal is to spread the joy of hooping on to New Haveners of all ages. While she spent Saturday mainly with kids, she also welcomed Brown, who rocked a huge pink hula hoop as drummers played nearby. In the absence of her dog, a Chipin named Reindeer Pocky, Tree winked at Peters' dog Coconut. She danced with her wrists, hands, and arms as well as her waist, hips and knees.
"It's a total therapy for me," she said. "If I'm having a bad day, I just put on my tunes and I hoop. I'm of African origin, and I know that my ancestors act through me. I act through them."
The next Stetson on the Street events are scheduled for July 10 and 24 from 1-3 p.m.