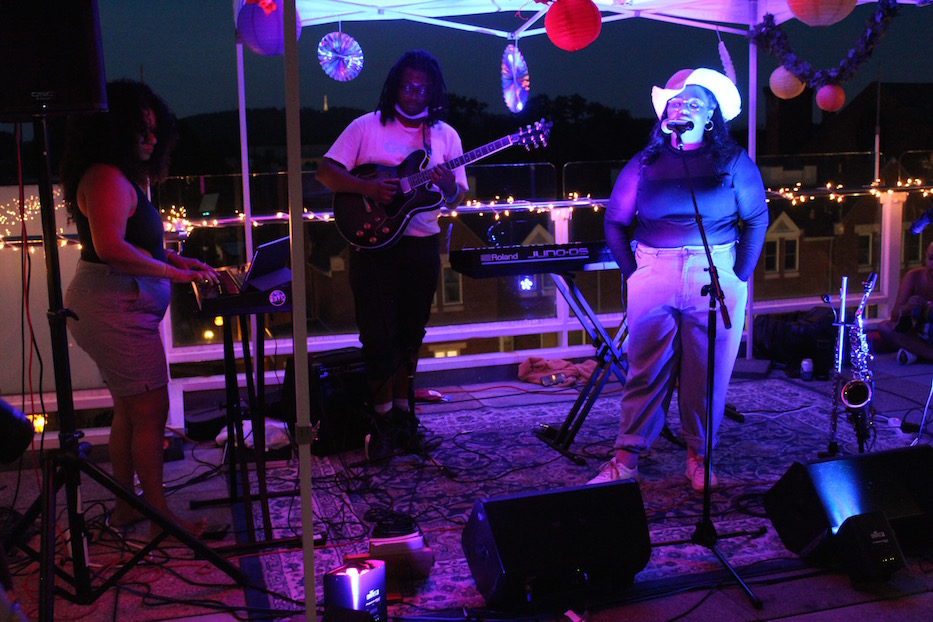 Make Music Day | Poetry & Spoken Word | Arts & Culture | Musicians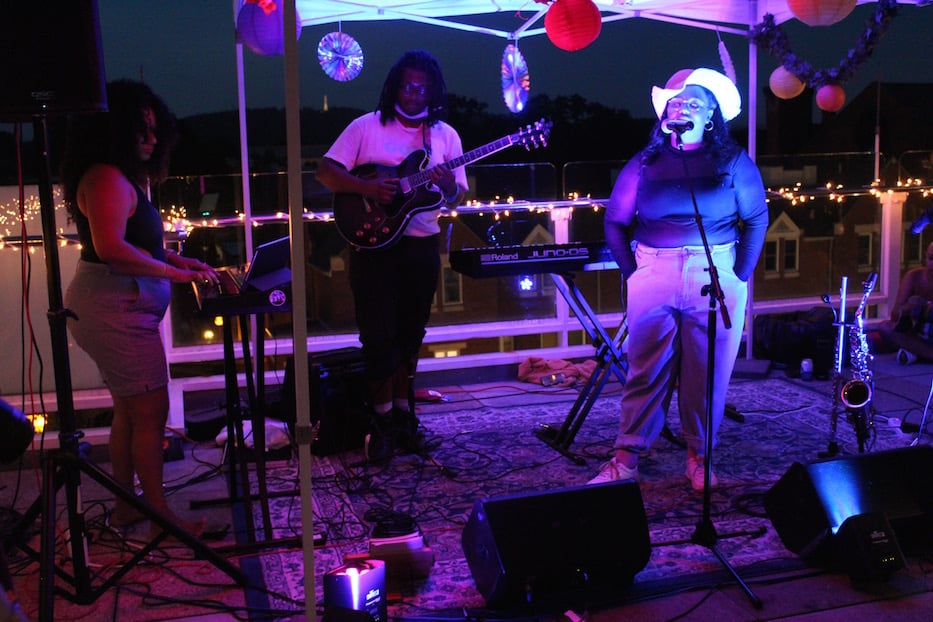 Briana Williams with Clifford Schloss on guitar and Fernanda Franco on keys. Lucy Gellman Photos.
Briana Williams released a songbird from her throat, swaying gently from beneath the brim of a wide sunhat. Bubbles floated through the air, rainbow-tinted at their edges. In front of a makeshift stage, a little girl joined tap dancer Alexis Robbins and started testing out her feet as percussive instruments. Williams finished and stepped forward, her face glowing in light that pulsed red, green and blue.
"It's been a journey," she said. "It's about supporting joy and creating community."
Williams bottled that joy at the fourth annual Make Music New Haven, held across the region on Monday as a mellifluous way to welcome in the summer solstice. From the Hill to Hamden, New Haveners turned out to hold outdoor harmonica lessons, drumming circles, and full-out concerts that ranged from the political to the poetic. In addition to helping organize the event, Williams performed during a rooftop party at the Arts Council.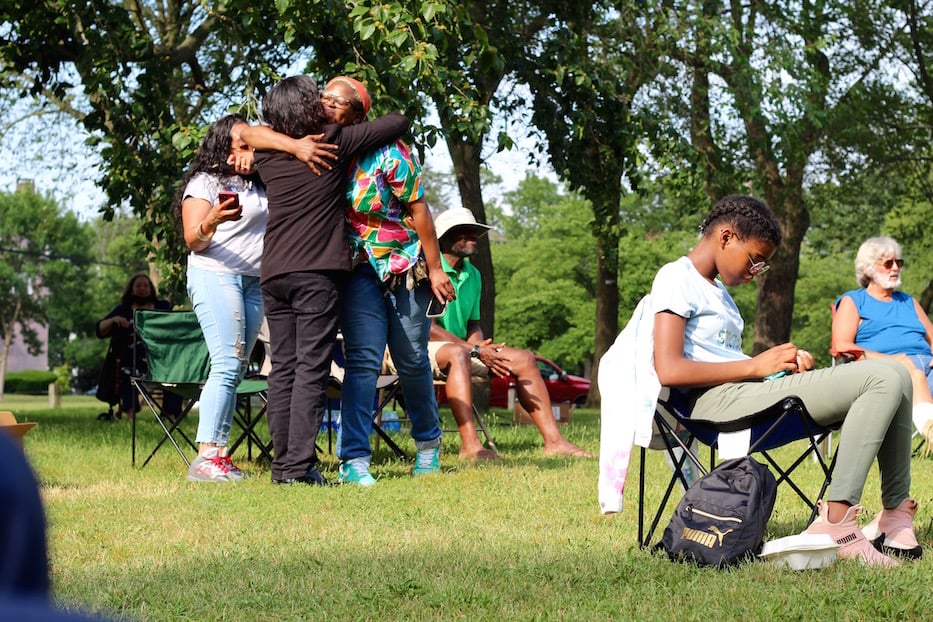 Ashleigh Huckabey with Manuel Camacho after his performance.
Make Music New Haven is a program of the Arts Council of Greater New Haven. In the interest of full transparency, the Arts Paper is an arm of the Arts Council but is editorially independent from it. The day is inspired by the decades-old Fête de la Musique, a citywide celebration of music conceived by France's then-Cultural Minister Jack Lang in 1982. Unveiled in Paris that year, it has since spread to over 120 countries across the globe.
Monday, musicians took over arts incubators, local restaurants, libraries, and public parks. As one lineup kicked it off at a playground in Woodbridge, Quan Grant took the outdoor stage at Bear's Smokehouse BBQ to cheers from a small but vocal audience. Outside the smokehouse, attendees clapped as they tore into pulled pork sandwiches and the occasional midday beer. On the grass closer to the stage, others got ready to go to church on a Monday.
Grant had something for all of them. Taking the stage with an easy smile, he slipped right into a soulful string of gospel songs, getting the audience on its feet as he swayed. He lifted the mic from its stand and walked out into the grass, his praises traveling skyward. He urged audience members to turn to faith, particularly during times when it seemed the world wasn't giving them enough.
"Some of my music is Christian, but I like to say that I'm a life artist," he said. "I sing about life … who has heard that music is the universal language?"
He later said that the day doubled as a celebration of making it through the past 16 months. When the pandemic hit last year, Grant watched his work as a musician and a stylist dry up overnight. Churches, in which he has both performed and sought spiritual refuge, suddenly went virtual. Then the pandemic of Covid-19 became the backdrop to the ongoing pandemic of racial injustice.
Grant responded by turning to his music. He held a virtual launch for his website. He wrote new songs from his bedroom. He joined a new church in Bridgeport. Back outside Bear's, he slipped into a song that vowed not to go backwards. Midway through, the audience began to snap along.
"We're up against a lot," he said. "We're surviving a pandemic and racial injustice. This song is just a reminder that what holds us captive and imprisons our minds, let it go."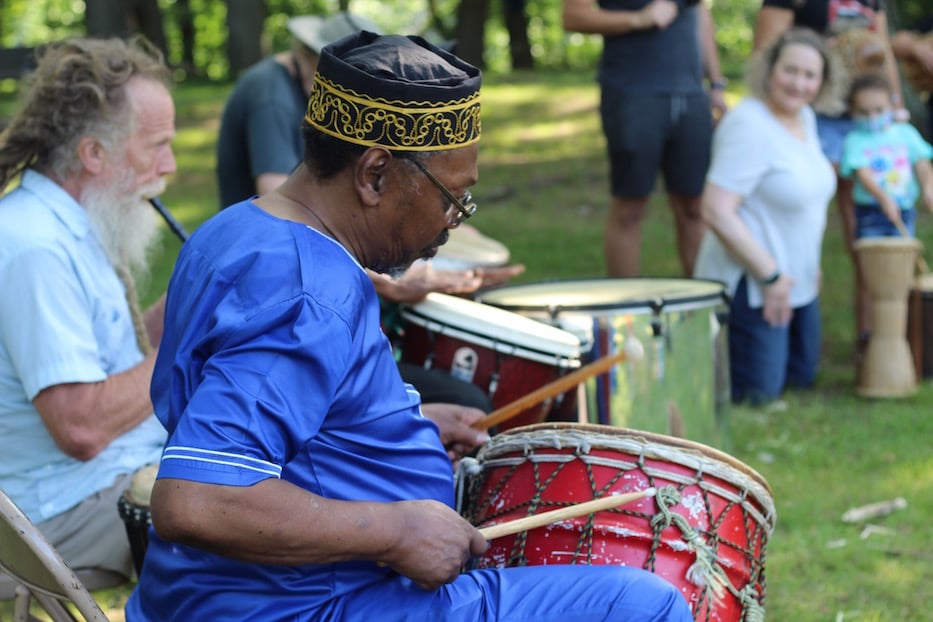 As Grant handed the mic over to the next performer, music exploded across the city. Outside of the Educational Center for the Arts, students freshly done with the school year proved that some members of Gen Z still know who Bob Dylan is. A few blocks away, Love n' Co. and Lamarr Smith serenaded viewers at the Ely Center of Contemporary Art. Downtown, Nick Di Maria and members of New Haven Jazz Underground tore it up just off of Temple Street.
At the ranger station in Edgewood Park, CT Folk and Thabisa Rich joined forces as she held a second session of her series "Open Mic=Open Doors" outside, drawing an audience that came to read, watch, and listen. As they pulled up folding chairs and sat in the grass, attendees cheered each other on, some inching closer to catch every word. Between poetry, song, and painting from the artist Isaac Bloodworth, Black Lives Matter New Haven member and Empath Vintage founder Ashleigh Huckabey passed out donuts for a sweet start to summer.
Rich said the idea behind "Open Mic=Open Doors" is to foster a community of care, particularly for Black artists and non-Black artists of color. In a candid performance, actor Terrence Riggins blessed the audience with work that is currently in process. In another that was more of a speech, rising James Hillhouse High School junior Manuel Camacho opened up about the depression and trauma he has faced in his own life.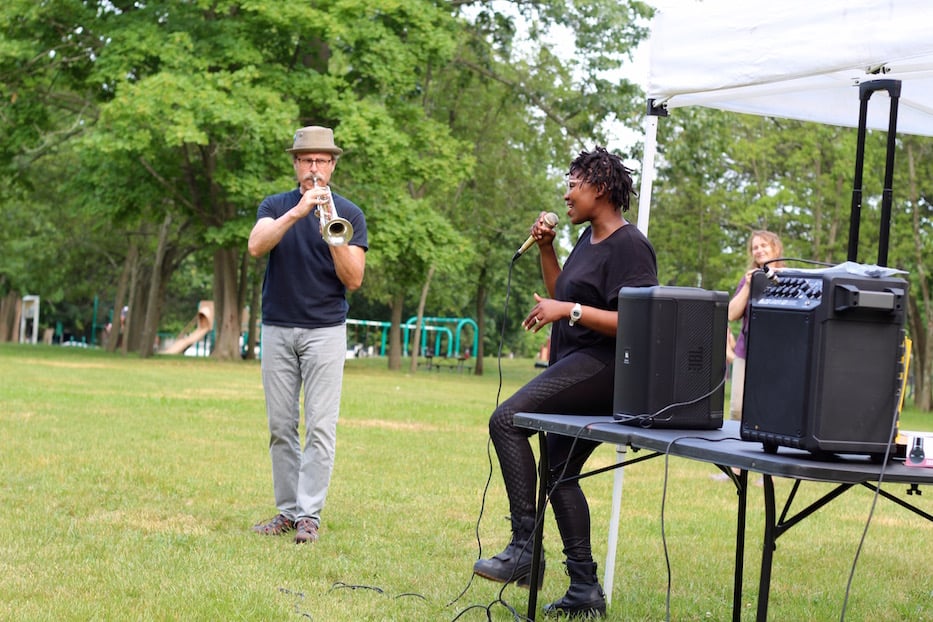 Tim Kane and Thabisa in Edgewood Park.
Camacho, the Latino Caucus President for Ice the Beef and a member of New Haven Rising's youth leadership team, told attendees that he did not need to know them to love them—and that he hoped they would take the time to care for themselves. Growing up in Fair Haven, he said he has experienced violence "right before my eyes," which has strengthened his resolve to work against it.
"I love you all," he said before heading to a rehearsal for Romeo & Juliet that will hit the New Haven Green later this week. "More than you can imagine. I only ask of you this. Keep fighting. Keep believing. Keep loving. I wish to see you on the front lines, because that's where you will see me."
Nearby, drummers Michael Mills, Brian Jarawa Gray and Billy Fischer laid out drums and percussion instruments in a wide circle, inviting pint-sized musicians, their parents and everyone in between to come over and play. As he helped a few young artists get the hang of drumsticks and flat-palmed beats, Mills laid out a set of directions: kids couldn't play until elders played them in. He came to the center of the circle for a warm up. Everyone fell to a hush.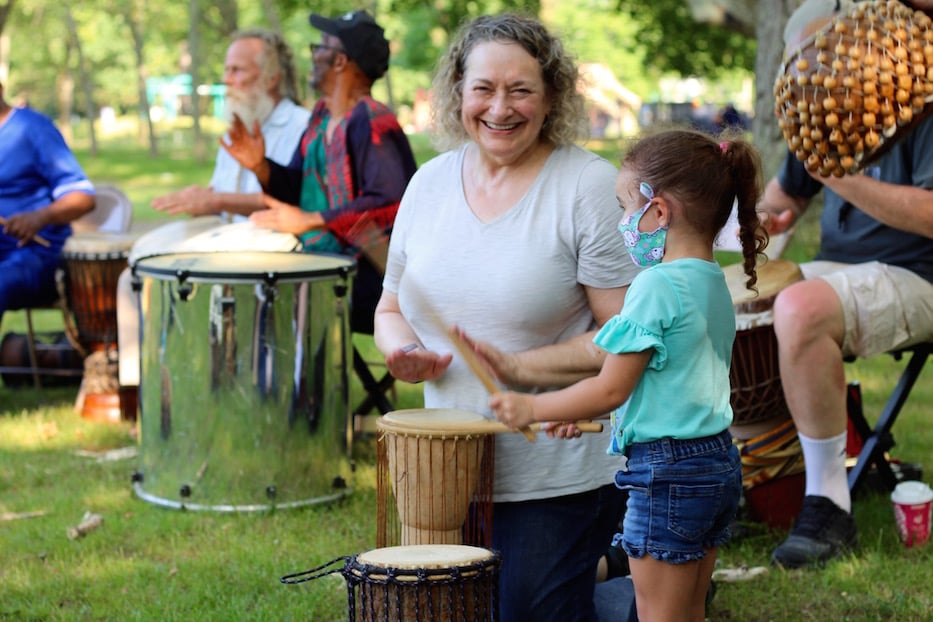 Lisa Kaston, a board member with CT Folk, plays with her granddaughter.
"Energy! To my body! Must flow! Freely!" he started, as attendees repeated after him. "Like the wind! The trees! All the way around! Like me!"
"Now say heart-beat!" he said. Gray and Fischer began to play, the drums suddenly capable of pumping blood through a body. "Heart-beat! Heart-beat!"
Elsewhere in Westville, the Mitchell Library got into a pre-twilight mood with musician Jefferson Bennett. Back downtown, the International Festival of Arts & Ideas brought Make Music New Haven to its main stage on the New Haven Green. In Hamden, Alexis Robbins and Fernanda Franco electrified the League of Women Voters. At Bear's, members of the Nu Havan Kapelye kept the crowd jamming.
Williams' vision for the day—to build community through music, after an isolating year overwhelmed by virtual programming—came full circle on the roof of the Arts Council. As the sun began its hours-long descent into the sky, conversation rose and fell among attendees who trickled in. From somewhere in the knot of people, streams of bubbles drifted up into the air. They kept coming all night long.
As musicians performed, attendees loosened up, danced, and made new friends while reconnecting with old ones they'd seen only on screen for 16 months. After bringing the crowd to a low hum with a cover of Imogen Heap's "Hide and Seek," Franco played in an evening of warm vocals, hard-hitting poetry and multiple collaborations that invited the audience to dance along. She later said that the pandemic forced her to learn new skills, including technical magic that she never thought she could pull off herself.
Experiment, in many ways, remained the order of the night. Before launching into a new number with Dylan Olimpi McDonnell and Robbins, Clifford Schloss noted how good it felt to see so many smiling, maskless faces in a single place. In a collaboration with musician Finn Henry, poet Yexandra "Yex" Diaz began with the crowd favorite "Skipping Stones in Muddy Waters," dedicated to her daughter. A healer by trade—Diaz is a birth and death doula—the verses glittered in the dark, a bright love song in a world that can feel dark.
She switched it up, pulling out a new work from Yerba Bruja, a recent collaboration with Long Wharf Theatre. Listeners, already hanging onto each line, began to snap and mmmm to the tight, lyrical flow of the piece. Keys undulated beneath her words as Henry's fingers provided the backing. The audience snapped. Diaz' face glowed ember-red. The work honors her mother, Nivia Alida Diaz, who passed away last year.
Surrender/like suspended belief
Surrender/like a falling autumn leaf
Surrender/like the tides to the moons
Surrender/like the ocean to Oshun
"Oh my God, I just cried a lot," said Franco as Diaz left the stage.
As people grooved into the night, the crowd became a cross-section of New Haven. Old school Westvillians danced beside leaders in the movement against police brutality. Twenty-somethings whipped up TikTok videos and Instagram posts about the city's Black female brewer and salsera Alisa Bowens-Mercado, who handed out sweating cans of Rhythm Lager in one corner. A few small listeners tried out fancy footwork, inspired by Robbins.
Back on stage, chad browne-springer and Jason Sanchez-Rojas (a.k.a. Expired Mocha) performed as their new project Dreamvoid. When they opened with their new hit single "$timmy," almost no one stayed still. Those who did let the music wash over them.
In a circle of light beside the makeshift stage, tenant rights advocates and community organizers sipped local craft beer, rolled adult modeling clay and let themselves crawl into the lyrics. Bowens-Mercado took time to catch up with Diaz, who she had not seen in over a year.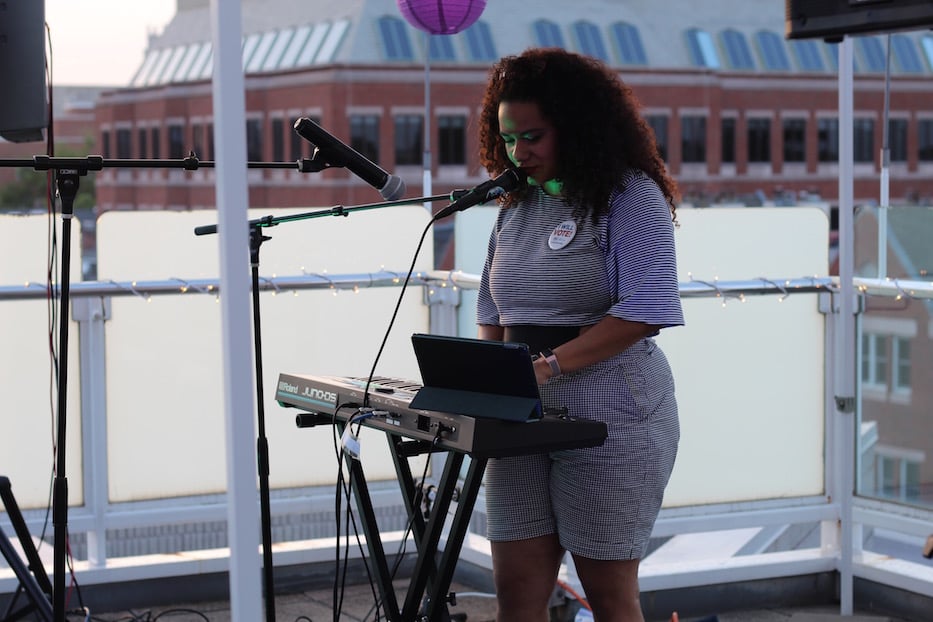 Fernanda Franco at the rooftop party.
Even Williams, who said she had been nervous to perform for weeks, gave herself over to the music as she premiered a new song about letting go, set to a background of fresh guitar and archival James Baldwin. The Audubon Arts District seemed to genuinely embrace its name.
"What a great way to kick off the summer," said Bowens-Mercado as she packed up for the night. "We love to see the arts community come together. This was literally a breath of fresh air. This is an amazing event. Amazing energy."
Watch more videos from Make Music Day at the Arts Council of Greater New Haven's Facebook Page or Instagram. Read more about Make Music New Haven here and here from the New Haven Independent.