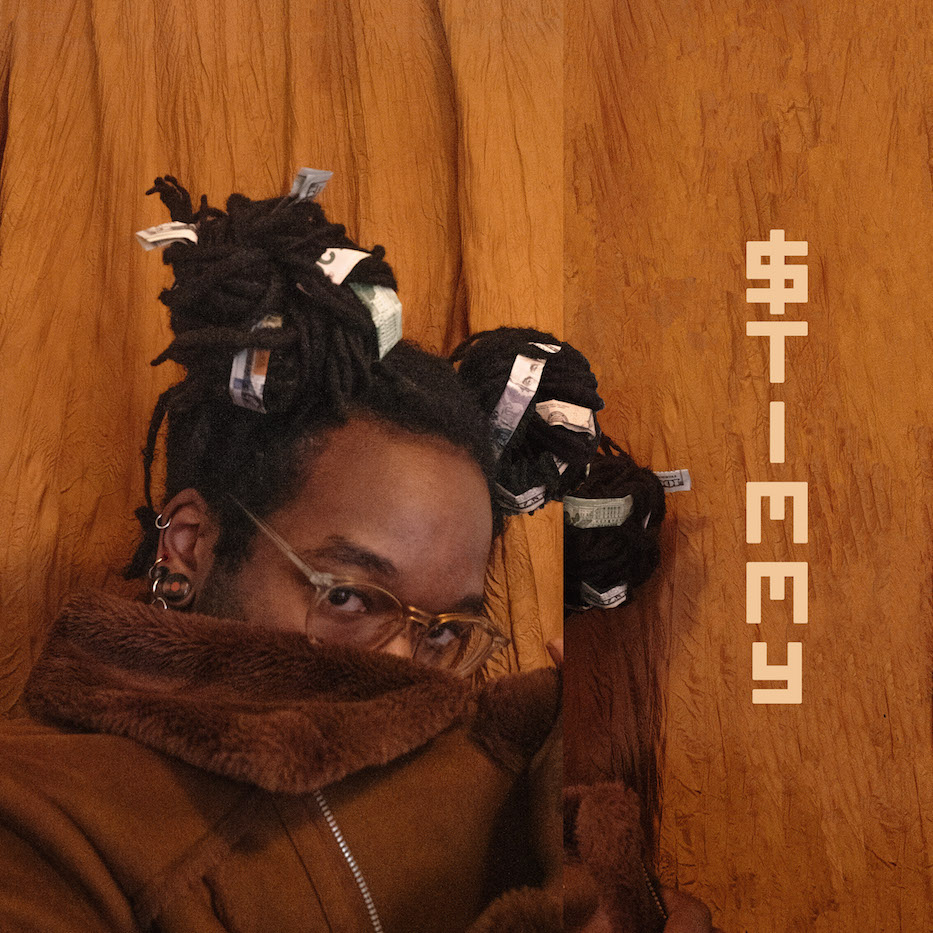 Co-Op High School | Education & Youth | Music | Arts & Culture | COVID-19 | Education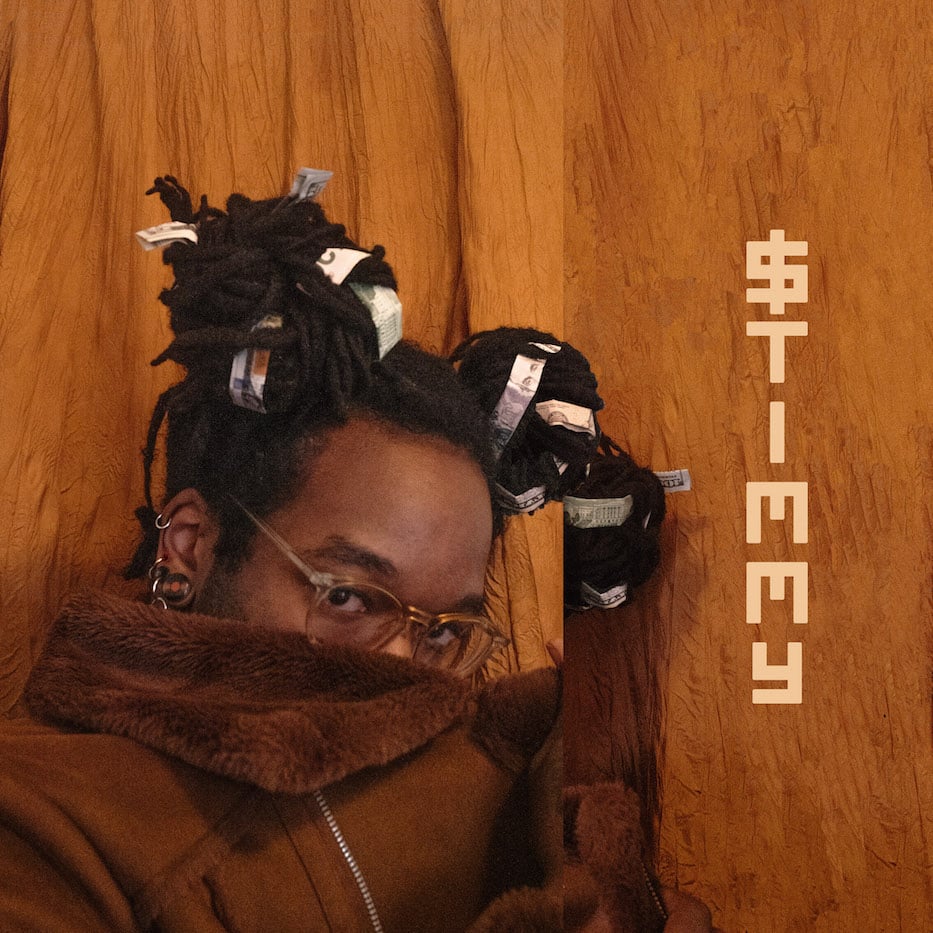 The cover for $timmy. Photo courtesy chad browne-springer.
The track starts with a chord progression that tumbles forward, then catches and repeats itself. Static crackles. Something pings the distance, as if a drop of water has fallen from a high ceiling. Then a near-drumroll, maybe a slot machine or ATM whirring to life. A register beeps. The vocals drop. chad browne-springer is on the mic.
"Stimmy got me bankin'/Stimmy," they croon, and the stress of the year starts to melt for a moment. "Stimmy got you thankin'/Stimmy Stimmy/Stimmy got me thiiinngs/Stimmy got me everywhere like everything is freeee."
"$timmy" is part of Sound Garden, an eight-track collaboration between browne-springer, high school students at Cooperative Arts & Humanities High School, and members of the Yale Spizzwinks. With ambient sound from students and tight engineering from Co-Op senior Jason Sanchez-Rojas (a.k.a. Expired Mocha), the track drops from Funnybone Records this Friday. It was written and produced earlier this year through Co-Op After School.
"This album's crazy," browne-springer said in a Zoom call Wednesday afternoon, surrounded by fellow collaborators. "It's a range and beautiful culmination of a bunch of, like, random sounds and emotions. It's all over the place, but it tells a very beautiful sonic story."
The program's genesis goes back to last year, although the tracks are much more recent. Prior to the pandemic, members of the Spizzwinks were working with Co-Op Choral Director Harriet Alfred to sing with students in person. That all came to a screeching halt in March 2020. New Haven schools moved online. Yale sent its students home, where many of them still are today. As high school students finished the year remotely, the Spizzwinks went back to the drawing board.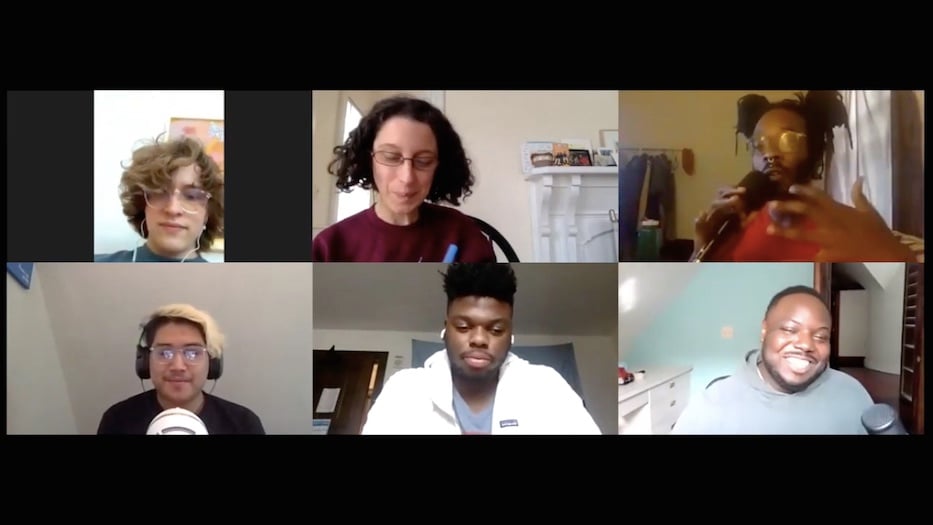 Pictured top row: Yale Spizzwinks member Will Salaverry, this reporter, Phat A$tronaut frontperson and musician chad browne-springer. Pictured botom row: Co-Op senior Jason Sanchez-Rojas (a.k.a. Expired Mocha), Yale Spizzwinks member Alex Lawson, and Co-Op After School Program Director Paul Bryant Hudson.
Last summer, they started thinking about local artists with whom they could collaborate across the distance. They also wanted to continue their relationship with a local school. Both browne-springer and Paul Bryant Hudson, who runs Co-Op After School through Dwight Hall at Yale, were musicians that they saw as plugged into the local music scene. Instead of going back to the a cappella group's repertoire, they proposed creating entirely new music.
"We were crossing our fingers that we were going to partner with the school, and hopefully some magical artist would come through, and we would create one song and that would have been the best case scenario," said Alex Lawson, a sophomore at Yale who is in the Spizzwinks and currently living at home in Baltimore. "So I'm just still blown away. Working with chad and Paul, and working with Co-Op, and not only making one song but like eight, is super exciting."
browne-springer and Spizzwink Eamon Goucher bounced ideas back and forth. They thought of fusing a cappella and sweeping, earwormy vocal loops, which are a trademark of browne-springer's music. They played with the idea of a class that could deconstruct songwriting one work at a time. Ultimately, the idea for a Sound Garden—where students' hearty musical seeds could take root and flower—stuck. browne-springer instructed students to turn on whatever devices they had at their disposal and record ambient sound.
"Part of the beauty of the class for me was to instill, like, the idea that even if you don't have a million dollar studio, you can make something," browne-springer said. "Even if you have an iPhone, iPad, if you just have the will to, like, record or grab a thing … whatever inspires you, grab that. Send it to me, and I'll turn it into something."
Of 11 students who signed up, about six came to the after-school sessions regularly, and almost all of them turned in work. There were bass riffs, chord progressions on the keyboard, clubby drums, and tinny guitar. There were ticking clocks, laughter, splintering popsicle sticks, and birdsong. Senior Jason Sanchez-Rojas, who has been producing under the moniker Expired Mocha since the eighth grade, pushed classmates to harmonize over Zoom. He and browne-springer connected over a shared experience: both of them turned to music as a comfort in middle and high school. They now comprise the music project Dreamvoid.
As Sound Garden evolved, students, Spizzwinks, and browne-springer hit a rhythm. Students submitted audio files via Google Drive, where browne-springer could load them into their own audio editing software. They would "start to chop and screw and manipulate the sound to my liking and my ear," and then turn it over to the class to get their input. When they started working on "$timmy," it was the chord progression that grabbed them.
The lyrics were inspired by a pandemic trip to the grocery store. Earlier this year, browne-springer was watching their sister Jeanika's pup Milo, who also is to thank for a 2019 Tiny Desk concert from the band Phat A$tronaut, when she returned home and the two headed out to get groceries. They started joking about their own "stimmy," the $1,400 stimulus check that was part of the American Rescue Plan. browne-springer could hear the piano riff in the back of their mind. They started building lyrics in their head and laying them down.
Meanwhile, Sanchez-Rojas played around with the audio and the vocal stems. Then browne-springer, Spizzwinks members, and students went back and forth on a group chat until the sound was right. The time constraint on the project—six tracks in six weeks, which ultimately became eight—ultimately worked in their favor. In addition to the central collaborators, Sound Garden includes mixing and mastering from Daniel Carr of Blind Moose Studios, Tim Walsh of The Telle, and Andrew Oedel of Ghost Hit Recording. Chuck Kennedy helped with production.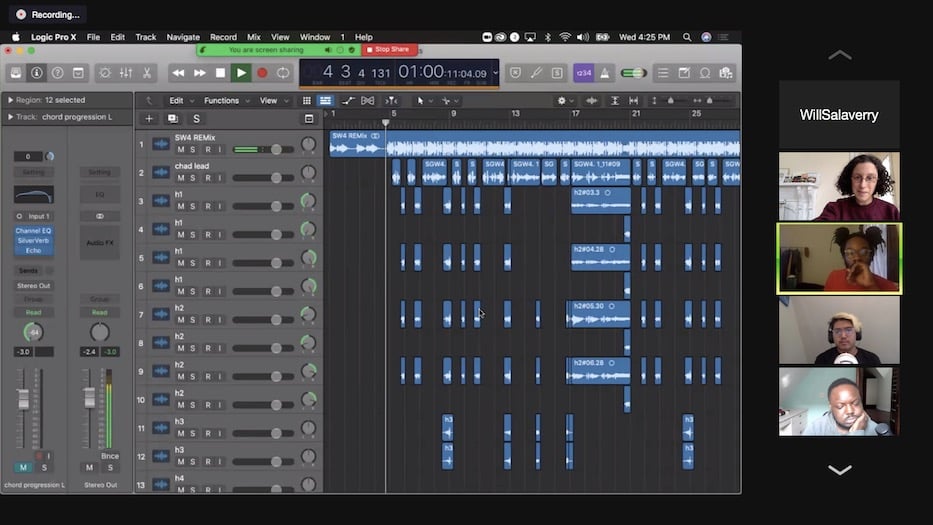 "You know, we're not done until it is released," said browne-springer. "So this is also a part of the process. How you make it, how you curate it, what you're thinking, what key the song is in, how you feel, what you sing, what you write … but also getting to the final results. The class is really the entire process of planting the seed in your garden and then curating what you have grown. And then bringing it to market."
Bryant Hudson said that he thinks that the project as very much of a piece with Co-Op After School, especially as the program centers social and emotional wellbeing this year. While that focus has always been there, it has taken on a new weight during the pandemic, as students juggle remote learning with new responsibilities including part-time work and caring for their families and siblings.
Bryant Hudson said he's happy when students show up, and also understands when they don't have the capacity to. While New Haven high schools returned to optional in-person learning on April 5, Co-Op After School has remained remote.
"This year especially, it's been really important for students to be encouraged to create from a heart-centered space," he said. "To like, make music that is reflective of who they are and how they feel. And it was dope to have students really define what this music sounds like, and not just like be enriched by the idea of music education. And not just taught how to do a thing, but to contribute to a creative project like this."
Some of the relationships have also outlasted the project. Sanchez-Rojas and browne-springer now comprise the music project Dreamvoid, which browne-springer has "a hunch we'll be making more music together" (Bryant Hudson has already to step in as a roadie if they go on tour). Lawson, who is currently a sophomore at Yale, said that he hopes the program can happen again in person by the fall. Before that, the Spizzwinks are planning to do a virtual concert at the end of May that will include the album.
"I'm going to keep grinding on on my music, and hopefully I reach a level that I'm proud of," Sanchez-Rojas said at the end of the Zoom interview.
browne-springer interrupted him before he finished the thought.
"You have so much to be proud of," they said. "I'm gonna tell you 'til the day we part. You are very good, very skilled, you have a great ear. And you make my life easier! You have made my musical process easier ... Music forever, man."
$timmy drops Friday, April 30. Sound Garden, as a full album, will be released in May 2021.