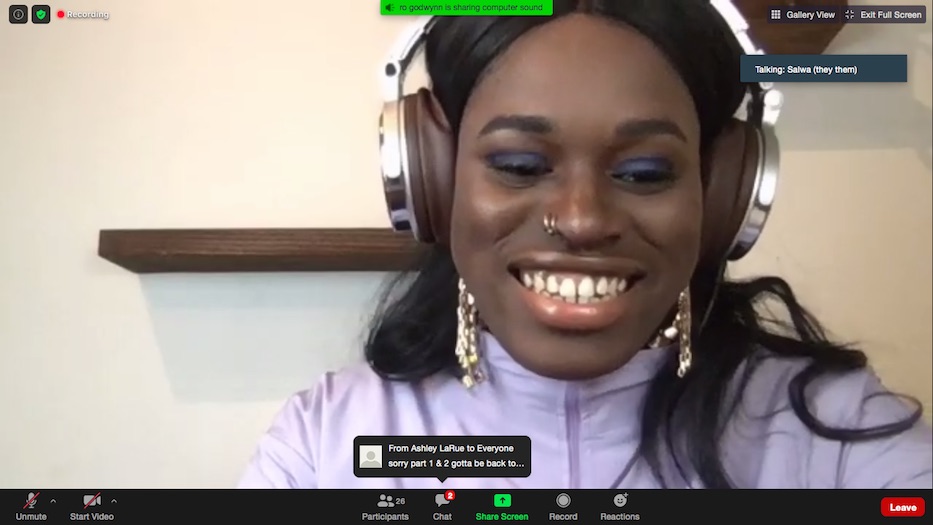 Music | Arts & Culture | Musicians | Black Lives Matter | COVID-19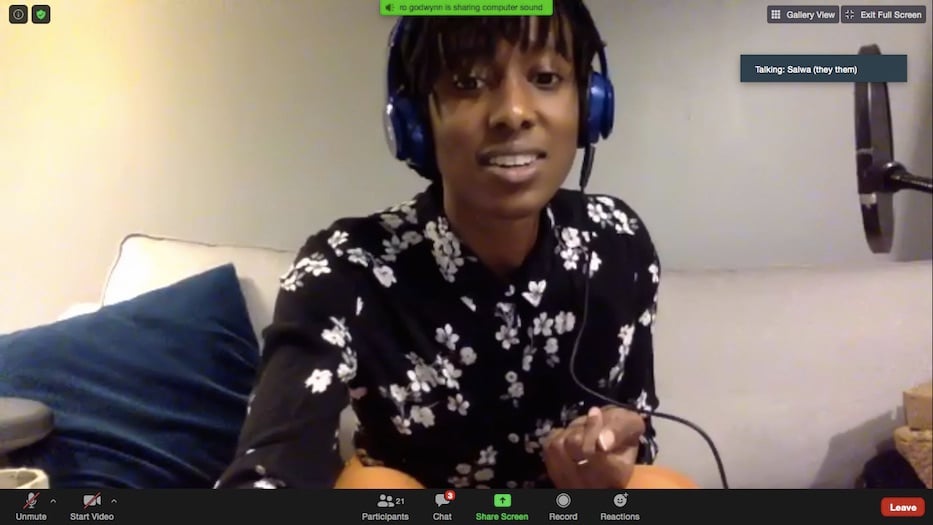 Ro Godwynn on Thursday night.
The guitar is a hammock, swinging over a carpet of gem-colored moss. Keys peel back slowly; it feels like the whole universe is waiting behind them, thick with stars. Ro Goodwyn's vocals come in soft and sweet. They are deliberate, sliding in between the keys. It's not clear who they're speaking to, but there's a feeling that it's supposed to be that way.
"Something's slightly off, yeah" they sing. "And I can't explain the way it feels/But all I know is/Something's slightly off, yeah/And even if I had the words, they're not for you right now."
Thursday, Godwynn joined Salwa Abdussabur for Versus CT, an intimate listening party and celebration of Abdussabur's EP Breath and Godwynn's The Godwynn Experience Vol. II. Both artists dropped new work within a week of each other this month. It is Abdussabur's inaugural EP after years of performing, writing, mentoring young poets, and organizing in New Haven. For Godwynn, the EP follows their 2019 The Godwynn Experience Vol. I.
"I'm so excited for y'all to witness this collaboration of two infernos coming together," Abdussabur said at the top of the evening, as 30 friends logged into Zoom. They glowed behind the screen, dressed in all white with a swoosh of blue eyeshadow. Godwynn unmuted themselves, laughed and was suddenly on screen, sitting cross-legged and ready to talk.
In just 90 minutes, the event became a case study in how two artists can burst fully into bloom, and also support each other as they move through a world upended by the twin pandemics of Covid-19 and white supremacy. It was a musicological love fest, with banter that flowed from the Red Hot Chili Peppers and Freddy Mercury to Pose to what a Black version of High School Musical might sound like. Abdussabur joked that their first vocal coach was a vacuum cleaner. Godwynn noted that they'd make a good house mother, with which dozens in the chat agreed.
Both works are deeply introspective, and pull in voices from the Black Lives Matter movement that range from protest footage to New Haven's own Reverend Moriah Felder. Both bear witness to a specific moment, in a specific city, in this specific nation. But both also tell their own story, going deep rather than going long. Thursday, they fit together as stand-alone parts of a greater whole.
Thursday, Abdussabur explained that Breath was a kind of gift, recorded live earlier this year for Listen, Look: A Reconciliatory Journey Through Black Grief and Joy. The virtual installation came from curator Precious Musa and the Griot Museum of Black History in St. Louis, Missouri. It gave Abdussabur, who has been writing music for years, an opportunity to record and master the EP with local musicians Tyler Jenkins and Stephen Gritz King.
The finished work is an invitation that doubles as a prayer. In Breath, Abdussabur brings a listener all the way in with "Open," their voice undulating and raw at the edges. As the first notes swell over the track, Abdussabur's vocals are almost conversational. Guitar plucks and strums insistently underneath. "Open/open me up/I'm ready," they sing, and it's enough to get a listener to focus entirely on the sound bath growing around them.
The song is a journey in itself, complete with a freestyled section in the middle. Before reaching it, their voice breaks slowly on the words "I'm scared," and Jenkins' guitar responds, stuttering but certain. They wail, and so inject a kind of folk reclamation that sounds like a nod to Paul Bryant Hudson's "John." Their voice climbs and dips, straining. It wanders, reaching for the next word until suddenly it's there.
"I was super nervous about it, because I didn't have a middle to it [the song]," they said Thursday. "When I do it in my room, talking to spirit, talking to the universe, I just freestyle it."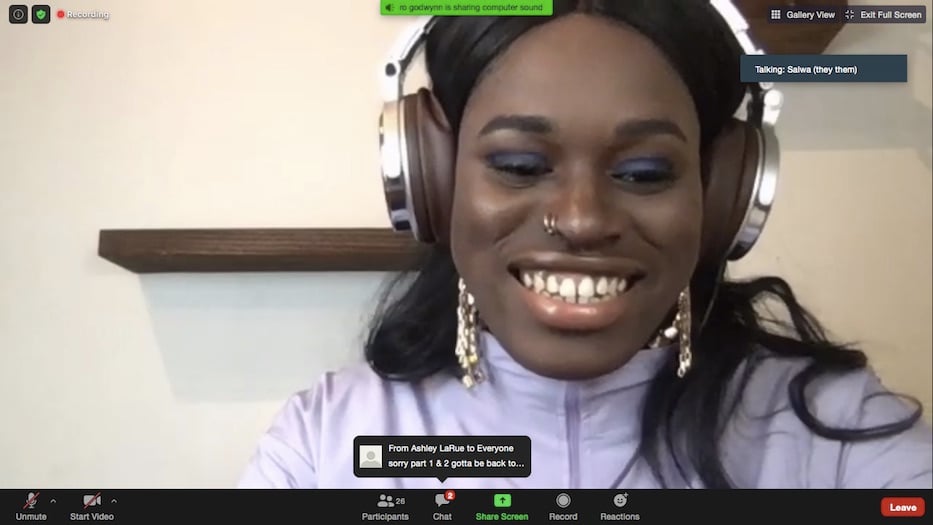 Breath is also laced with deep grief. In "N"—so named because "I don't want people saying the n word" when they talk about the song, Abdussabur said Thursday—they sing a cappella over themselves, their voice succinct and crystalline. The word, repeated as if it is scripture, becomes a droning hum. It's a lamentation, and also a love song and a plea. There's a sense that the musician has looked into a wound they found in "Open," and are starting to clean it in plain sight.
The piece taps into Abdussabur's years as a spoken word artist, in which they've learned to say exactly what they mean. "Fuck a knee/I want your neck," they sing at one point, and the line is enough to slice a listener right in two. They push themselves forward, singing over audio that followed the murder of Stephon Clark in 2018. Clark was killed by police in his own backyard.
"That song is for my people," they said Thursday as heart, star and weeping emojis filled the chat. "There's continuous grieving. Even in this very seat, I have written songs because there's no other way to … I'm in pain, bruh. I have a little bro. I have all brothers ... That song for me is special in that it came out so naturally. Yo, it felt like there's no music for this shit."
When the song flows right into a slowed cover of Leon Bridges' "River," the transition feels right, as if the two have always existed side by side. Abdussabur has pulled apart Bridges' words, lifting each one up to see what is underneath. They have made the song entirely their own, with the architecture of a hymn. A chorus rises beneath them in wisps.
"We love loops in this house, we love the clarity," Godwynn said in a sort of micro-feedback session.. "We appreciate ... do you know, I appreciate when people can take covers and make them smoothing completely different. The way it was dancing between the one and the flat seven, I was like, this is giving reggae vibes but this is also giving Gregorian vibes, but also, pose, pose, wow, wow, wow, wow."
The EP ends with "What You Know," a sort of pendant to "N" in which the musician faces down the very forces of oppression that are responsible for the previous three tracks. The work showcases their talent as a sharp-tongued lyricist: they drop rhetorical questions over minimal, just-fuzzy-enough chords that fray and split at the end. They do not flinch as they dress down a listener. They motion to two sides of history that the EP has marked so clearly. Breath gives the viewer a choice to be on the right one.
If Breath cracks grief open, then The Godwynn Experience, Vol. II does the same with a vulnerable spiral of self-doubt. In the past 11 months, Godwynn has launched a small business, worked multiple jobs, started to talk openly about the value of rest and rejecting capitalism, and recorded an EP. And yet, the first words of their EP are a roadmap to the fact that something isn't sitting right with them. That something is off, and they are about to sing through it. When they unpack it, they reveal a witty, tight lyricism that holds an existential weight.
As Godwynn sings, their voice is silk and spun sugar but also steel. They open a door to their own introspection that may double as a mirror for many of their listeners. In March, the U.S. will mark a year of shutdowns, stay-at-home orders, skyrocketing unemployment, an eviction crisis, and over 500,000 deaths fom Covid-19. But Godwynn's uncertainty is a less explicit one: they are questioning and re-questioning what is off in their body, and reaching toward a resolution.
"I/had a dream my chains broke/but when I awoke I found them safe up in my head," they sing in "Perhaps." The lyrics alone are enough to get a listener to pay attention. Thursday, Abdussabur said they noticed the writing of the piece right away. They first listened to the EP at one in the morning, with tea and candles. They've been coming back to it constantly since.
"Ro's lyricism has not only always been fire, but I see the lyricism that they're playing on in this album versus the last in a very particular way," they said. "I feel like I'm in an art gallery. Of Ro. A bad perhaps? What are the bad perhaps, what are the bad maybes in my life?"
Attendees filled the chat with praise, some writing during the songs and others waiting, as if they were holding their breath. In "Sorry (pt. 1)," apologies spill out one after the other. Percussion rolls out beneath Godwynn's voice, and suddenly the artist is a one-person ocean of sound, smooth enough to crawl into and scared enough to try and keep a distance. The song is confessional, but never overwrought: "I didn't mean/To be so mean/I'm just having a hard day," they sing.
Their voice seems at times limitless, rising still as it moves into "Sorry (pt. 2)." Through a series of loops, a listener gets a whole orchestra of Godwynn. They are lucky for it: the artist is moving toward a reconciliation, but needs to take their time to get there. At the end of "Sorry (pt. 2)," piano and finger snaps hang in the air for a moment. There's a breath before Godwynn presses on to "Intervene."
"At this point in the EP, I'm choked," said Abdussabur Thursday, after Goodwynn played both parts back to back. "I'm emotional. And I was like, damn ... who is Ro talking to? And I was like, who hurt Ro? Who hurt Ro?"
It took Abdussabur a moment to realize Godwynn was talking to themselves.
"I give myself a very hard time. I do," Godwynn responded. "But I don't mean to. But I do. I definitely wrote this song for people who might be like me, who have trouble vocalizing how they're feeling."
The end of The Godwynn Experience Vol. II digs into that doubt ("what should an echo chamber sound like from the outside?" Godwynn asks, their voice a tendril reaching for the sky). It is easy to conjure the image of Godwynn, working their way out of a dark, complicated place that they alone did not create. While the EP is just 12 minutes, it demands a second, and third, and fourth, and tenth listen.
Thursday, the two artists played off of each other, pausing to discuss songs in between works. Almost every answer was delivered half in song, as the two finished each other's sentences. Conversation flowed between them, just as the EPs had wound around each other. Both said they were grateful for the space.
"When I thought about 'River,' I thought about it as a prayer for Black lives," Abdussabur said, adding that they wrote "N" in a flow state, while thinking about the lives of their brothers and parents. "I think about the young boy who was found in Edgewood Park Pond, and thinking about prayer and purpose. It hit me hard to the point where I was not drinking water for a week. 'River' for me is healing every time I sing it."
It became a testament to the way mutually supportive spaces can work across screens, internet networks, and miles that feel at once harder and easier to bridge. Throughout the night, the two reminded attendees—and each other—that Black and queer voices are constantly placed in physical, psychological, and economic danger in New Haven and in the United States. Honoring them is part of the work they do when they record.
"This is an exciting time right now. for artists, for musicians," said Godwynn to Abdussabur. "I feel like everyone who knows you knows you had it in you. It's really nice to be on this side of the EP. I've only been at this for like eight minutes, but I feel like if there's any guidance that I could give … hit me up. Because it's all about community."
Follow Salwa Abdussabur at @sweetsummermelanin on Instagram and listen to Breath here. Follow Ro Godwynn at @rogodwynnthefirst on Instgram and listen to The Godwynn Experience Vol. 2 here.