Faith & Spirituality | Arts & Culture | Visual Arts | Sculpture | COVID-19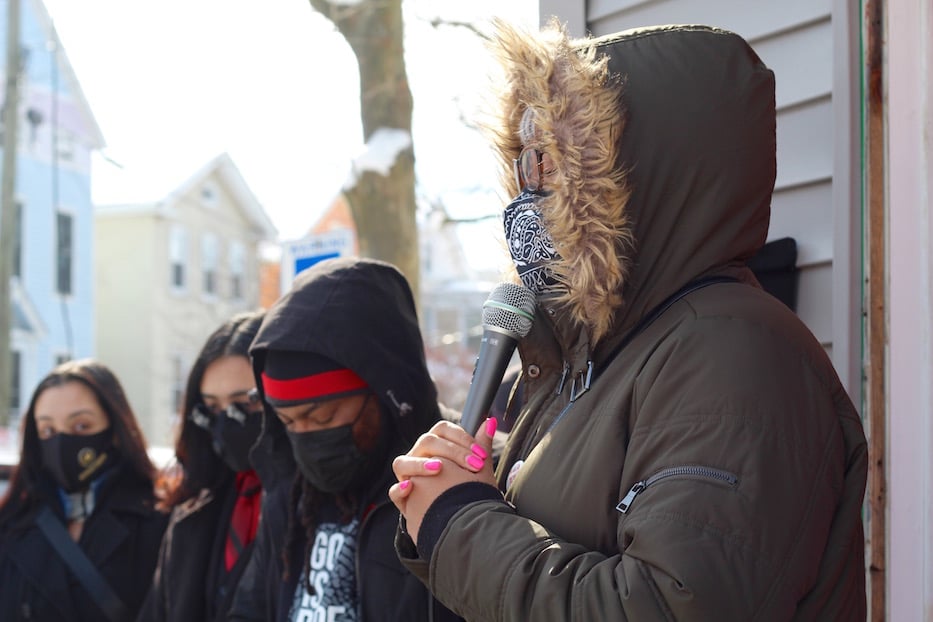 Pastor Deniqua Washington at a Lawrence Street vigil for Kevin Jiang. Lucy Gellman File Photo.
Pastor Deniqua Washington started supporting tenants as part of a spiritual calling. Kerry Ellington came to it through her work as a community organizer. Almost a year into their fight against Connecticut's eviction crisis, both are looking to the community for help. As they do, a polymer clay artist is also trying to get the message out.
Washington is the good news pastor at Elm City Vineyard Church. Ellington is a community organizer with Cancel Rent CT and New Haven Legal Assistance. Together, they are the powerhouse team behind "Raising Rent Money for Black Women," a GoFundMe campaign that directly supports Black women in New Haven as landlords find loopholes in Connecticut's eviction moratorium. The campaign joins parallel mutual aid efforts across the state, all trying to fill enormous financial and legal need as a pandemic winter comes up against an eviction crisis.
Recently, artist Nancy Nearing has joined community efforts with "A Roof Over Her Head," a pin project that supports the fund. More on that below.
"Both Kerry and I are Black women, and understand what it's like in our own family relationships to see people lose homes, to have our own families try to find good housing, and be met with many barriers, many efforts to keep that from happening, and no help," Washington said in a Zoom call. "And that's really heartbreaking."
In many ways, the fundraiser started in two places. The first—although neither knew it then—was at the New Haven Police Department's Union Avenue headquarters. At the end of May, both attended a rally to call for an end to police brutality in New Haven and beyond, held during nationwide protests around the state-sanctioned murder of George Floyd. Ellington handed Washington the mic to speak on the steps of the building. As Washington spoke, she made a mental note to follow up.
The second came during Elm City Vineyard's "Reimagining Authority," a weekly series that the church held 50 days after Floyd's murder. Pastor Josh Williams encouraged Washington to think of projects that could support the New Haven community. She spearheaded a week of action and matching funds program, to which Ellington submitted a proposal. In part, Ellington modeled it on a rent assistance program that JUNTA for Progressive Action started for Latinx families last year.
"This is a layered crisis," Ellington said. "There was already an eviction crisis in our communities. This is not something new. It's only worsened. The need for organizing in this moment, the need for mutual aid, the need for a fund becomes ever more critical, because there's not enough institutions working and there's not enough strong legislation to really protect our most vulnerable."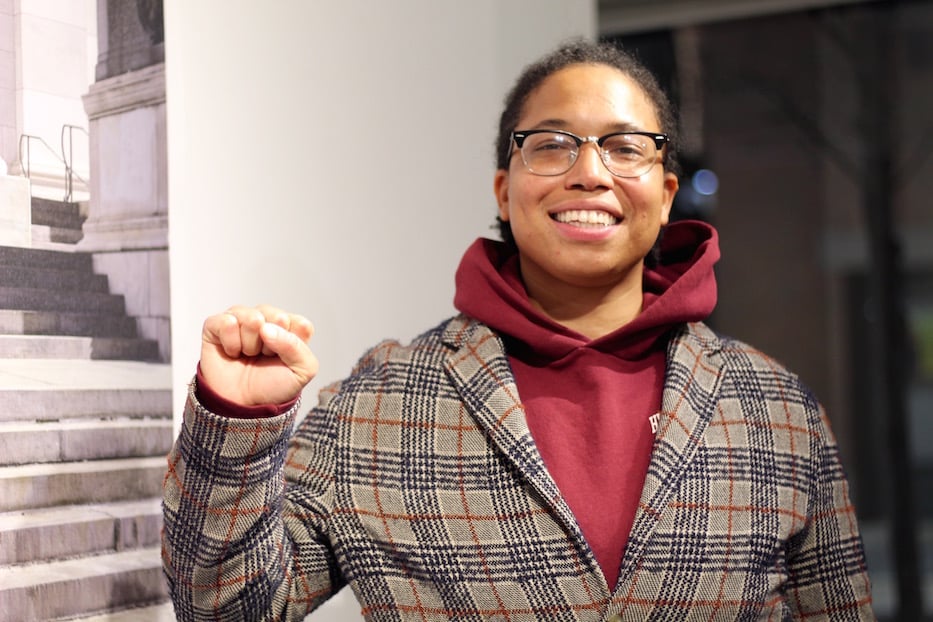 Ellington in October 2020, at Artspace New Haven. She removed her mask only for the photo. Lucy Gellman File Photo.
For Ellington, the issue is intimately tied to who she is: she has spent the past 11 months at the forefront of the Cancel Rent CT movement, while also working with New Haven Legal Assistance as a tenant advocate. She speaks frequently on the need to divest from law enforcement—which plays a role in forcefully evicting people from their homes and workspaces—and reinvest in communities of color.
Her push to connect with Washington came at the same time she was trying to let tenants know about available rental assistance programs, which "the state was doing a really bad job at getting information out on," she said. In New Haven, those include the Coronavirus Assistance and Security Tenant Landlord Emergency Program (CASTLE), run through the city's anti-blight Livable City Initiative (LCI).
Her focus on Black women specifically comes from data that shows that Black and Latinx women are more likely to be evicted from their homes, and less likely to receive legal representation in housing court. In Connecticut, there is no legal right that provides counsel to renters and homeowners who are being evicted, a process that now takes place digitally. She's seen that firsthand, she said: the overwhelming majority of tenants she speaks to are Black women with children.
That work started during the summer months. When Washington's September birthday came around, she made a GoFundMe to support the idea. Every time a friend contacted her, she sent them to the fund. She watched as a few hundred dollars came in, and "something just told me to keep it up."
Ellington kept an eye on the fundraiser through the fall, as more landlords started to evict tenants who hadn't paid rent for six months or more. While Gov. Ned Lamont's Eviction Moratorium is effective through April 20 of this year, there are exceptions: landlords are still able to evict tenants who owe over six months of rent due on or after March 1 of last year, as well as those that owe back rent from before the beginning of the pandemic. Many of the residents most at risk of eviction are those who lost their jobs when Covid-19 first hit the state.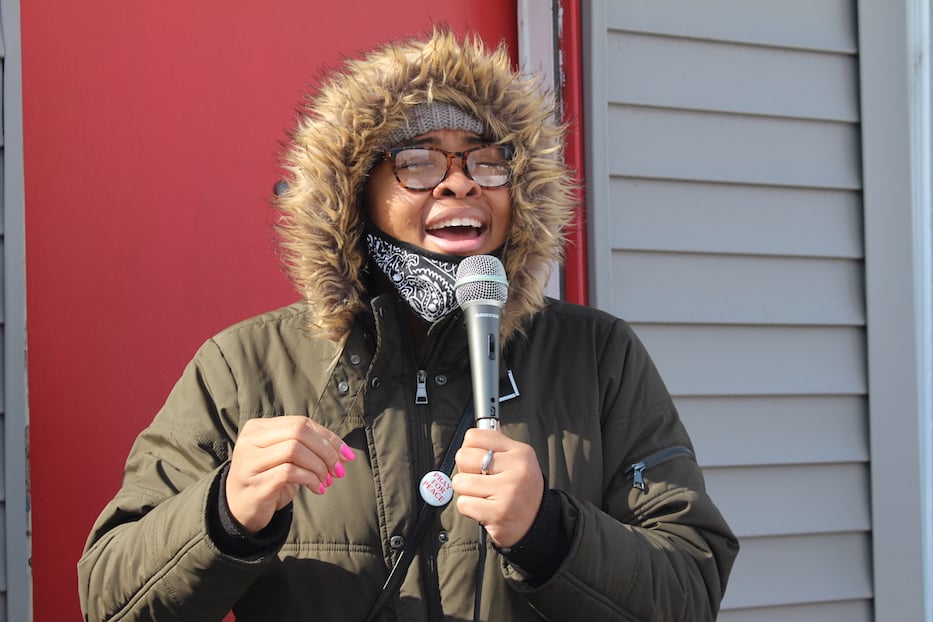 Washington earlier this month. Thomas Breen for the New Haven Independent File Photo.
On the ground, Ellington did targeted outreach to tenants who were (and continue to be) at risk of eviction or have an upcoming hearing date in housing court. She listened to renters who were unable to access the right technology to ask for counsel, apply for assistance, or attend an online eviction hearing. Both she and Washington said they see something cold about the process of evicting someone digitally in a city where the digital divide has been exacerbated by Covid-19.
"We have erased the idea of due process with the idea of using technology as a substitute for the courthouse," Ellington said. "It became super urgent. The need is there right now. Like, we're talking about some crisis that's going to come—it's already here."
She asked Washington to keep the fund open and reached out to her networks. People shared it on social media. They gave one by one, with totals that soon rolled past the $5,000 mark. The two watched as a small holiday miracle unfolded before their eyes.
"What started as a small ask turned into a really large one," Washington said. "My heart is filled with so much thanksgiving. The backdrop of all of this is it was during the holiday season. And it was just like—people are choosing to give during a time where their funds are probably looking funny and tight right now, because of loss of work, or they're trying to get gifts for themselves or for their family. But they're choosing to donate here."
"The Shackle That New Haven Wears"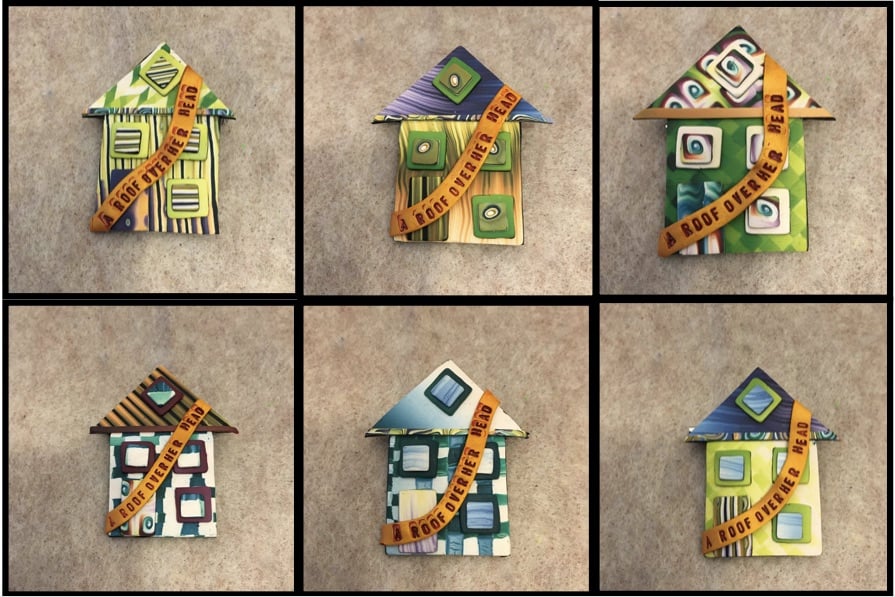 The pins by artist Nancy Nearing. Nancy Nearing Photos.
Both Washington and Ellington said that behind the current eviction crisis, they see a much deeper one tied to the lack of affordable housing in the city. When she was doing her graduate work at the Yale Divinity School, Washington interned at Beulah Land Development Corporation. During her time there, she watched Chief Operating Officer Darryl Brooks scramble to find affordable housing stock.
"And it made no sense to me,"she said. "That this city would be so concerned with building market rate housing when most people here are poor. Most people who actually live here are working class. Market rate housing, for them, is half to more than half of their income."
When Washington began her work at Elm City Vineyard, "I wanted to organize the efforts of our people around really healing the city." She looked to the Book of Jeremiah, which urges readers to pray for the peace and prosperity of the place they call home. She started thinking of how to turn her spiritual calling into organizing power.
"At the very bare bottom of everything, it's housing," she said. "Housing is New Haven's stronghold. Housing is New Haven's shackle. The way that housing is commodified in New Haven … it feels wrong to me and it feels hard to me."
Ellington added that she sees the lack of affordable housing as one that is not separate from divesting from law enforcement and putting that funding into housing, education, and resource development within neighborhoods. On the ground, she hears from tenants who are struggling with both back rent and absentee landlords who won't deal with leaks, rodent infestations, and unsafe congregate settings.
Meanwhile, in Connecticut and across the country, evictions often happen by force. She pointed to a recent escalation downtown, in which Officer Justin Cole used violent force on a man who was being evicted from an office space at a Church Street tower. She's talked to tenants who are shouldering the same weight of chronic physical and economic violence.
"This didn't happen out of a bubble, she said. "All these issues are intersectional and interconnected. Oftentimes, the moniker of 'defund the police' gets misconstrued as just violence. What we're asking for is systems that have always been defunded and divested from in our community to be funded, as opposed to funding a state apparatus that can allow for legal, state-sanctioned violence in our communities."
Ellington also pointed to the need to open up affordable housing options in both the city and the surrounding suburbs, so that the burden does not fall disproportionately on Connecticut's urban centers. The plea is particularly urgent for New Haven, where 40 percent of the city carries 100 percent of its tax burden. Of the 60 percent of the city's Grand List that is tax exempt, Yale University and Yale New Haven hospital comprise 42 percent.
Both said they plan to keep the fundraiser open for as long as possible, particularly as the pandemic goes on a full year with no end date. They called on community organizations, particularly those who have recently declared a commitment to racial justice, to invest at a financial level not possible for most individuals. Both added that they haven't done it alone: they praised fellow organizers and colleagues Jennifer Quaye-Hudson, Keren Salem, Shaznene Hussain and Legal Aid's Cynthia Rogers.
"This fund is created so we can stop living out in the desperation of housing, and to actually move in the abundance, and innovation, and the declaration of humanity," Washington said. "We want to move out of what it means to only be surviving, and we want other Black women to be able to do the same."
An Arts Assist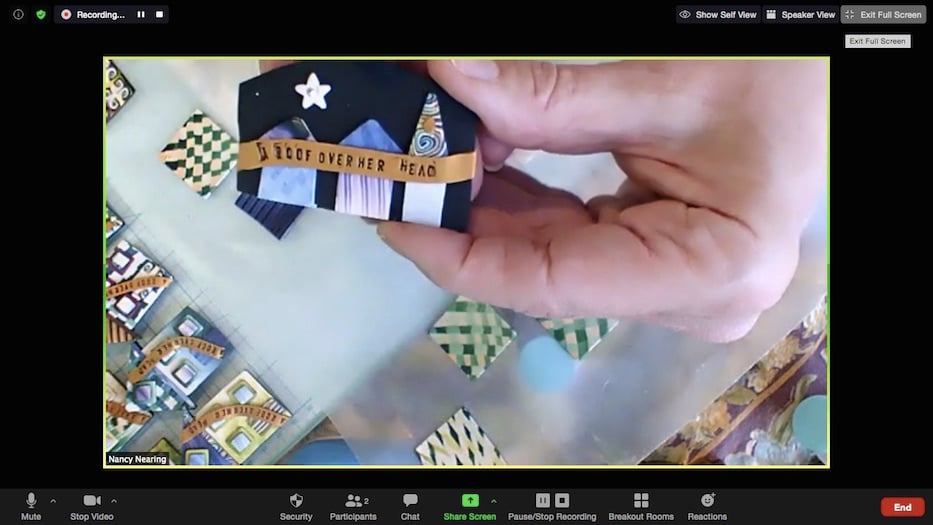 From her home studio in Hamden, artist Nancy Nearing heard about the fundraiser from her daughter Elizabeth, an organizer and facilitator in New Haven. Last month, she turned to the tools at her disposal—sheets of soft polymer clay—and got to work. Her pin campaign, A Roof Over Her Head, goes directly to supporting the GoFundMe. Pins are $20 each, and she does not take a commission. So far, she has raised almost $600.
"I saw the fundraiser, and donated to it, and just have this feeling that the 501c3s don't get to the people who are in the most need," she said. "And I'm sitting here in a warm studio, in a cute house that nobody's going to take away from me, and I have never had to deal with the thought of: 'Do I go on the street or go in a shelter?' Or: 'How do I manage it in a pandemic?' Or: 'How are my kids going to eat?' And it seemed like the time was right."
She said that she is inspired by fellow clay artists who have been in her orbit for years. Twenty-eight years ago, she fell in love with polymer clay for its ease and vivid design. At the time she was working as a computer programmer and an analyst, meaning that "everything was black and white." She used sculpting to relax when she got home, and her world could burst back into color.
In the early 2000s, she discovered the Heart Pin Project, an effort by pediatrician and sculptor Ron Lehocky to raise money for the Kids Center for Pediatric Therapies ("where the kids with the real nasties go," in Nearing's words) in Louisville, Kentucky. After churning out a few for a children's fashion show in 2005, he started making 12 per night. He's now made over 40,000.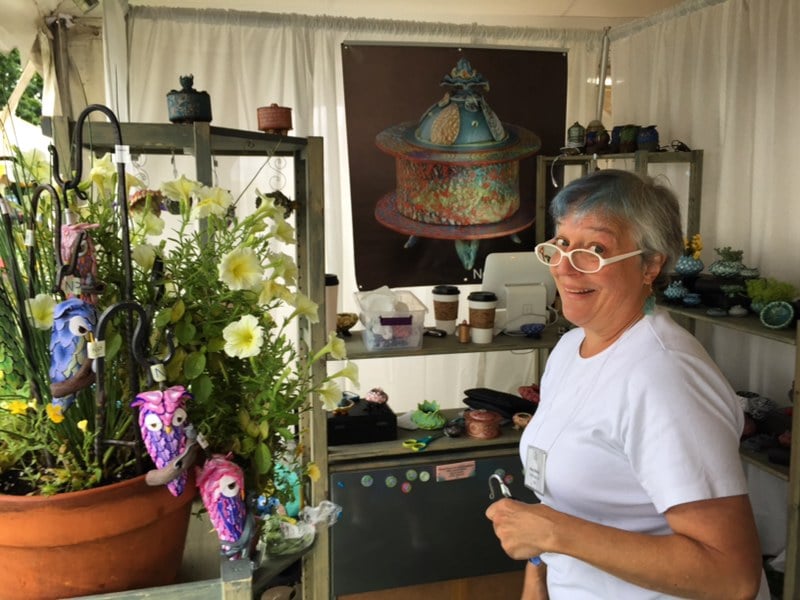 The artist in a previous studio. Elizabeth Nearing Photo.
Lehocky is in good company. There's an artist that Nearing met when she lived in Ohio, who makes polymer clay light sculptures to benefit a local food bank. She also looked to work by artist Lucinda Yates, whose now-famous house pins have raised over $25 million for homelessness outreach since the 1980s. Nearing likened the project to the charity bike rides she used to do in Virginia, which often became family affairs.
On a recent Monday, she pulled out neat, putty-like squares of clay, some kept pliable beneath a sheet of wax paper. She rolled a piece until it was marbled green and white, and flattened it into a window. She added strips of color, as if they were new coats on paint. The house seemed to emit light. Each pin comes with a gold sash that bears the name of the project.
"We don't have safety nets for people, and people are desperate," she said. "People are losing their jobs and getting hours reduced, and having to double up on housing. We're just not doing enough to safeguard them."
"It's a privilege to be able to do something that I love, and explore new techniques, and wind up helping somebody," she added. "It's absolutely no skin off my nose. It's just a chance to play."
Contribute directly to the Raising Rent Money For Black Women campaign here. Buy a pin to support the campaign here.