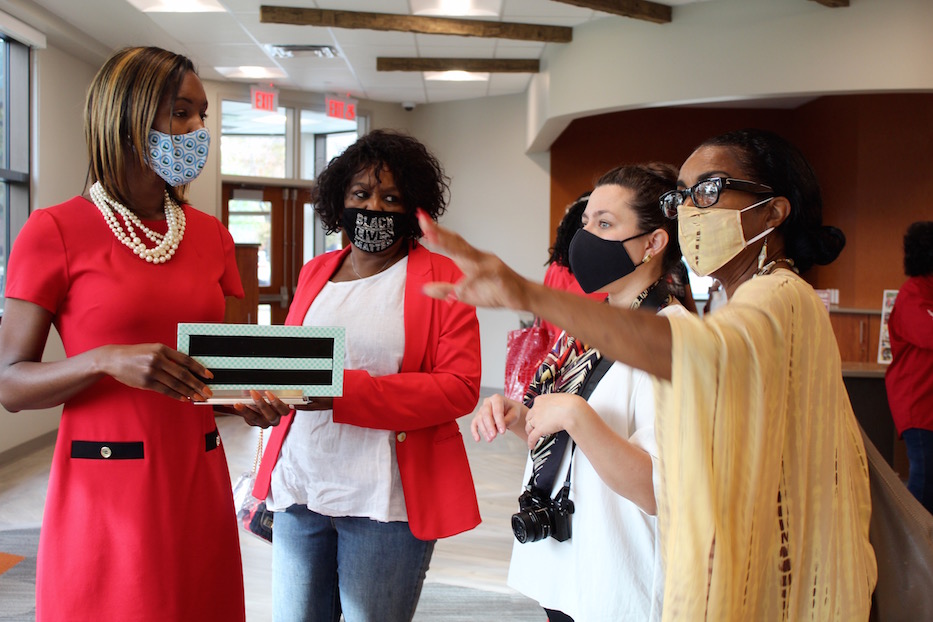 Culture & Community | Dixwell | Arts & Culture | New Haven Free Public Library | Libraries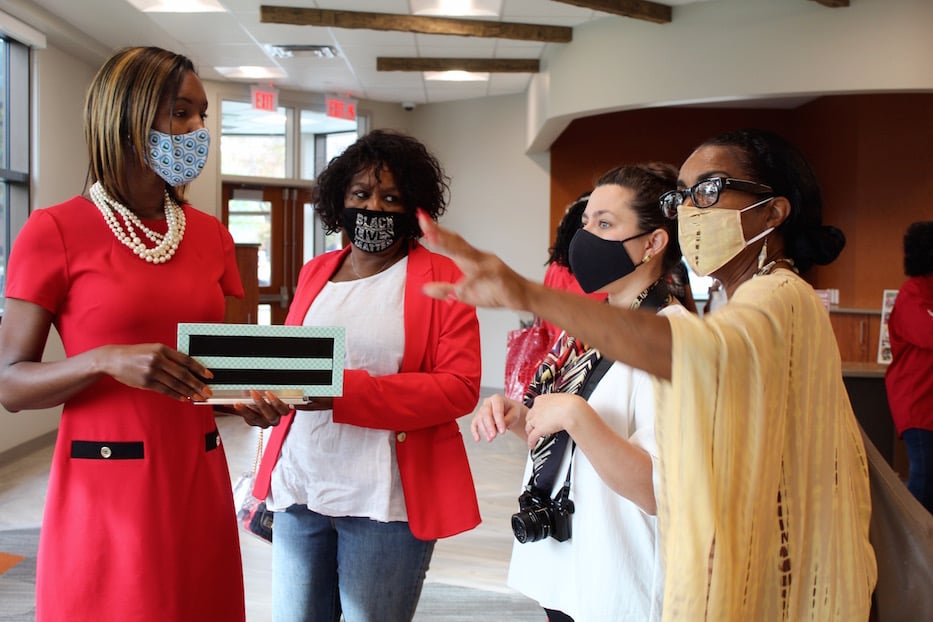 Chapter President Paula Irvin and Stetson Branch Manager Diane Brown. Lucy Gellman Photos.
Evelise Ribeiro grew up going to summer camp at the Dixwell Community Q House. She remembers walking to and from Stetson Library on her way home from school, ready for the thrill of new books. Decades later, she's watching as both institutions are reborn for future generations of New Haveners.
A housing choice voucher director by day, Ribero is a member of the New Haven Alumnae Chapter of Delta Sigma Theta Sorority, Inc. Saturday morning, she joined Stetson Branch Manager Diane Brown, City Librarian John Jessen, New Haven Free Public Library Foundation Director Of Advancement Lauren Bisio and fellow sorors for an intimate tour of the new Stetson library and adjoining Dixwell Community Q House.
While a formal ribbon cutting for the Q House is planned for the end of the month, the library will not open until early 2022. Currently the building consists of three separate entities: the Stetson branch library, LEAP-operated Q House, and a new satellite of the Cornell-Scott Hill Health Center that is still under construction.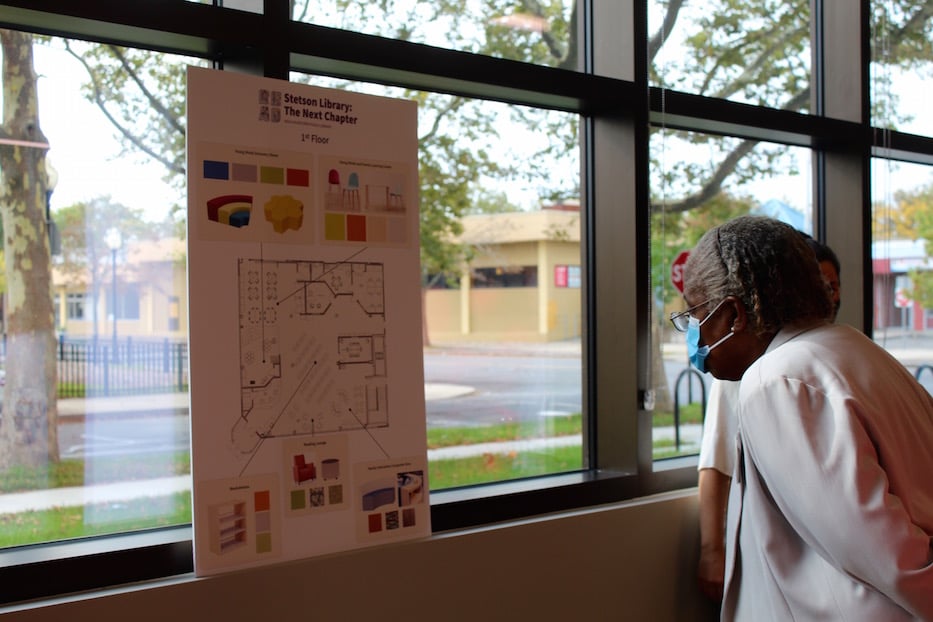 Members of the sorority plan to name a first-floor reading room at the library in honor of the chapter, which is based in mentorship, outreach, scholarship, and lifelong learning. In the years leading up to the space's reopening, the group contributed to the library's $2 million campaign, helping get it off the ground. In a phone call Monday, Jessen said that the naming process is finalized only after library board members vote on it.
"This group of sisters, you have supported Stetson for a long, long time, and I want to thank you for that," Brown said Saturday, trying not to get emotional as she addressed 20 masked women dressed in bright Delta Sigma Theta red. "All of this is married, for so many years, in many, many different ways. And I'm honored to be here in this community."
The new Stetson—Brown is adamant about the library retaining its identity from within the Q House—has been decades and multiple mayoral administrations in the making. In the years after the old Q House closed in 2003 (the building was demolished in 2017), Brown grew Stetson's Dixwell Plaza location into a hub for community, from dance classes and holiday sing-alongs to outdoor skateboard lessons. It became, in many ways, a surrogate for the space that had stood across the street for so long.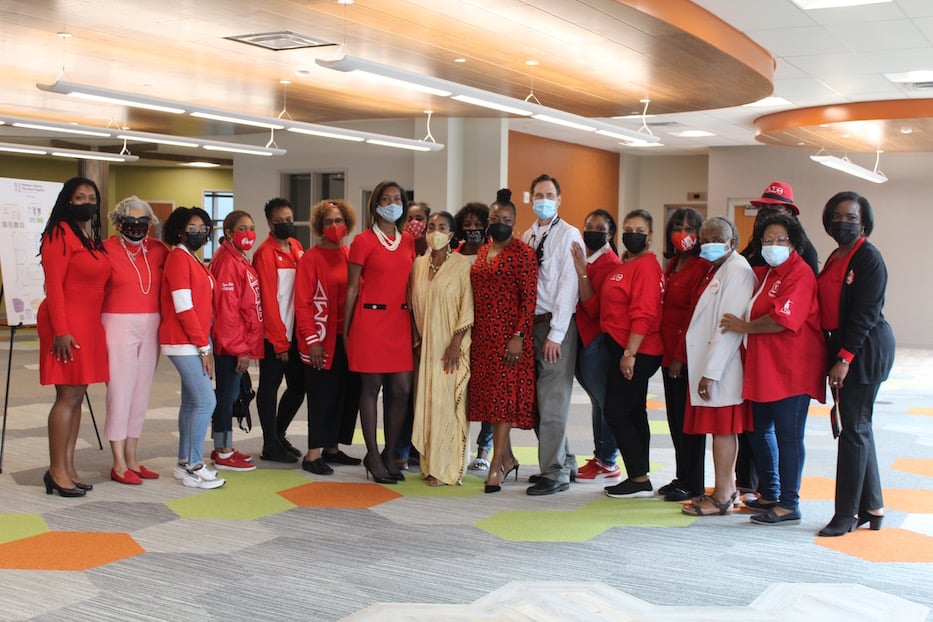 In 2017, the library announced a $2 million campaign for a new, two-floor Stetson Library with new technology, programming for children, teens, adults and seniors, and a collection of almost 25,000 books dedicated to the African diaspora. For the past 18 months, Brown has been working with library staff to "weed" old books from the collection, while also running curbside pickup and a series of neighborhood events out of the Dixwell Plaza location.
Saturday, she pointed out that Stetson's history is also bound to that of the former Q House, which began as an African-American settlement house in 1924 and expanded in the 1970s. Years ago, the building served as a temporary home to the library when it was getting renovations. Before becoming a librarian, Brown worked at the Q House as a program director.
After training under the late City Librarian James C. Welbourne, she became branch manager in 2006. The programs that she's built up since have earned her statewide and national recognition while serving a community that has been chronically under-resourced for decades. She said that she plans to bring her focus on intergenerational learning to the new building.
"This is something that the community needs," she said "There are so many people that are not in this room that need so many things, and we're all aware of what those people need. So, Stetson library will continue to do what we did across the street and more. I'm going to be asking this group [of Deltas] to work with me for some of the things that I'm going to do going forward."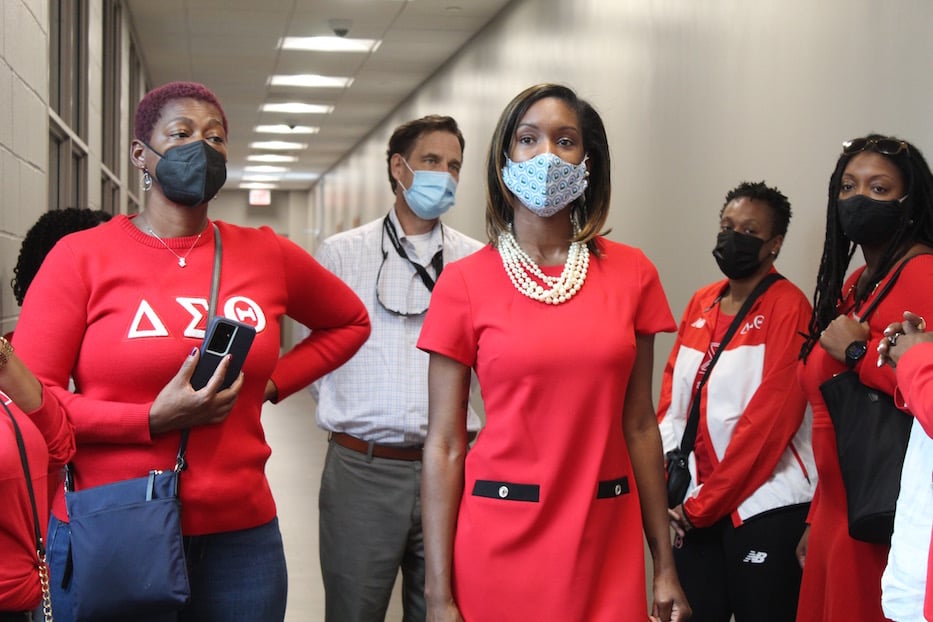 Saturday, she walked through the new space, soaking in sunlight that streamed through the street-facing windows and pooled on the carpet. Nearby, Jessen described what will soon be a young minds reading room, small alcove for desktop computer use, and wireless lounge and working area closer to Dixwell Avenue. Multiple tutor rooms stand around the open plan, waiting eagerly for both the young patrons who will arrive early next year.
In its new home, Stetson will be able to loan out laptops and WiFi hotspot devices, just as the NHFPL has started doing at other branches. Jessen said it is also growing its staff by one young minds librarian and one library technical assistant to serve growing needs at the new space. After working with the company Phase Integration, its technology is more up-to-date than in any of the other branches.
While the library's first floor is dedicated entirely to youth and families, seniors in the community will have keycard access to the space, which opens out onto Dixwell Avenue. Jessen painted it as part of a move towards community ownership that the NHFPL is embracing at all of its branches. He doesn't just want kids, families, and elders to feel comfortable coming into the space: he wants them to know that it belongs to them.
"Where libraries are going is one day, people will have keys to come in on their own," he said. "It's about ownership. We want people to use the library. It's your library."
"We could have our book club here," chapter member Karimah Mickens-Webber said softly as the group made its way toward the stairs. A few mmmhhhhms and enthusiastic nods followed.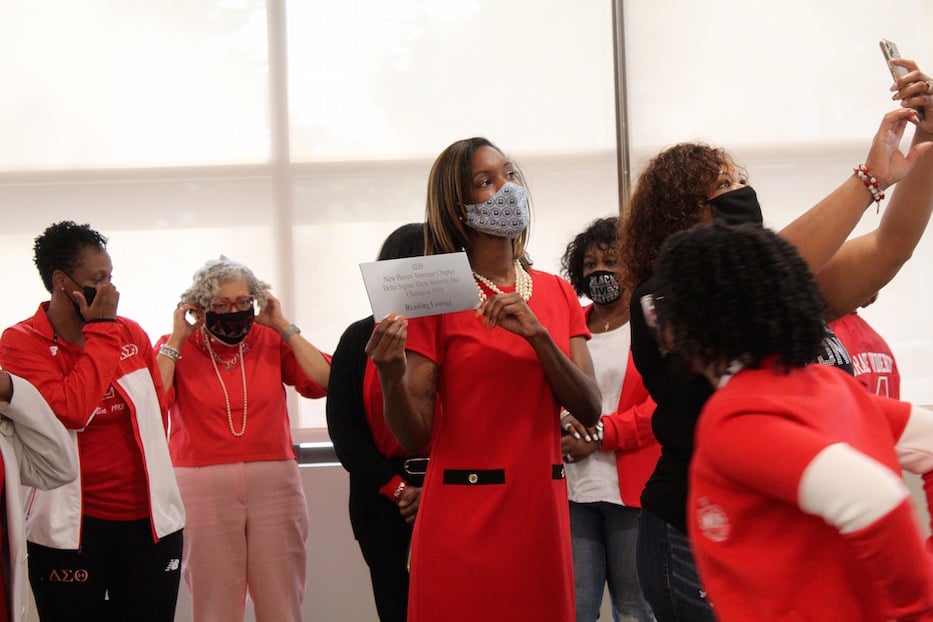 On the second floor, Jessen guided the group through a "technology commons," teen maker space, coworking area, and rooms intended for community conversation. To murmurs of delight, Brown described a mural of an African sunset from artist Katro Storm that will soon appear on the space's single separating wall. Storm has done work at Stetson's Dixwell Plaza location, including portraits of Michelle Obama and an ode to the Black Panther comics and movie.
Both floors are outfitted with a sound masking system, which allows speakers in the ceilings to pump out white noise as a way to block sound in areas that need to be quiet. In places on both the first and second floors, there are public address (PA) systems that can connect with hearing assistance devices.
Ribeiro, who grew up in New Haven's Dixwell neighborhood and returned after college, said she's excited for both the new library and the larger Q House to reopen. As a kid, she attended day camp at the Q House, watching her world expand through regular day trips around the city and the state. When she wasn't at camp or at home, she was often at the library, which by then was nestled into the strip of Dixwell Plaza across the street.
She described getting a library card at 10 as "like when you get excited about having a driver's license." She said she hopes kids in the neighborhood still experience the same sense of wonderment.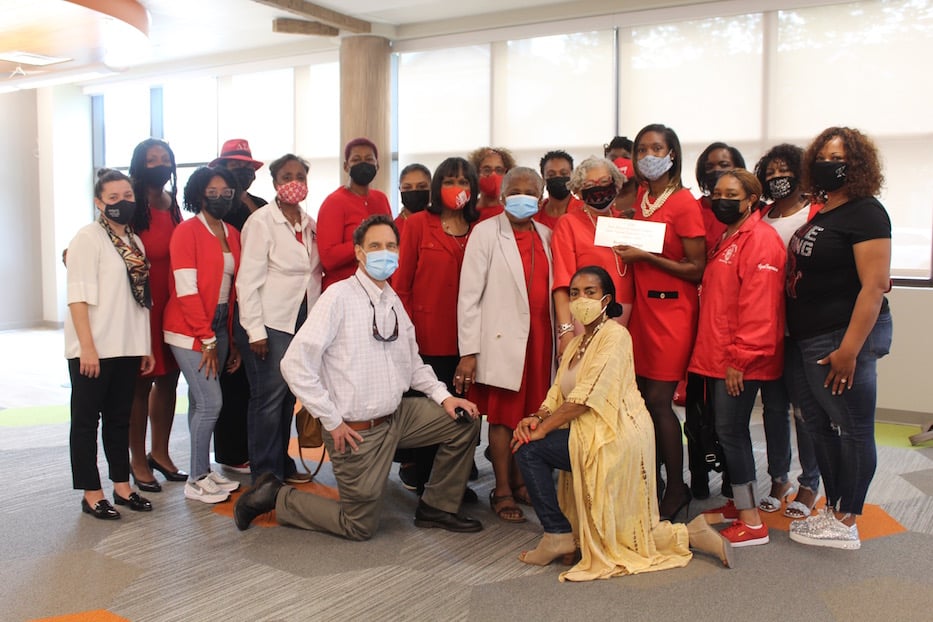 Members of the New Haven Alumnae Chapter of Delta Sigma Theta Sorority, Inc., City Librarian John Jessen, and Stetson Branch Manager Diane Brown.
"It was a way of exploring new things," she said. "Growing up in the community, you only saw what was happening around you. But when you were able to go to a library and take out the books, you could kind of envision what was going on in other places and other peoples' lives."
Those years at the Q House and the library taught her that there was a wide world beyond New Haven, she said. After attending Hopkins and UMass Amherst, she returned to the city, where she and Brown are now close.
"I think it's important to let children know that the library is still there for them, and it's theirs," she said as Jessen walked the group past a dance studio that LEAP will be running. "It's not the city's. And it's not the adults'. It's there for the kids."
Jessen walked the group down a long hallway, members glancing down into an empty, clean gymnasium fitted with basketball hoops. At the end of the hall, Robin Miller-Godwin explored a still-furniture-less room that opens up onto an outdoor senior patio. A manager at the city's Housing Authority, Miller-Godwin grew up in L.A. but spent her summers in New Haven with her grandparents. From 1966 to 1982, she got to know the library as a kid growing into her own.
After high school, she returned to the city to care for her grandparents. She moved to a home in Beaver Hills, where she ultimately raised a family. She never left—and she never stopped using the library.
"She's talking about ownership, right," chimed in chapter President Paula Irvin. "I think that's a lot of why we're so excited. This is just another piece of our service in the community."
As the group headed back down the stairs and into the room where their tour had started, Irvin took one final look over the reading room. The space was still waiting for furniture; only a few lone posters on easels stood in the open plan. The laptops and hotspots were still waiting in a room at the main library to make their way to Dixwell. But already, it felt like a new beginning.
"This is the driver of the community," Jessen said. "You guys, and you getting together … What you stand for is the lead of the community. And the community is what we have that makes our human-ness what it is. You bring the animus, you bring the life into the building."