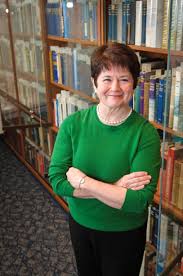 Culture & Community | Arts & Culture | New Haven Free Public Library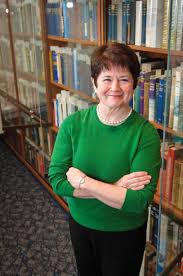 A former president of the American Library Association (ALA) and veteran of guiding libraries through transitions has been tapped to lead the New Haven Free Public Library for the next six months. As she comes into the system, Maureen Sullivan is focused on meeting and retaining staff, centering the library's educational role, and making sure the city knows just how vital its public library system is.
Sullivan is a longtime champion of public access and information who has served as the president of the Association of College and Research Libraries (ACRL), the Library Leadership & Management Association, and the ALA. Over three decades, she has seen multiple library systems through leadership transitions, and led others in personnel and management training.
Last week, she began her six-month term leading the NHFPL. The appointment by Mayor Justin Elicker follows the passing of City Librarian John Jessen on May 27. During her time in the position, the board will begin its search for a new permanent city librarian.
"When I hear 'transition,' what it means to me is there's a need to bring someone in who can provide leadership and guidance as the organization is dealing with the departure of the previous person," Sullivan said in a recent Zoom interview with the Arts Paper. "And you know how difficult this one is in New Haven. And then also, make sure there's continuity so that the new person who will come in, having been hired, is able to move the organization forward."
In naming Sullivan to the role, the NHFPL's Board of Directors worked closely with Bradbury Miller Associates, the same firm that tapped former City Librarian Martha Brogan in August 2014 and Jessen in December 2019. Jessen was an internal hire, having risen through the library's ranks for almost two decades.
"Maureen stood out without question as a really wonderful choice," said NHFPL Board of Directors President Lauren Anderson. "She is a steadying force."
In her six months at the library, Sullivan said her goals include recruitment and retention, supporting librarians of color, getting to know the administrative team and support staff, and working to keep them in New Haven. She expects it to be a challenge, she said: in her first week on the job, she learned that one employee on the library's administrative team are leaving.
In an interview two months before his death, Jessen spoke candidly about the number of qualified staff leaving the NHFPL system, many for other municipal library systems in the state that offer more competitive pay and benefits. New Haven's city librarian position currently earns a salary of $110,725—less than city librarians in the other three largest cities in the state.
"I think it's going to be really important to figure out what changes need to be made in order to retain the talent," Sullivan said. "And I'm particularly focused on leadership talent."
Leadership & Guidance
Sullivan is no stranger to building strong organizations and seeing them through transitions—that work is the hallmark of her decades-long, state-spanning impact on the world of libraries and library science. Just over three decades ago, the University of Maryland graduate founded a consulting practice dedicated to organizational development, through which she has steered dozens of organizations through changes in leadership.
By the time it launched in 1991, she had already worked in two major research universities and helmed the ACRL and the Library Leadership & Management Association. At the ARCL, she founded the Leadership Institute for Academic Librarians, an initiative of the Harvard Graduate School of Education, where she is still an instructor.
She is also no stranger to New Haven. From 1983 to 1991, she served as the head of personnel services for the Yale University Library system, during which time she lived in New Haven's East Rock neighborhood. During her tenure, she kept tabs on the work that Stetson Branch Manager Diane Brown, then coming up under the tutelage of the late City Librarian James Welbourne, was doing in the city's Dixwell Community. She never stopped following Brown's work, and said it's one of the things that made her excited to return to New Haven.
In 2012, she became president of the American Library Association—a position in which she said people would often share their love for libraries freely and without prompting. One year later, she served as the interim dean of the School of Library & Information Science at Simmons University in Boston. Then in May 2020, she became the interim chief librarian at the Connecticut State Library, a position that she held for six months. She now serves as the chair of the Connecticut State Library board.
While she is now a giant of the library field, she came to it by coincidence. Born and raised in Norwich, Conn., she originally planned to attend law school and become a judge. In the 1970s, she followed her then-husband to Maryland, where he was attending law school. Initially, she pursued an undergraduate degree in history. Then unemployed and looking for a job, she spent her days at the Prince George's County Memorial Library.
It became a home away from home. At some point, the library's head of circulation noticed her near-daily presence, and let her know that there was an open position as a library page. Sullivan took the job.
She wasn't a fan of the work. At the end of six months, "I knew that I did not want to make a career out of being a page," she said with a laugh. At the same time, she loved being part of a vibrant public library system that served the community one resource at a time. In 1976 she earned a Masters in Library and Information Science (MLIS) from the University of Maryland, and began a career in personnel administration and management training.
At every juncture, she said, someone believed she could do the work—sometimes before she believed she could do it herself. Years later, it has instilled in her a sense of paying it forward through her commitment to libraries and the people working in them.
"For me, the work of librarians is critically important for accuracy of information," she said. "[Libraries are] a place where people can come and learn, but also what we've seen in the last decades are a place where people can come gather, and discuss and discover different ways of thinking about issues with others. But also places to come in and have fun."
She acknowledged that she enters the NHFPL at not only a critical time for New Haven's library system, but for libraries across the country. In the past five years, libraries have become political battlegrounds, caught up in attacks on Critical Race Theory, sex education, and reproductive freedom and anti-LGBTQ+ and anti-trans legislation. Last year alone, the ALA's Office for Intellectual Freedom reported 729 documented "challenges" to public libraries, representing a total of ​1,597 books.
"It's really a time when it's important for us to act on our core values," she said. "And access to information and intellectual freedom and diversity—those are the first three that come to mind ... Libraries through their collections open the eyes of individuals from very early ages all the way through their lives. It's one of the most important things that we do in our communities."
To learn more about the New Haven Free Public Library visit its website.